Forget the distinctly non-PC humour surrounding the mystical powers of the lotus flower, virgins and HRT, the arrival on the grid of this trio of new teams bearing such names is certainly serious business. The team principals behind all three operations have staked not only their reputations on their survival, but a large portion of their fortunes, too.
In fact, a case could be made that Formula 1's future hinges on these teams, the first to come into the sport as start-ups since Toyota in 2002 - and we now know the Japanese giant threw around £3bn at Formula 1 between deciding to proceed, in 1999, and withdrawing at the end of 2009 without scoring a single victory.
That pans out at £300m or so per season - roughly ten times the annual budgets of the newcomers, who also need to contend with the prevailing credit crisis. There will also be one more grand prix on the calendar than in Toyota's maiden season, and a current Euro:flyaway mix of 9:10 (47%) versus 12:6 (66%) back then.
Worse, there is a run of four fly-aways at start of the season (when time is particularly tight) to contend with and there are also five bringing the season to a close (when finances are most strapped).
Consider that the entry list for the opening race of the 1990 season comprised of entries from Ferrari, Tyrrell, Williams, Brabham, Arrows, Lotus, March, Osella, Benetton, Dallara (returning in 2010 as contractor), Minardi, Ligier, McLaren, Lola, Coloni, Onyx, Life and AGS.
Then take into account that of those only Ferrari, Tyrrell (now Mercedes), Williams, Benetton (Renault) and Minardi (Toro Rosso) and McLaren have survived, while 2010's Lotus has only trademark and geographical connections to the original and Dallara is represented on the Bahraini grid as a contractor to HRT.
In fact, as reported in these pages a fortnight ago (https://www.autosport.com/features/article.php/id/2642), during the 60-year history of F1 the survival rate of teams is 7.5% (33% worse than that of a cheetah cub in the wild at 10%). So the prognosis is not good, particularly given that, of 15 totally new teams to enter at least two races in the past two decades, 11 failed within two years of making their debut.
The survivors (Jordan/Midland/Spyker/Force India, Sauber/BMW/Sauber and Stewart/Jaguar/Red Bull) are characterised by numerous changes of ownership.
These sets of statistics do not take into account a large number of aborted programmes...
True, costs of competing have decreased dramatically, while leased Cosworths now cost a fraction of the manufacturer engines which drove costs to astronomical heights. But still the chips are stacked against the new teams as evidenced by the fact that US F1 failed to get its act together despite being the first to make any form of formal announcement.
If the stated aim of the Resource Restriction Agreement is to reduce costs to early 1990s levels, it needs to do substantially better than that.
The Hispania Racing Team (nee Campos Meta 1) was saved at the last minute, having failed to make any of the four (now restricted) test sessions due to considerable delays because of lack of funding. And although not confirmed (or disputed) by Dallara despite a request to that effect, rumours have it a rift already exists between team and chassis supplier over future finances, which could complicate set-up and development of what is presently a completely untested car.
Against that background, the short- to medium-term prognosis for the newcomers is not at all good with the odds pointing to at least three of the original quartet failing to make it through this season. As US F1 dropped out of the fray before even crash-testing a completed tub, that makes it two out of three - with the burning question being 'which two?'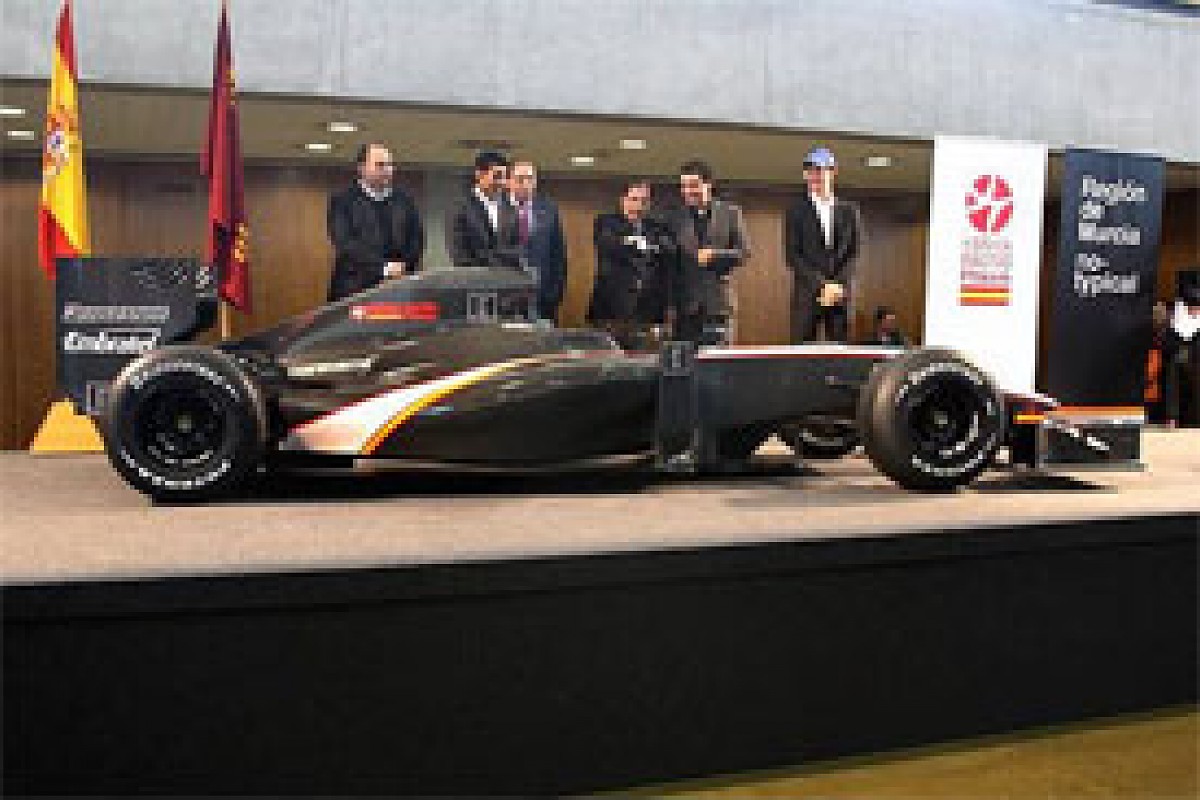 The Hispania launch © LAT
As always, survival in F1 depends as much on fate as on fortune and foresight, making it impossible to predict who may unexpectedly secure massive financial support, or survive a race of attrition to finish well up.
History is littered with teams whose survivals were scuppered by a bolt breaking at precisely the wrong moment, an inconvenient crash or a sponsor going bust when critical funding is required; equally, others have lived to fight another day through sudden fortune.
Yes, management expertise provides protection from the unpredictable - as Frank Williams has done for over 30 years now, having originally learned his skills the hard way - but no single structure can totally insure against concurrent catastrophes such as an uncompetitive car, a run of heavy crashes and the withdrawal of a major backer. Under those combined circumstances even Ferrari might be hard-pushed to survive to race another season.
However, assuming all three newcomers beat the odds - their primary competitor this season - what can we expect from them?
Lotus looks to be the strongest, having made 75% of the tests and proven fastest of the trio. Having two grand prix winners onboard is no handicap and team principal Tony Fernandez seems to have got his act together, particularly given his lack of motorsport management experience.
Then again, having the no-bullshit Mike Gascoyne aboard as chief technical officer has not done the team any harm, for not only have his design teams won grands prix (Jordan, Renault/Benetton), but his MGI Group (est 2001), which employed a number of ex-Toyota staff and contractors when the operation down-sized, also began speculative design on a Formula 1 car well over a year ago.
The biggest blow to the Malaysian-owned and -backed team was not gaining Petronas sponsorship (it went to Mercedes in the sort of bad karma fashion referred to above), but the team certainly has more visible support than the rest, including CNN.
Then, the team name and livery lends the grid an evocative air, and, again, must be more attractive for prospective backers than, say, NEW F1. Still, the team ran around five seconds off the pace, which makes the fight for finances all the more difficult.
Virgin, too, has 'previous', with team principal John Booth having numerous successes on his CV both as driver and team boss in lower formulae, while technical director Nick Wirth is far from inexperienced when it comes to F1 design. He designed a (still-born) car for BMW in 1990 via his Simtek Research company (co-owned with former FIA president Max Mosley) before founding his ill-fated Simtek team. Thereafter a spell with Benetton led him via sports cars and other projects to Manor Grand Prix, which became Virgin.
So much for the history; what about the future? While it is all very well having ideals such as sticking to notional budget caps conjured up in times of conflict, the sport has but one major currency - time - and while Virgin's brass (and Wirth) may have every intention of sticking within the EU45m referred to by the engineer (https://www.autosport.com/features/article.php/id/2652), the fact of the matter is that points win championships, not financial management per se.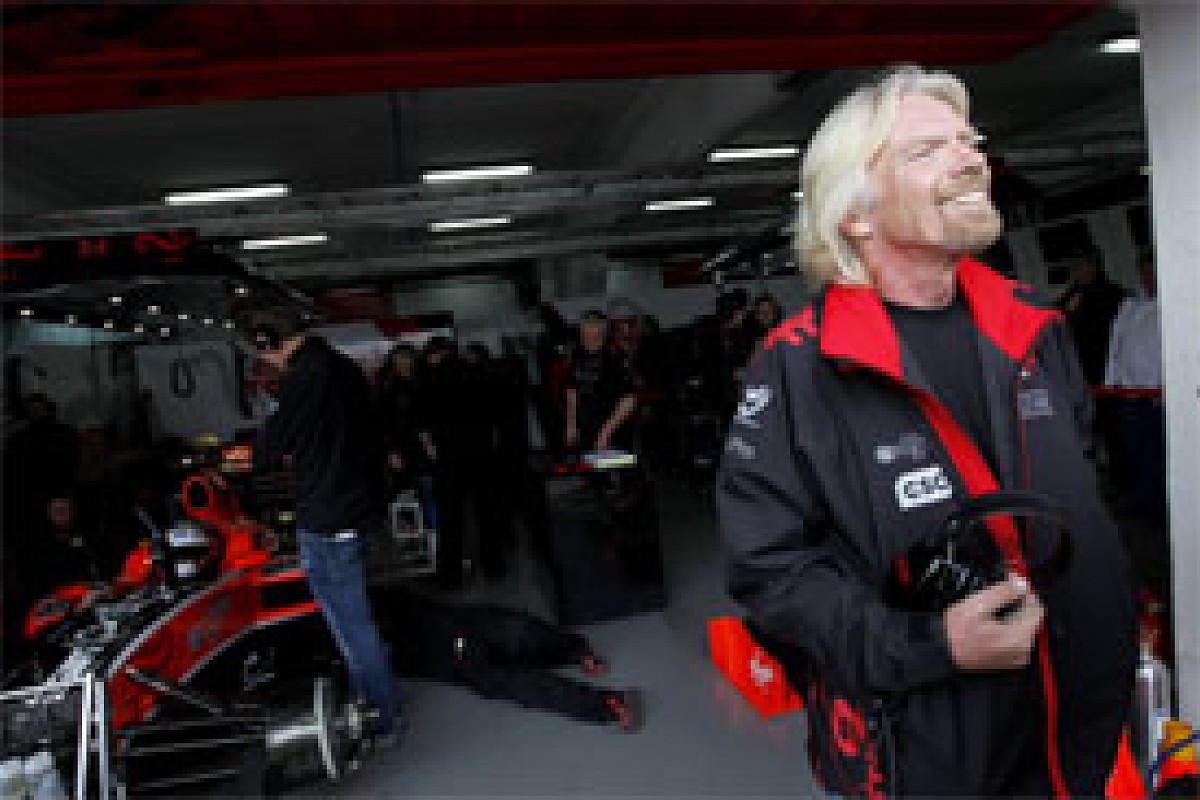 Sir Richard Branson visits Barcelona testing © Sutton
In Barcelona the unbroken expanses on the sides of Virgin's trailer units were almost blinding so white were they, and while the team has funding from Richard Branson's diverse group, one wonders how much and how long it can last.
There are stories - malicious and unfounded, maybe - that Virgin's backing is not as substantial as many believe (after all, Sir Richard hardly became a billionaire by squandering wedge). But, if true, one wonders what happens next, particularly as the first all-CFD-designed car was a second off the pace of the Lotus in testing - with identical tyres and Cosworth power.
Finally, HRT - of whom not much is known save that the car was designed and built under contract for Campos Meta 1, which then sold out to Adrian Campos's former business partner Jose Ramon Carabante after the former fell into arrears on payments to sub-contractor Dallara. So, less than a week ago Campos (the project) was reborn as Hispania Racing Team - in honour of Carabante's nationality and the team's Murcia ex-Campos base - under the guidance of Colin Kolles, late of Midland fame.
Given the team will first turn a (steering) wheel in anger 48 hours before it starts its first race, with two rookies on board, amid increasing suggestions of underfunding eased only by Bernie Ecclestone's desire to see 12 teams on the grid, the odds against HRT seeing the season through would seem substantially greater than those facing Lotus or Virgin. A fairy godmother could just as easily descend upon the team as she once did upon Toleman (Benetton), Brawn (Mercedes) or Minardi (Red Bull) however... so who can really calculate the probability of the team swimming or sinking?
No analysis of this grid could be complete without a look at the newly independent teams, namely McLaren, Renault and Sauber: first-named has of course lost the financial clout and mainstream support of Mercedes-Benz after its buy-back of the three pointed star's 40% shareholding, and thus returns to true independent status, although the colossus that is the McLaren group can hardly be lumped into the same category as the sport's other independents.
So, will McLaren prevail? Having done so for longer than any other save for Ferrari by dint of superb management, the chances are strong it will outlive the rest of the grid, bar, possibly, Ferrari - whose future tenure in the sport depends upon the direction F1 heads into in the medium-term.
Then there is Renault, about whom there exist few doubts until end-2012, when the out-sourcing contract the French company struck with Genii Capital comes up for renewal. During testing the flanks of the yellow/black car were, though, conspicuously devoid of commercial livery.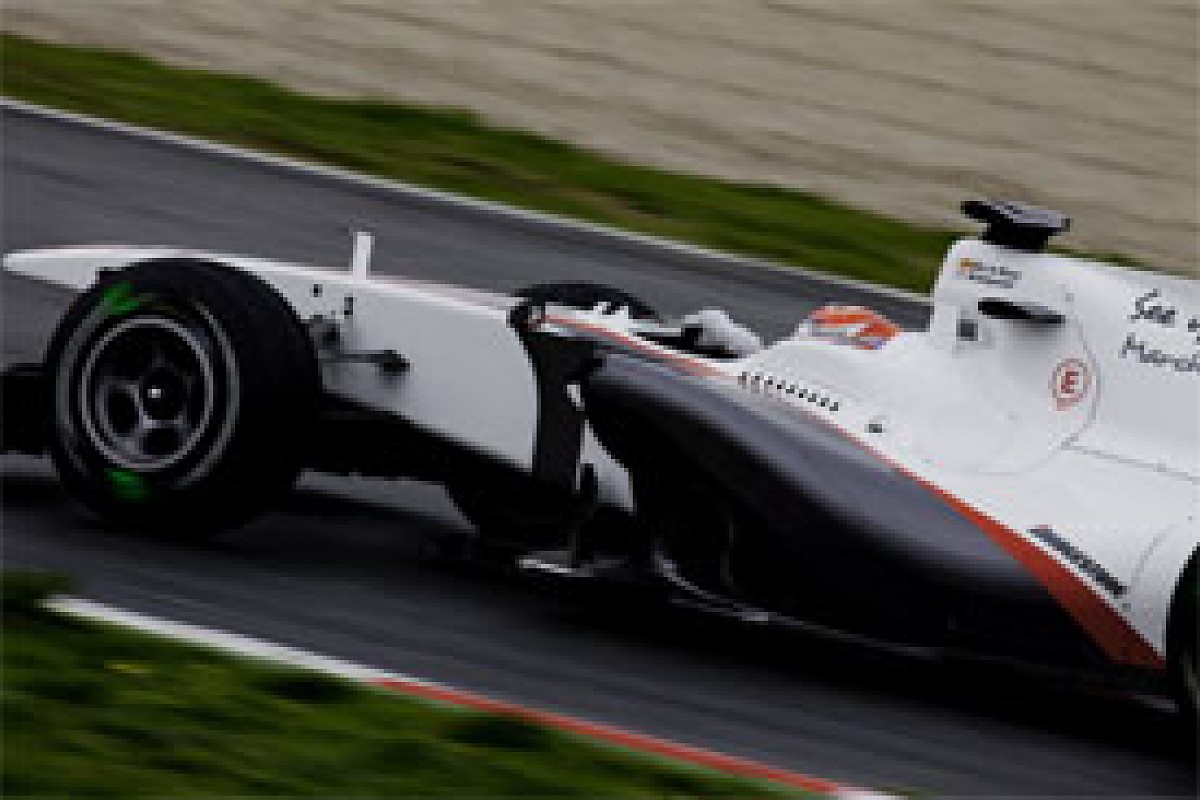 Kamui Kobayashi testing the BMW Sauber © LAT
The same applies, too, to the BMW Sauber F1 Team, powered by Ferrari for this year, but still (for now) entered under the moniker of the German outfit which sold the operation back to its founder Peter 'Mr Clean' Sauber.
The Swiss reluctantly accepted a return to team management in order to save his life's work from almost certain oblivion. If anybody can ensure the survival of Sauber, he can, and the fact that the car seems gentler than most on its rubber and set impressively fast long-stint times makes the task that much easier.
So, six 'new' teams covering the full spectrum of the term, from a cash-strapped privateer team saved at the last minute through two true start-ups and two ex-works outfits to the giant McLaren operation, with history and statistics suggesting that at least one, probably two, will fail before the year is out. Which one (s) will it be? Sunday should provide the first indicator.