When was the last time the first grand prix of a new season was quite so eagerly anticipated?
Over time, Formula 1 has kept me spellbound but one of the great frustrations is that in any given year you generally have one, perhaps two dominant teams, rendering 80% of the grid almost superfluous. But 2010 looks very different. As many as four teams could have a genuinely competitive car and in every one of those teams there will be a 'battle within.'
Lewis Hamilton leads Michael Schumacher during testing at Barcelona © LAT
Some call that media invention. They say it's not that complicated at all; McLaren will be Lewis Hamilton, Ferrari will be Fernando Alonso, Mercedes will be Michael Schumacher and Red Bull will be Sebastian Vettel. And they might be right. But even if they are, just look at the calibre of those drivers and then consider the dynamic if, as we hope, they are all in competitive seats.
The limited testing has given us an idea but it's been far from conclusive. Hamilton's one-lap pace and his average speed on a long run in Barcelona were right there and it would be no surprise to see him setting the pace from day one.
But Ferrari has looked quick too, has covered more testing mileage than anyone and we didn't actually see a race simulation from Alonso, Mr Relentless himself, at the same time as most of the opposition did their headline times.
Lewis versus Fernando. We've seen it before, three years ago, and look what happened. In the same car they finished 109 points apiece after a year of, to understate it, huge drama and political intrigue.
The perception is that Lewis, the new boy, got the better of that, precisely because he was the new boy. He shouldn't have been on Fernando's pace straight away, but was.
It wasn't quite that straightforward. Alonso was experienced, yes, but he wasn't more experienced at McLaren. And this was before we had testing restrictions. From the moment that Ron Dennis and Martin Whitmarsh told the GP2 Series champion that his dream was to be realised, Lewis was barely out of the car or simulator. He went into his debut season with serious seat time.
That Hamilton's pace was a shock to Alonso was obvious. He'd gone to McLaren as reigning double champion and it was fascinating, later in the year, to watch an Emirates in-flight documentary shot on the day Fernando was first introduced to the McLaren factory. You could see and feel the mutual respect, the anticipation that here was the start of something that could be exceptional.
Yet six months later, Alonso and his entourage were sat in isolation in 'their' corner of McLaren's brand centre, the emails already sent and Spygate in full swing. "Just pass me a handgun and I'll shoot the b*****d now!" said one of the McLaren's more mellow team members out of the corner of their mouth.
But even the acidic atmosphere that developed post-August didn't stop Alonso taking pole and disappearing up the road at Monza when a more sensitive soul might have been handing in his off-games slip. Now, after two seasons in the mid-grid doldrums back at Renault, he wants to be back at his rightful place - the front. He'll want to put it across Hamilton, no mistake.
Their off-track political battle was feisty enough in '07 but the on-track stuff, by necessity, was sanitised. The outcome was decided by the nuances of fuel load, pitstops, etcetera, and not by tyre-smoking last of the late breaker dives down the inside. The instructions from the team were clear enough: compete, but leave each other on the road.
What now? You have, in Hamilton, one of the most instinctive racers you will ever see, a man described by Keke Rosberg as 'Gilles brave', which requires no further elaboration. And in Alonso, a man with a point to prove who is prepared to drive around the outside of Michael Schumacher at 130R. One of them in a McLaren, the other in a Ferrari. Time to man the air raid shelters?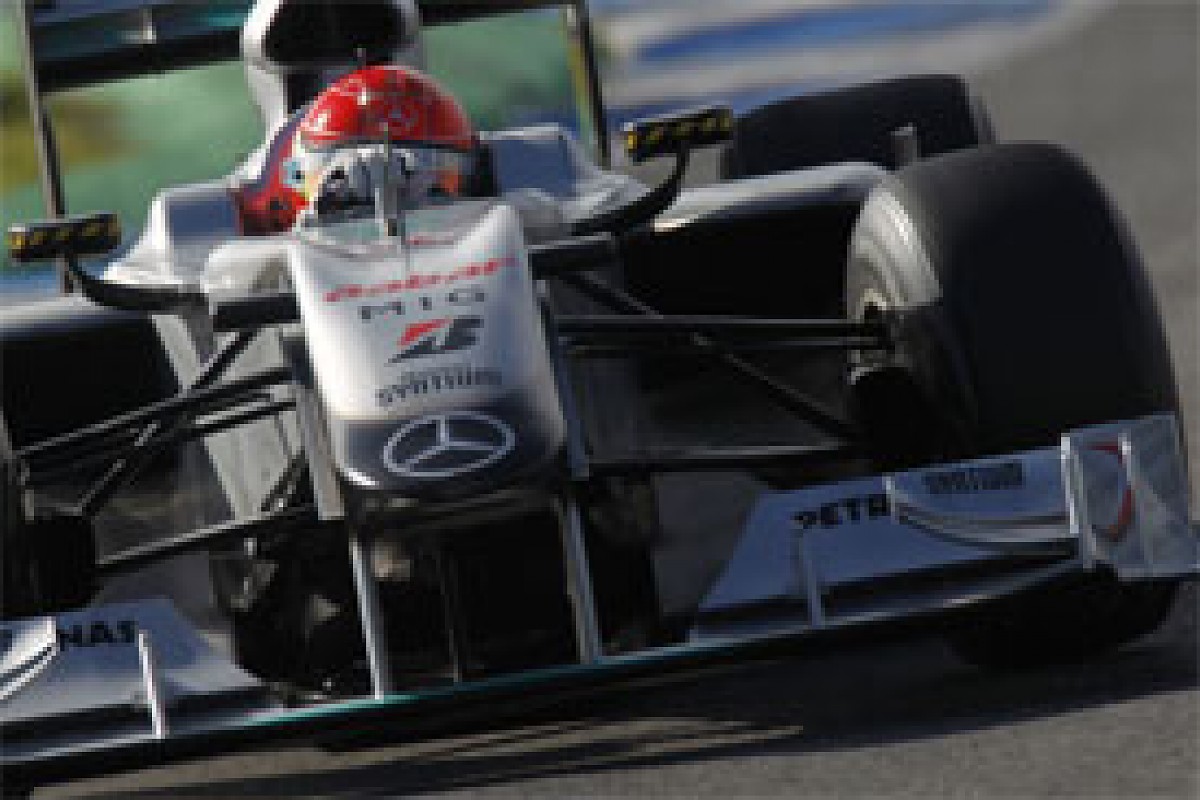 Michael Schumacher testing at Jerez © LAT
Schumacher will probably work that out. From Barcelona it looked as if his race pace was a couple of tenths shy of Lewis. That might look ominous to McLaren with Michael's Bahrain aero update yet to arrive... He could be in the mix right from the start. Like Alonso, he's a relentless racer and as hard as anyone in a battle. But given his experience and the quality of those he's taking on, he may take a prudent early season approach, collect points and let the young guns trip up. If the car's speed is there or thereabouts, and it's reliable, you'd feel uncomfortable betting against Schumacher over 19 races.
The Red Bull's one-lap pace was highly impressive but the RB6 appeared to have significantly higher tyre degradation than its big rivals. Vettel's average lap on a race simulation was more than a second shy of McLaren and Mercedes at Barcelona. We're not in possession of all the facts and 'tyre deg' at Barcelona has always been high, so we don't know, a) if that will be typical or b) whether Red Bull was doing anything that exacerbated it.
And, of course, the whole picture isn't really that simple. At McLaren we also have the reigning world champion. A man who, while perhaps not renowned for spectacular overtaking of the Lewis-type, probably made more moves stick last year than anyone else. I'd be surprised if he was as quick as Hamilton in Bahrain but not at all surprised to find him quicker at some places. Jenson Button makes very few mistakes and, until he's totally at home in his environment, might be another who elects to keep his nose clean early season.
Felipe Massa couldn't handle Schumacher but he was good enough to earn his respect, which speaks volumes. He was fast enough to prick Kimi Raikkonen's bubble and there is every reason to suspect that he will be fast enough to worry Alonso from time to time. Whether he will be fast enough to undo Fernando more often than not is another question.
Alonso has not reacted well to challenges from within at either Renault or McLaren and, given the adoration and raised profile he will experience in the pressure-cooker environment of Maranello, it is hard to see him looking forward to peering at Felipe's exhausts. Unlike before though, where race performance was inextricably linked to such things as qualifying fuel load, the new equation will place much more emphasis on thinking a race through. One-lap pace is not the be-all and end-all. We may have to reassess drivers on their ability to think for themselves, dictate strategy and adapt.
Cockpit feel will be more important and race strategy may therefore be more driver-led. You've always had the feeling that to Alonso, like Schumacher, that all comes naturally. Call it a racing brain. Massa on the other hand, has more often been 'shown the way.'
That might be fair or it might not but it's just one more thing you feel should tip the balance in favour of Alonso.
Nico Rosberg thought he was signing to partner Jenson Button at Mercedes, but now he's got Schuey. One minute you're taking on St Peter but the next minute it's God.
Last year at Williams it was always hard to tell how good a job Nico was doing and how quick the FW31 truly was. No disrespect to Kazuki Nakajima but he is not a yardstick by which you judge others. Occasionally though, he'd be on Rosberg's pace, and you wondered if that would ever have happened if Rosberg had been destined to win championships.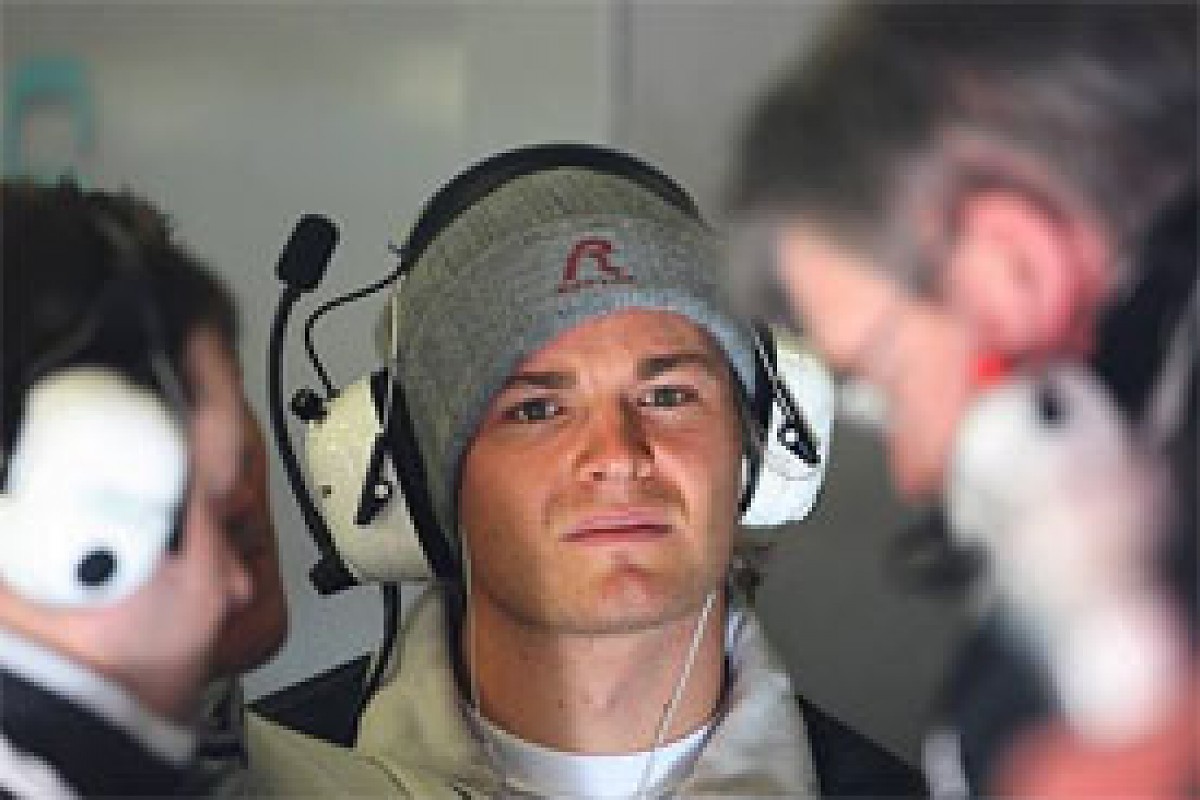 Nico Rosberg © Sutton
Some at Williams didn't like it much when Rosberg made noises about his need to be in a race-winning car, suggesting that perhaps they questioned whether he was of the necessary calibre to regard it as a divine right. Has it, perhaps, all come a little too easily for him? Does he fully understand the commitment needed?
From Kazuki to Michael... You can almost see the smile on some of those Williams faces. Some of them think he'll get murdered. If he's close though, it will be a feat nobody else has managed.
And then there's Mark Webber. Last year, with a broken leg and broken shoulder, it could all have fallen apart. The fact that it didn't is down to the stuff he's made of. He never quite got on with qualifying a fuel-heavy car like he did a light one. Whether that makes a difference vis a vis Vettel remains to be seen but whatever the demands of the 2010 regulations, you know that Webber will apply himself 100%. With half the grid eyeing a Red Bull seat and his contract up this year, he could do with a good start.
Bernie Ecclestone said recently that with so much expectation, he only hopes that the racing lives up to it. The only way it won't is if someone has a bigger car advantage than anticipated. As things stand, if that were to happen, you feel that the most likely benefactors would be Alonso or Hamilton.
Hold onto your hats.