Adrian Sutil has just finished a busy day at the Force India factory, and he's on his way home to Switzerland when he answers my call at the airport. He's been talking to his engineers about the upcoming test in Barcelona, and discussing possible race strategy scenarios.

He has a couple of quiet days at home to come before he heads to Spain, where he'll take over from Force India team mate Tonio Liuzzi for Saturday and Sunday. Now the serious business really starts, and by the end of the weekend we'll have a much clearer picture of where everyone stands.
It's seems like a long time since the last Grand Prix in Abu Dhabi, and Bahrain can't come soon enough for him.
"I'm ready to go," he says. "The winter is too long, always! It goes from 100 to nothing suddenly, and then you're wondering what you're going to do with your spare time..."
From what he saw in Jerez, Sutil is already confident that the VJM03 is a competitive package: "Yeah, definitely it's got good potential. I was really happy on the first roll out, the first test day, it was more than I expected. The car looks nice, I think it's the most beautiful car we've made since I've been in this team! And also it's the car with the best performance so far. So our start should be reasonably good, I think. The best start to a season we've ever made. Hopefully it's enough for the top 10 straight away.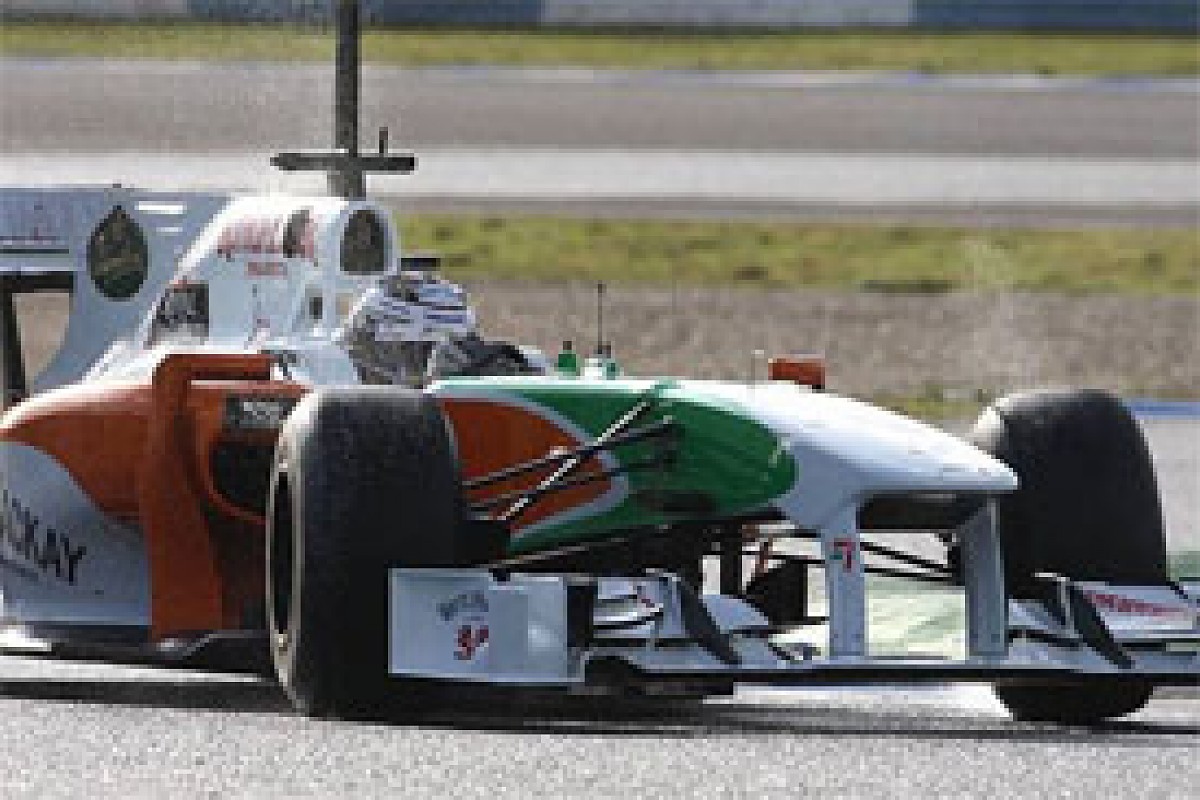 Adrian Sutil slides the Force India VJM03 at Jerez © Sutton
"Let's see," he adds. "The Jerez testing went well, although it was a bit tricky with the rain, so we couldn't learn all about the new rules and tyre management on heavy fuel runs. I'm really looking forward to the start of the season."
All winter the expectation has been that the big four teams will be up front. Force India is somewhere in the chasing group, along with Williams, Sauber and Renault.
"We look okay, definitely," says Sutil. "We should be a little bit behind the big teams. No question McLaren and Ferrari are really strong right now, and I expect Red Bull to be quite strong. Mercedes, I'm not 100% sure. They look okay, but perhaps not really impressive, and they have a little gap to the others. So those are the four teams who I expect to be in front of us, but all the rest are within reach, I think."
The key to Force India's 2010 preparations has been continuity. Regular winter engine supply switches and the inevitable turbulence that accompanies a change of management have made life complicated. Last year Vijay Mallya made a relative late call to go with Mercedes power and McLaren gearboxes, and a lot of effort was devoted to dealing with that. This time it's been a smooth winter, with the focus all on performance.
"I think that was our best way to improve, really," says Sutil. "The last few years were a bit hectic, always changing things during the winter, changing the owner. Last year everything was really last minute. We really caught up during the season, that's why we were really strong at the end. This was the first winter where we could continue our work without any changes in the team.
"Continuity was very good in our team, no changes at all, and it all went into the development area. That's why I'm so confident right now, I'm happy with the car and that's why my expectations are quite high that we do see that improvement on the grid."
Last year from a modest start Force India made extraordinary steps during the season, culminating in Giancarlo Fisichella's pole and second place in Spa. That result inevitably overshadowed Sutil's own achievements. Fourth place in Monza was his only score of the year, but many other opportunities went astray, even when the car was still on the back couple of rows.
In Malaysia he was fuelled to the flag and sitting at the pit exit on the right tyres when the FIA called the race, while in China he crashed out near the flag after another impressive wet weather drive. As the season went on, so the car moved up the grid on pure performance, but results remained tantalisingly out of his reach. Most frustratingly in Germany a tangle with Kimi Raikkonen while exiting the pits ended a brilliant charge.
"In Bahrain we put on the first update it went quite well, and I nearly made it into Q2," explains the German. "Then the next step came in Silverstone, where we had a big package, until I had a brake failure in qualifying. I was actually doing very well on this lap and would have been close to Q3 already! We saw it was going in the right direction, but somehow luck was not on our side.
"Finally the next package in Valencia put us really close to Q3 again. And then suddenly from Spa onwards we were always near the front."
Just as everything went right for Fisichella in Belgium, so it went wrong for Sutil, who didn't make the right call in qualifying.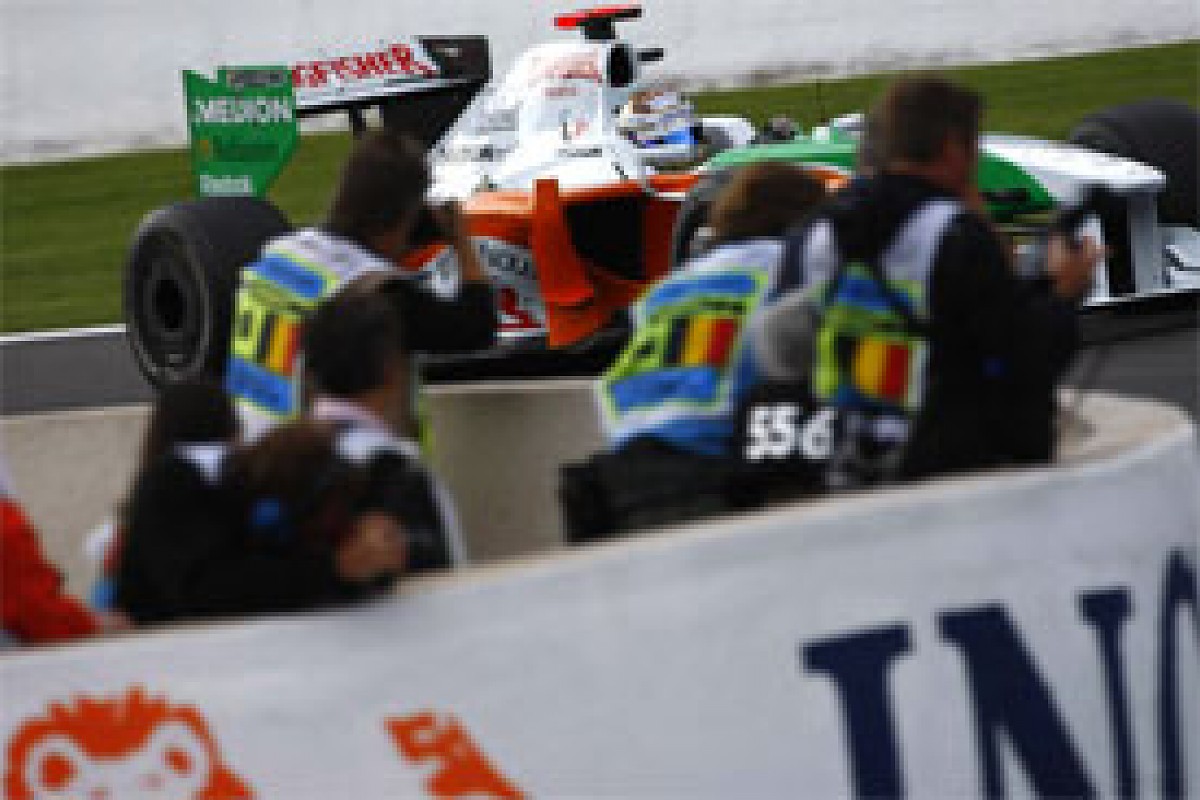 Adrian Sutil approaches the hairpin at Spa-Francorchamps © LAT
"Belgium was quite a tricky situation with the tyres, hard and soft, they both worked really well. But finally I did the wrong call for Q2 and just lost out a little bit, and missed Q3 by a few hundredths. So I was quite disappointed. The car was amazingly fast in the race, I could make so much pressure and pass so many people, it was really a great race. And I knew in Italy I would have the chance to show it again...
"In Italy it was quite scary - Friday P1, Saturday morning, P1. I thought you are really going for pole! And that's what I did in qualifying. I got the pole first, and I saw it on the screens when I was in the car. It was: 'Come on, please stay on there.' But then Lewis beat me by a little bit. Still, I was on the front row, and I was really happy about that. It was one of the best moments in my life."
A lack of KERS didn't help come Sunday, but fourth place and fastest lap - while chasing regular nemesis Raikkonen - was a more than respectable result.

"It was chasing my big rival, Kimi, all the time, putting a lot of pressure on him, doing the fastest lap was a really good sign that the car was so quick," says Sutil. "I could have been much faster because I was behind him all the time in the dirty air, but it was a fantastic race, fourth position, and finally I got my points that I was waiting for so long for."
Unfortunately later opportunities went astray. An excellent fourth on the grid in Japan became eighth when the yellow flag penalties were assessed, and in the race Sutil lost time with a tangle with Heikki Kovalainen. In Brazil he started third only to get involved with a controversial clash with Jarno Trulli. All the while priceless points were lost.
It's not always been his fault, but inevitably all those incidents add up in people's minds, and have helped to typecast Sutil as someone who gets involved in trouble. He knows he has to turn that image around.
"Yeah sure," he says, "but all I can say I think I'm just pushing it to the limit. The 2009 car was not easy to drive, without downforce. Everybody can drive a good car, but we saw how Lewis struggled with a bad car, he made mistakes like a beginner. It's what I always say. How do you want to impress people with a car that's oversteering and understeering?
"For example in China I was missing downforce and still running P6 - I mean, somewhere is the edge! If you push for two hours, and you're actually over the limit and risking maybe double what other drivers are risking, then it can end up in the wall, of course."
Although staying at Force India was always the most likely option, Sutil has rarely been mentioned in connection with a move to a bigger team. He doesn't seem to have convinced those who make the decisions that he is ready for a promotion.
"I understand because in only three or four races I was able to show something, because it wasn't 100% consistent," he explains. "It was sometimes there, sometimes not. And the other guys were in factory teams. When you're in BMW, people are watching you and checking everything what you do. Kubica had a great season in 2008, so his profile was much higher because of that. Nico [Rosberg] as well, he was always quite consistent, close to the podium. It's no wonder that people talk about them. But I think I can run for victories, and I think I'm ready. I believe in myself, and I'm a hard worker."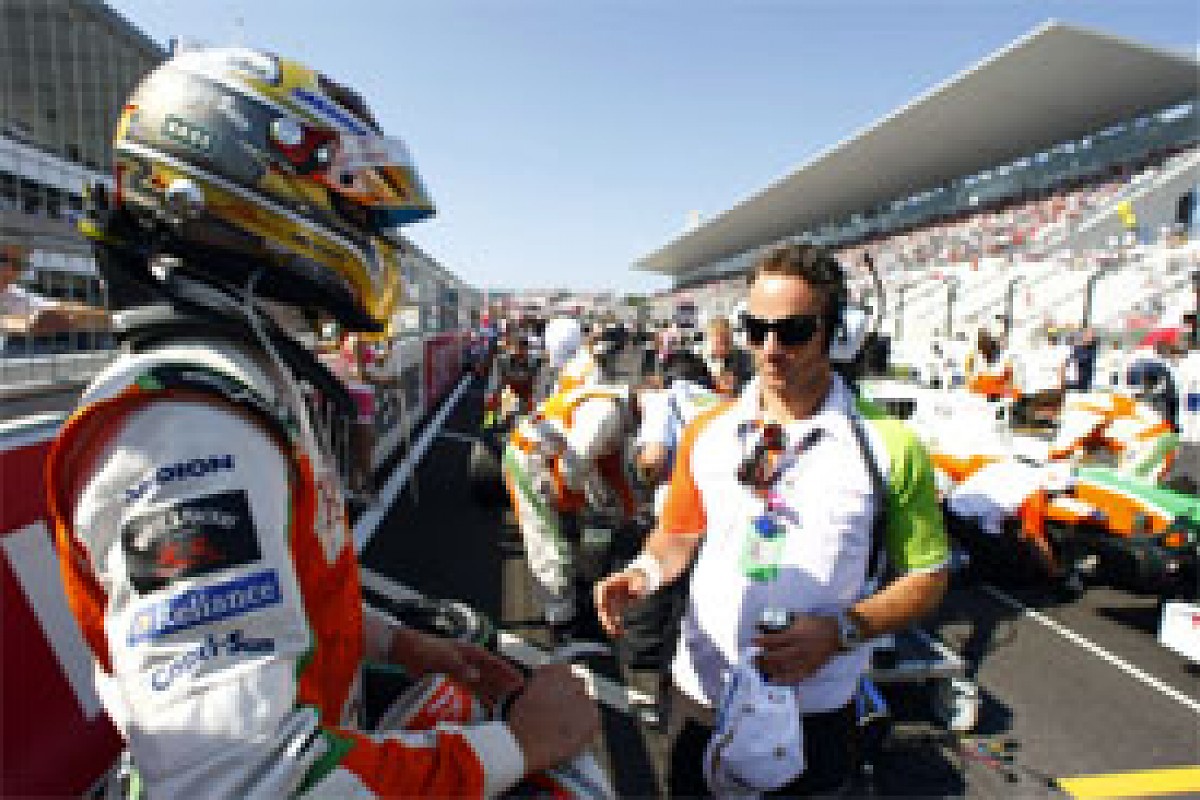 Adrian Sutil on the grid at Suzuka © LAT
Heading into his fourth season with the team, he's happy with life at Force India.
"It's a really good team, the guys work so well together, and they know each other a long, long time, I think it's a big advantage. The good thing with a small team is you don't need too much power to change something. There's one boss, and if he says we change it, we do it. Changes can be made really quickly. I feel also well because it's a normal team, a friendly team."
It's also a team with a reputation for thinking on its feet when it comes to strategy. That could be very useful in a year when the refuelling ban has forced everyone to have a good, long think about how things will play out.
"It's all open," says Sutil. "You have less work before a race, because you don't know... All the strategies are open, and you can just plan to be in this window of tyre changing. I think the communication with the team is much more important, and it's all about the timing.
"At the end of the day if there is a car in front of you, he's just waiting until you decide to go in, and then he reacts as well, and maybe you just have one lap to actually overtake this guy. It will be tricky, and a lot of people will be copying strategies at the right moment.
"It will be different, and it will take a few races to learn about all the strategies. You can do some race simulations in testing, but it's never the same once you go a race, anything can happen. For sure the times of sprint racing are over. You have to take it easy, make the tyres last as long as possible, and save some fuel. In the last 20-30 minutes you can start to push and take it to the limit. It's more endurance style racing that's required at the moment!
"You need to change certain things, and probably also your driving style. I think it's a new challenge, but probably not the most interesting challenge, because I love to go to the limit and push it all the race through, that's what I was used to in the last few years. It's a new experience probably for most people in F1."
Sutil certainly sees himself as someone who can cope with anything that's thrown at him, and adapt to the way the car will change over the race.
"I never have real problems changing my driving style, I think that's an advantage I have. You can see it in the wet, it doesn't matter what conditions, I sit in the car and I drive as fast as possible. That could be a benefit this year, because the car will change quite a lot during the runs, you will have oversteer, you will have understeer, heavy car, light car, and you need to adjust for all situations.
"We've heard mainly negative things about the new rules, but for sure there are also quite interesting things that can happen. I'm actually pretty open to that, and I'm looking forward to the races."