Montreal, 8 June 2008. Robert Kubica has just won the Canadian Grand Prix, taking his and BMW Sauber's first Formula 1 win. Since the German manufacturer took a punt on signing the Pole as a test driver for the 2006 season without him having so much as sat in one of its cars, things had seemingly gone perfectly to plan.
Kubica forced his way into a race seat for the final six races of 2006, stood on the podium at Monza before the year was out and, following a wobble in 2007, had established himself as one of the best drivers in the sport. After leading Nick Heidfeld home for a BMW one-two in Canada, Kubica topped the world championship by four points.
A beautiful relationship between team and driver had gone from strength to strength... or so it seemed. For Kubica ultimately proved to be something of a square peg in the round hole that was the corporate surroundings of BMW - explaining why he now feels so comfortable in a Renault team that, for all of its manufacturer status, seems to him more of a pure race team.
From the high-water mark of that Montreal victory, it was almost all downhill. Relations between Kubica and BMW remained cordial, but strained, and word is he was minded to leave even before the marque decided to forsake F1 in the midst of a disastrous 2009 that, according to its own timetable, should have delivered a strong title shot.
"I don't know - most probably not," says Kubica when asked if he would be a Renault driver right now had BMW stayed in. "But as I said, I don't know."
Hardly a ringing endorsement. Compare that indifferent response to Toyota refugee Jarno Trulli, who talks of the end of his partnership with the Japanese manufacturer as if it were the premature end to some great love story, and it's fair to conclude that Kubica doesn't mourn the fact he's now in yellow rather than the red, white and blue of BMW Sauber. That's why Kubica talks about environment as being the key to his decision of where to race this year after the paper over the cracks of his relationship with BMW was torn by the underachievement of 2009 in particular.
"When you have good results everything is running smoothly even though you don't feel properly integrated," says Kubica, who despite being unwilling to go "into details" about his relationship with BMW has made it very clear to anyone who would listen that he wasn't best pleased with the way that the team forsook a title challenge in the second half of 2008 in favour of throwing its resources at building its 2009 'title contender'.
Kubica warned in the second half of 2008, during which his podium appearances became the exception rather than the norm, that when you have a chance you should go for it because you never know what the future holds.
He was proved right, for BMW missed the double diffuser and suffered a dismal 2009, managing only sixth in the constructors' championship - and that only after a strong final quarter of the season. Throughout the year, there were signs of frustration from Kubica - some lacklustre performances as the BMW Sauber F1.09 turned out not even to be capable of making Q2 at times and a few errors in races - as increasingly he focused on his options for this year.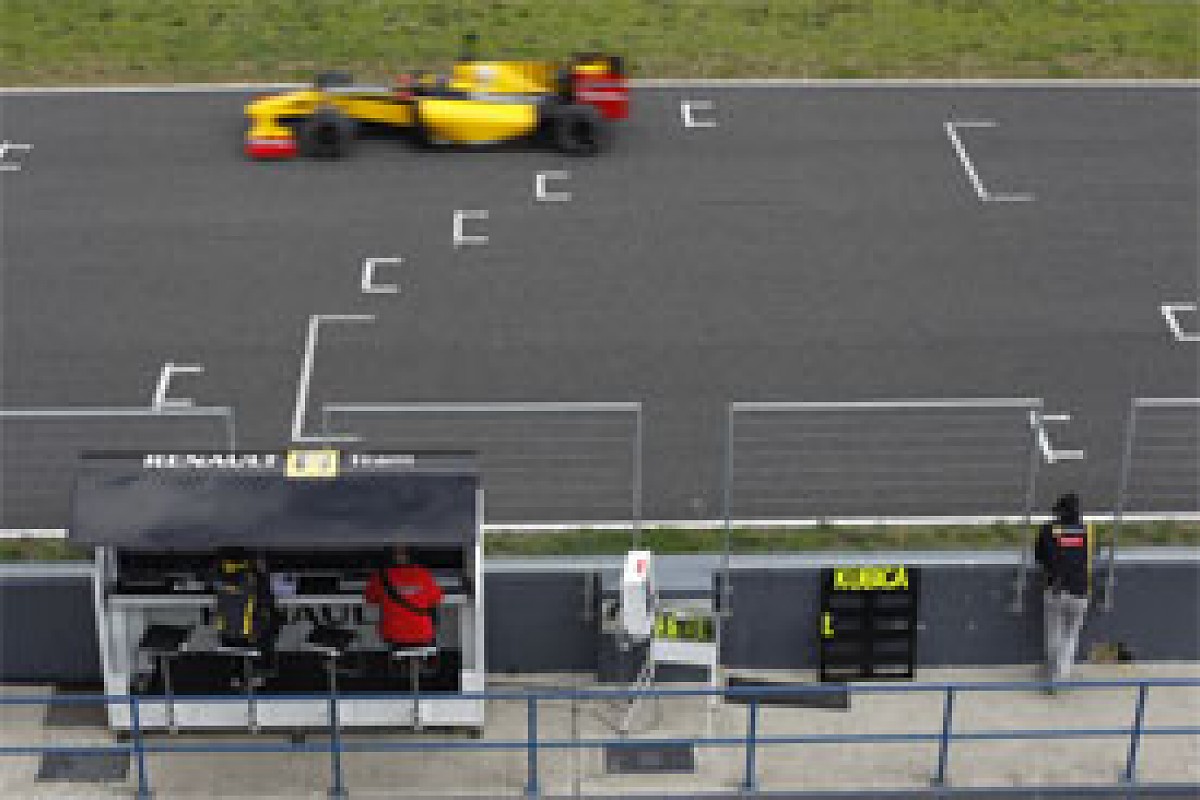 Robert Kubica tests at Jerez © LAT
Williams was a possibility, as was Renault, and ultimately the attraction was the chance to go to a team that has shown a willingness in the past to build itself around one world championship calibre lead driver (as with Michael Schumacher and Fernando Alonso) and develop well through the season (as it did in turning its 2008 car from dog to race-winner). It's not going to be an easy year - testing to date has done nothing to suggest that the Renault R30 will be a victory contender - but Kubica is ready to lead what he sees as a more of a race team than a corporate entity.
But that's not to say he will dictate terms and expects it all his own way in a one-man show. Take his attitude towards rookie team-mate Vitaly Petrov, who Kubica has been at pains to help during the test days when the Russian is behind the wheel.
"My approach doesn't really change if my team-mate is experienced or inexperienced," says Kubica. "When I am testing, or on a race weekend, I always try to do the maximum for myself, the car and the team.
"An experienced team-mate is always helpful, but from what we have seen of Vitaly he is a very quick driver. He might need a bit of time to get experience, but I hope that he will learn quickly because he can help us develop the car. With testing limited, it's important that you have two groups working and testing things and that we can rely on his results. He will do a good job."
A simple outlook from a straightforward driver who opted to go to Renault largely because of the "no bullshit" approach to racing. That also explains why he was wary when Genii Capital took over the majority share of the team - although those fears have now been allayed.
"It's very similar to the idea I had of the team before coming here, so it is much as I hoped," says Kubica. "Ninety per cent of the group I am working with is the same. The team principal is different, there is one more owner now that there are two partners in Renault and Genii Capital, but the changes during the winter didn't affect the group."
Time will tell whether Kubica has made the right decision in moving to Renault. But there's no question that he is delighted to be out of the more corporate environment of BMW and into what he sees as a more "pure" race team. And he might just be the man Renault needs to fill the hole left by Alonso.
This week's AUTOSPORT magazine - now available in a Digital Edition - features a full analysis of Kubica's switch to Renault and his 2010 chances.