Readers of this website will know how Twitter has transformed coverage of F1 testing in recent weeks, with updates from AUTOSPORT journalists and team press officers giving us a blow-by-blow account.
Lotus Racing seems to have taken things to the next level. Last week we were getting regular messages from Jerez not just from technical chief Mike Gascoyne, but also driver Heikki Kovalainen.
Gascoyne was happily telling us what the team was up to - and even what had gone wrong - while shortly after crashing on Thursday Heikki 'fessed up to making a mistake, and expressed his frustration. It reflects the fresh approach of a team which is already winning over fans who might otherwise have been sceptical about the appropriation of the famous Lotus name.
For Kovalainen the week in Jerez confirmed that he's made a wise choice. He knows the first year will be tough, but in the longer term, he's convinced that Lotus will make forward strides.
"My overall feeling is very positive," he told AUTOSPORT watching team-mate Jarno Trulli run 141 laps on Saturday. "The team showed and confirmed to me again that we are a professional team, and they are professional people. There's nothing different in running the car and fixing problems compared to any other team. And that's fantastic. It was quite impressive.
"I didn't make it any easier because I shunted on the first day on a damp track. I just went a bit too quick and lost the car and damaged it, so we were on the back foot again. But Friday, especially in the afternoon, was good. We managed to put some laps in, and they got on top of the hydraulic problems we had earlier in the week.
"They worked all through Friday night, and 141 laps without any problems was pretty amazing. It's just confirming to me that we have a lot of potential, and now it's just a question of starting to put performance into the car, and starting the true work. But the basics of the operating team are there, and this was very good to see. So I'm really pleased."
As his Thursday Tweet demonstrated, Heikki made no excuses about the accident.
To be fair he hadn't driven anything since race day in Abu Dhabi on November 1, and it was a case of too much, too soon after being out of the car for three and a half months.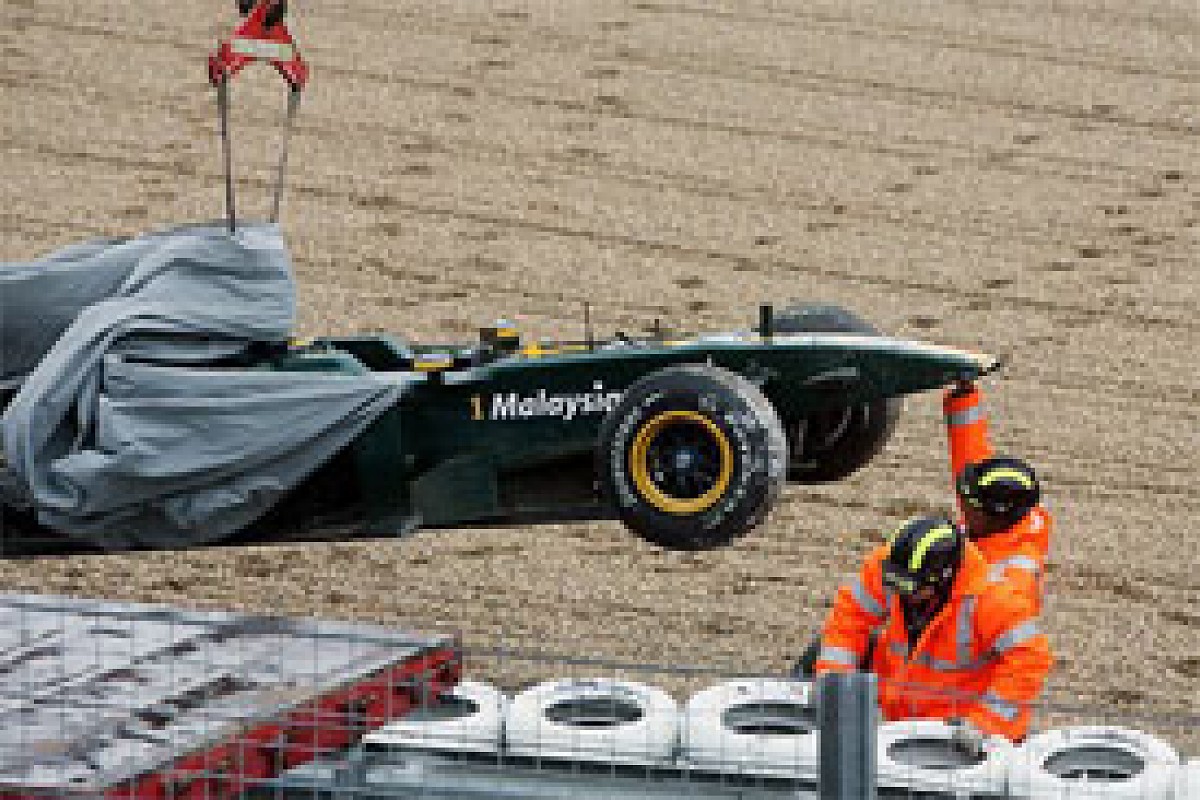 Heikki Kovalainen's Lotus is craned away on his first day of testing © Sutton
"It was my mistake, and in the end I should have enough experience to avoid that kind of mistake. I felt comfortable, I felt quite excited immediately, and I just wanted to start pushing again. Probably a bit of rusty hands, not quite sharp enough! It just happens sometimes. Anyway, I'm not too worried about it. At least I was able to push immediately, and I wanted to show that I will push. And even after the accident I pushed again on Friday.
"We had some good runs, and I think everybody in the end was fine. Nobody was complaining about the accident.
"Of course it wasn't ideal, but Mike and everybody said to me it happens in racing, and it can happen on the first lap of winter testing, or it can happen on the last lap of the last race. You just never know. You have to keep pushing all the time. It was frustrating, because I wanted to drive more and we didn't have a front wing to put on the car. But we got over it, and it didn't unsettle them at all. We put the new parts on the car as soon as they arrived and we went again."
The buzz around the team at the Jerez test has not been created by chance.
Gascoyne may not be everyone's cup of tea - his ability to pull off mega deals and pull big salaries out of teams inevitably pisses people off - but he knows how to fire up those around him. And team principal Tony Fernandes is a very impressive individual; hear him speak about his plans and you quickly realise why Kovalainen and Trulli decided to join the project.
"I had no idea about Tony," says Kovalainen of the day he agreed to come on board. "I hadn't met him before. I did talk to some people about him, I said what do you think? I got a lot of positive comments, people saying he's a clever businessman, and if he's behind the project, it will happen.
"So that was the sort of idea I had before I went to see him. Just talking to him for half an hour was pretty convincing, and we made a deal. So far, things have worked out better than I was expecting, and I think he is a very strong character, a strong person for the team.
"For me it felt right. I had to make a decision. I was looking at options, and for me, this was the most stable option. All the others, there were rumours, like who's going to sell their team, who's going to buy, this and that. Tony and Mike said, 'We have this budget, and we're going to build this kind of team, and this kind of car. What do you think?'
"I felt I had to take this chance, and the next few years will tell if it was the right or wrong choice. But so far, no regrets. I think we can achieve some results in two or three years' time. The fact that we had a car to test before the first race was better than I was expecting."
Like Trulli, Kovalainen has made a three-year commitment.
"Just looking at one year would be a little bit silly, because it's not going to happen in one year," says the Finn. "But I think we have a really good atmosphere, and I really enjoy being here.
"I think it really gets everything out of myself, and my target is to get everything out of the team, 100% every time. Given a bit of time, I think we can put some performance in the car, and I think we have a good opportunity. Tony is there, making sure we have the tools and the right environment to perform as a team, and Mike is there to make sure the car becomes a good car. I believe in this project, and that's why I'm committed."
Heikki Kovalainen and Jarno Trulli at the Lotus launch in London © Sutton
Both drivers will be in unfamiliar territory this year, and for the first part of the season at least they know they will be fighting with Virgin (and any other newcomers) at best for a spot on the 10th row.
"I'm prepared for that at the beginning," says Kovalainen. "As a team we have to go through those times. That's the difficult and tricky part. But I think we will go through them, I don't see any reason why we wouldn't be able to. And already when we go back to Europe, and our team is running at full capacity, we will produce parts at Hingham.
"We're going to have 260 people in the team, which is already the size of Sauber as it is now. I think we have a good capacity to start making improvements. I want to see some significant steps from the first race and if we can do that, it'll be fantastic. I can't wait to have a better car for next year."
At Jerez Kovalainen got to know his crew for the first time. His race engineer and data engineer both worked with Timo Glock at Toyota last year, and as such helped their man to two podiums and 10th in the championship, despite the German missing the last three races. They didn't do too badly either when Kamui Kobayashi took over. There are a lot of experienced people in the garage.
"Absolutely," agrees Kovalainen. "It's obvious when they work that they've been working with big organisations before, and they know how things run. For them it's also easy to work with me, because I know how things need to be run and what we need to be focussing on at different stages.

"In fact the work with the people in my car crew has started well, and I'm really, really happy. One of the advantages for us is that they are all current people, they are not people from F3 teams who need to know what F1 is all about. They know the routine. I've given them a little bit of direction sometimes when they see something, they've given me the same as well, and I'm never thinking we're lost or anything like that. Everything has run pretty smoothly.
"Mike is good at motivating people, and he does tell people off when he needs to tell them off. He tells me off when there's a reason for that! And I can tell him very straightforwardly if I think something is wrong, and I can criticise him or whatever, if there is a reason. It works fine.
"When we get out of the office in the evening we can talk about other things, and it's all pleasant. So I really enjoy working with him, and I think there's a lot of potential with him. He obviously knows how things need to be done."
Jerez was really a fire-fighting exercise, making sure the T127 ran and that all the basic systems worked. Barcelona will give the team a little more time to focus on performance, and then it's off to Bahrain.
"After this test we know very clearly where we need to be going," says the Finn. "It will take a little bit of time, and probably by the first race there's not enough time to make the necessary changes, but for sure when we come back to Europe we will have pretty big improvements in the car. We will know very clearly where we need to go.
Heikki Kovalainen at speed in the Lotus T127 Cosworth at Jerez © Sutton
"We knew that the car had been built quickly and everything has been set up in five months, so we never expected the performance to be a Ferrari yet! But that's fine.
"We are ahead of the schedule and the car is running reliably now, and this is the first step that we had to take and we've taken it. Now the process starts of putting performance in the car.
"It will not happen overnight. We're still a small team, but I think we can do a decent job. I think this year we can improve significantly, so that's very good to know, and I'm looking forward to starting that development work, and having my input into that as well."
He is also happy with the progress of Cosworth: "It feels actually very good. In terms of power it's probably not quite as strong as the Mercedes yet, but it's not far off, and reliability and everything is good. So that's a strong link for us, and also the gearbox has been running well, and we haven't had any problems.
"So there are fewer things for us to worry about and we can really focus on the chassis performance. The one thing you can have problems is with hydraulics, and I think we've got on top of it quite well, but it's something we need to keep an eye on and keep improving. I'm sure we can do that."
What money can't buy is a spirit in the team. Virgin also has a buzz about it, but Lotus seems to have created something special.
"They want to bring the team to people, and for Tony it's very important to get fans close to our team and give them information," explains Kovalainen. "Of course I want to be part of that. In a couple of days I've got 5000 followers on Twitter! It's pretty amazing. We want to keep doing that, and hopefully people enjoy it. I hope we can prove to them that we can do the racing side as professionally and we'll win more fans.
"I don't think there should be too many secrets, of course you don't want to give the exact kilos we're running, but when we are testing and we have a clutch problem or a hydraulic problem, people should know it, because otherwise they'd be guessing. Have a look if you don't believe me! This is our philosophy. It's fresh, it's a bit different. I think the fans really like it and that's what F1 needs."
You can read more about the new Lotus Racing team and its T127 challenger in the new online edition of AUTOSPORT magazine.