Felipe Massa could be forgiven for thinking it had all just been a bad dream. For most of 2009 there he was, blowing away Kimi Raikkonen, just as he had done in '08. The '09 Ferrari wasn't great, but Felipe was maximising it, dragging from it points it didn't deserve, whereas Kimi just seemed to have given up on it. Qualifying in Hungary was going well, the car seemed genuinely competitive for once, Felipe had worked away with his engineer Rob Smedley to find a great balance and then... it all went black.
Until this point it had all seemed real, but then he awoke in a hospital bed, feeling very spaced out, his family all around him. Seemed he'd had an accident in this dream, some bizarre story about a damper spring from another car hitting him on the head - yeah, as if anything like that ever happens. But this dream just kept getting stranger because as he recovered, became stronger, so it seemed that the world champion he'd blown away was no longer going to be his team-mate.
Instead, Kimi would be replaced by another world champion - Fernando Alonso. He'd knocked one down and now up came another, like one of those fairground ducks. Seemed like no matter how many times he proved he was worthy of Ferrari team leadership, that he was ready to graduate from the apprentice role he'd assumed since this team gave him his chance seven years ago, he was forever destined to repeat himself, as if stuck in a loop.
Of course, it was real. Ferrari had at least kept the faith that Massa would make a full recovery and always included him in its 2010 plans. But it seems he was not deemed to be the 'Michael replacement' the team felt it needed. Post-Jean Todt/Michael Schumacher/Ross Brawn, the internal dynamics at Ferrari were very different, reflecting the different personalities of those in their place.
The perception was that the dynamic still wasn't quite right, that a true team-leader driver was required, someone who would bully, cajole and inspire the team - as Michael used to, as Kimi had failed to. Massa wasn't that man, it seemed.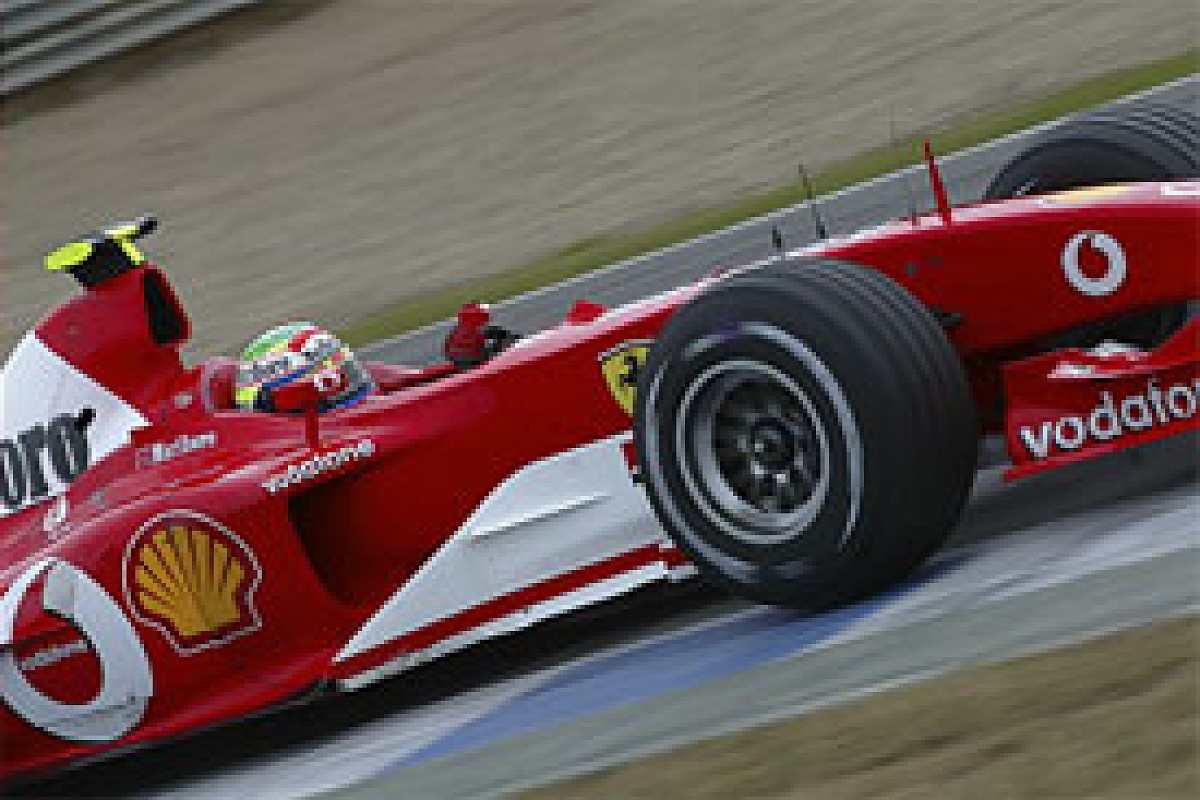 Felipe Massa tests the Ferrari F2003-GA at Jerez © LAT
Massa had been there in the previous era, first as test driver, pounding around Fiorano bedding in components until one day, on low fuel and new tyres, he gave it everything and snuck under the lap record - in a car that was due to be crated up that afternoon and sent off to the German Grand Prix, for Schumacher's use.
Test drivers aren't supposed to risk the machinery like that, especially at such critical moments, and Todt went crazy with him, gave him a bawling out like he'd never had before. But from that day he never had to bed in diffs and brake discs any more, was given much more genuine performance-development work. He'd stood his ground, fought his corner - a very tricky thing to do within a team that had brought him from virtually nothing - and it had worked.
You can't be forever meek and grateful, doing only as you're told. Sometimes you need to fight the very people you want to impress, to remind them you've outgrown your role.
He would sit in on the race-weekend debriefs as Brawn and Schumacher did their stuff. It was the most fantastic university of F1. Then, from 2006, he was part of it - a genuine Ferrari race driver, sitting there in the same garage as Michael. At first he fought. Fought Michael - or at least tried to. He would have been on pole, he said, after the season-opening Bahrain qualifying session, but he'd been baulked by a Renault. That was the only reason, he implied, that Michael sat on pole instead.
At the next race he was running in the points in the late stages and Schumacher was coming up behind him, recovering after an engine change had put him down the grid. Felipe heard the radio call, knew what it meant - that he was supposed to move aside. But he chose not to. Sometimes you have to fight your corner.
But then it started going wrong. The harder he fought, the worse it seemed to get. He wasn't as fast as Michael and he couldn't understand why. Incidents, flat-spotted tyres, on-the-hoof changes to set-ups - he looked once more like the ragged Sauber rookie of 2002. This time, fighting was only making things worse. He could hardly demand anything of the team from this position.
Along came Smedley partway through that season and began the process of rebuilding the guy, getting his head straight, making him accept he wasn't going to outdrive the seven-time champion, that it was no disgrace, that he just needed to build on what he had. He then won a couple of races in commanding fashion - though both times circumstances had compromised Schumacher. Massa never beat him in an equal contest, was invariably a few tenths slower.
But then Michael retired, replaced by Raikkonen, who everyone assumed would have Massa for breakfast. But he didn't. Kimi won the title and was sometimes faster. But, just as often, Felipe was quicker. He kept getting better. In 2008 it was Raikkonen supporting Massa's title bid in Brazil, not the other way round. In '09 it was much the same, Massa still getting better, notwithstanding the less-competitive car. Take a look at that stunning middle stint in Monaco - it was a 'Michael stint'. A podium at the Nurburgring was superb. Then Hungary.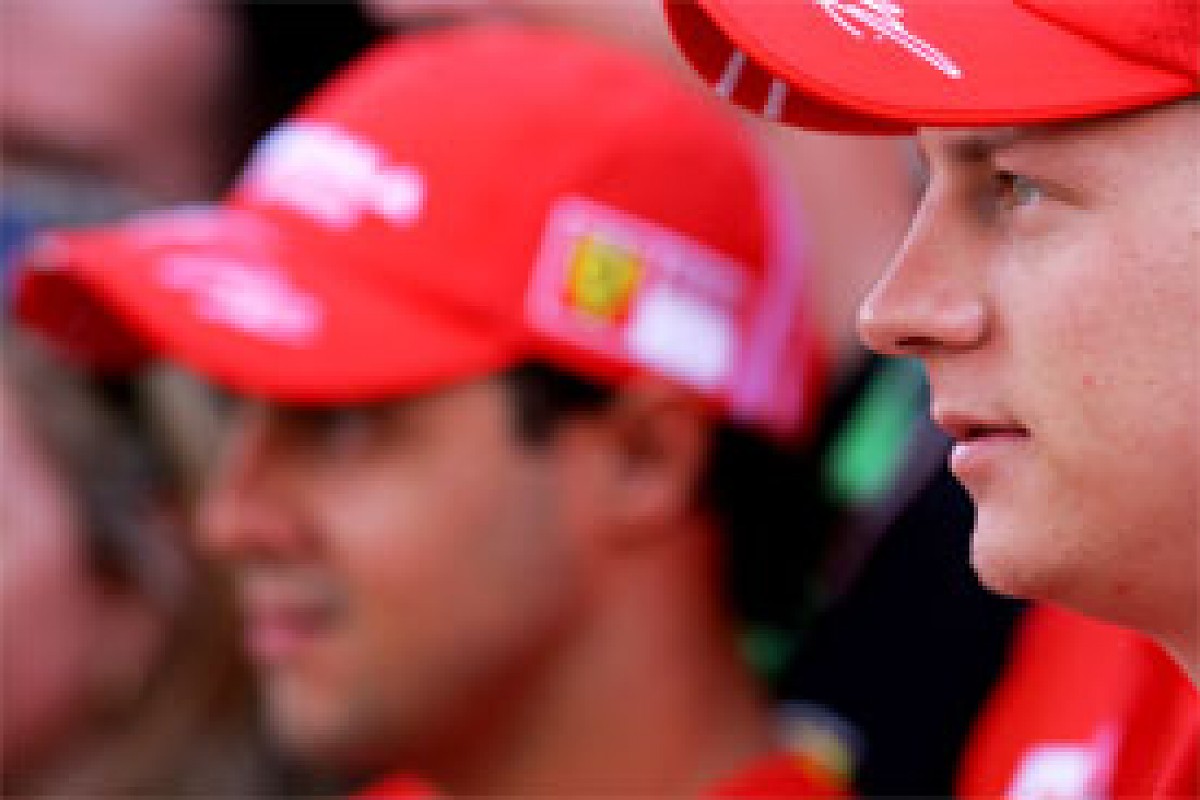 Kimi Raikkonen and Felipe Massa © LAT
The Alonso announcement was made some time later but the reality was, even before Massa's accident, that the Spaniard was always going to be joining in 2010 - as Raikkonen's replacement. In other words, even without the inevitable doubts caused by his injuries, Ferrari had not been about to reward Massa's ever-more impressive form with team leadership.

To the management there, it seemed he was destined to be forever in the role of the keen young apprentice, the young kid they'd given a chance to: nice guy, bouncy, friendly, always gives his all, very fast. But not the guy to get the team buzzing, jumping to his every whim the way it did Michael. That thing about 'you can never be a hero in your home town, no matter how much you might be revered outside it'. Massa joined the team as a kid from Brazil looking for a chance, Schumacher joined already a double world champion. As now does Alonso.
So Massa has to do it all over again, to put history aside and take on Fernando Alonso within the same team. The signs indicate that the accident has left his driving unimpaired; his task then is to prevent his team-mate taking over this team. He can do that by performance, but will probably need more than that, for Fernando is a more multi-dimensional performer than ever Kimi was.
Luca di Montezemolo is making lots of noise about how he's told Alonso that he is driving for the Scuderia, 'not himself', a fairly overt reference to what happened at McLaren in 2007. And Fernando will undoubtedly nod, smile and apparently agree. But that steel core will not have softened. He can't help it. He knows what he needs, pushes to get it - and with those two world championships comes something he has little to do with but knows how to use: the way people respond to him.
Ferrari is painting a picture of unity and combined effort, but the season hasn't begun yet. Here's what Massa says when asked about how he'd handle any conflict of interest between himself and the team that made him an F1 driver, that plucked him from obscurity: "I've had many strong team-mates in my career and have always been successful with them all. There's a lot you can learn from a strong team-mate. If you compare the driver I was when I raced alongside Michael, when he was in his last year, to now, I'm very different. I've been allowed to grow."
This was said in a roomful of journalists at the launch of the car and sounds ostensibly innocuous. But the message to Alonso is in there: 'Don't come in here thinking I'm your support. I'm not and I'm way better than I was when I played that role for Michael'. The question of conflict of interest remains unanswered, but it can't continue to be so.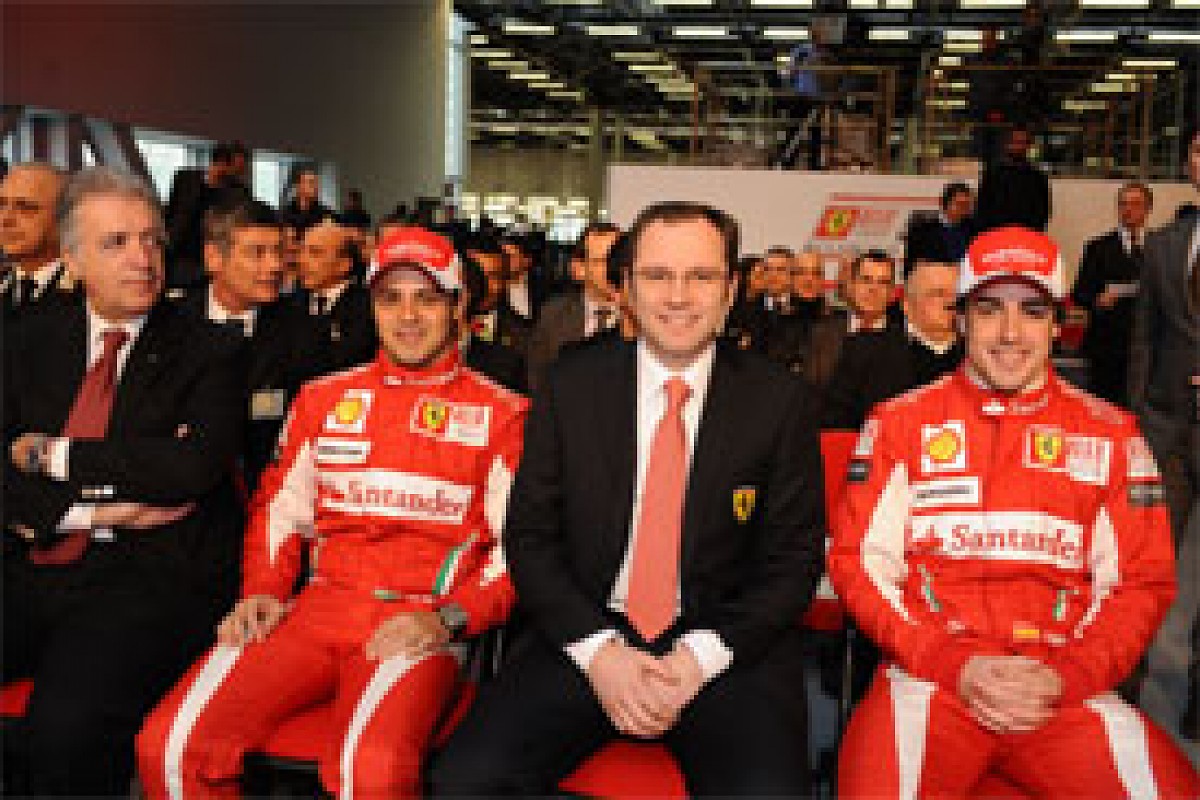 Fernando Alonso, Stefano Domenicali, and Felipe Massa at the Ferrari launch © LAT
A few races before his accident, before it was official and he had to be polite, I asked him about the idea of Alonso coming to join him, whether it concerned him. "He's just another one!" he replied. "Michael, Kimi. You don't get easy team-mates."
Alonso is not joining Ferrari with the idea of sharing a few wins with his team-mate and them each happily contributing to the team's joy. This is, he says, the final team for him, the definitive one, and he's going to be here for a few years. This is where he's going to put the final seal on his career, where he plans to rack the numbers up.
Massa's task is to stop this becoming Alonso's team. Felipe's been here for seven years, as man and boy, and yet it's still not really his team. He's probably fast enough to inconvenience Alonso, but that in itself won't do it. There will come a moment, probably before the season is very old, when he will need to do something very similar to what he did that day at Fiorano testing: to stake his claim and force the team to look at him through new eyes, even if it means upsetting people. Rather like Lewis Hamilton did in Hungary in 2007.
After what Felipe's been through, what is there to worry about? The implications of what almost happened in Hungary may just have given Massa all the steel he needs for this challenge.