It would probably be wrong to draw too many conclusions from the fact that Jaime Alguersuari set the quickest lap during a brief dry window at Jerez on Friday, especially as only Lewis Hamilton went faster when conditions were good on Saturday.
As we have to keep reminding ourselves, the huge fuel loads required this year mean that testing times are harder than ever to judge. Nevertheless, the performance was a timely boost for Alguersuari, who arguably has more to prove than most in 2010.
The young Spaniard was fast-tracked in to F1 by Red Bull in the middle of last year, having done virtually no meaningful running in the Toro Rosso prior to his debut in Hungary.
He made his mark on the history books by becoming - by some margin - the youngest driver to ever start a grand Prix. No one expected too much from that first race, but he acquitted himself well. However, from there to the end of the season his progress was modest, and he was comprehensively overshadowed by team-mate Sebastien Buemi. The wisdom of putting him in with so few miles under his belt came into question.
It's a tricky one. With little F1 testing available these days, should a team in effect train a driver by giving him a race seat asap? Or would it be wiser to let him learn as much as possible via a steady climb through the junior ranks, with a year or two in GP2, prior to the step up?
Red Bull has a history of playing around with drivers, which is perhaps inevitable for a sponsor that has a constant stream of new talent on the way up. Christian Klien, Scott Speed and Sebastien Bourdais were all kicked out in the course of a season, while Tonio Liuzzi was dropped from the programme at the end of 2008.
There's no question that Sebastian Vettel has proved to be a spectacular find, although we shouldn't forget that BMW gave him a lot of mileage before he returned to the Red Bull fold.
Does Alguersuari have the same sort of potential? Obviously some in the camp think so, but the fact that he wasn't finally announced at STR until well into the new year is a little strange. The team says that there were contractual issues and that his eventual confirmation was a formality, but from the outside it was hardly a ringing endorsement.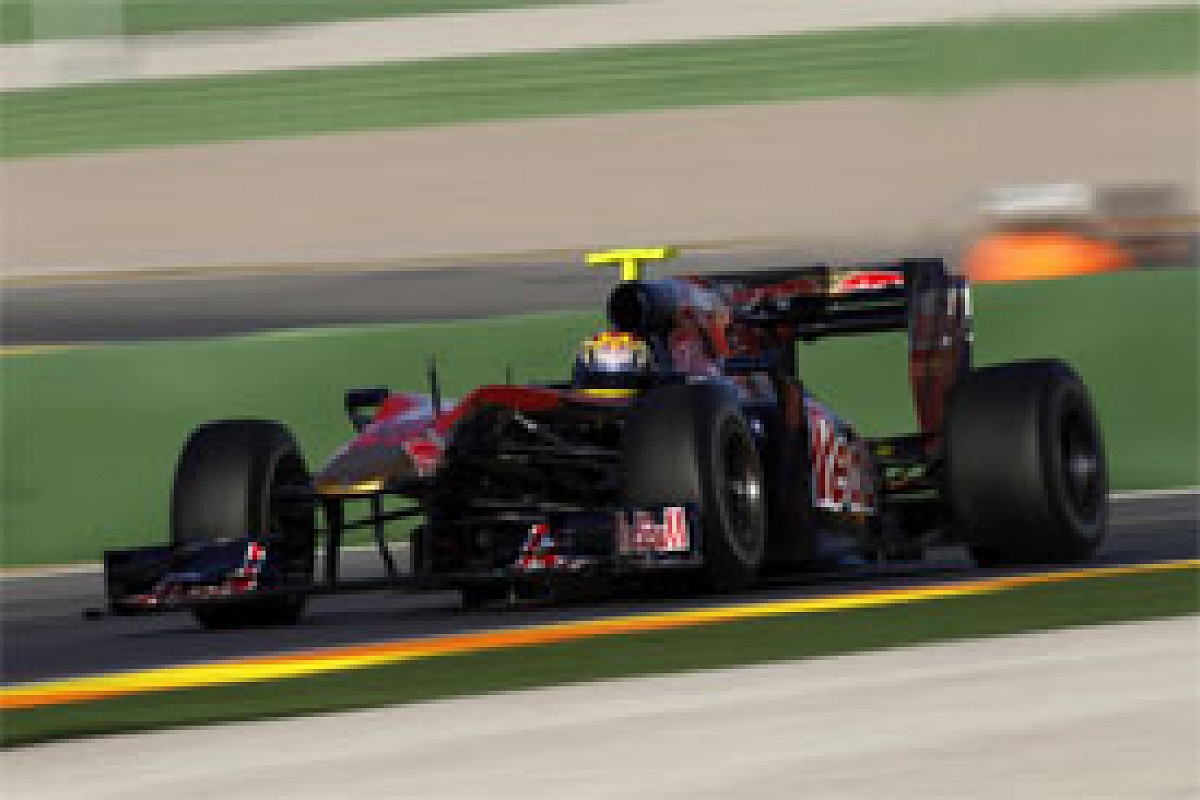 Jaime Alguersuari gets his first laps in the Toro Rosso STR5 at Valencia © LAT
Alguersuari has spent this winter preparing behind the scenes, and finally at Valencia at the start of this month he got down to business with some proper testing. When he takes to track in Bahrain, there will be nowhere to hide should he fail to perform. Following an impressive test debut at the end of last year, Daniel Ricciardo is waiting in the wings for his chance.
Jaime insists that he will be much better prepared this year.
"This winter has been quite long," he says. "Especially because I pushed a lot of the training side, the physical side, definitely because we have less time than other years. This season starts reasonably soon, and therefore we have to prepare for that.
"Last year everything was tough because I knew about the Hungarian GP one week before the race, so I was not ready yet to race. But despite this, I had to do it - and it was a pleasure.
"In the end I thank everyone who made me race, because this year it will be good. I have eight grands prix on my experience. In the end the most important thing is, not just on the physical side, but also on the psychological side, I'm much better. And we have some testing. So I hope I am in a much better position for the first race."
The poor guy really was thrown in at the deep end last year. When he showed up at the Nurburgring, newly announced as reserve driver, it seemed pretty obvious that Sebastien Bourdais was on the way out. Next time we saw him, he was a race driver.
"Hungary was quite tough. Ok, I had the 'no pressure' effect from Franz Tost, from Giorgio Ascanelli, from Mr Mateschitz, from everyone. Because in the end you know you cannot judge a guy who has not driven the car before. I'd driven it in the straight line, but not really.
"Going there, I was completely sure I was going to miss three or four seconds to the lead. I was 100 per cent. Then when I saw I was three or four tenths behind Buemi, I was very impressed. Obviously we have to say the car in Hungary was quite easy to drive, because it was a high downforce track and we had the upgrade on the floor, the double diffuser. So they made good progress on the car and it was easier for me to drive it. But definitely I didn't expect to do that good."
He says the age record doesn't mean very much: "I think this is very nice, and especially in Hungary it was very nice to be the youngest. I really think it will be difficult to beat that record. We have to be realistic, that's not my aim in life. I want to win, I want to perform and become a world champion one day, I hope. The last of the goals is to be the youngest. I'm happy to be it, but it's definitely not my goal, my vision."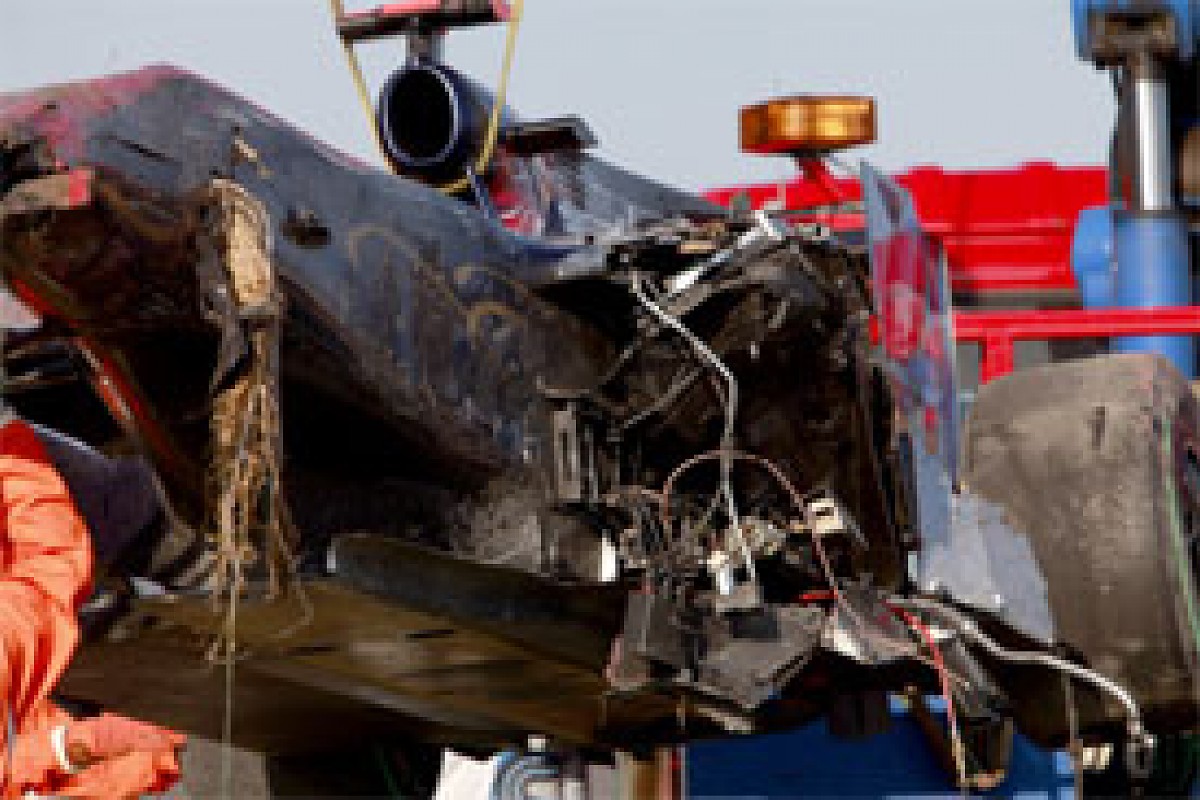 Jaime Alguersuari crashed out of the Japanese Grand Prix © LAT
Without any testing, it was inevitable perhaps that he didn't make spectacular progress up the field over the next seven races. Perhaps the biggest disappointment was in Japan, where there were clear signs that the Toro Rosso was bang on the pace - at least when the two drivers weren't bouncing off the barriers. Red Bull insiders admit the car could have been on the podium that weekend, and in Brazil too it looked fast. But while Buemi did pick up points here and there, Jaime has yet to score.
"For me, I think the story of getting points was too early. In F1 you find the best of everything, you find the best drivers, the best cars and the best field. For me to get points, it was quite early to talk about. Maybe if it rained and there was a big casino, it was possible to get some. But it was not my main objective.
"To mix World Series and F1 was very tough, because you use different tyre compounds, the car is completely different, the seat, everything changes. So I would say I am quite proud of the way it went."
He says that the delay over his confirmation this winter was not an issue.
"I was surprised it was not said in the beginning, why it took so long. I knew perfectly after Abu Dhabi. I was never in contact with Toro Rosso, I was always contacting Red Bull and I was sure what was going to happen. That's why I just focussed on my training and my methods to get better for 2010."
If Jaime is to avoid the fate of some of his predecessors, he's going to have to get the job done in 2010. He may be given some slack for the first couple of races of the season, but not far beyond that.
"Let's say the pressure is just on my side, because I put the pressure. I have my own limits and I have the pressure I put on myself. Not just this year, also last year. But as you say, this year it will be a different position, because I'm more prepared, I'm more ready and I know what to do. Last year I didn't know anything, I just knew how to drive, more or less, and how to learn. This year is also a learning period, but I could give some results and some performance to the team."
He's not worried about pressure from his bosses: "This has been like this since I was 15, because I was in the junior team. It's something you deal with. In life it works like this, not just in F1. Out there in the world as a lawyer or whatever, if you don't do your job, or you don't do your best, then you're off. This is how it works, this is F1, and you have to accept this.
"Everyone is pushing and you need to deliver, you need to perform, and the best way to do it is to work more than the others, inside and outside the track. Really this is how it works, I think.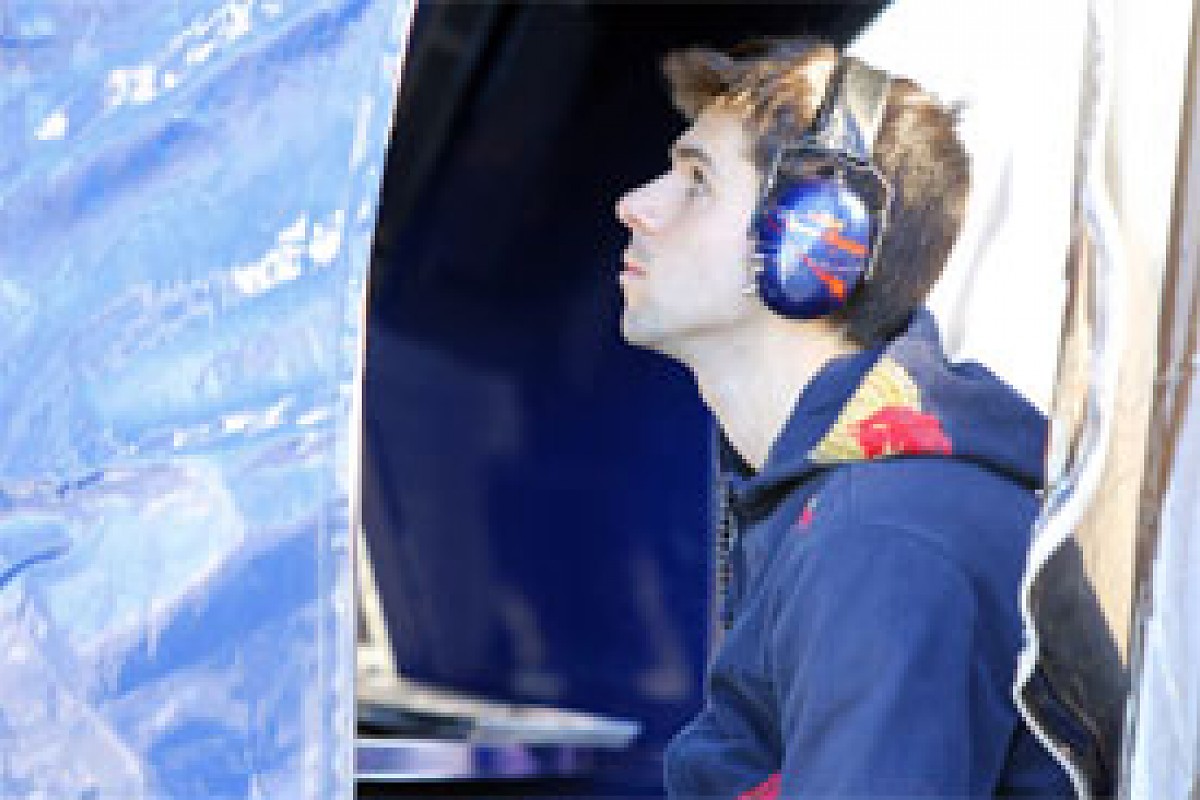 Jaime Alguersuari on the Toro Rosso pitwall © LAT
"I'm more relaxed now, because they know what I can do, they know my possibilities and they know what I will do. If I've done this with this age, then I can improve much more when I'm older. So I'm quite satisfied and I'm definitely not worried about the pressure."
That question of progression is something Alguersuari keeps coming back to. The way he sees it, if he's this good now, where will he be in a few more years? It's an interesting viewpoint.
"One of the main reasons I think Red Bull put me in the car was because of my age and experience. I guess this is very important. If you are five out of 10 when you are 18, you will be six out of 10 when you are 19, and it's like this going through the years. Every year you grow up and get more mature, and you learn from a lot of situations. I think that's a little bit the story, really."
He should certainly learn a lot in the month of February. By the end of it he will have shared the team's 15 test days with Buemi and will have a much better idea of what he can get out of an F1 car.
"On a test day you can learn I think much more than on a Friday. Ok, the best thing to do is to race, because you have the competition. But on a test day, with new tyres with different compounds, you learn much more. In a test you can see what you want to have, you can see so many things that you can't do at a grand prix. For me, the races were just a method a test."
Last year it was interesting to hear the odd snippet of Toro Rosso pit conversation. For someone with so little experience, Alguersuari certainly sounded like he was providing sensible feedback and clearly on that count he has impressed the team.
"I think it's just a question of feelings. When I step in the car I'm very sensitive and I feel what is happening in the car, I feel what I would like to improve. I feel I'm quite good at this, but definitely a lot of things can be much better.
"At the end of the day to find 100 per cent perfection is impossible. At least today, and this is really good. I'm happy to hear this, because this means you can improve. I would be quite worried if I could not improve my progression now."
So what can we expect from him in 2010?
"Definitely I'm in a different position to last year. I don't know how much, but I will be much stronger, in all ways. Not just in Bahrain, but during the whole season I will get much better and better. That's how it works, not just in F1, but in all categories in general. I expect to be right at the top with my team-mate."