Now that Formula 1's first official test session (of four) has come and gone, and with the second being due to start tomorrow, what lessons can be learned from last week's three-day session in Valencia - during which five new designs were unveiled, and a total of seven teams took to the track, in the process covering around 6,000 kilometres?
The first is that so starved of action are the sport's fans that tens of thousands were willing to pay good money to see, feel and hear a bunch of cars on different development schedules take to the track in random sequence during the three days.
In fact, so variable and weather-dependent are schedules that no guarantees exist cars will take to the track at all, yet a reported 120,000 fans paid an average of around £40 to pass through the gates of the Circuit de la Comunitat Valenciana Ricardo Tormo over the three days!
Fernando Alonso makes his Ferrari debut at Valencia
True, some were Fernando Alonso fans absolutely determined to get their first sightings of Spain's national hero bedecked in real red, but Michael Schumacher, Pedro de la Rosa, Rubens Barrichello all had followers in the stands - and, in any event, who cares whom they cheer as long as appetite for action is sated.
Had the tests been held in Silverstone or Hockenheim then Jenson Button and Lewis Hamilton, or Schumacher and Sebastian Vettel would have been the targets of such mass enthusiasm, with F1 still being the overall winner.
In the Valencia paddock evidence abounded of sponsor guests and VIPs milling about, while a straw poll of languages spoken amongst the audience indicated fans had travelled from Italy, Portugal, France, Germany and the UK - plus, of course from across Spain - to experience the first runnings of the 2010 cars.
When a motor racing tour operator recently flighted teaser adverts for trips to the Barcelona tests on his website, he was immediately inundated with enquiries and has a full-house for every day of the tests.
"We ran the ads to see what the response would be, and within two days had a couple of hundred enquiries," says Kevin May of Select Motor Racing,"'and filled up very quickly." This despite disclaimers in his mailers that, due to the nature of the beast, there were no guarantees of track action or even which drivers would be present...
Red Bull Racing's guest lists for all the tests are believed to be full, while Team McLaren - the outfit's official fan club - recently circulated members with offers of garage tours during both Jerez tests and in Barcelona. These, too, are understood to be full.
All of which suggests that F1 is sitting on a veritable gold mine. However, the Selects of the world can only accommodate so many fans, while paddock space access is understandably restricted - according to May, teams have right of veto over pitlane and paddock access - so a possible solution would be to schedule pitlane walkabouts during lunchtimes and after close of each day's business.
Circuit owners could schedule autograph sessions, as could public interviews with drivers and team personnel. A little TV coverage and live timing information broadcast on big screens would not go amiss, either, with direct costs recovered from gate entrance fees - having travelled so far, fans would surely pay a little extra for the privilege of such interactivity with their heroes.
The ultimate proof of the pudding lies, though, in the eating, and here even fans far removed from Valencia lapped up coverage of the test session: as reported by colleague Jonathan Noble here. AUTOSPORT.com broke all records, attracting 1,74m page impressions on the first day alone - virtually double that of Silverstone Friday when news of FOTA's breakaway series attracted a million readers for the first time ever.
Photographer in the pitlane at Valencia © Sutton
But, as Jon points out, there was little TV coverage due to normal rights holder restrictions, with whatever moving car footage made available from the venue being fleetingly broadcast on newscasts - and then only featuring big hitters. Whilst mainstream broadcasters would most certainly not broadcast every passing second of each day's running, the tests surely presented FOM (and team sponsors) with an ideal opportunity of experimenting with webcasts and suchlike, particularly as FOM invariably has broadcast crews at test sessions.
Footage, too, could be canned for delayed use as edited highlights by broadcasters such as Eurosport or MotorsTV (or as inserts on scheduled sports programmes transmitted by FOM's regular broadcasters such as BBC, RAI or RTL), while live timing could just as easily be webcast. All it requires is a bit of understanding of the opportunities offered by new media...
The various unveilings ('launches' is too formal a term for what amounted to little more than ripping a dark sheet off a car) offered ideal TV and internet fodder, with Sauber once again stealing the kudos by offering what one journalist described "everything it said on the tin": uninhibited interviews, a running, new car and access to drivers and team personnel, all squeezed into a deadline-friendly timeframe. All it lacked was full exclusivity.
Originally the Formula One Teams' Association planned to schedule a mass launch for its member teams - as per international motor shows, which see motor manufacturers launch new models to media and general public alike on a rotational basis - but if there were lessons to be learned in this regard from Valencia it was that a maximum of two unveilings can be accommodated per day.
Sauber and Renault introduced their new cars within two hours of each other, and the media was (just) able to do them justice, while Mercedes GP's double-barrel approach - livery launch in Stuttgart and car unveiling in Valencia precisely a week later - plus the fact that M. Schumacher was due to drive a contemporary F1 car in real anger for the first time since 2006, ensured both F1 returnees received their fair share of ink.
By noon on Monday, though, few hacks had the stomach to attend Toro Rosso's session - and there was absolutely nothing wrong with the food on offer, I hasten to add - so imagine another nine launches squeezed into those 24 hours...
Ditto the internet launches which have become vogue of late - Jaguar Racing got the ball semi-rolling (its web streams were massively interrupted) with their swansong launch in 2004, yet despite massive technological improvements since, hardly an internet launch has done justice to the effort required in getting a newly-built F1 car to the point where it can be introduced to the public.
Ferrari's launch in the run-up to the Valencia tests was blighted by breakdowns in web streaming due to abnormal server loading, as was Mercedes's livery launch - given the interruptions occurred at different times in different locations, geography likely also have played a part - while McLaren's unveiling of the new MP4/25 worked perfectly, as could/should be expected from a launch hosted by the world's largest mobile communications company.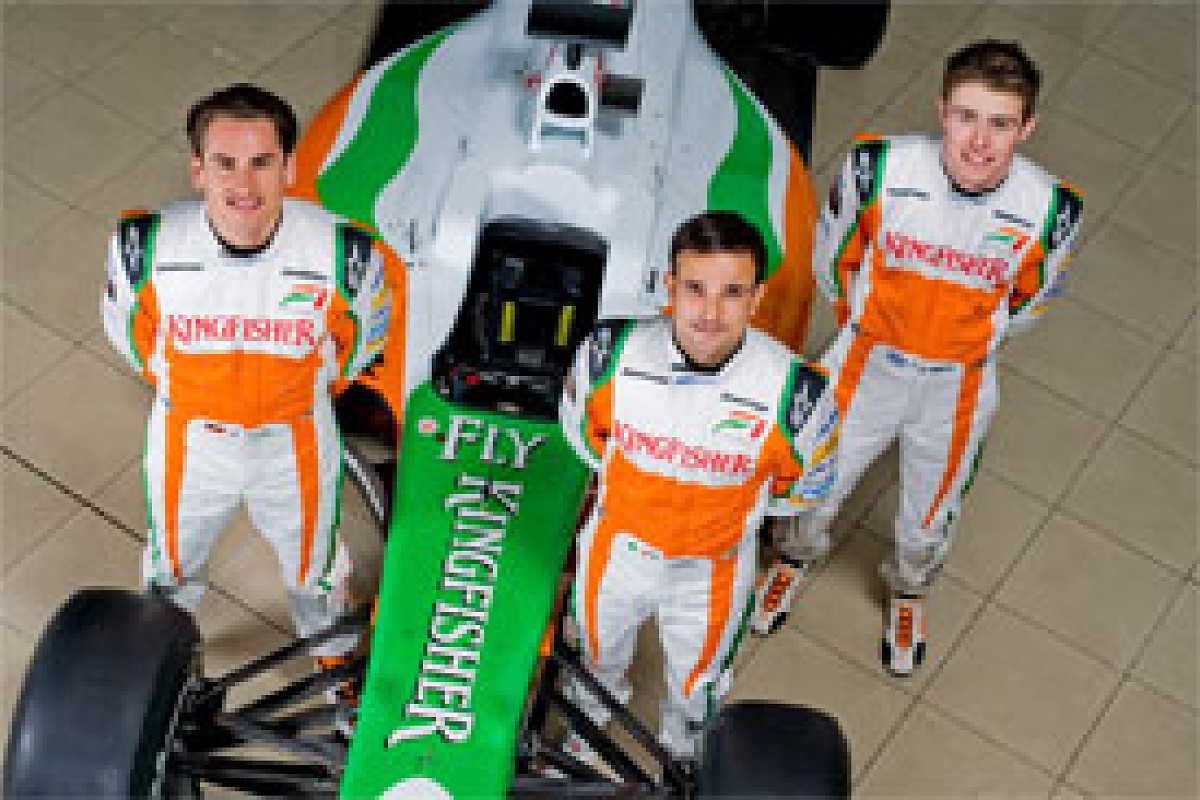 Adrian Sutil, Vitantonio Liuzzi, and Paul di Resta unveil the Force India VJM03
Force India's unveiling was nowhere near as hi-tech, with the launch being restricted to texts and visuals without live streaming, all of which begs the question whether web launches/unveilings actually do justice to sponsors, teams, drivers and the products themselves - particularly as the media is now shunning such launches.
After all, why should media outlets bother to incur all that expense and effort, often traveling across borders, simply to bring news of such happenings to readers, when said consumers have already enjoyed superficial sightings of the cars on the internet?
Nobody suggests cybersex is a true substitute for real passion, so why do media officers assume virtual launches to be better than the real thing, namely dynamic launches in which cars run in all their glory and real drivers answer real questions asked by real insiders. Possibly, though, all that counts for teams is the size and not the quality (of the audience)?
Ultimately the ideal launch process is ultra-simple. A team with the largest marketing budget, one which has, ironically, its roots in JagRac - Red Bull Racing - has perfected the art of car introductions despite, equally ironically, having arguably the smallest launch budget.
For the past two years RBR has unveiled at Jerez, easily Europe's most inaccessible F1 circuit - situated in south-western Spain, virtually within sight of the Rock of Gibraltar - yet has consistently managed to attract specialist journals by adhering to the simple rule of anticipation, launch, interviews, access and track action - all within a few hours and scheduled such to meet the most pressing deadlines. That RBR generally has the most eagerly awaited car helps, but that is just half the secret.
As matters stand, F1's millions of fans are starved of action between mid-November and mid-March, i.e. for four full months despite the sport having a true year-round following. Managed correctly, test sessions and launches have the potential to sate appetites during the 'off' season, but when it comes to such matters F1 is patently still in 20th Century mode - server breakdowns, antiquated websites and all.
For a sport whose regulatory body recently issued a media release containing the sub-heading 'Improving the show', whose president just this week stated, "We need to cut costs, improve the show and draw investors", not exploiting the benefits offered by test sessions and car launches sure look like an opportunity missed, particularly as FOTA exactly a year ago vowed to improve access for fans.
Delivery time has come.