The 2010 season finally kicked into gear on Monday at Valencia as seven teams showed their new cars for the first time. Of course it's very early days, and the lack of refuelling this year - and the huge differential between full tanks and a qualifying run - means that it's harder than ever to tell where everyone is.
The other problem is that the car that many believe could be the pacesetter is not at Valencia this week, and thus nor are its drivers. Adrian Newey has given Red Bull an extra nine days of R&D work on the RB6 in preparation for a debut at Jerez on February 10, so Sebastian Vettel and Mark Webber have had to sit at home, and are presumably following the progress of their rivals on the internet.
When Vettel does appear, we are going to have the fascinating prospect of the man endlessly pigeonholed as the 'New Schumacher' taking on the real one, not just on the track, but in the battle for the hearts and minds of the German public.
Last year Vettel proved beyond all doubt that he was world championship material, winning four times and coming agonisingly close to taking the title. The assumption is that the RB6 will give the chance to fight for it once again, but nothing can be taken for granted.
"For sure you never know," he says. "In the end as you say, how many chances do you get? In the end I can tell you the day I retire how many chances I had, and how many chances I used. You are living in the now, and sitting here I know I can tell you it hurts not to win the championship, as it was so close.
"But on the other hand there's still a long way to go, maybe, hopefully! I'm enjoying myself, and looking forward to the future. I think we have a good team. We are still very young, 2009 was the first proper season we had, a kind of a breakthrough, and we'll see in the future."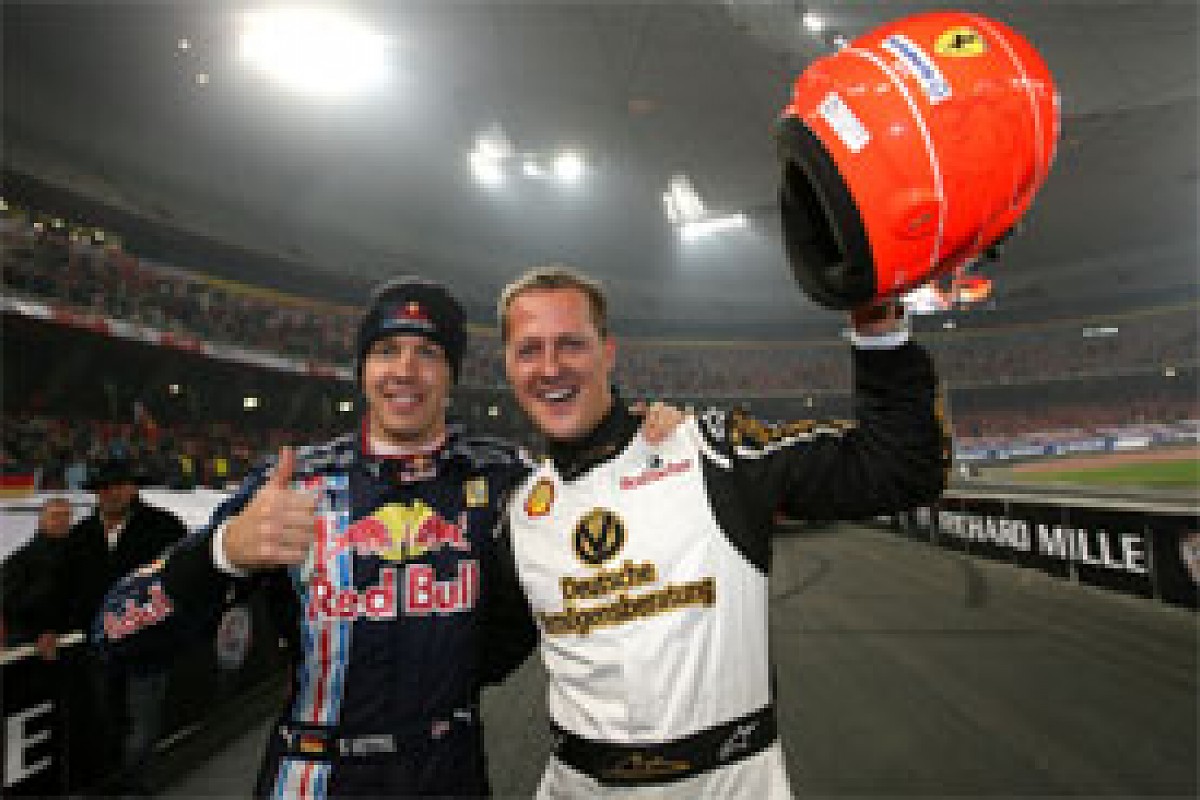 Michael Schumacher and Sebastian Vettel at the Race of Champions © LAT
Vettel has been putting up with the Michael Schumacher comparisons since he first arrived on the Formula 1 scene, but there is one fascinating scenario. Schumacher did two and half seasons, gradually establishing his credentials as a potential title challenger, before he won his first world championship in 1994.
Vettel has done two and a half seasons, and like Schumacher, won a wet race in his first full year. If anything he's ahead of schedule, having been in the title battle in only his second full season, and won more races than Schumacher had at this stage. But is 2010 going to be his 1994 - the year when it all comes together?
"I think in the future, whoever comes to F1, you will always find a guy who came to F1 10 years or 20 or 30 years ago who had a similar start, just because there have been so many.
"As a sportsman, I have the ambition to win, it would be a shame if I would lose the championship and find myself drinking and celebrating the same night. Drinking maybe, but not celebrating! People say your future is long and whatsoever, you're still young, it can happen. But it doesn't help you now. If it's so close, of course you're disappointed not to have got it."
Of course every driver can always look back at the points that got away, and that includes champion Jenson Button. But there's no question that Vettel saw more go down the drain in 2009 than anybody else.
"If you look at it, the races we actually finished were always in the top four. Monza we have to admit it wasn't our strongest performance, and we were only able to take - luckily - one point. And then you have other races, five races in total where we didn't finish. In these races I think we were still able to take away points.
"The season has more than one race, and the one who is most consistent, finishes most of the races, and scores the most points, in the end is the winner. Looking back we had five races we didn't finish, so for sure this doesn't help.
"In Monaco we had a bad strategy to start with, the crash didn't make a big difference because we pitted so early, but we should have got four or five points. In Hungary [suspension damage] we should have got a podium, in Valencia [engine failure] I lost four or five points, Singapore [controversial pit speeding penalty], three points more. I don't think it matters to highlight only one race.
"Australia, we had a crash, this can happen. I don't regret what happened in Australia, I think this is part of racing. We got a penalty we didn't deserve. In Malaysia, I spun, I aquaplaned off, but the problem was I stalled with an electronic issue, and I couldn't continue. Otherwise if I had managed to come back, we would have collected points.
"In Monaco, Hungary and Valencia probably we did not have the pace to win, but we had a very strong pace to finish on the podium, or at least in the top five. So another four or five points per race.
"For sure there are races where we could have done a better job, and other races where we were just unlucky. I don't like the word unlucky, I don't believe in luck. But things didn't come our way."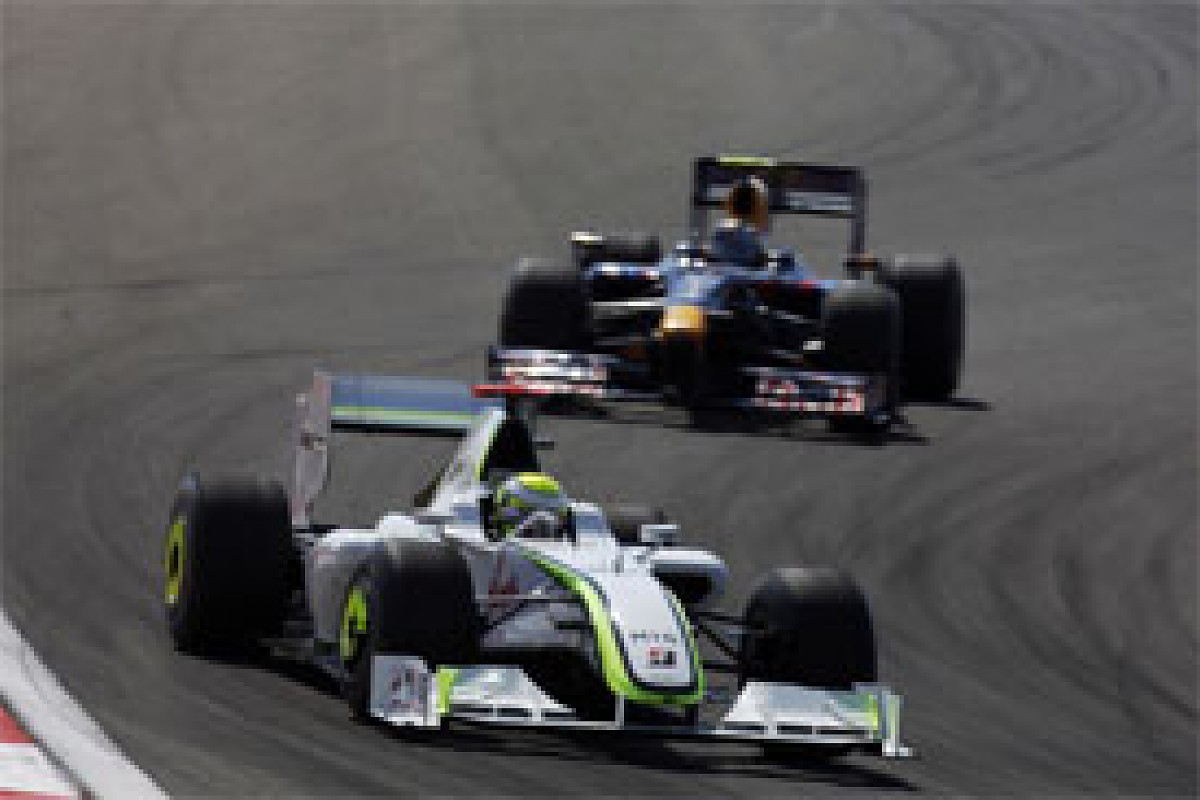 Sebastian Vettel chases Jenson Button at Istanbul © LAT
More than once Vettel found himself stuck behind slower cars and not able to fully exploit his speed last year. Sometimes these things are out of the control of the driver and his team, but there were races where a wrong call proved costly.
"It's a difficult question. Strategy, if it's a normal race, you can't be magical on the strategy. It's pretty easy and pretty straightforward. You can only mess it up.
"For sure we learned things. Some of our strategies were not the best probably. Looking back at races like Turkey, we tried to put Jenson under pressure, but we just didn't have the pace, so it didn't work. Then because of the strategy, I lost a position to Mark [Webber]. Or races like Monaco, where looking back we were just too aggressive. But all these decisions we took as a team, so there's not one person or a group of people to blame.
"I think it's also important to have made these mistakes, because you can learn a lot. The key is obviously to do better and don't make the same mistakes again, like it is in life. When you learn how to walk, for sure you will fall down, but this will only teach you the next time to walk better and longer."
Although there were self inflicted mistakes that cost points, the things that really cost him were out of his hands (and in the case of the Renault engine failures, out of the team's as well). But Vettel never complained, or offered any public criticism when things didn't quite work out.
"It's pretty easy. Myself, I work as hard as I can, in the car, outside the car, preparing the car and preparing myself as hard as I can. And if you go to a race like Valencia, you have a good qualifying, you're racing, and all of a sudden the engine blows. Of course you say 's***', you are pissed off. But Monday morning you can wake up and say OK, this was out of my hands, the points four or five we lost in Valencia. But I did everything to be ready at that moment, I was ready, and something that was out of my hands went wrong.
"So I cannot blame myself for being lazy last Thursday and not going on the bike, for being lazy in general, because I didn't do what I had to do, I didn't make the preparation as good as I should and so on. As long as you can wake up and say to yourself honestly I've done everything, it was just not going in your direction, then it's easy to accept. But for sure at that moment, you are pissed off. As I said, we are a team.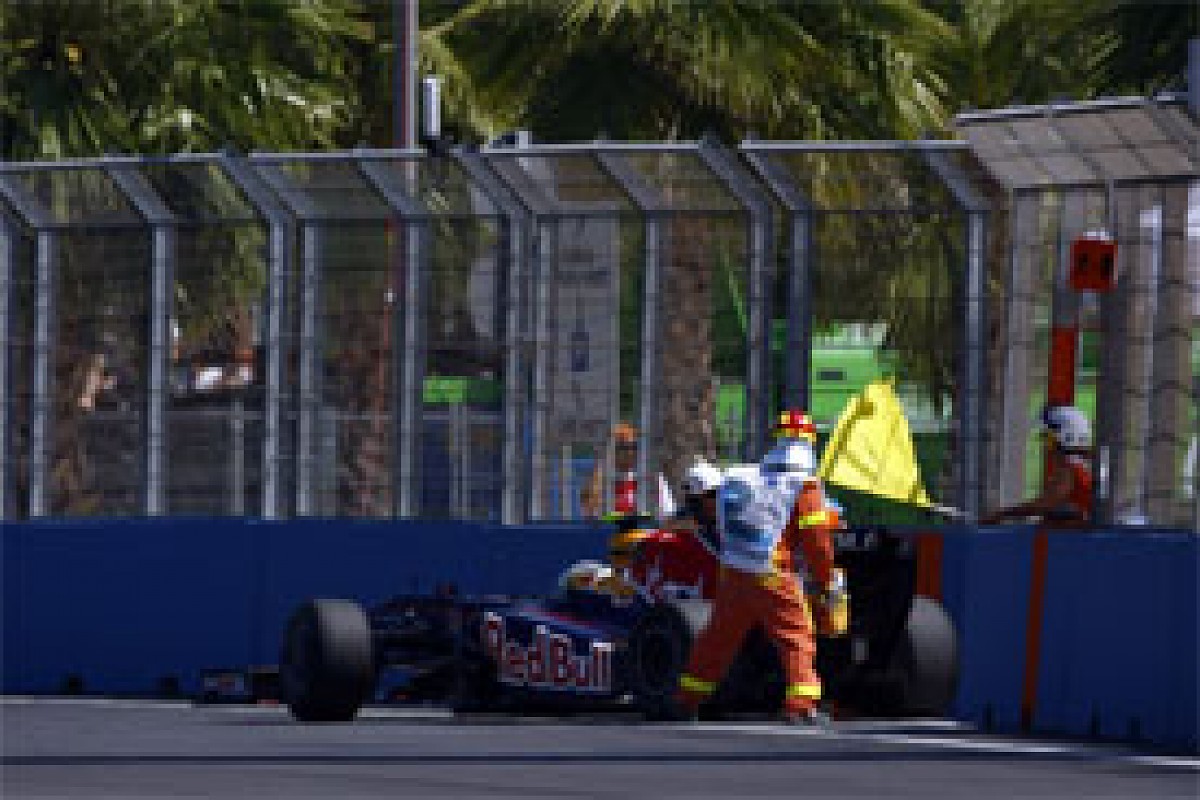 Sebastian Vettel has a mechanical failure during the European Grand Prix in Valencia © LAT
"The day comes like Australia. I had an accident. At the end it always takes two, Robert [Kubica] and myself we crashed, you can discuss all day long whose fault it was, he would say it was mine, I would say it was his. These things happen, it's part of racing. The team could also say, 'He's an idiot, he sits in the car, why doesn't he take six points for us? What a w*****, what an idiot.' And they are not saying it.
"The day comes when maybe the team doesn't work 100 per cent, or the pitstop goes wrong and you lose one or two positions, but these are things you have to go through, and then can only make you stronger. You come back the next year you don't do any mistakes, and you blow everyone else away."
And that is what the opposition has to worry about. Vettel isn't the sort of guy to make the same mistake twice, and the team learned too from being in a title chase for the first time. So given a quick car, how strong is Vettel going to be on the back of the education he received last year?
"Looking back it was a very important season for the team, and for myself as well. As you said it was the first time fighting for the championship, I think also going through the season, a lot of things happened, things that we can improve for the future, just by setting it up differently, and learning from what happened last year."