It was an enduring irony of Renault's Formula 1 programme that all the company's successes were spearheaded by foreigners: Frank Williams and Patrick Head provided the chassis hardware and management for the then-state-owned French company's first title successes (1992-3), with team's next championship coming in 1995 via the Italian-owned, British-based Benetton operation headed up by Flavio Briatore, an Italian playboy employing Germany's Michael Schumacher.
True, the champion driver in 1993 was French (Alain Prost), but how those Gallic civil servants responsible for approving budgets for Renault's F1 engine facility in Viry-Châtillon on the outskirts of Paris must have cringed. Privatised during that 1995 Benetton walk-over season, things got marginally better for Renault in 1997 when Jacques Villeneuve, a Canadian French-speaker, won for Williams-Renault in 1997. But even here he succeeded former team-mate Damon Hill, who beat him to the 1996 title.
Purchasing Benetton may have given Renault control over its F1 destiny (until crashgate) but still the team employed Briatore, who managed Spaniard Fernando Alonso to the 2005-6 titles. Compounding the irony is that from 2000-2006 every F1 title went to either an Italian or French team, led by a Frenchman or an Italian. The only problem as far as their compatriots were concerned was that Jean Todt headed Ferrari and Briatore was Renault team principal.
All that has now changed and, like the national line-ups found at Mercedes GP, Ferrari (okay, so Alonso and Felipe Massa are Latin) and McLaren, so team principals are becoming increasingly national - Stefano Domenicali heading up Ferrari, Swiss Peter Sauber back with his eponymous team and Franz Tost at Toro Rosso - an Austrian-funded operation based in Faenza, Italy - while McLaren is firmly under Martin Whimarsh's control and Vijay Mallya calls the shots at Force India.
Now, somewhat ironically given that Renault hived off 75 per cent of its F1 operation to an investment group, a true-blue Frenchman, born in the heart of the Pays De La Loire, heads up the operation once known as Benetton (previously Toleman).
No stranger to those who follow motor racing outside the F1 paddock, Eric Boullier was born in 1973 in Laval, approximately 60km due east of Le Mans. It was this proximity to La Sarthe that sparked his interest in motor racing, so much so that a visit to the classic circuit as a 10-year-old fuelled Eric to drop his ambitions of becoming an aeronautical engineer in favour of a career in motorsport.
"Everything started a long time ago, first I wished to be an aircraft and space engineer," he recalls. "But during my younger years I attended Le Mans and from that day I was interested in motor racing. I didn't know whether it was possible to make a career in motor racing, but in fact I have never worked in aircraft, and spent all my career in motor racing," he told this column in his first full-length interview immediately after being appointed Renault F1 team principal.
"Because of the uncertainty of getting into motor racing, I did aircraft and space engineering at college in Paris, but every holiday I was in touch with teams to get into motor racing. My first job was with a little team at Le Mans with its own GT car, which was my first experience. Then when I graduated from school I joined DAMS to validate my qualifications with a six-month practical period, which the law requires in France."
DAMS, based in Le Mans, is derived from Driot Arnoux Motor Sport, and although Rene of Renault turbo fame is no longer involved, the team has a successful history in lower categories and more than once investigated an F1 programme - thus providing a perfect introduction to professional motorsport for a young graduate whose degree course covered "everything aircraft and space, which includes mechanical, hydraulic, electronic, and aerodynamic (disciplines)."
At DAMS he was race engineer to Franck Montagny in the FIA F3000 championship and when the fellow Loirean departed for Racing Engineering and the new World Series by Nissan championship, Boullier headed for Spain as chief engineer for the team, with specific responsibility for his friend.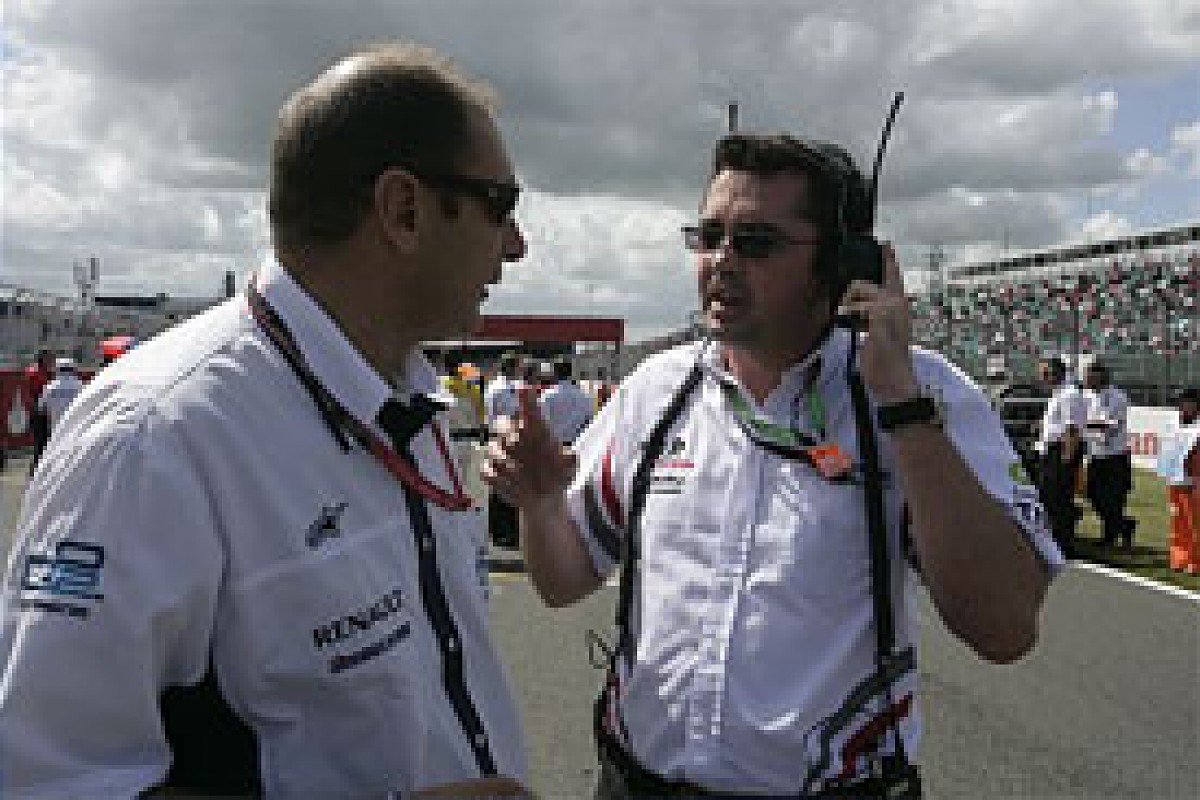 Bruno Michel and Eric Boullier on the grid of the 2008 GP2 race at Silverstone © LAT
A year later he was back at DAMS, where his experience grew exponentially as the company progressed.
A1GP (running France, Switzerland, South Africa and Mexico and others), GP2 and GP2 Asia, Formula BMW Europe and Renault V6 (WSR). Just to ensure Eric spent as little time as possible at his apartment in Le Mans, the team also dabbled in the Classic Endurance series, running a variety of sportscars before entering a (championship-winning) team in Formula Le Mans.
Ask him about the stresses of managing four or even five vastly different series in a single season, and a grin breaks out: "I don't normally like to talk about all our successes, but let me put it this way: we won five international championships in six years so must have done some things right."
In A1GP, DAMS twice ended top dog via France and Switzerland, with the operation totally dominating season one, when the teams serviced by DAMS finished 1-2, but the title which obviously gives Boullier most satisfaction is the 2008/9 GP2 Asia championship, when rookies Kamui Kobayashi and Jerome d'Ambrosio DAMS took the title double.
The latter driver indirectly led Eric to Renault: Belgian d'Ambrosio secured his seat via support from Gravity Management, a driver talent search operation set up by Gerard Lopez, the Luxembourg-based investment king who made his fortune through backing various emerging technologies, including the Skype VOIP programme.
In mid-2009, Lopez invited Boullier onboard as CEO of Gravity and after the final race of the championship Eric seamlessly slid across to the management company. So good are relations between DAMS and Gravity that for a while he operated his new position from his old office.
A measure of the esteem in which Boullier is held by Lopez is that he was offered the job despite DAMS not performing up to scratch in the main 2009 GP2 championship. Eric is quite candid about the reasons and is happy to put the record straight: "In GP2 Asia, where there was no change (to the technical specifications of the cars), we won the championship 1-2, but in the main series they changed the tyres and we struggled to unlock that. Not good, but at least we know the reasons."
Lopez was by then heavily involved in negotiations to acquire a 75 per cent stake in Renault and, although Eric refused to be drawn at the time, it was clear he was heading for bigger things should the deal go ahead, as it did shortly before Christmas. Then, on the very day the Grande Instance in Paris announced its verdict in favour of Briatore by annulling the lifetime ban the Italian received for his alleged role in crashgate, Eric was announced as team principal of Renault F1. Coincidence or what?
More importantly, what did he find when first he arrived in Enstone, first walked about the facility known as Whiteways despite the United Colors of Benetton team once plying its high performance stuff there?
"Surprisingly [considering the recent traumas], I found a good spirit with everybody working extremely hard and in fact they were a little bit ahead of schedule on their winter tasks," he says, emphasising 'ahead' in the way only French speakers can. "Of course, there have been scandals and rumours of buy-outs, but what was worse (for the personnel) was more the lack of hard results.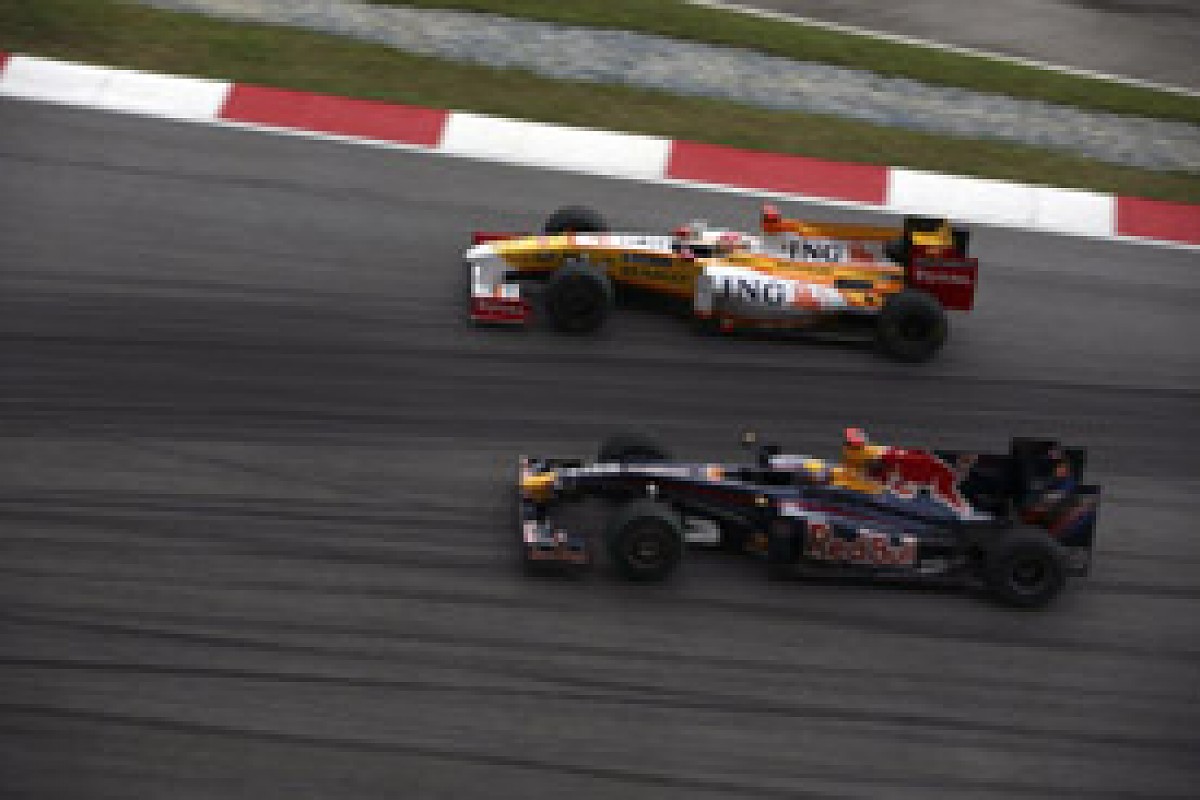 Mark Webber and Fernando Alonso duel at Sepang © LAT
"The last three years have obviously been disastrous, with results getting worse and worse, but these people here [at RF1 - as he refers to the team in text messages] are real racers, they never give up and this is something which to me was immediately very impressive."
But, in real terms, Renault F1 is two distinct operations: a chassis manufacturing/race operations centre in Enstone, and an engine operation in France. As a Frenchman, does he fear cultural clashes?
"Renault F1 is a French-owned company but quite international, with a strong English culture on the chassis side," he responds evenly. "The engine side is very French, but there are no cultural problems. It is very obvious, you can feel that in both places this is a Renault team - there is a language situation but not a cultural situation, which is as one would expect from a company that has been operating like this for many, many years under many different owners."
From his next statement it is clear that he does not foresee a need for much change, that his tasks will centre around rebuilding morale rather than replacing people: "I am sure we can achieve a lot with the people already in place, because of all the competence and experience of the people who know how to win championships, but clearly they are also racing for their futures."
But how does he intend doing that; in other words, what management style will he bring to bear on a situation which brought the team to its knees on both morally and performance grounds?
"I am coming from racing," comes the immediate response, "which means I understand the value and need for results. For one thing I need to ensure that everything is done for the team, which means budgets, drivers, marketing etc. On the other side, my job is to ensure the people can work towards the objectives in very good conditions with a clear understanding of the strategy of the company."
Without mentioning names (although the Japanese companies previously in F1 spring to mind), he draws comparisons between corporate companies and racing companies.
"Definitely this (RF1) is not a corporate company, but a proper racing company, and the essence of a racer is to win. Once we have everybody back in their proper place, with heads down and focusing, I am sure we can deliver."
He acknowledges an adaptation of the old motor racing truism, that as drivers are measured against their team-mates, so teams are measured against another outfit using the same engine and tyres. Surely the fact that Red Bull Racing has an Adrian Newey-designed chassis and two proven race winners in Sebastian Vettel and Mark Webber while running the same engines and rubber, massively complicates his task?
"If we have a good car, our drivers will be capable of challenging them - not easily, I stress. F1 is not easy - But the only way to be respectable is, as we say in French, take your sleeves to the top of your arms, work and make a fast car. Then we must demand that the drivers do the job on the track.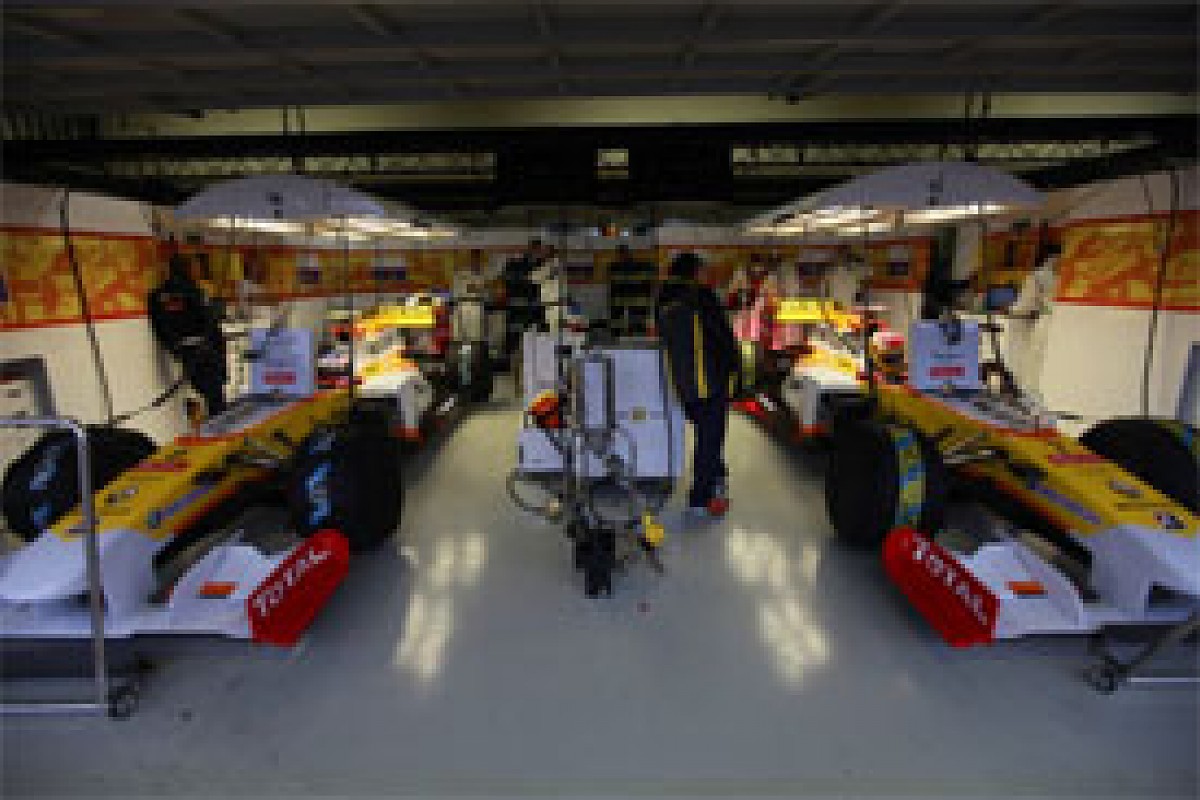 The Renault garage at the Brazilian Grand Prix © LAT
"To be honest, it is actually very good to have Red Bull as a reference point, and our job is to ensure that we become the reference point for them. It is a big task and it is my job to put everything in place for the team to become the reference point."
While he spoke quite openly about the team's second driver situation - that portion was published here last week - it is clear the bespectacled Boullier is already a huge fan of Robert Kubica, hired prior to the equity exchange. He acknowledges the Pole is hardly a marketing man's dream, but is adamant his qualities are exactly what the team needs right now.
"Our first priority is to bring the team back to the front, and for me the driver's talent and speed is critical. If the driver is constructively demanding, we can do with that, and Robert is that kind of driver with a proper winning sprit who has already shown he is part of the team, and fits in very well. He has been very demanding already, which makes me feel very positive."
The original appointment for this interview was postponed due to a clash with a hastily-called FOTA teleconference, thus providing a first-class opportunity of gleaning how Eric's first meeting with his peers - a bunch of the most battled-hardened people on earth - went off. His answer provides a pointer to the way he intends running RF1.
"There is no time for emotions. It was a conference call and I wanted to first listen and understand. Some of them had been discussing some of the things for a couple of years or months now, and for me it was an opportunity of discovering what FOTA is all about.
"It was a little bit complicated, I had already met Martin [Whitmarsh] and Stefano [Domenicali] and I am very pleased Martin is leading FOTA. For me it was important to listen and learn, and I don't doubt it will be a completely different experience when I attend a face-to-face meeting for the first time."
So, the 36-year-old Boullier has climbed motor racing's management ladder from the stands at Le Mans all the way to the top job with a team which just three years ago ruled the world, but has since come crashing down. Is this his dream job?
"When I got into motor racing many years ago I was not expecting to get in F1, even when I went to F3000 and GP2 and we shared race weekends with F1. I simply had no expectation of getting into F1. But you call it a dream - I prefer not to call it a dream, because dreams aren't real and this is very real. No, I never had any expectation of getting into F1."
But surely he was excited when the job was offered? "It was a day of really crazy emotions - I was happy, nervous, excited, cold, hot, everything all at once," he concludes with a little giggle.
It's been a long time coming, but at last Renault F1 has a French team principal, one who led his country's A1GP team to glory. Can he do the same for France's F1 team?