Robert Kubica is one of the more colourful guys you are likely to meet in the paddock, and anyone who counts competitive poker and 10-pin bowling among his off-duty pursuits is bound to be a bit more interesting than those who list 'training' or some such as their hobby.
Like his pal Kimi Raikkonen, Kubica also has a passion for driving rally cars, and this week's Monte Carlo event was to have been a neat way of kicking off his association with Renault. Unfortunately an engine failure meant that he didn't even get off the starting ramp, and one can only hope that his disappointment is not an omen.
Kubica and his team are among the dark horses for this season. Naturally everyone is talking about Mercedes, Ferrari, McLaren and Red Bull and their respective stellar driver line-ups, but after that, it gets a little harder to pin point who might be towards the sharp end of the expanded grids in 2010.
Looking at those four teams it seems strange that a guy rated as highly as Kubica has failed to find a slot in them, given that he was free to leave BMW Sauber as of July. The reality is, of course, that Red Bull and Ferrari were committed long before then, and Brawn was already some way down the road towards hiring Nico Rosberg as Jenson Button's 2010 partner. There was, however, potentially a seat at McLaren.
Kubica spoke to a lot of teams from July to the end of the season. At one stage there was talk about him jumping into Ferrari after Felipe Massa's accident, but that made no sense as there was no long-term future for him there. Renault and Toyota emerged as serious contenders. When I had a chat with him in Japan in October, while sitting on a train from Tokyo's Narita Airport to the city, he conceded that there was also still a tiny chance at Brawn. As far as McLaren was concerned he didn't seem very interested in partnering Lewis Hamilton.
Just a few weeks later he was finally confirmed at Renault, and the decision to steer clear of Toyota proved to be a wise one. But then things were turned on their head. Button's move to McLaren meant that tiny chance at Brawn had become a blindingly obvious one at Mercedes, but it was too late, as he was signed up elsewhere. However, for a while there were some doubts over Renault's ownership, and seemingly therefore a chance that he could walk away from the deal he'd just signed. In the end that didn't happen, and he's stayed put.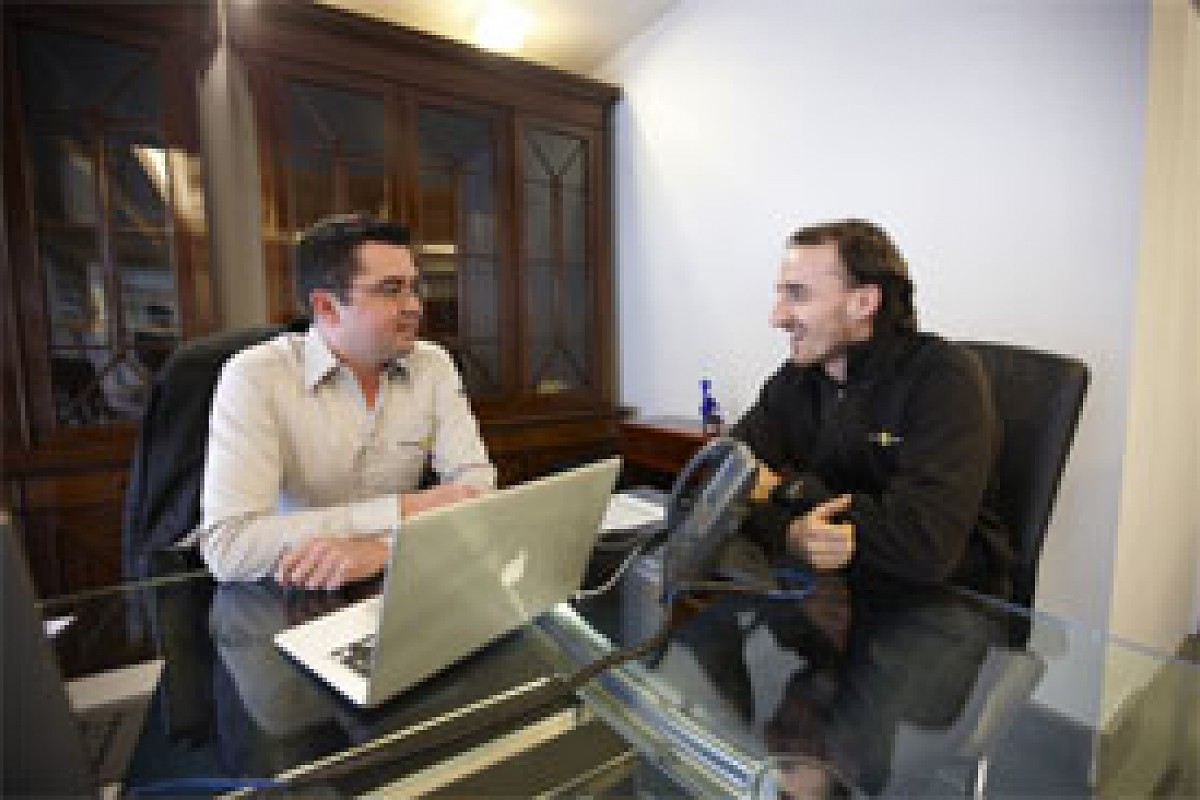 Eric Boullier and Robert Kubica at the Renault F1 factory in Enstone © LAT
Renault has been keen to tell us that all is well, putting out photos showing Kubica chatting happily with his new team boss, Eric Boullier. And the reality probably is that the management changes haven't made much difference to the package he'll have at his disposal this season. The situation might not be quite the same as when he signed up, but it will do.
"I'm happy to be at Renault and join the team," he said. "There is a big hope and a big push to change the page of what happened in the past, and they really will try to make the maximum effort and try to really give something new and a better performance for the team. There is never a guarantee. 2009 is a good example that you cannot predict what will happen, but at least with Renault you're guaranteed that the approach will be 100% racing, and they will really try to do the maximum."
In fact things have changed even more since he first started talking to the team, since initially he was negotiating with Flavio Briatore. It could be argued that he's actually better off now, because the Italian had something of a reputation for making life hard for his drivers.
"To be honest, I don't know. I think with Flavio or without Flavio is not the thing which I was looking at. If he was there, I was keen to go there, if he's not there, I'm still OK to go there."
The big irony in Kubica's return to Renault was that he was an RDD young driver in 2003, but was dropped at the end of the season by the Michel brothers, who looked after the drivers on Briatore's behalf: "It was not him, I think. He didn't even know my name! We met once, but he was not running this."
He bounced back by winning the World Series by Renault in 2005. The prize was an F1 test in a Renault, in which he impressed. Word got back to Briatore that the guy could be good after all, but before any deal was signed he'd been snapped up by a rival. BMW had watched him at the test, and his manager - who previously looked after Pedro Diniz - convinced Peter Sauber of his potential.
"I had a proposal for 2006 from Renault after the test, but I chose BMW because for me it was a better guarantee."
His role as Friday driver that season soon convinced the team that they had made a good call, and at the first opportunity Jacques Villeneuve was shuffled out to give him a race seat. The rest is history - Kubica quickly became the rising superstar, and in 2008 he won the Canadian GP and challenged for the World Championship until the penultimate race.
Last year was the season when it should all have really come together. BMW had upward momentum, had continually met or exceeded its annual targets, and it was a pioneer of KERS. All looked great on paper, but it pretty soon turned to disaster.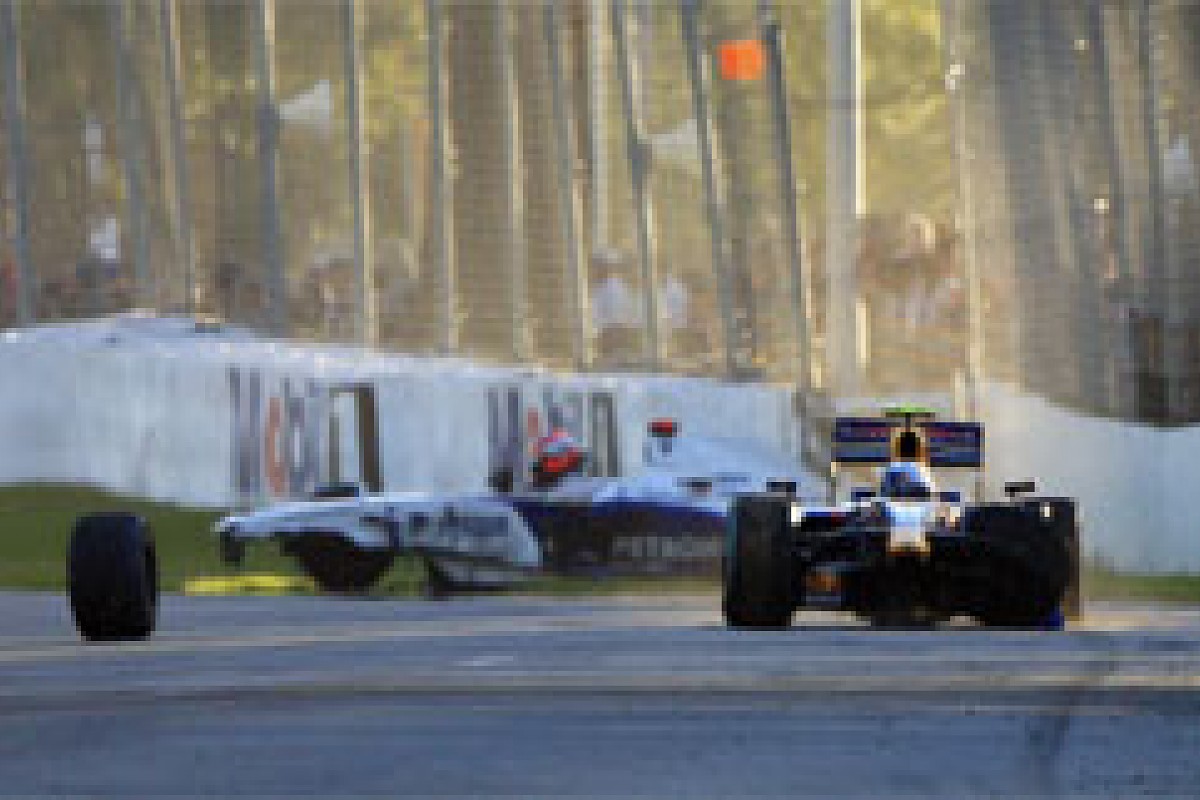 Sebastian Vettel and Robert Kubica clash at the end of the Australian Grand Prix © LAT
"The season started pretty well in Australia, better than we expected and better than the performance of the car in reality was. But unfortunately the accident with Sebastian cost us quite a lot of points, important points. In the end more or less I knew that it would be very difficult in the remaining races or at least in the beginning of the season to jump onto the podium.
"Then in Malaysia we also had a not bad performance, we were quite competitive, but not quite as good as in Australia, not fighting for a podium, but in dry conditions we could have scored a few points. But I had an engine failure before the start of the race! So the beginning of the season was yeah, quite negative for us due to the engine failure, the accident, and no development on the car.
"In the first four overseas races we didn't have anything new on the car, and we lost ground. At that point there was also the double diffuser story. The teams that didn't have one brought it quite quickly, and they even jumped in front of us. We started the season in front of McLaren and Ferrari, and clearly in front of McLaren, but after I think five or six races they were already a lot in front of us. So we lost it in the beginning of the season, let's say.
"Once we started working and pushing we slowly caught up, but it was too late, and we had too big a gap to the front. You saw that the cars were very close together, so two or three tenths made a huge difference. In the past with two or three tenths you maybe gained one position, now you can gain five, six, eight positions even.
"Once you fall behind too far, it's very difficult to catch up, unless you have a really big package. We had a few big upgrades coming, or we thought they were very big, but in reality they were never so big. Sometimes they were never even half of what we were thinking on the track. So also this didn't help us to catch up."
Just 12 months earlier Kubica had been fighting for pole, and yet now he was struggling to get into Q2, and what's more often losing out to team mate Nick Heidfeld. It was a painful experience.
"It's always bad to qualify 18th, but between qualifying 13th and 18th to be honest was a small difference. Of course you are always trying to do your best. In many races we took quite an aggressive approach, even before qualifying, with the set-ups and everything.
"We knew our pace was between let's say P11 and P14. And then I tried to risk to find something, a kind of miracle with the set up which maybe we had never run even before qualifying, to just be sure you can go forward. Sometimes it didn't work. Sometimes I was even very slow. To be honest once you don't have the pace of the car to fight for the points, I prefer to take an aggressive approach on everything, on set-up and stuff like this, rather than fighting for P14, which is nothing.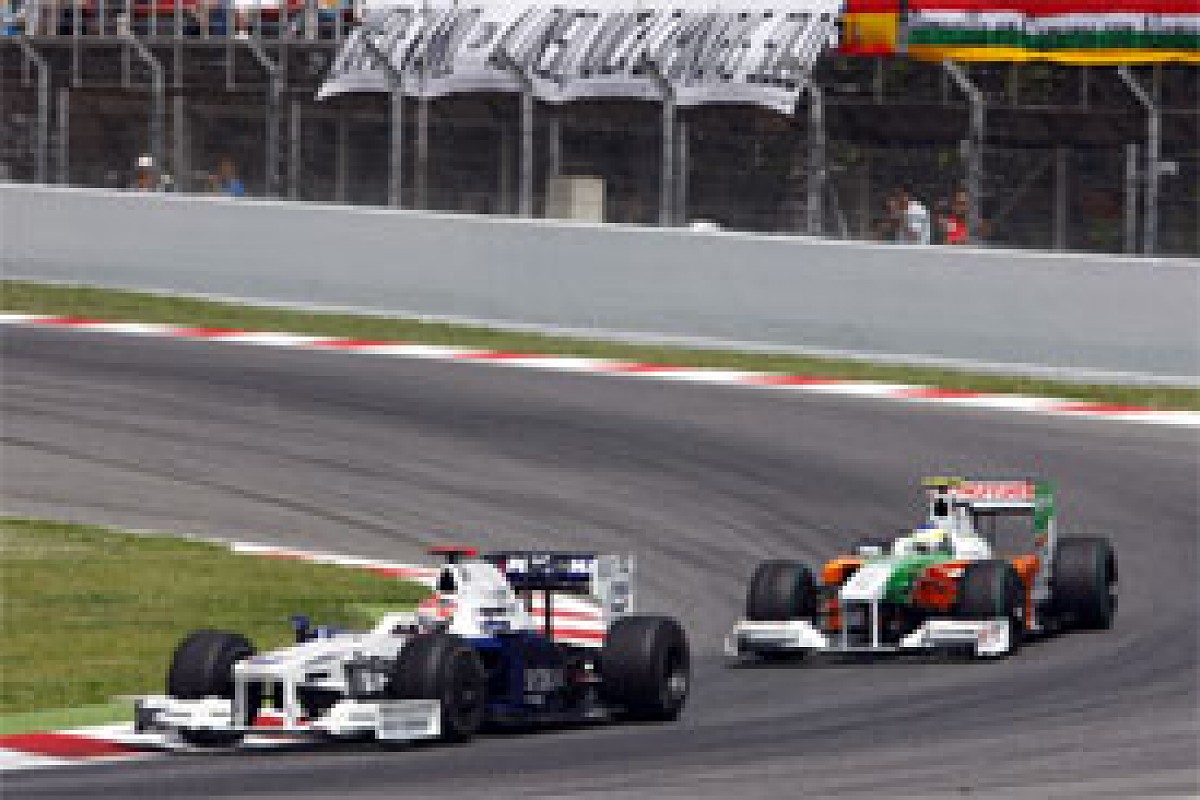 Robert Kubica battles with Giancarlo Fisichella at Barcelona © LAT
"In Spain we had a new package, which was not bad. I think we could easily have fought for the points, but we had a problem in qualifying where we swapped tyres right to left, left to right, on the final run with a new set. I qualified 10th and then I had a clutch problem at the start and fell behind, so the whole race was in traffic. But the performance didn't look bad, so we were hoping for a good Grand Prix in Monaco.
"Then we went to Monaco and we were last, the slowest car with Toyota. This year I think there were many ups and downs of every team. Once the grid is so close together, if your car suits better one track or the other, this factor makes a huge difference. In the past, you couldn't see it. You can say one car is better in high speed, this year you paid a big price for it if your car was not suiting one track or the other. Everything is very, very important, and it was a very competitive season."
Fortunately there was an upturn in the second half of the season, ironically after BMW had announced its withdrawal and led Kubica to look for another job.
"Valencia, Spa, and also I think Monza was a good occasion, but we had engine failure. In the race I was actually gaining positions and I would have finished in the points, but going out from the first chicane I was on the outside and Sebastian had a small oversteer and he just touched my front wing.
"I didn't understand why I had damage on the left hand side if I had contact with Webber on the right hand side, and with the wheel. Then watching the video you could clearly see... Sebastian didn't even feel it for sure, and I didn't feel it. But it was enough to damage the front wing. I continued running, and still overtook some drivers, but for the FIA I had to pit for safety reasons."
Two amazing races bookended a curious season. Having run so well in the opener in Australia Kubica enjoyed an awesome drive into second place in the penultimate race in Brazil, earning a surprise second place.
"We had a good race, a good pace, a bit lucky with the first lap accidents. Of course it was a very special race because good guys like Button, like Vettel, like Hamilton were starting from the back, so there was a good possibility to achieve a good result. And I think we used it 100%. We had to reduce the revs, and maybe I could also have fought for the victory, because already after lap 10 I had to drop down the revs and pull out from the tow to cool down the engine because we have overheating.
"Anyway second place was good. We were quite good in the race but we didn't have the car to finish second. I think the conditions helped us because the track was very green, the pace and the lap times were actually quite slow, all the cars were sliding a lot, and it was not really a quick pace."
A combination of factors contributed to BMW's struggles last year, but there's no doubt that the focus on KERS was one of the biggest. It didn't help that his higher body weight meant that it was very hard for the team to justify using it on Kubica's car.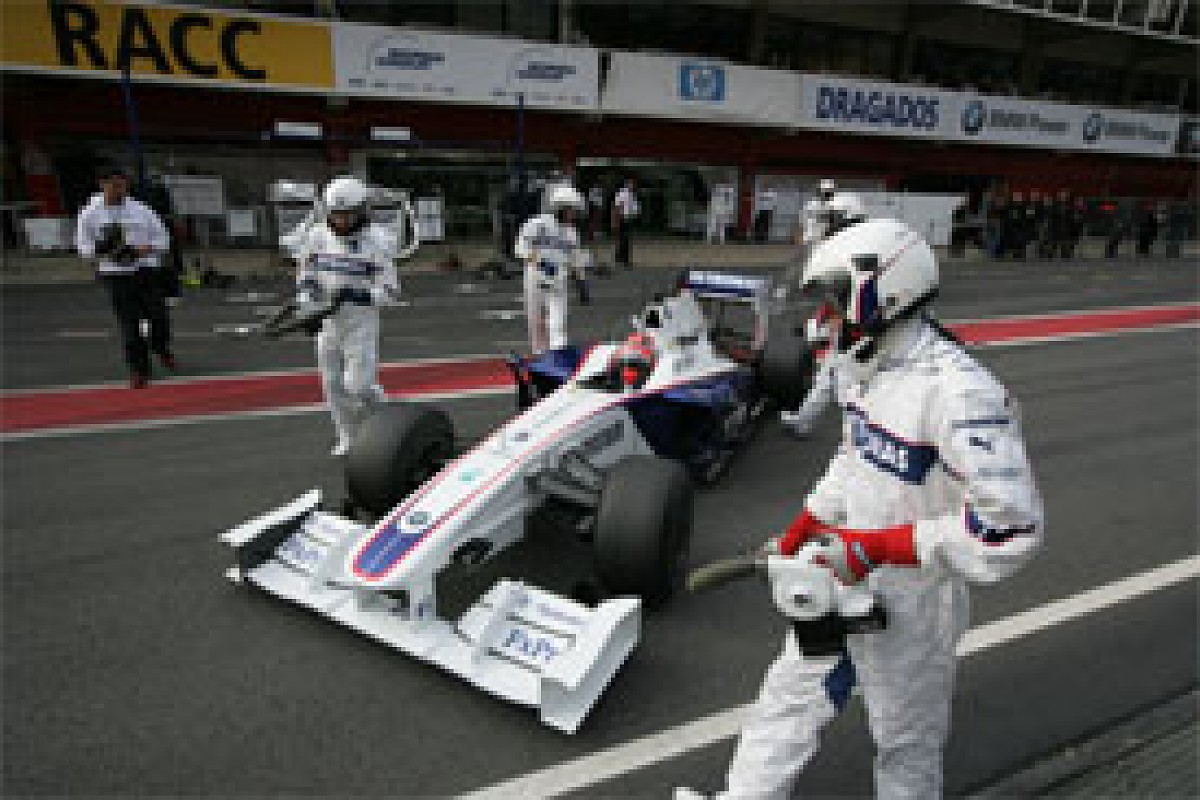 Robert Kubica during winter testing © LAT
"First of all I came to Australia feeling completely unprepared, because I spent 90% of winter testing on fixing KERS. And for me it was clear I could not use it. There were always two or three different Bridgestone compounds to test, and I used only one. The first time I put soft tyres on was in Australia. I think this is not the way to prepare for a season if you want to fight for the championship.
"Comparing to the 2008 season, before the first race I knew 20% of what I knew in 2008, of the car, the set-up and how the car would react. And then in the race weekends you don't have time. There is no testing during the season, so you have to make sure you make 100% use of winter testing. On the approach to the season the points on which we concentrated were completely wrong.
"Then also I think we over estimated our performance from the winter, big time. Not small time. We thought we would be the kings, and it was not the case. By the time we came back to Europe, people had overtaken us a lot. So this was, I think, the biggest thing. Then of course once you take such important decisions for building the car and the way the approach the season, to recover you need a lot of time. This was the key point for the season."
Despite the weight issue, he did use KERS a couple of times, an indication of just how much the team was scrabbling around.
"The worst ones, China and Bahrain! It's a long story... We managed to not be overweight, but we didn't have 100% KERS. So to not be overweight, we reduced the power of the KERS. Our biggest problem was weight distribution, and the centre of gravity became very high. We already had some technical problems with the car, with the suspension. It was lifting a lot the inside wheel, and we were always riding on three wheels. Once you put up the centre of gravity, it's even worse.
"There were many things which were not in the favour of KERS. Of course as we have seen with McLaren from the beginning, when it's running perfectly, it's such a big advantage on the starts and overtaking. You didn't have to do pole. You could put more fuel, qualify second row, and you still had the possibility to be first in the first corner with more fuel load. So it was a huge advantage.
"But you have to make it work. From my side I was very impressed on how it works in McLaren and Ferrari, because I know how much effort we put in, how much time we spent, and it didn't work out."
At the end of 2008 Kubica was very keen to stress his disappointment about the way Sauber's performance had tailed off. The team insisted that developments were still coming through, but just weren't doing what they were supposed to do, but Kubica implied that the focus had turned far too much towards 2009. His point, which seemed pretty obvious to most, was that the team should have gone all out to steal the 2008 title from McLaren and Ferrari. He warned that such a chance might not come again.
"Unfortunately it happened. When I was saying this people were saying that I am crazy, that I should not say stuff like this. But our problem was not coming from 2009, it started in 2008. So we have similar problems with development already then, in the second half of the year. There were many things which I think slowly grew up into the problem. In the beginning they were small, so you could see it, or you couldn't realise so much, but then they grew up and grew up. If you don't stop then they take more and more.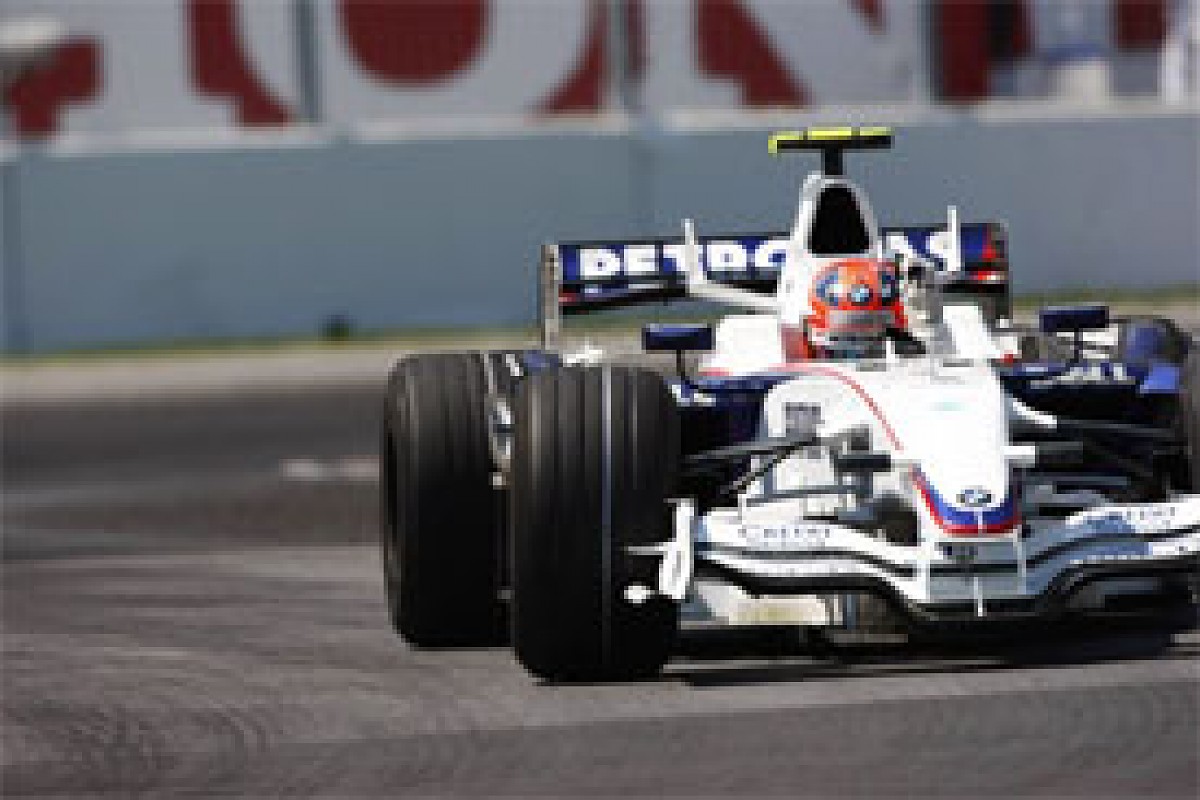 Robert Kubica celebrates his victory in the 2008 Canadian Grand Prix © LAT
"Unfortunately I was right, that we would not have any more opportunity with me, BMW, Sauber to fight for the championship. I think if someone is a real racer, they might think, 'Fucking hell, this guy was right last year.' Looking how the second half of the 2008 season was, with good development - and I don't say mega development - and maximum effort, we could have been in the fight for the championship."
If BMW's method of doing things sometimes frustrated Kubica, what really confounded him was the way the team's performance picked up immediately after the company announced its withdrawal.
"Our season was difficult for performance, and also I think the situation got worse for a lot of people because of the withdrawal of BMW. For sure for the guys it was not so good. I am very happy to be well placed for next year, because the times are quite difficult for F1.
"What is strange and quite funny is that as soon as BMW announced the decision, our team took a different approach to racing. It was a hundred times better. Look at the results! I think after BMW said 'we stop', we scored in every single race, and we were coming with upgrades in every single race. I thought we would just cruise to the end of the season, because normally this happens. It was the opposite. With the second half of the season this year, if you put it together with last year, for sure we would have been not bad!"
And was there any explanation for that?
"It looks like maybe sometimes when you are in trouble, when you realise you are starting to be without a job, the approach changes..."
One could perhaps argue that a similar process could be underway at Enstone. Clearly things are different now, and there's a greater emphasis on not wasting money. But that may be no bad thing.
Whether Renault can return to the glory days of 2005-6 remains to be seen. Love him or loathe him, the fact is that Briatore steered his team to four World Championships, and all with Pat Symonds as a key player. And while the team has great technical and engineering depth, the latter has left big shoes to fill.
"Coming back to the topic of Flavio and Pat, for me it will be very difficult to judge because I was not in the team when they were there, and I will join the team when they are not there. So I cannot judge what is the effect of losing these two people from the team. I hope there will be no negative effect. But who knows? I will never discover, probably."