With the announcement that the likeable (and extremely able) former McLaren tester Pedro de la Rosa will fill BMW Sauber's second cockpit for 2010, the bits and pieces for what will be arguably the most unpredictable Formula 1 season are slowly falling into place. But, with precisely eight weeks remaining before engines are fired up in anger for the first time this year, numerous doubts still surround the state of the sport.
Understandably so, for it was just 12 months ago that the concept of a two-tier $40m budget cap was just a sly thought in the mind of the FIA's then-president Max Mosley, paddock pundits were tipping BMW and Toyota for championship honours, and Jenson Button did not have a seat let alone a hope of a title shot.
The entrance to the Sakhir circuit © LAT
That just six months ago, Peter Sauber was a paddock irregular, Flavio Briatore sprouted forth about improving the show, Frank Williams was out of a FOTA chaired by Luca di Montezemolo, Michael Schumacher wore red and donned a Prancing Horse headset, Mosley vacillated about his presidency, crashgate was a fantasy, the FIA had never lost a case in a public court, the number of F1 teams on Cosworth's client list equalled the square root of zero, grids equalled just 20 entries and Bridgestone was perceived as an F1 stalwart.
Since then it has been all change - too many and too sweeping to mention individually - with only Red Bull among the front-runners retaining its 2009 drivers. Even more intriguing is that the championship winners of the past three years - in reverse order, Brawn/Mercedes, McLaren and Ferrari - have adopted national line-ups, what with the reigning champions having two German drivers (Schumacher and Nico Rosberg), McLaren's duo of Jenson Button and Lewis Hamilton flying the Union flag and the Scuderia relying upon Latins Fernando Alonso and Felipe Massa. And we scoffed at A1GP's World Cup concept?
On that basis, the summer stretch of this year's 19-race calendar (up two from last year) promises real fireworks as Fernando Alonso struts his stuff for Ferrari on home turf in Valencia before the Britons perform at home (not forgetting Red Bull, whose base lies just 20 minutes from a revitalised Silverstone) and Michael and Mercedes take on Vettel at Hockenheim a fortnight ahead of Felipe Massa proving his mettle at the Hungaroring, which so nearly ended his career.
As Bernie Ecclestone asked in Madonna di Campiglio last week, 'when last did we have four champions on the grid?' Well, it was in 1999 (Schumacher, Mika Hakkinen, Damon Hill and Jacques Villeneuve), and earlier on in that decade when Nigel Mansell, Ayrton Senna, Alain Prost and Nelson Piquet faced off), but it could oh so easily have been a record-setting five had Kimi Raikkonen not been persuaded to defect to the rough stuff after being dumped by Ferrari and mysteriously unsuccessful in his negotiations with McLaren. That said, had the Finn remained in F1, Jenson would likely have remained with Brawn, leaving no room for Michael - so still four champions.
When one goes further down the entry, alarm bells ring. For starters, while they bear familiar names, BMW Sauber-Ferrari (note the oxymoron) and Renault are not what they were, with the former again under the total control of Peter Sauber after BMW pulled the plug, and Renault ceded 75 per cent of its outfit to a private equity fund, having already suffered the ignominy of crashgate and two fallow years.
Given Sauber's Ferrari engine supply deal, it is perhaps no surprise that de la Rosa got the nod alongside the impressive 2009 debutante Kamui Kobayashi, for he and Alonso functioned well together at McLaren (their text messages were used in evidence during spygate), but Renault still needs to contract a second driver. In an exclusive interview with this column, newly-appointed team principal Eric Boullier - who comes to F1 with an enviable record in lower formulae, having managed various teams to five international titles in six years before being appointed CEO of driver management company Gravity - admitted to having whittled the list down to four candidates: two F1 drivers and two rookies.
Given that his job is to talk to every available driver, it is virtually a given that the two experienced drivers are Nick Heidfeld and Giancarlo Fisichella. But, with Robert Kubica already contracted, would it be a good idea to replicate BMW's line-up of the past three-and-a-bit season?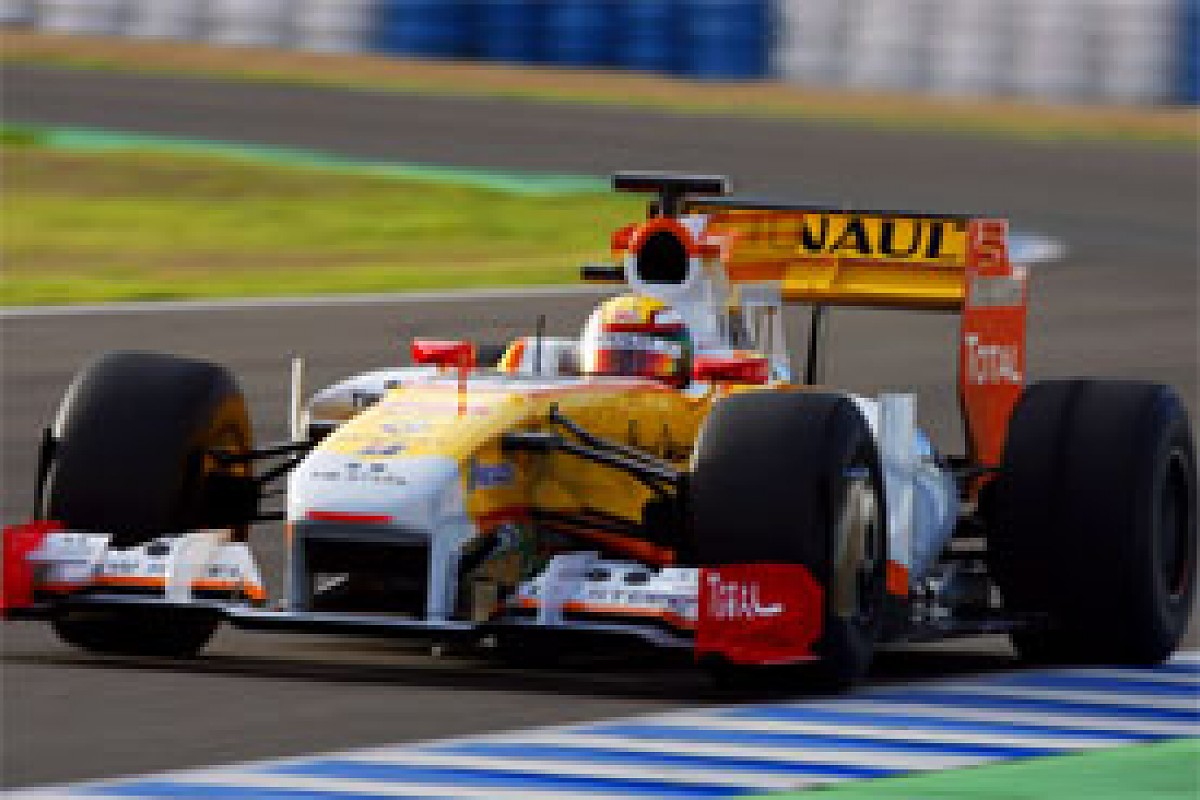 Ho-Pin Tung tests for Renault © LAT
Ditto Fisi: the Roman had his crack at the Benetton/Renault whip in 1999-2001 and again between 2005 and 2007. Was it not Enzo Ferrari who spoke about the undesirability of reheating cold soup? But, could Christian Klien be the other experienced driver? As for the rookies: something Eric said pointed to Russia's Vitaly Pertrov and Chino-Dutch driver Ho-Pin Tung. Either would do wonders for the team's coffers by virtue of interest in their home countries.
Six teams down, seven (or even eight) to go, but please forgive the lack of a numbered order. No updated entry list has been issued since November 30 despite BMW Sauber being advised of the acceptance of their entry by the FIA four days later. The teams have ranked in order of 2009 constructors' championship order, with the four newcomers as per the latest entry list. First up is Williams-Cosworth:
If Sir Frank's outfit is fighting for survival, it is certainly doing so in style. Multiple grand prix winner Rubens Barrichello heads the line-up, with reigning GP2 champion Nico Hulkenberg in the second car. If Cosworth is up to it - and there are mixed messages about town - then Williams could spring a surprise exactly 30 years after Alan Jones powered a Williams-Cosworth to the team's first world championship.
At Force India it's a case of same old, same old: and no bad thing, either. Adrian Sutil remains for a third season, with former tester and sometime 2009 racer Tonio Liuzzi doing driving duties. Mercedes's championship-winning engine (and fuel economy king - crucial under no-refuelling regulations) of the past two years powers the car, so things are looking as good as they have since Indian industrialist Vijay Mallya acquired control of the team.
Toro Rosso may be a relatively established name, but for 2010 it's all change. The 2010 regulations ban the 'bought-in' car concept used by the team for the past three or so years. Thus a massive expansion programme has had the former Minardi team construct its own chassis design for the first time since 2005. It should be measured not on past performance but viewed as a new constructor, albeit one with Ferrari and not Cosworth power. The team has a cockpit available alongside Sebastien Buemi, with Jaime Alguersuari, who seemingly fell out of favour, back in the frame. But, Fisi has a Ferrari contract...
It gets a lot trickier when analysing the genuine newcomers, for not only do they not have previous form or experience (although, by the nature of the business, their senior staff are well-versed in either F1 or other forms of international motor racing), with the situation being made even more complicated by Ecclestone's recent comments that he fears for the futures of at least two of the four - all of whom are Cosworth-powered in the terms of an alleged FIA requirement.
All four hatched their plans around the $40m cap - in fact, there are suggestions that after US F1 presented its business plan to the FIA in November 2008, the seeds were sown for enforcing the two-tier concept, which came to naught, making their tasks immeasurably more challenging. Yes, a resource restriction agreement is in place, but until the full details are disclosed (FOTA transparency anyone?) the entire document can only be speculated upon.
Lotus continue work on their first chassis
Top of the FIA's newcomer list is Lotus F1 Racing, funded by Air Asia owner Tony Fernandes, with able technical direction from Mike Gascoyne, recently of Force India and before that Toyota, Renault, Jordan and Tyrrell. The only 'newbie' to presently have a grand prix winner on its strength - it has two in Jarno Trulli and Heikki Kovalainen - the team must be considered the one with the best chance of making it on to the grid (challenge 1), through the season (challenge 2) and into 2011 (challenge 3). Launch date is February 12.
Next comes Campos META 1, the team set up by Spanish former F1 driver and GP2 team owner Adrian Campos. META is a Spanish sports marketing company charged with raising sponsorship, and if the current economic climate in Europe is challenging, Spain is said to be worse by a factor of double. Although the team signed Bruno Senna (in the hope of raising Latin money), rumours persist that it is seeking a large investor. Could this be one of the two teams Ecclestone referred to last week, or could he even be the investor?
Having last year published the first analysis of US F1 Team (and been the first to visit the operation's North Carolina base), this column has a soft spot for the first full US operation since Dan Gurney blazed the trail in the 60s (bar the spectacularly unsuccessful Parnelli effort, all other US initiatives operated out of Europe). But frankly, the lack of hard news from across the Atlantic is slightly disconcerting.
No launch date has been announced, no drivers confirmed, and although the team has made some high-profile appointments, just a touch more information would do the team a world of good in this cynical environment. Ecclestone has his doubts, so it's up to US F1 to prove him wrong and meet the three challenges.
Bringing up the rear - although first to launch - is Virgin Racing. With ex-Toyota F1 driver Timo Glock and GP2 hotshot Lucas di Grassi on board, the team now has to prove that a car designed purely with computational fluid dynamics input can beat one honed in a wind tunnel. Fascinating stuff - as are the team's finances.
That covers it - except for the arrival of a certain Zoran Stefanovic on the F1 scene. The Serbian lawyer-turned-arms manufacturer is moving heaven and earth to make it to the second F1 test session (February 10-13 at Jerez), and to the Bahrain grid by mid-March. That he is a regular visitor to the Toyota base outside Cologne is a matter of record. That he is absolutely determined to have car running in Stefan GP colours - either as a full championship entry or a test project - during 2010 is well-documented, which must make one or even two of the newcomers rather anxious. Some news is expected in this regard very shortly.
All in all, an intriguing 2010 awaits: 19 races, at least 24 cars (hopefully 26 or even 28), one new circuit (Korea) and a returnee (Canada), no refuelling (placing a premium on smoothness), and four world champions for the first time in a decade. And after changes within both FOTA and the FIA, a relative dearth of politics - can F1 get any better for its legions of fans?