We're well into January and still there are empty seats on the 2010 grid. Many drivers have been linked with them, but one obvious candidate has maintained a low profile in the rumour mill.
There is one good reason why Giancarlo Fisichella hasn't been the name on everyone's lips - he already has a multi-year contract as Ferrari's third driver. But that doesn't mean that he and his manager Enrico Zanarini have not been actively searching for a race drive elsewhere.
Intriguingly, the two most attractive seats that are still available, at Sauber and Renault, have both previously been occupied by the Italian. And as history has proved, Fisichella is the sort of guy who leaves teams on good terms, with the door open for a return. Indeed on no fewer than three occasions he has gone back to a team he's driven for previously.
"Never say never," he said a few weeks ago, "as when I signed the contract with Ferrari. For the last couple of years I was sure I could not drive for Ferrari, so never say never. Abu Dhabi could have been my last race, but maybe not. It would be nice to know my future, but in the case of not racing I'll be in the Ferrari team as third driver and for me that's still a very good opportunity.
"I did 231 grands prix, I've been in F1 for 14 years, and being the third driver for another team, it could be boring. But for me doing it for Ferrari is just great. It's very important to be with them for a few years, but it's not sure about that. Maybe if there is a call from another team, together we can decide to race again one more year, and then we'll see."
It would be much easier for him to step into Sauber, where he would have a Ferrari engine, than Renault. Pedro de la Rosa has been linked with the Swiss team in recent days, but Zanarini is a canny operator - the Ferrari deal was a blinder - so until we get an announcement, anything could happen.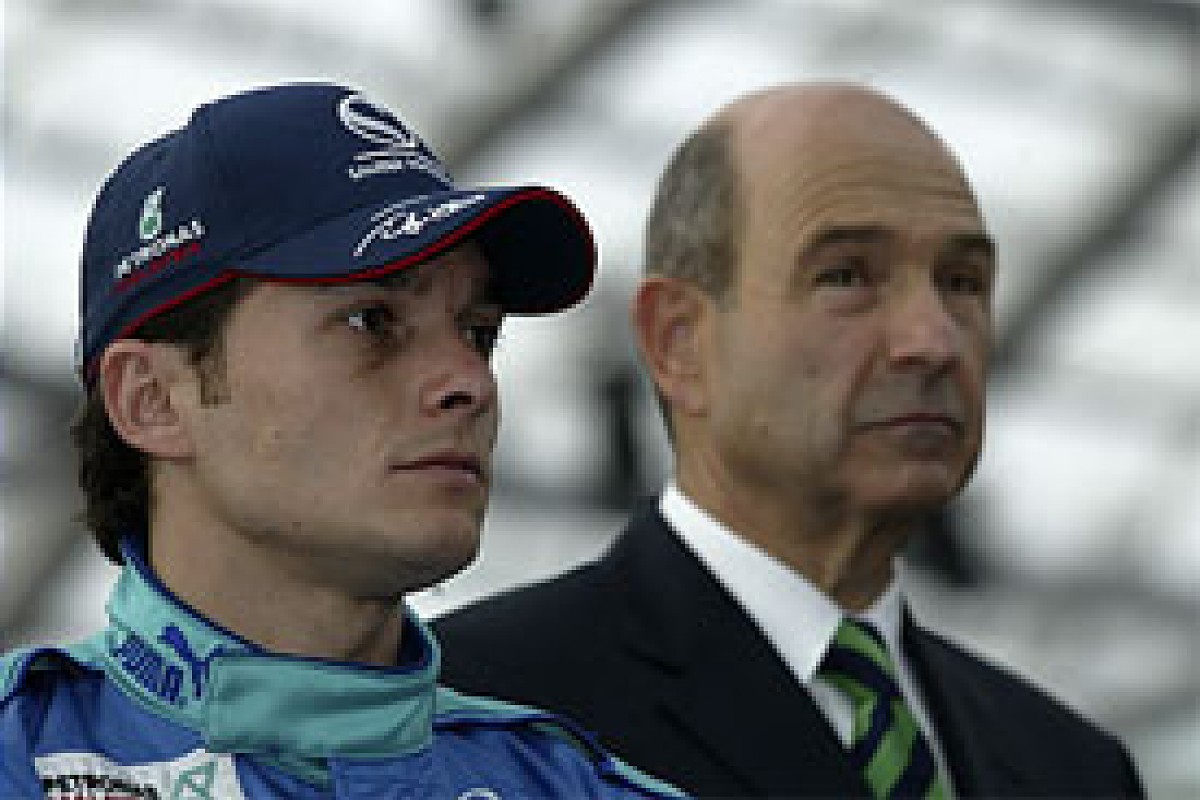 Giancarlo Fisichella and Peter Sauber at the 2004 launch © LAT
Along with Nick Heidfeld, Giancarlo has to be near the top of anyone's shopping list, at least before economic considerations are taken into account. At both the aforementioned teams the allocation of the vacant seat is likely to come down to the fundamental straight choice between taking a driver on merit, or one with substantial funding behind him.
Things aren't entirely straightforward for Fisi of course, because he has that Ferrari contract. Maranello learned the hard way last year that it pays to have someone good ready to jump in the car. New protege Jules Bianchi isn't ready, Michael Schumacher has moved on, and Luca Badoer... Well, let's just say he's had his chance. Despite his frustrating time at the end of last season, Fisi is still the man for that job.
Either way, one assumes that any deal would be dependent on Ferrari retaining a hold on him. In other words, should the Italian team need his services as a race driver at some stage, Fisi's other employers would be obliged to let him go.
The upside for Ferrari is clear, in that they get a driver who is race fit. The arrangement is rather less attractive for the other team, and that may prove to be an obstacle that cannot be overcome.
His reputation may have taken a battering at the end of 2009, but it would be wrong to write off Fisichella. His struggles with the F60 showed just how hard it was to step into a difficult car, and one that was rapidly falling behind on development. But it would be silly to overlook his astonishing achievement for Force India at Spa, where he took pole and chased Kimi Raikkonen to the flag. The jump made by team and driver from the start of the season was extraordinary.
"At the beginning of the year it looked like another tough and difficult season," he says. "We had the car quite late and we started the programme with testing quite late. As soon as we put the car on the ground I was not happy at all, because we were about two seconds slower than the leaders. So I already realised that it was going to be another tough season, to be again being on the back of the grid and maybe struggling to score maybe a point.
"But I have to say the team did a fantastic job. Already in Bahrain they made a step forward with the double diffuser. Compared with other people we were already able to put it there. It was quite impressive and we made a step forward, but it was not enough. We made another step at Silverstone, it was a big one, about six-tenths, but still not enough to score points. In Valencia we made another big step, another six-tenths. Valencia was the first race where we were able to be quick. The qualifying session was not great but in the race the pace was there."
Still, no one could have predicted what happened in Belgium.
"Then we went to Spa and on Saturday morning when we put the wing from Valencia with the new package for Spa, the car was so good. I felt the car straight away was very, very good and I was quite impressed. I was quite sure to be in the top 10, I was so confident.
"After the first qualifying session I was the quickest, but I thought maybe it was because I was on soft tyres and some other people weren't. In Q2, which is the very tough one, I was fourth quickest, less than one and a half tenths slower than [Jarno] Trulli, which was ok. I thought 'we're there'. Then in Q3 I did a fantastic lap. The strategy was a bit aggressive, but the fuel load was quite similar to the other teams. And I was on pole. That was an amazing result.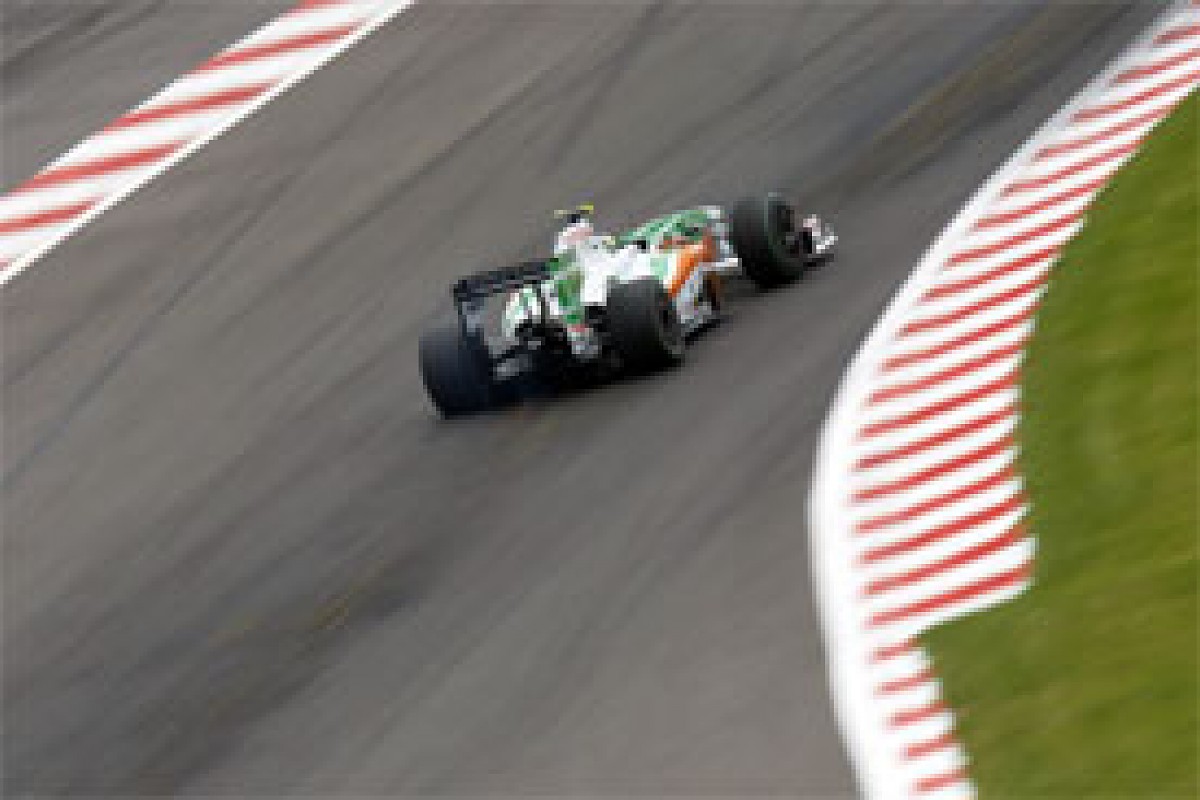 Giancarlo Fisichella en route to pole position at Spa © LAT
"The day after I was comfortable and confident of scoring good points, but I did not expect to be that quick. I was even quicker than Kimi and I could have won the race. But for us even the second place was amazing, it was a fantastic result for the weekend and the team did a fantastic job."
The real frustration was that he came so close. Had there been one more lap of fuel in the tank, allowing him to stop later, he could have got ahead.
"We changed the strategy during the second pit stop, we went longer, but unfortunately we still stopped at the same lap as Kimi. It was difficult overtaking him because on the exit of the hairpin he was using the KERS and he was taking 30 metres out of me. It was very difficult to catch him at the end of the straight, so it was impossible to overtake him. But apart from that, it was a great weekend."
Off the track, there was much going on in the background. Badoer's experience at Valencia told Ferrari and the world that the team would need to think again about a replacement for Felipe Massa. Fisichella was an obvious candidate, if he could get a release from Force India.
"Nobody from Ferrari called me until Wednesday morning after Spa. It was nice to see my name on the top of the list, but nothing happened until Wednesday. Then Stefano [Domenicali] called Enrico to meet each other in Maranello, and when Enrico told me that I was really happy. But there was still a problem with the Force India contract, so I didn't know anything. In one day we spoke with Vijay [Mallya] and Thursday they gave the announcement.
"That for me was fantastic. On Thursday I went to the factory for three days, I did the seat fitting, I did the simulator, and then I went to Monza. The first day I was so excited, so nervous. To do my first pit exit at Monza with a Ferrari was the dream of my life. So I was a bit nervous."
The dream quickly turned into a nightmare. Over his five races with the team Fisichella struggled to get up to speed in qualifying and was left trailing by team-mate Kimi Raikkonen. It really pinpointed that changing team mid-season was almost as hard as coming in without any mileage at all.
The biggest problem was that the F60 was a much more complicated animal than the Force India, with many more electronic tools available to the driver. Learning how to make the best use of them all, while getting on with the basics such as steering the thing and getting it stopped, was a big job.
"It was not easy at all, especially for the first couple of races. I was really struggling on that, losing two or three tenths just on concentration, because I was used to driving just concentrating on driving the car, and now I was switching many buttons.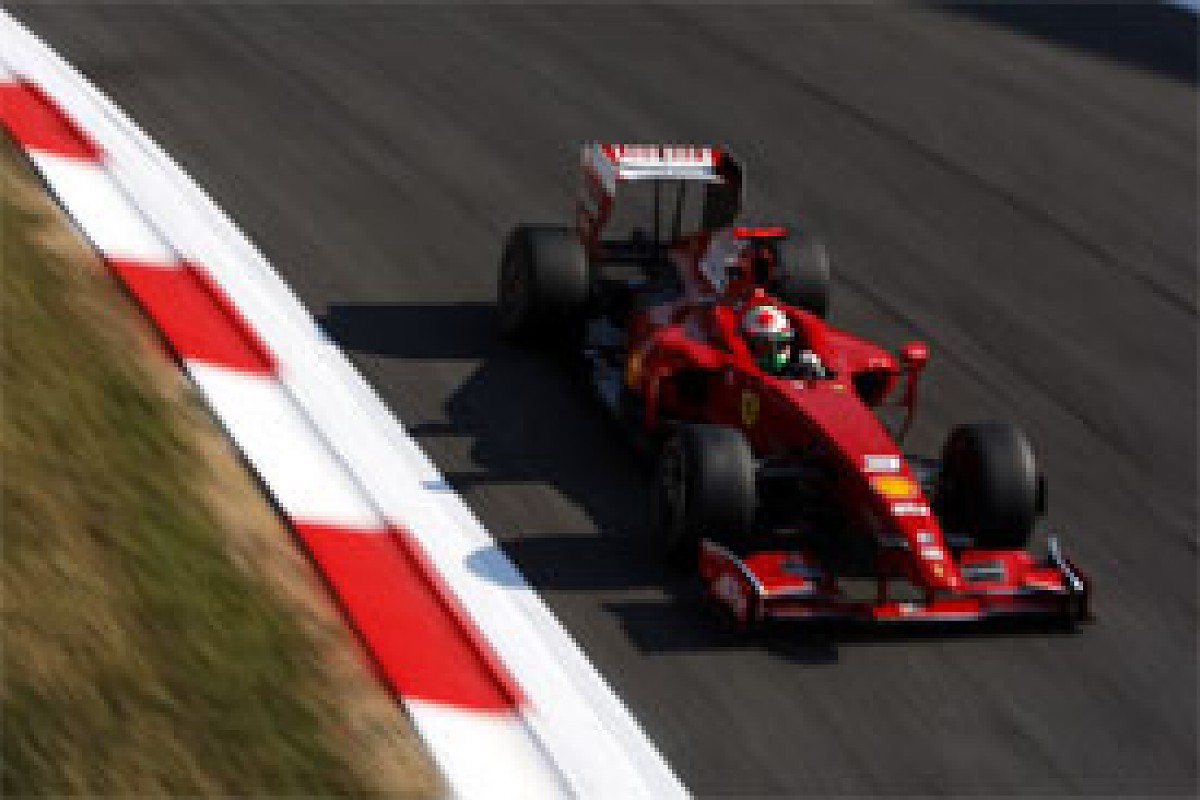 Giancarlo Fisichella in the Ferrari F60 at Monza © LAT
"It was tougher than I expected. The car was completely different from what I expected to drive, completely different from the Force India. With the KERS system you need to drive differently, and it's not easy because I hadn't done this kind of driving for 15 years.
"You have to concentrate on braking and do different things, especially on the downshift you have to be later on that, because of the KERS, or there is a lot of rear locking. The car was quite inconsistent and the fact that there was no testing at all didn't help me. Starting from the 16th, 17th, the back of the grid, you need to change the strategy and try to overtake. It's not easy. But my pace at Suzuka in the second stint, when I was alone, was exactly the same pace as Kimi. That was very encouraging."
Off the track, he felt very comfortable. He was delighted to be back with race engineer Rob Smedley, with whom he worked at Jordan. Having challenged for race wins with Felipe Massa the Brit was a little frustrated to be at the tail of the field, but the two men are firm pals.
"It's fantastic, he's always been a good friend of mine. We won in Brazil together [in 2003], which was a fantastic result, and he's a very nice guy. I have to say he's one of the best engineers ever. As soon as I came here I felt very well with him. He helped me quite a lot when I was driving, talking a lot on the radio. That's good.
"It's a winning team, with a fantastic atmosphere. Everything is perfectly organised. There are a lot of meetings, compared with other teams, but that's part of the job."
He's happy too to be working again with Fernando Alonso this year. If there was any tension in their days together at Renault, it was not created by the two drivers.
"Absolutely, Fernando is a fantastic driver, he speaks fantastic Italian, so he will easily get into the team. He's so good, consistent and quick. He'll be one of the two or three drivers who can win the world championship."
It could be that we learn the identities of the Sauber and Renault drivers in the next week or so, and if Fisi isn't among them, he'll be happy to settle back into his new Ferrari role. Even if it won't involve a lot of driving, it's still an attractive option, and a race programme outside F1 is in the offing too. If Abu Dhabi does turn out to have been his last grand prix, does he have any regrets?
"No... Well obviously yeah, because my dream was to be world champion! I don't like to talk about the past. But I've been here 14 years, I've done 231 GPs, I won some and did some pole positions, and I am now in red - which was my dream. It's just great. I'm happy about what I've done so far."