After he'd trailed around at the back of the field in Hungary a couple of years ago, Rubens Barrichello returned to the Honda motorhome to find a text message. It was from his old pal Michael Schumacher and read something along the lines of "I've just watched the race from my armchair, smoking a cigar. Have a think about it..."
The awful RA108 may well have given Barrichello some cause to consider an early retirement, but he struck around and duly reaped the benefits in 2009 when the Brawn BGP001 turned out to be a winner.
Now a curious turn of fate has decreed that Schumacher is packing away his slippers and returning to work in the latest incarnation of the very team that Rubens left Ferrari to join back in 2006.
Barrichello now heads to Williams after an extraordinary season with Brawn in which he won two races and challenged his team-mate for the title. Indeed had luck favoured him - and conspired against Jenson Button a couple of times - he could well have become Brazil's fourth world champion.
Still, he did much to boost his reputation and remind us that, at 37, he still has a lot to offer. Missing the title was a disappointment, but it's easy to forget now that this time last year he didn't know if he still had a career, never mind a seat for 2009.
"In December I was calling everyone to see if they knew anything that could help me," he recalls. "I had no job, but I knew somehow I was going to be driving. Don't ask me why, but I had a sixth sense that I was going to be there.
"There was a time when I called Ross [Brawn] and he would say 'keep your feet', that's all he would say. By saying that he was telling me that he wanted to, but couldn't confirm. So it went on for a month like this. There was a time when instead of calling him every week I started calling him every now and then, because he had nothing else to tell me.
"But I just had a feeling that he wanted me, and finally it was a Wednesday when he called and said 'can you be here tomorrow for a seat fitting?' I said 'tomorrow's going to be tough because I'm in Brazil, but the day after tomorrow I'm there!' That's when it got going.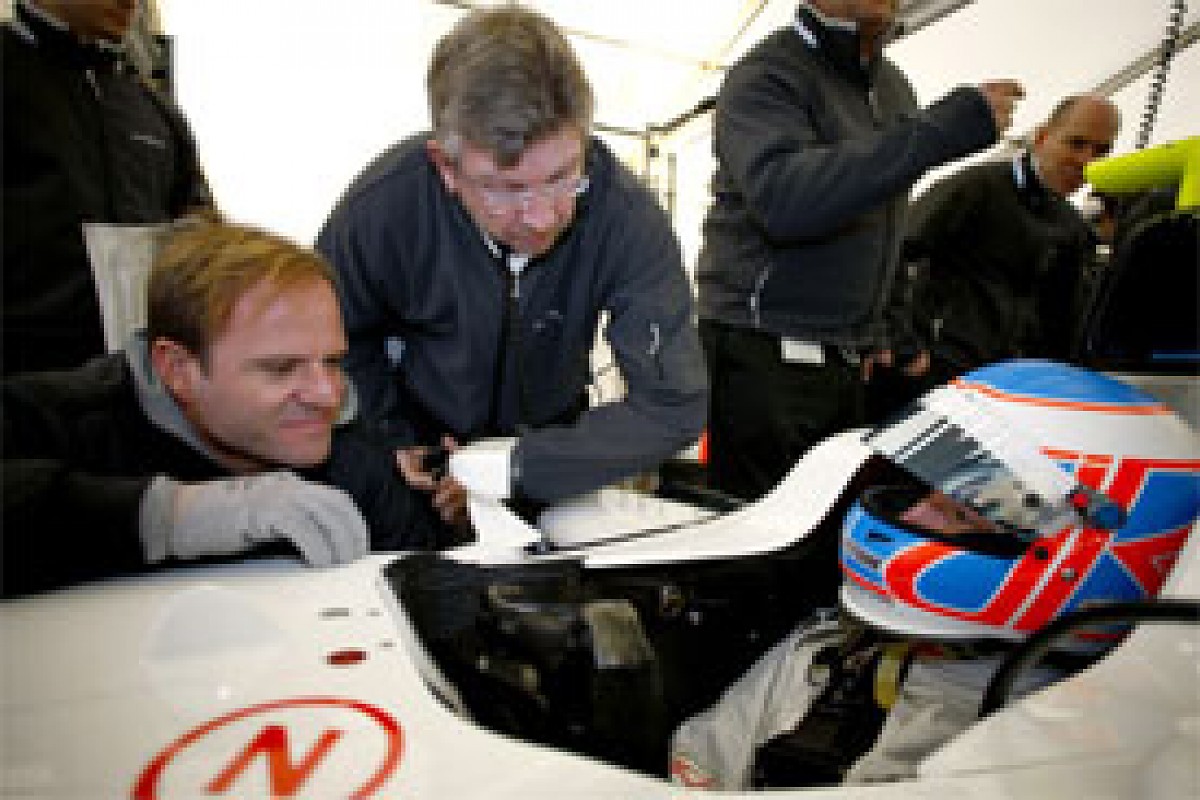 Rubens Barrichello and Ross Brawn listen to Jenson Button's feedback after the first test © LAT
"Everything came true and I knew I had a lot of speed in myself. It was just truly magic to drive a competitive car straight away. The first test was at south Silverstone and we couldn't really see anything. But Jenson had a feeling for the engine, which sounded very powerful. The tunnel data said the car was a lot better than the one we had, and we were happy with that.
"The first proper test, Jenson did four laps, came out of the car and said it was good. I couldn't wait to get myself in it in Barcelona. It was a great feeling when I got going. I was a little bit sore after the first day, because four months was quite a long time without any driving.
"I was so relieved. It was the last test for other people but the first one for us, so we had a measure straight away. People obviously thought we were bluffing, but we were laughing. It was amazing just to have so much fuel in the car and still be able to go so fast."
The opening race in Melbourne was a fairy tale for Brawn GP, albeit one with a few uncomfortable chapters for Rubens. He got away badly and was involved in a first corner drama, but as others hit trouble, he salvaged second.
"Australia for me was a boost, but also I was disappointed in a way. I qualified first in Q1, and first in Q2, and then when I put fuel in the car I struggled a little bit with the brakes. And that carried on up to Silverstone."
The brake set-up on his car was to play a key role in Barrichello's season, and goes some way to explaining why he often struggled to match his team-mate in the first part of the year. More on that later.
"In Monte Carlo I still had problems with the brakes. In the last qualifying session Jenson just put it on pole, and he won the race there. In Turkey I had a terrible start, but my worst enemy was a wrong second gear. We were so short that I couldn't use the slipstream to overtake people. So I really had to force it. I was having fun basically. I tried to overtake Kovalainen on the inside and we touched. There was no way to overtake, because I was on the limiter almost every straight.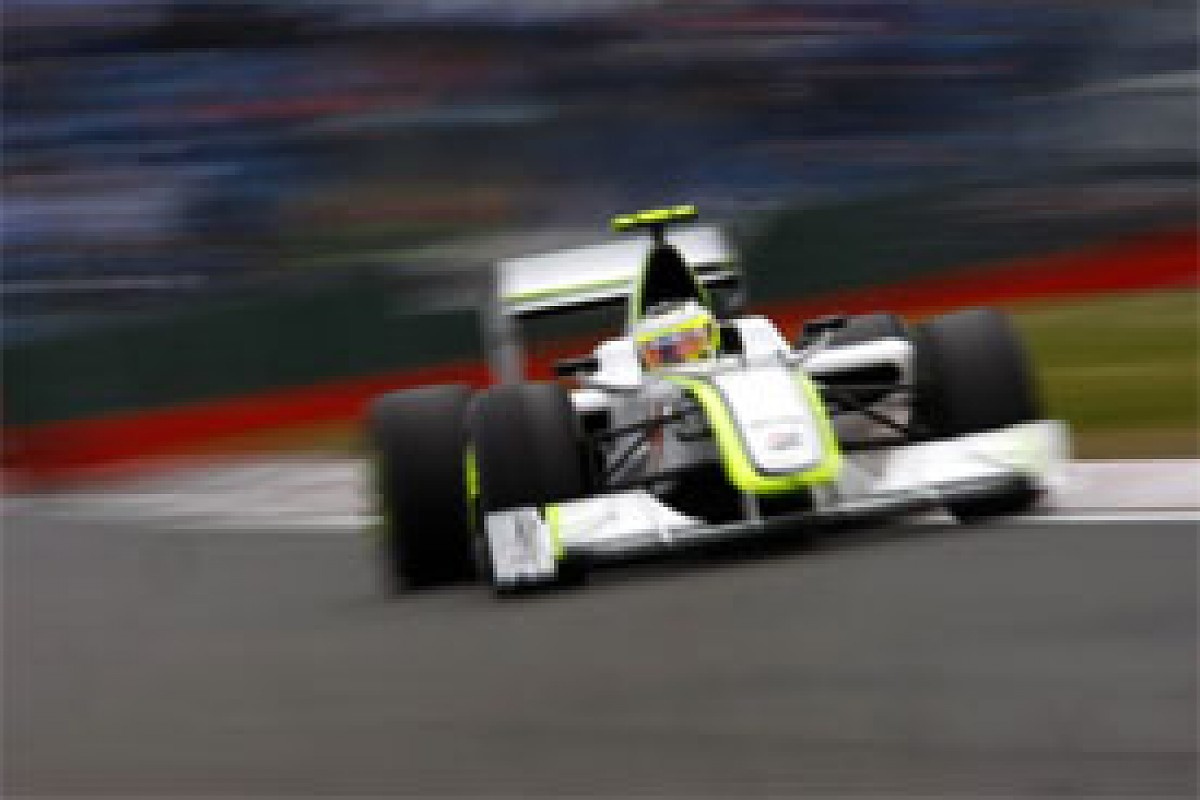 Rubens Barrichello at speed at Silverstone © LAT
"Then from Silverstone I started to be on top form. I had better brakes, and I started to outqualify Jenson. It just felt good."
Having been in Button's shadow for the first seven races, Rubens turned things around in dramatic fashion.
"The story starts when I joined the team. When I joined Jenson was already driving with the brakes he used in 2008 and I couldn't ever get used to them, I didn't like it. I had to change to other materials, that's how I got going. Through all of these years I've tried his brakes again for the sake of trying, but they were bad for me, they were never good.
"For the first six or seven races I was happy with the brakes, but the rear callipers were so hot I was losing time, plus I couldn't run the aerodynamic devices on the car because it was a hot rear end. So I was losing to Jenson technically already.
"All of a sudden we put the other [Button's] brakes on the car and I liked it. It was the first time with this configuration that it happened. That's why technically Silverstone was much better, so I wish I had those brakes at the start of the year!"
The change of fortune was instantaneous. After beating Jenson on home ground Rubens led in style at the Nurburgring, although the race was to end in frustration.
"Germany was where I said everything I said. I was so damn disappointed with the final result. People seemed to think that I said I thought I could have won the race. I knew that I couldn't have won, but the fact that I said it was a good demonstration of how to lose a race was because I thought that the team should have changed strategy in the middle. You're leading by 16s, you have 30s to the third guy, and you finish sixth! So for me it was more of a loss than anything else."
Later Rubens explained that working with an F1 team was like a marriage - it was better to get any grievances out in the open.
"Exactly! People have this vision of me that I'm quite happy with everything that comes, and it's quite the opposite. I hate losing. That was a good show of how to lose a race, really. In F1 nowadays you have to get out of the car and go straight to the press, you can never have those five minutes.
"People can say whatever, it was the Latin temperament or this and that. I'm quite chilled. You can quite clearly see if I'm happy or not happy, but that time I was upset more than anything else. It did some damage, but at the end of the day it did some good as well. I won a race right after that, so for sure it wasn't such a big deal."
In fact the win came after a blip in Hungary ("a weekend to forget"), where his suspension failure in qualifying left his mate Felipe Massa in hospital.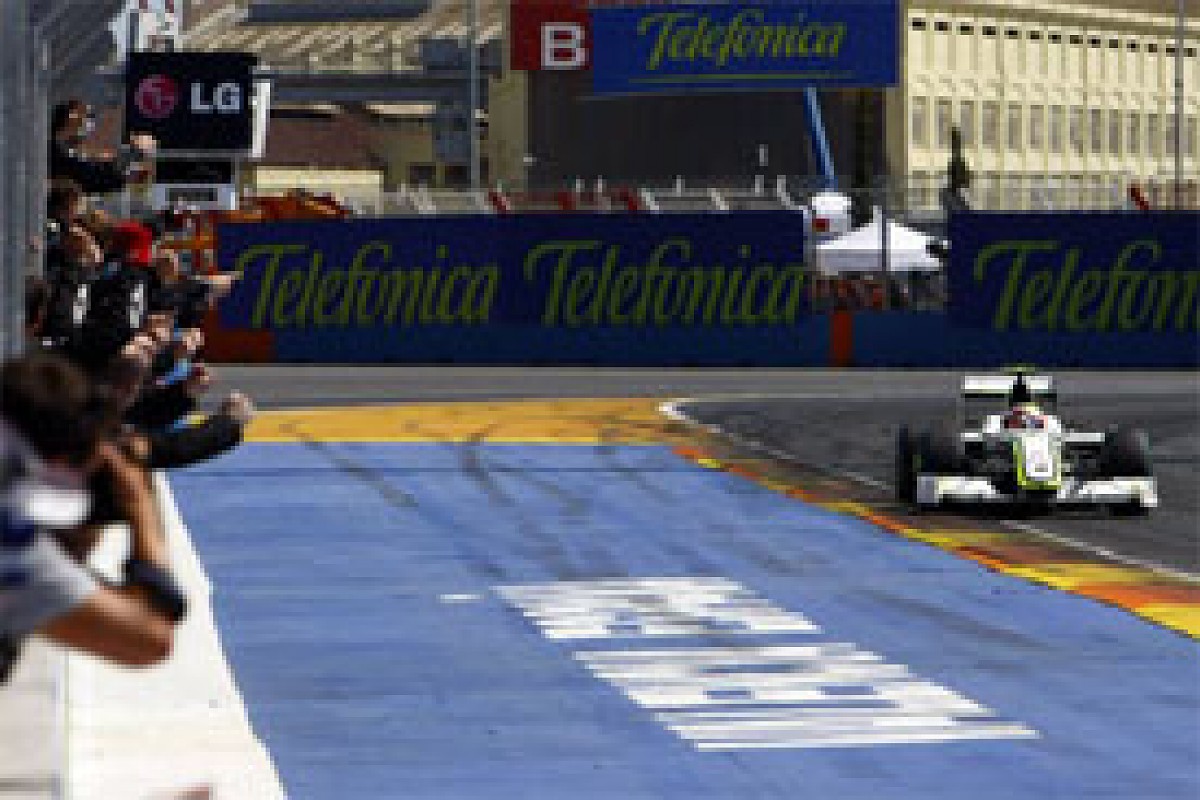 Rubens Barrichello wins at Valencia © LAT
"Valencia was great. It was almost like I woke up and I knew I would win. It was a fantastic feeling, you cannot describe what tells you are going to win, but you know when it's going to happen.
"In Belgium I think I would have finished on the podium if it wasn't for the problems that sometimes happen. It shouldn't happen at that time of the year, but it did. I still gave everything I could to finish seventh. After the start, after the problem, it was one of my best first laps ever. I got to the top of the Eau Rouge, I was already 10th. Monza was third time around winning there. That podium is probably the best one. It was just a good race, a good strategy."
Button finished second in Italy and only two points to his team-mate, but the psychological advantage gained by Barrichello appeared to be much more significant as we headed into the final four flyaways. Crucially, Jenson finished in front in Singapore and just behind him at Suzuka. Barrichello's title hopes finally slipped away at his home race in Brazil. Despite losing out to his team-mate, he remained philosophical.
"People put flowers on my coffin at the beginning of the year, but I was back driving a fantastic car and I was so up for it. I've got to really thank God for the year we had. It was altogether a great car to drive all year.
"Jenson won it and he deserved to do it, but he won it in the first seven races. I think the second half of the championship was mine. It was a true fight and I fought really hard, but at a time of the championship when we didn't have that great a performance any more.
"He didn't have to do much in all honesty and I had to fight really hard. Not that I'm the hero, he was the hero the whole time. I just kept on fighting and kept it very alive. For me Monza and Valencia were great, as was Brazil. But there we didn't have the performance to win the race. It was frustrating not to be able to win, but I consider myself a big winner and a big loser. I know how to win and lose.
"I won races and I kept things very much alive in the championship, I kept it going. You need to be a big winner, but you need to know how to lose as well. I think it's been a great championship and Jenson won because he deserved to win. I'm disappointed that it didn't go my way because I tried hard, and I've been here for longer, but we'll keep on trying."
What none of us could judge was the tension behind the scenes. When he won the title in Brazil Jenson had not yet re-signed for the team that was about to become Mercedes GP, while Rubens knew he was heading elsewhere.
Nico Rosberg says his deal with Brawn was agreed some time ago, although when pushed on it, he was a bit cagey about revealing exactly when. It's not hard to imagine that it was around late July that he became a shoe-in for Brawn; Rubens had just had his 'fight' with the team in Germany, a race where Nico made a great start from 15th, and finished fourth. He was also in the middle of a run of great results for Williams and had emerged as an obvious candidate for a top seat.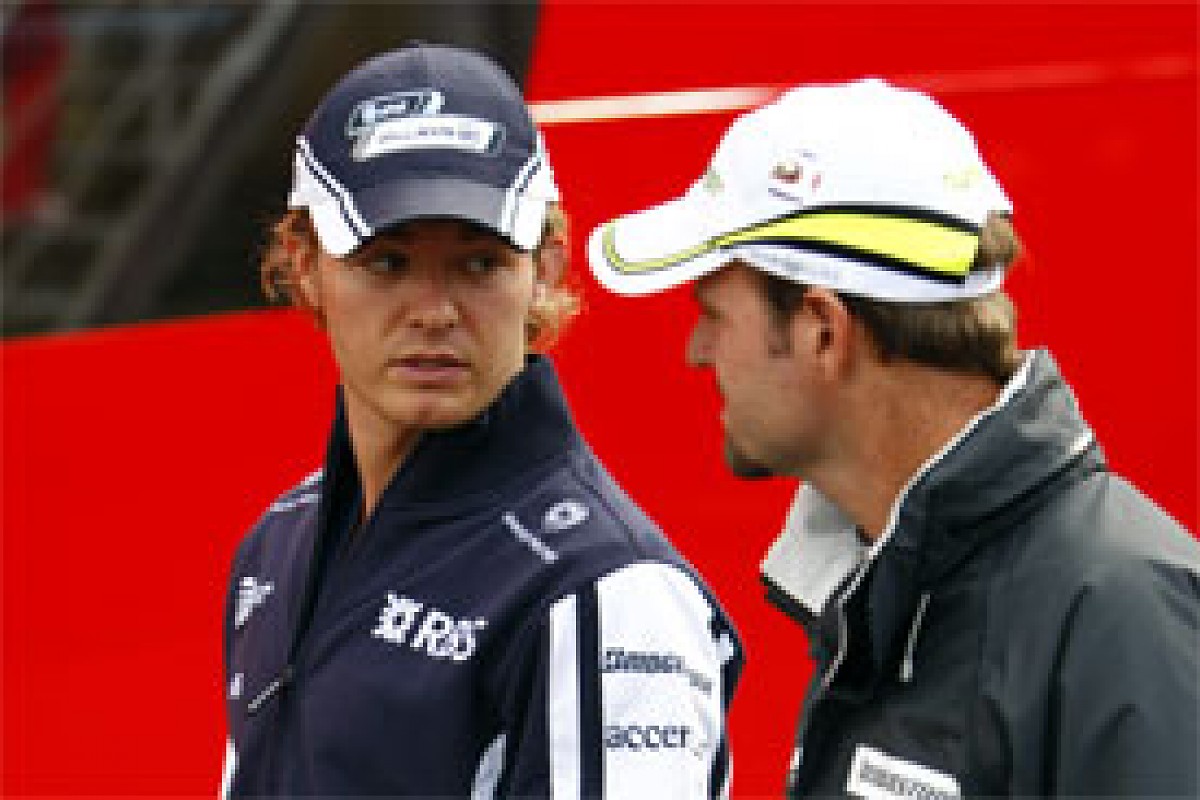 Rubens Barrichello and Nico Rosberg swap teams for 2010 © LAT
At some point Barrichello clearly found out that Nico was coming, and with Jenson clearly set to stay, he knew that he had to look elsewhere. The Williams seat vacated by Rosberg looked like a good bet. A rival driver manager told me back in Monza that Barrichello would be heading to Grove, although the deal was not confirmed until after Abu Dhabi.
It's tempting to suggest that he committed to Williams too early, and had he waited, he might have retained his seat - and kept Schumacher in his armchair. But once he knew Rosberg was signed it would have been foolish not to find secure employment elsewhere.
The Barrichello/Williams partnership looks to be an interesting one. With Nico Hulkenberg in the other seat Rubens will have a rookie team-mate for the first time since he had Jan Magnussen alongside him at Stewart in 1997. Over the past decade he's had just two partners, Schumacher and Button.
Much depends on how the Cosworth engine performs. Rubens continues to push the boundaries as he enters his 18th consecutive season, one that will see him notch up his 300th start ("I don't know if anyone will be able to beat that").
That start record will even remain out of the reach of Schumacher. More than three years older, Michael will take the focus off any questions about Barrichello's age. Not that it ever really was with the man himself - he's just happy to still be out there competing after being all but written off 12 months ago.
"It's a good show how you have to think in life, you have to dream and you have to work for it. I cannot study for an exam and hope God is going to help me, because he's not, but if you do believe and you do work for yourself, things can come around. And I think I am a good example."