Kimi Raikkonen has never cared much for the baggage that comes with being a grand prix driver: the interviews, the press conferences and the various public relations commitments.
During five years at McLaren and another three at Ferrari he walked a tightrope of political correctness, preferring not to say very much at all rather than trot out soundbites that might come back to haunt him.
To some extent he's been able to hide under the public 'Iceman' persona, and that's suited him just fine. Get to know him socially and a very different Kimi emerges. Off duty with his friends - and that group includes quite a few fellow grand prix drivers - he's a gregarious and convivial character, someone who has plenty to say.
Now he's embarking on a new chapter in his career, and creating a bit of history as he does so. By walking away from F1 to run a (nearly) full schedule in the 2010 World Rally Championship he is taking a path that has never been trodden before.
There will still be things to do for Citroen and his sponsor Red Bull, and inevitably he will be a focal point for the media and the public, but he's expecting to enjoy life more in the WRC both in and out of the car.
"It's very well done and it's very relaxed," he says. "There's much, much less politics and bullshit. In F1 you don't see so much that people go to talk to other teams and hang around, but there [in WRC] it's much more open. It's just a much nicer feeling.

"You can say more or less what you want there. In F1 if you say something wrong, for sure you get a lot of bollocking. There it's much more relaxed. In the end F1 could learn quite a bit from it..."
Kimi's move to the WRC is something that no one could have foreseen this time last year, when he was preparing for his first outing on the minor Arctic Rally. It was, we thought, just a bit of winter fun for someone brought up in a country where driving on ice is second nature.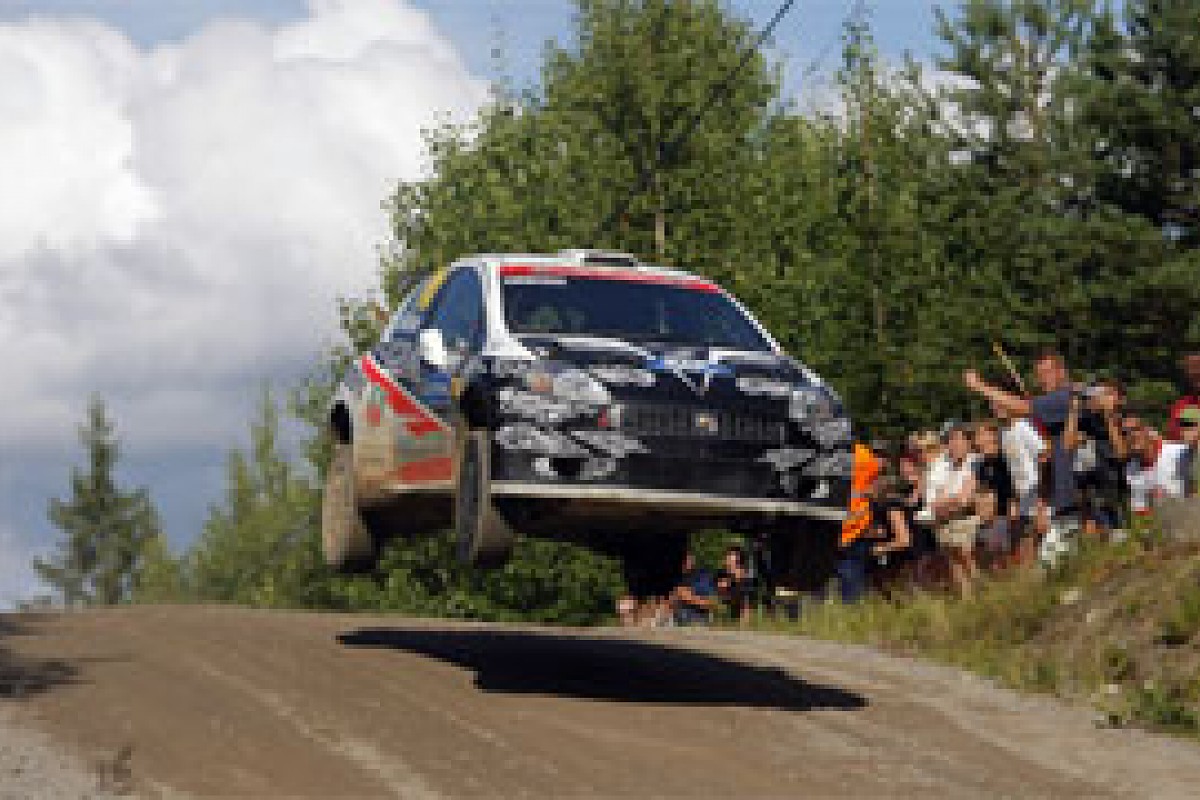 Kimi Raikkonen in the Fiat Abarth on Rally Finland © LAT
However, two further exploratory events with his Abarth Grande Punto, including one on asphalt in Italy, led to a spectacular WRC debut in Finland in the summer. His weekend ended in the trees, but along the way he proved that he meant business.
"I've been a big fan of rallying always," he explains. "I wanted to try it and see what happens, and when I tried it this year I liked it. I also felt it was a good help when I was racing. Even if it's a different kind of driving it still helps even in F1 for me. At least I thought it was a good help.
"I mean, you need to be very precise in rallying, and especially when there's snow there's only one lane. If you go a bit off line you go in the loose snow, and you go off easily.
"There's a lot of things that you need to do, and you need to put in a lot of effort to listen to the notes. There are many more things happening, different things that can change the whole thing, than there are in F1.
"It's funny, because you can easily put too much effort in driving, and not listening to the notes. That's the most difficult thing first of all, to make the notes and then listen to the notes. For us from F1, or from any normal racing without a co-driver, you just need to put all the effort into the driving.
"But now you need to listen a lot, and it takes time before you're used to it. That's the biggest issue, really. The driving is in some places difficult, but if you get the notes right and you listen right away then for sure the driving will be okay."
It still seems extraordinary that a Formula 1 world champion has made such a dramatic career move. Until a few months ago even Kimi had every reason to believe that he'd be racing for Ferrari for a fourth season in 2010.
"Yeah, otherwise I wouldn't have made a contract," he admits. "But if they want you out, there's no point to stay. I mean, if somebody wants you away, probably you're not going to enjoy next year very much..."
The paddock grapevine hinted that he was on the way out to make room for Fernando Alonso long before he'd had any formal discussion with the management about his position.
"You hear a lot about those things. It's not like it comes from nowhere... You hear something. Nobody says it, but you get the feeling from the people when you ask if they're bullshitting or not. I mean, that's life. In F1 it's not the first time, and it's not going to be the last time. It can happen always."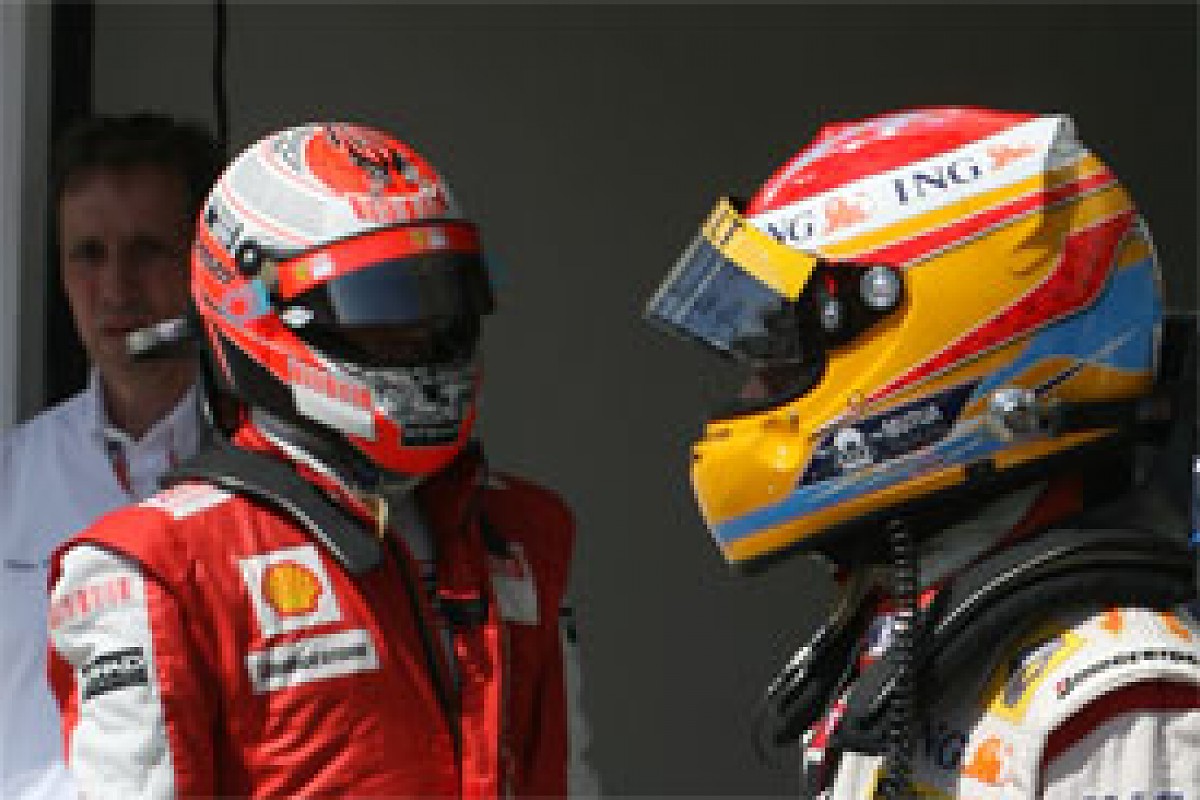 Fernando Alonso and Kimi Raikkonen in parc ferme © XPB
There was a touch of what goes around, comes around. The circumstances were a little different, but Michael Schumacher's retirement at the end of 2006 was, to some degree, forced upon him by the imminent arrival of Raikkonen. That gave some indication of just how much Kimi was wanted by Maranello at the time.
And yet just three years later, the Finn was gently shown the door, albeit with substantial compensation to ease his passage. Did the team just fall out of love with him?
"You have to ask them, I don't know!" he says. "You need to ask the people who make those decisions. I'm not interested in the end why or when. I'm pretty sure I know the answer, and it's nothing to do with racing or what I've done there.
"I think when there is enough money involved, you can always change anything! I think it's a lot to do with Santander coming in. Probably they made some deal. I don't know..."
Ferrari's management has not been slow to point out the obvious - namely that Alonso brings the sort of motivational push that Schumacher did in the past, implying that Raikkonen should have done the same.
"I didn't even try. I said already the first day I'm not trying to be Michael, I'll do my own things. I think they knew that, and they didn't expect anything else."
What Ferrari did get was results. In 2007 Kimi put in a near-faultless season to pinch the title from the McLaren drivers. Last year he was stymied by unreliability and a set-up he didn't like, and Felipe Massa gained the upper hand. In 2009 Ferrari didn't give either man the right tools, but Kimi held his own against his team-mate, beating him to third in Monaco.
"I've been pretty happy how I've been driving. If you compare it to last year, I'm a lot happier, but this year we didn't have the car. It's a bit of switch but, anyhow, what can you do? If you don't have it, you don't have it."
In the second half of the year, with Felipe sidelined, Kimi edged closer to the front. He was second in Hungary, third in Valencia and Monza, and took an opportunistic victory on that strange afternoon in Spa.
"After this kind of season it was nice to win, and with a car that's not the fastest it definitely gives you more of a good feeling than probably if you have the best car and you win. I mean, it's 10 times more easy. But even without the win the last part of the season was good."
Ultimately he finished sixth in the drivers' championship, a point behind Lewis Hamilton. Over the last few races the team ran out of steam, paying the price for canning development on the F60. Kimi knew by then that he would not be driving in 2010, and was taking the pain so that Alonso would reap the benefits.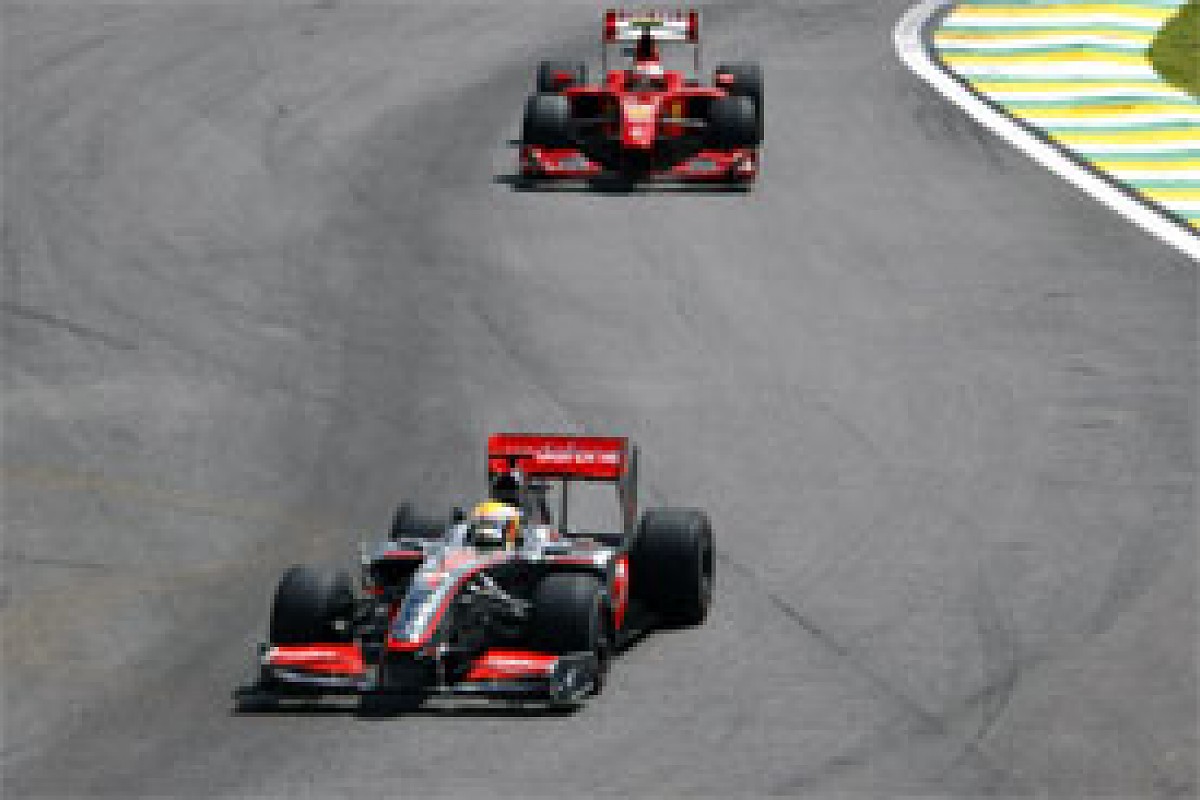 Lewis Hamilton and Kimi Raikkonen during the Brazilian Grand Prix © LAT
"They have reasons for that," he says. "Some teams did it differently, like McLaren, they kept pushing and improved the car, but Ferrari decided to put their whole efforts for next year. But looking back, we could have won many races if we'd put all the effort into this year's car. It's easy to say afterwards, but probably they could have improved it quite a bit."
It might have ended prematurely, but nevertheless he has good memories of his time at Maranello.
"I won quite a few races and I won the championship, so I had a very good period. Of course there are things that last year could have gone better, but they didn't. What can you do? You always do your best and sometimes you end up not getting what you want. I still got what I dreamed about in F1, so I'm very happy. I had a good time."
It was to McLaren that we assumed Kimi would return. He'd left on good terms at the end of 2006, and the door had remained open.
"We never had a bad feeling. It was just purely I wanted something different at that time, I could have stayed there. I think that's the best way to leave, because you never know what will happen in the future."
Going up against Hamilton was not a problem: "It wouldn't have been an issue, and anyhow I know the people in the team, so it would have been not so difficult to go there. That's why it was my main option, because it always takes some time when you go with a new team, and with them I know the engineers and so on."
Yet after weeks of speculation, it was Jenson Button and not Raikkonen who became Hamilton's team-mate.
"I could have signed with them if I'd wanted to do, but in the end it wasn't 100 per cent what I wanted. It was not really so much about money, it was all the other things. It's not that I couldn't have gone there but, like I said, I have no reason to do something with a contract that I'm not happy with."
The money was part of the equation of course - it's no secret that the pay-off from Ferrari would shrink substantially if he had chosen to race elsewhere in F1 in 2010.

"Yeah, for sure there is something that if I raced with another team, I get a bit less. And there was no point to get paid less if I race with somebody. It was a complicated situation, but in the end that wasn't the issue, the money side, although everybody thinks so. It wasn't what I wanted."
Kimi briefly became a candidate for the vacant Mercedes seat - Ross Brawn was one of the people who brought him to Ferrari - but he was already too far down the WRC route.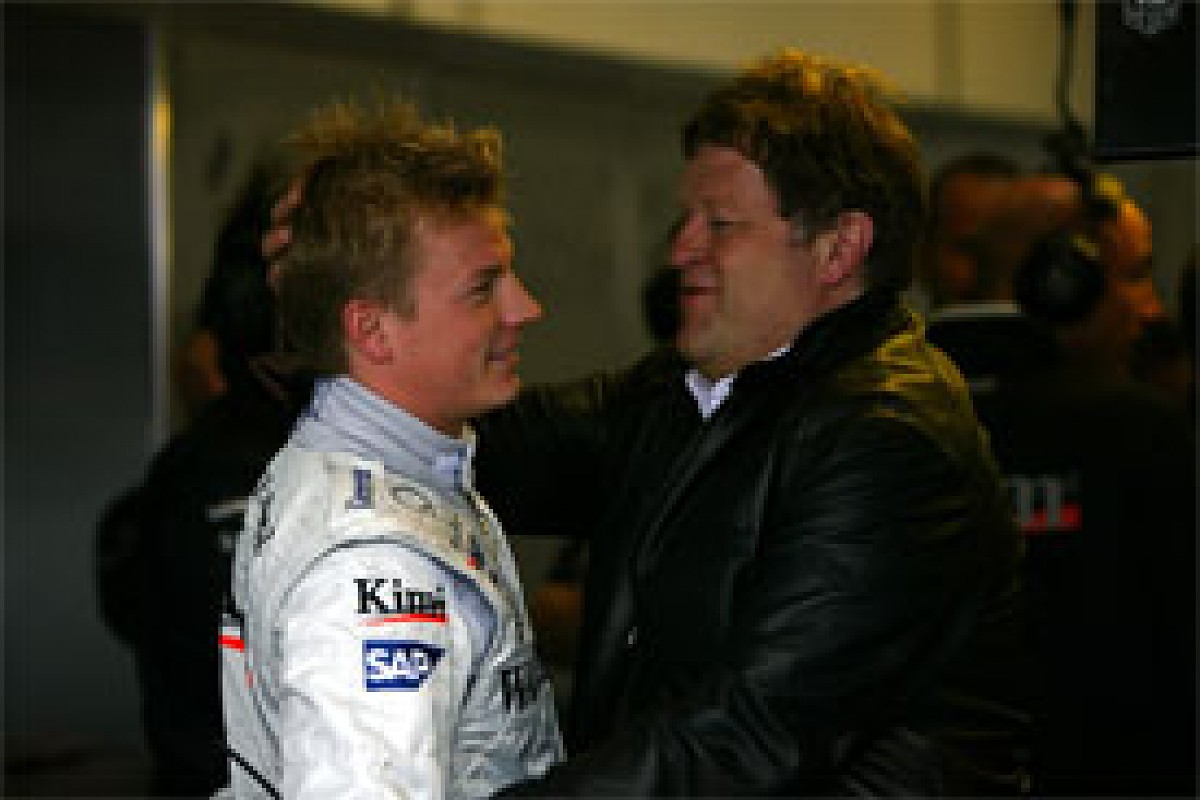 Kimi Raikkonen and Norbert Haug in 2003 © XPB
"Probably I could have gone there. I didn't want to start waiting for a long time. For sure we could have got a contract in the end, but when the McLaren thing didn't happen I already had the talks with Red Bull, so I just wanted to go there and see what happens in rallying. Maybe I'll come back [to F1] next year or the year after. Or maybe not..."
He's a little vague about his long-term plans, and insists he doesn't have any. Everyone has put two and two together and placed him at Red Bull Racing in 2011, but things might not be that straightforward.
"I don't have any contract with F1 or anything else, so I have no idea what will happen. I have both options, to stay in rallying or try to come back to F1. I want to see how it goes, and then decide. I'm not in a hurry to decide. If it goes well, then I could keep doing it. There are many different scenarios. Right now it's just for this year, both with Red Bull and with Citroen."
The WRC schedule is a busy one, but for the time being he's enjoying a quiet break, splitting his time between Switzerland and Finland. Isn't he going to miss F1 at some point?
"We'll see!" he laughs. "Right now I don't miss it, but it's the same thing always in the winter."