So, at long last the building blocks for F1 2010 are falling into place: Lotus F1 Racing announced its logo and driver line-up in Malaysia on Sunday and Virgin Racing was officially launched at a ceremony in London on Tuesday.
On Wednesday came confirmation of what had been an educated assumption since even before Renault plea-bargained during the FIA's 'Crashgate' hearing in September - that the team would sooner or later slide out of F1 via the back door - and earlier today, Thursday, a mail from Switzerland confirmed Kamui Kobayashi will pedal a Sauber in 2010.
But, as is par for the course in F1, every silver lining disguises a touch of darkness, and so it is: the takeover of a majority interest in Renault by Genii Capital means Robert Kubica's management is poring over the terms and conditions of the deal in the hopes of springing the highly-rated Pole free in order to nudge him towards Mercedes Grand Prix as partner to Nico Rosberg.
While the Anglo-German team ponders its options - a possible choice between Michael Schumacher and Kubica is not the no-brainer many believe it to be - the team is busy briefing lawyers on its 'contract' with Henkel, which is assumedly the multi-million buck deal alluded to by team CEO Nick Fry in August this year. What with BMW's Russell King/QADBAK fiasco - which ended in tears for Notts County FC and Sven-Goran Eriksson, too - its seems F1 teams with German motor manufacturer connections are easy targets...
While two of the four newcomers have unveiled their 2010 plans, the remaining 50% have yet to follow suit, and talk has it that both the FIA and Formula One Management are becoming increasingly edgy about all 13 entered teams making it to Bahrain in mid-March.
Although one team source indicated "there seems (to be) a little more confidence that the new teams will make the grid in 2010 than there was a month ago", the fact of the matter is that, as per the autobiography of triple champion Jack Brabham, 'When the flag drops, the bullshit stops.'
Theoretically, the ideal solution would be to open grids to 14 teams, for that way an existing hopeful - of which there are many if the list of applicants for Renault's operation is anything to go by - can prepare in the knowledge that a grid slot awaits, regardless. Plus, as Sauber discovered, the uncertainty blows an ill wind through morale.
However, the reality is that the Concorde Agreement bindingly caters for 13 teams (on safety grounds) until end-2010, so unless all signatories agree to a waiver - which, for some independents, would be tantamount to turkeys voting for Christmas - the reality is that F1 is stuck with a maximum of 26 cars for the foreseeable future.
All, though, is not lost even if a team does drop out: waiting in the wings is Serbia's Stefan GP, whose principal Zoran Stefanovic is adamant that the team can be ready for Bahrain if the go-ahead is given by mid-January.
Speaking exclusively to this columnist, the Serb, CEO of the AMCO aerospace components company, confirmed that talks to take over certain components of Toyota's defunct F1 programme are ongoing, and will be continued in Cologne this weekend. While the outcome of the talks no doubt hinge on various factors, Toyota obviously wish its kit (and the intellectual property to its cars) to be put to good use, and until SGP somehow gains an entry, matters remain up in the air.
However, while he refused to divulge further details (an announcement is expected next week), Stefanovic indicated that, regardless of the outcome of negotiations, he remained hopeful of taking his squad to Bahrain.
"We have two plans, Plan A and Plan B," he said. "While we hope all 13 teams can make the grid next year, and we certainly don't want anybody to fall out, we are hoping to be the 14th team. But if that fails, we go to Plan B, which is to be in Formula 1 in 2011. We are certainly not stopping with our plans, we intend to be there, if not in 2010, then 2011."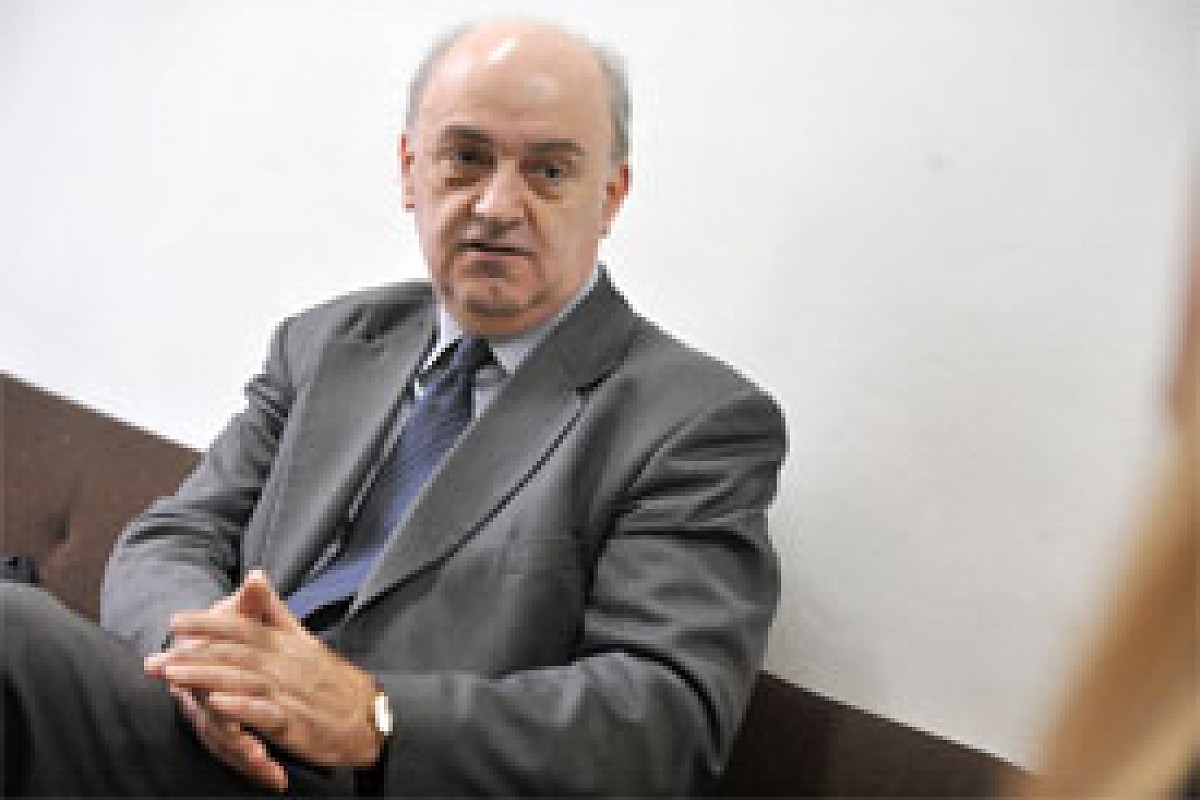 Zoran Stefanovic
Although Stefanovic first hit the headlines in August after failing to make the 13-team cut and then lodging a complaint with the EU Commission over what he saw as monopolistic practises, his long-cherished plans to enter F1 began taking shape in February this year, and by May the operation had moved into suitable premises.
He has secured funding from four sources, but, again, details will only be revealed at a later stage - although he did not deny that the Serbian government fully supports the initiative to establish F1's first full-fledged Eastern European team.
"Yes, the government has been behind us from the beginning, in fact from the time we started our feasibility studies in February, followed by our operational planning," is, though, as far he is prepared to go.
Much like US F1 (whose latest logo is a subtle variation of that used in the past), SGP intends operating out of two bases: where the American operation will be headquartered in Charlotte, North Carolina and operated out of Motorland in Aragon, Spain, SGP intends basing itself Belgrade and running out of Germany "from 2010 onwards, for a few years at least."
In fact, so far advanced are his plans that he is adamant a Stefan GP car will be in action during 2010 regardless of the entry situation:
"If we don't get an entry for next year we intend to go testing for the year. We have the drivers signed up and we have an engine contract," he said, "and we have (ex-Arrows and -McLaren designer) Mike Coughlan on board, plus many other F1 people."
Again, no names, no packdrill - but he talks convincingly.
He did concede, though, that no tyre contract was in place (yet), but added: "If we do get an entry, we will obviously sign a commercial tyre agreement (with Bridgestone for 2010)," while an entry in 2011 will mean fitting whatever F1 comes up with after the Japanese company's exit at the end of the incoming season.
A major stumbling block had been thought by many to be the EU complaint, for FIA/FOM would surely be disinclined to feel benevolent towards an unknown prospective entrant who seemed (at the time) hell-bent on dragging the partnership through the repeat of the 1998-2000 EU enquiry which forced the FIA to change its commercial rights' business model by placing numerous restrictions on both the FIA and FOM.
In office in August at the time of the SGP complaint was 'Steely Ms Neelie' Kroes - the formidable woman who oversaw the Microsoft enquiry which ended in a £450m fine for the software giant - and the fear in F1 circles was that any investigation would result in further sweeping changes to the sport's modus operandi.
However, folk in the place de la Concorde and Princes Gate can breathe easily: Not only has Ms Kroes, a regular in Forbes magazine's 50 Most Powerful Women listing, switched portfolios from Competition to IT and Telecomms (causing sleepless nights amongst data and voice executives?), but Stefanovic exclusively revealed he had dropped the complaint.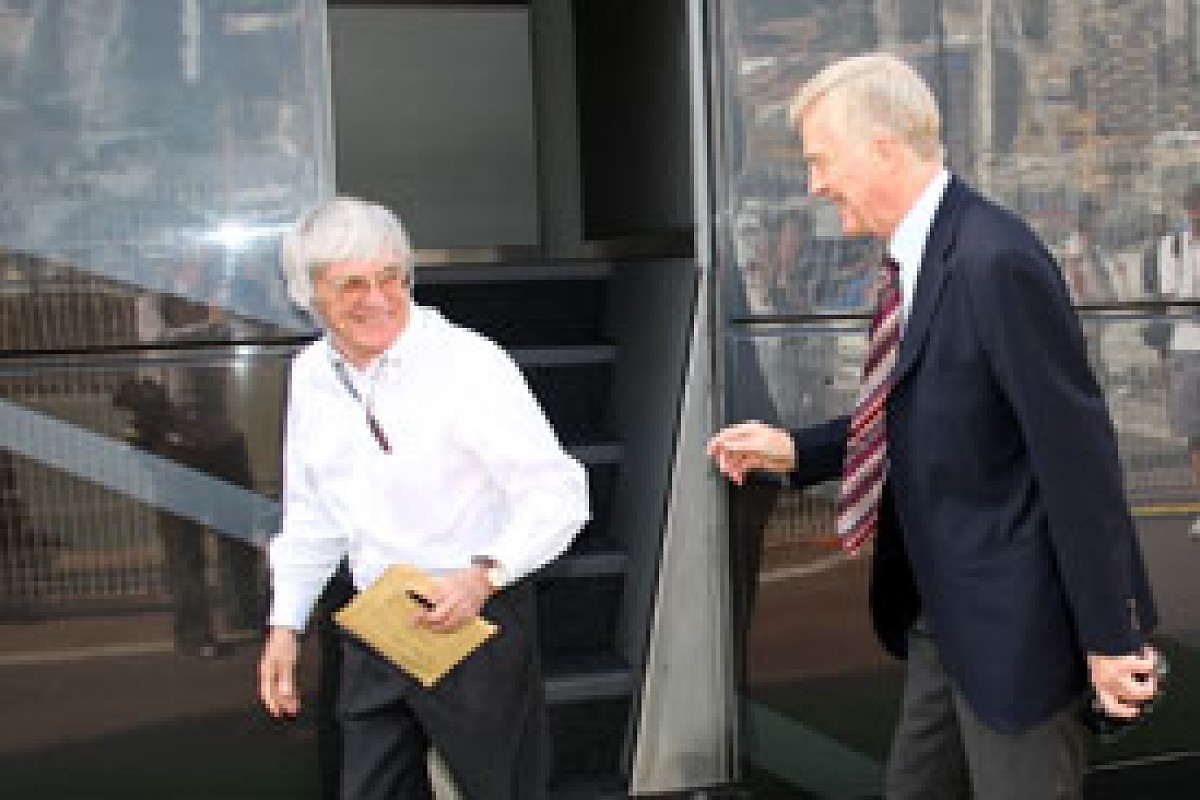 Bernie Ecclestone and Max Mosley © XPB
"It was not a court case, it was a different approach. It was a complaint about fair or unfair process about some sort of monopoly, which I thought it is. But when I thought carefully at the end of August - we started at the beginning of August - I thought in earnest what it was, and we decided not to go on with this (complaint).
"From the beginning of September we have not done anything, and this is in writing (with the EU), so there is no question about this (any more). The only reason (for the complaint) was that we have to realise what the process is, and since we didn't believe it was an absolutely transparent process, we complained.
"But after that we found out that it is not something which makes good for anyone involved in the process, so it is better to concentrate on the business (the team), so we dropped it. The complaint is finished, full stop, but we are not finished with our plans to enter in 2010."
So there remains hope 2010 F1 grids will be packed to the maximum allowed even if one of the newcomers drops out, as is widely feared. And, even if SGP don't make Bahrain, it has an entire year to canvas all Concorde signatories to lift the ceiling to 14 teams - and in the meantime the team is free to test without restriction, much as Toyota did in 2001 ahead of entering the sport.