One week, two entirely separate strategic motorsport events held virtually simultaneously in Monaco, and three very good reasons to look forward to the 2010 Formula 1 World Championship season.
The two occasions were, of course, the annual Motor Sport Business Forum held on Wednesday and Thursday in the Grimaldi Forum, and Friday's last FIA World Motor Sport Council meeting of the year - and, saliently, the first such session under newly-elected president Jean Todt.
The fifth-ever MSBF kicked off with an enlightening keynote Q and A with Tony Fernandes, whose passion, drive and, equally vitally, personal resources have facilitated the return of the Lotus brand to F1.
Gerard Lopez and Tony Fernandes © LAT
The Malaysian airline entrepreneur (and former music executive) made it clear that as a newcomer he was certainly still learning the ropes of a sport he has loved since childhood. He did, though, make it equally clear that the end of the motor manufacturer era means F1 will need to change its modus operandi, particularly with regard to new media - and he should know, having left the music industry in protest after executives refused to adapt their business models in the face of threats from downloads and file sharing, and founded the internet-based airline Air Asia, with his budget hotel chain based on a similar model.
Gerard Lopez, founder of the capital fund which backed Skype and various other internet start-ups, reinforced Fernandes's comments before going one step further. Lopez, presently linked to a buy-out of Renault after the success of his Gravity driver management company further whetted his appetite for the sport, believes F1 will out of necessity need to embrace new media if it is not to be overtaken and left for dead.
He has a point: F1's current business model is based on a 1997 document drawn up at a time when television was free-to-air on low-definition analogue platforms controlled predominantly by state broadcasters. The same document, known as the Concorde Agreement, was recently revamped, but the fundamentals have, according to sources, hardly changed. After all, what use guaranteeing teams 50 per cent of a low-def television pot if the world gets its kicks from HD streamed via the internet?
When the BBC resumed F1 coverage at the beginning of the season just past after losing the contract to arch-rival ITV for a little over a decade, it did so by pioneering 'cross-platforming', with terrestrial interactive TV, radio and internet reporting seamlessly dovetailing with each other. While other broadcasters have yet to catch up, the overall consensus of opinion at the MSBF was that the 'Next Big Thing' in broadcasting was lurking around the corner, ready to overtake cross-platform.
Just what form the Next Big Thing would take remained open to speculation (after all, who just 12 months ago thought a Twitterer was anything other than a raving idiot and MySpace not only a back garden?) but the message was clear: the fastest sport on Earth needs to move with the times, and, if nothing, else, get itself into HD format pretty damn quick.
Jacques Raynaud, vice-chairman of Eurosport and the man responsible for the broadcaster's motorsport programmes and events (commercial rights holder for the FIA's World Touring Car Championship and promoter of the Intercontinental Rally Challenge), had some extremely good news for fans: following a steep learning year, Eurosport has cracked most challenges posed by HD TV in a motorsport environment, and, although the issue of poor in-car picture quality remains, there are no longer any major barriers - bar cost of transmissions due to the required bandwidth.
Given that Eurosport broadcasts the majority of the 12 rounds/24 races making up the 2009 WTCC season, surely F1 (and the World Rally Championship, the FIA's other blue riband series) now has no excuses, and, if anything, owes it to its stakeholders (teams, fans, sponsors and circuit promoters) to embrace HD technology.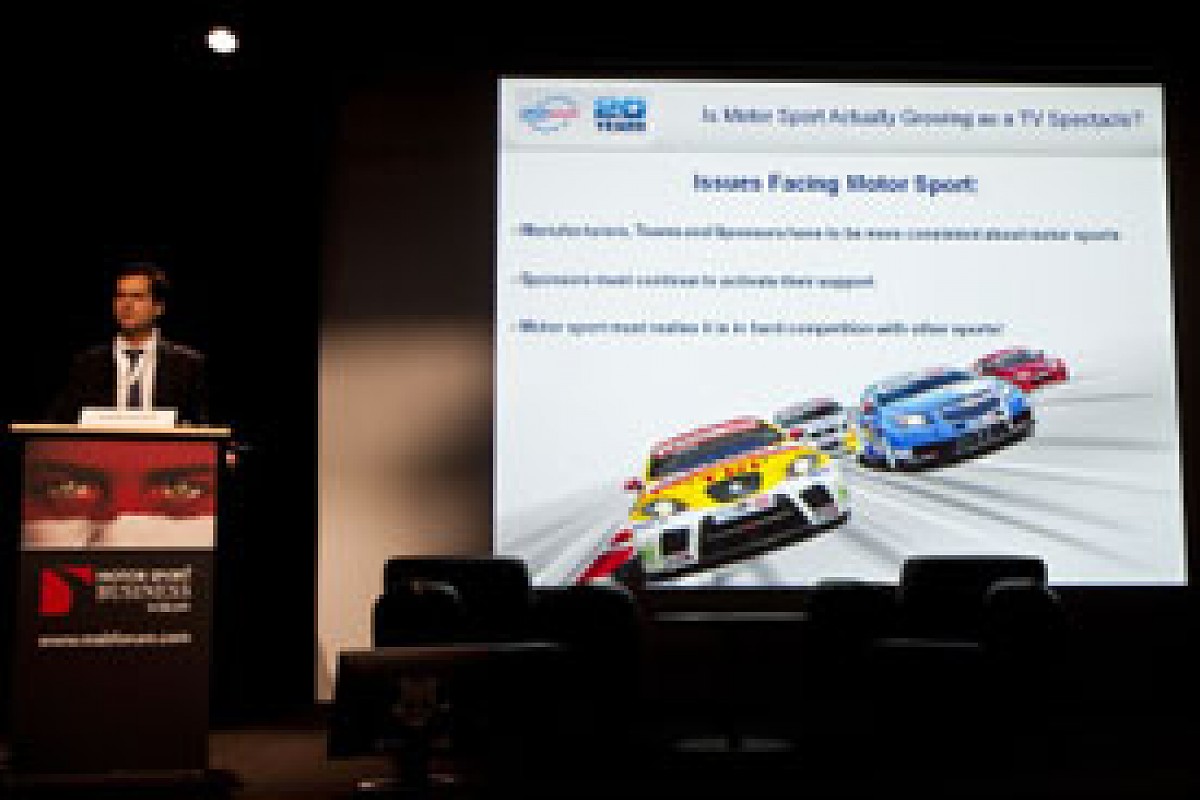 Eurosport vice-chairman Jacques Raynaud gives his presentation © LAT
The commercial rights holder could, of course, refuse to do so, but during the sponsor session it became clear that the funders of the sport were no longer content to be mere sticker merchants. The demise of the car companies means that collectively sponsors now make up the largest single interest block, and without exception they lamented their lack of input (to date) into a sport that has made its major players extremely rich men and continues to exist largely through their support.
Speaking off the record, two of the four speakers, mindful of the successes of FOTA, indicated the time was nigh for the formation of a sort of Formula 1 Sponsors Association to protect their collective interests and investments. Interestingly, it emerged during the Forum that NASCAR calls regular summits at which sponsors air suggestions and grievances. During Thursday's Superbike presentation, SBK boss Paolo Flammini listed the biannual conferences to which stakeholders (including sponsors) are invited among the marketing activities of the production bike series.
Will the pending formation of FOSA force similar in F1? The formation of such a body would, of course, be a major step in a sport which has placed great value on secrecy and autonomy, and, given that the F1 Commission - which on Thursday held its first meeting "for about five years" (as per one team principal) despite provisions for regular meetings in the previous Concorde - counts two sponsors ("of at least five years standing") among its 26-member strength, many in F1 are likely to question the raison d'etre behind FOSA.
The bottom line is that he who pays the piper generally likes to call the tune, and given that sponsors now pay more for the music than ever before - despite budget cuts and caps - they have more right than ever to demand the best deals, and what better way of achieving that than through a 'trade union'? And, of course, the fans are the major benefactors of improvements to the 'show'...
Circuit owners, too, are being squeezed, and it became apparent during the two days that they are acutely aware that "charging somebody $500 to sit in a plastic bucket for three days" as a result of "Bernie's fees" means that their customers, i.e. F1 fans, are likely to feel ripped off unless the show is top class. So, again, they are pushing to increase the spectacle, both on- and off-track, from which fans can only benefit.
Nick Fry, CEO of Brawn GP (as it still was at the time of his presentation), too, advocated change, particularly where new media was concerned: "We are guilty of being slow on this. There has been a lot of discussion about change and things are more open now. When I started in Formula 1 nine years ago, meetings between us and the FIA and FOM were appalling. Now it's dramatically different. Business realities have taken over."
The former Ford and Aston Martin executive added that the F1 fraternity needed to "up our game because our competitors [other entertainment options] have upped their game", concluding by suggesting that "Bernie [Ecclestone] is more open to listening to teams and other stakeholders about what is needed for their businesses."
No sooner was the MSBF over than, right on cue, in came a media release detailing the (historic) F1 Commission meeting held as a precursor to Friday's WMSC meeting, itself a precursor to last night's FIA Awards Gala evening in Monaco.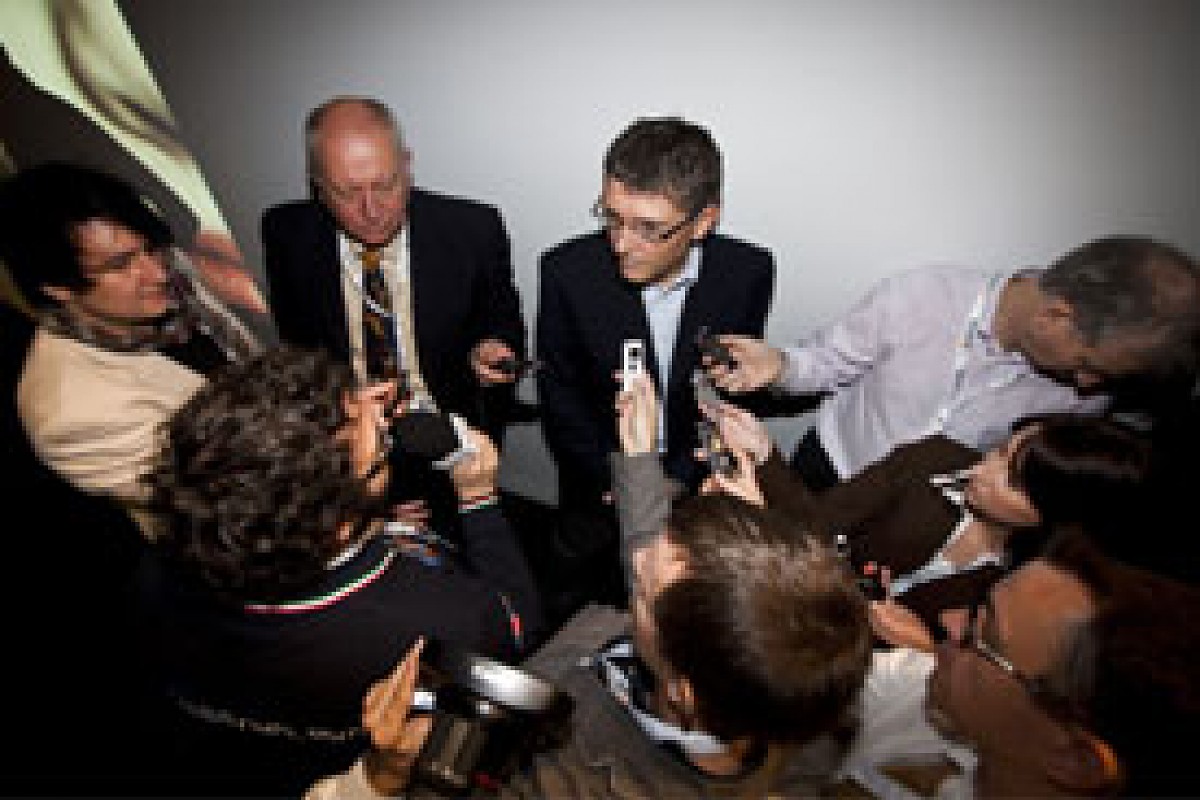 Nick Fry speaks to the media after the Motor Sport Business Forum © LAT
Among the decisions taken to change the points structure (analysed elsewhere on AUTOSPORT.com and thus not commented upon here save to suggest that F1 missed a perfect opportunity to increase the percentage difference between placings, thus providing greater overtaking incentives) and to allow Brawn GP to change its name to Mercedes Grand Prix (allegedly a major issue, as the CRH pushed for 'Mercedes F1 Team' in order to strengthen ongoing trademark applications) appeared the paragraph:
"A strong mandate has been given to the Sporting Working Group, a sub-committee of the F1 Commission made up of the FIA and F1 teams, to develop detailed proposals to improve the show. These will take effect from the 2010 championship.
That there now exists a will at virtually all levels 'to improve the show' was underscored by a media release which arrived around 24 hours later, having been issued in the wake of the WMSC meeting. Headed 'World Motor Sport Council', it summarised the major decisions taken under Todt's chairmanship, with the major one being the appointment of one commissioner per FIA championship, their brief being:
"The commissioners will be present at each event of the World Championship for which they have been appointed and their role is to serve as permanent liaison for the various stakeholders involved [ASNs, promoters, organisers, manufacturers, teams, officials, suppliers, etc]."
Yes, sponsors are not specifically listed (possibly falling into the 'etc' category?), thereby providing additional ammunition to FOSA devotees, but, like the announced restructuring of stewards' panels to include former F1 drivers and eliminate the non-voting chairman, this is certainly a step in the right direction.
That F1 stands on the threshold of a new era is clear: newcomers (or returnee in Peter Sauber's case) will in 2010 make up at least 40 per cent of the grid, with there being just two major car companies represented where once there were seven. Following the FIA's October elections it is all change at the top too.
Yes, F1 faces massive challenges during 2010 - somehow replacing Bridgestone being just one of the worries - but all in an exciting season awaits, not least thanks to a revamp of the refuelling regulations and 19 races, including a return to North America and a (confirmed) grand prix in Korea, whose management was also present at the MSBF.
But the best news is that there appears to be a desire for total change across the board, from the governing body through teams and suppliers to broadcasters, circuit owners and promoters to sponsors. And, the biggest beneficiary of this brisk new wind is likely to be those who deserve it most: long-suffering fans.