Back in March 2000 my first contribution to AUTOSPORT.com was an interview conducted with Jenson Button just minutes after he crossed the line in Australia at the end of his first grand prix. It was only a short Q & A, but it was also in effect the first feature ever to run on the young site, which up until then had been purely a news outlet.
I concluded the story with the line, "Believe me, we have not heard the last of this young man." That was hardly an earth shattering example of talent spotting on my part, since Frank Williams and Patrick Head had clearly decided that he was a man with a future, and others had been singing his praises since he was in junior karts.
Looking back at the story now, one of Button's answers stands out. I wondered whether by getting safely to the flag in Oz he had proved something to the sceptics who had suggested he was not ready for the jump from Formula 3 to Formula 1.
"Yeah, I think so," said the 20-year-old. "But that wasn't really my aim. I wanted to do the best job I can for myself and for the team, and I think I did that, and the team did a good effort. Hopefully when I get home a few people will be happy, including my family and friends."
That typically modest answer could have been given in Brazil in October 2009, albeit to a slightly different question - had he silenced the critics who felt he wasn't a deserving world champion?
He took a tortuous route, but at Interlagos Button finally did what so many had expected all those years ago, and secured the title. There were times in between when it didn't look at all likely, but he finally got himself in the right place at the right time. And as on his debut in Melbourne, he did the best job for himself and his team.
On Saturday evening at the Abu Dhabi GP I sat down with Jenson to get an insight into his season. He'd had a slightly frustrating day, qualifying only fifth after hoping that with the title out of the way he could just get on with it. But with the title celebrations still fresh in his memory he was chilled and relaxed, and looking forward to having some fun on Sunday.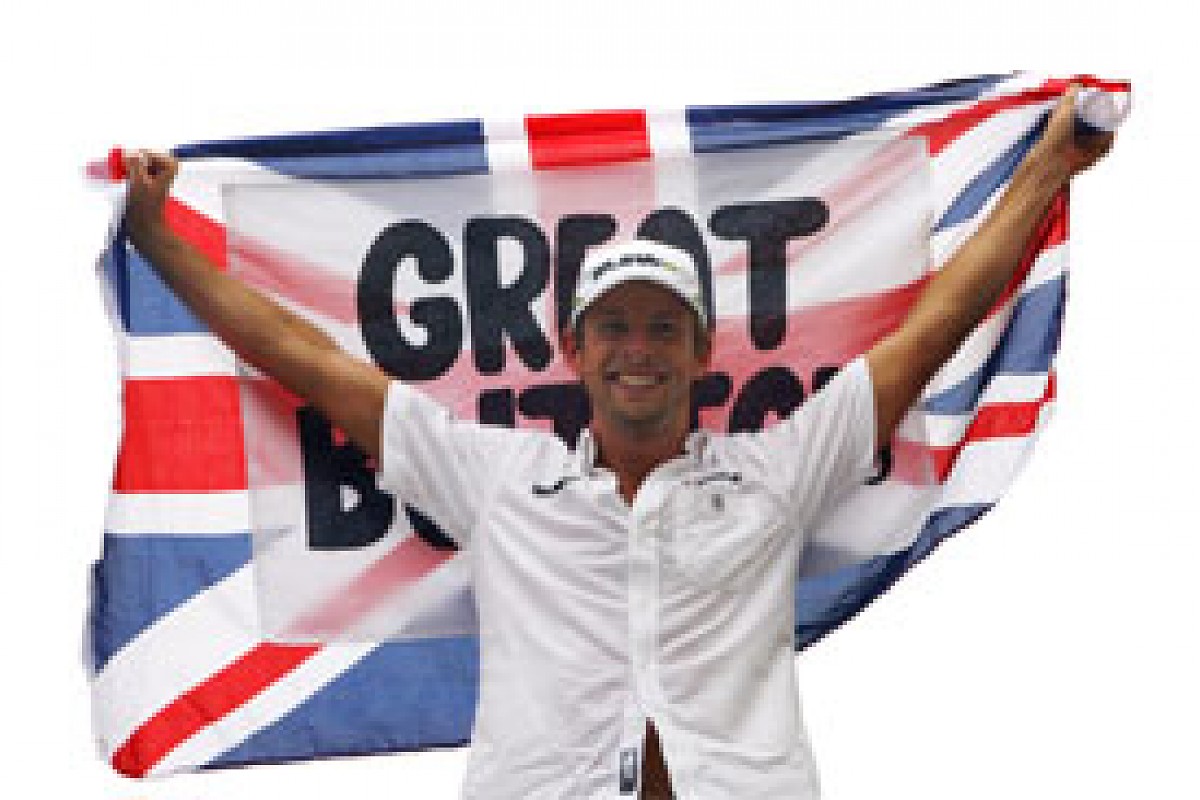 Jenson Button celebrates winning the world championship © XPB
So at the end of an incredible year, how did he sum it all up?
"I think for anyone winning the world championship in any sport it's a very special feeling because you're the best in the world at that moment in time," he explained. "It's something you dream about when you're a kid, something you think about when you're eight years old - 'I'd love to win an F1 world championship'. But you don't actually mean it. You don't think about tomorrow when you're eight years old!
"But in reality even though I didn't know it I've been driving cars and karts since I was eight years old basically to make sure that I'm ready for this moment. Twenty one years later I've won the world championship. It's a strange feeling, and I've spoken to a few other people about it."
I didn't know it at the time of course, but he was about to drop a big hint about what was to come - his decision to take on Lewis Hamilton at McLaren.
"I've achieved what I set out to do in racing, so where do I go from here? That's the question I'm going to be asking myself in a few weeks. I know the answer really. It's about challenging yourself, and there's a lot more challenges out there for me in F1, and that's exciting. But I'm not going to think about that too much right now, because this is a special time for me. I'm just going to enjoy the moment, and I'm going to be ready 100 per cent for next year."
What ultimately made the 2009 title all the more rewarding for Button was the fact that he had to work so hard to finally get there.
"You can be lucky to get into a good car straight away, and you can show your talent. Lewis has been in a good car in his first two years in F1, it's a fact. But he has shown his talent, he's done an amazing job. And he's become a world champion in two years in F1, and there aren't many people who have achieved that.
"But some of us have to go about it another way, because we're not as lucky... I don't know why, but we don't get the chance to get in a good car straight away in our career, and it's very difficult to show your skills then. Now I've been given the opportunity to show my skills, and I've come away with the world championship.
"There are lots of different ways to the world championship, but for me this is one I've enjoyed very much. Mentally it's been very tough, because over the years there have been very difficult times. A lot of positive times as well, a lot of times I've enjoyed myself even finishing fifth and sixth. A lot of it is down to the team atmosphere. But it's been great to drive a car with which I can fight for a world championship, and as soon as I've had a car to fight for the world championship, I've won it."
The statistics tell the story of one of the most unusual title campaigns in history, starting of course with that run of six wins in the first seven starts.
"The one that stands out was the first race. That was a special race because we didn't even think we'd be in Australia, so getting a pole and winning that race was very special. That was a race where I think we had an advantage as a team with the car.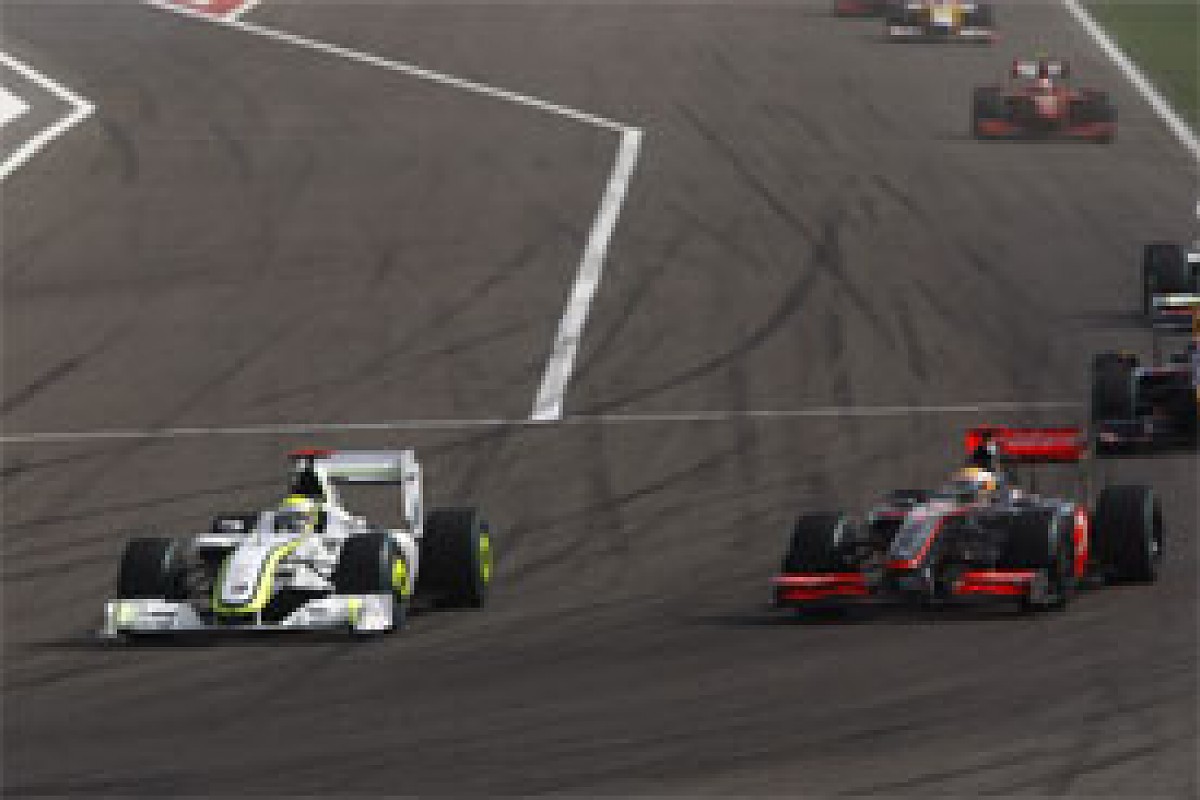 Jenson Button overtakes Lewis Hamilton at Bahrain © LAT
"From then on it was a lot closer. In Bahrain and Spain we won because we did the best job on the day. We maybe didn't have a quicker car than anyone else, but we did the best job on the day. Toyota in reality should have really won Bahrain. In Barcelona the Red Bulls were quicker than us, but it didn't go their way, and their strategy didn't work. Ferrari, their car was very quick in Spain too. So there were lots of races where we really had to fight hard for it, and we got the victory because we did everything right, not just because we had a quick car.
"Monaco was very special, because that's where I live to start with, I drive those streets when I'm at home. But it is a special race. It's a very different circuit to any other, it's very technical, and it's unforgiving. So winning on that circuit is probably the one that will stay with me most when you look at the victories this season, along with Australia.
"And for me winning Monaco and parking in the wrong place was the best thing I could have done. I think things happen for a reason, and running down the pit straight, seeing the fans waving and all the teams, was spectacular. I think every person who wins Monaco should stop there and run down!"
For Button things started to go a little awry after Turkey, which proved to be the last of his six wins. Brawn lost its way just as the opposition made great strides. It wasn't just a question of dropping behind the Red Bulls, because several other teams also regularly slipped ahead.
"There were so many frustrating races because we had reasonably good pace, but it didn't all fall into place. Hungary we weren't quick, because we had temperature issues, Britain we had temperature issues, Germany we had temperature issues. Valencia was just a really frustrating race. Rubens [Barrichello] won the race so he proved the car was quick, and when I was in clear air, I was putting in some very quick times.
"But I got screwed at the start by Sebastian [Vettel], and then I was sat behind his team-mate for most of the race. It was just a frustrating race. When you have a mistake like that or a problem at the start of the race, on a circuit that's a street circuit, you can't overtake. That's what was frustrating. If it was on a circuit like Brazil, it would have been fine, and I would have finished at the front. But I couldn't get past. For me Valencia was frustrating. Belgium - I think we'll just forget about Belgium!"
The first lap crash in Spa was to prove his only retirement of the year. At that stage, nothing seemed to be going right.
"Especially when we got to Silverstone and Germany, to start with the pace wasn't there with the car. And in a few races I made mistakes, and we also made mistakes in the team, be it strategy or with the balance of the car. When one thing goes wrong, you can never get back to the front, if you take it race by race. If you make one mistake in qualifying, you're just on the back foot, and everything hurts in you in the race. If you are two places back on the grid you just get screwed by traffic on the first stop, the second stop, always stuck behind someone."
Button finally began to regain some momentum at Monza, where he finished second to Barrichello.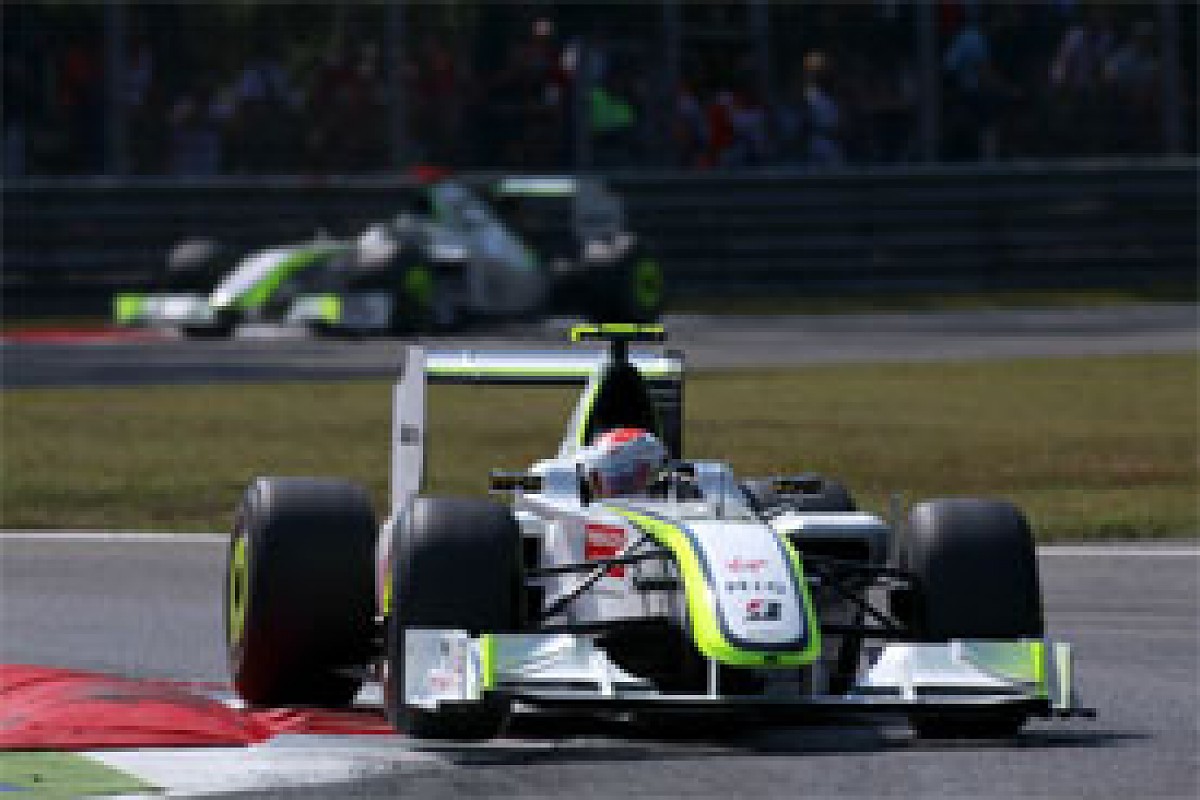 Rubens Barrichello leads Jenson Button at Monza © LAT
"It was good, Italy was a good race for me. I enjoyed it. Rubens was very quick all weekend. It was one of the only races this year when I would say he had the legs on me, on pace, and he beat me fair and square around Monza.
"In Singapore qualifying was a nightmare. I think the pressure was very high at that point in the season, with the Red Bulls being quick even on a street circuit. I was surprised at that. And in practice we got ahead of ourselves, and thought we were quick. In qualifying we ran old tyres in Q2, got to the last run in Q2 thinking, 'S*** we've got to do a time now to get through.' I locked up, lost loads of time, and couldn't get it back from there because the tyre was flat spotted. So that was a tough qualifying, but the race was a lot of fun, fighting my way through. I really enjoyed that race.
"Not lifting for the yellow flag in Suzuka, if I had I would have been third in the grid or something, because of all the movement on the grid. So it's been a tough end to the season. It gets to the point where you think someone wants to make this championship exciting!
"Japan again was very frustrating because of the penalty, but I think I made the best out of it. I couldn't have made up any more places than I did, overtaking [Robert] Kubica was key to getting a point, which could have been the point that won the championship."
Everything finally came together in Brazil, where he put the title beyond the reach of Barrichello with a charging drive into the points.
"Brazil was a tough one, with qualifying in those conditions. Again, it was like things were meant to happen. Rubens was supposed to get pole in his home country, and I wasn't supposed to qualify well, but to have a good race coming through the field. I've done it before in Brazil, I've started down in 14th when I had a traction control problem back in '06, and I fought through and finished third. So I know how it's done.
"For me that was such a fun race, coming through and making the moves, and I really wanted to get the championship done there. It was very important for me to win the championship in Brazil, and for me that was one of the most spectacular races, fighting my way through. It's obviously never as good as a win, but it's one of my best races for sure. If I'd started on pole, I wouldn't have won the race, [Mark] Webber would have won the race, but coming through and finishing fifth from 14th was great with the car that we had."
It was only after clinching the title at Interlagos that Button really admitted to what many of us suspected - that edging towards the title a point at a time was a much more stressful process than he made it appear.
"My biggest problem was I found it very difficult not to think about points. From Valencia onward, I couldn't get it out of my head. I just kept thinking about points. Sebastian's this much behind me, Webber's this much behind me, Rubens is this much behind me... It was, 'How can I win this championship by just finishing behind them? It can't be done. So I've got to fight for every victory I can.'
"I think sometimes you overdrive in that situation. As I said I enjoyed myself in the races and I don't think I put a foot wrong in the races, but it was the qualifying that became very difficult."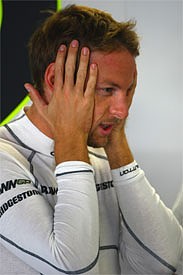 Jenson Button © XPB
There is one thing that Button has to concede - in the latter half of the season he was outperformed in qualifying, and often in races, by his team-mate Barrichello. That certainly led to a few doubts about the Briton's form.
"He did qualifiy well," Button admits of Barrichello. "He had a lot less pressure on him, because he had to chase the title. I had a lot more pressure on myself. To start with I was a little bit cautious in qualifying because I was worried that if I locked up once, that was it, I'm at the back in qualifying. So I was always a little bit on edge. Then I thought I need to go for it, and I went the other way, I was being too aggressive in qualifying.
"But for sure in the second part of the season, the qualifying was tough. The annoying thing was I'd have one weekend where I didn't get the best out of the car, the next weekend I was really happy and we'd have a problem with the car, and it just ended up being bad qualifying, bad qualifying, bad qualifying, it was just negative all the way. It was really, really frustrating. But racing wise, I've been very happy. I think Rubens has finished in front of me five times out of 16 races [it was to become 17], and that shows the race pace.
"I've had ups and downs like no other championship, probably. But if you turned it around and said that I'd won six races at the end of the year, and had a bad start to the season, everyone would be saying 'it's amazing!' It's just the way that it's been. Other people have caught up and made life a bit more difficult for us."
He's right of course. Had those wins been spread through the season, or concentrated towards the end, the critics might have felt differently about his success.
Brazil was the race that caught the attention, but it wasn't the only one where he made decisive moves. He mentioned Kubica in Japan, but getting ahead of Heikki Kovalainen at Monza was another, and there were others in the early races, before points became such a priority. One thing he is pretty clear about - in the future he will be more aggressive, and go for points rather than consolidate. When you have one title in your pocket already, you can afford to take a few risks.
"I think so. Winning one world championship is what every driver dreams of. Winning two means a lot also, but not as much, I don't think. So when you've achieved one, you might as well go hell for leather, and if you get the second, it's fantastic. But you've just got to go out there and give it your all. I think we saw that with [Fernando] Alonso when he was fighting for the championship the second time around.
"I think racing becomes more exciting when you've won the championship once, because you can go out there and you're not always thinking, 'Whoa, my aim is to win the championship in F1,' and you've always got that in the back of your mind. Now it's not like that. I want to go out and race in every race I go in for. If I get the championship again it's a bonus in a way."