The Red Bull man broke his leg in a mountain biking accident last November - four months before the start of the 2009 season. He was fit to drive by February, testing the new RB5 for the first time two days after its launch, but was still carrying the effects of it when the season began.
And it was a huge season for Webber. Finally, after so many years on the fringe, he had a car capable of winning. But in Sebastian Vettel he also had a team-mate few expected him to be able to match. Still, he bounced back to break his Formula 1 duck with victory at the Nurburgring in his 130th grand prix, and went on to win again in Brazil and finish fourth in the championship.
He looks back over the last year with AUTOSPORT's F1 editor Edd Straw
Q. A lot has happened to you over the past 12 months - you had a potentially career-threatening injury, you completed a rapid recovery process, you won your first grand prix and you helped Red Bull Racing to the front in F1. All things considered, are you happy with your 2009?
Mark Webber: Oh yes. It has been a rollercoaster and a very enjoyable campaign this year. I was very anxious through those winter months, in January and February in particular, when the testing dates were getting closer and I didn't feel that I was improving as fast as I'd like to have been. So that made me pretty anxious and nervous. I had sensational people around me, which certainly helped speed up the recovery, but there is only so much that you can do and I did everything that I could every minute of the day.

The other thing that gave me a little bit of pressure, but also some relief, was just how patient the team was with me. From Dietrich Mateschitz through to Christian Horner and everyone at the factory, they knew that I was doing everything I could and they were very patient. So the belief that they were behind me at a tricky time gave me another big shot of motivation.
The car was knocking in some good times in testing and I was still massively undercooked when it came to preparations, but we knew that there was a big chance with the change in the rules to do something different and it turned out to be the case. I'm incredibly proud of the eight podiums I achieved, and a couple of victories that weren't just handed to me. I had to go and get them, so that was again something that I was very happy about.
It's one thing having a good car, but you've still got to go out there and deliver against serious competition. I'm satisfied with it. You can always look back and say there were areas where we could have done better, but if you'd asked me at the start of the year that's what I'm going to offer you, I would have bitten your arm off for it.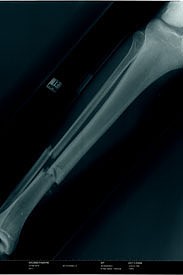 X-ray of the broken leg of Mark Webber © LAT
Q. You downplayed the effects of the injury when you returned to testing at Jerez in February. Was it harder than you made out?
MW: It was very difficult. I was hurting a lot and it was uncharted waters for me to force myself to drive the car. I had to get in that car and show that I was still here. The dates kept getting closer and that's something that I had to get my head around because I couldn't push them away. Even talking to the orthopaedic surgeon who handled everything recently, he said he was a little bit nervous for a few months. What did help me massively was the thought that there is always someone else who is worse off. That's what gave me the motivation to keep digging deep.

Q. Was it still a problem once the racing started and was there a point when it was no longer on your mind?
MW: Not really. Adrenalin is an amazing thing. Once I was in the car I was in pretty good shape with the leg, to be honest. The shoulder was a bigger problem in the early stages, buy only the first two races. I was very fortunate that Malaysia was wet because that was going to be very physically demanding for me with the shoulder and the leg.
But the shoulder actually provided more nuisance value early doors than the leg did. We learned a lot in terms of the rehab and the physio what we needed to do with the shoulder and work on different muscle groups to get me through a grand prix. The longest long run I did in testing before the first race was 17 laps, so I had a lot of doubts going into the first grand prix.

Q. Had the injury been to the left leg - the braking leg - rather than the right could it have been a different story?
MW: It wouldn't have been any easier, certainly. The weakness of my leg would have been greatly more exposed in the braking situations. Because it was such a high-velocity fracture that I had, I needed such a long time to heal. That means that I couldn't weight bear as hard as I wanted to and when you can't weight bare you can't have the muscle stimulation that you want to and you are just on the back foot. So yes - I made sure I went into the Nissan with my right side rather than the left!

Q. When people talk about Mark Webber, they often mention bad luck. Do you believe in bad luck?
MW: No. This year I've had a lot of luck. Of course, I had the nasty start, but look at Abu Dhabi when I had contact with Rubens at Turn 1 and didn't get a puncture. So there has been some good luck. The only time that I thought I'd been ripped off was at Singapore last year when the static from the tramline caused a gearbox problem. That was a bit harsh. I'm not a big believer in good or bad luck - it's just down to circumstances and application and the ability to get the job done.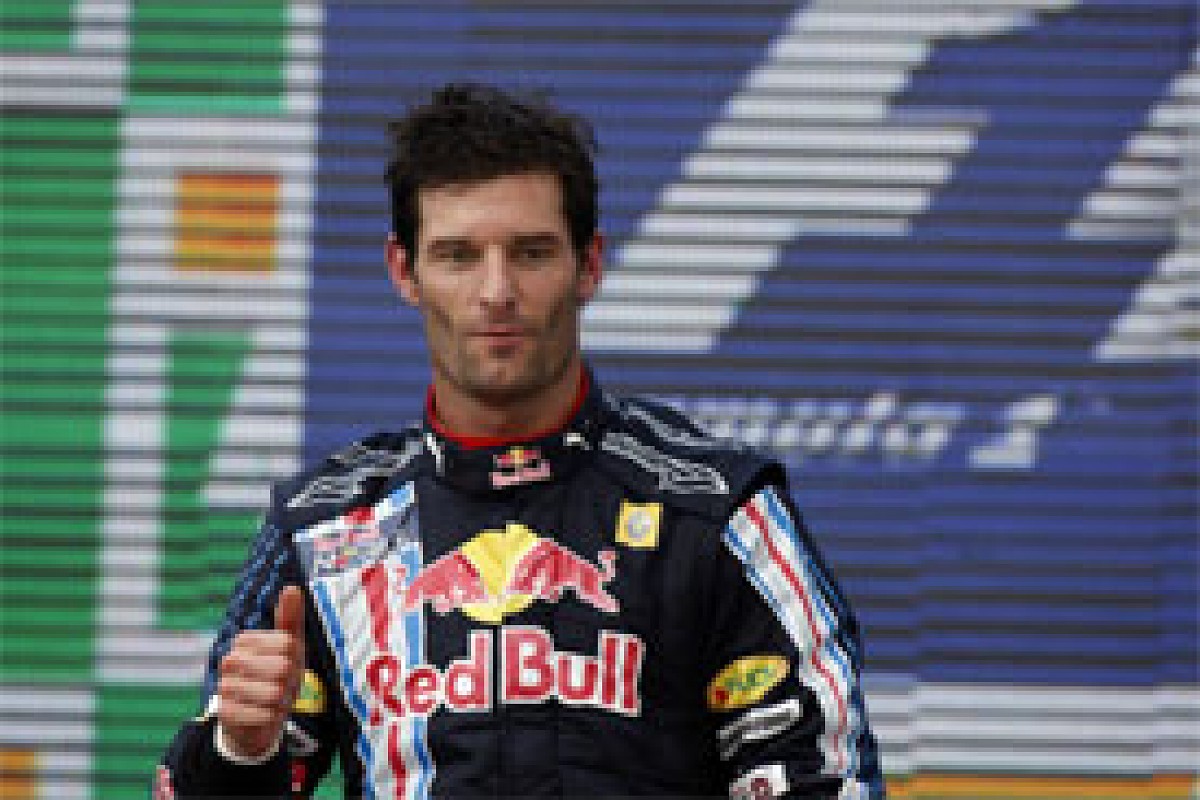 Mark Webber celebrates victory at Interlagos © LAT
Q. One of the stories of the season has been Jenson Button finally getting a car in which he could fight for the world championship after a long time in F1. It was a similar situation for you. Did you ever get to the point where, even though you still believed you could do it, maybe you didn't think you'd ever have the opportunity to win races?
MW: Yes. It is a problem with F1 that sometimes you don't have a car that can get you towards the front. But what I think is very important is, and I suppose that it is consistent with both Jenson and myself, is that we've both had some very tough times in our careers and we came out the other side still hanging on for whatever reason, because teams and people still wanted us to work for them. But while there have been some guys that have lasted maybe two seasons maximum, we hung in there and kept boxing.

Off the back of a long spell of tough years, both myself and Jenson had a chance to go to the front. Jenson was getting lapped last year consistently, but this year it was amazing, to see the guys I was lapping as some serious teams have struggled this year! The car is a big performance differentiator and a lot of the guys at this level can do the business, but whether they can survive and hang in there is another thing.

Q. Does winning a grand prix change things in terms of proving yourself?
MW: Totally. Because both of my victories were off the front row, you have everything to lose it's not like it's given to you when you're 10th and a lot of guys blow up. You are chased all day and you need to execute everything well. That's where you have to deliver. So, yes, there is a certain amount of relief that you did that grand prix quicker than anyone else. It's a great feeling.

Q. How did you feel when you were hit with that drive-through penalty at the German Grand Prix?
MW: You wouldn't believe me, but I thought of Silverstone qualifying. I thought I would win the British Grand Prix, but because of Kimi Raikkonen in qualifying I didn't have the chance of a crack at pole position. So I qualified third and finished second. But that's the way it went. Then I copped the penalty at the Nurburgring and I thought 'bloody hell, what have I got to do to have a clean weekend?'
I'd had so many clean weekends up to Silverstone, where we had the qualifying problem, and then we had the first of a few penalties of the year. Ciaron Pilbeam [my race engineer] was very good on the radio. He said 'look mate we can still do well'. I thought that the victory was going to be difficult because drive-through penalties these days are difficult to recover from, but Heikki Kovalainen had fortunately had a very good start and then was very slow, so he held everyone up in the first stint.
That spread the field a bit to get the drive-through out of the way, but still my second stint had to be very quick. I was out of position again and I had to go very quick with a high fuel-load and the laptimes were very good. Ciaron said we can still win, so I knew it was possible because he doesn't blow smoke up my arse. I always want to know what is possible - and that was possible.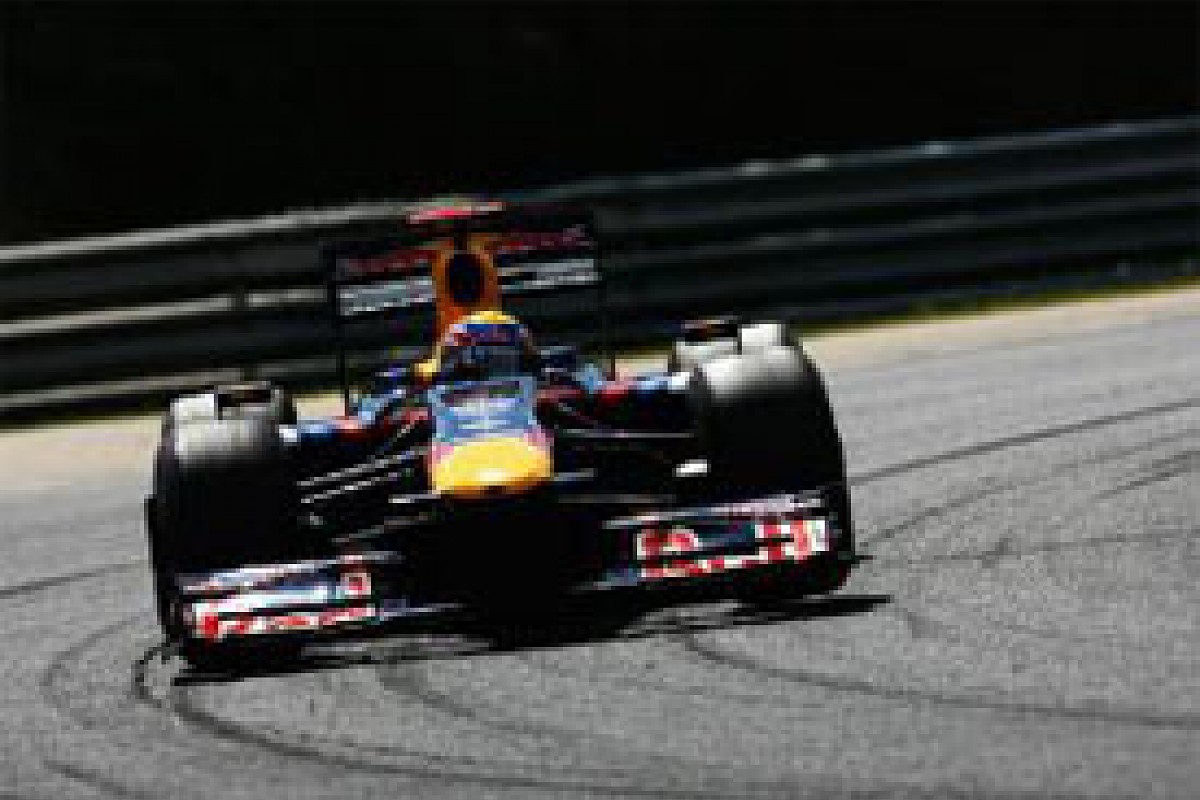 Mark Webber finished 3rd at the Hungaroring © LAT
Q. Once you had finished on the podium in Hungary on a bad weekend for Red Bull, you had the momentum and lots of people regarded you as a strong championship contender. Did you feel like you were in a championship fight?
MW: Yes, I did. I still knew JB had a big advantage. There were a lot of races to go and we were probably a bit nervous about some of the hot races coming up. The car seemed to be working quite well on cooler circuits and we seemed to have an advantage over Brawn in those circumstances.
I was happy with how Budapest went because McLaren were very good and we could have probably fought with Kimi for second if we had done something different. But in the end third is what we got - we never could have won the race, second was maybe possible but third was pretty good.
So we left there thinking that we were pretty quick on hot circuits and the bizarre thing was that Brawn struggled, whereas Budapest should have been ideal for them as they were quick in Monaco so why wouldn't they be quick?

Then we went to Valencia and Sebastian and I struggled there really and both of us were on for some pretty tough results there. I had a ninth and then we went to Spa. I think Spa was one of my best first stints of the year. Both of us were out of position in qualifying, I had a very good first lap and first stint and then we had an illegal release in front of Heidfeld.
The field that weekend was bizarre and we basically had a Formula Ford race going on. To cop a 20-second penalty at that grand prix was different to 20-second penalty at another track like Silverstone. When I did get that penalty, I went from a potential fourth to a ninth. That was a real frustrating one because we lost good points there.

Monza, we were slow there and Brawn got a one-two. At best, I would have got a point but I would have finished with Seb - and he only got a point when Lewis crashed. Our championship chances took a serious blow in those three races. Then I had brake failure in Singapore. I crashed in practice which was the first time I was actually frustrated with my own performance. I recovered well in qualifying. The first stint went well, but I had the moment with Fernando on the kerbs and I had to let Timo Glock and Fernando back through. Then we had the brake failure. So it was a tough few races.

The biggest regret probably this year was Suzuka. It was the only race where we had a really good car to get that top result and I wasn't up there to get it. I crashed on Saturday in FP3 and it was the smallest bit of damage on the chassis, but it was effectively a 20-place grid penalty because I couldn't take part in qualifying. Suzuka was the most frustrating weekend. I left there thinking that there were 20 points to get in the last two races - I'd been on 51 points forever - and I got 18 so it was a good finish.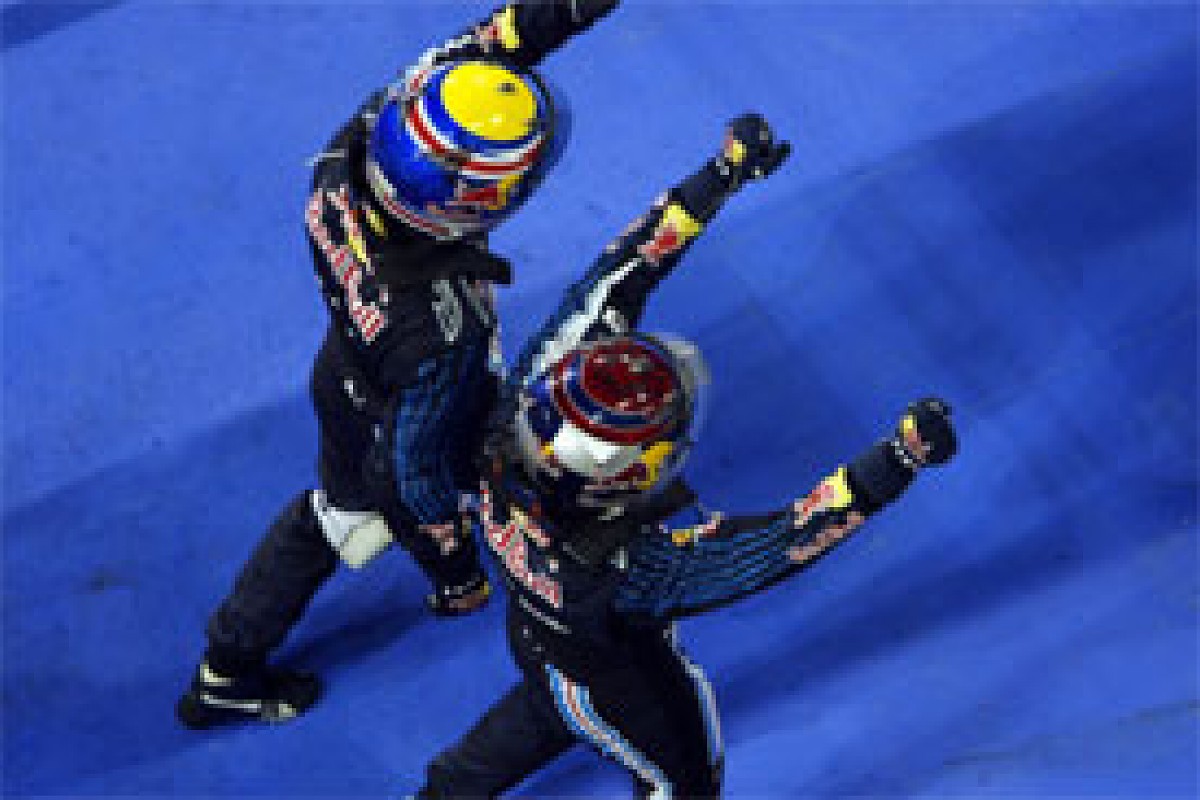 Sebastian Vettel and Mark Webber in parc ferme at Abu Dhabi © LAT
Q. The comparison between yourself and Sebastian Vettel has been a major talking point. You usually had the edge over your team-mates, but does it change things in your approach to know that you've got such a strong driver in the other car?
MW: Not really. It doesn't change too much from my side because you are always doing the absolute maximum. It has been personally a very good season - it's something which there is always going to be comparisons with the guy with the same equipment. Coming out of this year, it's a year that I'm massively happy with. I'd have liked to have done a little better here and there, but I could have done a shedload worse. You always want to take what you have been given. I believe I got this year what I deserve and I've just got to keep focusing on where I can improve.

Q. Going back to your career as a whole, you've won your first race at a pretty late age and people assume once you get into your mid-30s you're on the way out. Have you got enough time to win 30 grands prix?
MW: My motivation is very high, which is the key. You can't survive if the motivation is low. This is the most enjoyable and the best group of people I've worked with in F1. They have got such an incredible balance of not being anal and ridiculous and getting lost in how serious it can be, but they are still ferociously competitive - the Adrian Neweys, the Rob Marshalls, the Christian Horners and Dietrich Mateschitzs.
So that's there and I'm motivated for myself to go out there and get the result. I could keep going for a long time as long as I'm knocking in good results, not losing performance through my age and motivated. I've just had a good year and I hope I can do the same next year.

Q. Has what you have done this year proved to everyone that you can deliver in F1?
MW: Your results never lie and that's the good thing for me this year. If I continue to do that, everything is good and everyone is not happy, but fulfilled. That's why they are doing the job. It's the same for me.