If ever there was going to be a sea change in the established order, 2009 was going to be the year. The most dramatic aero based rule changes in a quarter of a century spelled opportunity. The rise of Brawn and Red Bull made for a fantastic story but, with the benefit of glorious hindsight, was it really that unpredictable?
Formula 1 development, for years, had been more evolution than revolution. That played to the strengths of strong, well resourced teams such as Ferrari and McLaren. They were best placed to refine a concept to the 'n'th degree, which is not to say that they were lacking in flair too.
Sebastian Vettel (Red Bull RB5) and Jenson Button (Brawn BGP 001) at the Hungaroring © LAT
But suddenly it was 'throw everything up in the air and see what comes down'. And when you had practically a full year's lead time for a capable group of people funded by Honda - until the last instant, at least - and marshalled by Ross Brawn, then it wasn't entirely surprising that the Brawn BGP001 was such a strong car. Nor, for that matter, that a designer of Adrian Newey's repute and track record came up with the fastest car of the year. You might actually have expected it, even if you doubted it would be enough to topple the likes of Ferrari and McLaren. But the manner in which the story unfolded... well, that was pure F1 - you couldn't have made it up.
Amazingly, Ross claims to have known nothing about his own team's double diffuser until the beginning of 2009! This is how he explains it: "When Honda announced its withdrawal (December 5, 2008) I obviously got fully engrossed in that. It was sometime during January that I got a phone call from Ferrari, asking had I seen the Toyota diffuser? It was a disgrace and shouldn't be allowed, they said. I asked our guys what it was all about and they said 'Ooh, we've got one the same as that!' I realised then that there was going to be a fuss but went through the detail and was comfortable that the interpretation was lateral yet within the wording of the regulations."
Ross says all this without even a hint of a smile, not even the slightest indication that he might have shared a bottle of red with Charlie Whiting over the winter and said, listen, what if we were to do this... Maybe he really didn't! Toyota sought FIA clarification over the double diffuser, but Brawn and Williams didn't. And you can quite see that with the team's very survival at stake, Brawn had bigger fish to fry.
"We put an awful lot into the 09 car," Ross concedes. "A pilot group looked at the concept and by the middle of 2008 all our staff were working on it, but I think the amount of wind tunnels involved has been rather overstated in some places! I've seen four mentioned but the reality is that we have two tunnels at Brackley -- one is new and full-size, the other a very old, open-jet tunnel.
"We also absorbed Ben Wood and his group from Super Aguri when they ran out of money. They were the ones able to do the pilot project and their aero group had a contract to use a tunnel in Bedford, which ran out in August 2008, so we used up that time as Honda was paying for it. There was also tunnel in Japan, but it's not a particularly good one and some Honda engineers had a bit of a play in it, but you can't call it anything more than that. So it was two and a half tunnels really."
There is also the question of whether the team enjoyed a large slice of good fortune in that, as Brawn and not Honda, a new independent team rather than a big-hitting manufacturer, it suited the political machinations of a complex year to have Brawn winning with its double diffuser.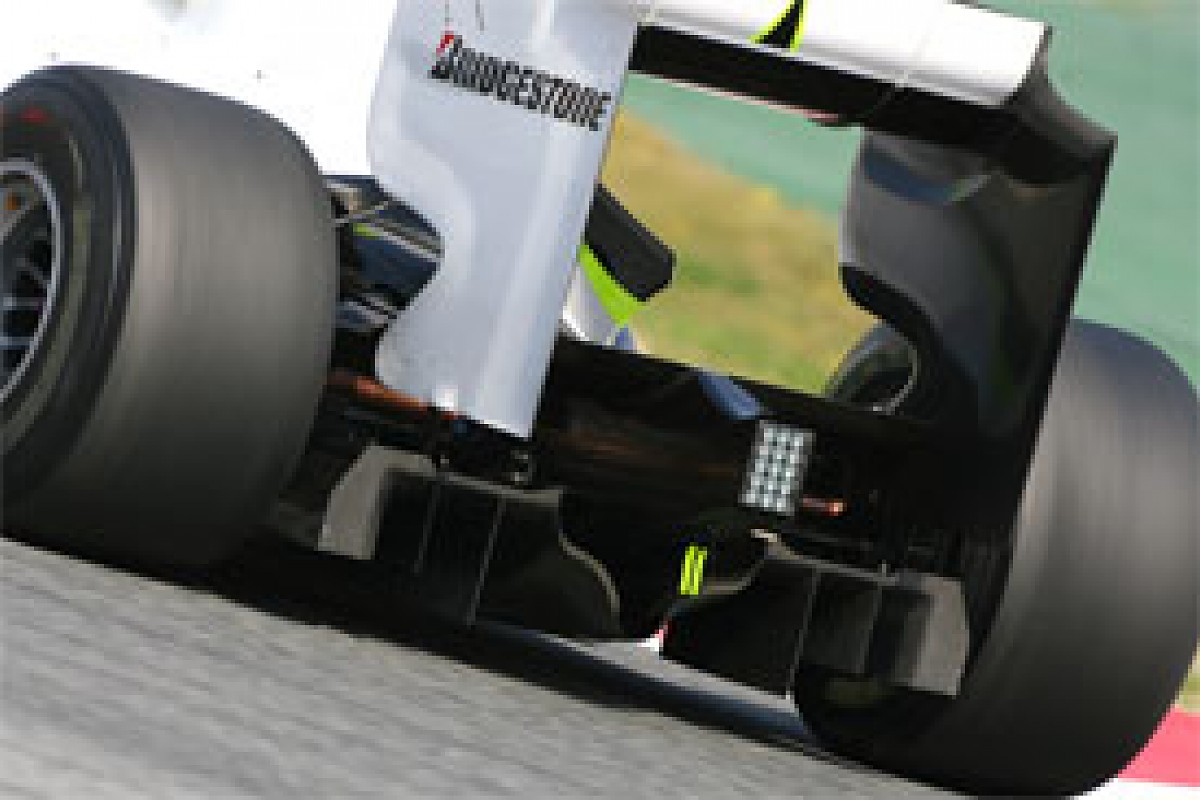 The Brawn diffuser during winter testing © XPB
In the words of McLaren's Martin Whitmarsh: "At the time we didn't make any protest and we didn't publicly say anything against it. We had our own issues, like a slow car, but privately I told Ross I thought it was wrong. I also think that perhaps some of the leading teams wouldn't have gotten away with such an interpretation..."
At a time when the manufacturers and teams were involved in a power play with the governing body, the diffuser row served the useful purpose of setting the teams at each other's throats even if, ultimately, it didn't split the FOTA alliance. There was a degree of cynicism over the inability to lay down a ruling before the season kicked off given that the double diffusers were evident weeks before in pre-season testing.
The other point, of course, is that the McLaren was so far off at the beginning of the season that they could not realistically squawk too loudly, and much the same could be said for Ferrari and Renault, even if Flavio Briatore did come out with the slightly OTT assertion that the season's early season races were being dominated by a driver who was about as quick as a stationary post!
Ross always said that there was far more to the Brawn than a twin diffuser and it is a point underscored both by McLaren's season and the fact that the second fastest car on the grid at the start of the year - Red Bull's RB5 - did not have one.
"The front wing was key to these cars and some who struggled at the start of the year didn't have that sorted," Brawn asserts. "The fact that they hadn't worked out the fundamentals may be why people were so sceptical about some of the comments I was making in the technical working groups, when I said that intended downforce levels were going to be far being exceeded and we should look at the underbodies again. I was accused of scaremongering but people came to see the truth of what I said.
"I was actually happy with the obsession over the diffuser because it meant a lot of the other stuff was missed. We obviously did comparison tests in case we had to take the diffuser off and with a conventional one we lost several per cent, but it wasn't the second a lap people claimed. We had other important parts of the package: the front bib treatment and brake ducts were important, as well as the front wing."
For the double diffuser to work properly, the front wing obviously had to get the flow process off on the right foot and this is where the Brawn scored highly. The McLaren was the polar opposite and all you had to do was watch out on the circuit for a couple of minutes. Button and Barrichello were balanced, poised, undramatic and quick. Hamilton and Kovalainen were taily, edgy, inconsistent - an accident looking for a crash site.
But, despite the huge lead time - a consequence of Honda abandoning its hapless '08 season early - the Brawn was not a car without compromise.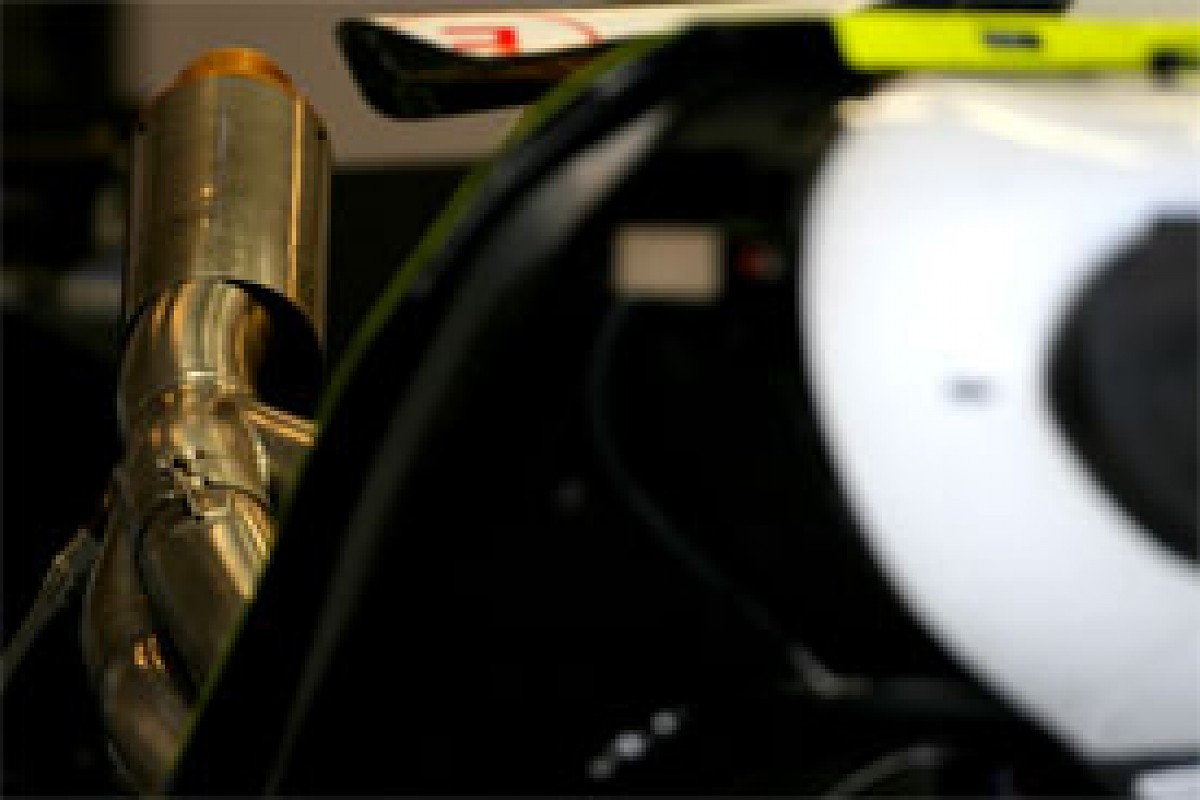 The Mercedes-Benz V8 in the back of the Brawn © XPB
"Our late adaptation to the Mercedes engine was a bit crude," Ross admits. "We cut the back of the chassis off and bonded on a new rear bulkhead with different engine mounts. We went the Mercedes route because it was very close to the Honda. The Ferrari had a very low front top engine mount which would really have been in the middle of nowhere, so the Merc was the closest, but both the front of the gearbox and back of the chassis were cut off and had pieces grafted on.
"We didn't have a lot of time to deal with the cooling package either. The Mercedes has two oil coolers and we had to add a cooler just behind the roll hoop, although it wasn't run at all races. But probably the biggest deficiency was lifting up the rear suspension and gearbox by about 6mm because the output shaft of the engine and input shaft of the gearbox were different heights. The Honda crankshaft was lower, so we lived with an assembly that was 6mm too high all year. The chassis weight also went up with all the bits we put on. We just about had the capacity to cope with a KERS system with the car as designed, but not on what we ended up with if we were going to achieve the weight distribution we wanted."
And while the Brawn was born with quite a big team, it was developed with a much smaller one - around 450 people instead of 700. They put huge effort into aerodynamics and worked hard on suspension too: dampers, springs and ride quality with inertia dampers.
Problems with tyre warm-up threatened to derail Jenson's championship challenge and although they weren't manifestly obvious until the cooler climes of Silverstone and Nurburgring, the team did get a hint even during those dominant early season races.
"The first indication we might have issues was actually the wet race in China when Webber, with a lot more grip, just drove around the outside of Jenson," Ross says. "To get a balance on the car there, we'd had to drop a lot of front wing angle and that's when we discovered that with a flat flap angle we lost a huge amount of performance. So we developed a different family of wings that worked over a much wider range of angles."
The team hoped that would be a fix but it got complicated when suspension changes influenced tyre temperature. Changes made around Turkey helped Brawn win there, where the tyres run at the top end of the temperature scale, but also hurt them at places like Silverstone and the Nurburgring where they wanted to generate tyre temperature.
"We didn't understand how to manage that as well as we should have done," Ross admits. "Whether a car is kind to its tyres or not is down to its culture and philosophy, and mine is born of Ferrari, which also struggled to generate temperature. The teams that can find a way to deal with all scenarios will gain an advantage and that's what we've got to try to do."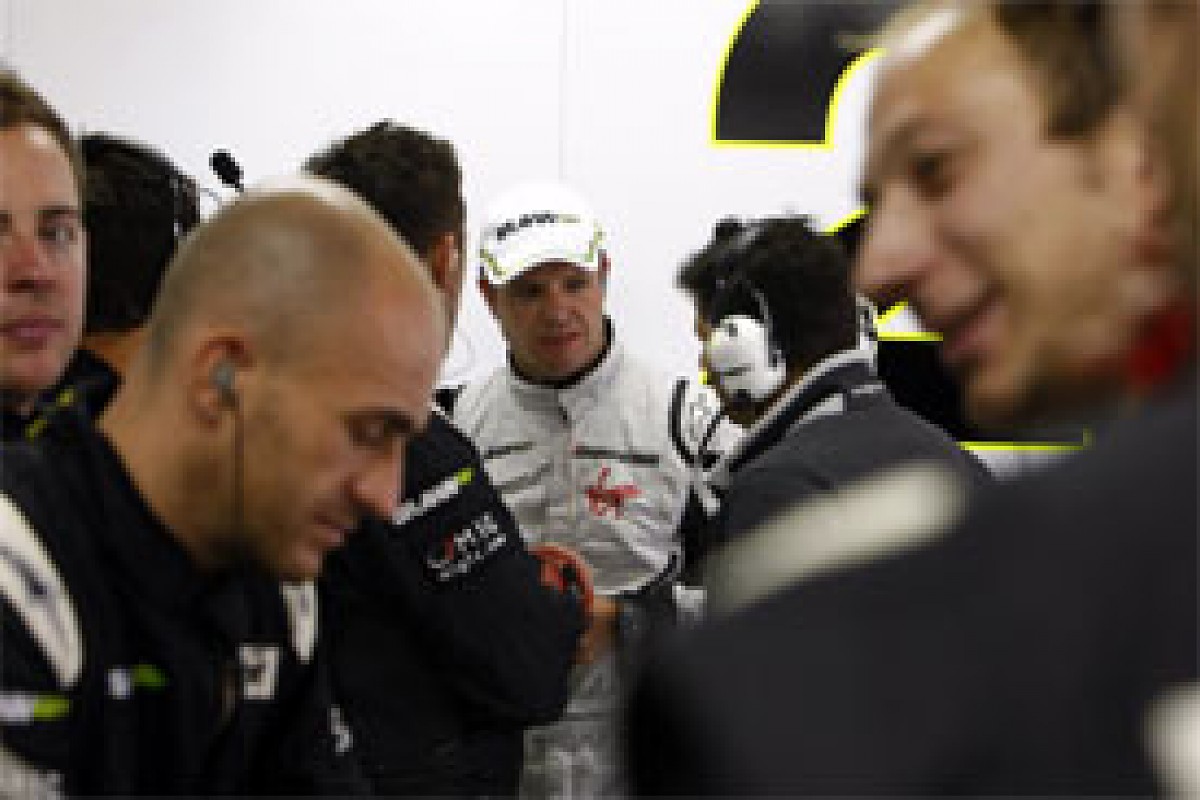 Rubens Barrichello speaks to his engineers © LAT
Although the foundation of Button's championship success was his error-free start and those six wins in seven races, the team is also quick to give Barrichello credit for his feedback which, thinks team manager Ron Meadows, is second to none.
Brawn himself added: "Rubens is very good at feeling what the car is doing and looking at the second level of analysis. When we did front wing comparisons he was sensitive and able to analyse them, a little more so than Jenson, who is a bit more like Michael and tends to cope with what's there. Rubens has always been technically astute and, with no testing, that definitely helped."
Start the season at Silverstone, the point at which Red Bull's revamped double diffuser RB5 appeared and the drivers' championship score between Brawn and Red Bull would look like this: 1. Vettel, 55pts; 2. Webber and Barrichello, 42; 4. Button, 34. And the constructors' trophy would reside in Milton Keynes and not Brackley, by a score of 97 points to 76.
"We did have a little look in the double deck diffuser direction, albeit not in exactly the same way as other people, but didn't pursue it because we were extremely surprised that it was deemed legal," says Newey.
"It took us a while to adapt the car to a double deck diffuser simply because it wasn't designed for it. We didn't really have the time or resources to change the gearbox and the rear suspension to accommodate it, so we had our first attempt at a double deck diffuser on the car at the Monaco Grand Prix. It was a small improvement, but we weren't very happy with it and the more definitive attempt was for Silverstone, then there was a further diffuser update for Singapore.
"Had the championship started at the stage we were at by Silverstone, we would have been looking good, but the ground that Brawn had made on us between the start of the season and then meant that it was really asking an awful lot to close the gap. It was a bit of a frustration to be tripped up by the technical regulations, but that's the very nature of F1 and there's no point in lamenting it."
Red Bull was the only team to use pull rod suspension.
"The intention of the 2009 technical regulations," Newey says, no doubt through clenched teeth, "was to move the point at which the diffuser starts from the front edge of the rear tyre, where it had been since 1993, to be level with the rear axle. This meant that everything was carried lower on the car, giving you more room, and the thinking behind the pull rod layout was to use the change in bodywork regulations to best effect. It was a very good solution of which we were quite proud."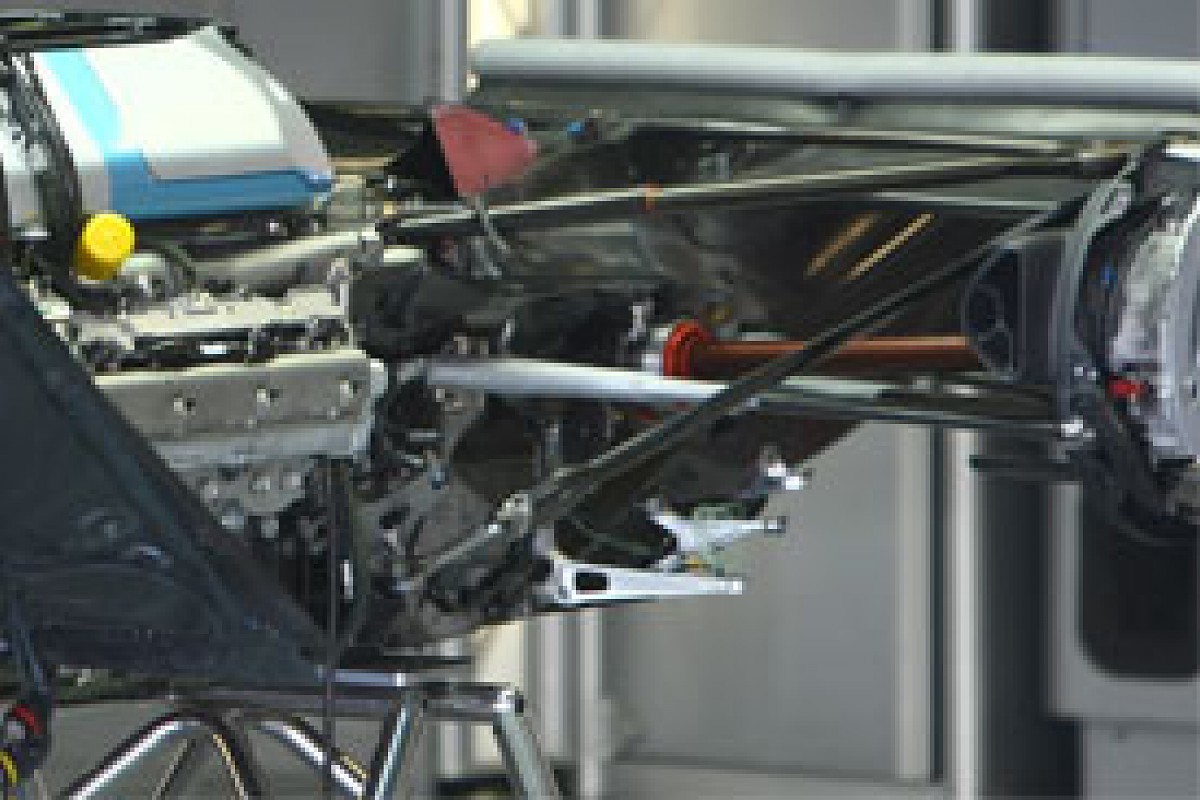 Rear suspension detail on the Red Bull © XPB
The car was quite hard on its tyres initially, a factor which explained the yo-yo performance levels vis a vis Brawn in varying track conditions and temperatures. The team worked hard to counter that, with both mechanical and aerodynamic mods bearing fruit.
And while the team was more than happy with its Renault relationship from a logistics and operational viewpoint, Red Bull certainly believed that Mercedes had an edge in 2009.
"It became very clear that the rest of us were all a little behind," Newey says. "Bearing in mind that 1% power, so 7bhp, is somewhere around 0.13s per lap, engine power remains a extremely major factor. There is always lots of conjecture on the power of different engines and also a fair bit of evidence that one manufacturer was ahead, and significantly ahead."
Vettel's title challenge was blunted by five non-scoring races versus Button's one and he ultimately finished 11 points down. Two of those races came at the very start of the year and while the team concedes that Sebastian made a mistake in Melbourne, they believe he was harshly treated by being handed a 10-place grid penalty in Malaysia too.
For Mark Webber, not only was the RB5 not quite a Brawn at the beginning of the year, but neither was he fully fit, having broken a leg and shoulder when knocked from his bike by a Nissan X-Trail while competing in his own Tasmanian Challenge charity event early in the off-season.
"Mark coped, but I'm convinced that it did impact on his early season form in truth," Newey says. "He typically put on a very brave face and got on with the job and I think had an extremely strong season." Two wins for Webber and that monkey off his back was no more than he deserved.
The final score was Brawn eight victories, Red Bull six, the rest, three. And emphatically a new world order. With cost reduction and a cutting of cloth a reality, there is nothing to suggest that Brawn, now Mercedes of course, and Red Bull will be other than front-runners next year.
But as we saw so graphically in the second half of the year, teams like McLaren don't lie down for long. 2010 promises to be fascinating.