The 2009 F1 season was markedly different from the previous ones, as for the first time since 1995, McLaren or Ferrari didn't stand in one of the two first places of the constructors' championship.
This is the most striking figure which outlines the season, as the two teams combined scored 141 points and were not able to reach the points tally of what McLaren or Ferrari were able to achieve in 2008, respectively 151 and 172 points.
And 172 points is exactly the amount scored by Brawn GP, in its maiden season, to win the title from Red Bull at 153.5.
Ross Brawn's team was able to score eight wins, again a value set only by Ferrari, McLaren and Renault in the last ten seasons.
THE DRIVERS
Lewis Hamilton pushes the McLaren at the Hungaroring © LAT
Lewis Hamilton started the season on a low note, scoring his worst qualifying performance in Australia and living his longest win-less drought since he was able to stand on the top step of the podium after the tenth race, in Hungary.
He ended the season scoring consistently, but this didn't prevent him to post only half of the points he recorded in 2008 (49 vs 98) and in the last race in Abu Dhabi he suffered the first mechanical failure of his career after a streak of 51 races without failures.
2009 was the worst of his three F1 seasons for Heikki Kovalainen: he failed to score wins, poles, fastest laps or podiums and was able to start from the front row only once, in Valencia.
Felipe Massa's season was cut short by his accident in qualifying in Hungary. In only nine races, with a Ferrari trying to sort out the problems faced at the beginning of the season, he was able to score only one podium in Germany, the race before Hungary.
His replacements fared worse: no points and no starts inside the top 10 either for Luca Badoer and Giancarlo Fisichella.
A disappointing season for Kimi Raikkonen, who recorded his worst performances in terms of points since 2004. At the time, the Finn suffered eight mechanical failures in eighteen races and scored only 45 points. This year he was able to post 48 points with three failures. His fourth win in Spa (the same number of Jim Clark) prevented him to post his first win-less season since 2006, his last year with McLaren.
For the first time since his maiden season, 2001, Raikkonen wasn't able to record a single fastest race lap, while in 2008 he equalled the season record with ten, a clear indication of the performance issues he had on the Ferrari F60.
Robert Kubica was one of the drivers with the worst points score compared to last year: only 17 versus 75 scored in 2008. The Pole climbed on the podium only in Brazil, while in 2008 he was able to score seven podium finishes, one win, one pole position and three front row starts. In 2009 his best starting position was a fourth in the opening race, but the fact that he fell below the top 10 in seven qualifying sessions says it all about his struggles.
Like his team-mate, Nick Heidfeld endured an extremely hard season, scoring his worst result (thirteenth) since 2004 when he was eighteenth running for Jordan. He recorded only one podium all season, in Malaysia.
To make matters worse, in Singapore Heidfeld saw his all-time record of races without accidents come to an end after a collision with Adrian Sutil.
For the first time after four years, Fernando Alonso wasn't able to post a single win and finished the season in ninth, his second-worst performance after the 23rd place in his maiden championship with Minardi, back in 2001.
Alonso's high points in 2009 were his pole position in Hungary and his podium in Singapore.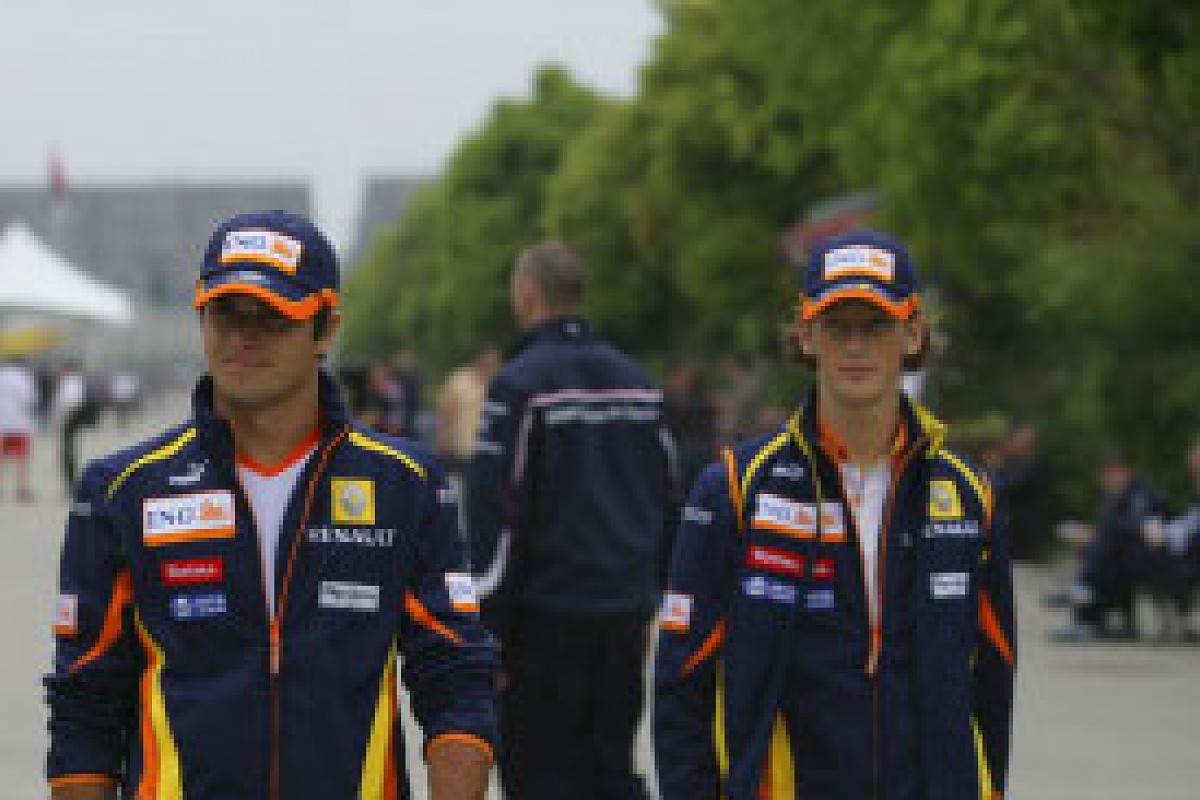 Nelsinho Piquet and Romain Grosjean © LAT
The second Renault seat was not a comfortable one: Nelsinho Piquet was sacked after ten races, after he failed to post a single top-10 finish and was able to qualify in the top 10 only once, in Germany with a tenth place, while Romain Grosjean fared even worse, with a twelfth as best qualifying result (Monza) and a thirteenth as his best race result, in Brazil.
Business as usual for Jarno Trulli, who finished for the third time in thirteen seasons eighth in the drivers' championship. He managed to equal his season record of podium places (three) and front row starts (four), formerly set in 2005.
Trulli this year scored his maiden fastest lap in Bahrain after 203 race starts.
In just fourteen races, before his accident in Suzuka, Timo Glock was able to equal his best result in the drivers' championship, a tenth place, scoring two podiums, in Malaysia and Singapore and also posting his maiden fastest lap in Valencia and his maiden front row start in Bahrain.
The Toro Rosso number eleven was run for nine races by Sebastien Bourdais and for eight by Jaime Alguersuari and it was, like Ferrari and Renault replacements, a case of the substitute faring worse than the driver sacked or injured: Bourdais managed two points out of two eight places and started as high as fourteenth (Monaco), while Alguersuari, despite qualifying twice in twelfth, scored his best result in fourteenth at the Brazilian Grand Prix, but retired five times.
A title contender in the central part of the season, Mark Webber enjoyed the best of his eight Formula 1 seasons, finishing the year for the first time inside the top 10 with a fourth place. He scored his maiden pole and win in Germany, doubled by another race win in Brazil, posted his maiden fastest lap in Hungary and was able to score eight podium finishes, while in his previous seven seasons he was able to climb on the rostrum only twice.
The main contender for the 2009 title against the Brawn GP drivers was Sebastian Vettel, with four wins, four poles and eight podiums. Consistency is always a factor in winning championships and Vettel paid the price in his title chase: he crashed out of the race three times and suffered two mechanical failures, while Button retired only in Spa after a first-lap accident.
Nico Rosberg wasn't able to climb on the podium in 2009, but nevertheless scored his best result at the end of the season, with 34.5 points and a seventh place, up from the 20 points and ninth place he scored in 2007.
Back to square one for Kazuki Nakajima, who after nine points in 2008 wasn't able to score in 2009. His best result was a ninth place in Hungary and Singapore.
Nakajima had a high note though: he was able to post his best career qualifying performance in Silverstone with a fifth place.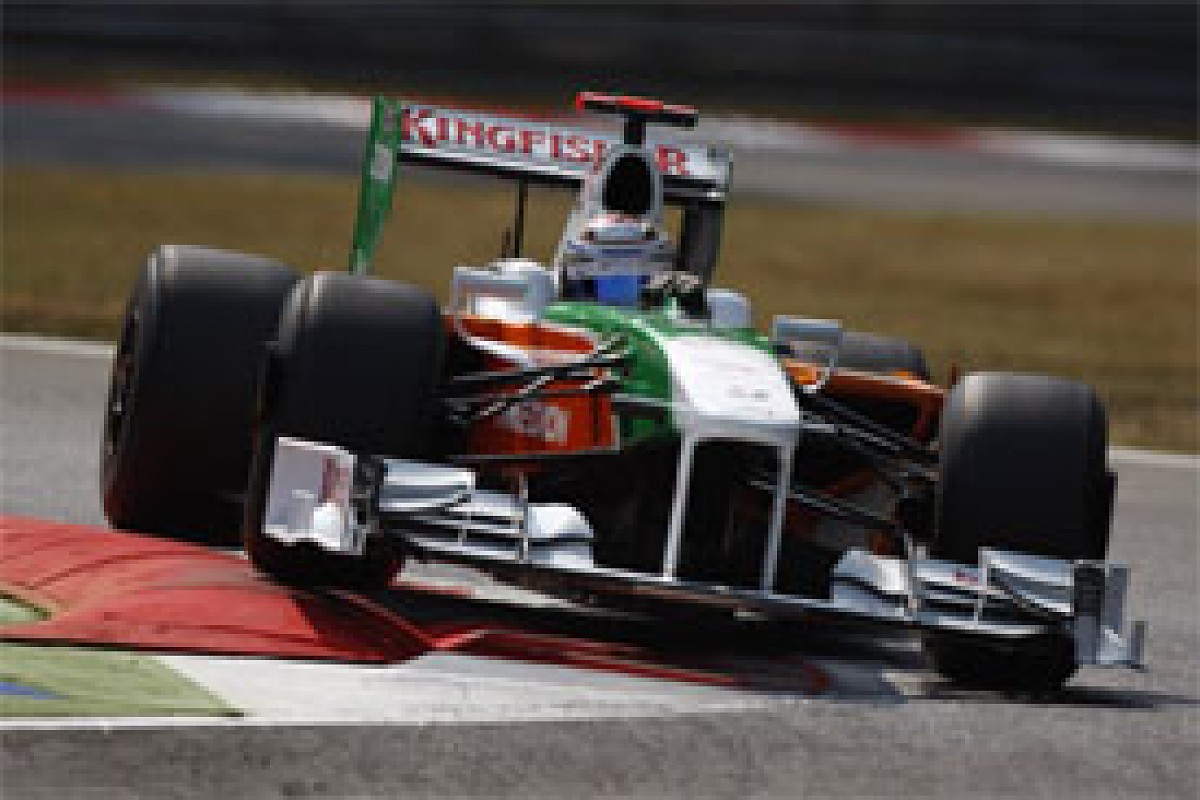 Adrian Sutil attacks the chicane at Monza © LAT
Adrian Sutil took the best out of the good moment of form of his Force India in Monza scoring his best race result (fourth), his maiden front row start and his maiden fastest lap. This outburst was enough to secure him his best overall season performance, with a seventeenth place.
Like Sutil, Giancarlo Fisichella capitalised a moment of glory of his Force India in Belgium, where he was able to start from pole and finished second right in the tail of Kimi Raikkonen thus putting an end to his longest pointless streak (31 races), which lasted since the 2007 Chinese Grand Prix. From the following race he climbed on the Ferrari with disappointing results, as his best race finish was a ninth in the Italian Grand Prix.
Ironically, his replacement Tonio Liuzzi, was seventh in the Monza grid and ran as high as fourth before retiring with transmission problems.
Fisichella in his five races for Ferrari was able to run some laps in the top-10 positions only during the pitstops in Italy and Monza, otherwise he was well low down the order: in Singapore, Japan and Abu Dhabi, Fisichella was never able to race higher than eleventh position.
Six wins in the first seven races: that was the seal Jenson Button placed on the 2009 world title, struggling in the second part of the season as he wasn't able to spend a single lap in the lead after his win in Turkey.
Button was able to shatter all his previous season records but for one: in 2004 he scored ten podiums, while this year he climbed on the rostrum nine times.
Despite losing second place in the final races, Rubens Barrichello was able to record a season with performances similar to his Ferrari years: he scored his first wins. pole, fastest laps and front row starts since 2004 and was able to climb on the podium six times.
THE TEAMS
McLaren managed to save what would have been a dismal season thanks to a comeback in the second part of the year.
Up to the ninth race the team was sixth in the standings, with only fourteen points scored, while in the last eight races it scored 57 points and managed to reach the third final place.
Excluding the 2007 season, when McLaren had all its points taken away for the spy affair and was eleventh in the standings, the Woking-based team hasn't finished a season lower than fifth in the constructors standings since 1981.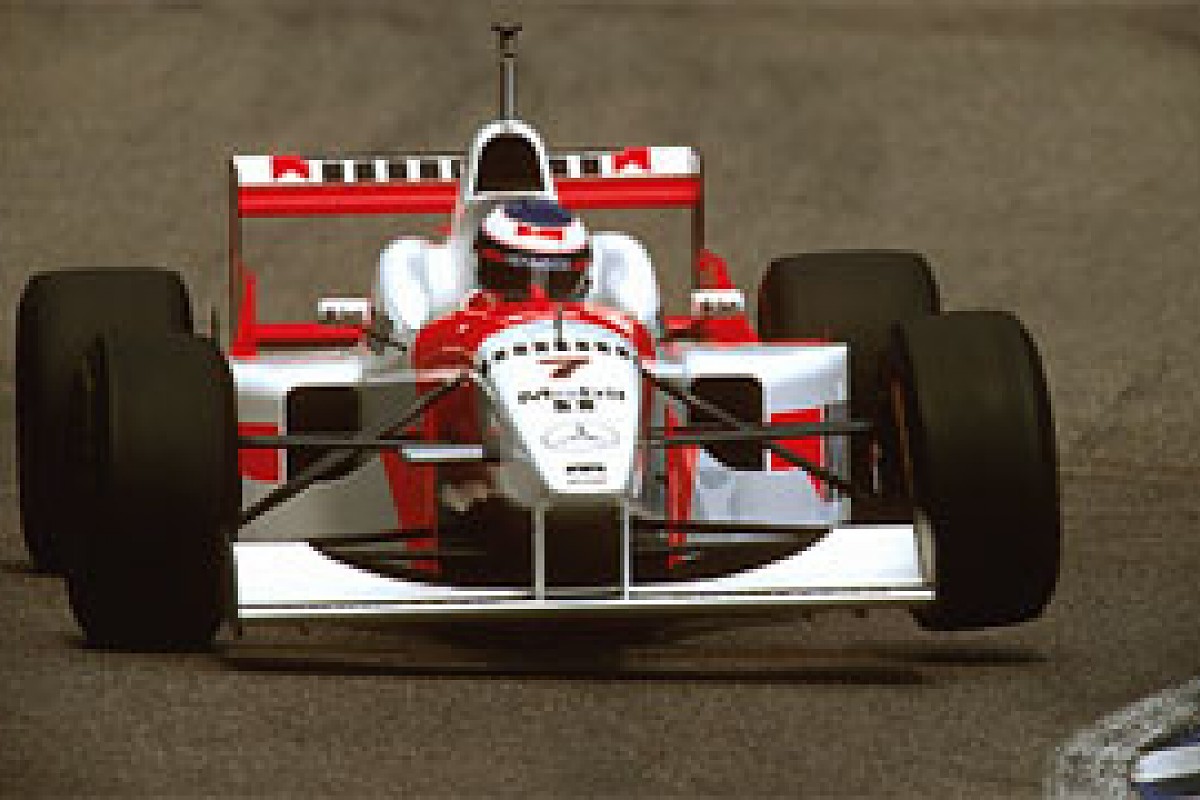 Mika Hakkinen (McLaren MP4/11B Mercedes) at Hockenheim during the 1996 German Grand Prix © LAT
There was a missing thing in this year though: a fastest lap. For the first time since 1996 a McLaren car wasn't able to post a single fastest lap throughout the whole season.
For Ferrari, the 2009 season was even worse than McLaren's: it finished fourth, the lowest position since 1993, it recorded only one win like in 2005, when it won a six-car race in Indianapolis. Excluding 2005, the first season with only one win for Ferrari, going backwards in time, was 1995.
The team failed to post a single pole position, like the 1991-1993 years, and scored the lowest points tally since 1996, when it totalled 70, like this year.
Other records that recall the disastrous 1992-1993 seasons are the front row starts: only one (zero in 1992 and 1993) podium places, six, lowest value since 1993 when there were three, and fastest laps, only one to 1994's zero.
After scoring its season records for points and scoring their first win, pole and fastest laps last year, BMW Sauber failed to deliver in 2009, when it scored only two podium finishes from eleven it scored in 2008 and finished the season with the same amount of points of its maiden year: 36 (2006).
Renault is another team which used to be out in front up to 2008 and suffered a downfall in 2009: the eighth final place is its second-worst after 1978 (the 12th place of 1977 with only five races run is not considered) and its points tally, 26, was the lowest since 2002, when it finished the season with 23.
Toyota announced its exit from Formula 1 at the end of the 2009 season after another year with performances which were only slightly better of the ones seen in eight seasons from the Japanese team: it finished fifth, like in 2008, scoring only 3.5 more points, it scored their first pole in Bahrain since the 2005 Japanese Grand Prix and its first fastest lap in the same race after a wait which started at the 2005 Brazilian Grand Prix.
2005 is the reference point also for podiums, five, and front row starts, five, a record equalled during 2009.
After its maiden pole and win in 2008, Toro Rosso suffered a setback in 2009: it finished the season with only eight points, second-worst value after its maiden season (2006, one point) but the worst part is that these eight points meant it was only tenth in the standings, the worst result in team's history.
Red Bull, like Brawn GP, was one of the teams which benefited from the "fall of the greats" and worked its way to a second place in the constructors standings.
The 2009 season is not even comparable to the ones lived by Red Bull from 2005 onwards.
Sebastian Vettel and Mark Webber celebrate a 1-2 finish at Yas Marina © LAT
In four years they weren't able to post poles, wins or fastest laps, and climbed on the podium only three times. In 2009 they started from pole five times, scored six wins (four of them were doubles) and scored six fastest laps, finishing on the podium sixteen times.
The points tally, 153.5, says it all: from 2005 to 2008 Red Bull scored a total of 103 points out of four seasons.
The 2009 season for Williams was slightly better than 2008, up from eighth to seventh in the constructors standings. They failed to finish on the podium for the first time since 2006, but they were able to record a fastest lap, another feat they missed from the same year.
If it wasn't for the Belgian and Italian Grands Prix, the 2009 Force India season would have been similar to 2008, with no points scored and two ninth places as best results in Australia and Monaco, but the miraculous peak of performances in those two fast tracks resulted in its first pole and podium in Belgium, its maiden fastest lap in Italy and a total of thirteen points, enough to score ninth in the constructors standings.
It's hard to find anything that wasn't a record in the maiden season of Brawn GP.
The team debuted in Melbourne taking a front row sweep and scoring the double and went on to win eight races, finished on the podium fifteen times, started from pole five times and recorded four fastest laps.
By contrast (and ironically) the former structure from which Brawn originated, Honda, in eight seasons (five in the sixties and from 2006 to 2008), managed only three wins, two poles and two fastest laps, for a total of 154 points scored. This year Brawn won the constructors' title with 172 points.
STATISTICAL MOMENTS TO REMEMBER
Australia
Brawn GP became the third team in history after Alfa Romeo (1950 British GP) and Mercedes (1954 French GP) to post a double in its maiden race;
Brawn was also the second team in history to lock out the front row in qualifying at its debut race after Alfa Romeo in Silverstone, 1950;
for the first time Jenson Button led a race from start to finish;
first points for a Swiss driver (Buemi) since the 1985 Italian Grand Prix (Marc Surer);
Malaysia
650th race start for McLaren;
Nick Heidfeld equalled the longest streak of races without accidents in Formula 1 history, 45; he then went on to improve this record until Singapore. With a second place he equalled Stefan Johansson's record of podium places without a win (twelve);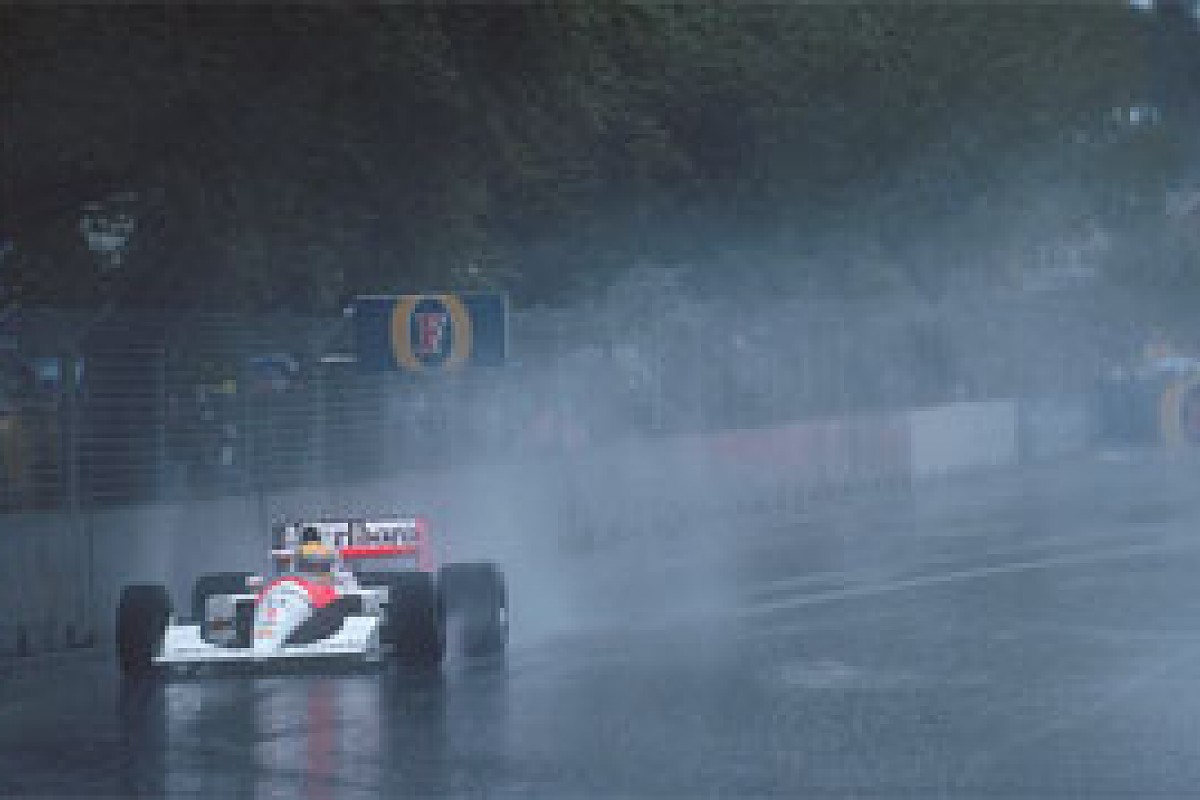 Ayrton Senna (McLaren MP4/6 Honda) leads at Adelaide during the 1991 Australian Grand Prix © LAT
maiden fastest lap for Jenson Button;
two races into the season and McLaren and Ferrari had scored only one point: it didn't happen since 1981 (zero for both teams);
first race since the 1991 Australian Grand Prix with half points awarded;
China
maiden pole and win for Red Bull;
for the first time since the 1996 Portuguese Grand Prix, three Renault-powered cars occupied the first three spots in the grid;
Bahrain
maiden fastest lap for Jarno Trulli;
first full front row by Toyota;
Spain
250th race start for Renault;
Turkey
Jenson Button was the third driver in history to score at least 61 points in seven races. Before him Michael Schumacher (1994, 66) and Fernando Alonso (2006, 64);
Great Britain
for the first time since 1983, a McLaren car was not present in the top 10 spots of the grid in the British Grand Prix. For the first time since 1981 McLaren failed to score points in four straight races;
Germany
maiden pole and win for Mark Webber, first Australian to win a race since Alan Jones in 1981;
the German Grand Prix was the only one of the 2008 and 2009 season when Fernando Alonso was beaten by his team-mate in qualifying. In this period the Spaniard's score is an impressive 34-1;
Hungary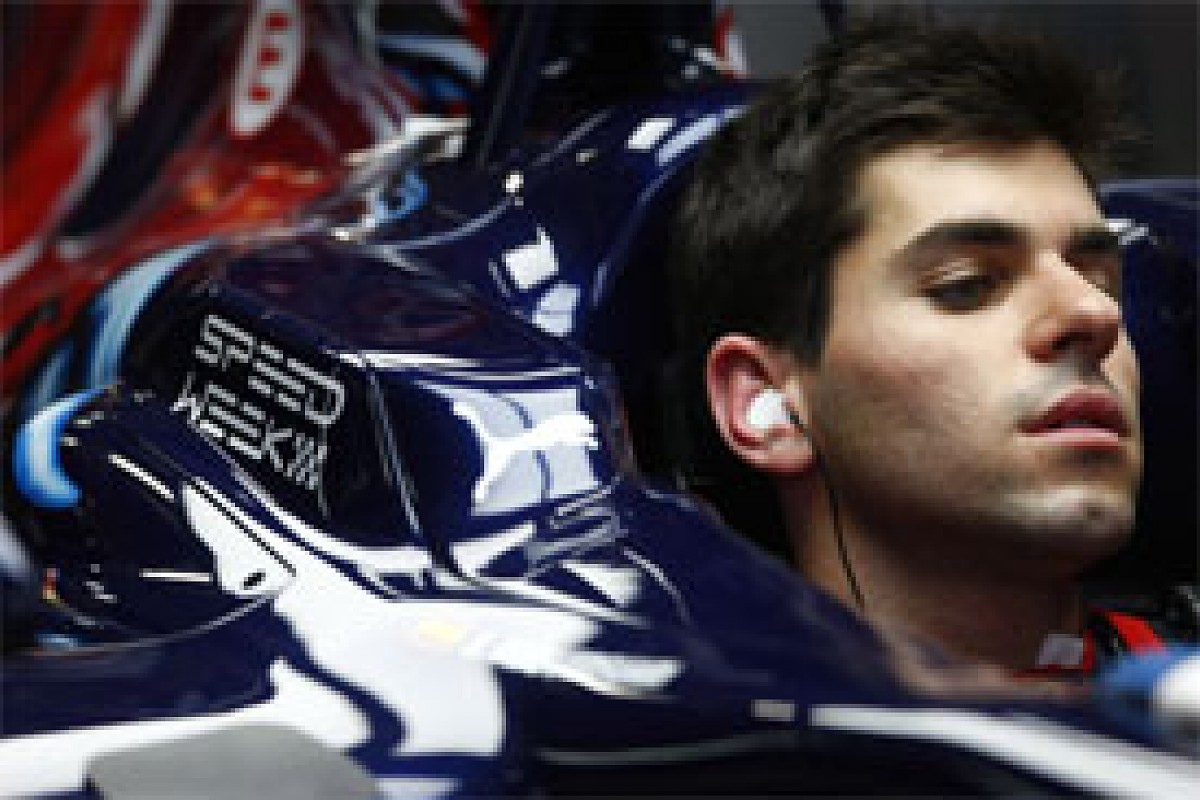 Jaime Alguersuari became the youngest F1 debutant at the Hungarian Grand Prix © LAT
first win of the season for McLaren and Lewis Hamilton, who clinched his tenth career win;
Jaime Alguersuari became the youngest driver to start a Formula 1 race at 19 years, 4 months and 3 days;
maiden fastest lap for Mark Webber;
Europe
tenth win for Rubens Barrichello, the first one since the 2004 Chinese Grand Prix and the 100th for Brazil;
100th fastest lap for a German driver and the maiden one for Timo Glock;
Lewis Hamilton back on pole after an eleven races drought, the longest of his career;
Belgium
maiden pole and podium for Force India, thanks to Giancarlo Fisichella;
Raikkonen and Ferrari back on the top step of the podium at the 150th race for the Finn;
for the first time in history a Ferrari qualified in last place in back-to-back races (Luca Badoer);
Italy
200th pole position for a British driver, the fifteenth for Lewis Hamilton;
maiden fastest lap for Adrian Sutil and Force India. Sutil was the tenth driver in 2009 to post a fastest lap, equalling the absolute record in Formula 1 history, recorded five times in the past: 1954, 1975, 1976, 1981 and 1982;
Brazil
Jenson Button and Brawn GP clinched the world titles;
Abu Dhabi
Lewis Hamilton at his 52nd Grand Prix retired for a mechanical failure for the first time, ending the second all-time sequence. Record holder remains Schumacher with 58 (Hungary 2001 - Malaysia 2005).