Round 1 Australian Grand Prix
Albert Park, Melbourne, March 29
Winner: Jenson Button
Brawn GP proved that its pre-season testing pace wasn't just a flash in the pan, while its defeated rivals' complaints sparked a row about the diffuser regulations.
Button cruised to victory - his first win in two and a half years - keeping Red Bull's Sebastian Vettel around five seconds behind him for the duration of the race.
BMW's Robert Kubica chased Vettel down in the closing stages and challenged for second. The pair collided at Turn 3 and brought out the safety car. That promoted Rubens Barrichello, who had recovered from a slow start and contact with Mark Webber and Nick Heidfeld, to second.
Jarno Trulli finished third for Toyota but was initially stripped of the place after passing Lewis Hamilton behind the safety car. But Hamilton was later disqualified when it was revealed that he and McLaren lied to race stewards when they denied that Hamilton was told to let Trulli past.
Round 2 Malaysian Grand Prix
Sepang, April 5
Winner: Jenson Button
While the lying scandal blew up off the track, Button won again on it. But he only took half points because the race was stopped just after half distance due to torrential rain.
Nico Rosberg led Trulli in the early stages but Button started with more fuel on board, ran longer and passed both in the first round of pitstops.
A huge storm broke shortly afterwards and everyone took to wet weather tyres. Toyota's Timo Glock took intermediates and charged up to second place. Button sacrificed his lead to come in for inters, but took it back shortly afterwards.
Another deluge erupted and forced everyone back onto extreme wets, though even these were inadequate for the conditions and officials had to call an end to the race on lap 31. Button was leading from Heidfeld at the time with the Toyotas of Glock and Trulli third and fourth.
Round 3 Chinese Grand Prix
Shanghai, April 19
Winner: Sebastian Vettel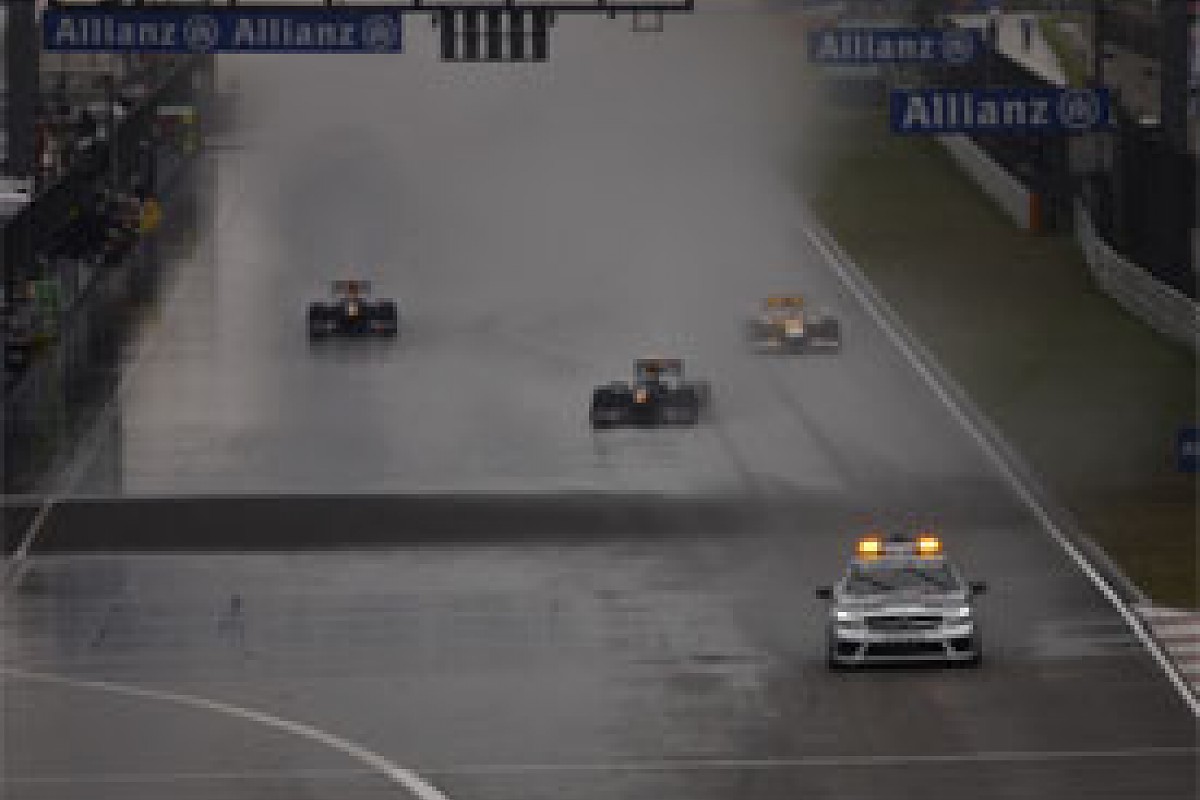 Sebastian Vettel, Fernando Alonso, and Mark Webber behind the Safety Car at Shanghai © LAT
Red Bull announced its title credentials by taking its maiden Formula 1 victory in the form of a crushing 1-2.
Vettel strolled to a comfortable win - surviving a scare when Toro Rosso's Sebastien Buemi tagged the back of his car during a safety car period - with team-mate Webber second and Button a distant third.
Barrichello was a quiet fourth with Heikki Kovalainen fifth for McLaren and Hamilton sixth despite flying off the road five times. Force India was set to score its first points until Adrian Sutil aquaplaned out of sixth place and into a wall with five laps to go.
Round 4 Bahrain Grand Prix
Sakhir, April 26
Winner: Jenson Button
Button got back to winning ways, while Vettel spent most of his afternoon in traffic and was unable to challenge.
Button passed the fast-starting Hamilton early on and followed the lightly-fuelled Toyotas until their pitstops. Vettel stopped latest of the front runners but came out behind Trulli and had to follow the Toyota until the second stops, by which time Button was 12 seconds clear.
Trulli shadowed Vettel home to complete the podium, with Hamilton fourth, Barrichello fifth and Kimi Raikkonen scoring Ferrari's first points of the year in sixth.
Round 5 Spanish Grand Prix
Catalunya, Barcelona May 10
Winner: Jenson Button
Brawn was dominant again as Button saw off the challenge of team-mate Barrichello after switching his strategy mid-race.
Button made a long first visit to the pits to change to a two-stop strategy, while Barrichello stuck to this three stop plan and came out behind Button after his second.
Webber finished third with Vettel and Fernando Alonso both passing Felipe Massa in the closing stages as the Ferrari driver had to slow his pace short on fuel at the end.
Round 6 Monaco Grand Prix
Monte Carlo, May 24
Winner: Jenson Button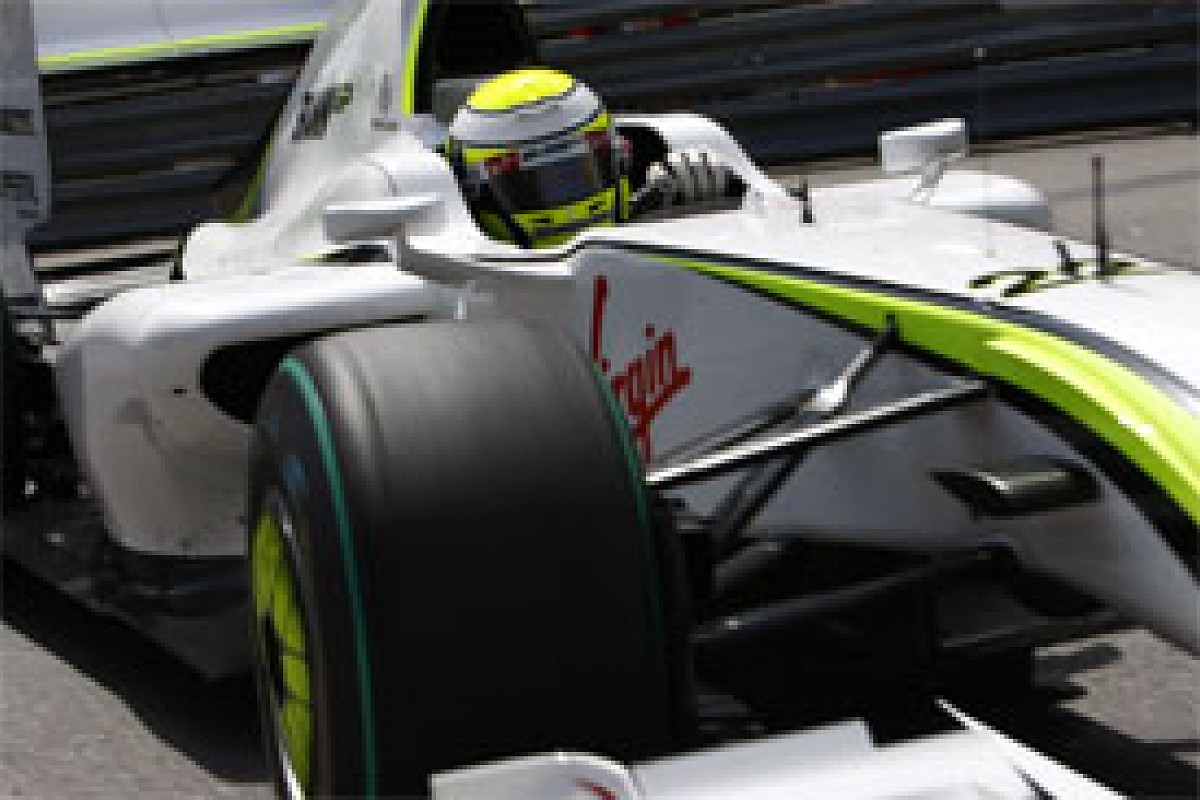 Jenson Button clips the apex at Monaco © LAT
Another Brawn 1-2 as Button beat Barrichello again. The Briton kept his team-mate at arm's length throughout and dominated, while Ferrari returned to form with Raikkonen and Massa third and fourth.
Webber scored Red Bull's only points in fifth after Vettel crashed out, with Rosberg sixth and Alonso promoted to seventh after Kovalainen also crashed.
Sebastien Bourdais pipped Giancarlo Fisichella to the final point to further delay Force India's wait for a maiden score.
Round 7 Turkish Grand Prix
Istanbul Park, June 7
Winner: Jenson Button
Button took his sixth victory in seven races after his rivals dropped the race in his lap.
Pole-sitter Vettel ran wide on the opening lap and gifted Button the lead. His Brawn team-mate Barrichello had a terrible start, made contact with Kovalainen and Sutil during his recovery charge and later retired with gearbox problems.
Button needed no further invitation to cruise away up front, while Vettel fell behind team-mate Webber in the pitstops and had to settle for third.
Round 8 British Grand Prix
Silverstone, June 21
Winner: Sebastian Vettel
While the row between the FIA and FOTA went ballistic, with threats of a breakaway series, Vettel led a crushing 1-2 for Red Bull to spark hope that the world championship would yet be a contest.
The German romped 20 seconds clear of team-mate Webber in the early stages and was 40 clear of third-placed Barrichello by the end.
Button spent most of his home race behind Trulli in eighth, and eventually finished sixth behind Rosberg and Massa, who had charged from 11th to fourth for Ferrari. Fellow Briton Hamilton had an even worse time and finished 16th.
Round 9 German Grand Prix
Nuburgring, July 12
Winner: Mark Webber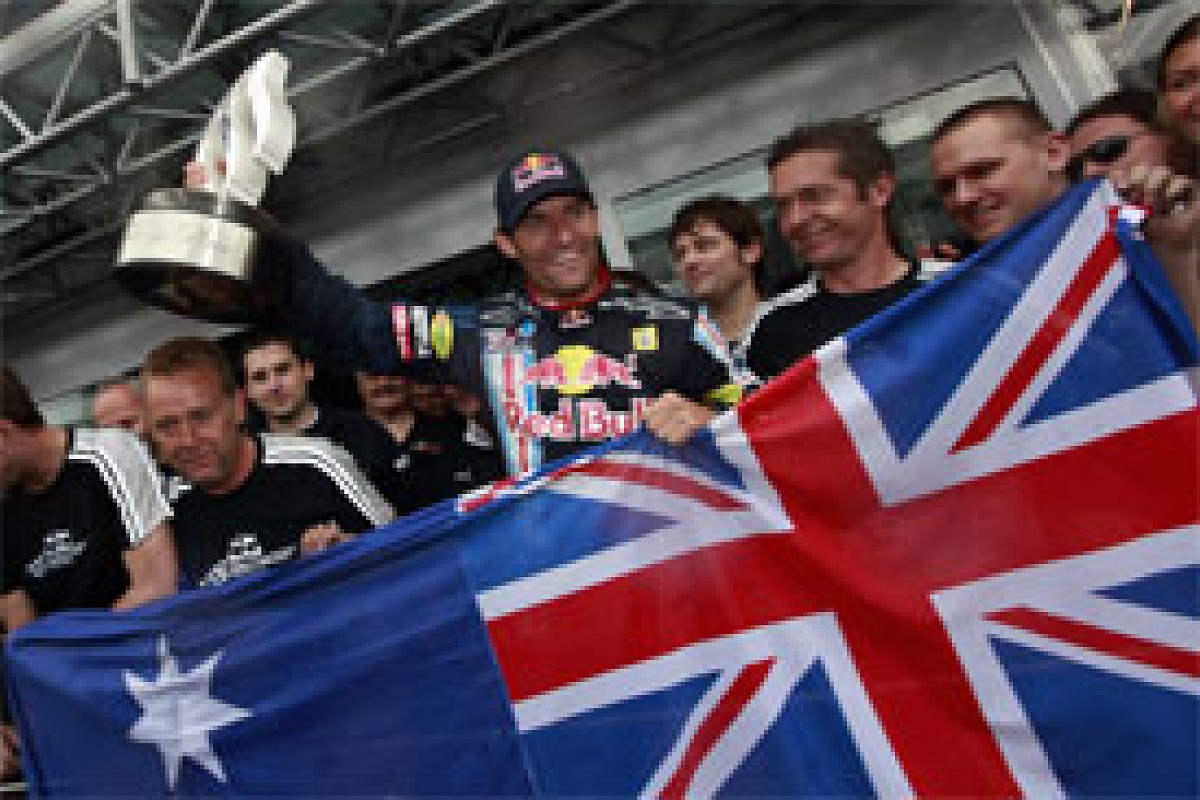 Mark Webber celebrates his maiden Grand Prix victory © LAT
Webber took an overdue maiden grand prix victory, in spite of a drive-through penalty for squeezing Barrichello off the line.
Thanks to a two-stop strategy - as opposed to most peoples' three stoppers - and Massa's Ferrari holding up the pack, Webber was able to recover from his penalty and take the lead.
Vettel came home second to complete another Red Bull 1-2, while Barrichello suffered a problem with the fuel rig at his second stop and was later jumped by team-mate Button, so ended up sixth and was critical of the team after the race.
Round 10 Hungarian Grand Prix
Hungaroring, July 26
Winner: Lewis Hamilton
In a return to pre-2009 form, Hamilton took his first win of the year with Raikkonen second for Ferrari, though the weekend will be remembered for Massa's freak accident in qualifying.
Another drama followed in the race as pole-sitter and early leader Alonso was released from his first pitstop with a loose wheel, which detached itself on his out-lap.
Hamilton had taken over the lead when Alonso stopped and didn't look back, while Raikkonen survived a scare in the pits when Webber was released into his path.
Webber was the only one of the championship frontrunners to score significant points in third, with Button seventh, Barrichello 10th and Vettel retired with suspension damage after an opening-lap brush with Raikkonen.
Round 11 European Grand Prix
Valencia Street Circuit, August 23
Winner: Rubens Barrichello
The summer break had been filled with talk of Michael Schumacher's proposed return in place of the injured Massa, but the European GP happened without the seven-time world champion.
Barrichello jumped a McLaren in each of his pitstops to take his 10th grand prix victory by a narrow margin over Hamilton.
Raikkonen worked his way past Kovalainen to complete the podium, while Luca Badoer was a lap down in 17th - behind Jaime Alguersuari, who was making just his second F1 start.
Button struggled for pace again and was only seventh, but still made ground on his Red Bull rivals with Webber ninth and Vettel retiring with an engine failure.
Round 12 Belgian Grand Prix
Spa-Francorchamps, August 30
Winner: Kimi Raikkonen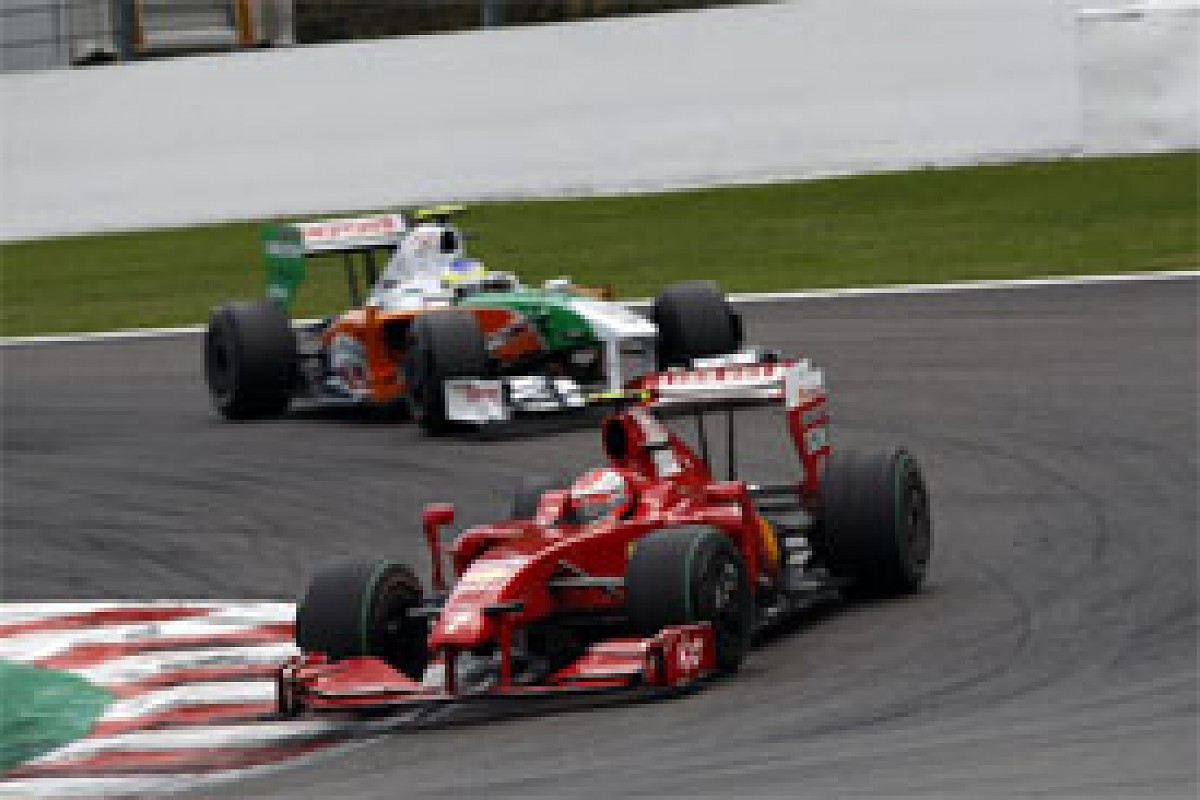 Kimi Raikkonen holds off Giancarlo Fisichella at Spa © LAT
The race that nearly was for Force India and Fisichella, with only KERS coming between them and a sensational victory.
Fisichella led from pole position but a first-lap accident involving Button and Hamilton brought out the safety car and the restart gave Raikkonen his opportunity to pounce on the long run to Les Combes.
The Force India stalked the Ferrari all the way and was often quicker, but without KERS there was no way round for Fisichella and Raikkonen took his first win for more than a year.
Vettel bounced back from his Valencia retirement with third, while Barrichello and Webber were only seventh and ninth.
Round 13 Italian Grand Prix
Monza, September 13
Winner: Rubens Barrichello
The racing itself was once again overshadowed, this time by the Renault race-fixing allegations. On the track, Fisichella made his Ferrari debut, Tonio Liuzzi returned to F1 on home soil and Barrichello led a 1-2 for Brawn while Red Bull faltered.
Hamilton, Raikkonen and Sutil charged away at the start but the long-fuelled Brawns of Barrichello and Button were always going to take over.
Barrichello kept Button at arm's length throughout, while Hamilton was able to close down Button after his last stop but crashed at the first Lesmo on the final lap.
In a repeat of Spa, Raikkonen was again hounded all day long by a Force India and just beat it home. This time it earned him third ahead of Sutil. Fisichella was only ninth on his Ferrari debut.
Round 14 Singapore Grand Prix
Marina Bay, September 27
Winner: Lewis Hamilton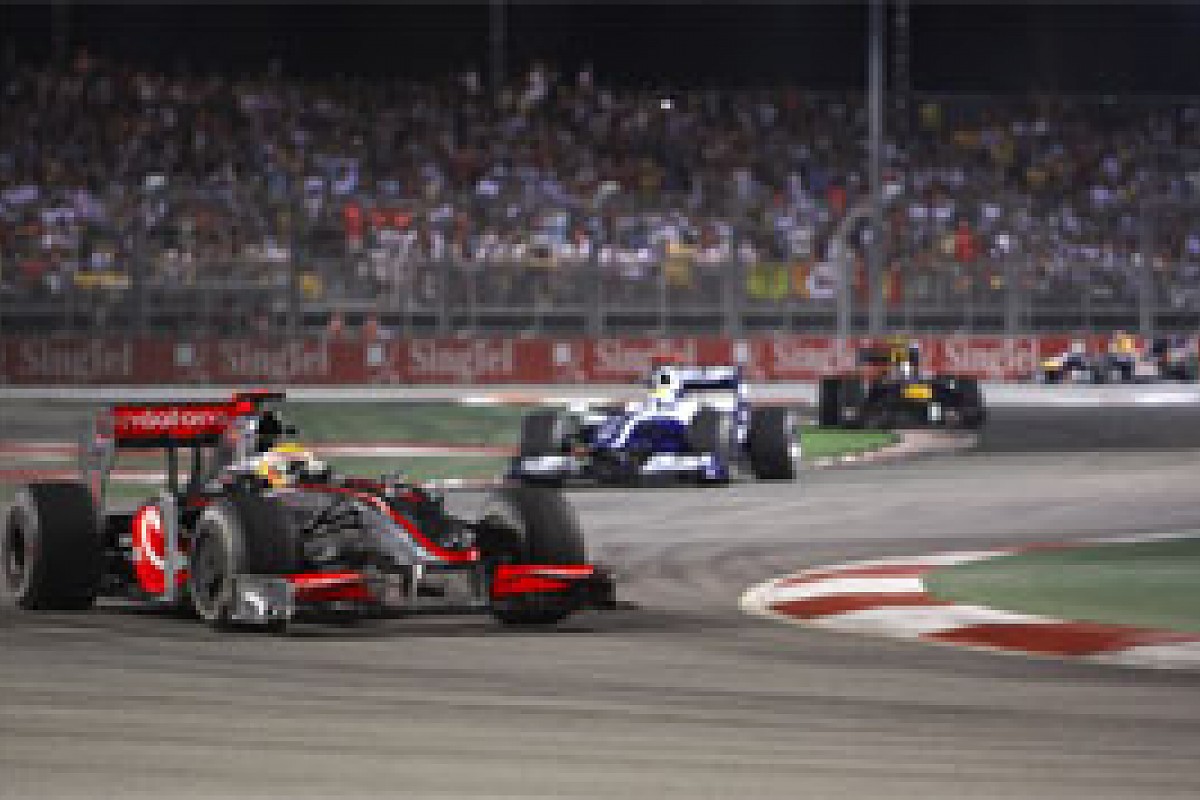 Lewis Hamilton leads Nico Rosberg and Sebastian Vettel at Singapore © LAT
Hamilton made his second win of the year look easy, while Button extended his championship lead despite only finishing fifth.
Vettel briefly pressed Hamilton after a safety car period but a penalty for speeding in the pitlane ended his chances. Rosberg looked in with a shout until he too was penalised - his was for crossing the white line at the pit exit.
That left Glock second and Alonso third, ahead of Vettel, Button and Barrichello. Webber, meanwhile, had a torrid evening. He was made to let Alonso past after going off the road to pass the Renault at the start, but Glock dived ahead of him as well. The Australian later crashed out at Turn 1 with brake problems.
Round 15 Japanese Grand Prix
Suzuka, October 4
Winner: Sebastian Vettel
Vettel kept his faint title hopes hanging by a thread with a dominant win, while Button could only manage eighth but still only surrendered one point to team-mate Barrichello.
Vettel saw off Hamilton in the early stages and had it all his own way from there, while the Briton looked set for second until his was jumped by Trulli in the final round of pitstops.
Button made a terrible start and got stuck behind Kovalainen and Sutil. Once freed, he charged up to eighth and even had a go at Barrichello in the final laps.
Round 16 Brazilian Grand Prix
Interlagos, October 18
Winner: Mark Webber
It was another day of drives through the field for the title contenders. Vettel made it to fourth from 15th on the grid, but it was too little too late as fourth place (from 14th) was enough to clinch the title for Button.
Pole-sitter Barrichello dropped to fourth after the first round of stops and a puncture eight laps from the finish put an end to his already fading hopes.
Webber took over the lead from Barrichello in the pits and was comfortable up front ahead of Kubica and Hamilton came from the back of the grid to third in a chaotic race.
Round 17 Abu Dhabi Grand Prix
Yas Marina, November 1
Winner: Sebastian Vettel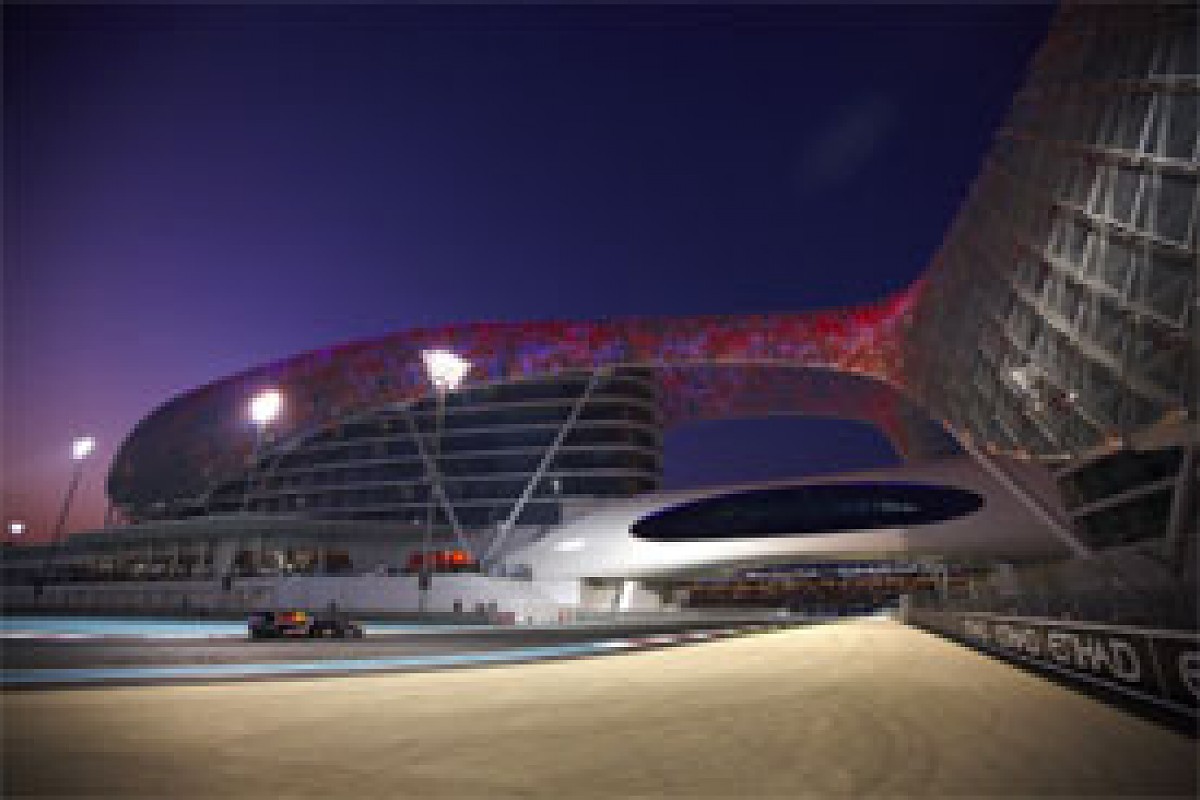 Sebastian Vettel leads as night descends on the Yas Marina © LAT
Both titles may have been out of the reach of Red Bull, but the team still left 2009 in style with another dominant 1-2.
Pole-sitter Hamilton led until a brake problem forced his retirement shortly after the first round of pitstops, leaving Vettel to pull clear of Webber for his fourth win of 2009.
Button lost third briefly to Kamui Kobayashi while the Toyota was on low fuel, but once the Japanese driver pitted the newly-crowned world champion set about chasing down Webber. He had a few pops at second in the closing laps but the Australian was able to hold him at bay.
Barrichello finished fourth after being harassed by Nick Heidfeld's BMW throughout the second half of the race, while Kobayashi beat team-mate Trulli home in sixth.