Mercedes' entry into Formula 1 in its own right was utterly predictable. Here was a producer of premium automobiles which (re)entered F1 back in 1993 (as 'concept' partner to Sauber), purchased the Ilmor engine operation, acquired a 40 per cent stake in McLaren, with which Mercedes won a string of titles and grands prix and co-produced the flagship SLR range, and powered teams as diverse as Force India and title winner Brawn. Yet Mercedes had no say on drivers or staffing, no seat within FOTA and was not party to the Concorde Agreement.
Indeed, Mercedes was not even free to provide its own engines to teams of its choosing, for McLaren is said to have had right of veto over supply to additional teams. This allegedly resulted in Red Bull Racing being unable to replace Renault power with triple-pointed-star V8s - despite Mercedes dearly wishing to get its hands on Sebastian Vettel after BMW mysteriously allowed the German superstar to slip away.
Norbert Haug and Ross Brawn © XPB
The purchase of a controlling interest in Brawn was first mooted during the Valencia Grand Prix weekend in August. The timing is telling: a fortnight earlier arch-enemy BMW put its Swiss-based F1 operation (formerly PP Sauber AG) up for sale following the announcement of its total withdrawal from F1 after refusing to sign Concorde.
Thus Mercedes' first F1 partner of the modern era, one situated in a Germanic region just 250 kilometres from Stuttgart and with arguably the better windtunnel and computing facilities, was known to be up for grabs, yet Mercedes was keen on Brawn GP - 1,000 kilometres and a language away.
True, Brawn GP comes complete with the technical genius of the same name, a man who gave McLaren-Mercedes such a hard time while at Ferrari, and Brixworth-based Mercedes High Performance Engines (nee Ilmor) is situated just 40 kilometres from Brawn's Brackley base. But one cannot help but wonder how Peter Sauber feels in the knowledge that the company he partnered to Le Mans victory and which made his F1 debut possible shunned 'his' outfit - which currently languishes without a 2010 entry - in favour of a relative upstart.
Thus the oldest and most German of all motor companies has chosen to base its flagship motorsport operations on the British Isles, having purchased 45.1 per cent of what was once the Honda Racing F1 team in conjunction with Aabar Investments PJSC, Mercedes' Abu Dhabi-listed equity partner, which holds 30 per cent of what will be in future known as Mercedes Grand Prix in a transaction said by Middle Eastern sources to be worth $180 million.
The deal thus values the former Honda operation at $240 million, which represents exceedingly good value for Mercedes while handsomely rewarding team principal Ross Brawn, CEO Nick Fry and their fellow directors. One trusts a multitude of hard-suffering employees will also share in the windfall now that the future of the team is totally secure...
Interestingly, Aabar is jointly owned by Mubadala Development Company, which in turn has a five per cent stake in Ferrari, and is listed as a sponsor of the Scuderia. Last month Aabar acquired a stake in Santander's Brazilian operations - less than a month after the Spanish bank announced its sponsorship of Ferrari whilst maintaining its partnership with McLaren-Mercedes. Talk about incestuous...
Back, though, to the Mercedes/Brawn deal, which deservedly secures the future of the troops in Brackley but leaves the world of F1 none the wiser as to the team's 2010 driver line-up. In the run up to the Abu Dhabi Grand Prix it was clear the driver and engine markets had stalled for some reason (as has the 2010 calendar, but that is another matter entirely), with sources blaming the Mercedes/McLaren/Brawn situation:
"Until the Mercedes-McLaren divorce is through nothing can move. Normally a driver holds the key to the market; this time it is [Ron] Dennis and [Norbert] Haug, who need to agree a price for the 40 per cent Mercedes holds in McLaren. When that is sorted we'll see driver and engine movement."
At the time said individual suggested the going price for Mercedes' stake in the McLaren Group was $250 million, which seemed rather low as it valued the entire British company, which consists of myriad sub-entities, at around $650 million. By way of comparison Mercedes/Aabar have just shelled out a combined $180 million for 75 per cent of Brawn, which has nowhere near the cache of McLaren, or anywhere near the (wholly owned) facilities, all of which explains why negotiations dragged on from August.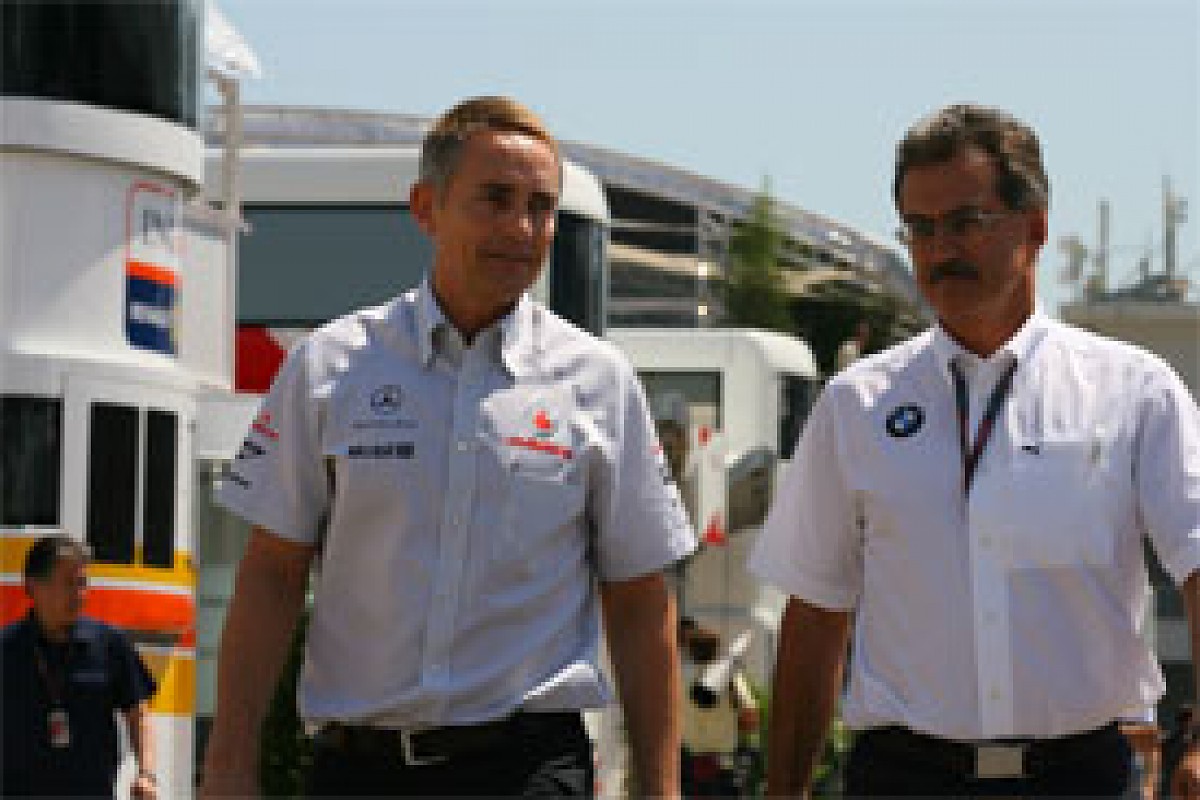 Martin Whitmarsh and Dr Mario Theissen © XPB
He also indicated McLaren could possibly purchase the intellectual property rights to BMW's engines (in Abu Dhabi BMW Motorsport Director Mario Theissen confirmed the company was open to offers), but this would appear to have come to nought. But then an entirely new engine formula is expected from 2013 onwards, which would suit McLaren's motor manufacturer aspirations perfectly.
Agreement has now been reached, with the German company phasing out of the McLaren Group over the next two years in exchange for an undisclosed sum - ultimately leaving McLaren free to pitch its to-be-launched MP4-12C directly up against Mercedes in the premium sports car market.
That Nico Rosberg, born to a German mother and a Finnish father, will be in a powered-by-Mercedes-team in 2010 is a given. Force India can be discarded and McLaren is now full, so given the Germanisation of Brawn one assumes the son of 1982 world champion Keke will be confirmed by Mercedes Grand Prix, which still has two seats available.
The other seat is also likely to go to a German, for BMW's withdrawal has left Nick Heidfeld - whose early career path was eased by Mercedes until an apparent lack of chemistry between the driver and Dennis resulted in Heidfeld's Sauber team-mate Kimi Raikkonen getting a McLaren berth in 2002 - seat-less. Then again, Force India's Adrian Sutil is highly rated by Mercedes after placing second (to Lewis Hamilton) in the 2005 Formula 3 Euro Series with Benz power and acquitted himself well at this season, so is likely on the short list.
All this left world champion Jenson Button, who previously made the Honda team his own and seemed a shoo-in for a 2010 seat after delivering the title, extremely unsettled. A source close to the Briton suggested during this weekend past that relations between Button and manager Richard Goddard on the one side and Brawn GP/Mercedes on the other were 'extremely strained' over what the former camp saw as insultingly low offers.
Allegedly Button drove for $4.5 million this season, having agreed a cut from $12 million in order to keep the team afloat at a time when things looked bleak in the wake of Honda's exit, but had angled for a share in the team in recompense - which was never finalised in the haste of getting to Melbourne. Having won the title, JB and his management pushed for a return to at least his 2008 stipend, but were finally offered only half that.
Brawn's arguments, though, are pretty lucid. 'Race drivers' deliver only when the car allows, while 'real racers' deliver in sub-standard equipment, suggesting Brawn GP played more than merely a supplier role in Button's championship. And thus a top offer by the team of $6.5 million for 2010 - with no long-term guarantees. Hence Button's much-publicised breakfast at McLaren's table, for the Woking team is believed to have offered a three-year deal at $9 million per season, plus bonuses.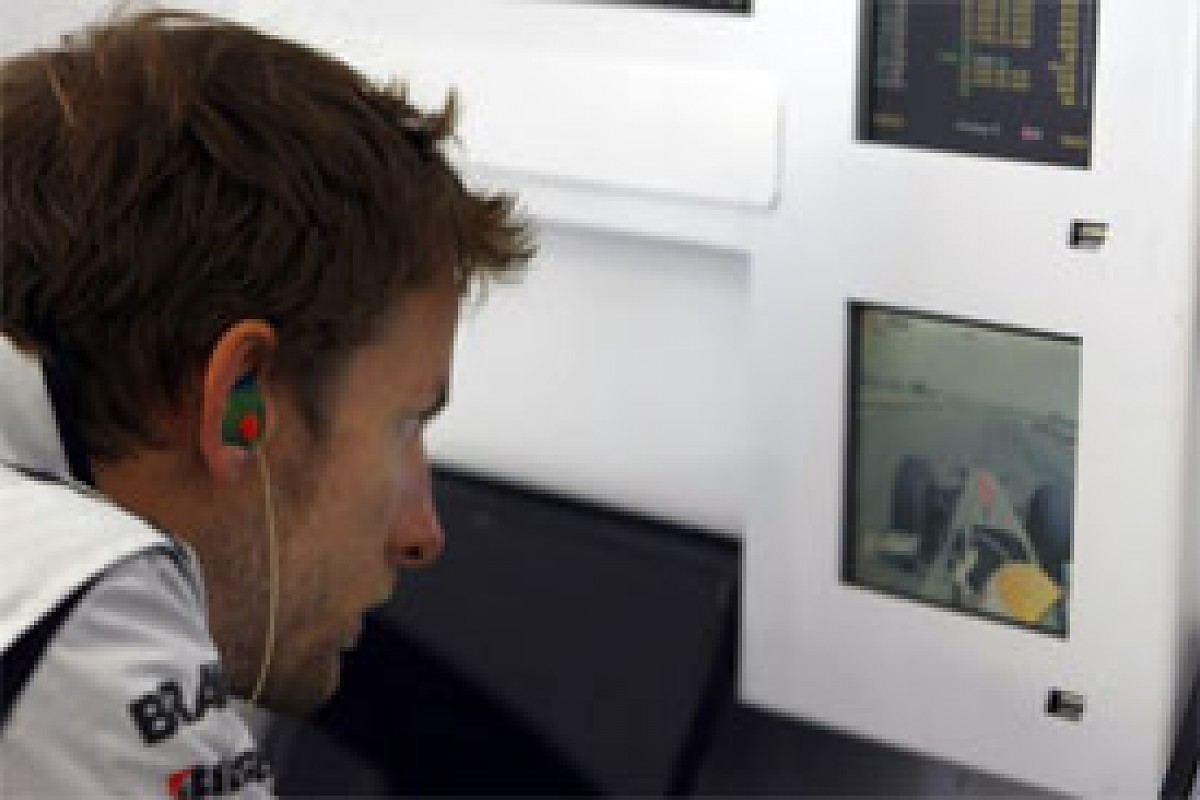 Jenson Button studies Lewis Hamilton's onboard © LAT
That the deal has been done is by now a matter of record, but whether Button is wise to go head-to-head with title predecessor Hamilton - who has won for McLaren in inferior kit - and what the future holds for Kimi Raikkonen under the circumstances presents another set of questions. Will the Finn really take a sabbatical, or simply switch to world rallying?
However, for his own sake, Button can but thank McLaren for ensuring he did not emulate Damon Hill, whose management backed him into such a corner by playing hardball that he was reduced to driving for Arrows-Yamaha in return for winning the 1996 championship...
So, does the Mercedes buyout of Brawn signify the return of manufacturers to Formula 1 after the exits of Honda, BMW and Toyota, despite last week's prophesies? Hardly: despite the sport now enjoying the patronage of just two majors plus Ferrari, it stands to reason that a given manufacturer cannot finish better than fourth in the rankings, and will likely do worse.
Thus the self same set of circumstances which led to the departure of Ford et al still exists, and, if anything, the matter is compounded by the fact that all three remaining operations are firmly entrenched as engine suppliers, possibly relegating any incomer even further down the championship order.
The status quo as F1 faces its new dawn is: Cosworth, five teams (Campos, Lotus, Manor, USF1, Williams); Mercedes, three teams (Mercedes GP, McLaren, Force India); Ferrari two, possibly three teams (Ferrari, Toro Rosso, possibly Qadbak/BMW); and Renault two teams (Renault and Red Bull Racing).
Then, Toyota still needs to confirm its future intentions - and who knows how that will pan out.
All in, though, a reasonable spread, with Mercedes giving F1 a resounding, $180 million thumbs up just when the sport needs it most.