When Ross Brawn speaks, people, rightly, listen, for the stubble-bearded Brit has conquered everything going in Formula 1 bar the world drivers' championship, and even here it could be argued the seven drivers' titles won by Michael Schumacher and the latest taken by Jenson Button would have headed elsewhere had it not been for the indispensable technical direction and racing nous of the man who turns 55 in a fortnight's time.
Thus when the former championship-winning Benetton and Ferrari technical director and team principal of the eponymous Brawn GP outfit suggests motor manufacturers will return, it is an extremely pleasant and positive bit of news for a Formula 1 increasingly weighed down by negativity.
That Formula 1 presents a superb global marketing platform for manufacturers of high-performance, prestige motor cars is beyond dispute; that this pedestal potentially offers greater cost-benefit ratios than virtually any other marketing channel is constantly harped upon by suits justifying their campaigns to increasingly hostile and cynical work forces and shareholders. The rub, though, lies in the term 'potentially'...
By its very nature Formula 1 is a harsh environment, one which exposes a team's every weakness to a global audience totalling hundreds of millions on 20 or so weekends per year. Craig Pollock, founder of the BAR team which became Honda which became Brawn, once ventured the situation was akin to a multinational being publicly audited every fortnight by its greatest critics, with only fleeting credit being given when things go right.
The massive influx of manufacturers began in 1999, around the time the former ski instructor persuaded British American Tobacco to part with the necessary millions to purchase Tyrrell as a shortcut to a partially-owned, money-no-object, operation based in bespoke premises on the outskirts of Brackley, near Silverstone.
Whilst not a motor manufacturer, the BAT/Pollock partnership set the scene for a whole host of buy-outs by car companies, with Ford taking over Jackie Stewart's outfit lock, stock and barrel (despite the Blue Oval having initially provided start-up funding), Renault assuming control of Benetton (having been an engine supplier in various guises to the team since 1995) and Mercedes buying a 40% chunk of McLaren.
It did not stop there, either: Honda and BMW entered the sport as engine suppliers, the former to BAR, a team the Japanese company eventually devoured, and the latter to Williams - a short but initially extremely promising partnership which ultimately fell apart through cultural differences. BMW then did a Ford/Renault and purchased a controlling stake in Sauber.
Not to be outdone, Toyota converted its former World Rally and Le Mans base situated outside Cologne into an F1 facility. Thus by the start of the 2002 season there were six volume motor manufacturers in the sport in some guise or other, plus Ferrari - which proudly bore allegiance to parent company FIAT.
With the likes of Minardi, a pre-BMW Sauber and Jordan then also gracing grids, it required only a modicum of arithmetic skills to realise one or other manufacturer would be expending a large fortune on finishing seventh (or even worse) in the rankings.
Then, as a rule, manufacturers experienced great difficulty in raising the vast sums required to fund a team despite each having access to a multitude of blue chips with whom they did business on a daily basis. Thus images of motor manufacturer board meetings are Technicolor-clear:
XYZ Racing team principal to executive: Based on our calculations we require $400m for the next season
Finance director: How much sponsorship have you been able to raise?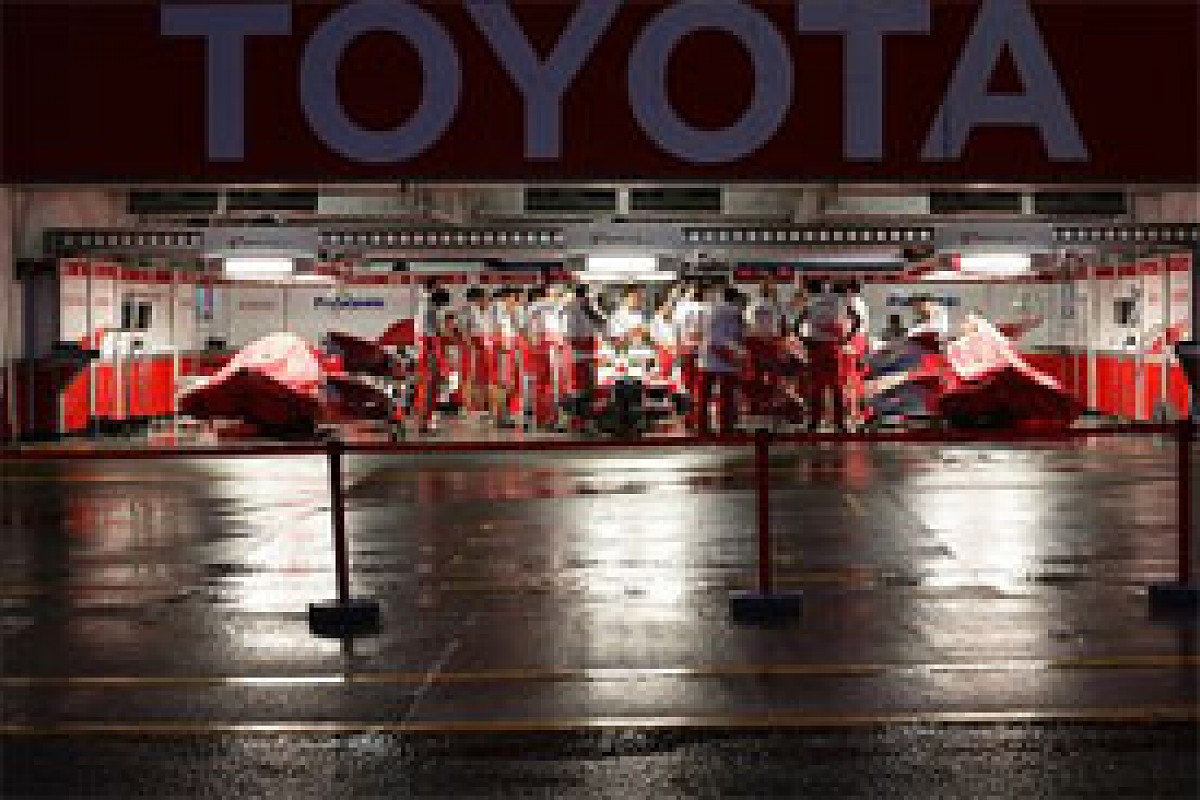 The Toyota garage © LAT
TP: Ah, well, times are hard out there, nil...
FD: How much have you earned this year in prize money?
TP: Well, we estimate about $20m, but it has been withheld by Mr Ecclestone for some reason
Chairman: Where did we finish in this year's championship?
TP: Eighth...
Chairman: Out of how many manufacturers?
TP: Seven
Chairman: Were we to give you the $400m, where would you end next year?
TP: We have a three-year programme to win the championship...
Chairman: Answer the question
TP: With luck, sixth...
At that stage all competing teams shared around 23% of F1's revenues, so it was not difficult to imagine the chagrin at board level when finance directors learned about Ecclestone selling off 80% of F1's commercial rights for $1,5bn while team principals begged for $400m each per annum in the knowledge that one of them would end seventh at best in a highly visible championship.
The bubble had to burst sooner rather than later, and the first car company to flee F1 was Ford, but not before the financially-strapped company's Chief Technical Officer, Richard Parry-Jones suggested budget-capping as a means of keeping the Jaguar Racing, as Ford's F1 operation was dubbed, in the sport.
As is a matter of record, Red Bull bought the team in early 2005 after Ford stated it could "no longer make a compelling business case for any of its brands to compete in F1", and this year challenged for both titles through to the penultimate round. That left six manufacturers fighting for one championship...
The real wake-up call came not when the 'we-love-racing' Honda team exited at end-2008 after two absolutely atrocious seasons, but with BMW's August announcement, for F1 and the Bavarian company seemed a perfect fit, and the BMW Sauber F1 Team had until the start of this year met or even exceeded every one of the targets set for it by the company's directors.
Yes, BMW's early 2009 results were massively disappointing, but, as team principal Mario Theissen said on more than one occasion, his road car peers had also introduced one or two disappointing products and been able to work through the situation. In August it became apparent the board was more indulgent of product mediocrity than of poor on-track performance...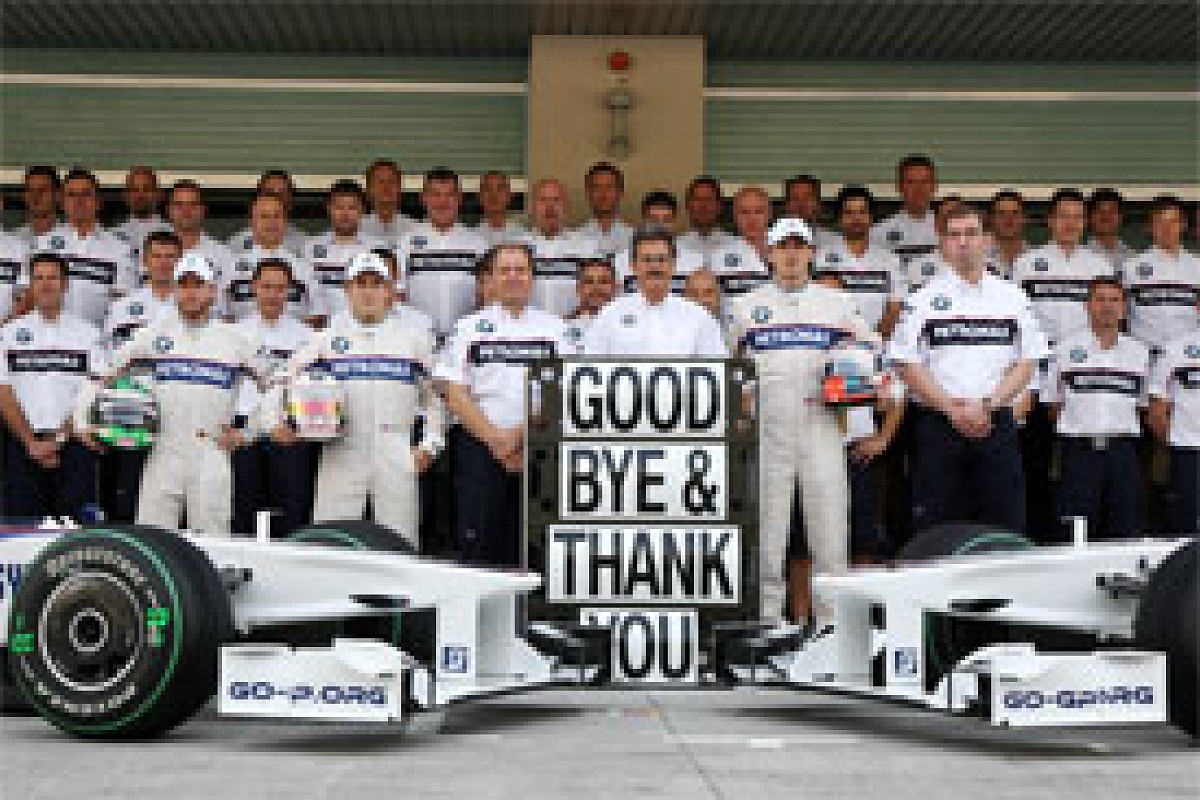 BMW say goodbye to Formula 1 © XPB
Still, the company had not committed itself to the Concorde Agreement, and so was able to ease itself out without being in breach of contract, even if that distinct lack of signature meant the sale of its Hinwil race operation to the mysterious Qadbak operation was (and remains) in jeopardy. Three months after the exit announcement BMW is no wiser as to its entry status (and the sale of the team).
But, Toyota's departure really left the sport reeling, for here was a company that had every reason to remain in F1: of all ten teams on the 2009 grid it was the only outfit without grand prix victory in some shape or form (all others had won at some stage, in some incarnation); it was the only manufacturer team (bar Ferrari for obvious reasons) to have entered the sport without purchasing an existing operation, and thus had more than most to prove; parent company Toyota has no history of quitting before achieving the task in hand, and, above all, Toyota F1 had signed the Concorde Agreement, committing itself to the formula until end-2012.
Yes, a maiden win and at least third in this year's championship had been 'demanded' by the company's main board - and not delivered - but team principal John Howett had played a pivotal role in the formation of FOTA and Concorde negotiations, so was expected to stay until the end of the contract, regardless.
Since last week's announcement, the silence from Cologne and Tokyo has been deafening, with no clues as to the team's plans despite an FIA media release calling for 'Urgent clarification ... as to (Toyota F1's) legal position in relation to the championship', all of which impacts on Qadbak's entry aspirations, if for no other reason than the Concorde Agreement currently restricting grids to 13 teams (26 cars) on safety grounds.
That Toyota F1 is technically in breach of contract is clear, for the team has signed the applicable 2010 entry form, signed the Resource Restriction Agreement (a condition of signing the Concorde Agreement) and the Concorde itself - which now provides for a team share of 50% of F1's gross profits, or double the previous level.
But, whether any form of sanction can/will result is unclear: last week F1 commercial rights' holder Bernie Ecclestone told The Telegraph it was unlikely that legal action would follow. "It's not the sort of thing we do, is it?" he told the publication, while a source conversant with Concorde indicated that the agreement contains no penalty clauses covering such defections.
"At most the FIA and Bernie (Ecclestone) could sue for damages to the sport caused by Toyota's departure, but that would need proving in a court of law, which is notoriously difficult," he said. "Plus, Toyota could in turn claim that the sport was already damaged, which contributed to its exit..."
That the exodus of manufacturers from F1 will impact on F1's revenues is clear: according to an educated source, Toyota this year entertained an average of 100 Paddock Club guests at $4000 per head race; by contrast Force India is said to have hosted just 30 during the entire season.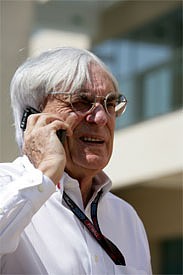 Bernie Ecclestone © LAT
Equally, the cost of manufacturer merchandising stands at grands prix ran to six figures per event, whereas the independents mainly sell their caps and T-shirts off general sales stands, again denting F1's incomes. The list of affected activities is virtually endless, and it is clear that the commercial rights holder will need to examine F1's business model extremely carefully if all dues are to be met over the duration of the 2010-2012 Concorde Agreement.
Even Renault, believed to have committed itself through to 2012 as part of its 'Crashgate' plea bargain, has stated it is reconsidering its F1 involvement, which could spell the end of the French company's full - as in chassis/engine - participation.
Against that background, what chances of the motor manufacturers returning to F1, as Brawn believes? For starters there is little doubt that he is correct in that F1 will at some stage in future again be populated by more than just Ferrari and Renault, plus Mercedes as (multiple) engine supplier, as is (still) the case at present.
Equally, though, there is little doubt that the independents such as Brawn will be wooed by manufacturers, as McLaren, Williams and others were over the years, and, again, there is little doubt that one or two - particularly the newcomers - will succumb to the lure of big bucks.
But whether the sport will ever again see an influx of six car companies within a space of just three seasons is seriously doubtful, for by now the entire automotive world has learnt the bitter realities of competing at the top level. For five or so years F1 was spoiled for choice as the manufacturers spent and spent - and in return were subjected to constant rule changes and left devoid of races in their primary markets.
While some may be glad to see the back of the car companies, they largely contributed to the rise and rise of Formula 1 as a worldwide spectacle, and it remains to be seen what the effect of their defections will be on TV viewerships and race attendances.