I watched most of the Abu Dhabi race from the outside of the first corner. It proved to be a curious experience as it is one of the very few Formula 1 tracks which doesn't have a grandstand located at what surely is the prime real estate of any venue.
Usually at Turn 1 you are surrounded by punters, and you feed off their reactions as events unfold. While there were plenty of spectators either side of the pit straight, the lack of them in my immediate vicinity made for a curiously limp atmosphere.
I did at least have a good view of the controversial pit exit, and when the first stops began I strolled down and leaned over the tunnel wall to see how things developed. Against expectations everyone behaved themselves, and there were no untoward dramas.
An incident in the tunnel might have enlivened a race that was at times less than gripping, despite the amazing backdrop and the spectacle created by the transition from day into night. Perhaps it felt a little dull because we've been spoiled by so many exciting races this year, or maybe it was just because Abu Dhabi was a 'dead rubber,' an event that had no outcome on the title battle.
Having said that there were some intriguing aspects to the afternoon, or should I say, evening. A third win of the season for Lewis Hamilton would have been well deserved, because the outgoing world champion had got a handle on the venue from the start of practice. His team-mate Heikki Kovalainen also looked good, until his unfathomably bad luck - in the form of another gearbox failure - let him down in qualifying.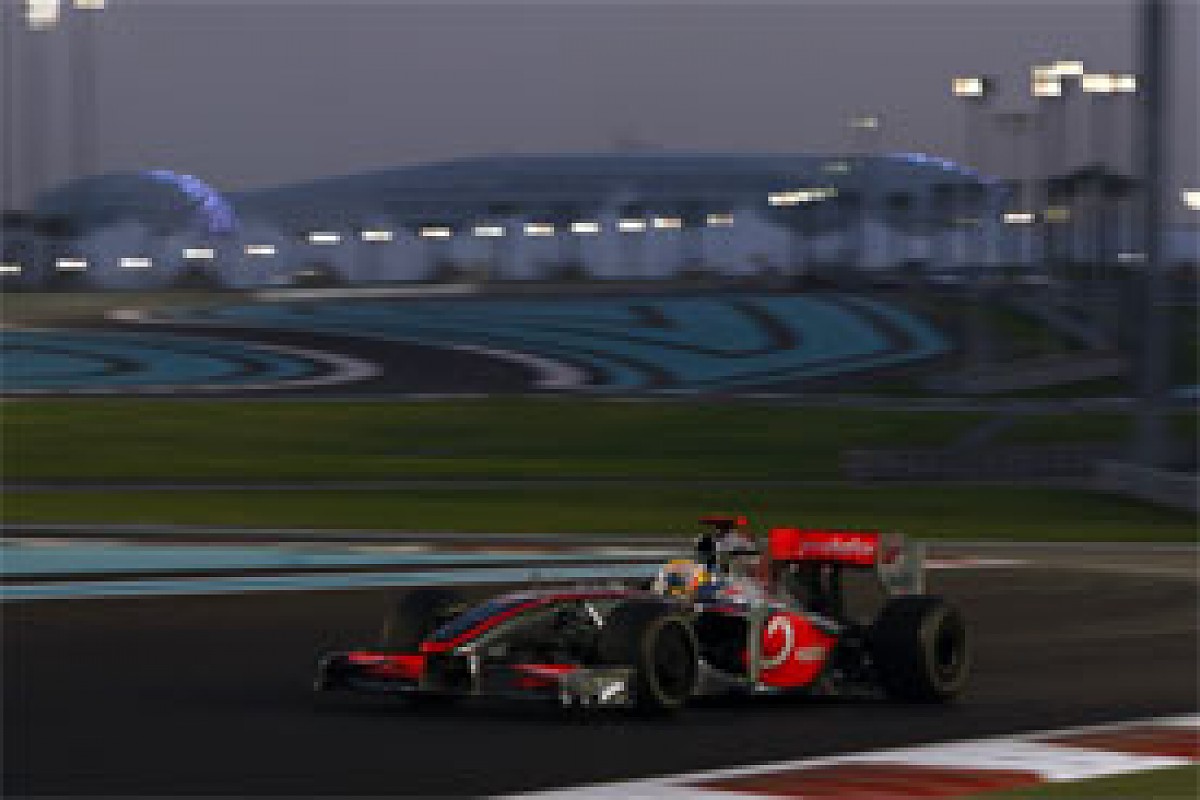 Lewis Hamilton en route to pole position © LAT
But Hamilton got pole, and by a huge margin. Indeed after qualifying he pondered the fact that he could have had five extra laps of fuel in the tank, and still been at the front.
His main rivals, the two Red Bulls, were a little heavier. Mark Webber had an extra lap and Sebastian Vettel had two, so Hamilton knew he had to open up enough of a lead to keep them behind at the first stops - and indeed ensure that he stayed ahead at the second, since both men could respond with longer middle stints that might play out in the their favour.
Most observers thought that Hamilton would have no trouble at all in opening up a sufficient gap in that first stint, and it came as a great surprise when he didn't. Only later did we find out that he had a brake problem at the rear, and this at a track with a lot of big stops.
"He certainly had the pace on Sebastian all weekend and he was struggling to open a gap," said Martin Whitmarsh. "Obviously he ran wide and flat spotted once, so that compressed it up again. We were expecting him to be able to fairly comfortably pull out half a second a lap, and he couldn't.
"I think in truth he was struggling with the characteristics of it early on, and that made it tough for him to win the race. I think it would have been quite tough to beat Sebastian, but certainly we were reasonably competitive all weekend."
Typically Hamilton was able to deal with the problem and still drive at a respectable speed. But Vettel stayed in touch and was more than close enough to be able to get ahead when he stopped, two laps after Hamilton. By then it had become moot - McLaren already knew that it would have to pull the car in.
"Under braking he felt the yaw action that you'd have with one material not quite grabbing the same as the others," said Whitmarsh. "He felt that early on and he lost confidence in the brakes. He locked and flat spotted. He didn't comment on it to us initially, but we could see from lap five he had a problem.
"Projected wear was about 5mm on those pads, and I think we were getting on for three times that in one third of the race. All the brakes looked fine in qualifying, and 5mm is what we believe Heikki did and the other three corners and the other pad would have done. That pad started to accelerate early on, and certainly by lap five we were talking about it, and knew it was an issue.
"It looked pretty terminal from that point, but you can't give up, you've got to keep looking. You've got to try to analyse if it's a fault on the sensor. We looked at the stop for dust, there wasn't any, but in the end you've got to believe the data, otherwise there's no point putting sensors on the car."
This was a big call for Whitmarsh to make, and it was interesting after the race to see Ron Dennis show up in the paddock and ask for the lowdown on what had happened.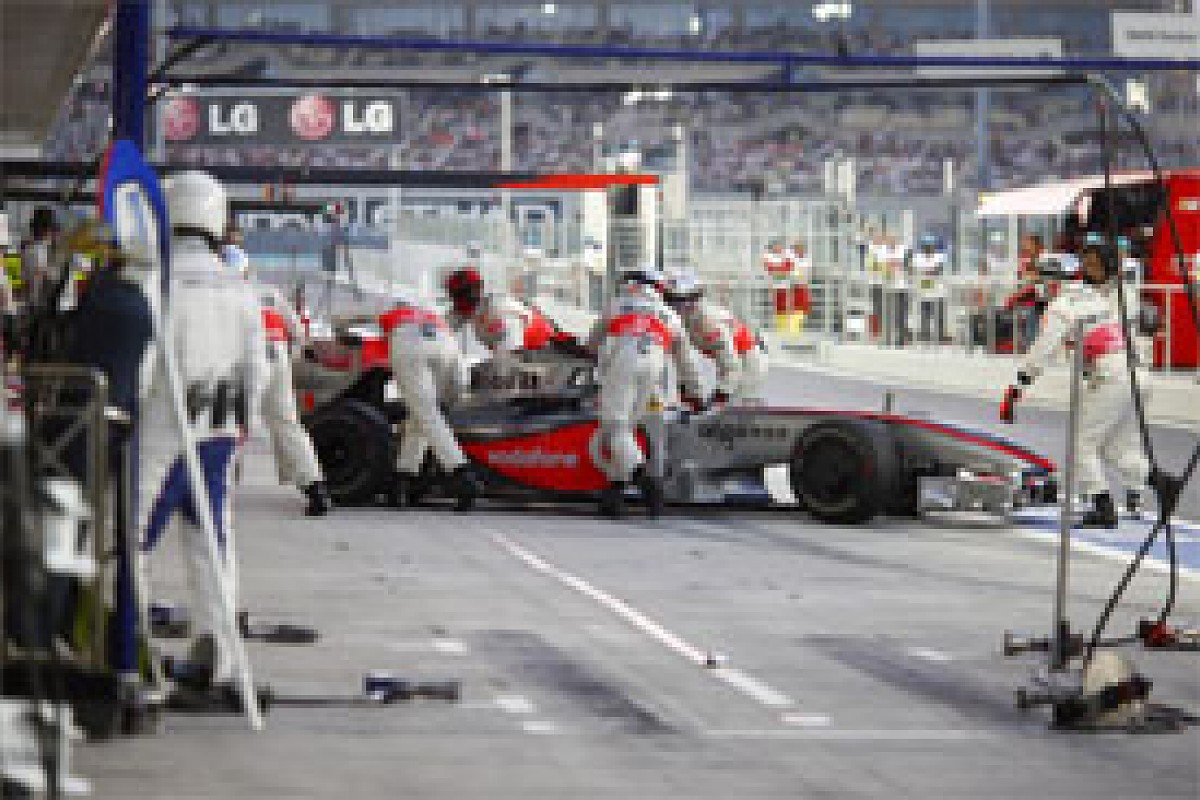 Lewis Hamilton retires with mechanical failure for the first time in his F1 career © LAT
"You don't know at that point whether it's real, or the sensor," Whitmarsh admitted. "Ultimately you've got to make a call, and ultimately I do carry quite a lot of responsibility for the safety of the driver, and I don't believe I had a choice. The data looked right, the sensor didn't look like it was a noisy signal, and you just have to believe it. You face the prospect of pulling the car in and if it was a sensor problem I'd be very foolish. But you don't have a choice, and as it turned out, it was the right decision."
So that was that for Hamilton, but remarkably it was his first retirement due to a mechanical issue, and this at the end of his third year. Even then it was something that the team could justifiably claim was out of their hands.
"Pads can be prone to a manufacturing fault that created something that either wore or oxidised at an abnormal rate," Whitmarsh explained. "It may have been okay on the surface, but underneath, it was faulty. The other pads from the same batch were not a problem, but occasionally you get rogue material and that may be one of those.
"In fairness Brembo has been very, very consistent. Interestingly enough I think Webber had a Brembo problem, which was a pad, in Singapore. But I'm not trying to criticise Brembo."
Hamilton's retirement certainly took some interest out of the race, although to be fair had he not had that problem he would have been miles up the road and we wouldn't have had much of a contest for the lead anyway. It's rare these days for a driver to inherit a victory after someone else hits mechanical trouble, but if anyone deserved to, it was Vettel. He finishes the season with four wins to his name, and that was probably a fair reflection of his brilliant form for most of 2009.
Vettel didn't get a lot of coverage as he motored round in the closing laps, thanks of course to Jenson Button. On option tyres in his final stint Button found the BGP001 to be something like the car he enjoyed so much in the opening races of the year, and he found enough speed to catch and harass Webber as the flag drew near. As we've seen on a number of occasions this year the Aussie is not a man you can mess with, but fortunately they both kept their heads and avoided any silly contact. It certainly made for some good TV as Webber secured his eighth podium of the season.
"It was a lot of fun," said Button. "At the start of the race I really struggled. First of all I got past Rubens [Barrichello], which was nice. And then I struggled with the prime tyre, I just couldn't get the fronts working. When the temperature kept dropping, that was an issue for me, I was struggling to get heat in the fronts. And then when we put the option on bat the end the car was transformed, I had a lot of front grip, and could carry a bit more speed through the corners.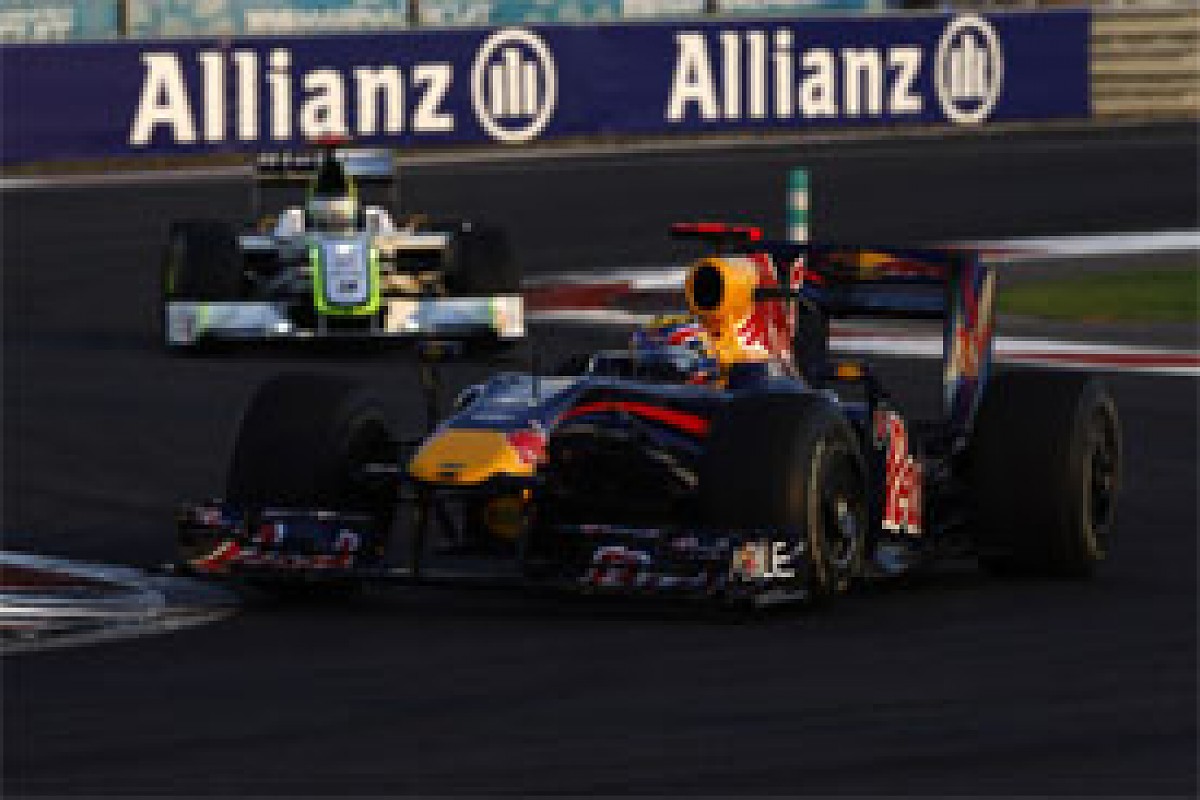 Jenson Button closes on Mark Webber © LAT
"The car was a bit loose, as you might have seen on TV, but fun to drive, and I was able to close down Mark. The last lap was very close. I tried a couple of times, but to be fair Mark did a great job of defending. I went to the outside of Turn 8, and then on the exit I was shoved right up behind him. In reality I should have lifted and maybe tried the inside into 11. He sort of lulled me into it, going to the outside. He did very well.
"That's one move that I wanted to come off this year on Mark, but I had a lot of fun, and that was the aim. This was race a bonus for me. I won the championship in Brazil and I came here to have some fun and enjoy myself, and that's exactly what I did. Disappointed not to have challenged for the victory, but I don't think we were quick enough, disappointed not to have been second, but I got on the podium and finished third."
There's no hiding from the fact that once again, Button was outqualified by Rubens Barrichello (for the 10th time this year), although to be fair Button had some tyre issues when it mattered. But at least he got past Barrichello at the start, helped by the fact that the Brazilian got tangled up with Webber.
"I lost quite a chunk of front wing on the first lap, and I was very competitive so the team decided not to change it!" said Barrichello. "But I'm sure I was still losing a lot of downforce with that. I was still competitive, but even being faster than Jenson on the middle stint, it was very difficult to overtake a competitor. Plus, it's your team-mate, which is a car that is very similar. So there's nothing I could have done."
To no one's great surprise it turned out to be Barrichello's last outing with a team that he joined back in winter 2005, and it was a shame that - since his Williams deal remained curiously unofficial until Monday - he couldn't say a proper public farewell.
There were lots of other goodbyes up and down the pit lane of course. It was good to see BMW Sauber grab a respectable fifth place in its final race in its current form, while Kamui Kobayashi was one of the undoubted heroes of the day as he secured sixth, ahead of his Toyota team-mate Jarno Trulli.
Alas Kobayashi's arrival on the scene was just too little, too late in terms of maintaining the Toyota board's interest in the sport. I wonder how many people in the camp in Abu Dhabi knew what was coming the following week, or at least had a good inkling of what might happen.
It was a very disappointing retreat by a company that has so often bungled its motorsport activities in the past, and yet had finally created a solid and competent team that, with the right driver on board, might have been a real contender next year.
The timing - just three days after the last race - was clearly designed to avoid an embarrassing media grilling, but it also left the staff without the chance to properly mark their departure. The Sauber guys had a party at BMW's expense (and Sunday in their hotel was apparently quite a night), but they now know that most of them will be back in 2010. For the Toyota folk, it really is the end of the line. That decision by the bean counters in Tokyo could prove costly should the FIA and FOM decided to pursue a legal claim on the basis of the Concorde Agreement.