When Ross Brawn closed the door of his Maranello office in 2006 for the last time, after a decade at Ferrari, he didn't believe it could get any better. He bade farewell to the tifosi after clutching the silverware of five drivers' and six constructors' titles, an era during which the Prancing Horse had become as dominant as any team in the history of grand prix racing.
That sense of ultimate - and seemingly unmatchable - fulfilment was long before Brawn Grand Prix rose out of the ashes of Honda in early 2009. In Brazil, Brawn realised that his best days were far from behind him as the team bearing his name scooped both championships just 12 months after Honda's withdrawal had shattered his world.
On his emotions

Q. How does it feel to have a team with your name above the door winning both the drivers' and constructors' championships in its first year?
RB: 'Surreal' would be the best description. It's an incredible contrast to where we were 12 months ago. They say in life that you've got to recognise when the best days are happening to appreciate them, and I thought that happened at Ferrari. But I've realised that there are still some good days to have and this experience has been incredible! It's something that couldn't have been anticipated or predicted.

Q. After the race in Brazil, you were far more emotional than we ever saw during the Ferrari years. Was it so different?
RB: Given the circumstances of how we managed to keep going over the winter, we didn't expect to win. What came thereafter has been called a fairy story - and in some respects it was. We had a very difficult year in 2008 and we had to maintain our resolve in not using energy to try and improve the car, which I thought there was very limited potential to do. For me personally, it was the worst year I've had in 15 years of F1.
Then, at the end of November, when the new car was looking good and we could see the benefits of our work, came the shock news that Honda couldn't continue. During the winter, there were some days when I went home not seeing the way forward, but gradually the fog would clear and we saw it was at least possible to keep going.
Over the winter I probably spent one day a week working with the engineering group. The rest of the time was spent working to save the company. Having gone through that torrid, but very educational, experience Brazil was a fantastic contrast.

On Jenson Button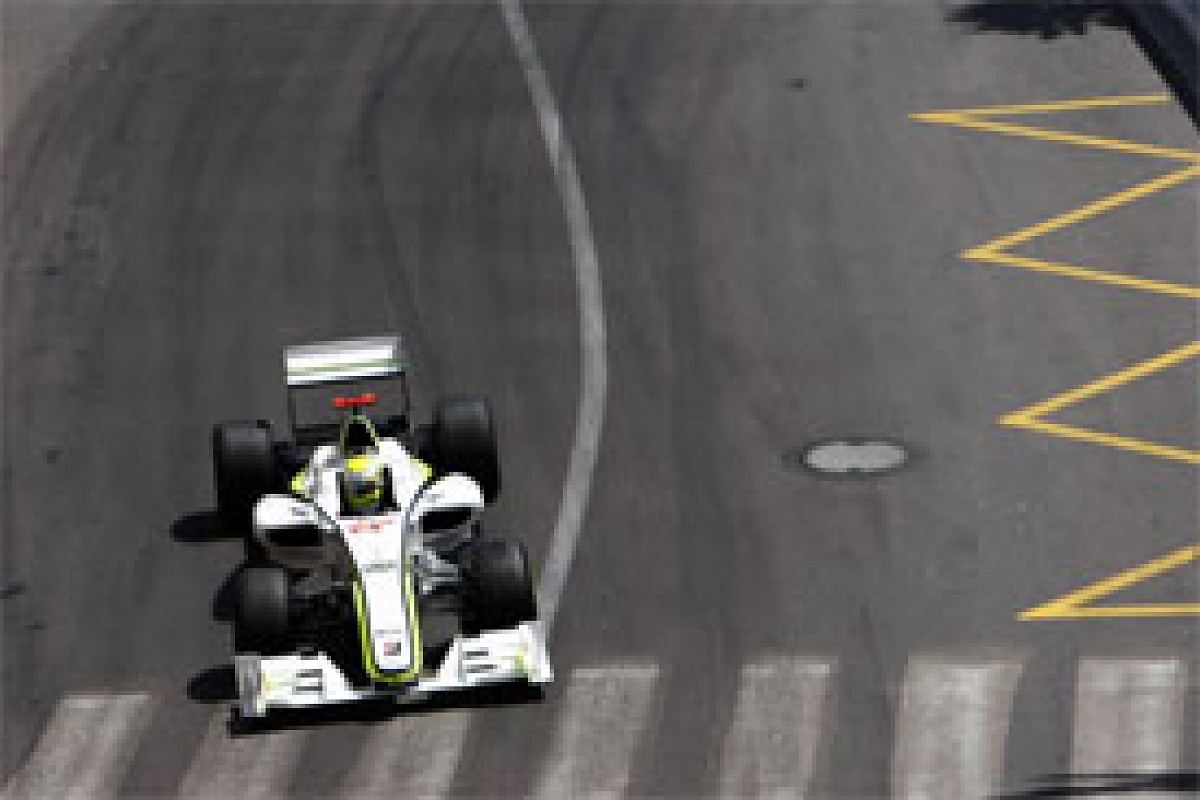 Jenson Button en route to winning at Monaco © LAT
Q. You talked a lot about how Jenson impressed you in the first half of the year, but did you learn more about him as a driver during the tough times that followed?
RB: There were two elements that were in contrast. What he needed was a steady flow of points. If you're leading a football match 3-0 at half time, you don't come out for the second half taking dramatic risks. In the second half of the season, Jenson drove mindful of the championship and wasn't going to take any risks, but there was fluidity to his driving in the first half of the year that wasn't influenced by that. Even Michael Schumacher had that tendency to become conservative when he needed to be.
In contrast to that were his race performances. In those environments the wish to compete, the wish to beat someone, became the defining nature of Jenson's driving. There seems to be this contrast between being conservative in qualifying and being aggressive in racing. Both can have the same negative consequences, but in racing it started to flow and the adrenalin and passion came in.
Q. Is that ability to go into a more conservative mindset and still deliver the required results an undervalued skill when it comes to winning the championship?
RB: That's a good argument. At the end of the day Jenson won the world championship, so you can't criticise his approach. If he had taken a less-conservative approach and lost the car several times in qualifying, where would he be now? The fact is that he's won the world championship and he's won it by taking that approach, so you can't criticise it.
He had a substantial lead by the middle of the season and everyone was saying, 'Well, it's yours to throw away, Jenson.' You've got to take that feeling with you to every race and it's not easy. The guys behind have nothing to lose.

Q. You mentioned earlier in the year about guiding drivers by keeping them focused on the job in hand. Was that difficult with Jenson?
RB: No. He works very well with the team and they're very supportive of him. He enjoys that side of the work - he's there whatever hours it takes to get the job done and he's never one to be pushing to go home early. It wasn't difficult with him to make sure that all the things were in place that needed to be to get the job done. A lot of this job for someone like me is removing the distractions.

Q. Do you see in Jenson the same ability to win multiple world championships that Michael Schumacher had?
RB: Yes. I see the raw ability in Jenson to do that, and what he now needs to demonstrate is the ability to balance the different stages of the season. He will have gained enormous strength from this year and I think it's going to be fascinating to see the next stage of Jenson's career. There's absolutely no reason why he shouldn't win more titles and it's going to be fascinating to see him defending the world championship.

On the future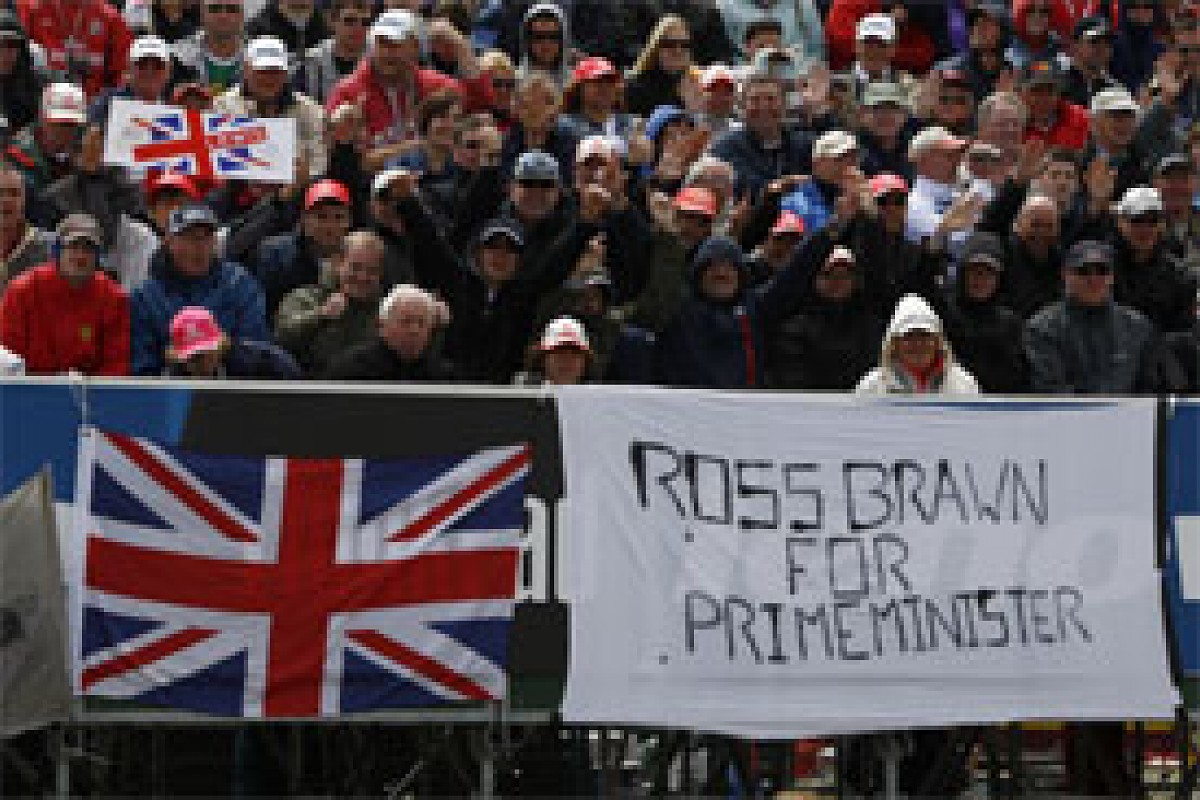 Support for Ross Brawn at Silverstone © LAT
Q. There's a school of thought that assumes the natural order of McLaren-and-Ferrari dominance will be restored in 2010. Are you confident that you'll still be able to fight at the front next year?
RB: The objective I set with Honda was to be a top-three team every year. That will be our objective. You can't win every year, but I believe that with the resources, people and drivers we have we can be a top three team every season - particularly with the resource restrictions that will bring teams to a level that we'll have been operating at for a year or two by the time they have to make their changes.
By 2011 everyone is going to be Brawn GP size. The nature of F1 is moving towards the privateers in the future.

Q. Are you absolutely confident in the financial stability of the team and your ability to develop a race-winning car for next year?
RB: We're quite comfortable with next year. We've got a title sponsor that will become clear over the winter and we're looking good in other areas. In terms of the car, all you can do is plan for it to be better than the last one. There are no dramatic changes in regulations, so there's nothing we're going to get caught out on.
It will be a better car for many reasons. We made a lot of compromises on the car this year because of the late fitting of the engine and we won't have to make those compromises for next season. But against that, a lot of the other teams will have a year's worth of understanding of the regulations and I'm sure they're going to go forward.

Q. You've done it all in F1 - won races and championships with other teams, and now with Brawn GP. How do you find the drive to keep going and build on those achievements when there's nothing left you haven't done?
RB: If you enjoy it, why would you stop? I stopped at Ferrari after 10 years because the ambitions were levelling off. When you wake up in the morning, do you spring out of bed and want to get to work? At the moment I do.
At Ferrari I just started to feel that it took a little bit more to swing that leg out of bed, and that was the message to me that it was time to have a break. Then I came back to this team with fresh energy. I don't know when that energy will stop, but I tend to stop when it's ebbing a bit rather than disappearing completely.
I'll know the signs of when it's time to stop and I'm not getting them. I'll carry on until I start to see the down side of the slope.