"We give Bernie a hard time sometimes but he still creates races and encourages people to build facilities like this. I think it's just fantastic," Ross Brawn said.
It was a sentiment unanimously expressed and anyone witnessing the size and scale of the Yas Island project and the Yas Marina circuit could not be other than impressed. When you walked the track and looked around you, it was hard to conceive that this had all been done to host a Formula 1 race. Twenty or 30 years ago it would have been simply unthinkable.
Kimi Raikkonen speeds past the Yas Marina hotel © LAT
Last week I talked about the feelings of history and tradition behind places like Silverstone and it was more than ironic that a delegation from the home of British motorsport was right there in the middle of Abu Dhabi trying to sort out a cut price deal for the British GP. I truly hope they succeed, but looking all around them cannot have done too much for their confidence.
The circuit offering itself was the latest from Bernie's track guru, Hermann Tilke, and it got nods of approval even if there had been prior concerns that the second half of the lap was a bit too 'Mickey Mouse'.
Walking it, you did wonder about the lead into the T7 hairpin, which goes out onto the back straight of over a kilometre. Turns 5 and 6 are slow left-rights, which meant everyone filing slowly into the hairpin and accelerating out at the same speed - not ideal for promoting overtaking.
It would have been more interesting to continue the previous straight right into T7, forcing people to defend the inside and creating a variety of lines and speeds through the hairpin out onto the back straight. But that would have meant cars arriving into T7 at high speed in an area bounded by multiple spectator grandstands. There were safety concerns about that.
At the end of the long straight into T8 though, they had raised the spectator grandstands and sent a run-off area underneath them, which did make you wonder if the same thing might not have been done to facilitate a more challenging entry to the T7 hairpin.
That's probably nit-picking and with a number of off-camber corners promoting different approaches and the need to temper use of the throttle, the track generally went down well with the drivers too.
Martin Brundle, who'd experienced it in a two-seater, said: "The off-camber sections are right where you want to be picking up the throttle and can be frustrating, but it's another element."
Brawn added: "It is a very good track with interesting combinations and quite challenging from a racing perspective. The pit lane exit is controversial but I sometimes think we are getting a bit sanitized in F1, so a bit of extra challenge for the drivers is not necessarily such a bad thing."
The drivers were clearly treating the pit exit with much respect, not wanting to be the first to suffer the embarrassment of sticking their car in the wall. Anthony Davidson apparently tried it on a simulator 17 times and crashed 16 of them. Nico Rosberg reported similar experiences.
McLaren's Martin Whitmarsh said: "The drivers like the track, it's very smooth and if they can keep their teeth in for the weekend that's always beneficial!" And not necessarily the case in Singapore, for example...
"Given what's been invested here," he added, "I would have thought that perhaps we could have had some slightly more challenging corners but it's easy to be critical and overall what has been done here in the time frame is truly incredible."
Amazingly, it's less than three years since Bernie first met a representative of the Abu Dhabi crown prince who explained that, unable to land the soccer world cup or the Olympics, they'd like to host a grand prix.
Abu Dhabi has a 20-year plan along similar lines to Dubai, with a shift in emphasis away from oil and into developing the Emirate as a tourist and business destination. They had seen what a race had done for Bahrain and they wanted to steal a march on neighbouring Dubai.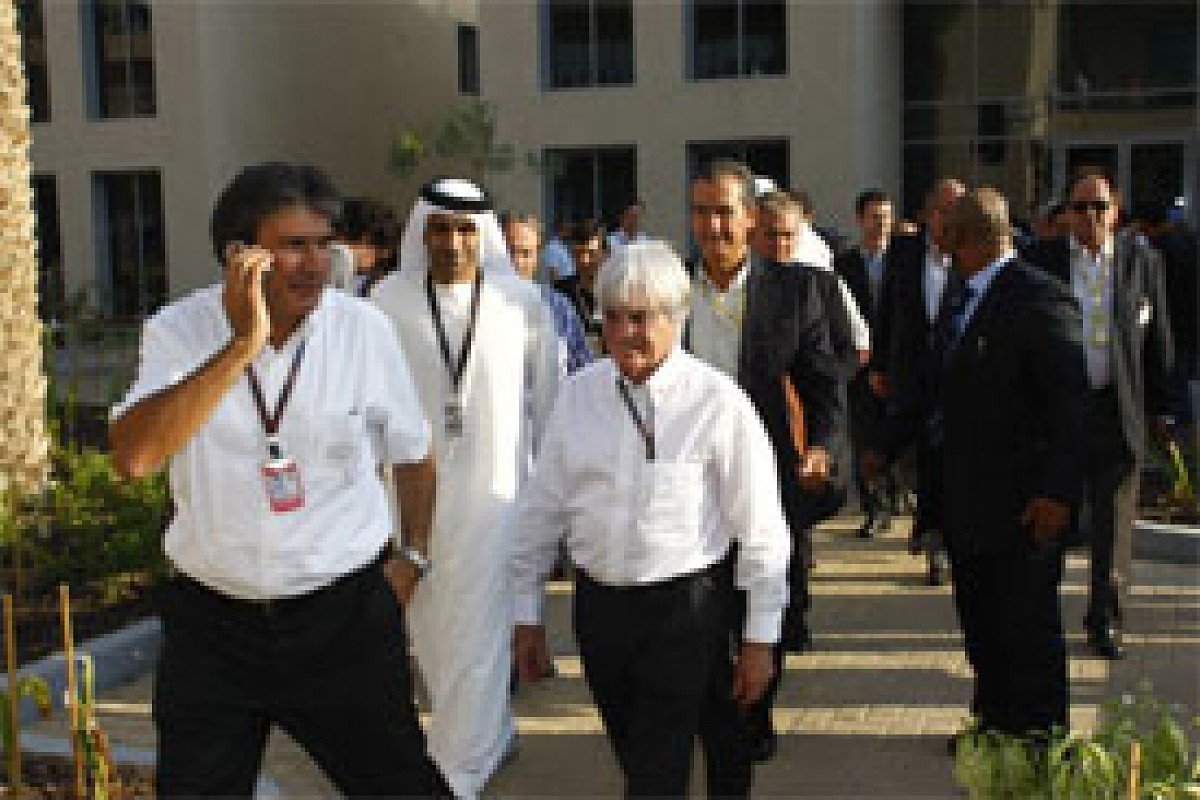 Bernie Ecclestone and a local delegation © LAT
If rumours are to be believed, Bernie had to tread more than a few eggshells to get it on. First, Bahrain is believed to have had a regional exclusivity deal which needed renegotiating, and that is said to have involved Bahrain becoming the season-opener, which it last was in 2006 when the Commonwealth Games clashed with the Melbourne GP. But the Aussies like their opening slot and Bernie is close to circuit promoter Ron Walker. The word is that the Melbourne boss may have been appeased by a better deal, easing his problems with Victorians who regularly bleat about the spending of taxpayers money on the vroom-vroom circus.
Putting true figures on Abu Dhabi's investment is tricky because the circuit is part of the whole £35bn Yas Island project, but it is regularly reported that Abu Dhabi is swelling Bernie's coffers by £35 million a year to put the race on.
Some new races, Turkey being an example, generate a lot of interest in year one and then seem to wane, calling into question their long-term validity.
Talking about Abu Dhabi though, Whitmarsh added: "The number of people from our partners who have been clamouring to get here is quite revealing and it has been a hectic weekend with loads happening. The backdrop looks spectacular, there's some beautiful architecture, the facilities are great and there's commitment to making a success."
He wasn't wrong about the backdrop. On TV it looked stunning. And that's another thing people don't give Ecclestone enough credit for. The F1 show, everywhere other than Monaco and Japan, is brought to you by Bernie's own huge FOM TV production operation and, for me, they do a super job. Ecclestone is a perfectionist and he realises that the ultimate quality of his product is only as good as is seen on TV. He subscribes to the maxim that if you want a job done well, do it yourself.
Yas Marina circuit CEO Richard Cregan - an Irishman formerly Toyota's team manager and a man who can cut through several layers of bull at one easy stroke, was among those wowed by the TV images.
I went to find Cregan on Friday night after the first day's activity, but instead came across one of his staff. "Richard's around," he said, "but I want him driven home soon. He hasn't slept for three days and I don't want him falling over before Sunday!"
It was post-race when I caught up with the man. Had he had time to actually watch the race?
"Actually," he smiled, "I was with my wife Patricia for the first time in the weekend and we had a look from the lounge upstairs. I just couldn't believe how it looked - absolutely amazing!"
What had been the biggest trials and tribulations?
"I think the biggest thing was putting a team of people together and at the same time building the company and working with Aldar and Hermann Tilke and Philippe Gurdjian and all the Abu Dhabi authorities on the project itself. The whole lot came together in the end but it was huge. The most amazing thing is that a year ago nobody believed it was going to be finished.
"I've always been involved with either aircraft or motor racing and then you come here and it was all very different. Patricia and I have both loved living in Abu Dhabi, very friendly people, and hopefully now we'll have a bit of time! There's a great 'can do' attitude here. You come up with an idea and if it's accepted it will be implemented, simple as that."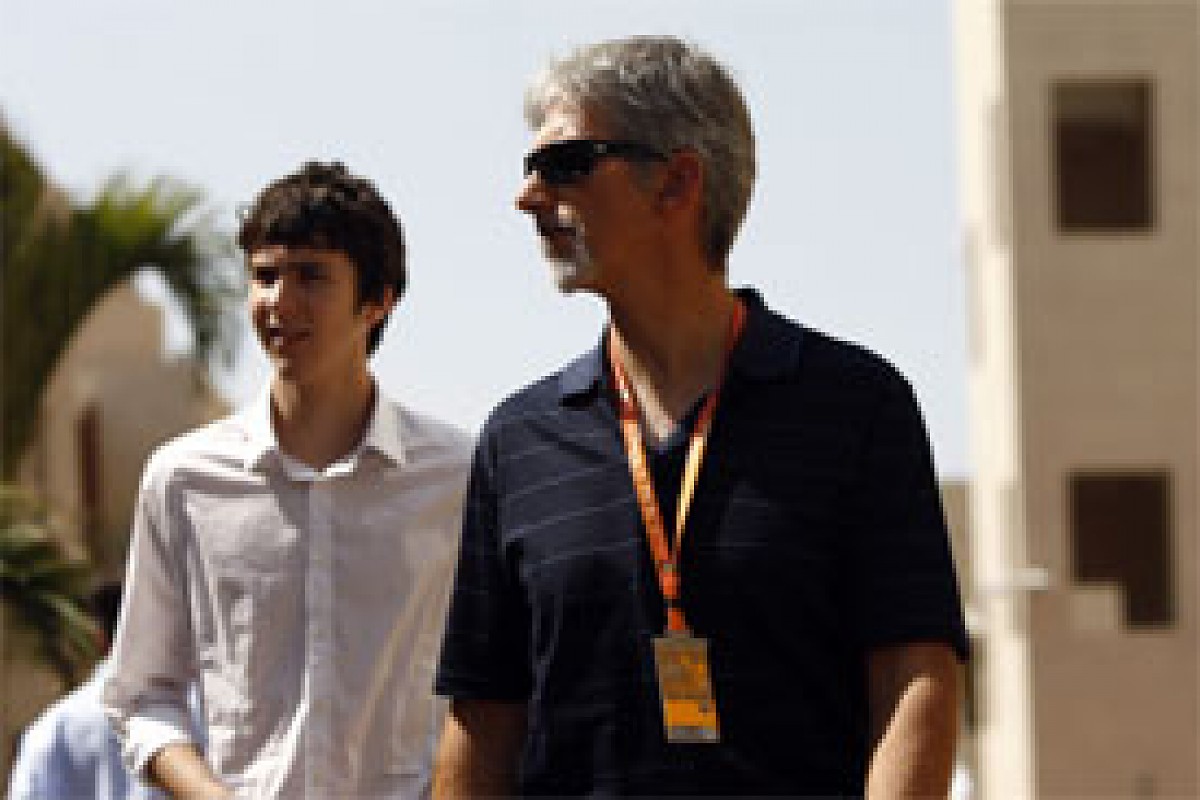 BRDC President Damon Hill © LAT
I mentioned the visiting Silverstone delegation and their contrasting position.
"Yes," he said, "but I think you have to see it differently. Every circuit has its character and this is a great circuit. It has great potential and there is a lot more potential to come. But I think people have to remember this is backed by the government and that makes a huge difference. You go out there, you get your budget and you build your circuit. If you look at other circuits around the world that are operating as a private enterprise, it's a lot more difficult. But then look at Silverstone and look at the numbers they have. That says it all really. Everybody wants to go there."
What, I asked, had been Cregan's biggest concerns?
"You were looking at it and thinking: is this going to happen?" he admitted. "But to a certain extent I think projects always expand to fill the time available. The difference here was the short time to get something done to a very good standard. Six months ago there was no water in the marina, the pontoons were at the bottom and everyone was wondering if they'd even float!"
The boats hadn't just been borrowed from the Abu Dhabi Yacht Club, they were paying guests that had come in from all over the UAE and Gulf. Yas is one of the most modern marinas in the UAE and many of the boats are there permanently now.
The downsides were few. Some Yas Island hotels were opening for the very first time and one or two reported opening a door and finding that they did indeed have a room, just no electricity! All part of the fun.
As Norbert Haug put it: "This was a step further than Bahrain or China. You could feel that people were really proud and if there was a small detail problem they'd apologise and say they weren't quite ready. I said, 'listen, I've been to races that have taken place for 50 years that are less perfect than what you have so far.
"The changing day/night gave fantastic pictures and I think it's important for F1 to send good messages. It's fine having 40-50,000 spectators but it's all the people outside that count."
Which will be the main concern for the likes of Silverstone and the more traditional, unfunded venues. Even a man close to Silverstone, who thinks that Bernie is being a touch greedy, looked about him and conceded that when you look at all this you can't really say he's wrong...
When you do the maths, with the difference between what Bernie is paid by Abu Dhabi and what he is asking Silverstone, he could buy 200,000 people a £100 British Grand Prix ticket and still have £3m left in his pocket.
When you look at it like that, tradition and heritage does not coming cheap. On the other hand, how many sustainable Abu Dhabis are there?
Silverstone says that CVC's attitude is that they leave all that down to Mr E. It's a tough balance for Bernie, who's not known for turning down money. But, for the sake of all those who look forward to their annual pilgrimage to the British GP, let's hope it's a balanced that can be achieved.