Hamilton's margin
Lewis Hamilton obtained pole position in Abu Dhabi with an advantage of 0.667 seconds over Sebastian Vettel, making this the largest gap between the first and second driver on the starting grid since the 2005 Hungarian Grand Prix, when Michael Schumacher put 0.897 seconds between himself and Juan Pablo Montoya.
In the last ten years only eight times a gap greater than 0.667 seconds was recorded out of 174 qualifying sessions run.
First failure for Hamilton
Lewis Hamilton experiences his first mechanical DNF in Abu Dhabi © LAT
Lewis Hamilton suffered in the Abu Dhabi race his first mechanical failure. Hamilton was running the second streak for consecutive races without mechanical issues, a total of 52 grands prix.
The absolute record of Michael Schumacher stands: the German was able to run 58 races without retiring for mechanical troubles from the 2001 Hungarian Grand Prix to the 2005 Malaysian Grand Prix.
The best running sequence is now held by the new world champion, Jenson Button: 35 races, his last mechanical breakdown being an Honda engine expiring in the 2007 Brazilian Grand Prix.
Two historical teams in trouble
Worst qualifying showing of the year for Ferrari, with Kimi Raikkonen in eleventh and Giancarlo Fisichella last, for an average starting place of 15.5. Excluding the 2006 Malaysian and Monaco Grands Prix, when the red cars were hit by penalties, this was the worst qualifying session since the 1985 South African Grand Prix, when Michele Alboreto was fifteenth and Stefan Johansson sixteenth obtaining the same average starting position of the 2009 Abu Dhabi Gran Prix. To make matters worse. for the first time since the 1993 season, Ferrari failed to record a single pole position.
The final result in the Constructors' Championship reflected also a lack of performance of the Italian team, which ended in fourth place for the first time since the 1992-1993 years.
Bad news also for Renault, which scored its worst performance (average starting place: 17) since the 1985 German Grand Prix. At the time the French team fielded three cars: regulars Patrick Tambay and Derek Warwick, were joined by Francois Hesnault, whose car was fitted for the occasion with a camera.
The three Renaults qualified in 16th, 20th and 23rd position, for an average place of 19.6, marking that the worst result in the team history since its fielded two cars per race. The 1979 Long Beach Grand Prix is not considered as both cars had to withdraw: Jean-Pierre Jabouille suffered from a broken wrist after an accident in practice and the team preferred not to start Rene Arnoux due to repeated mechanical failures in his car.
Renault posted in the Constructors' Championship their its result since 1978, when it finished in twelfth position. Since its return to racing in 2002 its worst result was a fourth place scored in 2003 and last year.
Massa's private property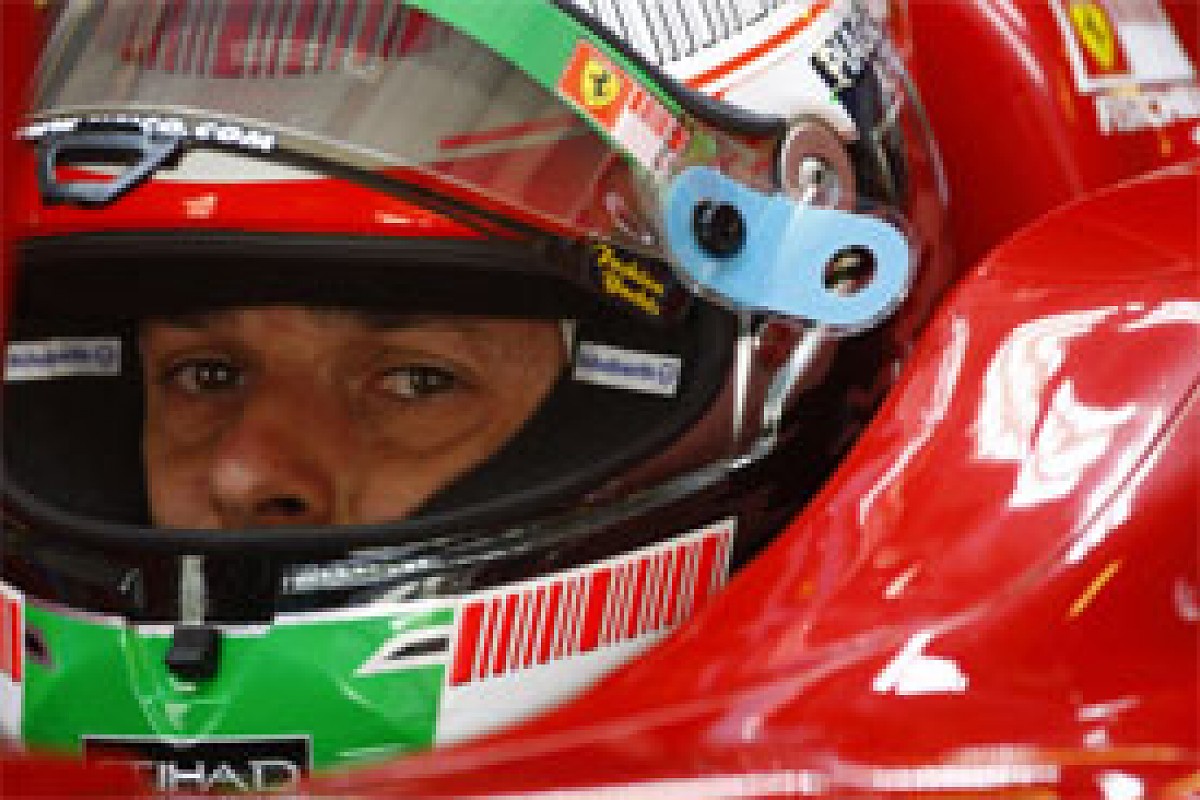 Giancarlo Fisichella © LAT
It was not an easy time for Luca Badoer and Giancarlo Fisichella in the Ferrari number three, whose empty seat had to be filled from the European Grand Prix onwards.
The best qualifying result for Felipe Massa's substitutes in Ferrari was a fourteenth spot, recorded by Fisichella in Italy and Japan.
Fisichella and Badoer averaged a qualifying starting spot of 17.7, while Massa, up to the German Grand Prix, recorded 8.6 and even in the Hungarian Grand Prix, when he had to withdraw after the accident, he was able to reach the third qualifying stint.
In the nine grands prix contested this year, Massa only once fell below thirteenth place in qualifying, it happened at the Malaysian Grand Prix, when a strategical mistake left him outside the first fifteen times.
In the last five races before the accident, Massa scored 22 points, with a third place in Germany, while his stand-ins didn't score at all. Fisichella's best result was a ninth place in the Italian Grand Prix.
Abu Dhabi qualifying notes
Seventeenth pole position for Lewis Hamilton, who reaches Jackie Stewart at the fourteenth all-time place; tenth last place in qualifying for Giancarlo Fisichella, who reaches Paul Belmondo and Ricardo Rosset at the fifth all-time place. At the top of the list Tarso Marques, with fifteenth starts from the last grid spot.
Abu Dhabi race notes
Sixth win for Sebastian Vettel, up at the 36th all-time spot and tenth podium placement for Mark Webber. For the fourth time this season Red Bull was able to post a double, equalling the score of Brawn GP; first race points for Kamui Kobayashi thanks to a sixth place. The last Japanese driver in the points before Kamui was Kazuki Nakajima in the 2008 Singapore Grand Prix. He was also the last Japanese to score a sixth place, last year in Australia.
128th race in the points for Rubens Barrichello, who reached Alain Prost at the second all-time place. Next step is Michael Schumacher at 190 races in the points. Assuming a seventeen-race calendar and Barrichello going in the points in fifteen each year (like he did in 2009) he would reach Schumacher in...2014, but by then he will be 42 years old.
Fernando Alonso equalled his worst season result under the chequered flag, a fourteenth he obtained also in Silverstone.
For the first time since the 2002 German to Belgian Grand Prix, Renault failed to score points in three successive races.
To continue reading this feature, subscribe to Autosport Plus today.
Expert opinion. Technical insight. Unbeatable analysis. Subscribe today for unlimited access to the world's best motorsport journalism.
Get unlimited access now
No more monthly limits. Get complete access to all our news and Autosport Plus features.
Subscribe to Autosport Plus
Completely ad-free environment.
Access Autosport Plus - the best motorsport analysis, insight and opinion.
No monthly news limit.
Explore Forix, the world's most comprehensive motorsport stats database.