Jenson Button is being accorded a rare privilege this weekend as he conducts what amounts to an extended victory celebration in Abu Dhabi.
Final round showdowns have been so common in recent years that the last man to win his first title before the end of the season - and thus have the chance to race again with the job done and dusted - was Fernando Alonso in 2005, when Brazil was the year's ante-penultimate event. Before that, the last maiden title winner to clinch the championship early was Nigel Mansell, way back in 1992.
It was good to see Button in relaxed mood on Thursday afternoon, and hear him chat about the celebrating he's done in the past week, and which he has clearly relished. It was interesting too to hear him admit to the degree of stress and pressure that had weighed heavily on his shoulders since he first grabbed the world championship lead back in Melbourne. Before he clinched the title in Brazil it was not a subject that he would elaborate on to any great degree.
Edging towards his goal with a sixth here and a seventh there was probably not what he would have wished for. One of the most amazing statistics of this season is that in the nine races since his last win in Turkey, Button scored 28 points. And that was fewer than Sebastian Vettel, Hamilton, Raikkonen, Rubens Barrichello and Mark Webber. But in the end none of that mattered, and he finished in Brazil a comfortable 15 points ahead of any other challenger.
"Obviously we started the year not knowing where we would be, whether we'd have a drive," says his manager Richard Goddard. "What was going to go on with the team, how funded they would be, all the various issues that have come up during the year with the team. But from our perspective to be here now and having had the car end up being so good, and Jenson being so good in the car, is absolutely fantastic. It's a fairy story, isn't it?
Jenson Button en route to his sixth victory of the year at Istanbul © LAT
"Having the right equipment is massive in this sport, but from Jenson's perspective he's always been that quick and he's always been that good. This time he had the car to prove it. The first few rounds went swimmingly, everyone was playing catch up, and he was able to disappear and do what he does best. But then there were a few issues in the middle, various little set-up things. Nothing ever goes that smoothly.
"Standing outside something like this, it's pretty easy to criticise. But when you're in it, and you've led from the first race, it's a little bit more difficult situation to be in. No one knows what's going on inside the garage, and with set-up, and everything else. Rubens is an excellent driver; he always has been an excellent driver. Jenson had the jump on him at the start of the year and did a brilliant job, and Rubens came back very, very strongly, as he would."
Goddard was pleased that Button won the title with that feisty performance in Brazil, especially after the low of qualifying so badly.
"I think he was frustrated because he knows how quick he is, and that was much more of an issue for him. It wasn't a case of Rubens beating him, it was a case of him not being as quick as he wanted to be. After qualifying Jenson was supremely confident that he could come from the back, push his way through, and do something good. Which as we saw, he did."
It would have been easy for Button to get tangled up in the first lap chaos at Interlagos, or make an unlucky call as he passed some of the less experienced drivers who had ended up in front of him after that convoluted qualifying session.
"The first lap was a worry because we were trying to make progress," says his engineer Andrew Shovlin. "And there's always a risk when you're trying to overtake people. Luckily we didn't touch anyone. He came close a few times.
"He's fast, smooth, consistent, doesn't make mistakes. There aren't many points that Jenson's lost through mistakes in races, and that's what I think has made the year for us."
It's been a great season too for the whole Brawn team. There are still plenty of guys on board who go back to the early days of British American Racing, and who stayed loyal through the Honda era. There have been ups and downs, and several major management reshuffles, but the core of the team has remained largely the same.
One of the bedrocks has been team manager Ron Meadows, who was one of the very first employees.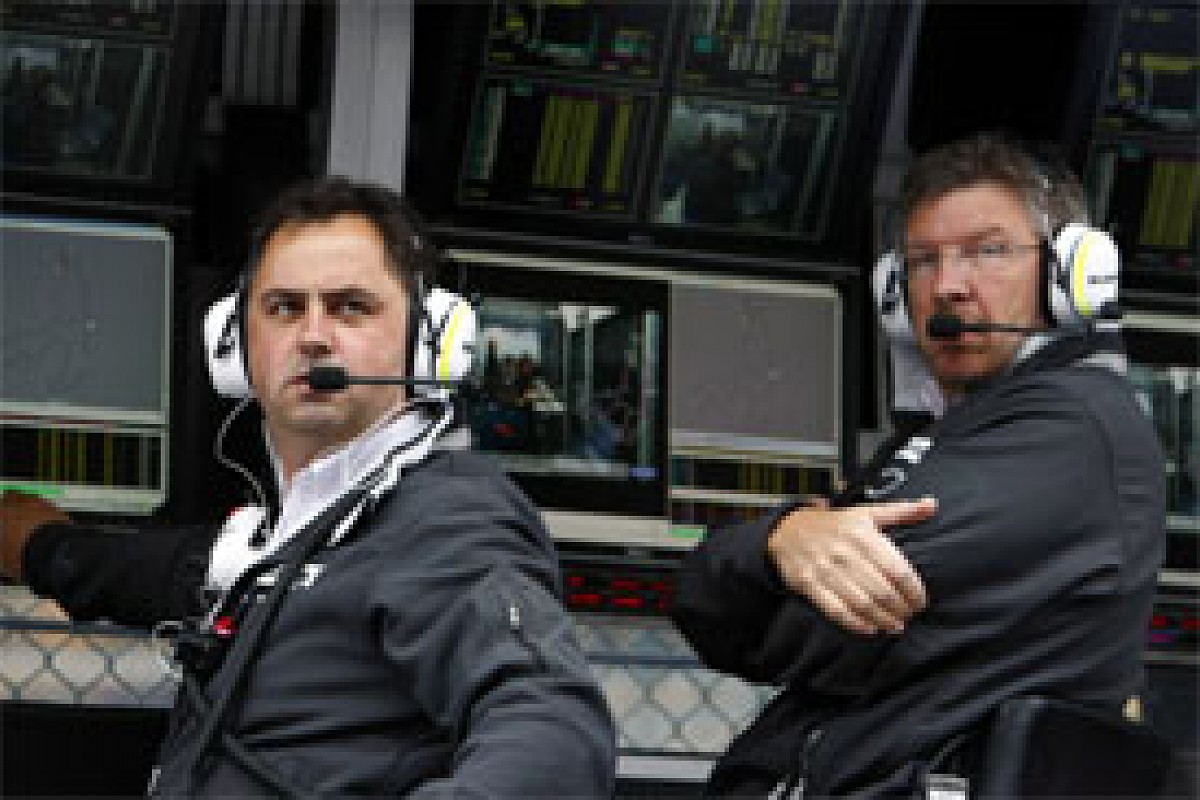 Team manager Ron Meadows and Ross Brawn on the Brawn pitwall © LAT
"You can't put it into words can you?" he says of the season. "After the winter we had and out performance over the last couple of years. It wasn't unexpected after our results in the first half of the season, but we made hard work of it towards the end.
"You've got to dedicate it to all the employees, the ones who are there now, and the ones who had to leave. It was such an unnerving time, but they all stuck with it and did such a fantastic job, stay focused, and believed that we were going to make the grid. Probably none of them believed that we were going to be world champions when we were going through this, but we turned it around."
Button may still have to convince a few sceptics who question his place on the list of all time greats, but those who know and work with him have no doubts about his abilities.
"People who understand motorsport who take the time to look into it know that he's a very good driver," said Meadows. "He can be special on occasions, and in the first half of the season, he was unbelievable. He had some fantastic races this year. Qualifying wasn't great for the last three or four, but in the races he was stunning. In Brazil he drove like a real star. He was going up the inside from way back.
"OK, Rubens has really been on fire in the last half of the season, he's done a really good job. We shouldn't lose sight of the fact that Rubens is a super fast driver, massively motivated, and seeing this chance to get this world championship, he gave it everything. Jenson may have been a bit cautious on occasions, but so were we as a team. But in the races he gave it everything."
Ross Brawn's experience of title campaigns was a priceless asset, although even he hadn't experienced an intra-team battle before.
"You can't buy that experience," says Meadows. "Ross is so good, he's got such a level head, no matter what's going on. He understands what it takes. He kept saying this is going to ebb and flow, don't worry, we shouldn't panic. Some races weren't great, especially when Red Bull had one-twos at mid-season and they were really pushing on. But Ross said let's dig deep, and we came back with a one-two of our own. We couldn't have done it without Ross, that's for sure."
The fascinating thing will be what happens next season. The exact nature of the new relationship with Mercedes has yet to be revealed, and of course, we still don't know who's going to be driving.
The key question is this - can Brawn maintain its winning momentum without the launch pad of a full year of R&D (paid for by Honda)? Everyone knows that it's going to be tough, and Meadows is no exception.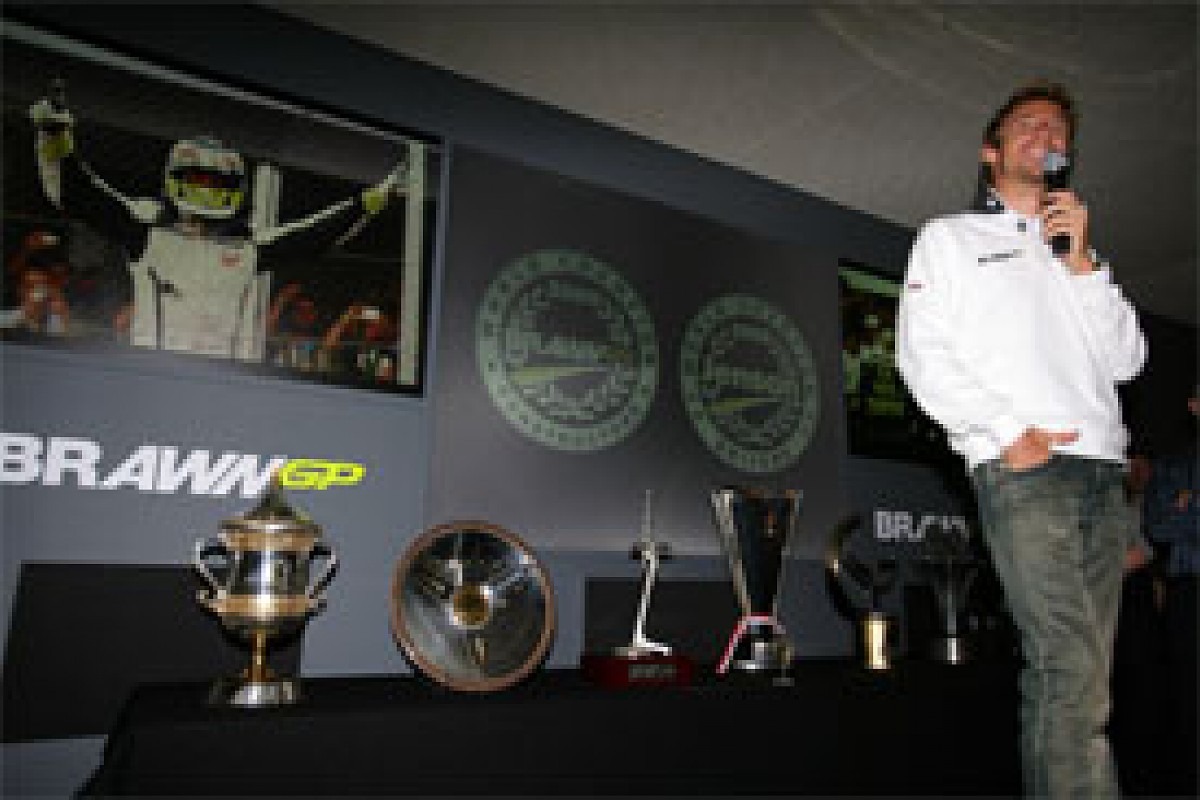 New world champion Jenson Button addresses the team at the Brackley HQ © LAT
"Absolutely. We stole a bit of a march when we decided to work on the 2009 car early on, but we've been working on the 2010 car for some time, and it should be a good step. We don't want to be a yo-yo team, we want to stay at the sharp end of the grid, and I believe we can do that. We've got fantastic leadership from Ross, a very strong technical office, great partners in Mercedes, so we don't really have any excuses."
Meanwhile Button and the team have this last race to get out of the way. The champion showed he meant business by being near the top in the first session on Friday, and he's clearly determined to go out on a high, and show that with no need to worry about a point here or a point there, he can get the job done.
"I'm really looking forward to Abu Dhabi," said Brawn after the flag in Brazil. "There's no pressure there, and he can enjoy the race as world champion. I'd be very interested to see what sort of Jenson Button we see in Abu Dhabi."