Fire in the Benetton pits during the 1994 German Grand Prix at Hockenheim © LAT
Last grand prix of the refuelling era
The Abu Dhabi Grand Prix will mark the end of the refuelling era, which started in 1994 and has lasted for 272 races.
These are the relevant statistics and some curiosities about these sixteen years:
• The most successful winner of the era was Michael Schumacher, who collected 89 of his 91 wins in this period followed by Fernando Alonso (21), Mika Hakkinen (20) and Damon Hill (19).
• The transition from the previous era to the refuelling one was rather abrupt as among the 26 winners, the only drivers who also won a race when they had to race with full tanks were Gerhard Berger (eight wins before 1994 and two after) and Nigel Mansell (30 wins before 1994 and one, the 1994 Australian Grand Prix, after).
• Even though some drivers, like Mansell and Michele Alboreto, were able to race in the first refuelling era, which took place briefly in 1982 and 1983, and extended their careers up to 1994 and beyond, no one was able to achieve wins in each of these three periods.
• The driver with the highest number of race starts in the refuelling era is all-time record holder Rubens Barrichello, with 267 races of the 283 he ran so far taking place under these rules.
• On the unlucky side, the most curious case is the one related to Hideki Noda: he started three races with a car to be refuelled before the finish, but he actually retired before being able to put some more gas in his tank. In the 1994 European Grand Prix he was sidelined by gearbox failure after ten laps, in the following Japanese Grand Prix he spun off on the first lap and in his final run in Australia his Larrousse let him down after 18 laps due to an oil leak.
• There are two other drivers who started a race and never made it to the refuelling hose: Philippe Alliot (two races) and Stephane Sarrazin (one).
• The only driver able to complete a race without a pitstop in the 1994-2009 period was Mika Salo in the 1997 Monaco Grand Prix, in a Tyrrell-Ford. Salo covered 208 kilometres of a rain-reduced race without refuelling and finished fifth.
• The most successful team in this period of time was Ferrari, with 107 wins in front of McLaren at 60 and Williams at 42.
Last qualifying session with fuel onboard
Article 34.1 of the 2010 FIA Sporting regulations states that "fuel may be added or removed" in the post-qualifying parc ferme. This means that after seven years of qualifying grids decided with the cars taking the fuel for the first part of the race, the empty-tanks, all-out qualifying laps are back for 2010.
• From 2003 to 2009 the drivers who obtained the highest number of poles are Fernando Alonso and Michael Schumacher at 18. Schumacher has a better performance record though, as he recorded his poles with only 71 starts, while Alonso ran in 121 qualifying sessions.
• Lewis Hamilton and Kimi Raikkonen follow at 16 and Felipe Massa is immediately behind at 15.
• Hamilton is the driver with the best scoring percentage, with 16 poles out of 51 races: 31.4 per cent to Schumacher's 25.4 per cent.
• As far as teams are concerned, Ferrari is the team with the highest number of poles in this period of time, with 45 to McLaren's 32.
B(r)a(w)nana split
Jenson Button won his last race and spent his last lap in the lead at the Turkish Grand Prix, back in early June, then he endured a tough second part of the season in which he struggled to reach the podium. Button was able to finish among the first three seven times out of the first eight races and only once in the last eight.
If we split the championship into two halves of eight races, some interesting figures come up:
• Button scored 64 points in the first eight races and only 25 in the last eight.
• Had the championship started at the ninth race (the German Grand Prix), Hamilton would have been champion with 40 points, followed by Raikkonen at 38. Button would have finished only sixth behind Sebastian Vettel, Rubens Barrichello and Mark Webber.
• The Brawn GP team scored 105 points in the first eight races and nearly half as many, 56, in the following eight. With full points awarded in the Malaysian Grand Prix the total of the first part would have been 112 points, making it exactly the double of the last eight races.
• Only Vettel was able to win a race in each half of the season, while Hamilton, Raikkonen, Barrichello and Webber won only in the second part.
• Hamilton's improvement in the second part of the season is amazing: up to the British Grand Prix he had scored only nine points and his best result was a fourth in Bahrain. From Germany onwards he won twice and ended up on the podium in five races out of eight.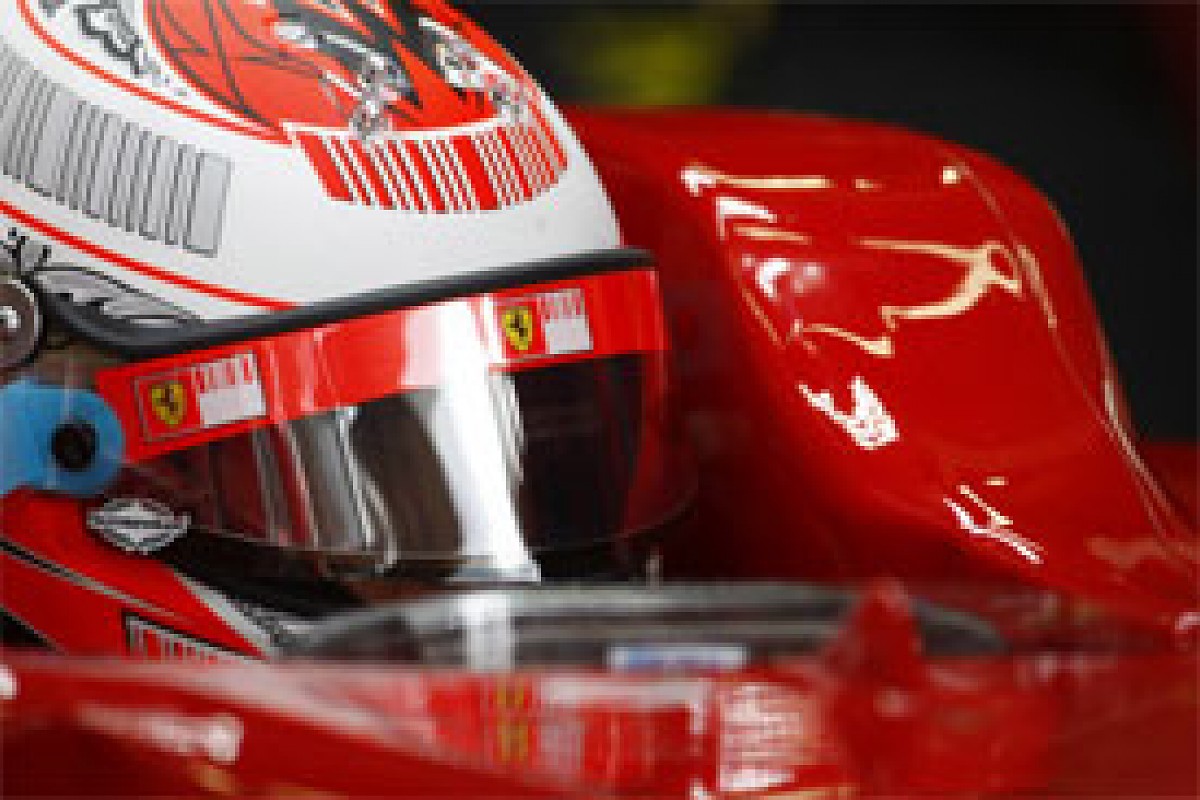 Kimi Raikkonen © LAT
Last chance for Raikkonen and Ferrari
Raikkonen is placed third in the all-time rankings for fastest race laps: Schumacher leads with 76, followed by Alain Prost on 41 and Kimi at 35. Raikkonen was also able to twice set the season record of ten, in 2005 and last year, a record shared with Schumacher, the first one to post ten fastest laps in a season, back in 2004.
This year though, Raikkonen wasn't able to post a single fastest lap, an event which hadn't occurred since his maiden Formula 1 season, back in 2001.
Abu Dhabi is therefore the last chance for the Finn to record a fastest lap, or a pole position, since he hasn't started from pole this year either, which hasn't happened since 2002.
If Raikkonen raises his game and posts a pole position or a front row start, he will also help Ferrari to improve its worst season of qualifying since 1993. This year Ferrari has never started from pole and recorded only one front row start. 1992 and 1993 were the last times the team did not record either.
All-time record scenario
This year ten drivers were able to post a fastest lap, a season record set also in 1954, 1975, 1976, 1981 and 1982. The ones who haven't set a fastest lap and could become the 11th of the season are: Hamilton, Kovalainen, Fisichella, Raikkonen, Kubica, Heidfeld, Grosjean, Kobayashi, Alguersuari, Buemi, Nakajima and Liuzzi.
Similarly to Ferrari's drought of poles, McLaren has so far recorded an entire season without fastest laps for the last time since 1996.
Alonso leaves Renault
Alonso has signed to drive for Ferrari next year and will end his partnership with Renault after 105 races. He will miss the sixth all-time spot for races run with the same team by just one race:
Driver              Team     Race starts
Michael Schumacher  Ferrari  179
David Coulthard     McLaren  150
Jacques Laffite     Ligier   132
Mika Hakkinen       McLaren  131
Alain Prost         McLaren  107
Nelson Piquet       Brabham  106

End of season miscellany
• Jenson Button scored points in 15 races this season, equalling his personal best set in 2004 when he recorded a total of 85 points and was third behind the Ferraris. A 16th race in the points will take him to the second all-time value in this category, recorded seven times in Formula 1 history, the last time in 2007 by Fernando Alonso.
• Button is also the most successful driver this year, with six wins. In the last two seasons this was the highest number recorded by a single driver. In 2006 Michael Schumacher and Fernando Alonso finished the season tied on seven wins each.
• Button also leads the podium count with eight. The last time the most successful driver counted less than ten podiums during a season was in 1997, when Michael Schumacher and Jacques Villeneuve finished at eight podiums each.
• Vettel and Button scored four poles each this season and if neither of them scores pole in Abu Dhabi, the lowest value since 1983 for the most successful polesitter will be recorded. That year Rene Arnoux and Patrick Tambay recorded the same number of poles of Button and Vettel: four.