As the newly elected president of the FIA, Jean Todt will now be able to apply his unique style of management to bring about change to motor racing's governing body. He is a man, however, who has never been afraid to take on anyone and everyone to achieve what he wants - as I well found out when I had a quite amusing confrontration with him many years ago.
Let me take you back to the 1993 Le Mans 24 Hours for a moment. A classic confrontation between the works Peugeot and Toyota teams is in prospect, and Philippe Alliot has claimed first blood for the French manufacturer by putting his 905B on pole. However, after setting his quick lap time he's had a huge crash in the Porsche Curves, slamming the sleek white machine into a concrete wall.
Back in the paddock, the disappointed mechanics load the crumpled remains into a truck and transport them back to the Paris factory for overnight 'repairs'.
It's their only option, since substitution of a T-car means starting from the back of the grid, and the enormous PR value of pole will be lost.
The following day the truck returns, and a pristine car is rolled out. The chassis number matches, and the race organisers are happy that all is well. Alliot's pole is safe. But having seen the original wreck up close, and suspecting foul play, I checked with a reliable source inside the team.
My 'Deep Throat', a British race engineer in his last weekend with the team, confirms with a grin that the team has indeed broken the rules by swapping monocoques. And it appears to have got away with it.
Armed with this information I set out to challenge Jean Todt, at that time the all-powerful competitions boss of Peugeot. Is what his boys have done legal, I venture? He's a little surprised at first, but soon composes himself.
"If it is considered to be repaired, we 'ave no problem," he insists. I pursue the matter further, and his blue/grey eyes fix with me a steely glare. "Are you a policeman?," he asks. "If you are a policeman, you should be wearing an 'at..."
I reported the exchange in that week's AUTOSPORT. Years later Eddie Irvine, a driver for Peugeot rivals Toyota that weekend, would repeat it back to me, like a favourite Monty Python sketch. And by then he knew Jean rather better than I did...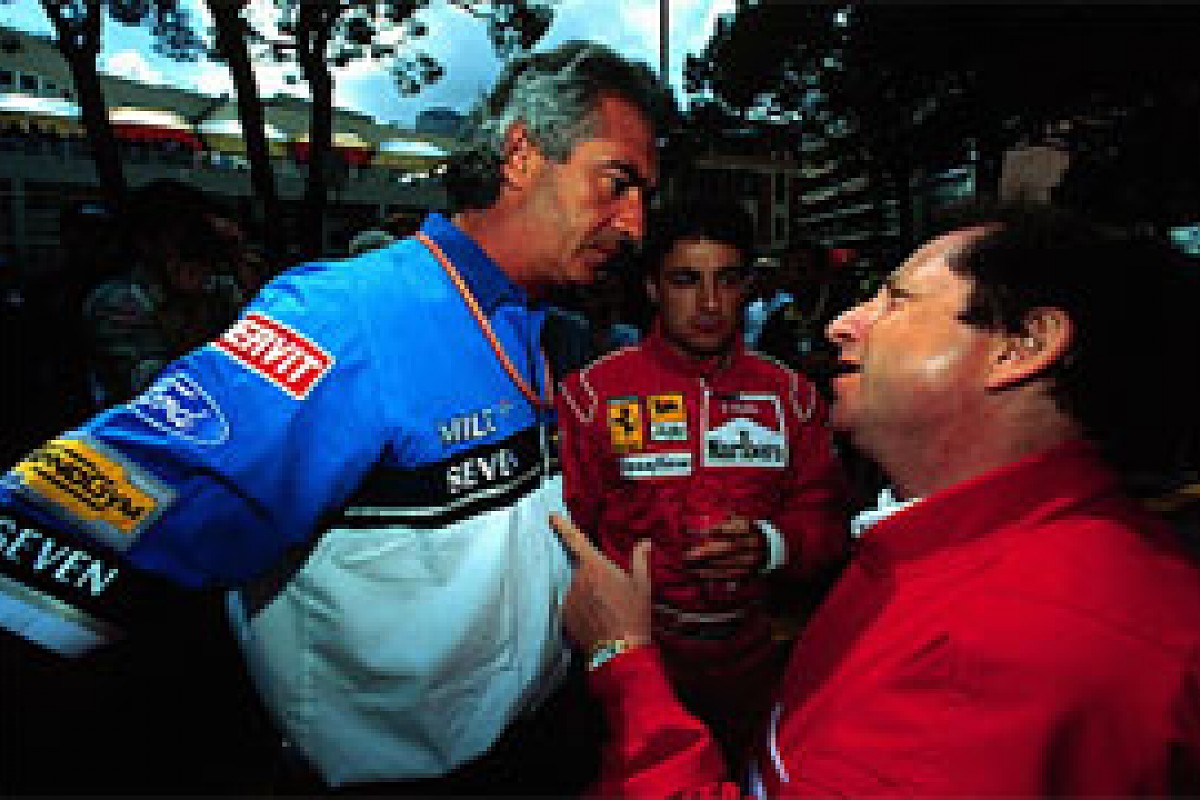 Flavio Briatore, Jean Alesi, and Jean Todt on the grid for the 1994 Monaco Grand Prix © LAT
Just a few days after our Le Mans encounter, Todt joined what was then a shambolic Ferrari. He made his first appearance at the French GP, and then, over the ensuing few years, turned it into a formidable operation, eventually winning five world championships with Michael Schumacher, and another with Kimi Raikkonen. Now he's embarking on another stage of his career as the newly-elected FIA President.
It might be a bit of a cliché, but he truly is a poacher turned gamekeeper. In rallying or racing, his job was to seek every possible advantage in order to achieve success for his employers, exploiting the rules as best he could. Now he is the guardian of them. It's a fascinating development.
I first met Todt at the end of 1989, when he was putting the Peugeot Sportscar programme together. He's not an easy man to get to know, and I certainly can't claim any huge affinity with him, but over the years we've always got on OK.
There's no stopping for small talk, and he is rarely seen to smile. He eats journalists for breakfast, especially when they come up with lazy questions along the lines of, 'Was this the greatest victory yet?', which he heard frequently in the Ferrari days. He doesn't waste time dealing with such superlatives.
He caught me out like that a few times over the years, but in an interview we did in 2004 - some 11 years after his arrival at Ferrari - he gave me an intriguing insight into his career, and how he got to where he was.
On grand prix weekends Todt used to base himself in a little office on the upper floor of the Ferrari motorhome. It was handily located at the front of the vehicle. Should Jean so desire he could look out of the window and check on what was going on in the paddock below, see who was sharing the latest gossip. Not that he ever had time for such a frivolous activity, for every waking hour was dedicated to his work, or at least that's the impression he gave. He was the ultimate company man, always ready to defend Ferrari and its people against attacks from outside.
The results of Todt's devotion to duty were clearly seen in a display of photographs on the wall next to his desk. Each one showed the podium ceremony after a grand prix victory achieved by Ferrari under his leadership. The series started with Gerhard Berger's success at Hockenheim 1994, which came after three barren seasons for the team. It signalled the start of the Todt era.
After that Schumacher put many more photographs on Todt's wall. With a little additional input from Jean Alesi, Irvine and Rubens Barrichello. The list became so long that by 2004 someone had to downsize the pictures and start all over again with a new display.
Todt's rallying background is well known, but few are aware that his heart was always in grand prix racing, as he revealed to me that day.
"I was studying, but my passion was motor racing," he recalled. "I thought I was going to be the most talented F1 driver ever! My two favourite drivers were Jim Clark and Dan Gurney. My father was a doctor, but I had no money, and I thought the best way to get in without having anything to invest was to be a rally co-driver.
"In 1966 a co-driver on a French rally was sick at the last minute, and I went in the car. It happened that they thought I did a good job, and I was asked to drive the next season, which I did, while still having it in mind that I would drive myself. I did a few events as a driver, but it wasn't possible to continue."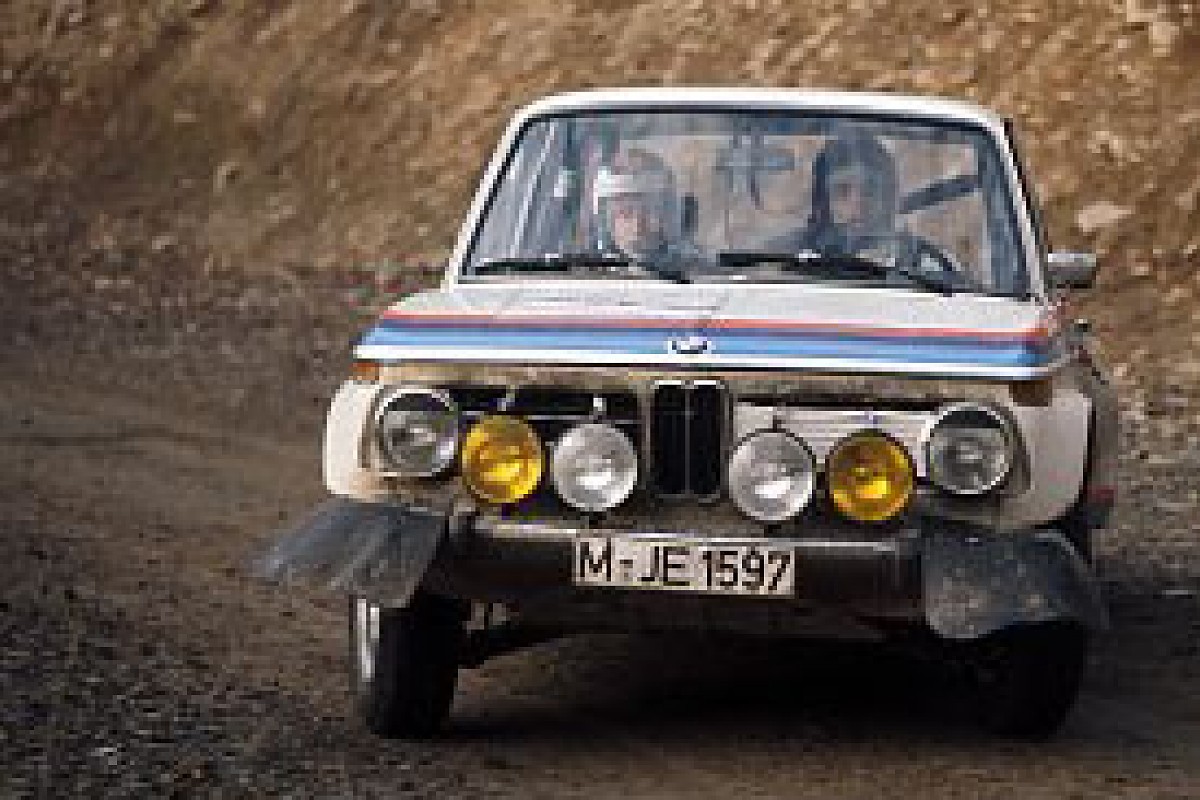 Achim Warmbold and Jean Todt in their BMW 2002 on the 1973 RAC Rally © LAT
Instead Todt pursued his career in the passenger seat. He was very good at it, and shared many successes with the biggest stars of the era. But all the while he was planning his long term future.
Co-driving is all about methodical organisation, keeping cool under pressure, and understanding what makes the guy sitting alongside you tick. If there's a communication failure, both of you could end up in hospital, or worse. Todt recognised that the qualities he could develop in competition would have other uses.
"I was thinking that between 30 and 35 I should be in a position to run a team," he said. "That became my aim, and I planned my whole co-driving career around that, driving for as many teams and with as many famous drivers as possible. I represented the drivers at the FIA, I organised the Tour de France for Matra, which we won with Jean-Pierre Beltoise and Patrick Depailler. I was learning all the time. In 1981 I was 35, and it was now or never. I had the opportunity to join Peugeot and start from scratch a rally division."
Todt was named director of the newly formed Peugeot Talbot Sport organisation on October 9, 1981. With his last event as co-driver out of the way, he set about preparing the company for the new era ushered in by Audi's Quattro. Peugeot soon developed its own turbocharged 4WD supercar. The 205 T16 would prove itself to be the class of the field, winning both drivers' and manufacturers' world championships in 1985 and 1986 as the cars grew ever more sophisticated.
Then the spectacular Group B era was brought to a sudden halt by a series of tragic accidents. The rules were rewritten in favour of production derived cars and, like the other pace-setters, the awesome Peugeot was obsolete overnight.
Todt became embroiled in a bitter dispute with the FIA and eventually opted to take Peugeot into an arena where the ultimate in technology could still be used.
Before long the company was dominant in desert raids, scoring four high profile successes on the Paris-Dakar under Todt's direction.
The next step was an obvious one for any French manufacturer - the Le Mans 24 Hours and the FIA World Sportscar Championship. This was Todt's first proper venture into circuit racing, and there was a steep learning curve. The 905 was pretty hopeless when it first appeared in late 1990, but Todt brought in the right people and spent what was necessary. In 1992 the company achieved both the aforementioned targets.
With a race team, a manufacturing facility, and a 3.5-litre V10 engine programme, there was just one challenge left to go for. However, the directors weren't interested in creating a Peugeot Grand Prix car: "I did propose it, but finally they were not interested in it. But even if they had decided to do it, I was not interested in running an F1 project."
Todt had already decided that it was time to move onwards and upwards within the Peugeot group. However, he found his path blocked - it seems he was a victim of his own success.
"I thought that I had done enough in motor racing, and I wanted to do something else. I'd done everything apart from F1, which was not for me absolutely necessary. I wanted to be more involved as a manager in a different activity within the company. In fact I was very useful for them in my competition activities, so they did not give me this chance. Then I got some other proposals."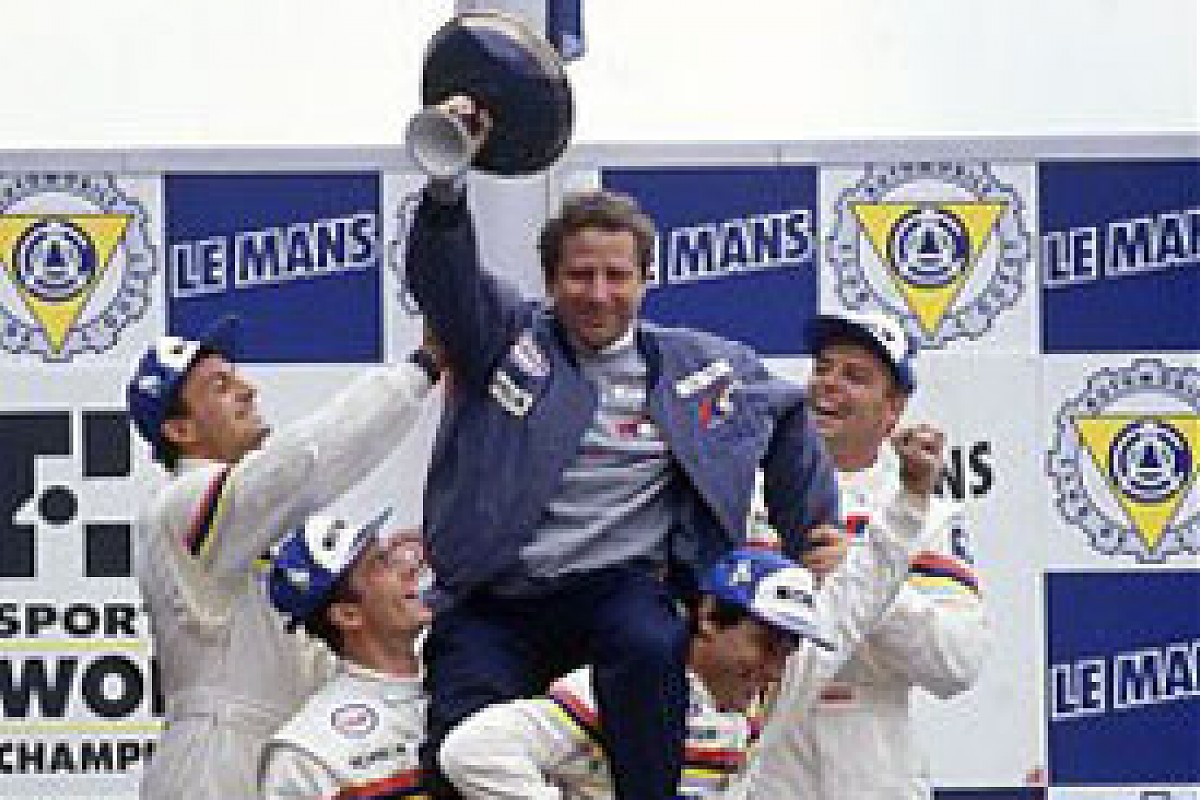 Jean Todt on the podium after winning the 1992 Le Mans 24 Hours for Peugeot © LAT
Todt's success with Peugeot in the very different disciplines of rallies, desert marathons and sportscar racing had not gone unnoticed. Contrary to his own career plan, he soon found himself contemplating a move to grand prix racing, after Ferrari President Luca di Montezemolo made an offer that nobody could refuse.
Since the death of founder Enzo some four years earlier Ferrari had gone through a series of management changes, mostly involving people from within the Fiat Group. One of the more successful bosses had been Cesare Fiorio, whose background was in the Lancia rally and sportscar programmes. Although he was eventually ousted, the flamboyant Fiorio had at least shown that a rally man could make the transition to grand prix racing. Di Montezemolo recognised that, and also saw no reason why a Frenchman could not run Ferrari.
In fact an outsider with no preconceptions might just help to deflate the political pressures that had strangled the team for so long.
"It was very difficult for me," Todt reflected. "I had a very good team, I had a very good reputation where I was, I got on very well with my group. And of course I was in my home country.
"But for me Ferrari was the motor racing company, and had always been so. Ferrari is an asset of Italy. It's not like a normal company, like Peugeot or Toyota. It's like you are competing in the finals of the soccer World Cup. That's the way Ferrari is.
"Still, it was changing my life from Paris to live alone in a province in Italy. My son was studying in France and there was no way that he could come with me, so it was completely changing my life. I would be giving my life to a company.
"I was used to doing that, because if you are committed you have to be committed, but in the evenings you still meet your friends and so on. But here I was coming on my own, and it was full dedication. Also Peugeot wanted to keep me, and I had a lot of problems when I decided that I wanted to go. So it was difficult, but the best choice I could have made."
Having agreed to join Ferrari, Todt had one final obligation to Peugeot, which is where we came in. In 1993 Le Mans was a stand alone event, and the company bowed out of sportscar racing with a crushing one-two-three result. The emotional boss was feted by the drivers on the podium.
With no race programme the team Todt had created was broken up. Peugeot's subsequent half-hearted efforts as an F1 engine supplier proved disappointing.
There was no magical overnight success story for Todt at Ferrari. He kept a low profile at first, preferring to observe and ascertain what needed changing in an organisation that split its resources between Italy and John Barnard's UK design base. Change came gradually, and there were no quick fixes. The first ray of hope came when Berger won at Hockenheim in '94. It was a fortunate success, coming after half the field retired, but it was a start.
Greater things were to come. Todt was heavily involved in the decision to headhunt the then world champion Schumacher from Benetton, whatever the cost. The German soon repaid that faith, winning three races in 1996, although there were still dire car problems.
Only when Benetton's designer Rory Byrne and technical director Ross Brawn followed Michael to Italy a year later, and Ferrari's British office was closed, were the final ingredients in place. Three seasons of near misses followed before Schumacher finally won the title in 2000. He would remain virtually unbeatable for the next four years.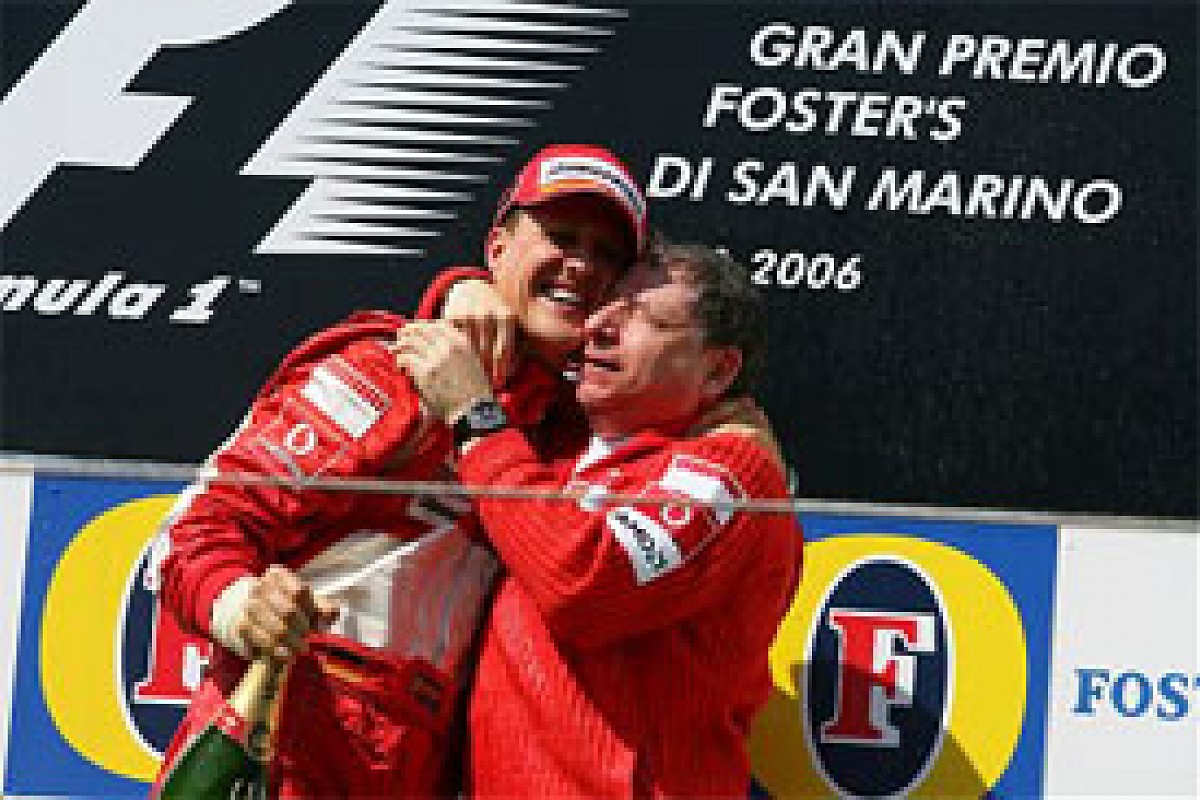 Michael Schumacher and Jean Todt on the podium at the 2006 Grand Prix of San Marino © LAT
Todt's association with Schumacher was the key. Jean has always admitted that it resembled a father/son relationship, and there's no doubt that they still have a special bond, one which allowed the German star to build himself a unique position within the organisation. It's something that could not have happened at team still run by its founder, like Williams or McLaren, where drivers are mere employees.
"With Michael it's a little bit special," Todt explained. "We don't need to talk to think the same things, because I respect him, he respects me, I respect what he does, he respects what I do. I don't have this kind of relationship with everybody, of course. We communicate smoothly mostly on everything without aggravation. Probably we have something which is out of the ordinary, particularly with such pressure."
By 2004 of course everything was running pretty much like clockwork, but it had not been the work of a moment for Todt to turn the team around.
"I would say now things are probably more rational, easier to follow," he said. "That has been my toughest professional challenge, because when I arrived at Ferrari things were not looking for the best, and slowly and slowly we rebuilt a very strong team.
"It's just a daily effort to achieve what needs to be achieved. Every day you have to do something. It's never one day where you can say, let's leave it. You must be on top all the time, every problem. Otherwise if you are not on top of every problem, and make sure that everybody is on top of every problem, then you may lose control. I think it's the same all over. Key people have this mentality, following the life of their company, their people, to make sure things move forward, and problems are solved."
At the time of our conversation Todt's role at Ferrari had recently expanded to include responsibility for passenger cars.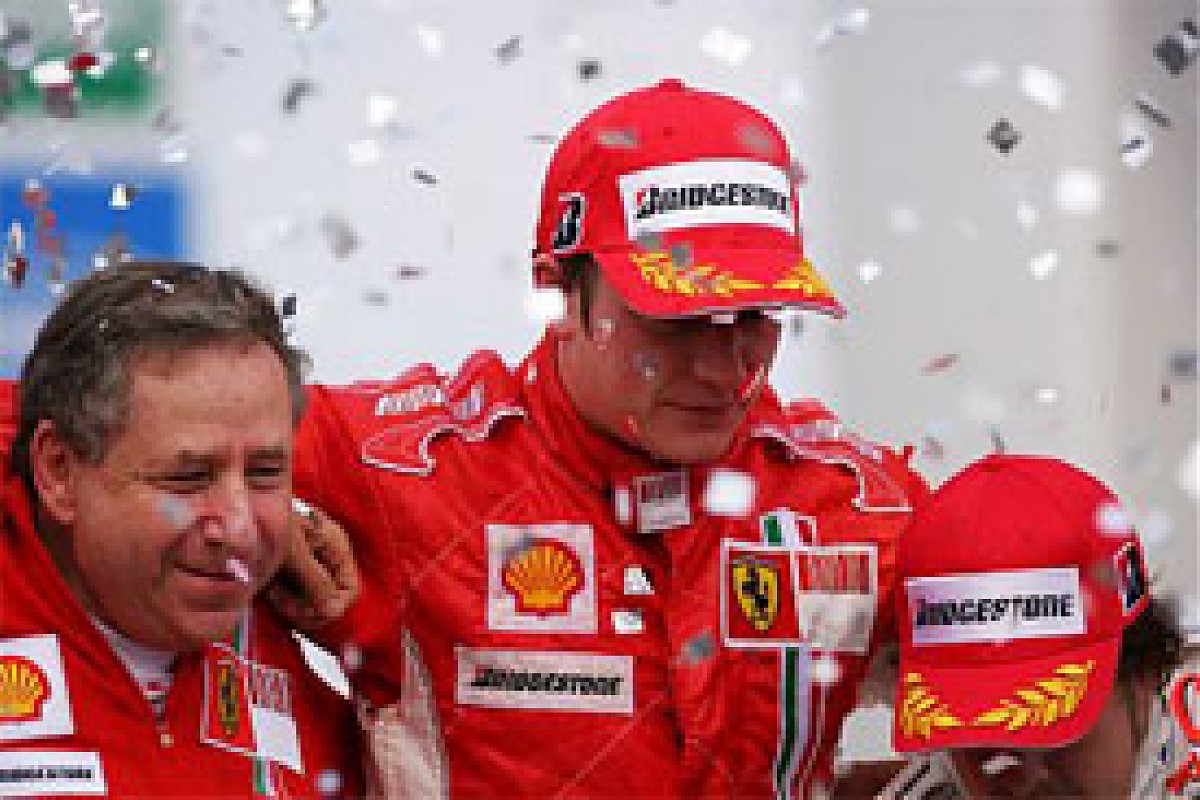 Jean Todt, Kimi Raikkonen, and Fernando Alonso on the podium at the 2007 Grand Prix of Brazil © LAT
The obvious question at the time was this - would the management style Todt employed in the fast moving whirlwind that is motor sport transfer easily to the more traditional business environment? His response said a lot, for he was quick to distance himself from the archetypal race team boss of the time: "Everybody has his style. F1 is probably not my point of reference, in terms of people, and managers.
"I love the world of Ferrari and F1, but I don't love at all most of that world," he added. "There are some exceptions, like Peter Sauber, who is a great person. But otherwise it's very much for show-offs...Anyway, it's not my style."
His own style has been very apparent over the years. Methodical organisation, cool under pressure, good relationships with the key people. All that stuff he developed as a rally co-driver has indeed paid dividends.
Critics argue that Todt was flattered at Ferrari by those around him, especially Ross Brawn, who played such an enormous part in every aspect of the organisation. But surely that was the point, since successful management in any field has much to do with delegation and getting the right people in the first place.
"It's about finding the right people, giving them space, and making sure that they work together. We are a stable organisation. Stability, if you have good people, is fantastic. If you have bad people, it's a killer. Fortunately we have stability with good people. I don't think any of us think we are geniuses, but still we are happy together, and we do a good job.

"What you see at the track is the least of what I do. As I said, I am surrounded with good people, starting with the drivers. All those people have a key role, and a very defined responsibility. I am more of a kind of fireman. If something happens, I'm here. That's why I can now arrive on Friday afternoon rather than Thursday morning."
Todt would eventually hold the title of CEO of the whole Ferrari organisation, but in March this year, he cut his last ties with the team, and he is now embarking on a new adventure.
There's no questioning the depth (or breadth) of his experience, or his record as a winner. And as before, he'll be doing a lot of delegating. However, it remains to be seen whether the skills he employed in running teams (or did indeed Ferrari's road car business), when looking after the interests of his own little group was his only focus, transfer so readily to his new job.
It's going to be interesting to see how he fares.