They may have been said in jest, but then many true words are: "Seems the FIA now has a permanent seat at the Tribunal de Grande Instance de Paris..." said a journalist on Sunday after news broke in the Interlagos media centre that former Renault Formula 1 boss Flavio Briatore had commenced legal proceedings against the governing body at the Tribunal de Grande Instance in Paris in an attempt to have the lifetime ban against him overturned.
"Yes," replied another, "by now the FIA lawyers must be on first name terms with the judges, what with the Ferrari veto affair in May, N-Technology's current action and Ari Vatanen's application for an injunction to ensure a free, fair and secret procedure when votes are cast on Friday. Plus, there may be more..."
FIA headquarters in Paris © LAT
Briatore's action has been set down for trial on 24 November - which in terms of French law means a judge considers his demands to have merit - and, while the FIA technically won the Ferrari veto action, it did so only on account of the Scuderia not having timeously exercised its rights, with the judge finding that the team had a valid veto of regulatory changes.
Judgement in the N-Technology case will be handed down on 10 November, and, again, it follows that the case would have been thrown out of court had a judge considered it without foundation. However, just prior to N-Technology making its intentions of action known, (outgoing) FIA president Max Mosley threatened the FOTA teams with legal action after they failed to submit entries for 2010 - but, as is common knowledge, the matter came to nought.
Meanwhile, FIA presidential Ari Vatanen, who was last Friday accused of not having acquainted himself with the procedures in place, was delighted that the governing body made the demanded changes to the procedures (even if its press release suggested the FIA had emerged victorious) for it meant there was no need to drag the organisation he hopes to lead come Friday through the courts. Seems he had fully acquainted himself with procedures and found them lacking.
However, litigation may still follow, for the Vatanen camp alleges various breaches of French electoral law - which covers the 23 October ballot on account of the FIA being a not-for-profit body incorporated in France - and there have been reports of vote buying. The word is that a legal challenge to the results has been prepared with the assistance of a French electoral law professor should the outcome make same necessary.
Not down for hearing in the Tribunal de Grande Instance, but still very much a legal issue is the pending EU Commission investigation into Stefan Grand Prix, the Serbian operation which has lodged a complaint in Brussels, alleging unfair practices and abuse of monopolistic power in the team selection process. Although some have dismissed the investigation as being without substance, others acquainted with Zoran Stefanovic indicate he is absolutely serious about the complaint, so further developments are awaited with interest.
Then, on Monday, it emerged that yet another bout of litigation was in the offing, this time involving one of Formula 1's four new teams and the BMW Sauber F1 Team over the once-vacant 13th entry slot. Allegedly only 12 teams have to date signed the Resource Restriction Agreement, which is, in turn, a requirement of the Concorde Agreement, and therefore a condition of 2010 (and beyond) entry.
According to a source well-versed with matters Concorde, the Article referring to entries states that teams who have competed in the world championship for the past five years (and been placed in the top ten in two of the most recent three seasons) receive absolute priority, with the application of the Article not being affected by change of name or engine. Thus, regardless of which newcomer has not signed up to the RRA and/or Concorde Agreement, Qadbak is due priority regardless of whether the team had lodged an entry.
Three team bosses spoken to in Interlagos were unequivocal: they knew only of 12 signatures to both the Concorde and the Resource Restriction Agreements, and all were adamant they would have known had a further party signed one or both documents.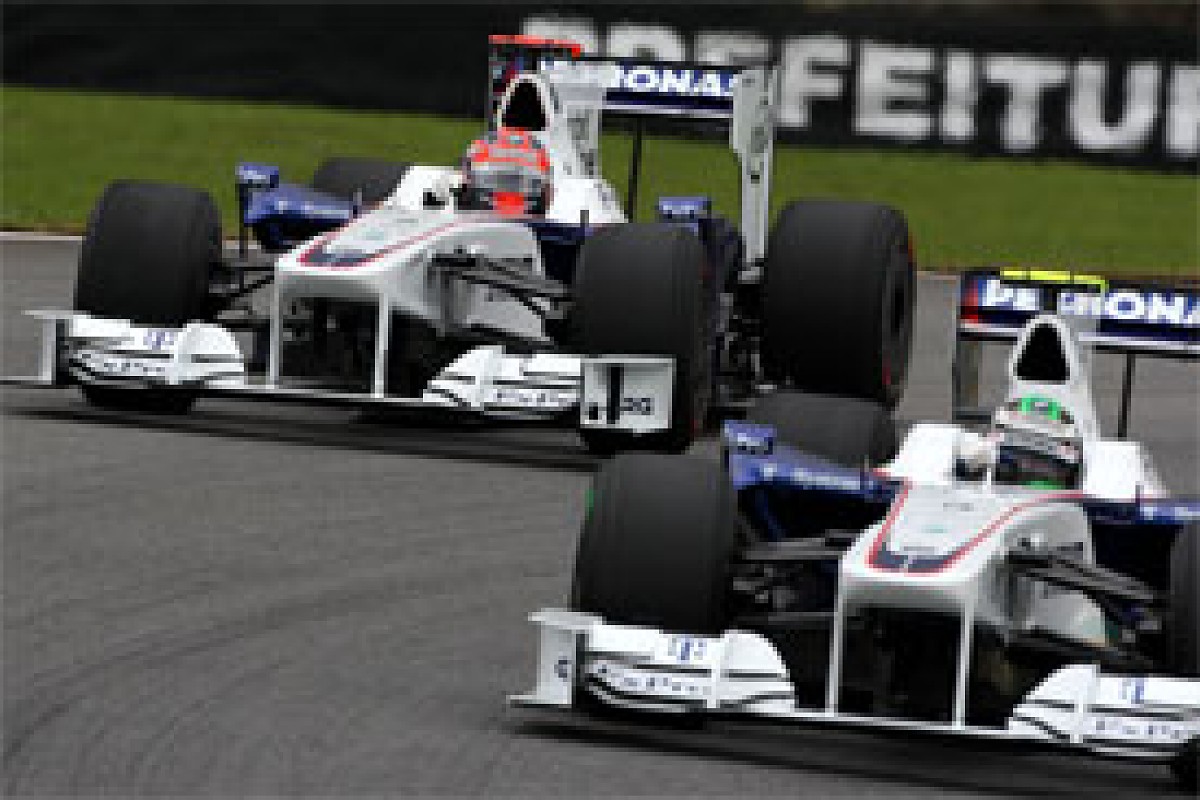 Nick Heidfeld and Robert Kubica in the BMW Saubers © XPB
That one of the four newcomers was granted an entry by the FIA, which, as the sport's regulator and a Concorde signatory, when (allegedly) not all documentation was in place raises serious question which may soon be answered in court. And, in that case why were the 'delinquent' newcomer and Qadbak not put on notice, with the relevant Article as carrot?
Thus the Qadbak/BMW deal analysed here could still go ahead conditional upon the German-Swiss outfit getting its ducks in a row and putting pen to (the two) papers in double quick time, resulting in the door being closed in the face of the new team.
So, even before the new Concorde Agreement comes into effect, the tripartite document is likely to be blighted by court action - and that reckons without the outcome of N-Technology and Stefan Grand Prix complaints. Teams of blue-chip lawyers in at least six countries are already gleefully rubbing their hands...
Is it not extraordinary that the FIA in general and Formula 1 in particular has suddenly been hit by a flurry of current and pending litigation cases covering everything from abuse of power through unfair election procedures to contractual matters and entry lists, all at a time when the FIA is preparing to bid farewell to its president of the past 16 years?
Could it be coincidental that said president is a fully qualified British patent and trademark law barrister who surrounded his office with compatriot politicians, spin doctors and strategists from earlier eras while heading a body incorporated on French soil, and thus subject to the French legal system, a system which differs vastly from Crown law?
Then, the Formula 1 of old - the pre-1998-2007 Concorde version populated by a grid consisting of independent teams and two Ferraris directed by Todt, was a relatively crude environment in which horse trading was the norm. The current entry list is dominated by factory teams with access to banks of international lawyers , and these realise, of course, when their principals are being disadvantaged - and make a meal out of it.
Finally, while the pre-1998 Formula 1 fell within EU law, the Commission had bigger fish to fry and its powers were nowhere as sweeping as they became in the opening years of this century. Only when Truck Racing promoter Wolfgang Eisele, feeling jeopardised by the FIA's decision (under Mosley's presidency) to grant all sporting rights to Bernard Charles Ecclestone and Family, alerted the Commission to goings-on within the FIA, did the EU flex its muscles and declare monopolistic practices.
Once piqued, the EU's gaze never wavered as evidenced by its various directives, all of which emasculated the FIA's commercial powers and F1 changed forever.
These factors may (or not) constitute the (entire) explanation, but the FIA of next week can surely be thankful that neither of its presidential candidates are jurists. Then again, one legacy of Mosley's presidency may well be a continuation of litigation for the foreseeable future. Friday will tell.
Power questions in F1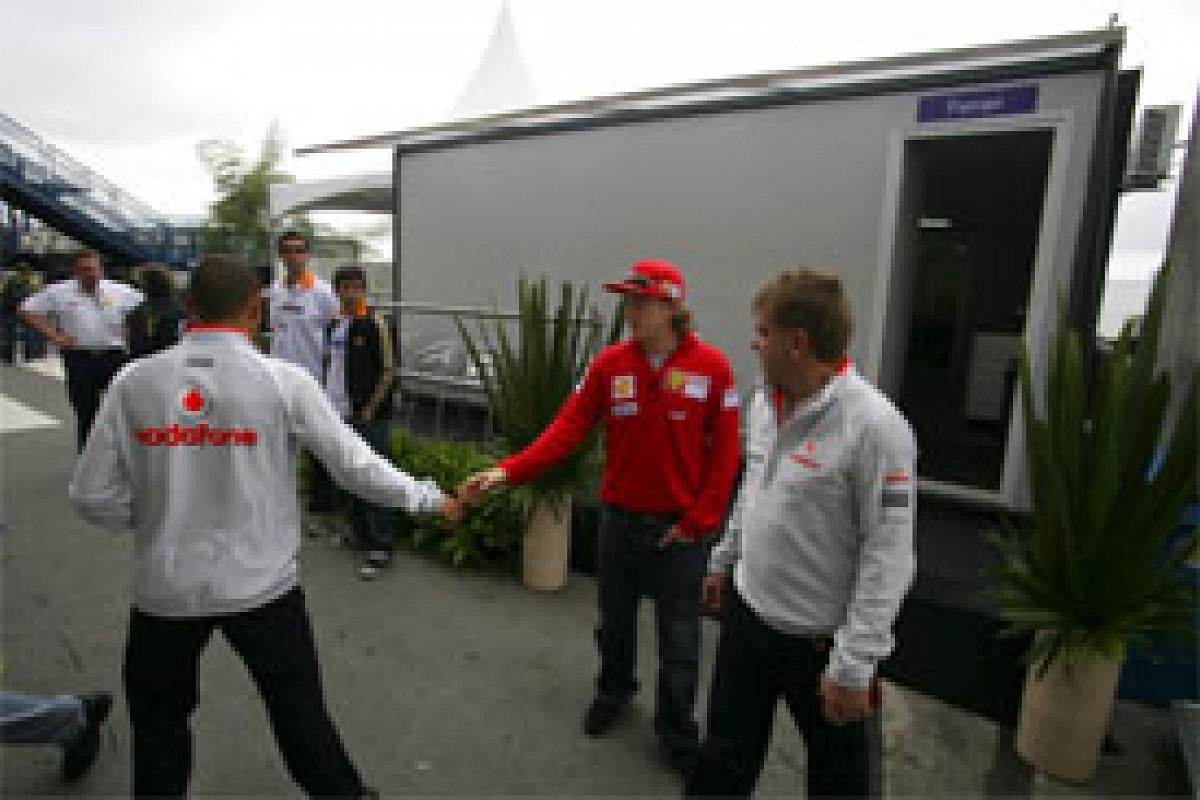 Lewis Hamilton and Kimi Raikkonen at Interlagos © LAT
How much longer before the driver, engine and calendar situations are clarified? Never before in the 60-ish-year history of Formula 1 has so much uncertainty surrounded these three key areas.
Conventional wisdom held that once Ferrari's 2010 plans were announced all driver movements would fall into place, yet, despite the announcement of the departure of Kimi Raikkonen, the Italian team's last race and world title winner, at season's end and his replacement by Fernando Alonso, there has been precious little movement bar the signing of Robert Kubica.
Ditto the calendar: while Germany's Hockenheim has agreed terms with Ecclestone to share the costs of promoting every grand prix at the circuit (which alternates annually with Nurburgring in terms of an earlier agreement), confirmation is still being awaited about the status of Canada, Korea and Great Britain. A decision will now only be handed down in early December.
Finally, despite rapidly approaching chassis design 'freeze dates', nothing of substance has been announced on the engine front despite the likes of Red Bull Racing being on the hunt for a new engine supplier. The word in Singapore was that the team was hoping for Mercedes-Benz power units.
This made enormous sense, for Germany's young Sebastian Vettel was then in the running for the drivers' title (as was the Austrian-owned team for the constructors'), but since then the trail has run cold.
With McLaren known to have right of veto over such matters - as evidenced by its approval of the Brawn/Mercedes engine deal - could it be that the British team, which lost erstwhile chief designer Adrian Newey to RBR - vetoed the deal despite the considerable advantages to its 40 per cent partner?
At Interlagos Red Bull's motor racing consultant Helmut Marko exclusively told this column that an engine supply deal would be finalised 'within the next eight days', i.e. by Monday, 26 October.
Sources subsequently suggested that Red Bull Racing had signed with Cosworth for next season, which begged the question how the company could supply engines to six teams - four newcomers (as allegedly demanded at time of entry), plus (probably) Williams and (possibly) Red Bull Racing in violation of the FIA's regulations, which place a cap on three customers. Could F1 be heading for more litigation?
Asked to comment on the Cosworth rumour, team principal Christian Horner admitted Cosworth remained a possibility, but did not rule out continuation with Renault, which, forget not, powered the team to a confirmed second place in the 2009 constructors' championship.
"As an independent team we obviously have freedom of choice, but we have enjoyed strong support from Renault over the past three years so we have to weigh up the matter very carefully," he said. "Cosworth is potentially an option, together with others.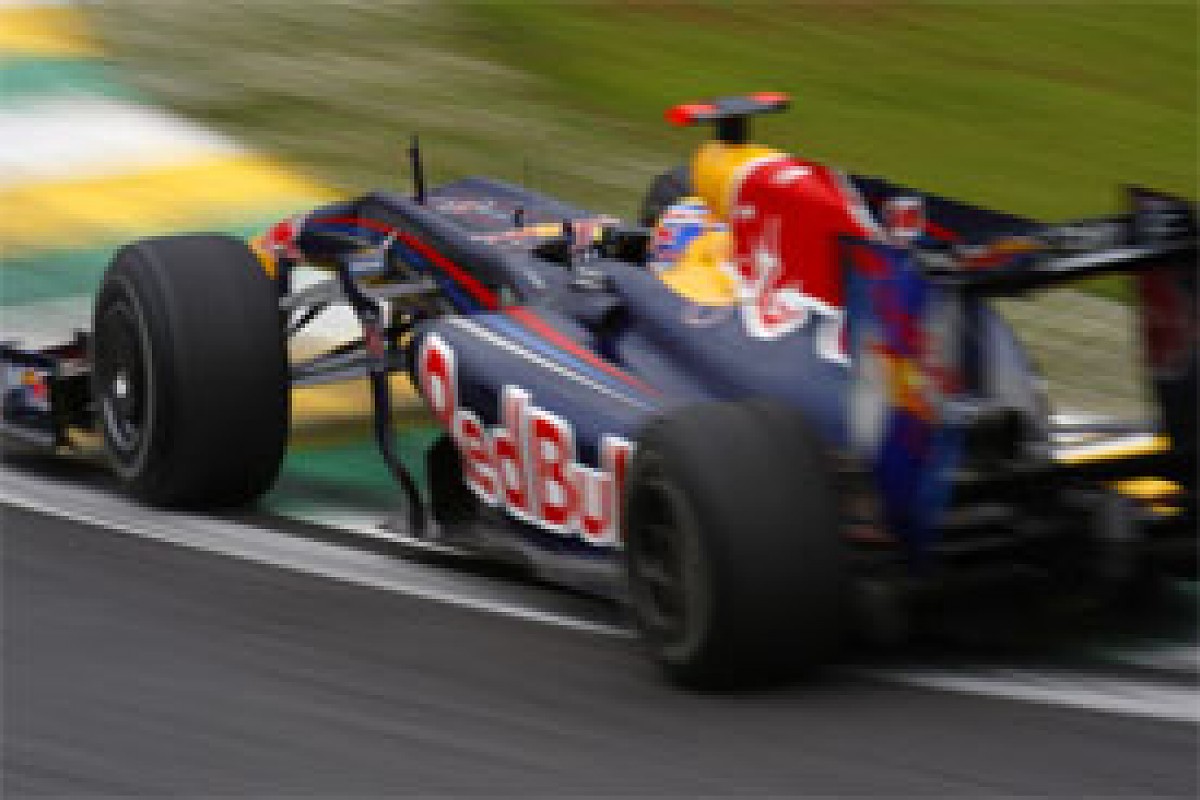 Mark Webber in the Red Bull RB5 © LAT
"We have no absolute deadline, within reason as our chassis engineers obviously need to get on with the 2010 car, and we will make an announcement within the next week or so."
So, who could the 'others' be? Could the team be considering going back to Ferrari, which powers sister outfit Toro Rosso? That would bring the team count of the Italian company, which has recently re-employed former engine head Luca Marmorini boss, up to three Maranello-powered teams, and four should Qadbak join the fray.
Or Toyota? Unlikely, not least as the engine is said to be lacking at the top end, while Red Bull as a drinks company has extremely low, if increasing, profile in Japan. Under the circumstances, expect RBR to run Renault power again next year...