For a man who claimed it's not relief but ecstasy when you win the world championship, Jenson Button looked mighty relieved on Sunday.
There was no silly protocol this year, whereby strictly only the podium finishers attend the post-race press conference and 250-odd journalists, the majority on deadline, have to spill out into the tightest paddock of the year to try and get some pearls of wisdom from the new champion.
Jenson Button celebrates clinching the World Championship © LAT
That's the way it had been with Lewis Hamilton last year; but this time, as the second Briton in a row clinched the title by driving car #22 to fifth place in the Brazilian Grand Prix, Jenson was sensibly brought upstairs for a conference of his own after Mark Webber, Robert Kubica and Hamilton had done their stuff.
"Where the f*ck is everyone? I'm world champion, man!" Jenson wanted to know as he was brought into the press conference room. Don't worry, he was told, they're all on deadline next door, writing as you speak! Three hours behind Europe is not good if you happen to be writing newspaper copy.
The mask came quickly down: "All the good and bad memories go through your mind, not just from this year, but from previous years in the sport. The last few races have been pretty stressful, as the pace was there but for whatever reason we've struggled a few times in qualifying. Mentally that hurts, when you're not able to get the most out of the car on the day. And I read too many papers and magazines. There were negative comments and that's tough when you're a driver and know you're on top of your game.
"I might have come across like I don't care in the past, but it was putting on a brave face. It's showing a weakness, I suppose, if you say it is hurting and stressful, but I can say it now! It was a very tough few months."
It certainly hasn't been easy for Jenson to close out the championship and neither was it in Sao Paulo. Qualifying hadn't worked out for him again, and I've never seen Button as low as he was on Saturday night, contemplating starting 14th with his team-mate and main rival sat on the pole. There wasn't even the remotest attempt to hide it.
"The first 10 minutes were good for me and that was about it," he admitted. "In Q1 (where he was sixth, just behind Rubens Barrichello) the car was working well, I had a bit of oversteer and we were struggling with the rear tyres - they were going away. We thought we were overheating them and it was because the pressures were very high to cope with aquaplaning.
"When we eventually got out in Q2 to do lap times with less standing water we lowered the pressures, but I found so much understeer that it was almost like we didn't have a front wing on the car. I struggled with that when the circuit was in the condition for extreme wet tyres, and after that it was just greasy and I'd grained the front tyres. That was a surprise, because the rear normally goes away more than the front. You can say that we should have run with the intermediate tyre but the pace just wasn't there.
"I think Rubens struggled a bit with the tyres as well, but not like I did. He said he had a balance in Q2 but I was a long way from that. After the first run I added all the front wing I could and opened the diff as much as I could because it was locked previously, but I had no rear grip and was just skating around. It's so frustrating..."
Someone asked if Rubens had run the same tyre pressures in Q2?
"Don't know," Jenson shrugged. "You'll have to ask the engineers. I haven't asked that question yet. I've been too pissed off to get into the serious stuff to be honest..."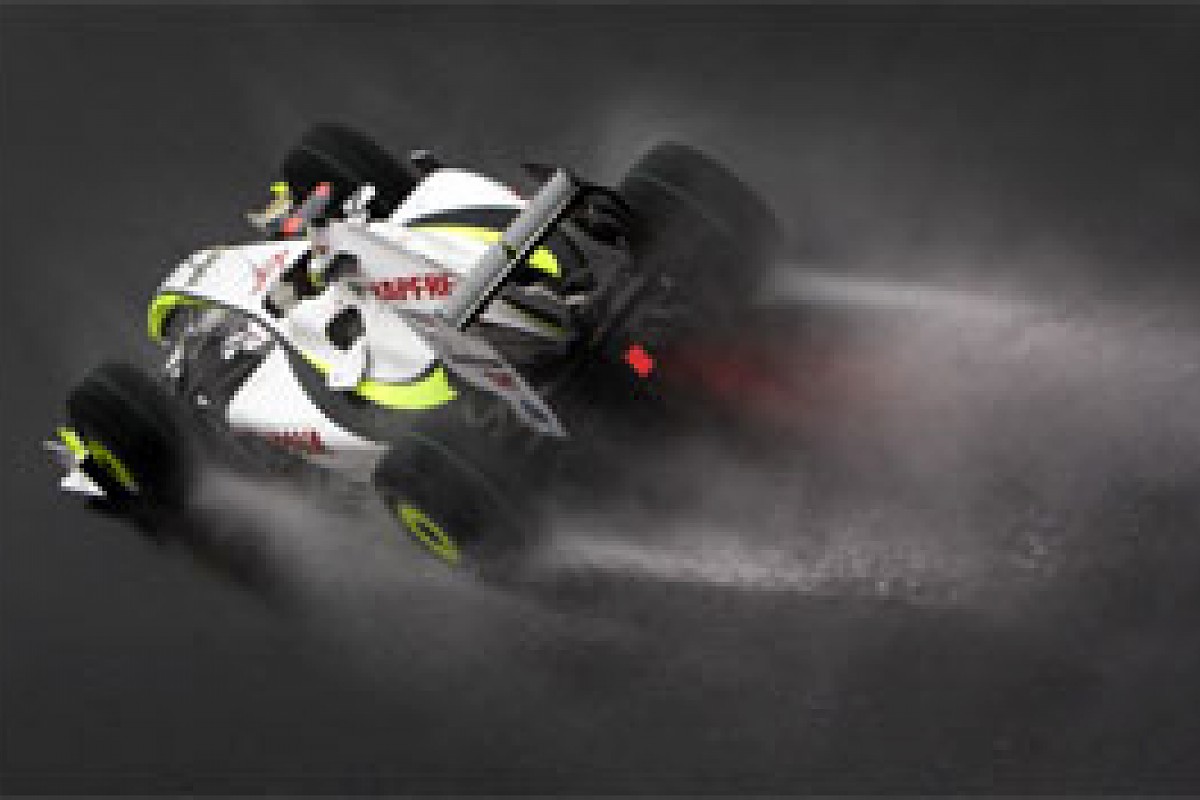 Jenson Button during qualifying © LAT
If Jenson's cloud had a silver lining it was that Sebastian Vettel, dominant in Japan and so very clearly capable of winning the last two races, hadn't made it out of Q2. There was a Red Bull on the front row but it was Mark Webber, with Vettel 16th, right behind Button on the grid. So there was equal frustration in the Red Bull camp.
"Mark did a brilliant job on the extreme tyres in Q2 and on the intermediates in Q3," Christian Horner said, "but it was frustrating and just desperately unlucky for Sebastian because there was a window of about two to three laps where the circuit was at its best in Q1 and cars were making mistakes ahead of him, going off on the grass and coming back on in front of him, I think a yellow flag at one stage and it just never fell right for him.
"When he finally did get a couple of clear laps, the circuit was in such poor condition that there was no chance he could set a representative time. And as we saw from Mark's performance, once the surface water had cleared, the car was very competitive and for sure Sebastian would have been right there." Button could only thank his lucky stars that Vettel wasn't.
"Sometimes," Horner smiled, "people think Bernie [Ecclestone] is manipulating these things but I don't think even he could dream up some of the scenarios that have happened this year."
Indeed not. But the scenario Button faced on Sunday was that he had no option but to drive an aggressive, charging race and hope that Webber could sort out Rubens. It must have felt like Christmas when stunning drives from Kubica and Hamilton also overcame Barrichello, but that was certainly not something Jenson could have expected when the lights changed.
You'd have thought that from where he was, Jenson would have welcomed rain - anything to upset the status quo and throw in a few unknowns. But no, he said, he'd hoped for a dry race because he expected the Brawn's pace to be strong. They were not running much wing and Jenson knew he'd be quick on the straight and that Interlagos is a place where you can pass. He is normally excellent in the wet too of course, set-up permitting, but it's just that nobody with an ounce of imagination fancies doing 200mph blind into a ball of spray knowing you have to pass people.
Then there was the rookie factor. Right ahead of Button on the grid were Romain Grosjean, Jaime Alguersuari and Kamui Kobayashi. The young Japanese driver had done a fine job thus far and would obviously be trying to impress Toyota enough to earn a seat. Button could have done without that and, sure enough, he had his heart in his mouth a few times with Kamui.
"I tell you, that guy is crazy, crazy," Jenson said later. "I suppose it's just inexperience but he moves a lot in the braking zones, which makes it very difficult - as Kazuki Nakajima found out! Everyone else was tough but fair, but he was a little bit crazy. But I think he will be put in his place now.
"I knew I had good pace but that's because I didn't have much downforce, which meant fighting the car through the last three corners to stay close enough to challenge down into Turn 1."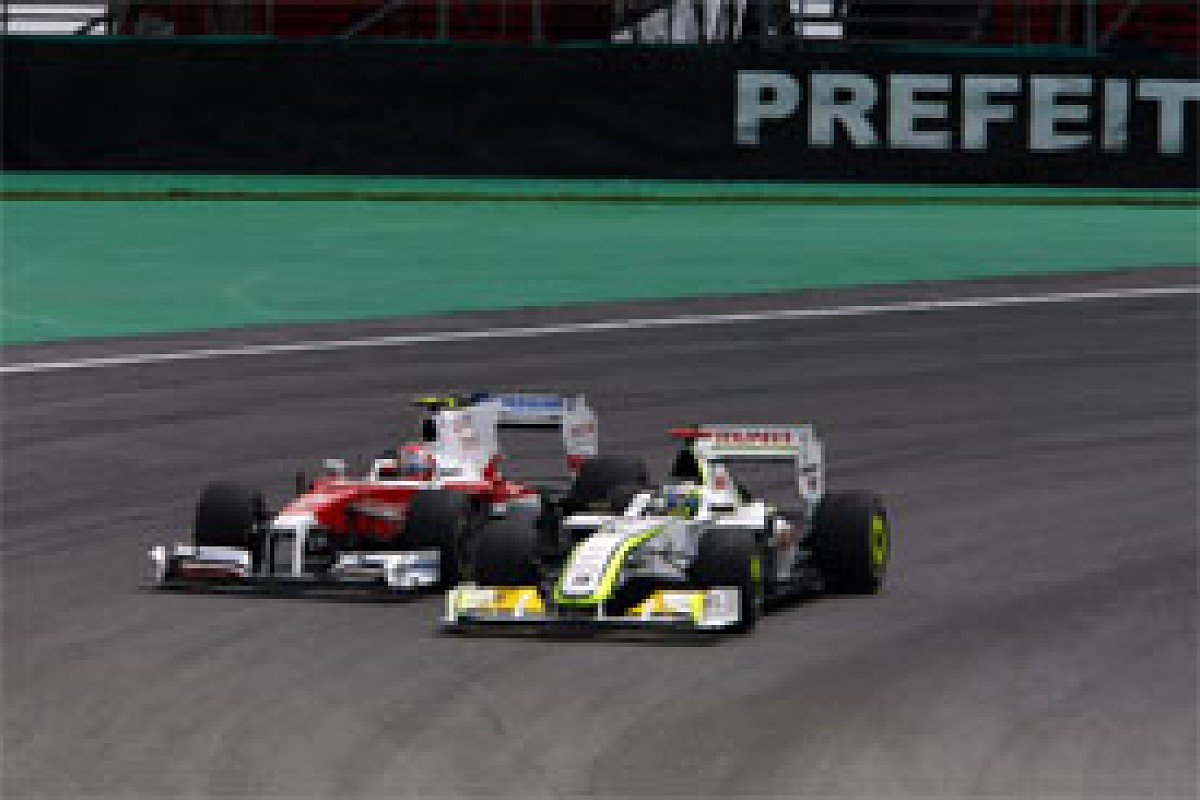 Jenson Button overtakes Kamui Kobayashi © LAT
That was certainly the way it looked, and it added up to a dangerous cocktail. Jenson may have had closing speed but if his judgement had been a whisker out, if his opponents had been a mite hot-headed, or if he'd shown hesitancy anywhere, he could so easily have ended his afternoon with a bent car and no points.
But with the pressure on, he held his nerve and that's why it was a champion's drive, and one he regarded as the best of his career. He's a deserving champ.
Meanwhile, on the campaign trail...
Off the track, all talk was of the upcoming presidential election on Friday. Predictably, things were turning mucky.
Ari Vatanen had already gone public with his concerns about the vote being truly anonymous and his worries that were it not, certain clubs might be intimidated by the potential repercussions of voting for the 'wrong' man. Word is Vatanen had been ejected from Max Mosley's office the previous week when things became heated, the FIA hitting back by saying that the voting procedure was well established and Vatanen should know that.
The former rally champion sought legal advice and, in a subsequent letter to Mosley, wrote: "I believe it is my obligation to officially state that the campaign for the Presidency of the Federation Internationale de l'Automobile is not taking place in accordance with the principle of neutrality which should apply."
Vatanen went on to state his case as to why, and closed by saying that he was "in possession of all of the evidence to support the reality of the facts stated above." He added: "In addition, I further reserve all right to take action on account of the acts previously committed against me."
This, you might interpret as Vatanen letting it be known that should he lose Friday's election he will seek legal recourse.
Meantime, both sides continue to let us know who is in their corner. At Interlagos, for example, Jean Todt and Team told us they had the full support of the legendary Pele.
"Oh well then, that's it, all over..." laughed one wizened hack. "I guess that if we look in our inboxes in a couple of minutes we'll find out that Eusebio and Ferenc Puskas support Vatanen..."
One Vatanen fan with a sense of humour, added: "Pele? Well, that's good. When they let him loose with the chequered flag here in '01, he waved it at Nick Heidfeld instead of David Coulthard, so hopefully he's got the wrong bloke again..."
But it all turned a bit more serious on race day when the Mail on Sunday ran a story alleging that amid an unexpectedly close contest, accusations of intimidation by one of Todt's main supporters has arisen.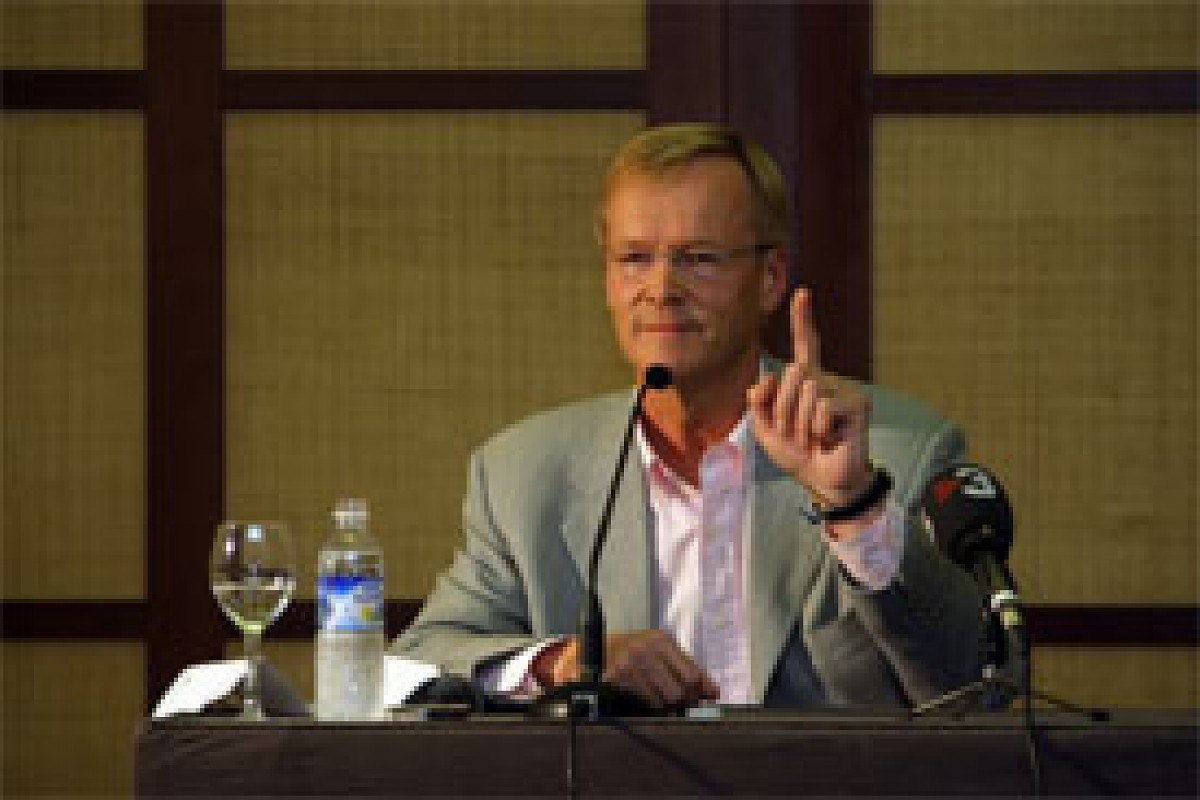 Ari Vatanen at Rally Catalunya © LAT
The paper alleged that Jack Wavamunno, founder president of the Federation of Motor Sports Clubs in Uganda, claimed that Surinder Thatthi, who is on the Todt ticket to become FIA Sport vice-president of the FIA, made 'veiled threats' to him in telephone calls on the day after nominations for the election were announced.
Wavamunno, who is standing against Thatthi for election as Africa's representative on to the World Motor Sport Council (WMSC), claimed that his rival phoned him twice on August 29. In the first call, Wavamunno alleges that he was told that standing against Thatthi and supporting Vatanen against Todt would not be in the interests of himself or the FMU.
In the second call, he claims Thatthi told him a sponsor had been found to pay the 2,820 euros outstanding from the FMU's subscription to the FIA, but only on the condition that Wavamunno withdrew his candidacy and gave the club's vote to Todt.
"I told him the Federation was making arrangements to pay the money and did not need to sell that vote," Wavamunno is quoted as saying.
Thatthi denied the allegations and said he had not spoken to anyone at the FMU since early August and certainly not since the presidential nominations were announced. The Mail on Sunday, however, claimed to have seen phone records confirming that the August calls were made.
I have to say, whatever the respective merits of Todt and Vatanen, I always found it hard to believe that an election for the presidency of the FIA could go any other way than to the candidate who is officially endorsed by both Mosley and Bernie Ecclestone. But maybe I've just been around too long. Vatanen seems to be fighting a good fight and now I'm not so sure.
In the latest round of tennis, a missive came through from Ari on Monday morning. It was a letter he had circulated to the presidents of the voting clubs, and it read:
"Dear President, next Friday's election is not ultimately about who becomes President of the FIA - but it is about ensuring that this great federation, the FIA, is the winner and takes the correct path for its future. You will all have read my policy plans to improve the FIA and the services it provides to you and your members. You are also aware that recent events have, once again, thrown the spotlight on the governance of our beloved institution.
"Therefore, if elected by you on Friday, I will urgently introduce an FIA Ethics Code to cover all senior officials, both elected and employees. Such codes of behaviour are the norm in the modern world of public life and business, where the need for ethical standards and transparent work practices are the key to public confidence. This should be no different in a global organisation of the FIA's scale and scope.
"The FIA is at a crossroads and you have the power to take it on the right road..."
Ethics codes... That might just frighten more people than it reassures. The on-track stuff is done, but the off-track story is still warming up.