PRACTICE
Practice 1 - Friday AM
Friday in Brazil was considerably drier than it had been in Japan two weeks earlier, but it was not without its moments. It started more-or-less dry though, and it was Mark Webber that made the pace in the first 90 minutes of practice at Interlagos.
The Australian traded times with home town hero Rubens Barrichello, both of whom set their fastest times after a mid-session interlude was prompted by a huge rain shower.
Several drivers found themselves sliding off the road, including world champions Fernando Alonso and Kimi Raikkonen, but it was Romain Grosjean who brought out the red flags when he ran wide on the way out of Mergulho and obliterated the Juncao marker board.
The shower dispersed as quickly as it arrived and, in the end, it was Webber from Barrichello, Sebastian Vettel and the McLarens of Heikki Kovalainen and Lewis Hamilton. World champion-to-be Jenson Button was a positive seventh.
Practice 2 - Friday PM
Fernando Alonso may have topped the session with a last-ditch low fuel flyer, but it was Sebastien Buemi that really starred in P2, having dominated for much of the only really dry practice session of the weekend.
Fernando Alonso was fastest on Friday © LAT
The Swiss rookie, using essentially the same chassis as Webber, but in Toro Rosso garb, set fastest lap after fastest lap and would prove later that the pace was no fluke.
The Brawns of Barrichello and Button were third and fifth, indicating that the BGP 001 was on for a competitive weekend, while Webber was fourth.
There were no real incidents in the session, though Giancarlo Fisichella did manage to stall his Ferrari at the exit of the pitlane, just as the drizzle returned for short cameo.
Saturday Practice
The scheduled 60-minute session was reduced to more or less a ten-minute sprint after the poor weather conditions prevented the medical helicopter from taking off, thus cancelling the first three quarters of final practice.
When the pitlane was finally open, a mad rush began to complete a handful of laps before qualifying, which was obviously expected to be wet too. Nico Rosberg made the most of the conditions to top the times after nine laps, the German showing he was one of the men to beat on full wet-weather tyres.
Team-mate Nakajima made it clear the Williams was very strong in the wet and finished as second quickest, with Button in third place, nearly a second off Rosberg's pace.
No driver managed more than nine laps ahead of the grid-deciding session, but Romain Grosjean managed to put his Renault into the barriers having losing control on standing water at the Turn 5 kink and bouncing wildly over the muddy grass.
QUALIFYING
This was one of the most remarkable Formula 1 qualifying sessions ever - and certainly the longest, as wild weather, red flags and long delays meant nearly three hours elapsed between Q1 beginning and Q3 ending.
The first stoppage occurred when Giancarlo Fisichella spun and stalled at the Senna S. The 12-minute delay that followed was more to let the rain abate a little than to retrieve the undamaged Ferrari.
The gap between Q1 and Q2 was then increased to 20 minutes to try and clear more standing water, but Tonio Liuzzi's heavy crash at the start of the session proved things were still too wet.
Finally, over a break of over an hour, the skies cleared and Q2 could be completed.
1. Rubens Barrichello - Brawn-Mercedes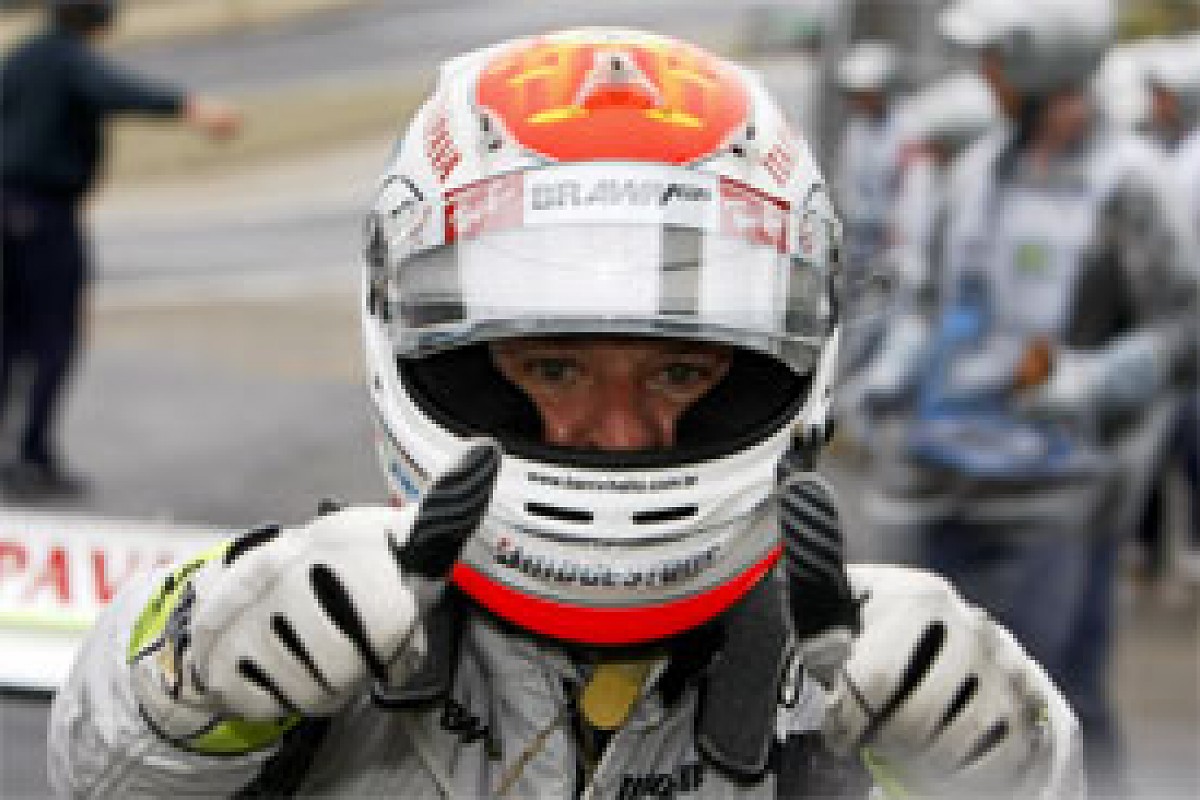 Rubens Barrichello took a crucial pole-position © LAT
The Brazilian had a dream day to return to the top of the grid for the first time since 2004, also at Interlagos. Barrichello came close to missing Q3, but from then on it was a perfect performance from the Brawn driver, who timed things perfectly to emerge on the top spot. With Button down in 14th, things could hardly have been better for Barrichello.
2. Mark Webber - Red Bull-Renault
After doing his best to survive the first session, things got better for Webber, who got more competitive as track conditions improved. By Q3, the Australian felt he could have had a shot at pole position had he managed to get another lap in, but second place was still a great result.
3. Adrian Sutil - Force India-Mercedes
One of the quickest men in the wet, Sutil took advantage of the conditions to almost equal his best qualifying result in Formula 1. The German, who welcomed the conditions as his car was not great in the dry on Friday, had a mostly trouble-free day to end up in a great spot for the race.
4. Jarno Trulli - Toyota
Fresh from his second place in Japan, Trulli continued to lead Toyota's challenge with another strong showing. After the difficult first segment, the Italian felt much more comfortable as conditions improved, culminating in another result that left him eyeing a podium finish.
5. Kimi Raikkonen - Ferrari
Raikkonen did much better than he had expected following a very poor showing on Friday, where the Finn finished near the bottom of the times. The on-form Finn transformed things on Saturday, though, and believed he could have been even higher had the track stayed as wet as in the beginning.
6. Sebastien Buemi - Toro Rosso-Ferrari
The Swiss was competitive from the start of the weekend, both in the dry and in the wet, and culminated his strong run with his best ever performance in qualifying. Buemi made no mistakes during the session and set himself perfectly for a good result in Sunday's event.
7. Nico Rosberg - Williams-Toyota
The improving conditions left Rosberg without a chance of fighting for the top positions, as his Williams, very strong with full wets, was not so fast with the intermediates. Still, he was pleased with his qualifying position and hopeful of a competitive race.
8. Robert Kubica - BMW-Sauber
Kubica admitted his car was more competitive than he had expected when the track was very wet, but was slower when conditions improved, despite running a dry weather set-up. All in all, the Pole's performance was quite strong, even if he ended up eighth after having looked like a contender for pole.
9. Kazuki Nakajima - Williams-Toyota
Nakajima was another of the drivers who were left hoping for continued rain in order to make more progress. The Williams was clearly very competitive with the full wets, but less so with the intermediates. Nonetheless, the Japanese put on a solid performance to reach the top ten.
10. Fernando Alonso - Renault
Alonso seemed to make the right tyre choices to reach Q3, but the Spaniard claimed there was not much more to extract from his Renault in the tricky conditions. It was still another solid job from the double world champion, one that left him in a good position to fight for more points.
11. Kamui Kobayashi - Toyota
Considering the conditions he had to face in his first ever qualifying session, Kobayashi did a very good job on Saturday. He went into Q2 comfortably and came very close to reaching the top-ten shootout, but a mistake in his final flying run left the Japanese just outside Q3.
12. Jaime Alguersuari - Toro Rosso-Ferrari
As shown by Buemi, the Toro Rosso was quite competitive in the wet at Interlagos, and Alguersuari reached Q2 quite easily. But the Spaniard was then one of the drivers to go out only with the full wet tyres and so he was unable to make more progress. He was happy with his position nonetheless.
13. Romain Grosjean - Renault
Grosjean felt comfortable when the track was at its wettest and made it to Q2 quite easily. In the second session, however, he ran out of time before trying to run with the intermediates, and the full wets were simply not quick enough for the 'improving' conditions.
14. Jenson Button - Brawn-Mercedes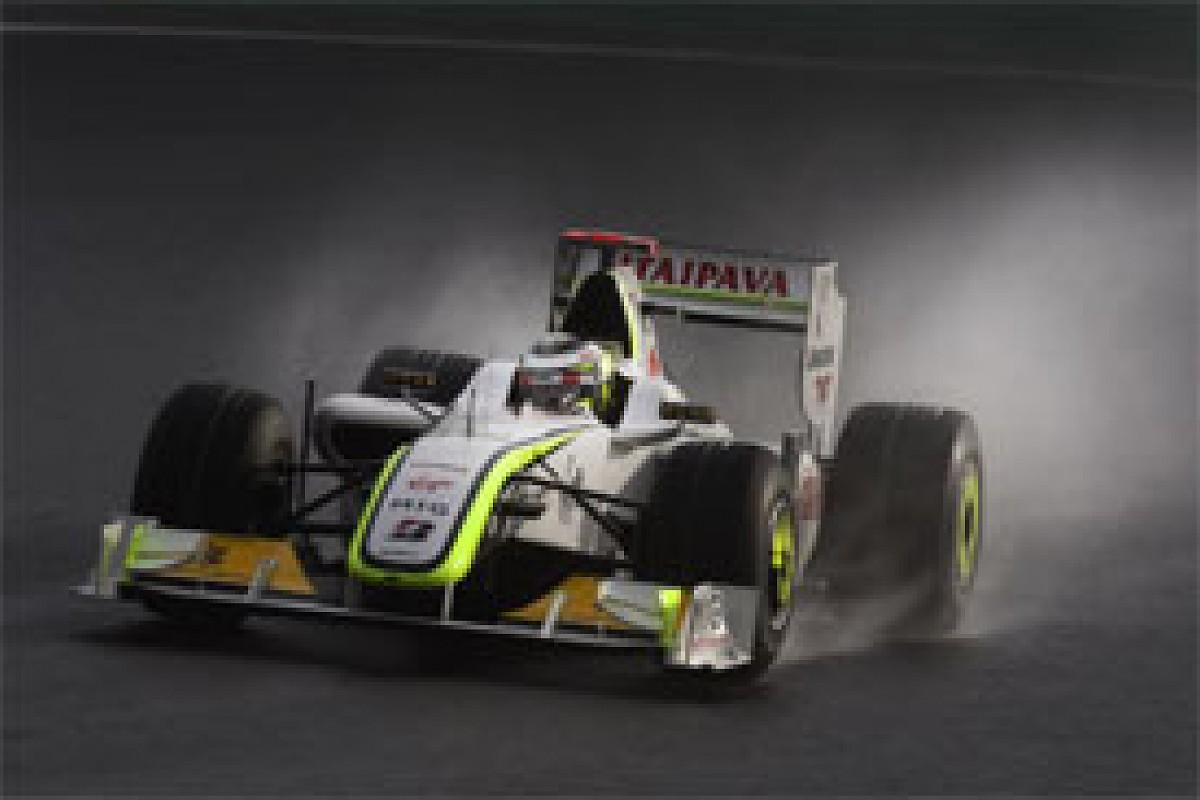 Jenson Button struggled in the second session and failed to advance © LAT
After a good first session, Button made some changes to his car for Q2, and the Brawn was transformed for the worse, causing massive understeer. After trying for three laps, Button destroyed his full-wet weather tyres and ended up without a chance to get close to the top ten. He later admitted not switching to intermediates had been a huge mistake.
15. Vitantonio Liuzzi - Force India-Mercedes
Liuzzi was also looking strong in the second Force India car, the Italian hopeful that he could make it to Q3. But the Force India driver was caught out by a puddle in the middle of the straight and his car aquaplaned into the wall, making heavy contact and causing yet another interruption. A resultant gearbox change penalty would drop him to the back.
16. Sebastian Vettel - Red Bull-Renault
It was a case of very bad luck for the Red Bull driver, who was unable to set a fast time without being hindered by traffic, weather or flags. He tried everything possible, but in the end Vettel ended up missing Q2 and with that ended nearly all his chances of staying in the championship fight.
17. Heikki Kovalainen - McLaren-Mercedes
Expecting the race would take place under a sunny sky, McLaren opted to use a dry-weather set-up for qualifying, a decision that backfired badly when conditions became nearly impossible even for cars better suited to the conditions. Kovalainen did the best he could, but the McLaren was simply too slow.
18. Lewis Hamilton - McLaren-Mercedes
Like Kovalainen, Hamilton did not stand a chance to make any progress after his team decided to use a dry weather set-up. The world champion had a nightmare of a day which included a high-speed trip across the grass when conditions were at their worst.
19. Nick Heidfeld - BMW-Sauber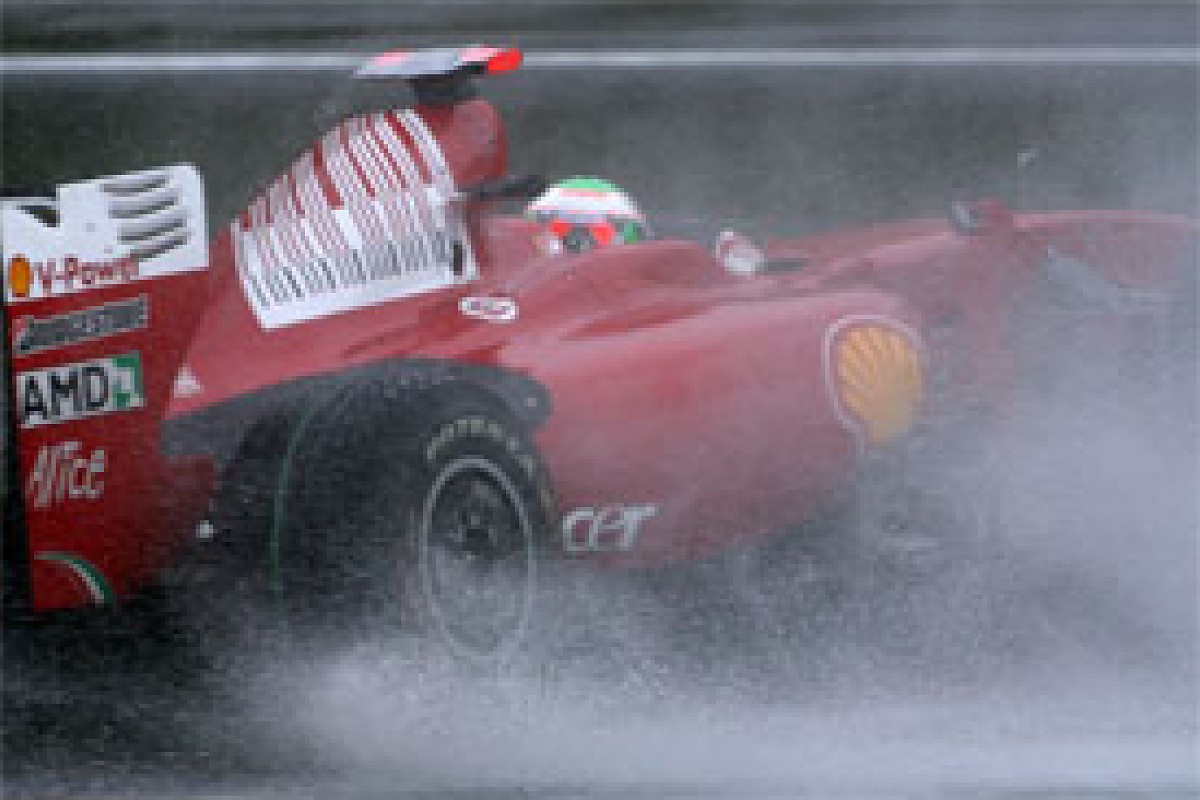 Giancarlo Fisichella spun in atrocious conditions and brought out the red flag © XPB
Heidfeld struggled with his car over the rivers flooding the circuit, his team not having raised his car's ride height enough for all the water on track. With that in mind, the German had no chance to move forward and a late tyre change to fresh rubber only made things worse.
20. Giancarlo Fisichella - Ferrari
It was a very short session for the Italian, who managed a lap in the torrential rain before he spun his car at the exit of the second corner. Fisichella hit the engine cut-out switch by mistake and that was the end of his day and also the first red flag of the session.
QUALIFYING RESULTS
Pos  Driver       Team                       Q1        Q2        Q3
 1.  Barrichello  Brawn-Mercedes        (B)  1:24.100  1:21.659  1:19.576
 2.  Webber       Red Bull-Renault      (B)  1:24.722  1:20.803  1:19.668
 3.  Sutil        Force India-Mercedes  (B)  1:24.447  1:20.753  1:19.912
 4.  Trulli       Toyota                (B)  1:24.621  1:20.635  1:20.097
 5.  Raikkonen    Ferrari               (B)  1:23.047  1:21.378  1:20.168
 6.  Buemi        Toro Rosso-Ferrari    (B)  1:24.591  1:20.701  1:20.250
 7.  Rosberg      Williams-Toyota       (B)  1:22.828  1:20.368  1:20.326
 8.  Kubica       BMW-Sauber            (B)  1:23.072  1:21.147  1:20.631
 9.  Nakajima     Williams-Toyota       (B)  1:23.161  1:20.427  1:20.674
10.  Alonso       Renault               (B)  1:24.842  1:21.657  1:21.422
11.  Kobayashi    Toyota                (B)  1:24.335  1:21.960  
12.  Alguersuari  Toro Rosso-Ferrari    (B)  1:24.773  1:22.231  
13.  Grosjean     Renault               (B)  1:24.394  1:22.477  
14.  Button       Brawn-Mercedes        (B)  1:24.297  1:22.504  
15.  Liuzzi       Force India-Mercedes  (B)  1:24.645  
16.  Vettel       Red Bull-Renault      (B)  1:25.009
17.  Kovalainen   McLaren-Mercedes      (B)  1:25.052
18.  Hamilton     McLaren-Mercedes      (B)  1:25.192
19.  Heidfeld     BMW-Sauber            (B)  1:25.515
20.  Fisichella   Ferrari               (B)  1:40.703

All Timing Unofficial

THE RACE
This surely had to be Rubens Barrichello's day. Qualifying had provided the miracle he desperately needed - Jenson Button a full 13 places further back on the grid.
The ideal scenario for Barrichello was that he would finally get a home win, and Button would fail to score, bringing the gap down to an attainable four points in Abu Dhabi.
Of course a Barrichello victory wasn't guaranteed - Mark Webber was on the front row too and Red Bull had looked ominously quick on Friday, fourth place starter Jarno Trulli was fresh from a Suzuka second place and Kimi Raikkonen's KERS-shod Ferrari lurked not too far behind, but still anything down to fourth place would be okay for Barrichello provided Button did not make too much progress.
So often in 2009, though, Barrichello had appeared to have Button on the ropes. He would either qualify far ahead or make an early break, and then as the race unfolded somehow momentum would roll back towards the Briton, who would pick up pace as things went wrong for Barrichello. That was what the home hero really couldn't afford to happen today...
But almost immediately, Button's prospects began to look brighter. There was carnage all around him on lap one, but it didn't engulf him, instead it got his charge through the field off to an excellent start.
Raikkonen - flying off the grid with KERS again - and Adrian Sutil banged wheels through the first corner, with the Ferrari getting through and challenging Webber for second. The Australian defended - "Kimi would have done the same to me, it had to be done" - and Raikkonen broke his front wing on the back of the Red Bull.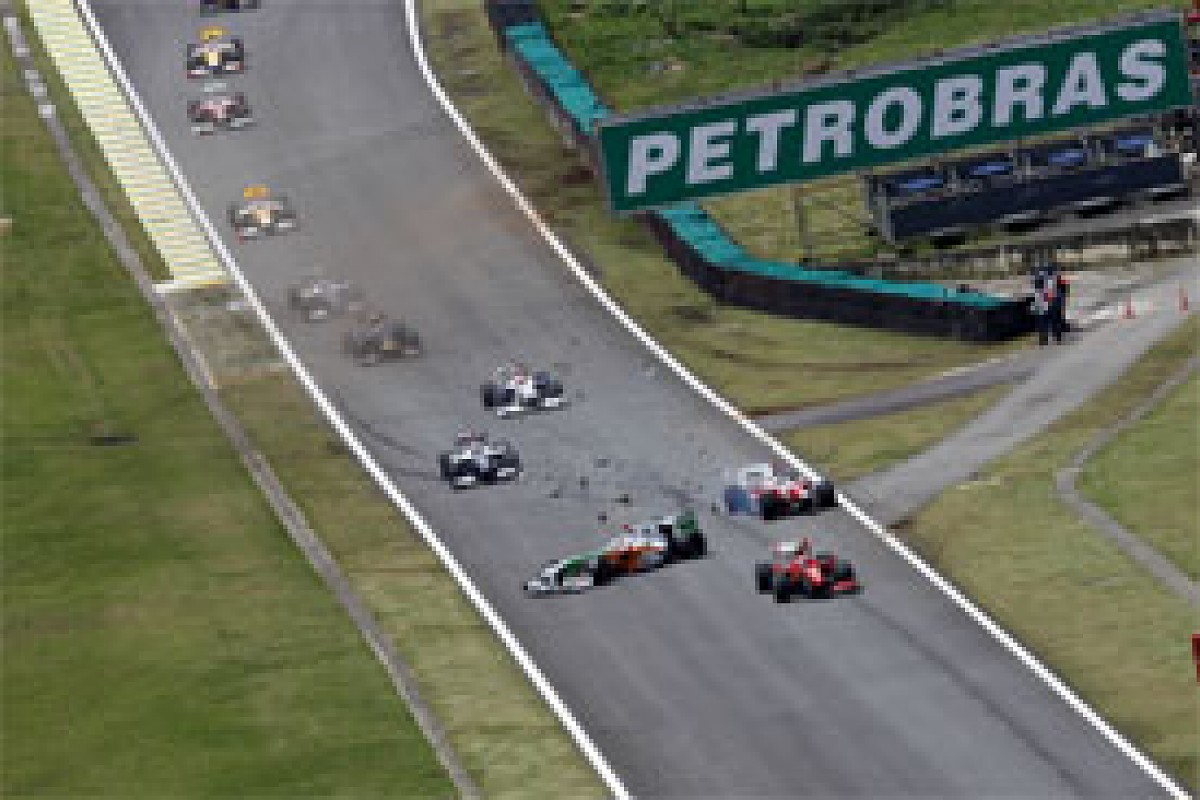 Adrian Sutil and Jarno Trulli clash on the opening lap © LAT
The Ferrari then slowed through the Descida do Lago, and both Sutil and Trulli went around the outside, whereupon the Toyota ended up on the grass, and spun back across the track into the opposite wall. On the way it tagged Sutil's Force India, sending that spinning across the infield before it slewed back onto the track at the Ferradura and collected Fernando Alonso's Renault. All three were out, and Trulli was furious with Sutil.
"I overtook him gradually because I came out of that corner with more speed," said Trulli. "And then I saw him keeping pushing and pushing me to the outside until I was on the grass. So I lost control of the car and I hit the wall. It was a deliberate manoeuvre and a really dangerous manoeuvre."
Sutil's response: "I don't know what his problem is."
The stewards concurred, taking no action over the collision but fining Trulli for his furious remonstration with Sutil in the run-off area.
There had already been smaller scale carnage further back, as Sebastian Vettel tipped Heikki Kovalainen into a spin on the way out of the Senna S, sending the McLaren into Giancarlo Fisichella's path. All three continued and only Kovalainen had sustained damage.
More drama followed while the safety car picked up the field, with Kovalainen being released from the McLaren pit before refuelling was complete. He took the fuel hose with him, spraying petrol over Raikkonen's following car as he accelerated away. This erupted into a brief but intense flash fire, temporarily blinding Raikkonen, who admitted his eyes still stung two hours later.
Remarkably both continued and rejoined the safety car queue, while McLaren also brought Lewis Hamilton in so he could get rid of the soft tyres he had started on, and top up the fuel tank to change his two stop strategy to a one stop.
That would pay spectacular dividends in the end, but for now Hamilton took the restart in 14th, while Button and Vettel were already up to ninth and 11th.
Romain Grosjean was rapidly passed by both of them - Button using a move that started on the inside of the Descida do Lago and ended on the outside of Ferradura - and then the Brawn surged past Kazuki Nakajima's Williams on the inside at the Senna S to take seventh.
Next in line was Toyota's newcomer Kamui Kobayashi. His underwhelming GP2 season had suggested that Kobayashi would do little but keep Timo Glock's seat warm and trundle around near the back, but having been given a Formula 1 chance he was proving both fast and very feisty.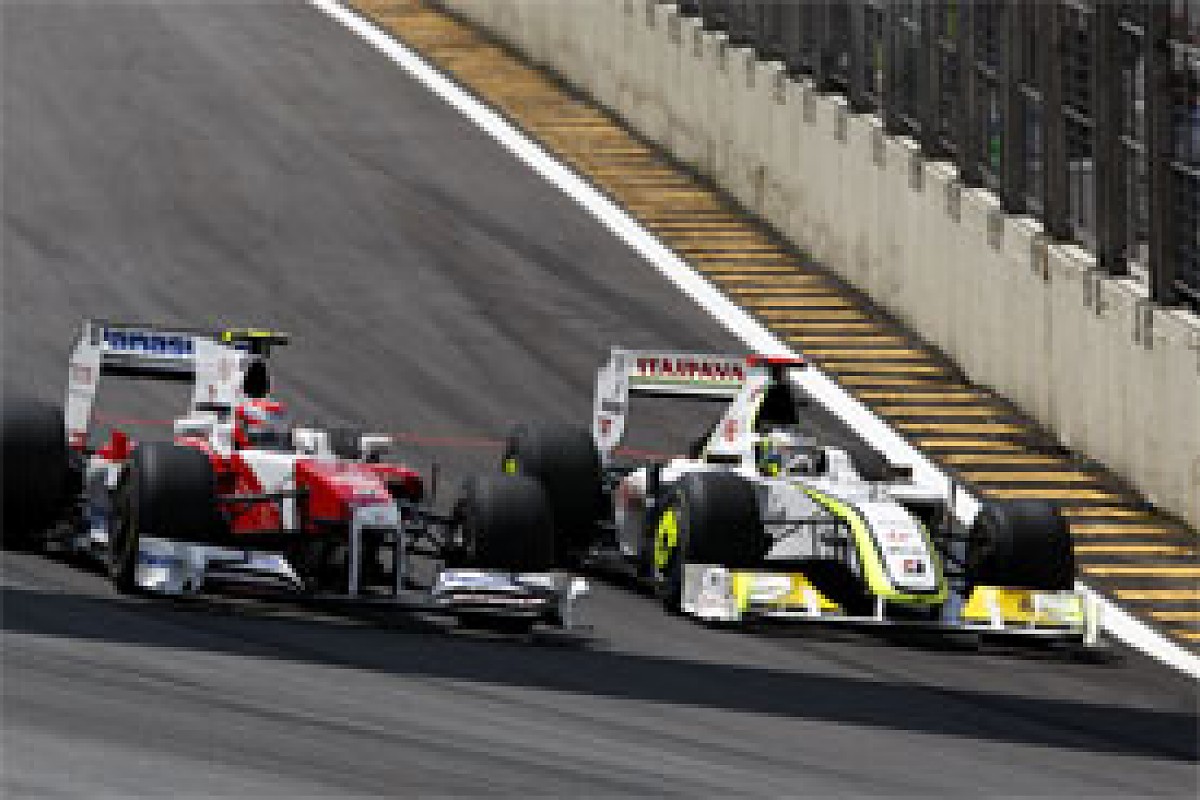 Jenson Button dices with newcomer Kamui Kobayashi © LAT
He had no interest in waving Button past, and defended vigorously as the world championship leader tried time and time again to outbrake the Toyota. A few yards further back, Vettel was in a very similar situation with Nakajima.
All this time, the battling group was dropping away from fifth-placed Sebastien Buemi (Toro Rosso), who was in turn unable to keep up with the top four. And with the one-stopping Hamilton swiftly getting up onto Vettel's tail - and therefore within range of jumping Button too - Button needed to clear Kobayashi.
"That guy is crazy!" said Button. "I suppose it is just inexperience, but he moves a lot in the braking zones which makes it very difficult. Everyone else was tough but fair, he was a bit crazy and he will be put in his place a little bit more now."
Kobayashi even managed to fight back and regain the place when Button first made it through at the Senna S, and it took until lap 24 before the Briton finally made a move stick.
By then, the race had really begun to turn in his favour. Barrichello was the first of the leaders to pit on lap 21, and was only 2s ahead of Webber and 4s ahead of Robert Kubica, who had passed Nico Rosberg at the restart, when he came in. He then rejoined just in front of Vettel, who promptly drove around the outside of him at Ferradura.
Kubica ran two laps further and came out ahead of the Brawn - so it was little surprise that Webber emerged with an even more comfortable advantage when he finally made his first stop on lap 26. Barrichello was down to third, and losing time on every lap to the new leaders too.
"We didn't have the performance to win the race," he admitted.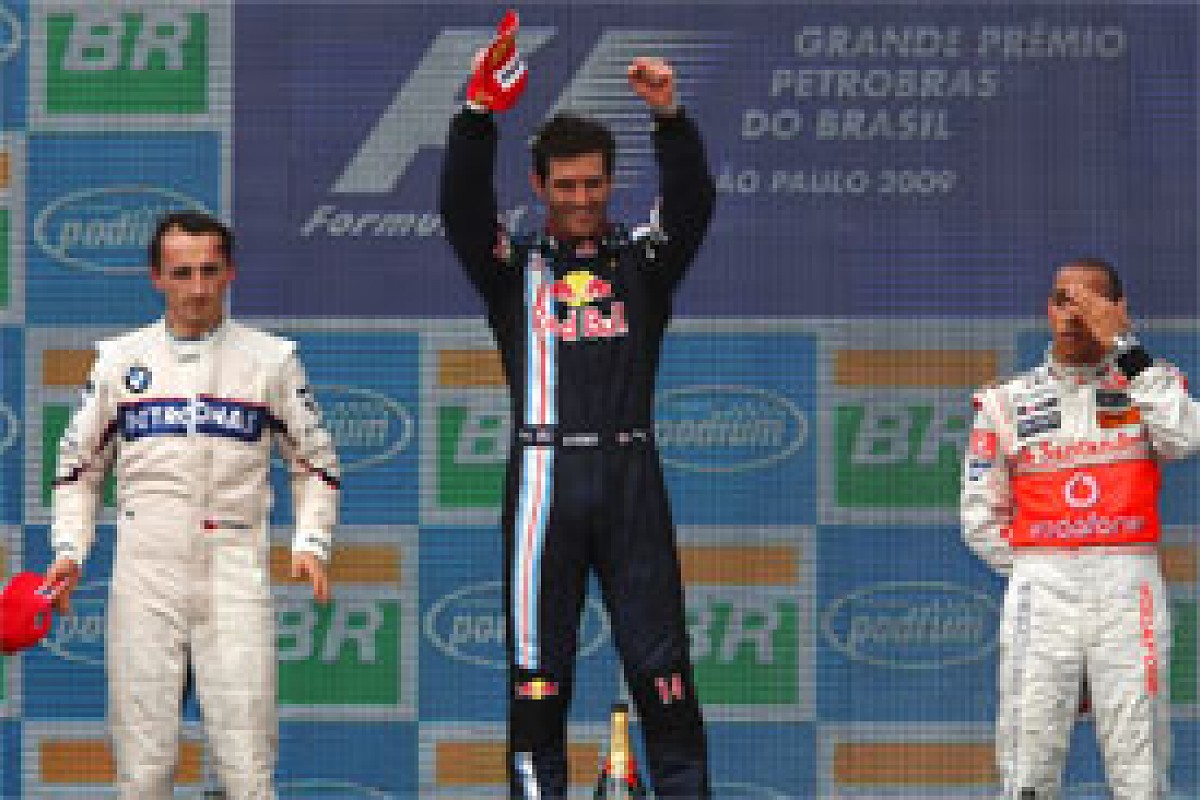 Robert Kubica, Mark Webber, and Lewis Hamilton on the podium © XPB
A shorter middle stint for Kubica allowed him to get a little closer to Webber, but a lead challenge was unlikely as he had turned the revs down to nurse an overheating engine as early as lap 10.
Kubica was clearly on course for his best result of the year and Webber had victory in the bag - sadly for the pair their great drives were about to be totally overshadowed by the coronation of a new world champion.
The top six took on a confused look through the middle stint with the top three on standard two-stop plans, Button and Vettel running very long first stints but also stopping twice, and Hamilton and Raikkonen only pitting one more time following their lap one stops.
When things settled down, Hamilton's relentless pace on heavy fuel had got him up to fourth, right behind Barrichello, and Vettel - who went right through to lap 37 before his first stop - managed to jump Button during the final pit sequence and take fifth.
That was hardly a problem for Button, sixth would do nicely all the time Barrichello was only third. And when Hamilton breezed past Barrichello for third into the Senna S with ten laps to go, Button's grasp on the title got a little more secure.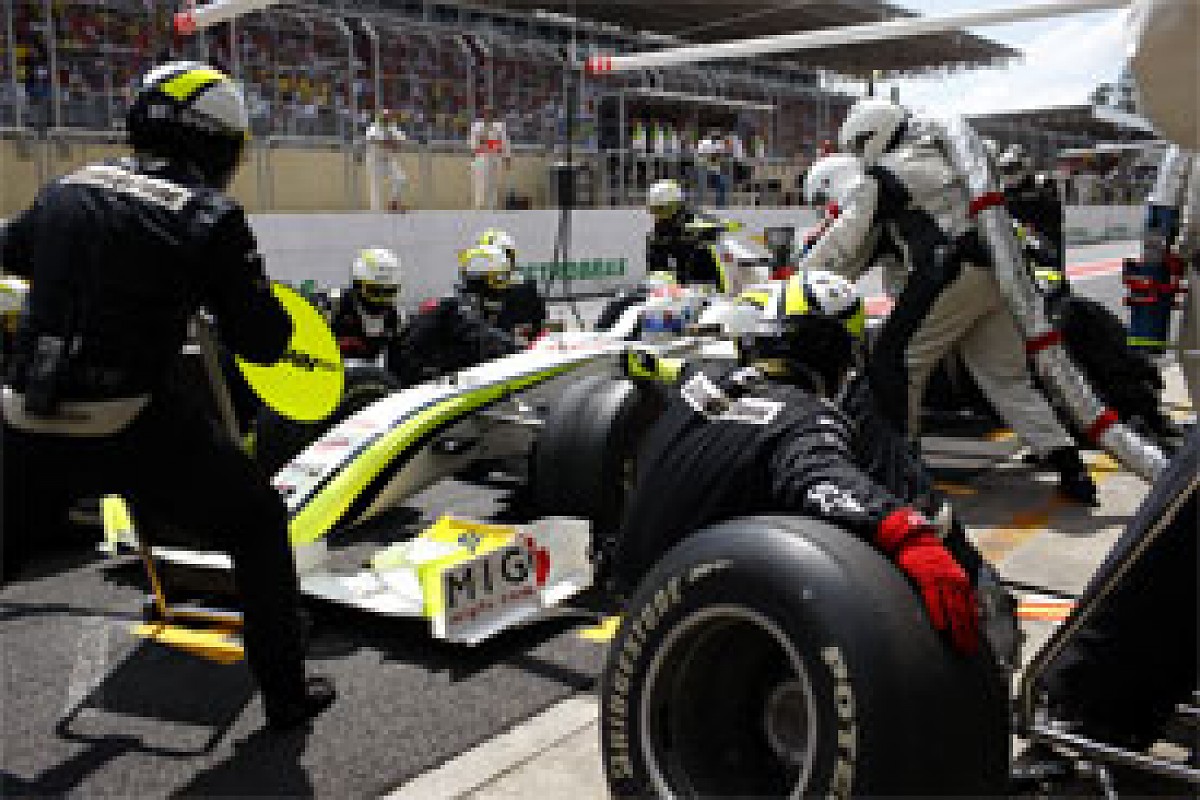 Rubens Barrichello pits late in the race with a puncture © LAT
It was put beyond doubt two laps later when the Brawn team radioed Barrichello to inform him that he had a puncture and had to pit. He fell to eighth, Button improved to fifth, and the identity of the 2009 world champion was decided. Eight laps later Button crossed the line and launched into a wayward but euphoric rendition of 'We are the champions' - because that's exactly what Button and Brawn were.
There were 17 drivers in the grand prix who weren't title contenders, but as is always the case in championship-deciding races, they were really just a sideshow today. Webber's flawless second career victory, Kubica's breakthrough second for the under-threat BMW team and Hamilton's gallant progress from the back to the podium met with a muted reception compared to the explosion of delight in the Brawn pit for Button's fifth, and Red Bull's dignified acceptance that Vettel's surge from 15th to fourth was not enough.
Raikkonen came back from his fireball to finish sixth, ahead of Buemi and Barrichello. With Kovalainen given a 25s penalty for the unsafe pit release that led to the Ferrari being engulfed in flames, Kobayashi ended his first GP in ninth. He had lost pace in the middle of the race, but fought back with a bold late pass on Fisichella for what looked like being 10th until Kovalainen's penalty put him back from ninth to 12th.
Tonio Liuzzi chased Fisichella to the flag, with Grosjean and Jaime Alguersuari completing the list of 14 finishers. Nakajima survived a wheel banging battle with Kobayashi just prior to their first stops, then ended up crashing heavily when his countryman wiped his front wing off as the Toyota tried to get back up to speed out as it rejoined from the pits.
Rosberg also dropped out with a gearbox problem when fourth, while Nick Heidfeld ran out of fuel on-track thanks to a fuel rig problem.
RACE RESULTS

The Brazilian Grand Prix
Interlagos, Sao Paulo, Brazil;
71 laps; 305.909km;
Weather: Dry.

Classified:

Pos  Driver        Team                      Time
 1.  Webber        Red Bull-Renault      (B)  1h32:23.081
 2.  Kubica        BMW Sauber            (B)  +     7.626
 3.  Hamilton      McLaren-Mercedes      (B)  +    18.944
 4.  Vettel        Red Bull-Renault      (B)  +    19.652
 5.  Button        Brawn-Mercedes        (B)  +    29.005
 6.  Raikkonen     Ferrari               (B)  +    33.340
 7.  Buemi         Toro Rosso-Ferrari    (B)  +    35.991
 8.  Barrichello   Brawn-Mercedes        (B)  +    45.454
 9.  Kobayashi     Toyota                (B)  +  1:03.324
10.  Fisichella    Ferrari               (B)  +  1:10.665
11.  Liuzzi        Force India-Mercedes  (B)  +  1:11.388
12.  Kovalainen    McLaren-Mercedes      (B)  +  1:13.499
13.  Grosjean      Renault               (B)  +     1 lap
14.  Alguersuari   Toro Rosso-Ferrari    (B)  +     1 lap

Fastest lap: Webber, 1:13.733

Not classified/retirements:

Driver        Team                      On lap
Nakajima      Williams-Toyota       (B)    31
Rosberg       Williams-Toyota       (B)    28
Heidfeld      BMW Sauber            (B)    22
Sutil         Force India-Mercedes  (B)    1
Trulli        Toyota                (B)    1
Alonso        Renault               (B)    1


World Championship standings, round 16:                

Drivers:                    Constructors:             

 1.  Button        89        1.  Brawn-Mercedes        161
 2.  Vettel        74        2.  Red Bull-Renault      135.5
 3.  Barrichello   72        3.  McLaren-Mercedes       71
 4.  Webber        61.5      4.  Ferrari                70
 5.  Hamilton      49        5.  Toyota                 54.5
 6.  Raikkonen     48        6.  Williams-Toyota        34.5
 7.  Rosberg       34.5      7.  BMW Sauber             32
 8.  Trulli        30.5      8.  Renault                26
 9.  Alonso        26        9.  Force India-Mercedes   13
10.  Glock         24       10.  Toro Rosso-Ferrari      7
11.  Kovalainen    22       
12.  Massa         22       
13.  Kubica        17       
14.  Heidfeld      15       
15.  Fisichella     8       
16.  Sutil          5       
17.  Buemi          5       
18.  Bourdais       2      
       
All timing unofficial

Lap-by-lap as it happened on AUTOSPORT Live
TEAM BY TEAM
Ferrari
Raikkonen and Fisichella ended Friday a dismal 18th and 20th, the latter having stalled in the pit exit trying a practice start. Things got better for the Finn on Saturday as he took fifth on the grid, but Fisichella stayed at the back after spinning and stalling in Q1.
Both were caught up in startline chaos - Raikkonen banging wheels with Sutil then losing his front wing hitting a defensive Webber, before being briefly covered in flames from Kovalainen's spilt fuel in the pits, while Fisichella gets entangled with the spinning Kovalainen.
They recover well, Raikkonen making it back up to sixth and Fisichella heading for 10th until passed by Kobayashi near the end, although he regains a place when Kovalainen is penalised.
McLaren-Mercedes
McLaren is among the pre-race favourites given Interlagos' KERS friendly elements, but gambling on a dry set-up backfires in wet qualifying, and Kovalainen and Hamilton line up on row nine before Liuzzi is demoted.
Kovalainen tangles with Vettel and Fisichella at the first corner, then engulfs Raikkonen in flames in the pits when he is waved out too soon and takes his fuel hose with him. He recovers from all this to finish ninth before a penalty for the pit incident drops him to 12th.
It's a much better afternoon for Hamilton. He plans a short early stint to get the fragile soft tyres out of the way, and when the safety car comes out for the first corner crash he is brought straight in to switch to hard tyres and top up for a one-stop strategy. He then makes rapid progress through the field and takes third from Barrichello late on.
BMW Sauber
Mixed fortunes in qualifying as the team tries to make a dry set-up work: Heidfeld is an early departure in 19th, while Kubica battles through to eighth. He uses that a springboard to chase Webber home to take a season-best second in the race, helped by a great start and an early move on Rosberg, but hindered by overheating throughout. Heidfeld runs out of fuel due to a rig problem.
Renault
Both drivers take several trips off in practice, although Alonso uses a low fuel run to go fastest in the second session. Grosjean causes a red flag on Saturday morning by spinning through the mud and into the barriers on a big patch of standing water.
They do well to qualify 10th and 13th, Alonso ahead. But the Spaniard is taken out by Sutil's out of control car on lap one, and although Grosjean is elevated into the top ten amid the mayhem, he lacks race pace on heavy fuel and only finishes 13th.
Toyota
Kobayashi makes a very eye-catching debut, running solidly in the midfield through practice and qualifying 11th despite the terrible weather. In the race he battles (very) hard for sixth with Button in the first stint, escapes a tangle that ends Nakajima's race, then fights through to 10th with a late pass on Fisichella, having lost ground in the middle stages. Kovalainen's penalty then gives him ninth.
Trulli takes a promising fourth on the grid but ends up on the grass on lap one and spins into Sutil - who he vehemently blames - and then into the wall.
Toro Rosso-Ferrari
Buemi crashes in first practice then atones for it by being fastest in the afternoon until Alonso's late low fuel run. He then qualifies a season best sixth, while Alguersuari starts 12th.
The Swiss driver holds his own in the race, running fifth initially and finishing seventh, having lost out to cars that were pitting later. Alguersuari has a quiet race to 14th.
Red Bull-Renault
Webber is fastest in first practice, qualifies a close second behind the lighter Barrichello, then takes the lead at the first stop and proceeds to dominate the race.
Vettel is also fast on Friday, but misjudges his timing in Q1, wastes the best of the grip when stuck in traffic, and qualifies a disastrous 16th. He charges to fourth in the race, gaining with a very long first stint and great pace on heavy fuel, but he can't stop Button being crowned champion.
Williams-Toyota
Great wet weather pace sees Rosberg on top in final practice and the first two parts of qualifying, but a drying track later leaves him seventh on the grid, two places ahead of Nakajima.
Rosberg runs fourth in the opening stages, but is an early retirement with gearbox issues. Nakajima creashes out when put on the grass by Kobayashi.
Force India-Mercedes
Sutil qualifies a brilliant third, while Liuzzi is a victim of aquaplaning right at the start of Q2, where he never has chance to set a time.
The need to change his crash-damaged gearbox earns him a grid penalty too.
Liuzzi doesn't make much impression in the race, but does close on Fisichella for 10th at the end. Sutil crashes with Trulli and Alonso on lap one.
Brawn-Mercedes
An amazing weekend sees the team crowned constructors' champion and Button clinching the anticipated drivers' crown. Barrichello takes an emotional home pole, while Button makes a mess of the changing conditions in Q2 and starts only 14th.
In the race, Button charges forward from the outset, producing some bold moves to secure fifth and the world championship, as main rival Barrichello loses pace in the race, falls to third in the pitstops, then pits again with a puncture near the end and comes home eighth.