First, second or third is enough for Jenson Button to clinch the title in the Brazilian Grand Prix, surely an easy assignment for someone who has won six races in 2009? Unfortunately for the 29-year-old, it is more of a challenge than he would like. Most expect him to win the title, but chances are, only after a tense championship finale in Abu Dhabi two weeks later. Realistically for a driver who has been on the podium only once in eight races, he should draw considerable confidence from knowing that two humble sixth places will be enough - a far easier assignment.
But the Brazilian Grand Prix should be all about the chasers. Brawn GP team-mate Rubens Barrichello and Red Bull's Sebastian Vettel need wins to go to Abu Dhabi with a decent shout of the title, and the pair are arguably as strong pre-race favourites as you get in this topsy-turvey second half of the year, even though the top end performance of the Renault engine will make it harder for the German.
There will be some flies in the Paulista ointment that mean that even if Button fails to score, he could go to Abu Dhabi in a strong position. Chief among them is form man Lewis Hamilton. The McLaren is expected to go well in the twisty second sector, and with the potent Mercedes engine boosted by KERS, Hamilton could easily be in a position to claim a third win of the season.
The scene is set for a spectacular race. Oh, and it looks like it's going to be a wet one too!
Talking points
1 Barrichello's home hoodoo
Rubens Barrichello walks back to the pits after retiring from the 2002 Grand Prix of Brazil © LAT
Barrichello has started his home grand prix 16 times, and has just one podium to show for it. He knows he needs a win finally to get within striking distance of Button. What's more, Brazil expects. And that brings tremendous pressure on a driver who has not always had wholehearted support at home, particularly since Felipe Massa emerged as a title force. One thing is for sure, he is quick on home soil, and will be hoping that the kind of bad luck that forced him to retire his out-of-fuel Ferrari while leading in 2003 will not strike again.
2. Extra KERS power
KERS will be worth more than usual in Brazil, and not because of the long straights. Sao Paulo is at an altitude of around 800 metres, which means less dense air and therefore less powerful engines. KERS, however, will still boot out its 80bhp, making it proportionally a bigger boost than at most tracks. Good news for Ferrari and McLaren, although Renault has chosen not to run its system.
3. Battle for seventh
It's not often that seventh place in the constructors' championship is considered such a big prize, but it is exactly the goal that Force India, BMW Sauber and Renault are squabbling over. All three have been erratic performers, with only Renault showing genuine consistency, and any could spring a surprise at Interlagos.
4. Fighting for their futures
Keep an eye out for the well-established names who are looking for drives for next year. Jarno Trulli, the third most experienced driver on the grid after making his debut for Minardi in 1997, was on the front row in Brazil last year and heads into the weekend off the back of a superb second place in Japan. He looks to be on his way out of Toyota and needs to prove that he still has plenty to offer in F1. It's a similar story for Nick Heidfeld, who feels that his ability is undervalued and has given Robert Kubica a hard time this year - with BMW's form improving, a big result is just what he needs.
5. Fisi's Ferrari failure
Giancarlo Fisichella has struggled to adapt to the Ferrari F60 and is without points in three races. With the Scuderia still far from certain of finishing third in the constructors' championship, a top eight finish at the track where he won his first grand prix in 2003 would go down very well.
Lewis Hamilton's key points
"My highlights are Turn 1, braking into the long left-hander which bends right and takes you out onto the back straight; Ferra Dura, which is a fast right-hander where you body is squeezed hard into the side of the car, and the main straight: you accelerate hard uphill and you can even hear the crowd and the Brazilian drums playing in the grandstands.
"One of the greatest things about racing at Interlagos is the crowd. There's such a great atmosphere; the fans have so much energy and life. It's a party while you're working, and it's great to see everyone happy."
Race history
The first full-blown Brazilian Grand Prix was in 1972, with Carlos Reutemann winning a non-championship Formula 1 race that preceeded the country's first points-paying event the following year. But there were minor grand prix races there as early as the 1930s, including the infamous 1936 Sao Paulo Grand Prix. Held on the deeply unimaginative Jardim America street track (think a big square), Helle Nice was pitched into the crowd, killing five or six people, including the unfortunate soldier that she apparently landed on after being chucked from her somersaulting Alfa Romeo. Unsurprisingly, that triggered her retirement from racing.
But the Brazilian Grand Prix that we know today started with the first world championship race in 1973. Held at the old Interlagos, in its early years it was a happy hunting ground for the home drivers. Emerson Fittipaldi won in 1973 and 1974, with Carlos Pace taking his sole world championship race win in 1975. A bust of Pace, who the track was named after following his death in a plane crash, now sits near the main entrance.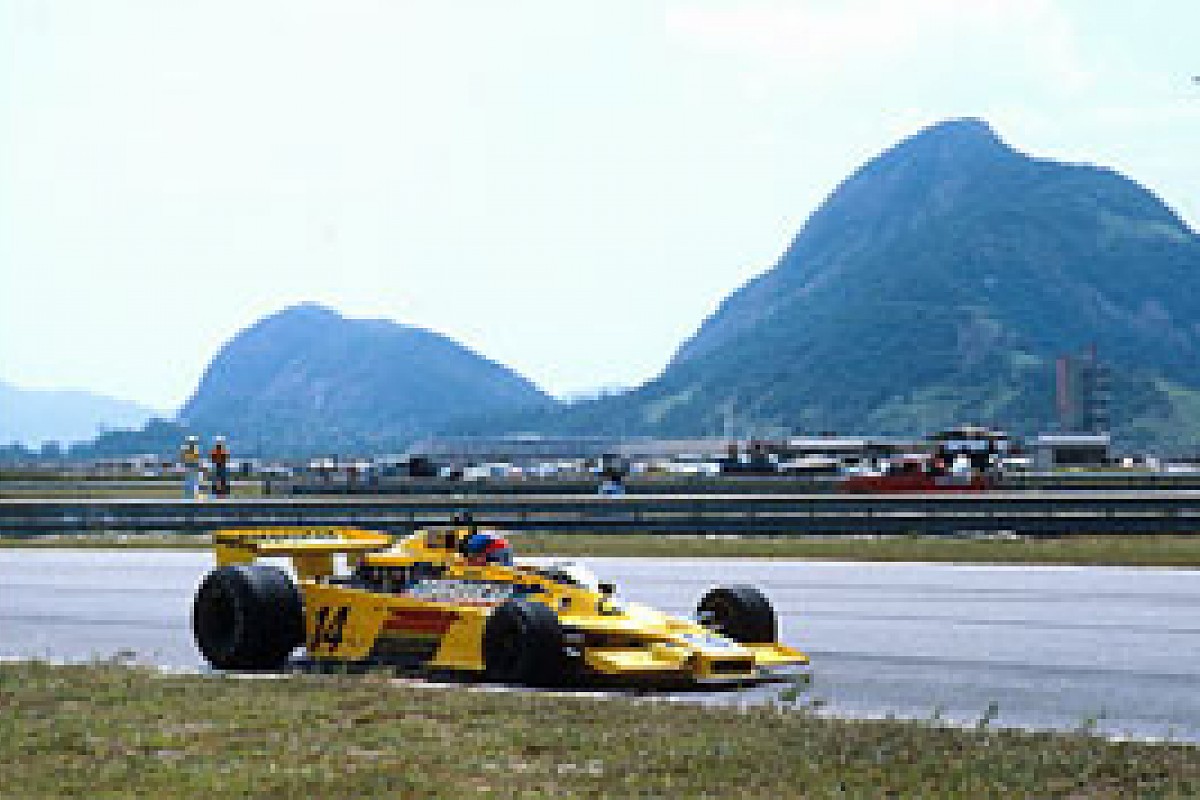 Emerson Fittipald (Fittipaldi F5A Ford) finished second in the 1978 Brazilian Grand Prix at Jacarepagua © LAT
In 1978, the race moved to Jacarepagua in Rio de Janiero, where Reutemann won, with the track becoming the permanent home of the race after two further visits in 1979 and 1980.
It remained there until 1989, the year that Nigel Mansell took a sensational victory on his Ferrari debut in a car that few thought had a chance of lasting the distance.
In 1990, the Brazilian Grand Prix was once again back in Sao Paulo. Running on a shortened version of the original track - although much of the old one remains visible to this day, including the sweeping first corner which either Keke Rosberg or Jean Pierre Jarier became the first driver to take flat depending on who you believe - it was pretty much the circuit used to this day.
Senna took his first home grand prix victory there in 1991, and in 1993 he added a second in a rain-lashed event that produced Damon Hill's first podium finish.
From 1994-2000, the eventual world champion won the race, with Michael Schumacher, Damon Hill, Jacques Villeneuve and Mika Hakkinen all victorious. That streak ended with David Coulthard's victory for McLaren in 2001.
In 2003 Giancarlo Fisichella took his first win, and the last for the Jordan team. This was despite originally being classified second after a disputed countback decision after the race was stopped.
Juan Pablo Montoya won in 2004 and 2005, and since then Interlagos has been Felipe Massa territory, the Brazilian winning in 2006 and 2008 and only missing out in 2007 after handing victory - and therefore the title - to team-mate Kimi Raikkonen.
Last year's race produced the most exciting championship denouement of all, with Lewis Hamilton passing the slick-shod Timo Glock for fifth at the last real corner to pip Massa - who had already crossed the line to win - to the crown by a solitary point.
From the forum
" Vettel and Barrichello won't have anything to lose, while Button has everything to lose. I don't think Jenson is going to get points. I wonder how Hamilton will perform? So far he had disastrous races here in 2007 and 2008, but that was because of the pressure of the championship."
Jackmancer
" Most similar track to this is Turkey, I'd say. Therefore Red Bull will definitely be competitive and Brawn should be too. I just don't know about the rest its too close to call. With good straight line speed Force India might be strong again, but could lose out on the 'Mickey Mouse' bits."
pipin
" If it's dry I would think Hamilton with KERS up the hill onto the straight and his deft touch on the brakes into Turn 1 followed by another KERS deployment on the back straight should suit him and the car well. If it's wet ... Vettel."
skid solo