So this is it for Jenson Button. He's 14 points in front of Rubens and 16 ahead of Vettel with two to play. Six points - one third place - would suffice, even if Barrichello won at Interlagos and Abu Dhabi. To put a stop to Vettel, Jenson needs just a fifth place in either race supposing that Sebastian wins both. Twenty plus years since Button first sat in a kart he's within touching distance of the sport's ultimate prize.
It should - should - be plain sailing. But then again, Lewis Hamilton failed to convert a 17-point advantage with two races remaining in 2007. This is Formula 1. Anything can happen and usually does. Just suppose that Jenson got tagged at the Senna Esses on the first lap at Interlagos and Vettel won. Given Button's topsy-turvy second half season, would he want to go to Abu Dhabi knowing he had to finish in the top five if Vettel won again? Look back at the last seven races and he's managed to do that three times but failed four times! He's red hot favourite, of course he is, but it's not cut and dried.
Predictably perhaps, some are questioning whether Jenson is having a confidence crisis, whether the second half of the year means that somehow he is not a deserving champion.
Frankly, I don't think there's a case for either. Undeniably he had a car advantage at the start of the year. And it's also true that Barrichello has had a more impressive second half. But there are reasons for everything and I'd argue that Jenson has done very little wrong all year. The world championship is fought out over the full 17 races and he's made great use of what he's had. He won't be delighted about being unable to clinch it in the manner he wanted but that's the way the cards have fallen.
Last year, for example, Hamilton and Massa made four or five mistakes each as they fought out the championship in what were clearly the best cars in the field - consistently. This year, Button could be accused of messing up one or two qualifying laps. And that, really, is the full extent of it.
At the start of the year Jenson was truly sensational. Ross Brawn said recently that Jenson and Rubens are pretty evenly matched and that it was 'extraordinary' that Jenson should win six races before Rubens won one. It was only to be expected, he reckoned, that things would level out a little in the second half.
Barrichello's early season demeanour precisely reflected that. He knew, for instance, that, whenever Honda tested at Barcelona, he was usually quicker than Jenson. He's particularly good in Turn 3 and on the brakes for T9. In his mind, Spain was his. Then there was that strategy change for Jenson and a fabulous middle stint, and suddenly Rubens was seeing all sorts of conspiracies that weren't there. It came close to paranoia. When Jenson won superbly at Monaco and dominated Turkey, there was another emotional outburst from Rubens in Istanbul after he failed to get off the line properly. Button's form was clearly getting inside his head.
The only thing that prevented a clean sweep of the first seven races by Jenson was China where, in the teeming rain, he had no answer to the Red Bulls. Vettel was gone as soon as the lights changed and then Webber drove around the outside of the Brawn in Turn 7.
Button admitted there was nothing he could do about it - the grip wasn't there to fight the Red Bull - and it was the first indication, albeit in the wet, that the Brawn didn't generate tyre temperature like the Red Bulls did.
It wasn't that simple though. To get a balance on the car the team ran a very flat flap angle on the front wing, it didn't work properly and the car lost a huge amount of performance. Brawn now has a different family of wings and, without claiming that they'd waltz off into the distance in another wet race, they know they'd be better. It might just be put to the test. Interlagos can be hot and sweltering or monsoon rain can be so severe that you need a dinghy in the press room.
Ironically, Silverstone, the race Jenson really wanted, was the first indication that he and Brawn had a problem. It was the first time we'd had significantly lower track temperatures and the Brawn wouldn't heat its front tyres. It's not such an issue in the race but if you can't get a lap out of the car I qualifying, with overtaking the way it is in F1, Sunday is too late.
The team had similar problems in cool conditions at Nurburgring, these races also coinciding with a vastly improved Red Bull, and also in Hungary, where initial indications on Friday, in warmer ambient, were that they were okay, only for the team to be confounded by cooler conditions thereafter.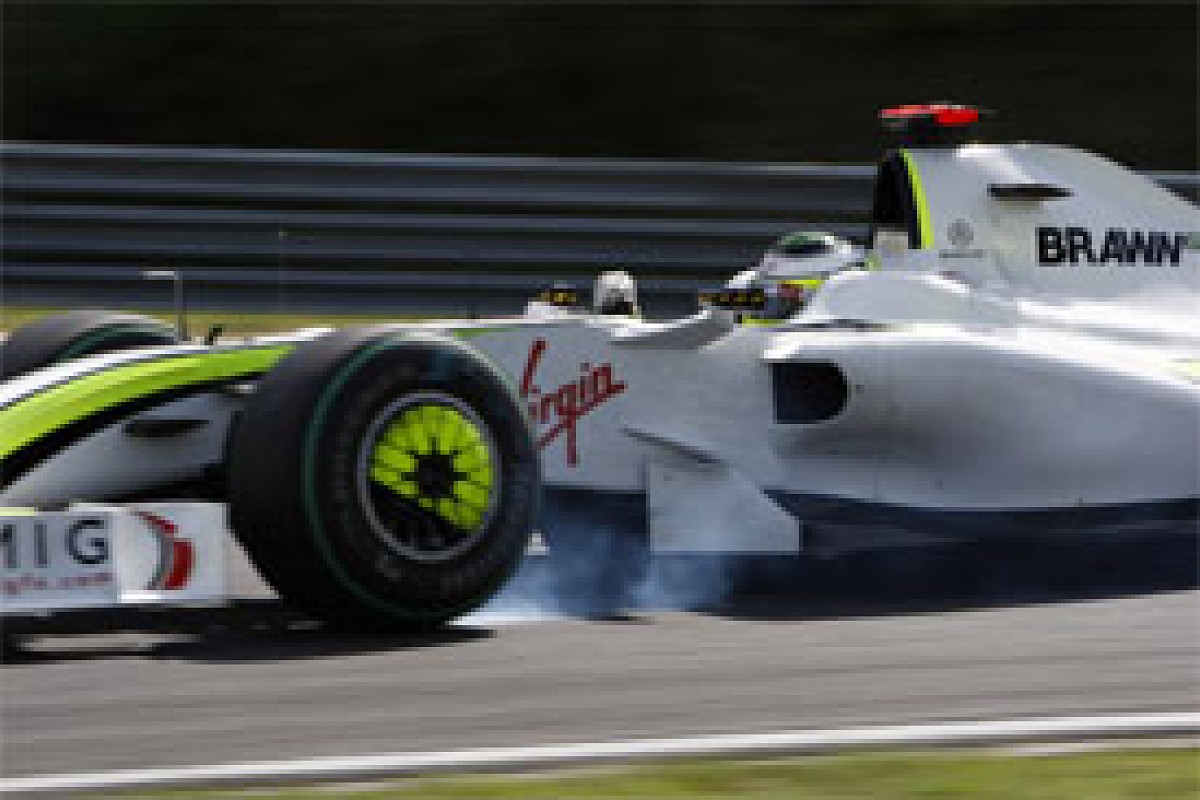 Jenson Button locks a wheel at the Hungaroring © LAT
By the time he left Budapest, Button was well aware he had trouble. Webber had taken 24 points from the past three races, Jenson and Rubens just nine apiece.
If anything, the tyre temperature issues were hitting Jenson harder than Rubens. That was understandable. Rubens has a naturally more aggressive driving style than the innately smooth Jenson and Brawn's data was showing that sometimes Rubens generated up to 10 degrees more front tyre temperature.
What can you do about it? Not much. You can try to adapt your style a little, and Button did, but you can't go back to school when you're talking about a qualifying lap on the limit. The fact that Jenson has made a mess of a qualy lap here and there is more a reflection of trying to come to terms with the problem than any pressure failings.
What's also important is tyre warm-up on the 'out' laps and that's an area Brawn has worked on. Again though, there's only so much you can do. The lack of in-season track testing this year has also made it tougher to sort out issues. You can't back-to-back things like underfloors in Friday practice at a grand prix, for example.
The team looked closely at suspension changes they made before Turkey, where the tyres operate near the top end of the scale, and considered whether those things had hurt them at places like Silverstone and Nurburgring. "We just had to learn to manage those things a bit more effectively," Ross Brawn admits.
The first real error you can accuse Jenson of was qualifying in Valencia, round 11, when he mucked up Turn 4 on his all-important lap in Q3. It wasn't dreadful, he still qualified fifth on a heavier load than Vettel's fourth-placed Red Bull, but he suffered when Sebastian, who it later transpired was not confident his engine would last - it didn't - leaned on him off the grid. Jenson dropped back into the pack and that was effectively the end of his afternoon. It was expensive in real terms as Rubens proved the car was the class of the field by beating Hamilton and taking his first win of the year.
Then came Spa, which gave us the weirdest dry qualifying session anyone could recall in ages, in which Jenson simply could not generate front tyre temperature on either tyre - this was the site of one of the biggest differences vis a vis Rubens - and he failed to make it to Q3. Starting 14th he again paid a high price, blameless as he was taken out on lap 1.
Strategy solved the qualifying issues at Monza and the Brawns finished 1-2. Rubens was ahead but it was nip and tuck all afternoon. Why was Jenson finishing behind Rubens whereas he was beating him earlier in the year? It's probably just as Ross says - that start was extraordinary and he can't win them all. With the championship in sight perhaps there may have been an element of caution too. Not a crisis of confidence, just caution. It's natural enough. In Jenson's position eight points did just fine.
The came Singapore, where Button again suffered in qualifying. He didn't use new tyres on his first Q2 run to save a set for Q3, but when he flat-spotted his tyres on his all-important second run, he didn't actually make it into the shoot-out. That was down to him and he was quick to admit as much. But he didn't panic, didn't put it in the wall, just drove a charging race, overhauled Rubens and salvaged four points. It didn't look like a man melting under pressure.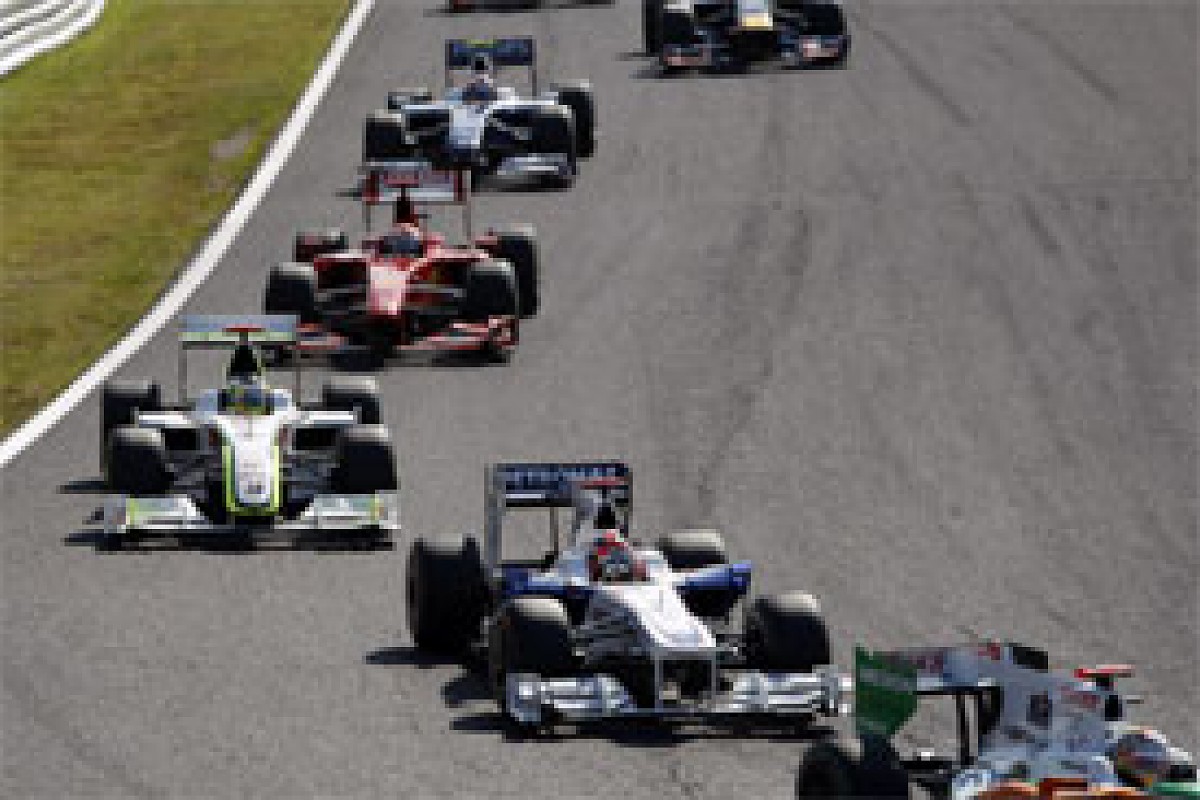 Jenson Button mid-pack at Suzuka © LAT
On to Japan and that odd penalty-hit qualifying session at a track where Red Bull dominated again. The RB5 wasn't Silverstone-quick but it was clearly the class of the field. Rubens got lucky in that his five-place penalty in reality became one due to the rules around the timing of the respective yellow flag transgressions. He thus started sixth while Jenson was relegated to 10th - a bad break. Again though he got his head down, finished right on Rubens's gearbox and ceded just one point to his team-mate.
So, where is the evidence for this loss of form, this crisis of confidence? When has Jenson thrown the car off? When, in a race, has he made a significant error?
It's been a strange and fascinating year and nobody has understood it all. For me, Button has come through in a manner befitting the talented, experienced, self-assured pro that he is. He's a deserving champion, no question. If he brings home the bacon at Interlagos this weekend, put your hands together and applaud what's been a great effort from both driver and team.