On the Saturday of the 1997 Japanese Grand Prix we faced a long evening as the FIA stewards deliberated over a string of yellow flag offences - an investigation that, whatever the outcome, would have a direct impact on the world championship.
In morning practice Jos Verstappen had come to a halt on the run between Spoon Corner and 130R. He was off the track and on the verge, and out of harm's way. But yellow flags were out, and while marshals attended to his car Jacques Villeneuve, Michael Schumacher, Heinz-Harald Frentzen, Rubens Barrichello, Johnny Herbert and Ukyo Katayama were all clocked for speeding. All had to come and plead their cases after qualifying.
The man in the biggest trouble was Villeneuve, since he was carrying a suspended one-race ban which could be triggered by any such offence. And that was serious stuff. With just Sunday's Suzuka race and Jerez to come, Villeneuve was nine points ahead of Michael Schumacher. If he was to be kicked out of this race, and the Ferrari driver won it, then he'd be a point behind as we headed to the finale in Spain.
Villeneuve had in fact taken pole. But then after hours of deliberation came the shocking news - the stewards decided that he had triggered his ban, and would thus not be allowed to start. The Canadian gave an impromptu press conference from the steps outside the Williams team office, which - and for some reason I've never forgotten this - was number 13.
The team appealed against the decision, and Villeneuve was allowed to race. He finished fourth, while Schumacher won. And then, sensing which way the wind was blowing, Frank Williams withdrew the appeal and sacrificed the points he had earned that day. Villeneuve was excluded from Japan, and went to Jerez a point behind Schumacher. He got his revenge by winning the title anyway.
The parallels between Suzuka 1997 and 2009 seemed all too obvious on Saturday evening last week. Once again two of the title contenders were involved in an identical offence committed on the very same piece of road, and once again the hours slipped away as we waited to find out what was going on. Even some of the personalities involved were the same.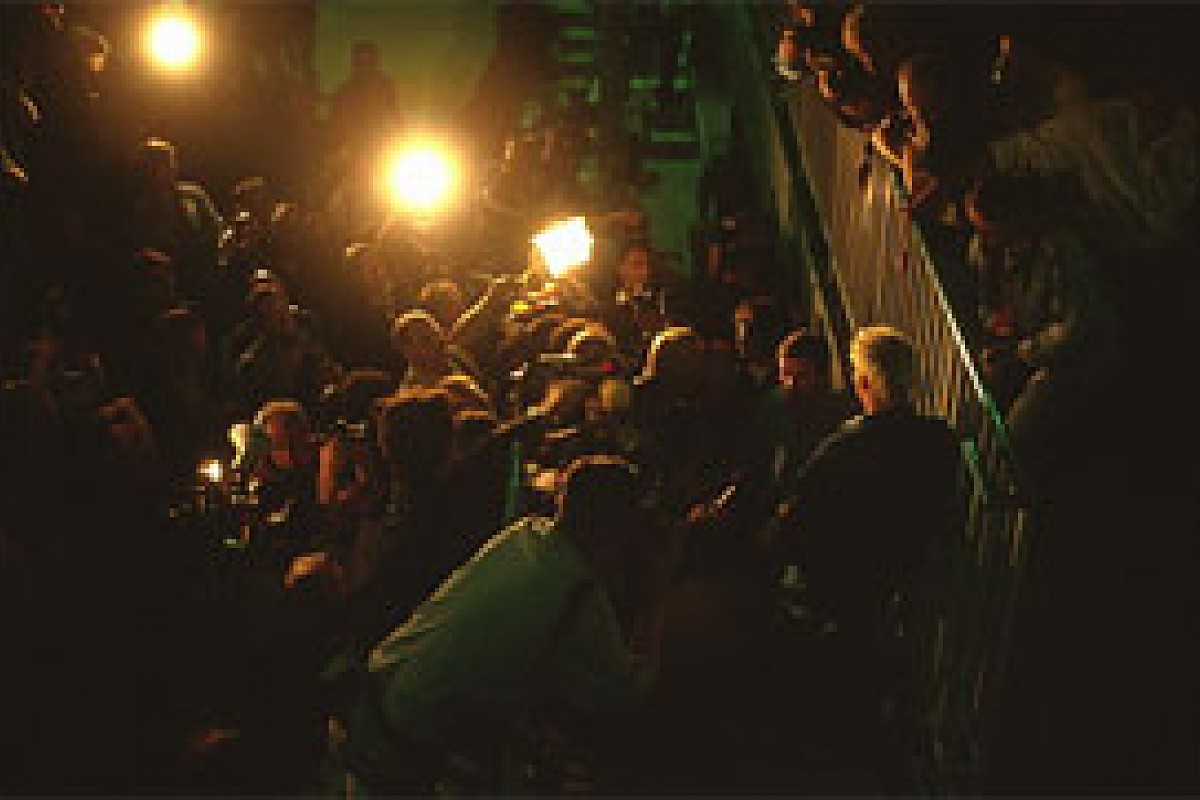 Jacques Villeneuve faces the media after being disqualified from the 1997 Japanese Grand Prix © LAT
"I remember it very well!" said Ross Brawn when I asked if he recalled the same night in '97. "I think yellow flags on straights are difficult things. We get them quite often, and they're in areas where the drivers have a reasonable view of what's going on. If we apply the principle that a driver has to lift every time he sees a yellow on a straight, then it's going to get quite tricky. We often get yellows in the race on straights, and the drivers don't lift."
On that occasion Brawn was on the side that benefited, namely Ferrari. Ironically also in the Brawn camp this year is Jock Clear, who back then was Villeneuve's race engineer. Even he admitted that in theory the 1997 offence was more serious, in that it involved a stopped car with a driver, and marshals. This time around, it was just about debris.
It all kicked off when Sebastien Buemi clattered along the barrier having lost it on the exit of Spoon in Q2. His car had already been hurriedly prepared after his incident earlier in qualifying, and this time, he did terminal damage. He didn't know that at the time, and having kept the engine running, he set off for the pits. Aware that he had probably made it into Q3, he rather optimistically felt that the car was repairable, although on his arrival he found out that it wasn't, and by some margin.
Behind him he left a trail of debris, including his front wing. It was lying forlornly in the middle of the straight, on the approach to the flat-in-seventh 130R corner.
The key thing was the timing. This was everyone's last flying lap in the session, and in the case of title contenders Jenson Button and Rubens Barrichello, their only flying lap. When they saw the debris they had to make a call. Do I lift to satisfy the stewards, and if so, by how much? Or do I go flat and worry about what happens later? For the Brawn drivers in particular, with no banker time, the choice was obvious. And the whole world saw them set times that got them into Q3 while flags were out. It seemed obvious that they could be in trouble.
All drivers are well aware of the perils of speeding under yellows. But in the seconds they had available, some clearly took into account the fact there was no abandoned car, and no marshals on the track. Since they could see the main chunk of debris, and had time to avoid it, they felt they didn't have to lift.
Fernando Alonso for one was focused on the debris. He saw the yellow flashing light at trackside (which has no regulatory value, since the rules are based on flags), but he saw the actual flag a little late. Having passed it he then lifted, and ultimately abandoned his lap. He didn't make it into Q3.
The problem is that flags are flags, and the stewards expect to see a lift by way of acknowledgement that the flags have been seen. It may seem a little arbitrary - a bit like a raised arm - but it's what is expected. Debris is arguably less hazardous than a situation where marshals are exposed, but the rules still apply. The fact that the Brawn drivers chose to go either side of the wing was also an indication of just how marginal the situation really was.
In the aftermath of the session a string of drivers were invited up to race control to see the stewards, like a bunch of naughty schoolboys. The view the FIA took was simple. We think you didn't acknowledge the yellows by slowing - prove otherwise. Some had the telemetry evidence with which to do just that. Kimi Raikkonen for example walked away without sanction.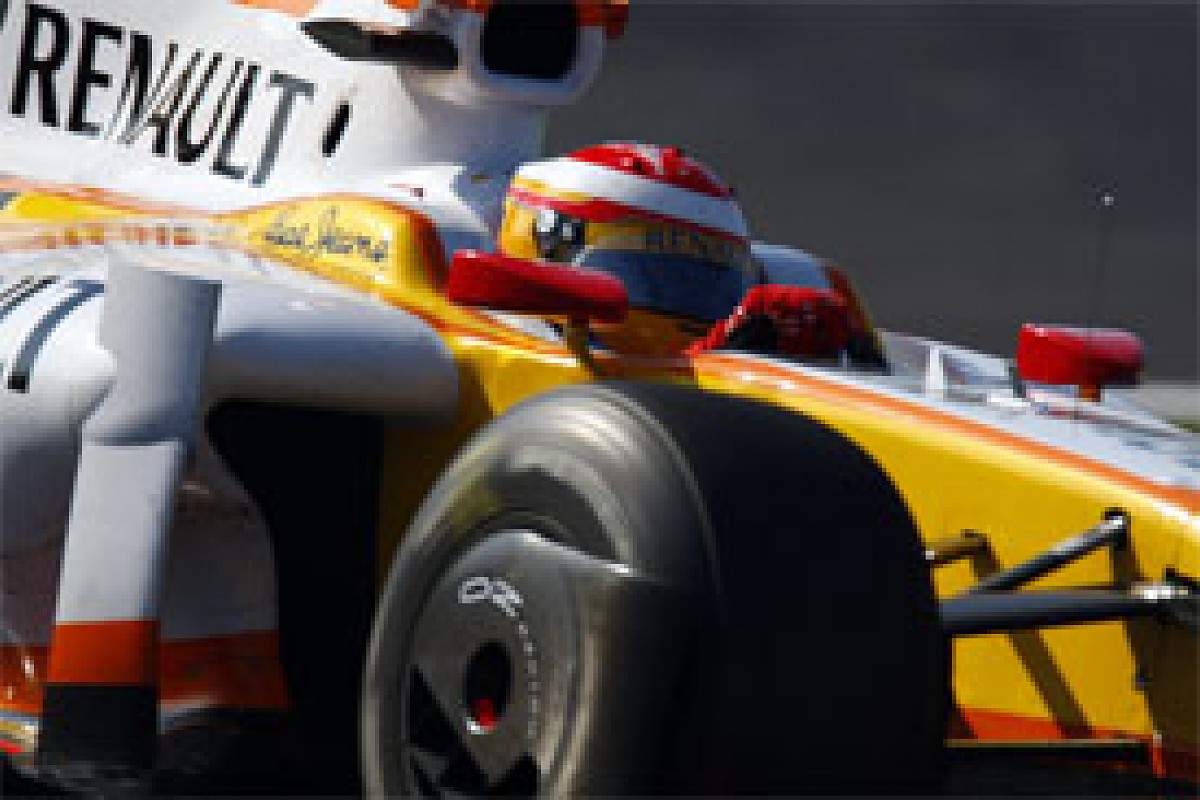 Fernando Alonso © LAT
But Alonso, Barrichello, Button and Adrian Sutil - crucially that was the order in which they passed the yellow flag zone - were all given five place penalties.
"They want to see you just lifting," Sutil told me later. "I don't really know why you have to lift on some occasions if you don't see any dangerous stuff on the circuit - there was no car, nothing it all - and it's your only lap. You have to be aware of an accident of course, but everybody was.
"Everything was very late because the yellow flags were out on the exit of Turn 14, and then 150 metres later there was debris on the circuit, and then you saw the green light already in the far distance. So you had about 150m to react what to do. You can see what Alonso did - he reacted just a bit too late, but he knew he had to lift otherwise he gets a penalty. And he lifted after the incident.
"That's so stupid, because in the end it's all about safety. If you see something dangerous has happened, then you should lift. But it should not be like, 'I have to do that, because otherwise I get a penalty.' This kind of situation you have to look at it, and try to do an improvement in the rules or something like that. I told them the truth, I didn't see any reason why to lift."
Later, the stewards considered the case of Buemi. Given the Massa incident in Hungary and the problems Renault and Alonso faced after the same race, it was perhaps strange that he was not called up for driving a car that was potentially casting off parts, but for simple impeding. He had been a bit clumsy when he got to the chicane, forcing Robert Kubica off line. Asked by the stewards why he had not pulled off the road he apparently said he knew he'd left a lot of debris behind, and had assumed everyone had been forced to slow anyway...
He too got five places. By the time all the penalties were announced - several hours after qualifying - we also knew that Heikki Kovalainen would take a five-place hit for a gearbox change, the result of his qualifying accident. With Tonio Liuzzi already due a penalty after a lunchtime gearbox change, we now had seven drivers facing a five-place drop.
Adding to the confusion Mark Webber was set to start from the pitlane after a change of chassis, while Timo Glock also needed a new tub should he be fit enough to start. In fact Toyota's frantic efforts to build up its spare chassis were more based on the prospect that Kamui Kobayashi be allowed to race, having run on Friday. But the rules say a starting driver must participate on Saturday, and he hadn't.
Bearing in mind it was his first appearance on a Formula 1 race weekend, and that he hadn't yet sampled the track in the dry, the stewards were never going to bend on that one. In fact it was already clear to the FIA on Saturday night that Glock would not be fit, but for some reason Toyota chose not to make an announcement until Sunday morning.
Anyway, back to the penalties. Liuzzi was stranded in 18th and last of those starting from the actual grid, so he didn't really enter into the equation. But what to do with the other six names?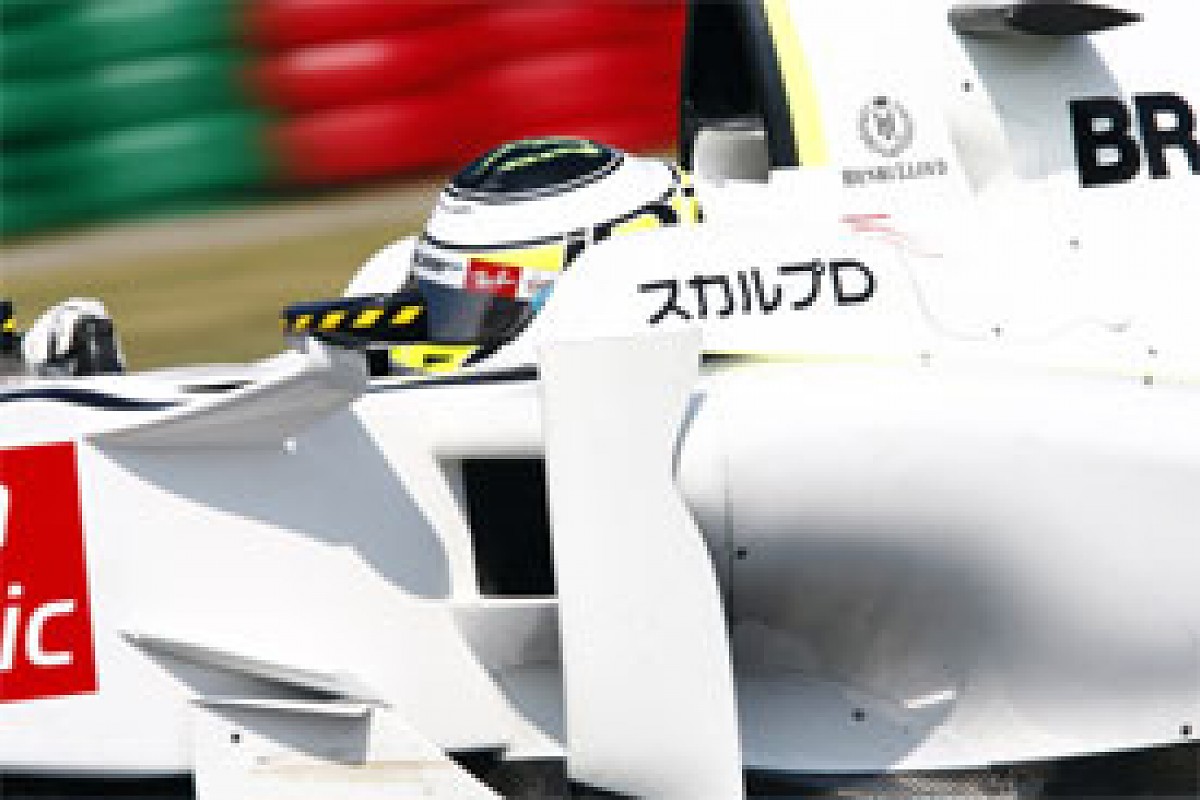 Jenson Button © LAT
When confirmation of the penalties finally emerged, the paddock went into a frenzied debate as to what the grid would look like. I have to admit that I didn't know what the procedure should be - and like most in the paddock my initial reaction was to add five places to everyone involved and move the rest up to fill in the gaps. That left Barrichello in 10th, and Button 12th.
Everyone came up with a different solution, and even key team members didn't know what to do. We assumed that the FIA would eventually tell us how the grid should look, but we waited in vain. At something like 9pm the FIA Press Delegate came to the media centre and told us that a grid would be published on Sunday morning. Inevitably, total uproar followed...
I wasn't really satisfied with that, so I marched off to race control. I knew that Charlie Whiting and Herbie Blash had left - we'd seen them leaving the track even before the penalties were confirmed - and the stewards had also gone. A longstanding invite to a Japan Automobile Federation dinner at the Circuit Hotel had to be heeded.
But I did find someone who was able to tell me how to work out the grid. Each penalty was to be taken one at a time in the order that the offence occurred. You added five places, made a new grid, and then did the same with the next penalty. And so on. Apparently even the FIA does it by writing the grid out by hand each time - there's no magic spreadsheet to do the job...
The crucial thing then was to know the order that the offences occurred in. Provisionally the FIA has decreed that it was Liuzzi, Barrichello, Button, Sutil, Alonso, Buemi and Kovalainen - in fact the latter's offence was not yet 100 per cent official, although we all knew his gearbox change was happening.
So off I went and did my sums. And to my amazement, Barrichello dropped down from fifth to 10th and then, as the procedure unfolded, he bounced back up to sixth - a five place penalty turned to just one!
Similarly, Button dropped just two places, from seventh to ninth. This seemed extraordinary, and my few remaining colleagues in the media centre could barely believe it when I produced my findings. Those who'd left had already filed their stories, citing title contenders Barrichello as starting 10th and 12th. That's what the whole world was being told.
I headed off to the paddock to see if anyone would back up my findings. Enjoying a relaxed time with friends in an otherwise deserted team hospitality area, Ross Brawn seemed pretty pleased at my suggested grid positions for his boys - it was a lot better than he had expected!
Christian Horner had a look, and my list seemed to tally with what Red Bull Racing had worked out - but he didn't know about the extra Kovalainen gearbox penalty. Visits to Williams and BMW seemed to suggest that I'd at least got the right system.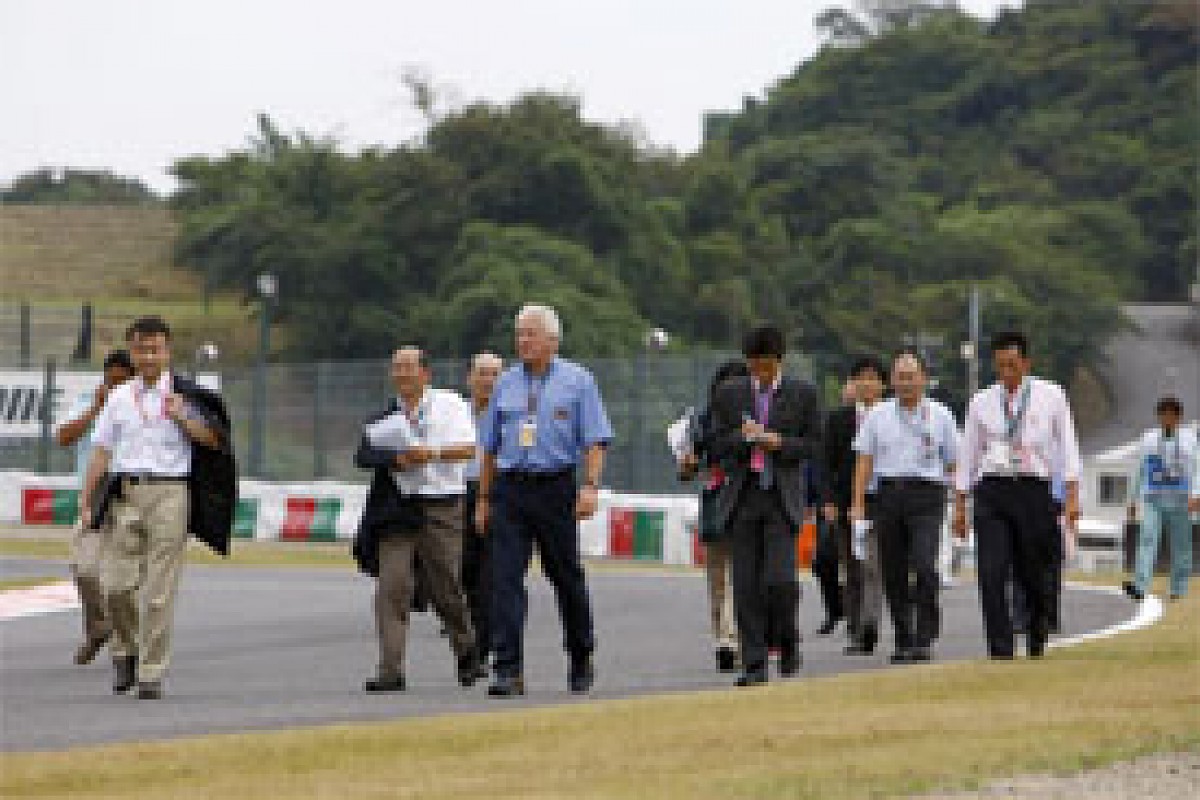 Charlie Whiting © LAT
The final proof came when I contacted Whiting, who confirmed that, yes, I was on the right track and as things stood, I had come up with the same grid that he had unofficially worked out - at least once Kovalainen was included. The only rider was that in the morning, the FIA would revisit the evidence to determine Buemi's place in the order. And that might make a few changes.
And that's exactly what happened. The order of the four cars that passed through the yellows was clear from the timing, but it took a little more effort to determine when Buemi committed his offence. It was nothing to do with when he hit the barrier; but it was decreed that he had held up Kubica at the chicane after Alonso and Barrichello had passed the yellow, but before Button and Sutil had done so.
The result was that three pairs of drivers swapped places compared with 'my' Saturday night grid. Barrichello stayed sixth, but crucially among those affected was Button, who traded his spot with Kubica and went down to 10th.
When the provisional grid emerged on schedule at 10am people were left scratching their heads up and down the paddock. How could Barrichello go back one spot - and his team-mate three? It made sense only if you worked your way through the FIA's system, but it was hard even for some of those directly affected to fully comprehend.
"It was mad because to be honest I don't really understand it," said Sutil. "Still now, it's too complicated. And where's the difference if you pass this incident one minute later than the other?
"I would say the normal thing they should have done is plus five positions for everybody, as it was on Saturday evening. What I found really strange was that suddenly Rubens was in front of me by two places, but I beat him by one place in the qualifying! I thought what's going on here? I just think it's very bad for the sport, and the spectators. It was not the truth any more. In the end I was saying OK, whatever, I start and I have to do the race. I was really p****d off anyway, so it was whatever position, give it to me, and I'll try to do the best possible!"
In the end, the whole thing was a little unsatisfactory, and even those involved admitted that the way the penalties 'shrank' was a curious phenomenon. Matters were further complicated by the fact that the FIA has no time to consider such penalties in the course of a busy qualifying session, so it's normal for someone who commits an offence to proceed through to Q3, while those who perhaps should benefit remain bounced out. It's hard to see how that can be addressed, but it remains a worrying problem.
"They look at the results after qualifying and then they start to do their decisions," said Sutil. "But they should have done it straight away and acted really quickly. With the three different qualifying sessions if you mess up in the first one or you do something not right, some incident with a yellow flag and you make it through to Q2, actually all the session is not 100 per cent right. It's a difficult thing to do."
The biggest victim was Alonso. Of those penalised, he alone had actually aborted his lap, and thus not progressed through to Q3. But he'd slowed only after the flag, and it was too little, too late. Because he was away from the main group of penalised drivers he ended up losing four spots, going from 16th to 12th, helped only by the disappearance of Glock from the grid.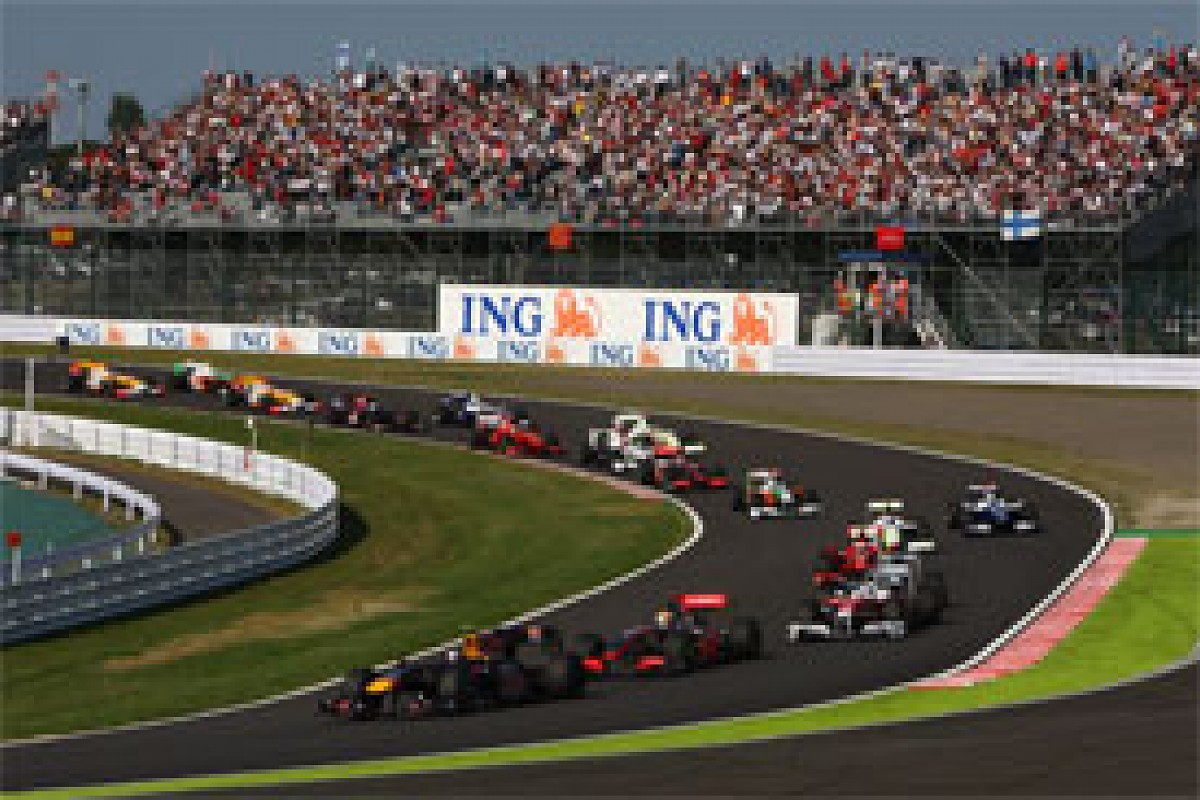 The adjusted grid files through the first turn © XPB
As one key Renault person pointed out, the whole saga emphasises a worrying loophole, albeit one that's been there ever since we had the current system. If you are down in 14th or 15th in Q2 and on your quick lap when something happens in front of you, there is very little incentive to slow down and give up your lap.
Better to complete it, get into Q3, get as high up the grid as you can, and then see where your penalty leaves you. The same goes for the transition from Q3 to Q2. There's talk of yellow flag offences being upgraded, if that's the right word, to 10 places. If that happens, it would certainly have a much larger impact.
"I just think we've got to find something which is fair and timely," said Martin Whitmarsh. "So that people can look at the outcome and say, for what occurred, that seems to be a fair outcome. What we have now didn't appear to be the most fair outcome. Is it fair and reasonable if you get a five place penalty and you start in sixth place on the grid? That is quite an odd one. Was the outcome correct? Undeniably, it wasn't. We've got to think about how can we potentially change the approach so the outcome appears to be fair."
If there is one lesson to be learned from Suzuka then it's surely that the notion that the FIA need only publish a provisional grid at 10am on Sunday needs some serious thought. It's been done that way for good reason, in order to minimise the possible iterations that have to be published by allowing for events that might only officially be declared on Sunday morning, such as engine or chassis changes, or maybe driver fitness issues.
But the fact is the world needs to know on Saturday evening what the grid is going to be, or at least the best approximation as it stands given the info already to hand.
After all, two of the world championship contenders were involved, and one of them had the chance to secure the title on Sunday - and yet everyone around the world was being fed duff information about where they would start because there was nothing official for people to grasp on to. And that surely cannot be allowed to happen again.
Whitmarsh agrees: "I think if I was a journalist and I was writing for a Sunday morning paper, and I don't actually know the provisional grid because it's coming out at 10am tomorrow... I think that's not how we should be giving clear information to the fans. I personally don't know how the grid was determined today, I haven't had the time and nor do I have the PhD to do it! Probably we've got to think about doing something different."