Last week this column analysed the provisional 2010 Formula 1 calendar, concluding that at least two, possibly three, of the 19 events listed were unlikely to be staged as listed, if at all.
Although Hockenheim has now agreed terms with the sport's commercial rights holder, this deal, which lasts until 2018, is not all it seems, for the CRH will be co-promoter and the time-share arrangement with the Nurburgring remains in place, meaning Hockenheim is only to host five races (2010/2/4/6/8), despite the length of the contract.
So far, Bernie Ecclestone's extension of the deadline by which Donington Park needed to have all plans in place and provide proof of funding to October 3 has seemingly not delivered the desired result. And, with Silverstone suggesting the circuit has no interest in single-race contracts, the future of the British Grand Prix remains in doubt.
The Circuit Gilles Villeneuve © LAT
Ditto Canada, for terms have still not been agreed for a race in June, and again Ecclestone seems to have lost patience with the place - serving hoteliers, who have hiked prices by up to 500 per cent in anticipation, right - so a trip across the North Atlantic is no dead cert in 2010.
That said, Korea seems equally uncertain, with various team bosses voicing their displeasure about racing at the circuit in South Jeolla. Allegedly no proper infrastructure exists - entailing five-hour journeys for F1 personnel and punters alike.
Plus, given that Korea's motor industry has expressed little interest in F1, FOTA is questioning the rationale behind trekking to the country while simultaneously snubbing North America.
So much, though, for the update, for this week an equal amount of uncertainty surrounds the 2010 entry list. At the end of July, the FIA released a list of teams whose entries had been accepted, with Manor/Virgin F1, Campos Meta F1 and US F1 joining the existing 10 teams, who had in turn made peace with the sport's governing body and agreed commercial terms with the CRH.
However, a fortnight later, before having physically put pen to paper, BMW, which four years ago bought Sauber, announced its exit from the sport at season's end. Despite being granted a grace period during which to sign the tripartite covenant, BMW's board declined to do so, thus losing the team its guaranteed entry.
In the meantime, Stefan Grand Prix of Serbia filed a complaint with the European Commission after being rejected (on the grounds of, alleges Zoran Stefanovic, refusing to agree to Cosworth engines), while N.Technology instigated litigation against the FIA in the Court of the First Instance in Paris.
Judgement in the latter case is due to be handed down later this month (having been adjourned from September 14); of the EU complaint no more has been heard, but Brussels moves excruciatingly slowly.
However, where F1 thought it had 13 confirmed teams, it was down to a dozen and even here uncertainty surrounded some newcomers (and for that matter both Renault and Toyota) so the process was repeated.
History relates that a Malaysian conglomerate, with support from Proton (owner of Lotus), long-time F1 sponsor Petronas and present Williams sponsor Air Asia, and the technical expertise of Mike Gascoyne (previously with Jordan, Renault and Toyota) was awarded the vacant slot, with BMW being granted reserve status - further details here.
On the same day, BMW announced the sale of its team to a Swiss-Middle East investment company, namely Qadbak - an entity more familiar to football journalists through its recent purchase of Notts County Football Club. The team, the release added, was hopeful of taking the start in Bahrain when the 2010 season kicked off.
Although precious little was divulged by BMW, whose mergers and acquisitions department had conducted due diligence on Qadbak through British investment bank Rothschild, a little research suggested that Qadbak was an acronym for Qatar, Abu Dhabi, Bahrain and Kuwait and that the Swiss connection was seemingly a paper and was unconnected with team founder Peter Sauber or the team's domicile in Hinwil, near Zurich.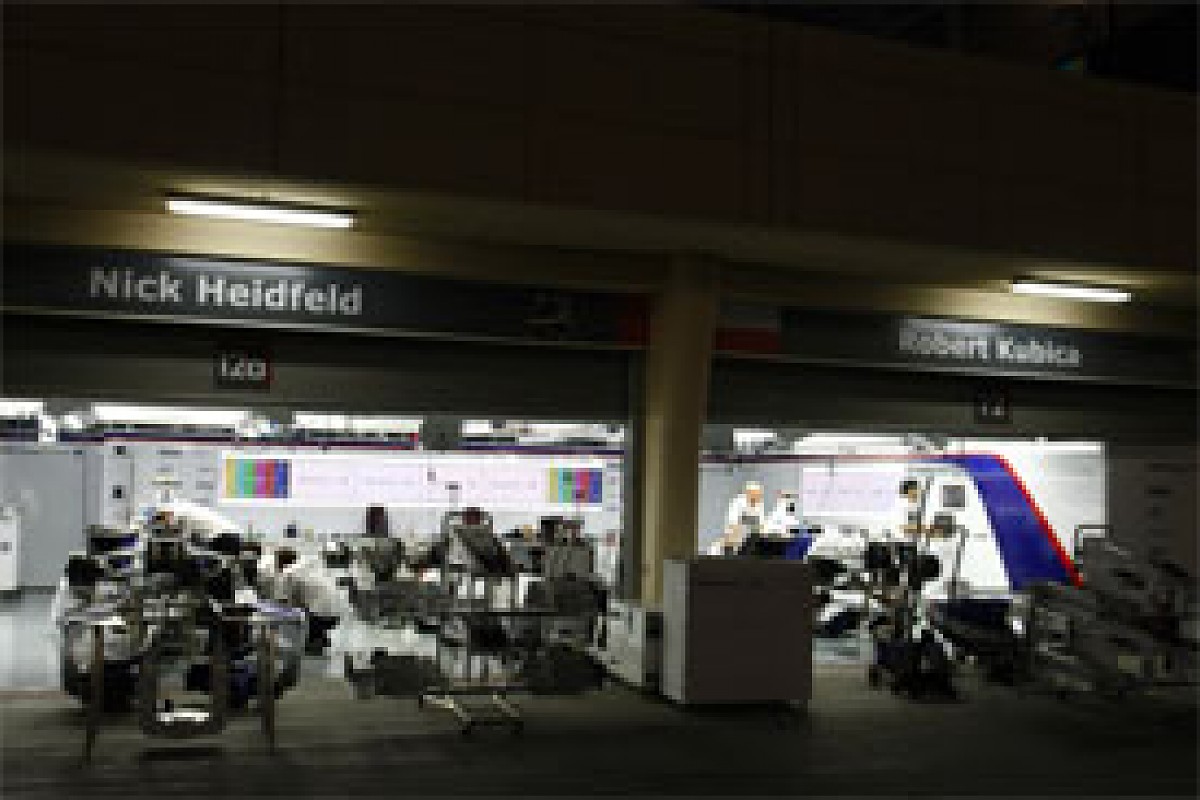 The BMW Sauber garage © LAT
However, during the build-up to the Singapore Grand Prix, news broke that Britain's Football Association was conducting due diligence of its own on Qadbak.
BMW, though, was adamant that the deal would go ahead despite the team having no guaranteed entry ("they know what to expect," BMW Motorsport director Mario Theissen said in Singapore) and the team canvassed FOTA and the FIA to expand future grids to 14 teams (28 cars) despite the 2010 - 2012 Concorde Agreement making provision for just 13 teams and no more.
In Japan, FOTA met to discuss this and further issues of common interest. Already Williams and Campos indicated they would use their vetoes to block the BMW/Qadbak request, with a further team, believed to be Red Bull Racing, adding its anti during the meeting - which in any event made no difference, for FOTA's membership was unanimous that it was a Concorde issue and thus fell outside of FOTA's remit.
By then alarm bells had rung at team principal level, with various team bosses, including Martin Whitmarsh of McLaren, expressing concerns.
Still, on Sunday evening in Japan, Theissen again stressed that the sale was not in danger and that he was hopeful of the team being accommodated in 2010, possibly through one or more of the 13 teams falling by the wayside. He could not, though, provide a completion date for the sale. "There is no fixed date," he said in response to a specific question.
However, later in the day news broke in Switzerland that during an interview with a local newspaper, Oswald Grubel, a member of the BMW Sauber F1 Team's supervisory board, had spoken of "a possible sale" to Qadbak, with the publication further speculating that two of Qadbak's investors were in fact deceased and had been "for decades".
The following day, a BMW spokesperson confirmed Grubel's comment, adding that the (possible) sale was subject to various conditions, including the acceptance of a 2010 entry by the FIA.
Simultaneously, British papers reported that Anwar Shafi, one of the men named by Qadbak as investor, denied any links save to say that he had rejected an invitation to join Qadbak. The Guardian added that it had put 10 (basic) questions to Qadbak regarding its structure and investors - receiving a reply with the balance eliciting "no comment".
Thus the future of the team hangs in the balance, and with three of the present 12 teams adamant that they will not accede to Qadbak's request for grid expansion ("We don't even know these people," said Frank Williams in an exclusive interview in Japan, "yet they come along and ask us to change rules that have been in place for as long as I can remember.") and both the FIA and Formula One Management legally bound by the terms and conditions of the Concorde Agreement - which BMW refused to sign - the options open to BMW are:
Hope that one of the accepted teams falls by the wayside, and/or purchase a grid slot from an accepted team, preferably one with little present investment.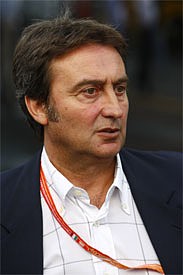 Adrian Campos © LAT
Taking the last one first, purchasing an existing team would likely cost more than the alleged $80m (£50m) sale price, thus making a mockery of the entire debacle. Therefore BMW would need to agree a sale with a newcomer, the options being (in alphabetical order):
Campos Meta - Sources in Spain suggest Campos is struggling to raise finance, having initially committed itself to F1 under the FIA's 'budget-cap' formula, which, not surprisingly, was replaced by the Resource Restriction Agreement - which permits expenditure way in excess of the original $40m (£25m). With car design contracted to Dallara and build to a joint company (Campos Dallara), direct investment is minimal by F1 standards. Unlikely seller though, unless the going becomes impossible.
Lotus F1 - In an interview with this column in Singapore, Gascoyne indicated that car design was almost complete, with the Briton having recruited ex-Toyota staff to beaver away in a Cologne office while the team's new facility in Norfolk was being readied. With Proton and Air Asia backing, plus the support of the Malaysian government, funding would appear to present no problem. Unlikely to be seeking an out.
Manor/Virgin F1 - As reported here, the team headed up by John Booth in (technical) partnership with Wirth Research is far advanced with its plans, and with Virgin stumping up cash it is, like Lotus, unlikely to be seeking out.
US F1 - Much has been made about US F1 being no more than a dream, with critics (of which there are many) pointing to an empty factory and few facilities. However, every single resource required to build and operate a Formula 1 car is available for hire within a 20 mile radius of US F1's base in Charlotte, North Carolina
The team has funding from YouTube founder Chad Hurley and recently recruited Bernard Ferguson (ex-Cosworth) as European director - proving its intent - while sporting director Peter Windsor in Japan freely gave interviews about the operations progress.
An existing team could exit the sport, providing a slot for BMW/Qadbak, but, assuming the investment company survives its tribulations (FA examination, opaque corporate structure, etc.) and remains intent on entering F1, an option would be the purchase of that operation - to the detriment of the BMW deal.
However, in Japan all teams bar BMW seemed committed to F1, with no doubts hanging over Renault despite (or because of) the recent scandal, with the team today, Wednesday, announcing the signing of Robert Kubica.
Toyota is making all the right noises about staying and while Toro Rosso could be for sale, substantial recent investment required to turn the former Minardi team into a stand-alone manufacturer would be reflected in any price.
All of which leaves BMW/Qadbak with one last throw of the dice: judicial action aimed at overturning the Concorde's 13-team ceiling on the basis of monopolistic practise. With Stefan GP and N.Technology already heading for various palaces of justice, the last thing F1 needs is another court case.
In the final analysis, it is astounding that BMW did not sign the Concorde Agreement when and as presented, thereafter attempting to sell the team complete with its single most important asset. Given that the document is not believed to contain provisions for stringent no-show penalties, the least BMW's suits could have done, is sign Concorde, particularly given the extension period.
The futures of hundreds of employees and their families - many of whom moved to Hinwil specifically to join the team - now hang in the balance thanks to that myopic decision.