PRACTICE
Practice 1 - Friday AM
Friday was wet - but all the forecasts suggested the rest of the weekend would not be, so there was little enthusiasm among the teams for racking up miles learning nothing of any relevance in practice.
Conditions did improve near the end of the morning, and it was Heikki Kovalainen who made the best of the improving grip to beat home hero Kazuki Nakajima to the fastest time.
Third-placed Adrian Sutil reckoned he had got enough information to know that Force India was in great shape again, while Giancarlo Fisichella earned praise from Ferrari by taking fourth.
Timo Glock was sidelined with a fever on the eve of the session, which meant a surprise call-up for Toyota reserve Kamui Kobayashi. It was hardly the best circumstances for a Formula 1 debut - although he could at least say that he was only a tenth behind world championship leader Jenson Button in this less than representative session.
Practice 2 - Friday PM
A lunchtime downpour meant significantly worse conditions for second practice, and no action whatsoever for the first 66 minutes.
Adrian Sutil was fastest on a soaked Friday © LAT
It was only in the final quarter of an hour that anyone made a concerted effort, with Ferrari team boss Stefano Domenicali admitting that he only really sent his drivers on track out of respect for the sodden fans.
Sutil was quickest, ahead of Sebastian Vettel and Tonio Liuzzi, as eventually all bar Kovalainen and the Brawns popped out to splash around for a while.
Saturday Practice
Following Friday's washout, the weather finally allowed the teams to work on a dry track on Saturday morning and some significant running was done ahead of the grid-deciding session. The unusual order at the top of the times, however, made it seem like the circuit was still wet, even if it wasn't.
After a surprising Sebastien Buemi dominated most of the session, it was a last-gasp effort from Jarno Trulli that sent the Italian to first position with the Toyota. The Italian outpaced Buemi by less than a tenth after the Toro Rosso driver had looked like the man to beat for most of the hour.
Nico Rosberg was third quickest, but already over six tenths off Trulli's pace, with Vettel the fastest of the favourites for victory in fourth. Kimi Raikkonen completed the top five with the Ferrari in a session that saw a few incidents, the most significant being Mark Webber's accident at Degner, which put the Australian out of qualifying as his Red Bull sustained chassis damage in an impact clearly more severe than it initially appeared.
QUALIFYING
Few qualifying sessions have ever been as bizarre, disrupted or lengthy as Suzuka 2009. A series of massive accidents meant three red flag stoppages (for shunts by Jaime Alguersuari, Glock and Kovalainen) and then a quarter of the field was penalised for misdemeanours relating to Buemi's Q2 crash and the yellow flags it prompted. This caused further confusion, as with so many drivers being demoted, the grid line-up depending on the order in which the penalties applied. The rulebook said this was decided by the order in which the regulation breach was committed - but that took some figuring out when a third of the participants in Q2 were being investigated...
1. Sebastian Vettel - Red Bull-Renault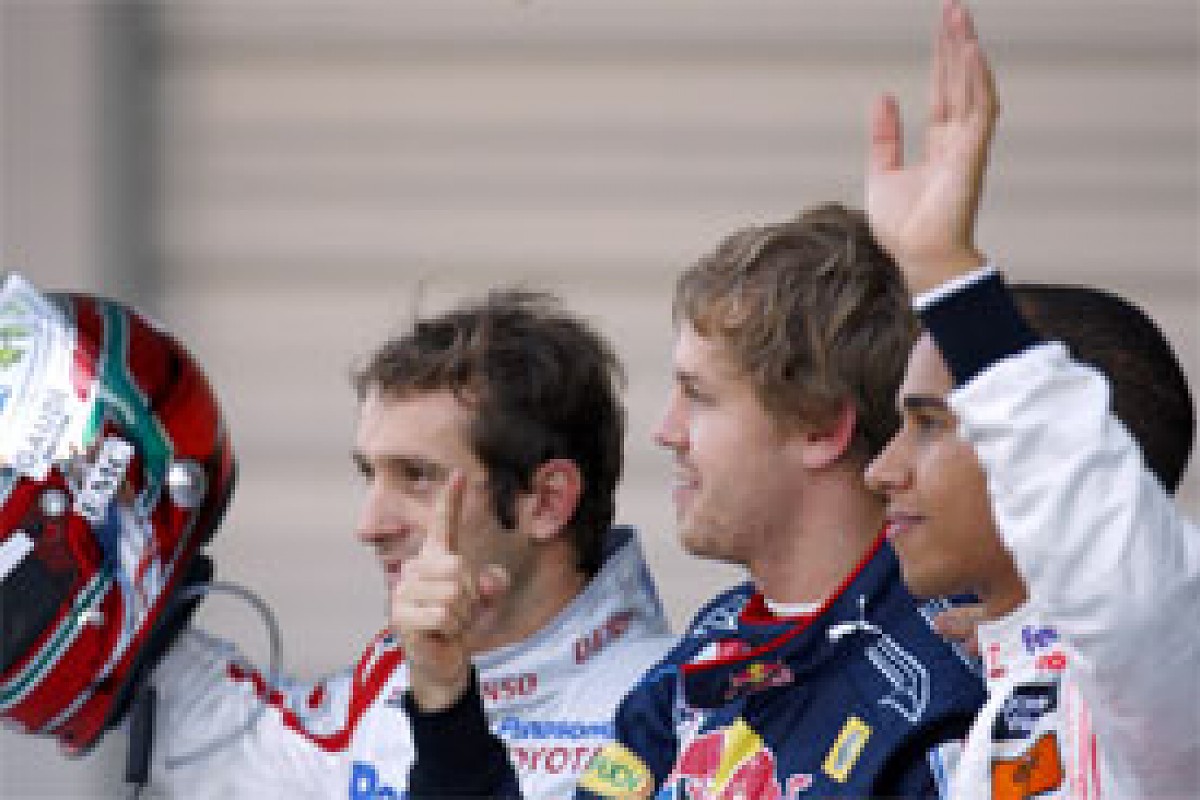 Lewis Hamilton, Sebastian Vettel, and Jarno Trulli © LAT
Suzuka was expected to be a Red Bull circuit, and that was confirmed early on, with Vettel feeling right at home around the Japanese track despite the lack of dry running. The German topped the times in all three qualifying segments and ended up grabbing his fourth pole of the season.
2. Jarno Trulli - Toyota
After his Singapore slump, Trulli was back on form at Suzuka, where the Italian extracted the maximum from his Toyota, much to the delight of the local crowd and his bosses. Trulli made good use of the updated package introduced by Toyota for the last part of the season, and finished less than a tenth off Vettel's time.
3. Lewis Hamilton - McLaren-Mercedes
Just like in Singapore, some radical changes to his car turned Hamilton's fortunes around when things looked bleak for the world champion. The Briton was unhappy with his car in final practice, but an almost complete overhaul of his set-up made him much happier and a threat in qualifying. Even Hamilton himself admitted he did not expect to be so strong after finishing in third.
4. Adrian Sutil - Force India-Mercedes
Another driver who was surprised by how strong his car was, Sutil had a great qualifying, putting his past experience of Suzuka to good use. But the German was one of four drivers who set their fastest Q2 times while the yellow flag was on track, so was dropped to eighth in the penalty shake-up.
5. Rubens Barrichello - Brawn-Mercedes
In the words of Ross Brawn, it was a messy, messy session for the team, although Barrichello was happy with the end result, at least before he was summoned to see the stewards. Both Brawn drivers left it until very late in the second session to complete their laps, and were left with no choice but to not lift when they saw the yellow flag. Fortunately for Barrichello, as one of the first to commit the offence, he was moved up again as other drivers' penalties were applied, so ended up losing just one position.
6. Nick Heidfeld - BMW-Sauber
As BMW continued to work on familiarising itself with the big upgrade package introduced in Singapore, Heidfeld showed what the improved car is capable of despite not having high hopes for qualifying after struggling with the set-up in final practice. But some changes to the car made things significantly better for the German, who qualified in sixth and moved up to fourth after the penalties.
7. Jenson Button - Brawn-Mercedes
Like Barrichello, Button had not set a time until the dying seconds of Q2 and blasted his way through the debris left by Buemi, despite the risk of a penalty. Had he not done that, Button would have been outside the top 12, while he got a better position by ignoring the yellow flag and receiving a penalty later. He would start 10th.
8. Kimi Raikkonen - Ferrari
Raikkonen did the best possible job considering the pace of the Ferrari that, with its lack of development, was far from the teams still pushing to improve their cars. Nonetheless, once the penalties got applied, Raikkonen moved up to fifth and got a boost to his chances of another points finish.
9. Heikki Kovalainen - McLaren-Mercedes
The Finn endured another disappointing day, and although his final grid position was not bad, his pace was never a match for Hamilton's, finishing over half a second behind the Briton in both Q1 and Q2. In Q3, Kovalainen caused the second red flag when he lost control of his car at Degner, ending up against the tyre wall. He consequently needed a gearbox change, so was among the penalised multitude and ended up 11th.
10. Sebastien Buemi - Toro Rosso-Ferrari
Toro Rosso took a significant leap forward at Suzuka, which seemed to suit its car a lot better than previous venues. Buemi was already impressive on Saturday morning, when he fought for the fastest time, although he then endured a difficult qualifying. The Swiss spun his car at Degner during Q1, but was lucky to be able to continue despite hitting the tyre wall and deranging his rear wing. Repairs were effected in time for him to rejoin and grab a Q2 spot - and he then made the Q3 cut too. Not that he would be able to participate, having crashed at Spoon on his last lap. His debris caused the yellows that were so costly for others, and he received a penalty of his own for dragging a very bent car back to the pits. When it all shook out, Buemi was 13th in the line-up.
11. Nico Rosberg - Williams-Toyota
Rosberg admitted he was not comfortable with his car throughout qualifying, something that translated into a slightly disappointing result when compared to the Williams driver's usual performances this year. The German had a good Q1, but then struggled to find grip and missed the Q3 cut by around two tenths of a second. An overnight bonus in the shape of the penalty festival raised him to seventh.
12. Fernando Alonso - Renault
The Spaniard was one of the drivers who lost out in the yellow-flag incident at the end of Q2. Alonso failed to go into Q3 after lifting off after the yellow was out, but the stewards ruled he had failed to reduce his speed at the most dangerous point, so not only did he miss Q3, but also got a five-place penalty which ruined all his chances of a good result as it demoted him to 16th.
13. Robert Kubica - BMW-Sauber
Kubica was one of the unluckiest drivers of the day, being hampered by red and yellow flags in all of his flying runs. Team-mate Heidfeld demonstrated what was possible with the improving F1.09 car, so Kubica was left frustrated after having to lift off when he was trying to complete his final run in Q2. Moving up to ninth thanks to the penalties was some recompense.
14. Timo Glock - Toyota
The medical team attend to Timo Glock © LAT
It was not Glock's weekend. First he was forced to miss Friday practice because he was feeling unwell, and then crashed heavily on the exit of the chicane at the start of Q2. The German looked to be okay at first, but ended up with a wounded leg that meant he had to miss the race.
15. Jaime Alguersuari - Toro Rosso-Ferrari
Like team-mate Buemi, Alguersuari was stronger than in previous races despite visiting Suzuka for the first time. The Spaniard made it to Q2 quite comfortably, but ruined his chances of a better result after losing control of his car at the start of Q2, causing the first red flag of the day. He still ended up 12th on the grid thanks to the penalties.
16. Giancarlo Fisichella - Ferrari
Missing the cut by just over a tenth of as second, Fisichella could have made it to Q2 but for a costly mistake during his final run in Q1. Regardless, it was another poor outing for the Italian, who seems to have joined Ferrari at the worst possible time of the season, and he only gained two spots when others were penalised.
17. Kazuki Nakajima - Williams-Toyota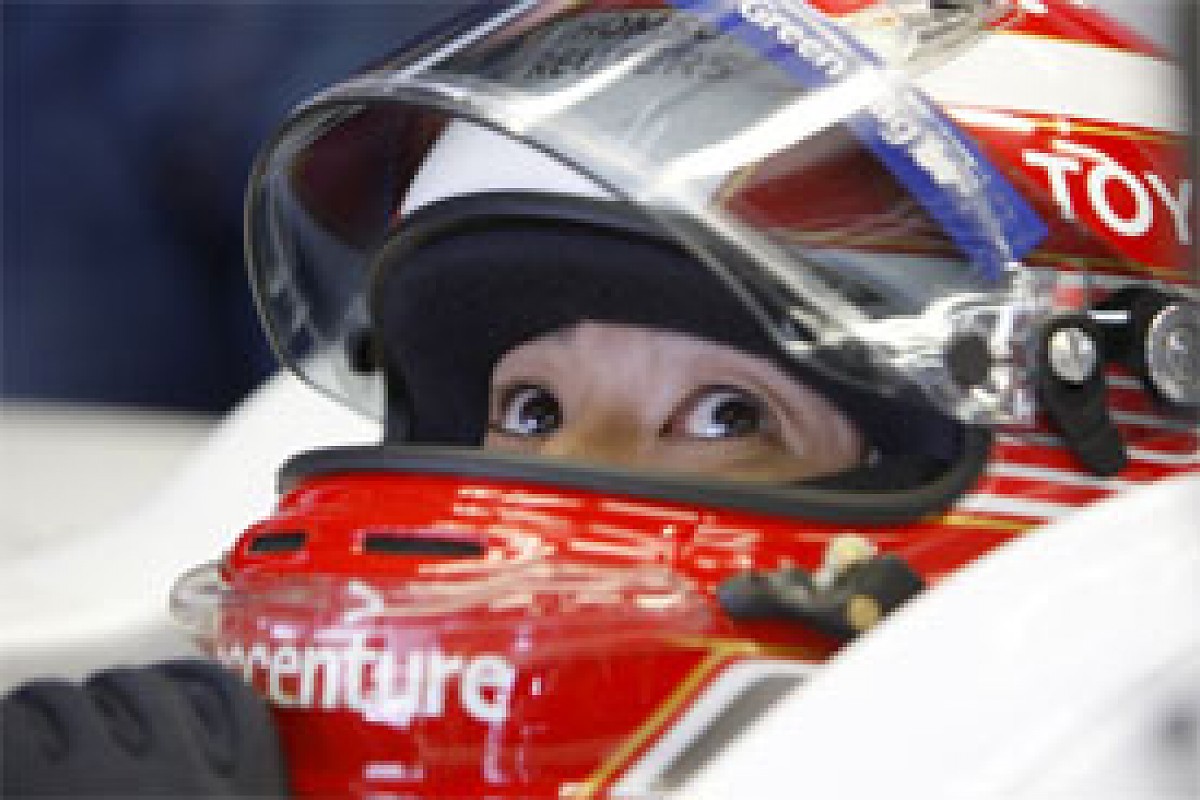 Kazuki Nakajima had a poor qualifying for his home race © LAT
After a promising run in the wet on Friday, there was more disappointment for the Japanese driver, who was unable to find grip come the grid-deciding session. The whole field was incredibly close at Suzuka, and just two tenths left Nakajima out of Q2 once more. Like Fisichella, he was only gifted two spots overnight.
18. Romain Grosjean - Renault
Having not driven at Suzuka before the weekend, Grosjean started off on the wrong foot due to the poor weather on Friday. With only Saturday's practice to get used to the track in dry conditions, the Frenchman was facing a difficult challenge in qualifying, and so it proved to be.
19. Vitantonio Liuzzi - Force India-Mercedes
The Italian had problems in the morning practice session and was unable to test the soft tyres ahead of qualifying, something the proved costly. In the end he was also hit by a five-position penalty for having to change his gearbox, so Liuzzi was left hoping for a less troubled race.
20. Mark Webber - Red Bull-Renault
For the second weekend in a row, Webber made a costly mistake in practice, crashing out and putting all the pressure on his mechanics to fix the car in time for qualifying. This time, however, the Red Bull machine was too damaged after the Australian crashed during final practice and it meant he was unable to take part in qualifying, having to start the race from the pitlane.
QUALIFYING RESULTS
Pos  Driver       Team                       Q1        Q2        Q3
 1.  Vettel       Red Bull-Renault      (B)  1:30.883  1:30.341  1:32.160
 2.  Trulli       Toyota                (B)  1:31.063  1:30.737  1:32.220
 3.  Hamilton     McLaren-Mercedes      (B)  1:30.917  1:30.627  1:32.395
 4.  Sutil        Force India-Mercedes  (B)  1:31.386  1:31.222  1:32.466
 5.  Barrichello  Brawn-Mercedes        (B)  1:31.272  1:31.055  1:32.660
 6.  Heidfeld     BMW-Sauber            (B)  1:31.501  1:31.260  1:32.945
 7.  Button       Brawn-Mercedes        (B)  1:31.041  1:30.880  1:32.962
 8.  Raikkonen    Ferrari               (B)  1:31.228  1:31.052  1:32.980
 9.  Kovalainen   McLaren-Mercedes      (B)  1:31.499  1:31.223
10.  Buemi        Toro Rosso-Ferrari    (B)  1:31.196  1:31.103 
11.  Rosberg      Williams-Toyota       (B)  1:31.286  1:31.482
12.  Alonso       Renault               (B)  1:31.401  1:31.638
13.  Kubica       BMW-Sauber            (B)  1:31.417  1:32.341
14.  Glock        Toyota                (B)  1:31.550
15.  Alguersuari  Toro Rosso-Ferrari    (B)  1:31.571
16.  Fisichella   Ferrari               (B)  1:31.704
17.  Nakajima     Williams-Toyota       (B)  1:31.718
18.  Grosjean     Renault               (B)  1:32.073
19.  Liuzzi       Force India-Mercedes  (B)  1:32.087
20.  Webber       Red Bull-Renault      (B)

All Timing Unofficial

THE RACE
Suzuka had always looked like a Red Bull track, and Sebastian Vettel's cruise to pole despite a slightly scrappy lap in a very scrappy session, and with slightly more fuel on board than those around him, suggested that the team still had speed in hand.
So with his team-mate Mark Webber out of the way at the back of the grid, Vettel's only real worry was whether Lewis Hamilton's KERS button would cause any annoyance on the run to the first corner.
Sure enough Hamilton shot off the line faster than Jarno Trulli and Vettel ahead, but with Suzuka's pit straight narrower than many others, he simply ran out of room. Jinking around Trulli meant he at least got second, but with Vettel hugging the inside into the fast first corner, the lead stayed in Red Bull's hands.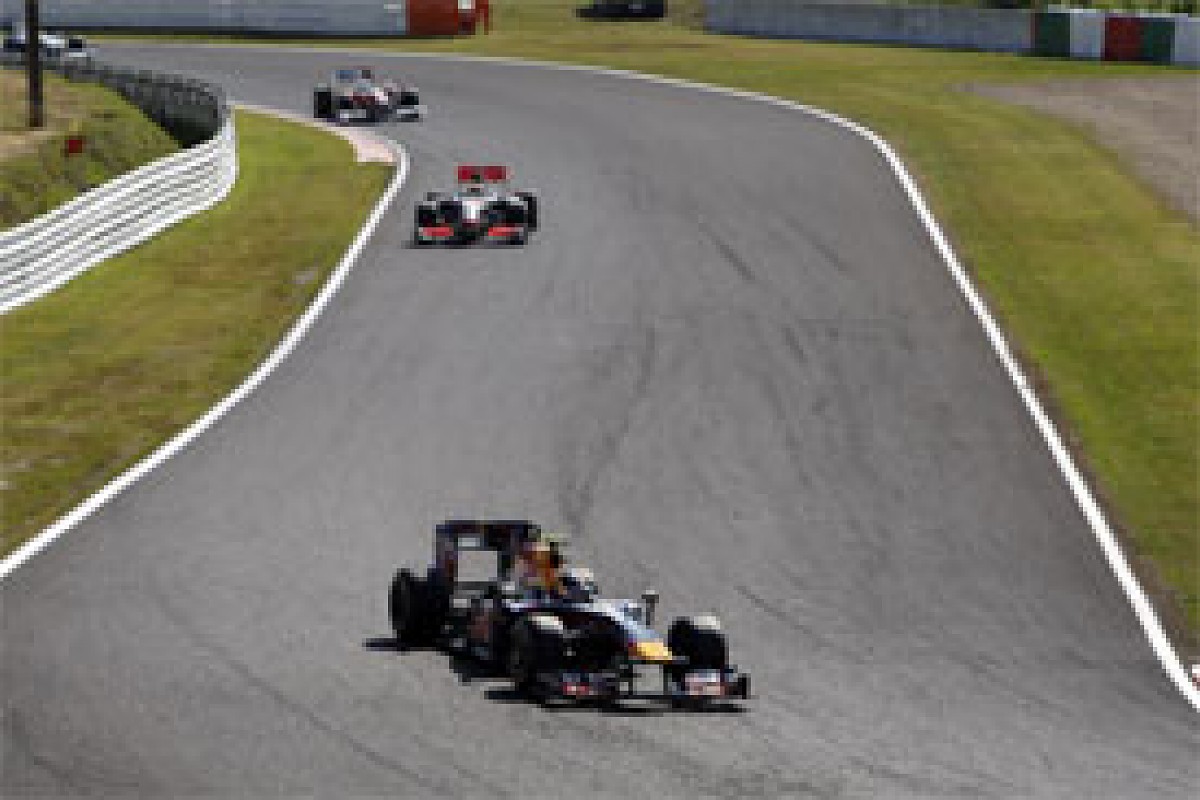 Sebastian Vettel stretches his lead over Lewis Hamilton and Jarno Trulli © LAT
It didn't take long for Vettel to break free of his pursuers either - quickly establishing a gap of 4s over Hamilton and 6s over Trulli. With the Red Bull pitting three laps later than the McLaren and two later than the Toyota, things soon looked very straightforward at the front.
That meant all the intrigue in the race would come from the title battle. With Vettel looking assured of victory - gremlins permitting - by the time he snaked through the S bends for the first time, the Brawn duo had to be thinking about damage limitation.
And things looked pretty good for Rubens Barrichello. Nick Heidfeld had stayed fourth off the line, with Kimi Raikkonen fifth and Barrichello tucked in behind him, but feeling quicker. Indeed Barrichello even radioed back to his team to see whether it was worth piling pressure on the slower Ferrari or whether to wait for a pitlane opportunity.
Jenson Button was making less progress. He was only 12th through the first corner, although he at least managed to get back around Giancarlo Fisichella's Ferrari as the field filed into line through the S curves. He then overtook Robert Kubica with a neat dummy move into the chicane on lap three - but that still left him second in the queue behind Heikki Kovalainen's heavier and slower McLaren.
Fortunately for Button, who in contrast to Barrichello's fairly relaxed radio chat, was anxiously complaining about his car's handling in dirty air, Adrian Sutil was between him and Kovalainen - and even more eager to get past. The Force India was carrying the light fuel load that had helped it to a pre-penalty fourth on the grid, and also had the straightline speed to be a major threat even to a KERS-shod McLaren.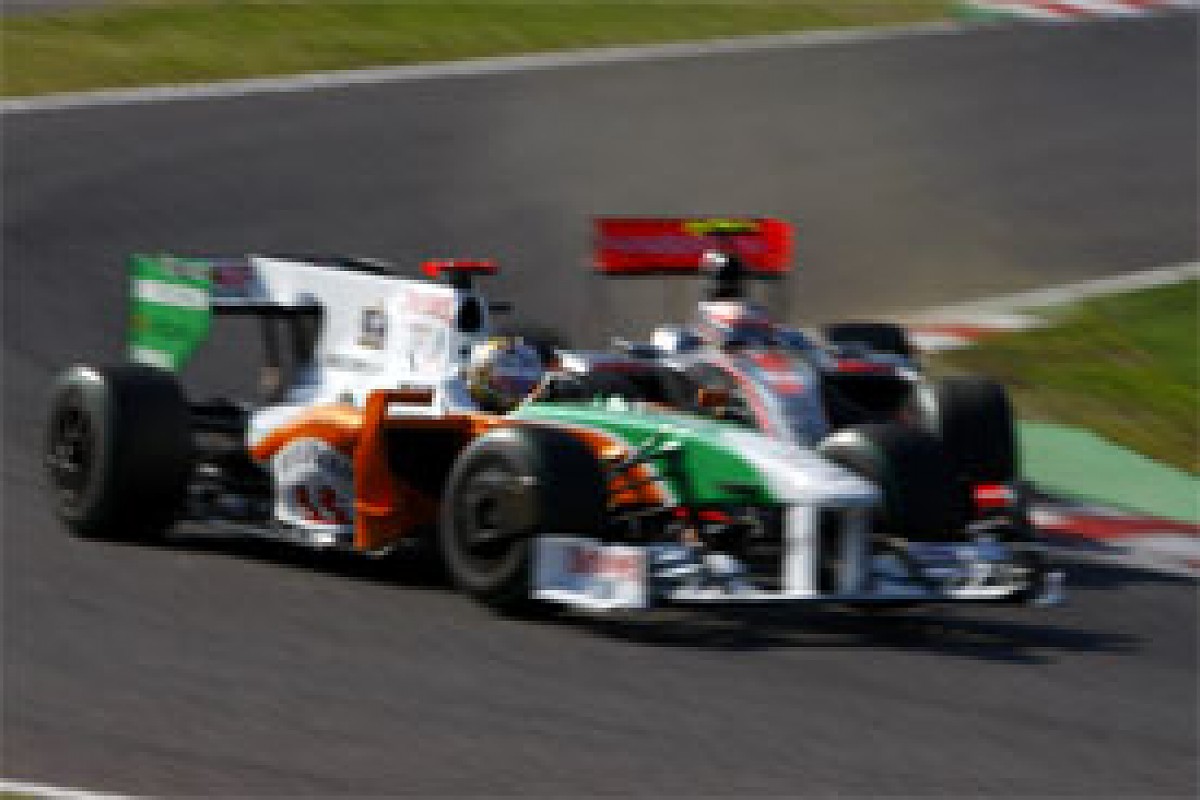 Adrian Sutil and Heikki Kovalainen clash in the chicane © LAT
On lap 13 Sutil slipped down the inside of Kovalainen at the chicane - and then found himself exiting the corner backwards as the Finn retaliated in the second part of the corner.
"Adrian tried to make a move but only went halfway, so I was able to stay beside him," said Kovalainen. "When he tried to turn in, I was already on the kerb and I had no more room to avoid him, so I had to lean on him and that was more a problem for him."
Sutil was confident that he was ahead when hit: "I got past him at the chicane but then he cut back across."
With Kovalainen having to go off to drive around the Force India, Button was gifted two positions - and once in clean air in eighth his pace immediately quickened.
The heavier Nico Rosberg remained between the two Brawns, but this looked like a bigger issue for Barrichello than Button, as the Brazilian wasn't putting sufficiently daylight between himself and the Williams to be confident of staying ahead of it. And he no longer looked like he was moving forwards up the field either, for Raikkonen had started to edge away before the stops, and then left the Brawn for dust once on soft tyres in the middle stint.
"On the same tyres as Kimi I was doing okay, but then as soon as he put the other tyres on he just disappeared right in front of me," said Barrichello.
Raikkonen's spurt not only took him clear of Barrichello, it brought him right onto Heidfeld's tail in fourth. The Ferrari pitted first, but its stop was 2.5s quicker than the BMW's thanks to a sticking wheel nut on Heidfeld's car. That meant Raikkonen swept past and into fourth as the BMW slotted back into the field.
There was a change for second at the final stops too. Knowing that Trulli was fuelled slightly longer - and that he continued to lurk close behind - McLaren urged Hamilton to establish a 3s gap over the Italian. The world champion achieved just that, only to start losing a few fractions per lap going into the pit sequence as his KERS stopped functioning. Their stops were nearly identical, but Trulli's in and out laps were notably superior, and the Toyota rejoined in second when it pitted on lap 39.
The last major issue to be settled was where Rosberg would finish and which of the Brawns this would be most advantageous to. The Williams had remained between the title contenders through the middle stint, but had run four laps further than Barrichello at the first stops and was expected to do something similar next time around. Would Rosberg do Barrichello a favour and rejoin still between the Brawns, or would he help Button by pushing Barrichello down another place?
Exactly how late Rosberg planned to make his second stop remained a moot point, for he had to dive in on lap 45 when the safety car came out. Jaime Alguersuari completed a weekend of frustration and wasted promise for Toro Rosso by spinning on the exit of the 130R and ploughing into the barriers.
"I'm not sure why, as it was inexplicable," said Alguersuari, who had been on course for 14th. "I would like to see the data, in case there might have been something wrong with the pressure of the rear tyres or a puncture."
His team-mate Sebastien Buemi was long since retired, having barely got going before the clutch fault that caused him to plunge to the back at the start forced him to retire as well.
While Alguersuari was taken for medical checks - which confirmed he was unhurt - Rosberg rejoined from his stop in a surprise fifth place between Raikkonen and Heidfeld. This raised a lot of eyebrows, for Rosberg had only been 12s ahead of Heidfeld the lap before, and in the end not certain to beat either of the two Brawns, which had shown better pace on soft tyres on their out-laps.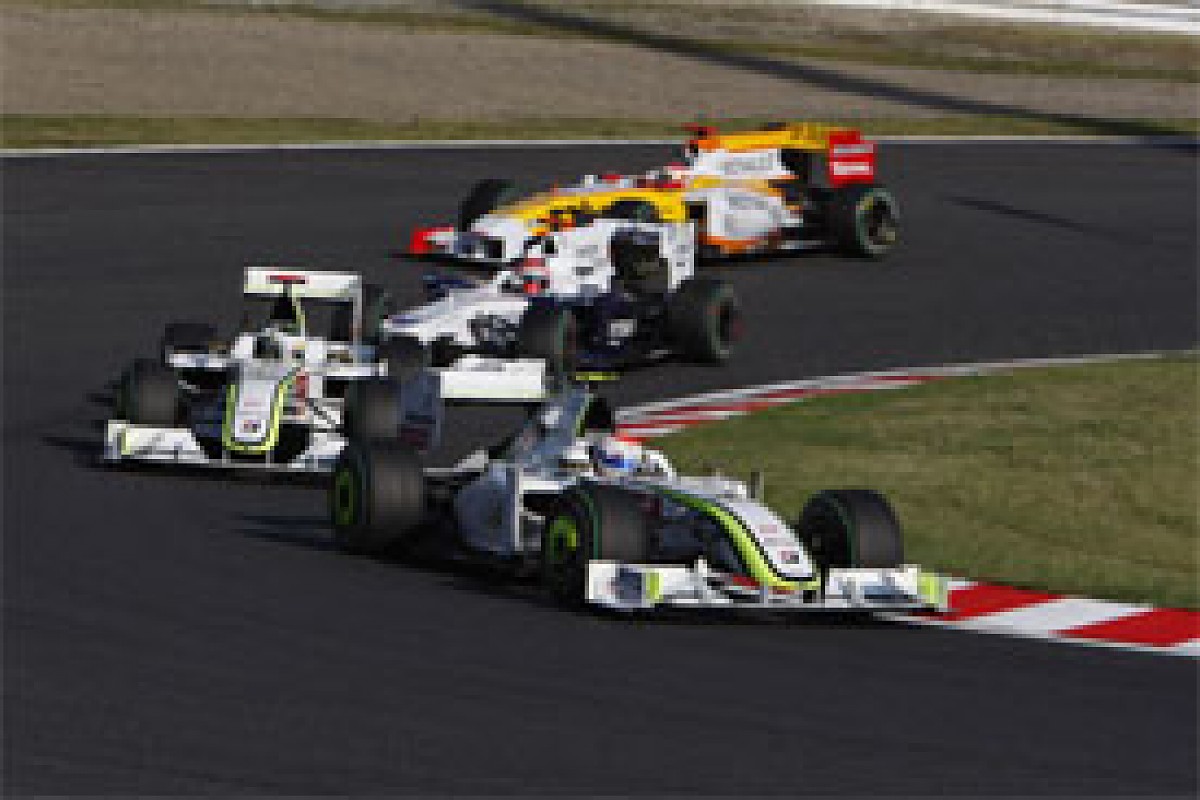 Rubens Barrichello and Jenson Button battle with Robert Kubica and Fernando Alonso for the final points following a restart © LAT
Button was adamant that Rosberg must have raced back to the pits faster than the minimum time specified under the 2009 rules, and got out of his car certain that the Williams would get a penalty. Rosberg was adamant he had done nothing wrong, despite the suspicious maths. The stewards eventually ruled that Rosberg had gone too fast, but only because a 'low fuel' message on his dashboard obscured the target time read-out.
Vettel had extended his lead to over 12s prior to the safety car, setting a new fastest lap on soft tyres just to keep himself amused - something he almost came to regret.
"I fitted soft tyres for the last stint and second and wanted to have a little bit of fun," he said. "I did one very quick lap, I think 1m32.5s, then my engineer came on the radio and said 'okay, be aware of your tyres. There might be a safety car or something'. Two laps later there was the safety car..."
He need not have worried. The tyre wall needed some attention after Alguersuari had violently rearranged it, and by the time the safety car came in, there were just four laps left, and Vettel had the cushion of the lapped Romain Grosjean between him and Trulli. Victory was easily secured, along with a big leap forward in the world championship that left Vettel within 16 points of Button and pondering how Raikkonen had been one point further adrift of Hamilton at the same juncture in 2007...
Behind Trulli, Hamilton had a bit of late hassle from Raikkonen but came home a fairly satisfied third - with both the lower podium finishers admitting they had pushed each other to qualifying-style laps all afternoon.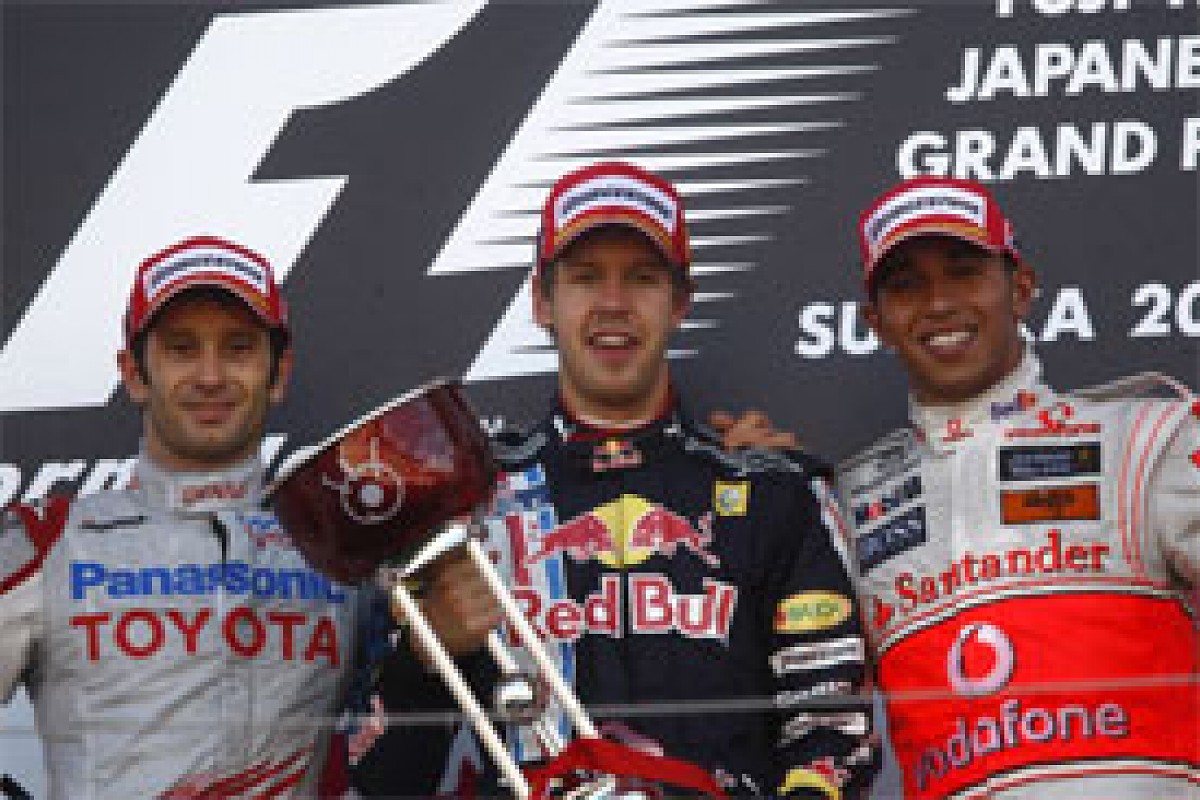 Jarno Trulli, Sebastian Vettel, and Lewis Hamilton © LAT
Rosberg and Heidfeld collected fifth and sixth, ahead of the two Brawns. Button had a few bold looks at Barrichello after the yellow, but then had to look in his mirrors instead as Kubica made even more assertive efforts to pass him. The BMW driver had closed on Button at a brisk rate in the middle stint, only to lose touch when team-mate Heidfeld rejoined from his stop right in front and held him up for a few laps before they finally swapped places.
Fernando Alonso drove a brilliant but low-key race to 10th. The Renault looked like it was going nowhere as Alonso languished near the back early on, but it turned out he was only planning one-stop and was easily keeping up with his two-stopping rivals. As they all pitted, he vaulted forward.
Kovalainen beat Fisichella to 11th thanks to a brave move at their final pitstops. The Ferrari crew had turned Fisichella around quicker, but Kovalainen was more alert as they rejoined, getting on the KERS sooner and surging down the inside at the first corner, with a bit of kerb, dirt and wheel banging involved.
Sutil chased them home, followed by his team-mate Tonio Liuzzi, the disappointingly off the pace home hero Kazuki Nakajima, and the lapped Grosjean, still struggling in the second Renault.
Last of all was the man who set fastest lap, and who surely would have been completing a Red Bull one-two in normal circumstances. Mark Webber never got chance to even try and charge through the field, as he had to make three pitstops in the first four laps - two due to his headrest coming loose, the other due to a puncture. He pushed hard all afternoon for no reward - other than the negligible satisfaction of beating Vettel to fastest lap honours by 0.003s.
RACE RESULTS

The Japanese Grand Prix
Suzuka, Japan;
53 laps; 307.573km;
Weather: Sunny.

Classified:

Pos  Driver        Team                      Time
 1.  Vettel        Red Bull-Renault      (B)  1h28:20.443
 2.  Trulli        Toyota                (B)  +     4.877
 3.  Hamilton      McLaren-Mercedes      (B)  +     6.472
 4.  Raikkonen     Ferrari               (B)  +     7.940
 5.  Rosberg       Williams-Toyota       (B)  +     8.793
 6.  Heidfeld      BMW Sauber            (B)  +     9.509
 7.  Barrichello   Brawn-Mercedes        (B)  +    10.641
 8.  Button        Brawn-Mercedes        (B)  +    11.474
 9.  Kubica        BMW Sauber            (B)  +    11.777
10.  Alonso        Renault               (B)  +    13.065
11.  Kovalainen    McLaren-Mercedes      (B)  +    13.735
12.  Fisichella    Ferrari               (B)  +    14.596
13.  Sutil         Force India-Mercedes  (B)  +    14.959
14.  Liuzzi        Force India-Mercedes  (B)  +    15.734
15.  Nakajima      Williams-Toyota       (B)  +    17.973
16.  Grosjean      Renault               (B)  +     1 lap
17.  Webber        Red Bull-Renault      (B)  +    2 laps

Fastest lap: Webber, 1:32.569

Not classified/retirements:

Driver        Team                      On lap
Alguersuari   Toro Rosso-Ferrari    (B)    58
Buemi         Toro Rosso-Ferrari    (B)    26
Glock         Toyota                (B)    DNS


World Championship standings, round 15:                

Drivers:                    Constructors:             
 1.  Button        85        1.  Brawn-Mercedes        156
 2.  Barrichello   71        2.  Red Bull-Renault      120.5
 3.  Vettel        69        3.  Ferrari                67
 4.  Webber        51.5      4.  McLaren-Mercedes       65
 5.  Raikkonen     45        5.  Toyota                 54.5
 6.  Hamilton      43        6.  Williams-Toyota        34.5
 7.  Rosberg       34.5      7.  Renault                26
 8.  Trulli        30.5      8.  BMW Sauber             24
 9.  Alonso        26        9.  Force India-Mercedes   13
10.  Glock         24       10.  Toro Rosso-Ferrari      5
11.  Kovalainen    22       
12.  Massa         22       
13.  Heidfeld      15       
14.  Kubica         9       
15.  Fisichella     8       
16.  Sutil          5       
17.  Buemi          3       
18.  Bourdais       2     
       
All timing unofficial

Lap-by-lap as it happened on AUTOSPORT Live
TEAM BY TEAM
Ferrari
Raikkonen does well to qualify eighth, then is given three places by penalties. He drifts away from the leaders in fifth at first, but shows brilliant pace on soft tyres to chase down Heidfeld and then snatch fourth in the pits. He ends the race giving Hamilton a very hard time for third.
Fisichella shows he can handle the Ferrari in the wet by taking fourth on Friday morning, but on a dry track it proves tougher and he is only 16th in qualifying, which becomes 14th thanks to penalties. He finishes 12th, losing 11th to Kovalainen's shoulder-barge into the first corner after being caught napping in the pit exit.
McLaren-Mercedes
Kovalainen grabs the fastest time in the soggy opening practice session, but causes the third and final red flag of qualifying when he crashes at Degner in Q3. One gearbox change and a flurry of penalties later, he starts 11th. It's more straightforward for Hamilton, who qualifies third and stays there.
Hamilton hopes his KERS can get him to the front at the start, but he only moves up to second. He cannot keep pace with Vettel and has to push flat-out to resist Trulli. The Toyota gets ahead at the final stops, thanks in part to a KERS glitch slowing the world champion, so Hamilton has to settle for third.
Kovalainen tangles with Sutil early on and loses ground avoiding the spinning German, and later barges past Fisichella with a bold pit exit move. He finishes 11th.
BMW Sauber
Kubica backs off for yellows and ends up 13th on the grid, which becomes ninth when penalties are applied. Heidfeld gets his Q2 time in sooner and takes a strong sixth, which becomes fourth.
The German stays there for most of the race, running largely alone, until Raikkonen demotes him a place at the final stops.
Kubica is passing by Button early on, then comes back at the Brawn later in the race. He never manages to make it through and finishes ninth.
Renault
Alonso complains vehemently about people not slowing for yellow flags after he backs off on his best Q2 lap and is only 12th. But the officials deem that he didn't slow down soon enough, so he is penalised down to 16th - two places ahead of the still struggling Grosjean.
A dogged drive on a one-stop strategy brings Alonso through the field to 10th, while Grosjean makes a few mistakes and comes home 16th.
Toyota
Trulli is quickest in final practice, second on the grid, and then second in the race - having produced his best drive of the year in front of Toyota's Japanese contingent. He is passed by Hamilton off the line, but reclaims the runner-up spot from the world champion with great in and out laps at their final stops.
Glock is replaced by Kobayashi when a fever strikes him down before practice. He returns for Saturday, only to have a violent accident in Q2 that requires a hospital visit for a badly cut leg and back pain. The former is the problem - causing mobility restrictions that rule him out of the race. A bid to get Kobayashi back in the car is denied by the FIA.
Toro Rosso-Ferrari
Buemi and Alguersuari notch up plenty of miles in the wet - and show great pace when it dries. They are so fast - Buemi dominated most of final practice and ending up second, and both drivers easily reaching Q2 - that it seems STR is in for its best race of the season.
Then things go horribly wrong. Buemi escapes a Q1 crash without consequences thanks to a lightning rear wing change. Alguersuari is less fortunate when he slams into the Degner barriers head-on, ending his session.
Buemi then qualifies for Q3, only to crash at Spoon at the end of Q2, and incur a penalty for dragging his wounded car right back to the pits. He ends up 13th on the grid, while the penalties elsewhere move Alguersuari end up to 12th.
A clutch problem causes Buemi to have a terrible start and retire soon after. Alguersuari holds his own in the midfield and looks set for 14th, but has a huge crash at the 130R late in the race.
Red Bull-Renault
Vettel takes a straightforward pole and an even more unthreatened win, keeping his and Red Bull's title hopes alive in the process.
Nothing goes right for Webber, though. He crashes heavily in final practice and has to miss qualifying as a new chassis is required. His race is then immediately ruined by two early stops for a loose headrest to be fastened, and another with a puncture. He sets fastest lap as he chases the field in vain, finishing 17th.
Williams-Toyota
Rosberg struggles for speed in Q2 and is only 11th - but that becomes seventh thanks to the many penalties. He runs longer on his fuel loads than most around him, but doesn't gain much from that and seems set for seventh at best. Then a curious situation under the safety car - in which he appears to get back to the pits too quickly but is not penalised because his dashboard read-out is obscured by a low fuel message - sees him grab fifth.
Nakajima is second quickest in the wet on Friday morning, but nowhere near that pace in the dry. He qualifies 17th, it becomes 15th, and that's where he finishes too.
Force India-Mercedes
Sutil is quickest on Friday afternoon in the wet, and an impressive fourth on the grid, albeit with quite light fuel. He gets hit with a yellow flag penalty and starts eighth. He then drops behind Kovalainen at the start, and is helped into a spin when he tries to pass the McLaren. A quick spin-turn allows him to continue and finish 13th.
Liuzzi has a gearbox failure in the only dry practice session and the lack of set-up time sees him only 19th in the session even before his gearbox change penalty. He starts 18th and finishes 14th.
Brawn-Mercedes
Barrichello and Button are fifth and seventh fastest in qualifying, but both are guilty of yellow infringements having left their Q2 runs too late and given themselves little other option but to stay flat-out and dodge the debris. They start sixth and 10th.
Button loses a few places off the line, before passing Fisichella and Kubica, then benefiting from Kovalainen and Sutil's tangle. This gets him up to eighth, where he finishes. Barrichello's race pace is middling, and gets worse as the afternoon goes on, so he is only seventh at the flag.