Lewis Hamilton's win back in Hungary went some way to compensating the reigning world champion and McLaren for their frustrating season. While other opportunities have gone astray since then, in Singapore last weekend the combination got it right once again - and at what has quickly become one of the most prestigious races of the season.
It all looked easy, but of course it wasn't. In many ways the weekend gave the team the perfect opportunity to remind us just how strong it still is - and how good it will be in 2010 if it can start the season with a competitive car.
Hungary was a high-downforce track and even back in Monaco with the original car Lewis would have had a good weekend had he not crashed in qualifying. While Valencia is also about straightline speed and arguably not strictly a street circuit, McLaren was quick there too.
There were good reasons why the MP4-24 was quick in Singapore, as Martin Whitmarsh explained: "We have generally good traction, we have good slow-speed corner performance. I think we have braking stability and you have to brake hard for the corners. Our weakness has been high-speed corners, which we think we've improved. The good test will be Suzuka.
"I was surprised how stiff the cars were here, because it's still quite a bumpy circuit and intuitively you'd think that people would be going a lot softer. I think the clue was one car that is never soft was the Red Bull. As soon as you saw that was competitive, you then had to conclude that you were able to get decent lap time, and I think a lot of the cars got stiffer as the weekend wore on. It's counter intuitive, because you looked at the cars and they weren't comfortable cars to drive, crashing the kerbs and the bumps. It was quite a bumpy old ride."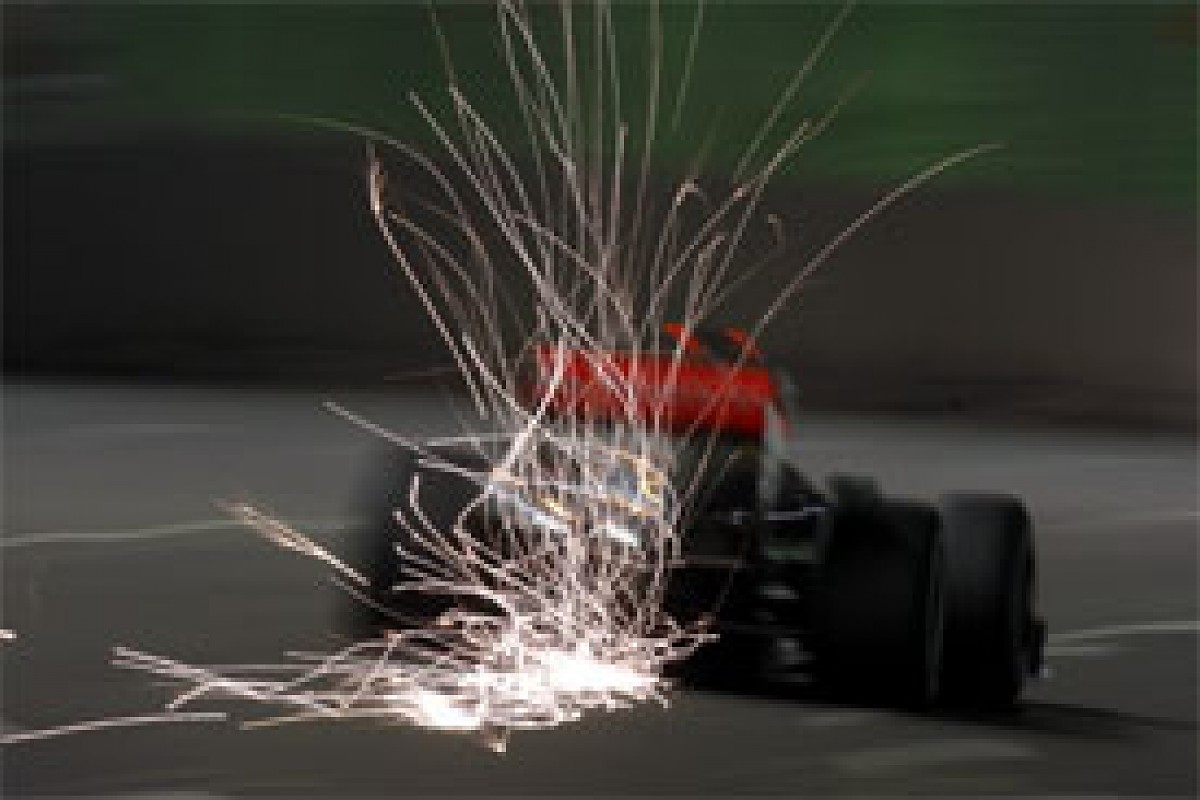 Lewis Hamilton at speed during qualifying © LAT
Going stiffer was one of the changes the team made on Friday night and into Saturday morning. A problem with the KERS wiring meant they also had to rebuild Hamilton's car around the spare tub, which these days is carried around in the freight with the bare minimum of bits already attached.
"I think it's been a tremendous amount of effort for everyone in the team," noted Whitmarsh. "This weekend just typifies the effort that's come from everyone in Woking to develop the car. We had to change Lewis's chassis. It customarily would have been called an all-nighter, but in Singapore that's an all-dayer! It was about a 20-hour shift, so it was a big effort. Friday was a difficult day, Saturday morning bang, P3 was great.
"Then, with that first flying lap on the harder prime tyre to set that time in Q1, we were confident enough to conserve tyres and sit back," said Whitmarsh. "That was really the foundation of this weekend."
Indeed it was. By saving a set of supersofts in Q1, Lewis had two fresh sets for the final session. He alone was able to go out and do his first run on such a set, while others were using either new softs, or used supersofts. And then came Barrichello's crash and the red flag that ruined everyone else's chances of getting in a lap on their only new supersofts.
"On Friday we weren't so comfortable with our pace," said Paddy Lowe. "But we turned it round and made some good changes overnight on Friday. We came out in P3 with good pace on both sides of the garage and managed to capitalise on that in qualifying. Lewis had been able to use a new set for his first run and I don't think anyone else was in that situation."
The real value of that lap emerged when the weights were published. Lewis was on pole with a car that was heavier than his main rivals immediately behind. That meant he could hardly be a hotter favourite for Sunday - it was his race to lose.
"We were over the moon," said Lowe. "Then all you're worried about is all the disturbance factor, safety cars, weather, etc. When on paper you look favourites to win, then all sorts of other stuff can crop up."
The first thing was to get the start right. The relatively short run to the first turn meant KERS was not as big an advantage as it has been elsewhere, but it was more than enough to pull him well clear of the rest. In fact second man Sebastian Vettel got away badly and was jumped by Nico Rosberg.
"Today what I needed to do was get a good start," said Hamilton. "I haven't had a good start for three or four races, so today was a real challenge. I got the start off to a T, pulled a nice gap to the first corner and then I could take it easy, kind of. I only needed to have a small gap while looking after my tyres. That's all I needed."
While the first part of the race couldn't have gone any better, the telemetry guys soon picked up a worrying problem with the KERS system. That was revealed by a team radio message from engineer Phil Prew, who asked Lewis to disable KERS by going to "default X-3-0." It certainly sounded like a serious problem and it might have become one.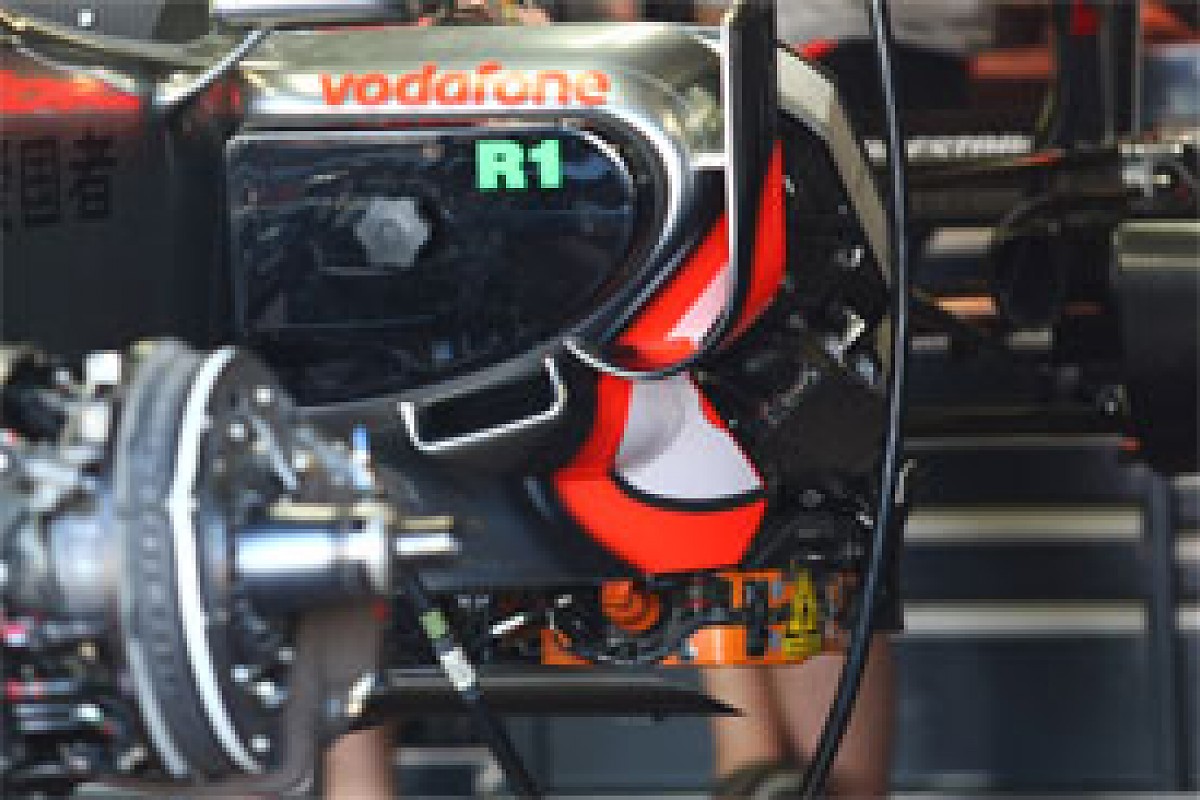 The Mercedes-Benz KERS unit © XPB
"The batteries are fluid cooled and they had overheated," said Whitmarsh. "The pump wasn't operating, but we were able to get it working again. It wasn't a big issue and I think we would have been Ok. Effectively, if we had carried on running the KERS we would have overheated the batteries and potentially had a conflagration. If we couldn't get the pump going, we would have turned the KERS off.
"It was a relatively minor point," Lowe insists. "There was a problem with a cooling pump which had got itself in a muddle and all it needed was a reset. Effectively you switch the KERS off, switch it on again, and it all sorted itself out. It's just a power cycle. Although it's not the sort of thing you really want, and he had a bit of a slow lap that lap. It's a bit distracting."
That's an understatement. While already fully occupied with driving the car flat out, Hamilton had to scroll through the menu on his steering wheel and programme in the right digits. Not easy.
"There's a lot of workload," Whitmarsh acknowledged. "KERS systems are not very automated so they need a lot of manual intervention, and here making all those adjustments makes it pretty busy. If you had a transcript of everything we sent to Lewis, there's a lot of things going on that he had to deal with. He did a great job. We've had other issues, but it was the first time we had that particular one."
Hamilton agreed that he had his hands full: "I personally didn't have any problems with the KERS, but the team came across on the radio and said there's something wrong, so while pushing and driving my hardest I had to do these button changes, I had to do a default, 62 or something like that. So 1-2-3-4-5-6 and 1-2 plus OK and then do the same thing again. I tell you what, you have enough to think about when you're in the car already, so to have to do those things is very challenging."
Once the KERS issue was sorted, Hamilton had a near perfect run. After the safety car he had Vettel on his tail, but the team knew that he would be stopping earlier and was thus no real threat. Team and driver had everything under control over that final stint.
"We were being pushed by Sebastian, but at that point he was quite a lot lighter,' said Whitmarsh. "We could have let Sebastian through and won the race, but Lewis wasn't likely to do that. And therefore inevitably you have a little bit of stress, and a little bit of concern.
"We were very happy on brakes, just a question of managing those. It was very easy to overheat the rear tyres, both prime and option, but particularly the supersoft. Both of our drivers went very steady at the start of the last stint and that gave us the confidence that we had no tyre problems. But you had to manage it properly."
"The concentration you need here is beyond your imagination," said Hamilton. "It's beyond my imagination. You get out there and you think you're ready, but you have to adjust. And it's so long, the race. The lap is so long and 61 laps here in these conditions is very, very challenging. I was happy because I love winning and it was a very tough race. It was physically demanding.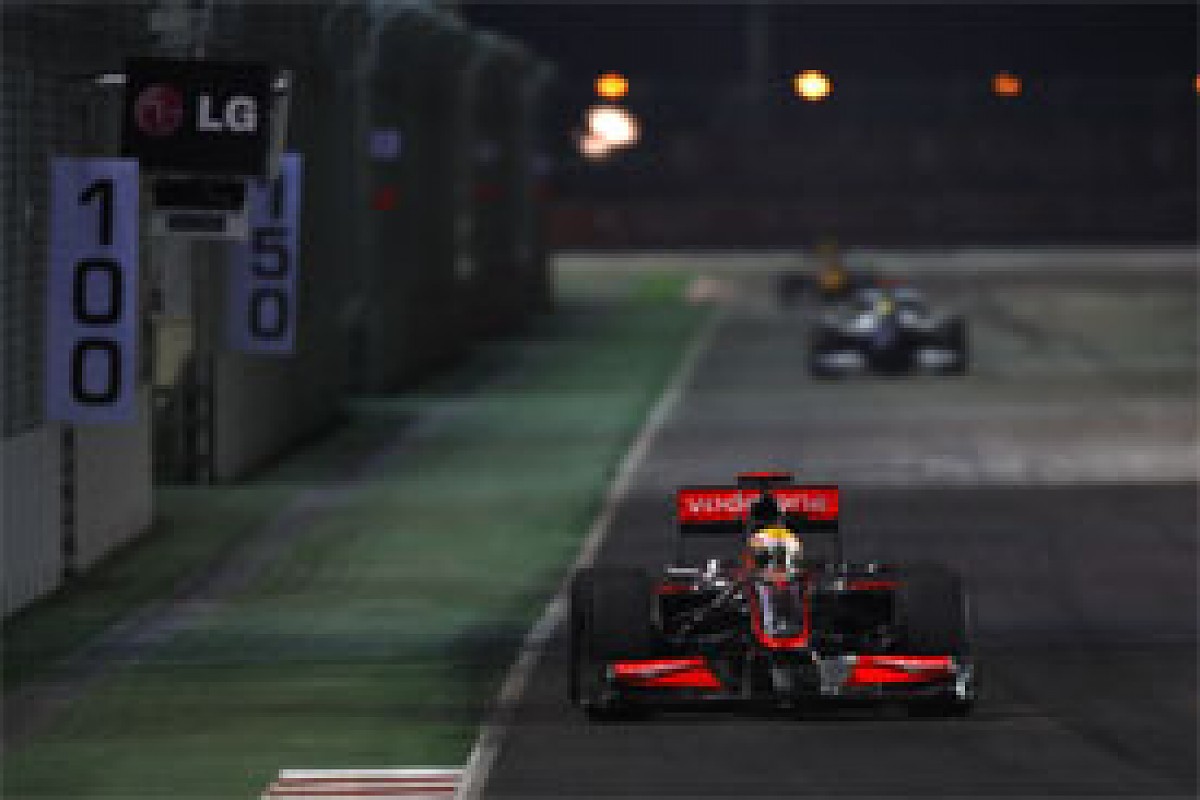 Lewis Hamilton stretches his lead over Nico Rosberg and Sebastian Vettel © LAT
"Ok, we didn't have too much pressure from anyone else, but winning is not easy and when you kind of do it to perfection, it's even more satisfying. So I'm very happy."
"It was a little bit like Hungary," said Lowe. "Here it was an honest win, and we would have won it anyway on our pace. We were kind of helped because the principal contenders seemed to fade away for one reason or another. Rosberg and Vettel both tripped over various things. I think in pace terms we had it covered because we were longer than both of those guys to the first stop, so it makes it a bit easier."
Although team and driver have long been out of title contention, McLaren still has a very big incentive to perform over the remaining few races.
"We're closing the gap back to Ferrari," noted Lowe. "Our championship will be about beating Ferrari now, we are back to being three points away. The best saving of pride that we can get for this season is to come in third in the constructors'."
Of course the intriguing thing is that Ferrari has made it clear that it has stopped development on the F60. Will the Maranello team really let that third place slip away so easily?
"I don't know what they really mean by that," said Lowe of Ferrari's claim. "It's not a digital thing, this development, its analogue. You put more and more effort into the new car as the year goes on, but you can't ever completely stop the old car while you're still running it. Because every time you run you're learning, and you should be doing something with that. It isn't really the same scenario.
"We put the vast majority of our effort into next year, which you've got to do at this stage of the season, but we're still doing work and using the time that we've got in the last three or four races to keep learning for next year as well as to get the best results from this year."
Whitmarsh acknowledged that Japan might not be a McLaren circuit: "Suzuka is an exciting track. I think it will bring a fresh set of challenges for us. We'll have to wait and see. We've certainly improved the car in high-speed corners and I'd rather be in the car at this end of the season than the front end of the season, let's put it like that."
On Friday morning, on a wet but drying track, Heikki Kovalainen was fastest. It remains to be seen if the team can maintain that sort of form for the rest of the weekend.