PRACTICE
Practice 1 - Friday PM
Something new for the Singapore Grand Prix in Friday's first session: Formula 1 cars lapping Marina Bay in relative daylight. An earlier start to practice this year meant dusk was only just falling as the action got underway, although by the time first practice was finished the sky was dark and the floodlights were being used to full effect.
Rubens Barrichello paced the opening practice session © LAT
The session ended with a Brawn one-two, Rubens Barrichello pipping Jenson Button late on, and Mark Webber third for Red Bull.
Fernando Alonso gave his troubled Renault team a boost with fourth place after some spectacularly on the limit laps - but the team's day will mainly be remembered for Romain Grosjean's dreadfully ironic crash at Turn 17, scene of Nelson Piquet's now infamous pre-planned shunt a year ago. Grosjean showed what an accidental Turn 17 accident looks like by only brushing the wall with his rear wing and then coming to a halt as he nudged the opposite barrier, but the repairs still ate into his much-needed practice mileage.
Practice 2 - Friday PM
Sebastian Vettel reminded everyone that he still saw himself as a title contender by taking the top spot in second practice, with Alonso again pushing the Renault to the limit and he slid and kerb-hopped to second.
Heikki Kovalainen completed a strong day in third place, while his McLaren team-mate Lewis Hamilton was unhappy with his car's handling and needed a chassis change to cure a KERS-related electrical problem overnight.
Behind Nick Heidfeld and Button, Webber held on to sixth despite causing the main incident of the session when he spun out of the final corner and crunched his Red Bull into the pit wall.
Saturday Practice
After a difficult Friday practice, Hamilton bounced back on Saturday thanks to the use of a different chassis, with his McLaren team having to work hard overnight to get it ready in time. The Briton dominated most of final practice and ended up nearly three tenths ahead of Vettel, the duo looking set for a thrilling battle for pole position.
Nico Rosberg was third quickest but already seven tenths behind Hamilton, with Kovalainen and Robert Kubica completing the top five in a drama-free session.
Despite a good Friday practice, championship leader Button did not start Saturday in the best of moods after struggling with his car's handling. The Briton finished down in 14th place, not a good omen for the grid-deciding session.
QUALIFYING
1. Lewis Hamilton - McLaren-Mercedes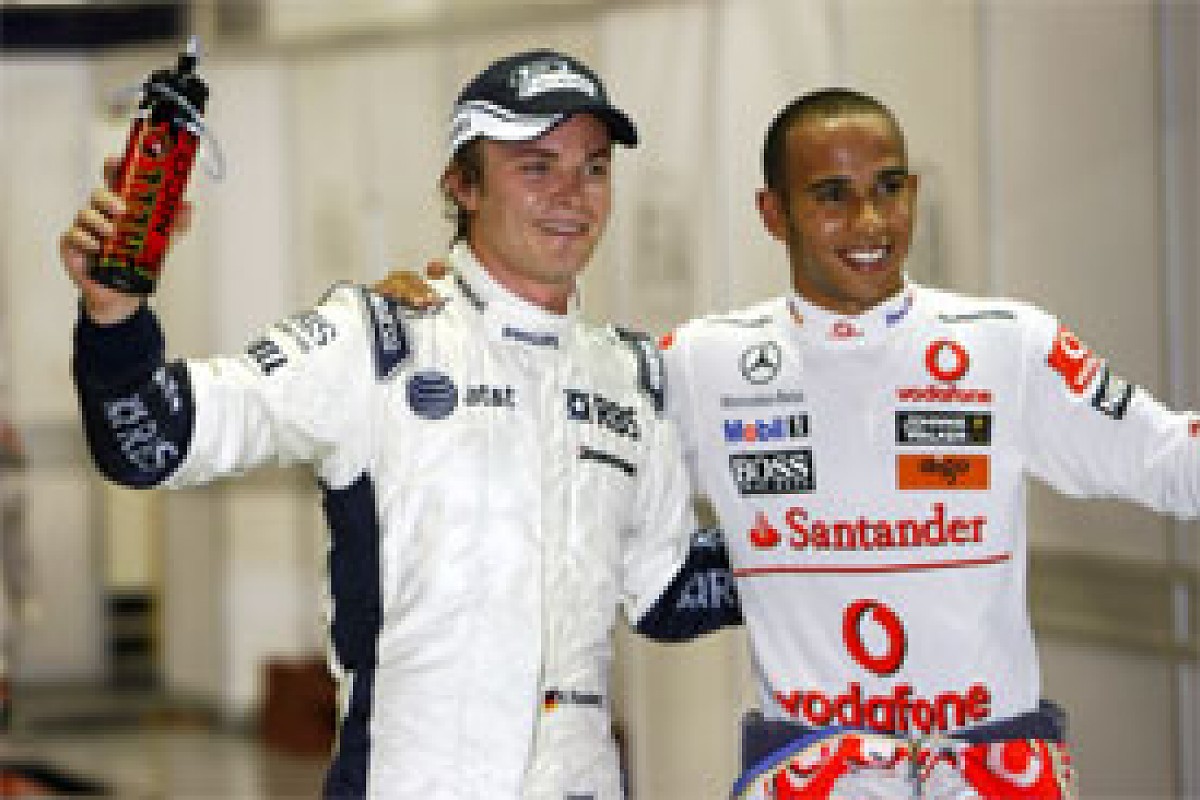 Nico Rosberg and Lewis Hamilton swept to the front row © LAT
Unhappy with his car on Friday, McLaren decided to change Hamilton's chassis for Saturday, and the Briton was right on the pace. Although benefiting from the early end to qualifying, there was no doubt that Hamilton had the pace for fight for pole, and for victory come race day.
2. Sebastian Vettel - Red Bull-Renault
Having qualified outside the front row in the last three races, Vettel was finally back in contention for pole in Singapore, where the Red Bull was strong again following a series of difficult races. Vettel could have had a shot at pole position, having completed his only run with used tyres, but the early stoppage put an end to his hopes.
3. Nico Rosberg - Williams-Toyota
As he expected, Rosberg and Williams were back on the pace after the struggles of Spa and Monza. Having shone in last year's race, the German was again one of the quickest men on track and put his FW30 on the second row of the grid for the second time this season. The elusive first podium of 2009 never looked closer.
4. Mark Webber - Red Bull-Renault
Webber started off on the wrong foot on Friday when he crashed his Red Bull in second practice after just 14 laps. That left the team with a lot of work for Saturday, but the Australian was nonetheless on the pace in qualifying. There was room for him to go quicker, but he was one of the drivers who didn't manage to do his second run.
5. Rubens Barrichello - Brawn-Mercedes
Considering everything that happened to him, Barrichello had to be pleased with his qualifying position. The Brazilian finally got his gearbox changed, which meant dropping from fifth to 10th, and then crashed at the end of the session, which ironically may have worked in his favour as the red flag prevented those behind him from completing their faster second runs and demoting him further.
6. Fernando Alonso - Renault
The Spaniard was one of the drivers who was probably happy that qualifying ended before the final runs could be completed, as he was not too happy with the handling of his Renault. The timing of the stoppage, however, left Alonso in a strong fifth position (once Barrichello's penalty took effect), his best qualifying result since Hungary.
7. Timo Glock - Toyota
Unlike team-mate Trulli, Glock felt comfortable with his car's set-up and was very quick from the start of qualifying. Having completed his first Q3 run with used tyres, Glock's seventh place was a good effort, but like the majority of the drivers, the German was left frustrated by being unable to do the last run with the softer tyres.
8. Nick Heidfeld - BMW-Sauber
After a strong outing in final practice, Heidfeld was left frustrated by the early finish to qualifying, which he reckoned robbed him of a much better result. Although BMW needed more time to make the new upgrade package work better, the team looked in better form with it, but the early end left everybody wondering how big the improvement was. There was bad news for Heidfeld on Sunday though, when BMW discovered that wrongly fitted balance weights meant his car was underweight. The team therefore decided to pre-empt a penalty and change his engine and gearbox, then start from the pitlane.
9. Robert Kubica - BMW-Sauber
Like most drivers in the top ten, Kubica paid the price for not having completed his final run before Barrichello's accident. The Pole felt there was potential for a better result thanks to the upgrade package, but it was not to be. Nonetheless, a point-scoring finish was on the cards.
10. Heikki Kovalainen - McLaren-Mercedes
Finishing nearly two seconds off Hamilton's pace with just four more kilos of fuel onboard was a very disappointing performance for the Finn. After setting a slow time with the harder compound, Kovalainen was set to use the softer option tyres for his final flying lap, but Barrichello's crash meant he was unable to complete it, leaving him in a difficult situation for Sunday.
11. Kazuki Nakajima Williams-Toyota
As shown by Rosberg, the Williams had the potential to much more than 11th place, but Nakajima admitted he had failed to extract it. The Japanese had tyre warm-up problems ahead of his final run in Q2 and in the end his lap was not good enough to reach the top ten shootout.
12. Jenson Button - Brawn-Mercedes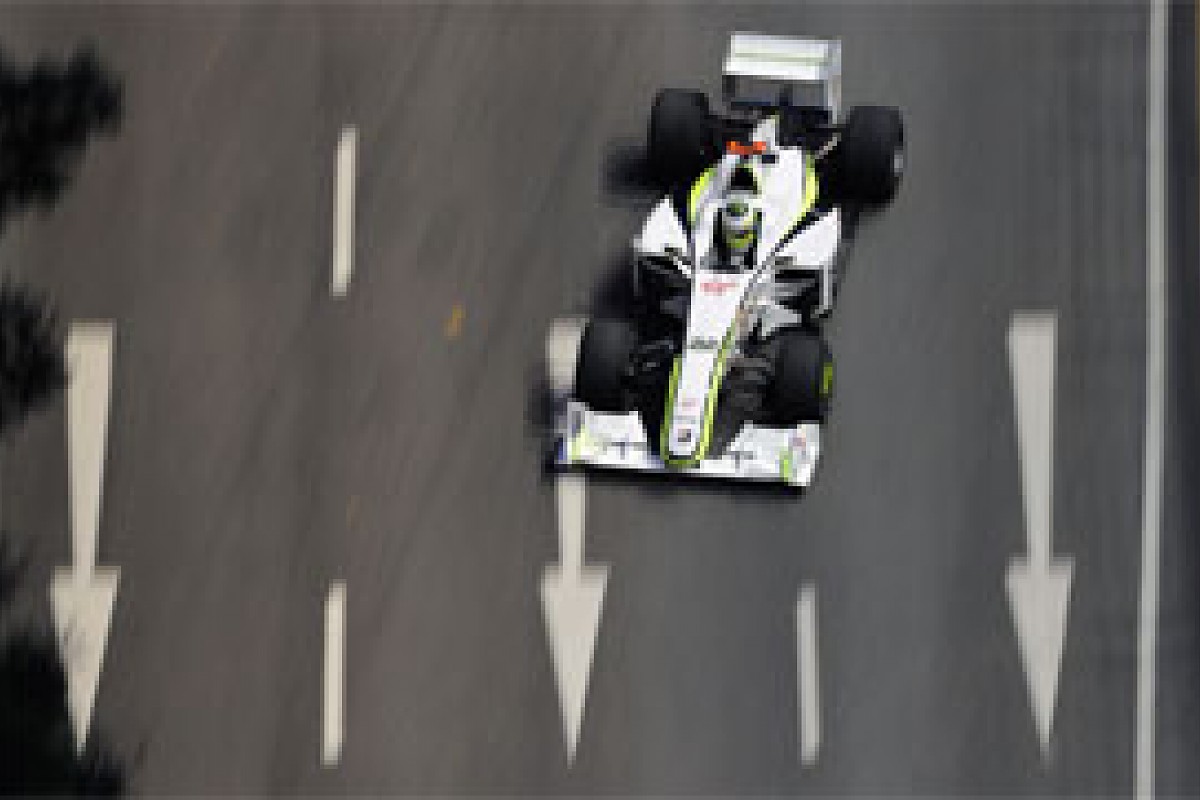 Jenson Button failed to advance from Q2 © LAT
Not managing to outqualify his penalised team-mate was far from a good result for Button, who is lucky to have just one real championship contender as he continues with his ups and downs. The Briton was baffled by his lack of pace in qualifying after a strong showing on Friday and the only good news was that Barrichello was at least carrying a lot less fuel than him.
13. Kimi Raikkonen - Ferrari
With no new parts for his Ferrari, Raikkonen admitted it was not a big surprise to struggle for competitive pace around the Singapore circuit. The Finn never looked to be in contention for a place in the top ten and was left expecting a difficult race on Sunday.
14. Sebastien Buemi - Toro Rosso-Ferrari
After two races in the doldrums, Toro Rosso was back in the fight for the midfield positions and Buemi returned to Q2 for the first time since Valencia. The Swiss driver was pleased with an error-free session that put him in a position to benefit from possible chaos in front.
15. Jarno Trulli - Toyota
Trulli was at a loss to explain why he was unable to find the same kind of pace shown by his team-mate Glock. The Italian struggled with a lack of grip despite track conditions having improved significantly since Friday, and the end result was a disappointing 15th place.
16. Adrian Sutil - Force India-Mercedes
Despite having talked up his Force India team's chances following the stunning showings of Spa and Monza, Sutil was never in contention for any of the significant positions. The car's lack of downforce was evident around the Marina Bay circuit, and even the German admitted he was surprised to be so slow.
17. Jaime Alguersuari - Toro Rosso-Ferrari
Despite a difficult start to the weekend on Friday, the Spaniard made steady progress on Saturday and wrapped up the day with a solid performance that allowed him to equal his best qualifying performance in F1. The result was not spectacular, but at least Toro Rosso had moved away from the final row of the grid.
18. Giancarlo Fisichella - Ferrari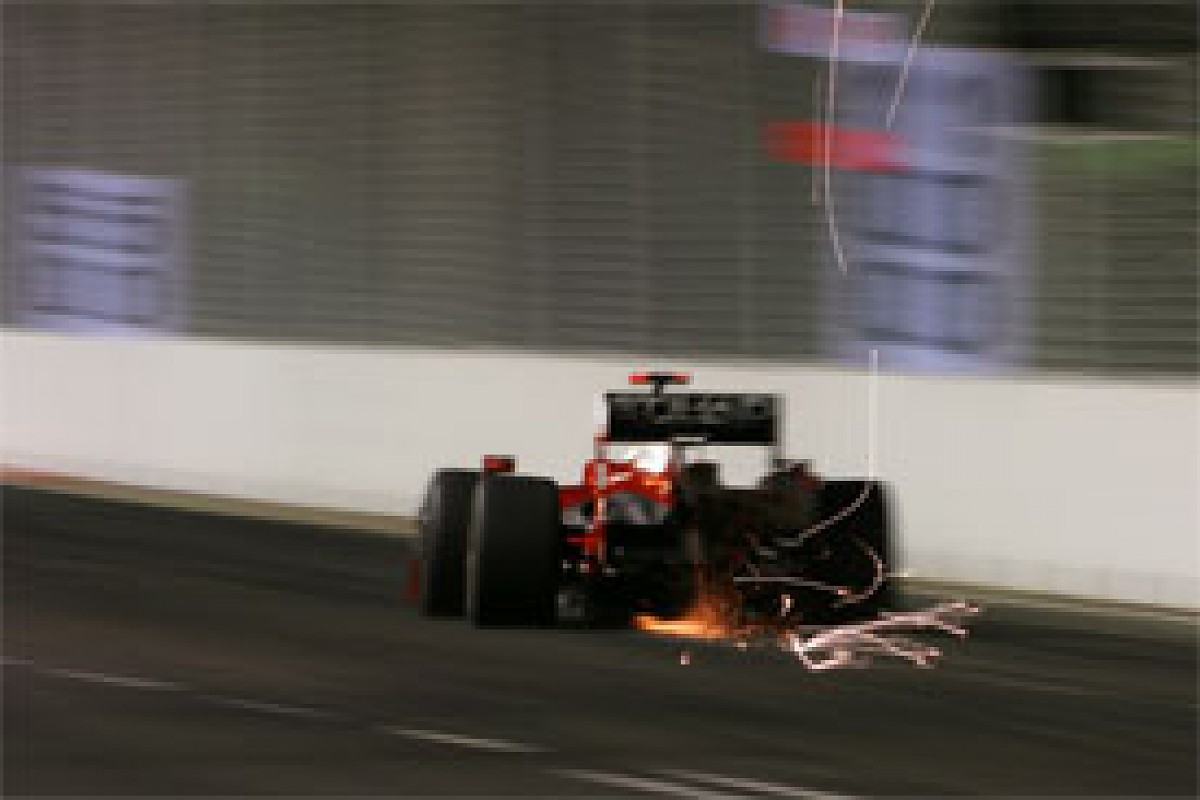 Giancarlo Fisichella continued his struggles in the Ferrari © XPB
Fisichella admitted he was still lacking confidence in the Ferrari after just one race, and the fact that the Italian car struggled around the street circuit did not make things any easier for him. Nonetheless, he was over a second slower than Raikkonen in Q1, an effort he can't have been happy with.
19. Romain Grosjean - Renault
Grosjean's most popular moment of the weekend came when he spun at the same corner Piquet had crashed last year, an irony that was not lost on anyone. Other than that, the Frenchman had a very low-key weekend, struggling with the Renault's brakes and never coming close to matching Alonso's pace.
20. Vitantonio Liuzzi Force India-Mercedes
After his dream debut in Monza, it was back to reality for Liuzzi, who faced the challenge of dealing with a much less competitive car on a street circuit he had never driven at. Given all the circumstances, it was not a terrible effort to finish half a second off Sutil's pace, but a difficult race beckoned.
QUALIFYING RESULTS
Pos  Driver       Team                       Q1        Q2        Q3
 1.  Hamilton     McLaren-Mercedes      (B)  1:46.977  1:46.657  1:47.891
 2.  Vettel       Red Bull-Renault      (B)  1:47.541  1:46.362  1:48.204
 3.  Rosberg      Williams-Toyota       (B)  1:47.390  1:46.197  1:48.348
 4.  Webber       Red Bull-Renault      (B)  1:47.646  1:46.328  1:48.722
 5.  Barrichello  Brawn-Mercedes        (B)  1:47.397  1:46.787  1:48.828
 6.  Alonso       Renault               (B)  1:47.757  1:46.767  1:49.054
 7.  Glock        Toyota                (B)  1:47.770  1:46.707  1:49.180
 8.  Heidfeld     BMW-Sauber            (B)  1:47.347  1:46.832  1:49.307
 9.  Kubica       BMW-Sauber            (B)  1:47.615  1:46.813  1:49.514
10.  Kovalainen   McLaren-Mercedes      (B)  1:47.542  1:46.842  1:49.778
11.  Nakajima     Williams-Toyota       (B)  1:47.637  1:47.013
12.  Button       Brawn-Mercedes        (B)  1:47.180  1:47.141
13.  Raikkonen    Ferrari               (B)  1:47.293  1:47.177
14.  Buemi        Toro Rosso-Ferrari    (B)  1:47.677  1:47.369
15.  Trulli       Toyota                (B)  1:47.690  1:47.413
16.  Sutil        Force India-Mercedes  (B)  1:48.231
17.  Alguersuari  Toro Rosso-Ferrari    (B)  1:48.340
18.  Fisichella   Ferrari               (B)  1:48.350
19.  Grosjean     Renault               (B)  1:48.544
20.  Liuzzi       Force India-Mercedes  (B)  1:48.792

All Timing Unofficial

THE RACE
Most of the field on similar length two stop strategies, 19 of the 20 starters using the harder tyres for the opening stint, and a short enough run to the first corner to prevent KERS having a disproportionate effect - this looked like a straightforward head to head.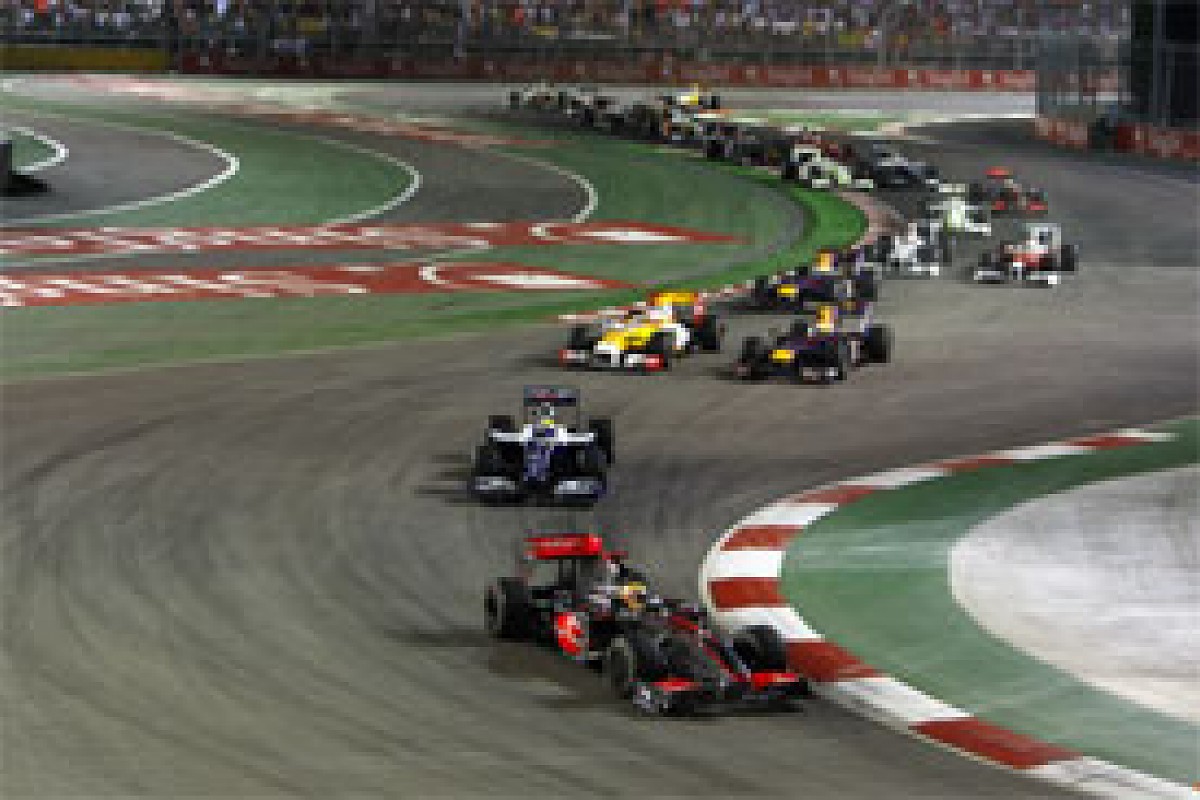 Lewis Hamilton leads the field through the opening lap © LAT
And it soon became clear it would be a three-way fight, as Lewis Hamilton comfortably held the lead through the first corner, Nico Rosberg moved ahead of Sebastian Vettel for second, and this trio began putting daylight between themselves and their rivals.
Vettel could consider himself fortunate to stay with the lead pack, for the Red Bull driver had had to work hard to fend off the fast-starting Fernando Alonso's Renault off the line.
But having squeezed in front of Alonso through the first complex, Vettel made his escape as his team-mate Mark Webber attacked the Renault. They ran wheel to wheel into Turn 7 with Webber on the outside - and then both slid wide over the kerbs. While Alonso stayed vaguely in touch with the track, Webber was right in the run-off when he managed to accelerate ahead and complete the move.
That would prove costly, with the officials deciding he had gained an unfair advantage. Worse still, in letting Alonso by he had to drop two places, for Timo Glock had dived through to split them as they recovered momentum.
Webber was not impressed.
"The first lap was pretty feisty, as you'd expect on a street circuit," he said. "Kimi did something similar at Spa and got away with it.
"Fernando also wasn't totally in control on the inside, so I thought it was a 50/50 one, but the stewards decided I had to let Fernando and Glock through, so I lost all the hard work I'd done."
That ended any chance Webber had of staying with the leaders, who were nearly 20s clear of Glock within 15 laps. Things remained close up front, with Rosberg lurking just 2-3s behind Hamilton and Vettel also within 4-5s of the lead, but the fuel load sheet suggested that the slightly heavier McLaren had the edge.
"I knew I was longer than the guys behind me, so I was never really under serious pressure," said Hamilton, who was running three laps longer than Vettel and two further than Rosberg.
The latter then took himself out of contention at the first stops. The refuelling and tyre change went swimmingly - but Rosberg's hitherto excellent weekend went awry with a tiny pit exit error, which saw the Williams run wide and bump across the kerbs, and crucially the white line separating the pits from the track. Rosberg immediately pulled back across, but the damage had been done and a drive through penalty would soon be imposed.
"It was very stupid," Rosberg admitted. "It's just one of those really silly, silly mistakes."
Had he taken the penalty immediately, he would still have been in the top ten and with a chance to fight back. But just as race control announced his punishment, it was also calling for the safety car after a messy collision between Adrian Sutil and Nick Heidfeld.
Sutil had been part of a train of cars queued up behind Jaime Alguersuari's Toro Rosso, and spun as he tried a last-minute move down the inside. While Alguersuari motored on unscathed, Sutil tried to immediately spin-turn - just as Heidfeld was coming past him. The BMW's right rear corner was ripped off, as was the nose section of the Force India, which soon retired with brake problems.
Opinions differed about whether Sutil was unwise or unfortunate.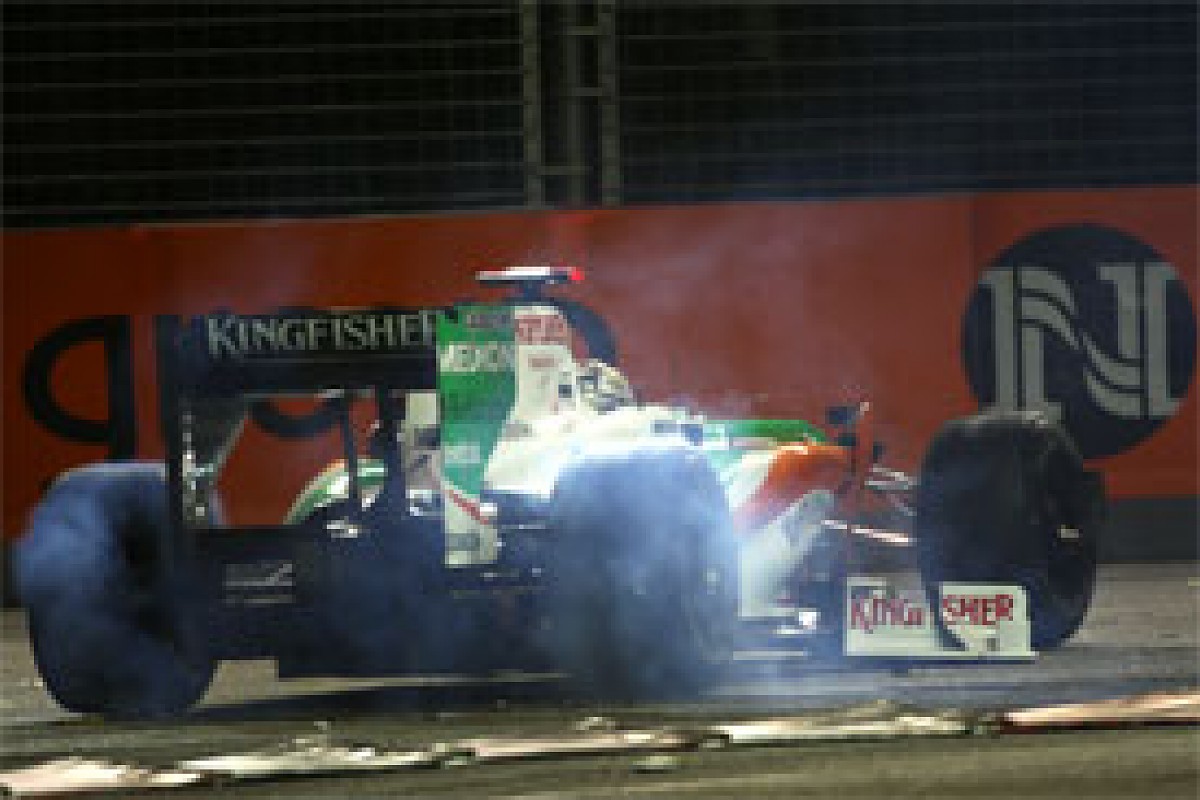 Adrian Sutil damages the Force Indai © XPB
"It was completely stupid of Sutil, he kept going and went back onto the circuit without looking," said Heidfeld. "I was past him and he accelerated into my car."
"Nick came around the corner and hit my front wing," said Sutil. "I am sorry for him. I didn't see there were cars coming because it was right next to barrier in front of me."
The stewards voted 'unwise' and gave Sutil a reprimand and a fine.
With Rosberg taking his penalty and plunging down the order soon after the restart, it was Vettel who stepped up to challenge Hamilton. And it looked like he might have the pace to do so, as he quickly hunted down the McLaren. Passing wasn't possible, despite the gap coming down to less than a second, and Vettel was running significantly lighter than Hamilton - but still there was hope of a late showdown as the super soft tyres Vettel switched to at his stop were offering impressive pace at the start of a stint.
Vettel had to use that speed fighting back through the field rather than fighting for victory, though. Like Rosberg, the pit rules were his undoing, as he picked up a speeding penalty - to his bemusement.
"I knew I would pit earlier so there was no chance to get him at the stop unless he had a problem," said Vettel. "Therefore I wasn't in a rush. So I was very surprised when I got the call on the radio that I had a drive through for speeding in the pit lane.
"I can't really explain why I got caught and we'll have to check if it's maybe an electronic issue, but it was working before and afterwards so it's difficult to say."
That penalty removed the last threat to Hamilton's victory, allowing the world champion to stroll through the final laps. It wasn't the toughest or hardest-fought win of his career, and with no title to fight for, he was relatively muted in his celebrations. But he hoped that it had at least made up for the loss of the third place he had thrown away at Monza two weeks earlier.
"I came here hoping to have a good result, hoping to kind of redeem myself after the last race - and we did it," said Hamilton.
As two of Formula 1's German contingent dropped back, one of their countrymen came through to take second. Glock's season has been largely low-key, but he drove a sublime race in Singapore, pulling out a safe distance over Alonso, equalling his career-best result of second, and scoring Toyota's first podium since April in the process.
"The driver can make a difference here and I just pushed as hard as possible," he said. "I had a lot of ups and downs over the weekend. Friday's first free practice I said 'okay, we are not looking really strong' and then suddenly we just picked up and really concentrated with my crew and did everything right.
"I knew from the free practice than Fernando and Renault struggle a bit over the race distance and we were quite okay. I just saw that I had to get in front of him to make the strategy work. That worked out really well. Just a perfect weekend and a podium at the right moment for us."
Renault's first podium of the year was even more well-timed, coming just days after the scandal hearing that saw former team bosses Flavio Briatore and Pat Symonds banned and the immediate departure of two unimpressed major sponsors. Alonso wasn't too fussed about Glock getting ahead in the first lap shuffle, as he knew that just being on the podium was a massive boost for the hard-working - and exonerated - Renault crew.
"Because of the battle with Webber I lost the position with Timo and we finished the race behind him, but no real complaints," said Alonso. "It is fantastic for us. The mechanics, engineers, everybody in the factory, did their maximum.
"Sometimes we did get some good results, sometimes we have been a little bit unlucky. But finally this podium in this particular moment after what happened from Monza to here with the team. Now we put that behind us and we concentrate on the remaining races. I dedicate this podium to Flavio at home as he is part of the success we had today."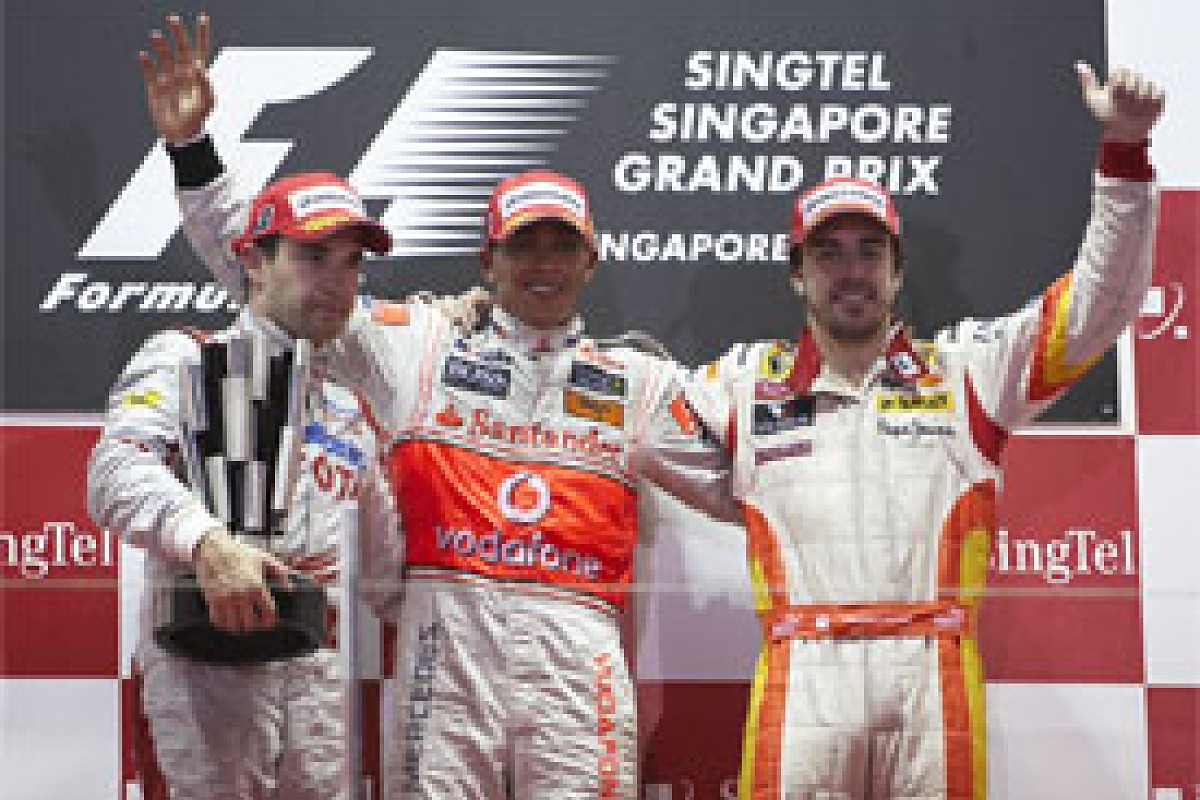 Timo Glock, Lewis Hamilton, and Fernando Alonso on the podium © LAT
With the top three settled, the title battle became the focus in the closing laps. Vettel had made his life a bit harder by smashing large parts of his diffuser off on the Turn 5 kerbs, but even so his pace on super softs in clear air was still sufficient for him to move back up to fourth as others made their final stops much later than the Red Bull.
His team-mate Webber's night had got little better. He lost out to both Brawns and Heikki Kovalainen in the first stops, rejoining ninth, and then struggled with fading brakes. The crew checked the discs at his second stop and were confident enough to let him rejoin, but the right front disc gave up the ghost just a lap later and sent Webber spinning into the Turn 1 barriers.
Fearing a safety car, most of those who hadn't made their final stops yet dived straight in, but Webber had gone far enough off-track for his car to be cleared without a caution. And as Rubens Barrichello was among those who had played it safe and pitted early, the Singapore marshals' efficiency could have a big effect on the title battle.
Until that point, Barrichello had looked in good shape. Both Brawns had assertive first laps, with Barrichello getting up to seventh and Jenson Button to 10th, and as others hit trouble or fell back, they advanced to fifth and seventh by the middle stint, which would have got the points gap down to 12.
Button had been optimistic that he had the pace to finish ahead of Barrichello if he could run longer before his pitstops. The safety car denied him a chance to try this at the first pit sequence, but the phantom second safety car made it possible, for after Barrichello's early (and slightly slow) stop, Button was handed a six-lap low-fuel sprint to try and overturn his team-mate's five second advantage. Both men set personal best times as they benefited from low fuel and fresh super softs respectively, but it was Button who emerged in front.
The championship leader briefly considered chasing Vettel for fourth in case his Red Bull's brakes were also wilting, then both Brawns had to ease off in the final laps when it became clear that their brakes were also in an ominous state. They finished fifth and sixth, ahead of the muted Heikki Kovalainen who had run between them for most of the race, and with a 15-point advantage and three races to go, Button was understandably relieved.
"I'm really happy to get fifth - which sounds crazy with the car that we have, but this weekend hasn't been quite what we expected," he said.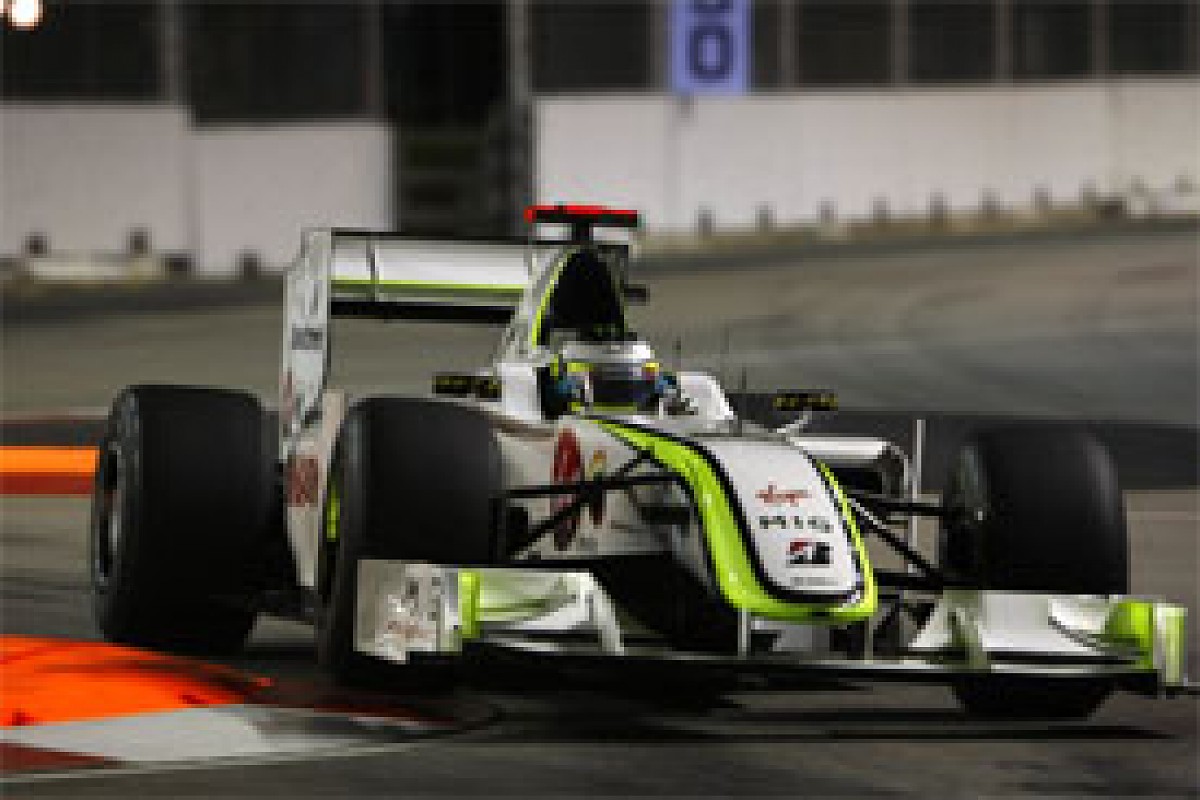 Jenson Button recovered from a poor qualifying © LAT
Although Barrichello again looked like a man destined to lose this title whatever he did, he remained hopeful.
"I'm disappointed because I fought throughout the weekend with plenty of things - gearboxes, shunts, safety cars, pit stop problems - but even though I lost a point, I've got to be positive," he said.
Robert Kubica reckoned the point he got for eighth was the hardest-earned of his career, for as his rear tyres disintegrated, Kazuki Nakajima, Kimi Raikkonen and Rosberg pulled up to his tail. Rosberg had regained some ground thanks to pitting early and then charging on super softs, while Raikkonen never looked like a serious points threat on a woeful weekend for Ferrari. Stefano Domenicali pinned the blame on the team's lack of development - all the effort now being poured into the 2010 car - rather than any underperformance by Raikkonen and Giancarlo Fisichella, who escaped a wheel banging session with Tonio Liuzzi to beat his Force India replacement to 13th.
Attrition was unusually high by modern F1 standards. Romain Grosjean's brakes gave up after just three laps, and Alguersuari's did likewise 44 laps later. The Spaniard had given Toro Rosso an additional headache by pulling away prematurely at his first stop, sending one mechanic tumbling and damaging the fuel rig in a way that hampered both drivers. Sebastien Buemi was delayed by this and later retired with gearbox problems, but had battled Raikkonen early on.
While one Toyota driver celebrated an excellent podium, the other spent the race among these incidents and traffic jams in the midfield. This was not the finest weekend of Jarno Trulli's career...
"I was not very competitive - I was struggling with rear traction and as soon as I pushed for one lap I was losing the rear," said Trulli after coming home a lonely 12th. "It was a disaster from the beginning to the end.
"Sometimes you need some luck, the team has had some bad luck in the past and Timo and the team deserved this result. But I have to look at myself as well, and things didn't turn around for me today."
RACE RESULTS

The Singapore Grand Prix
Singapore, Singapore;
61 laps; 309.087km;
Weather: Dry.

Classified:

Pos  Driver        Team                      Time
 1.  Hamilton      McLaren-Mercedes      (B)  1h56:06.337
 2.  Glock         Toyota                (B)  +     9.634
 3.  Alonso        Renault               (B)  +    16.624
 4.  Vettel        Red Bull-Renault      (B)  +    20.261
 5.  Button        Brawn-Mercedes        (B)  +    30.015
 6.  Barrichello   Brawn-Mercedes        (B)  +    31.858
 7.  Kovalainen    McLaren-Mercedes      (B)  +    36.157
 8.  Kubica        BMW Sauber            (B)  +    55.054
 9.  Nakajima      Williams-Toyota       (B)  +    56.054
10.  Raikkonen     Ferrari               (B)  +    58.892
11.  Rosberg       Williams-Toyota       (B)  +    59.777
12.  Trulli        Toyota                (B)  +  1:13.009
13.  Fisichella    Ferrari               (B)  +  1:19.890
14.  Liuzzi        Force India-Mercedes  (B)  +  1:33.502

Fastest lap: Alonso, 1:48.240

Not classified/retirements:

Driver        Team                      On lap
Alguersuari   Toro Rosso-Ferrari    (B)    48
Buemi         Toro Rosso-Ferrari    (B)    48
Webber        Red Bull-Renault      (B)    46
Sutil         Force India-Mercedes  (B)    24
Heidfeld      BMW Sauber            (B)    20
Grosjean      Renault               (B)    4


World Championship standings, round 14:                

Drivers:                    Constructors:             

 1.  Button        84        1.  Brawn-Mercedes        153
 2.  Barrichello   69        2.  Red Bull-Renault      110.5
 3.  Vettel        59        3.  Ferrari                62
 4.  Webber        51.5      4.  McLaren-Mercedes       59
 5.  Raikkonen     40        5.  Toyota                 46.5
 6.  Hamilton      37        6.  Williams-Toyota        30.5
 7.  Rosberg       30.5      7.  Renault                26
 8.  Alonso        26        8.  BMW Sauber             21
 9.  Glock         24        9.  Force India-Mercedes   13
10.  Trulli        22.5     10.  Toro Rosso-Ferrari      5
11.  Kovalainen    22       
12.  Massa         22       
13.  Heidfeld      12       
14.  Kubica         9       
15.  Fisichella     8       
16.  Sutil          5       
17.  Buemi          3       
18.  Bourdais       2       
       
All timing unofficial

Lap-by-lap as it happened on AUTOSPORT Live
TEAM BY TEAM
Ferrari
Stefano Domenicali said that with other teams developing their cars and Ferrari focused entirely on 2010, it was no surprise that his squad was in the midfield. The fall from grace - after four straight podiums - was pretty dramatic, though.
Raikkonen and Fisichella were off the pace throughout practice, only 13th and 18th on the grid, and only 10th and 13th in the race, having not shown much pace until they fitted super-soft tyres at the end.
McLaren-Mercedes
Friday sees Kovalainen feeling confident in the top three and Hamilton slower and unhappy with his car - and needing a chassis change overnight to rectify a KERS-related electrical problem.
Things turned around after that, with Hamilton taking his third pole of the year and controlling the race from start to finish to record a consummate win. Kovalainen only qualified 10th, spent most of the race between the Brawns, and finished a low-key seventh.
BMW Sauber
A massive upgrade package didn't quite deliver what BMW might have hoped - although the new parts could prove more effective at Suzuka next week. The step forward was clear in qualifying though, as Kubica and Heidfeld took eighth and ninth.
Heidfeld started in the pitlane after BMW found incorrectly fitted ballast weights left his car underweight. Knowing he would fall to the back, the team changed his engine and gearbox anyway. He didn't get chance to make much progress before Sutil spun and collected him.
Kubica lost a little ground at the start and ran in the lower part of the top ten all evening, moving up to eighth as others faltered. Huge tyre wear cost him pace in the final stint, but he held off a queue of rivals to score the final point.
Renault
After the agony of recent weeks, a chastened and restructured Renault squad showed that it is still an excellent racing team with a great performance in Singapore.
Much of the credit must go to Alonso, though, who - despite his imminent move to Ferrari - gave his all in a difficult car, charging to top six times in practice and then qualifying sixth. A fast start saw him challenge the Red Bulls, although his lairy battle with Webber allowed Glock to get ahead. The Toyota was quick enough to edge away, and they ended up second and third once others hit trouble, with Alonso delighted to give Renault its first podium of 2009.
Grosjean raised ironic smiles by crashing at Turn 17 ("Piquet corner") in Friday practice, and lost a lot of practice time due to this and further mechanical problems. He then struggled with brake issues for the rest of the weekend, qualifying only 19th and retiring on lap three.
Toyota
Toyota looked to be off the pace in practice, but Glock made great strides on Saturday and qualified an excellent seventh. A hard-charging first lap got him up to fourth once Webber had been admonished for his move on Alonso, and once Rosberg and Vettel were penalised that became second place. Glock then had the pace to pull away from Alonso and secure a timely and highly unexpected podium.
Trulli was never anywhere near his team-mate's pace, qualifying 15th, spending the night mostly in traffic and finishing a quiet 12th.
Toro Rosso-Ferrari
Signs of progress following some invisible weekends. Buemi reached Q2 again and took 14th, and managed to fend off Raikkonen's Ferrari for much of the first stint. Meanwhile Alguersuari, who found his inexperience particularly costly on the streets, did well to qualify 17th. He was a long way off Buemi's pace in the race and soon had a queue of cars behind him - headed by Sutil, who spun and took out Heidfeld while trying to pass.
Alguersuari then pulled away too early at his first stop and damaged the fuel rig, delaying both drivers' subsequent refuelling stops. Both then retired in unison - Buemi with a gearbox issue and Alguersuari lacking brakes.
Red Bull-Renault
Quick times throughout practice, despite a crash for Webber, hinted that RBR was back on form, and so it proved as Vettel and Webber qualified second and fourth.
The race proved disappointing. Vettel was passed by Rosberg off the line, while Webber also lost a place at the start and was ordered to drop back behind Glock and Alonso when the stewards decided he had gone too far off the road when passing the latter.
Vettel moved up to second when Rosberg was penalised and put Hamilton under pressure, thanks in part to a lighter fuel load. A pitlane speeding penalty then ended his shot at victory, although he did well to recover to fourth.
Webber lost three places in the first stops and eventually crashed out when his fading brakes failed - bringing his championship bid to a definite end.
Williams-Toyota
As the team had promised, Rosberg was right back in contention now the championship was back at a high downforce venue. The German equalled his career-best qualifying effort with third on the grid, which could have been even better but for the red flag.
He then chased Hamilton in the early laps, having passed Vettel off the line, but was given a drive through penalty for crossing the blend line when he braked too late in the pit exit. Having to take the penalty just after the safety car had closed the field up was an added blow, and he did well to salvage 11th thanks to an early final stop giving him some clean air to charge in.
Nakajima was a muted 11th in qualifying and only progressed to ninth in the race, chasing Kubica home as the BMW's tyres wilted.
Force India-Mercedes
Back to the tail end after recent heroics, Sutil and Liuzzi admitted that while they didn't expect to be fighting for the podium in Singapore, 16th and 20th places on the grid were a nasty shock.
Sutil spent the early laps stuck behind Alguersuari, then ran out of patience and spun while trying an ambitious pass. He speared Heidfeld's BMW as he tried to rejoin and then had to retire with brake damage.
Liuzzi had a wheel banging battle with Fisichella while pressuring the Ferrari in the first stint, but fell back later with extreme tyre wear, finishing 14th and last.
Brawn-Mercedes
Barrichello and Button were first and second in opening practice and felt good about their chances for the weekend. Then Button's set-up got away from him, and after a poor Saturday practice run he ended up a frustrated 12th in qualifying. Barrichello was fifth fastest in Q3 but had already incurred a gearbox change penalty, and then crashed at the end of the session.
The pair made good progress in the race and were fifth and seventh by half-distance. Barrichello made his final stop early, fearing a safety car for Webber's crash, and this gave Button a chance to charge on light fuel and jump ahead of both his team-mate and Kovalainen. The Brawn pair then cruised home fifth and sixth, easing off to nurse fading brakes.