We've been saying for a while that this or that grand prix will be a pivotal race in the battle for the world championship, but Singapore this weekend is indisputably going to be a turning point - at least as far as Red Bull Racing is concerned.
The team had a nightmare of a race in Monza that saw Sebastian Vettel salvage an eighth place, and then only after Lewis Hamilton's late crash. The German and his team-mate Mark Webber have now dropped so far behind Jenson Button that another poor weekend could see them both mathematically knocked out of contention, with three races left. And much the same goes for RBR's constructors' title aspirations.
The numbers are pretty straightforward. Vettel is 26 points behind Button, and Webber 28.5. Just 30 are still on offer after Singapore, so if the RBR guys fail to score then even a humble third place for Button will leave us with a straight fight between the Briton and team-mate Rubens Barrichello.
RBR is 40.5 points behind in the constructors' table, and with a maximum of 54 left after this weekend, a repeat of the Monza result, and a bad day for RBR, will be enough to clinch the crown for Brawn.
"It was a big result for Brawn," says team boss Christian Horner of Monza. "They had the fastest car, and they used it to score maximum points. It makes the championship tough, both championships, but it's not over yet, and we'll keep fighting until the end. We've seen so many different changes in this championship, there may well be a final turn, you never know. But yes, we're running out of races."
After the flag in Italy Horner sat in on the debrief in the truck before heading off to the Red Bull Energy Station, where he had the difficult task of explaining what had gone wrong to his boss, Dietrich Mateschitz.
Dietrich Mateschitz
The Austrian had a smile on his face when he left with his entourage, but he certainly can't have been too pleased to see his title hopes fade so dramatically over the last few races. A chance like this might not come again anytime soon; as BMW Sauber discovered, it's not always easy to maintain frontrunning form into the following season. Ferrari and McLaren are waiting to bounce back.
Indeed in recent weeks both of those teams have won races and consistently got ahead of the Brawns and RBRs, confusing the title battle somewhat. Force India, Williams, Toyota and even BMW have also been in there, taking points off the contenders.
Since Red Bull's back-to-back one-two successes at Silverstone and the Nurburgring, very little has gone right. In Hungary Vettel was the victim of a first corner collision, and in Valencia, he had an engine failure. At Spa he made a mistake in qualifying, but was the quickest guy on the track in the latter stages as he worked up to third. At Monza, he just was not on the pace.
Webber took a respectable third in Hungary, but then had his fair share of woes, with two frustrating ninth places followed by his first lap shunt in Italy. Just at the time when Button looked vulnerable, RBR failed to deliver the killer blow.
"Really the last three races we've come to circuits that are more power circuits, and we've struggled a little bit," admits Horner.
"I think the difference between Spa and Monza is that in Spa you had sector two, in which you have a lot of high and medium speed corners. So what we lost in S1 and S3 and we could recoup in S2. In Monza we didn't have the ability to exploit the benefits of the car.
"Certainly in Monza you end up in a slightly vicious circle, because if you want to generate top speed you end up reducing downforce, if you reduce the downforce you reduce the tyre temperature through braking force, and perhaps even hurt your traction. So you end up in a slightly vicious circle. And I think that's pretty much what we saw at Monza, and probably the rain overnight and the fact that the circuit was reasonably green contributed to our lack of our pace.
"We've still got some good upgrades coming, and I still think the chassis is one of the best in F1. We've got some circuits coming up that will be good for us. Hopefully in Singapore and certainly in Japan we'll be coming back close to the strong characteristics of our car."
Last year there it was all too clear that RBR suffered from a lack of Renault grunt, and earlier in the season it appeared that the FIA-sanctioned winter 'unfreeze' had addressed that. The ongoing deficiency only really became apparent at the tracks where there is no substitute for straightline speed.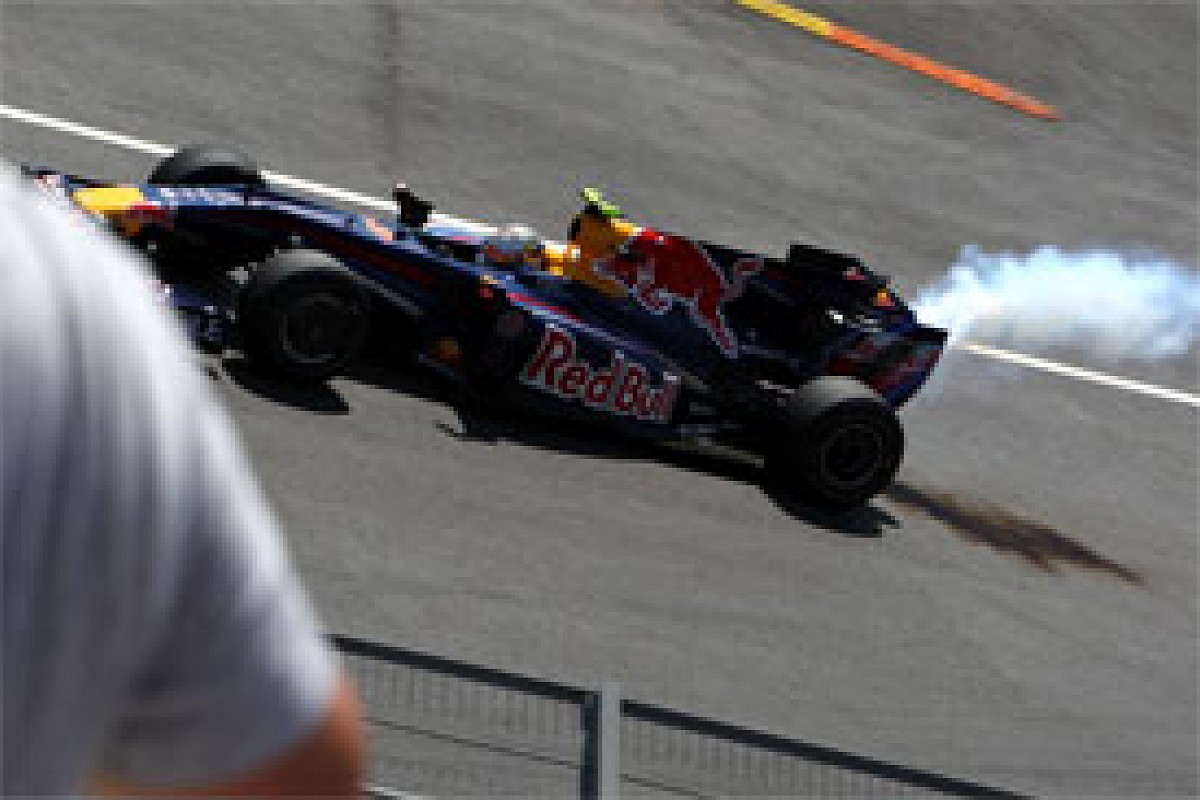 Sebastian Vettel loses an engine during practice for the European Grand Prix © XPB
RBR's obvious frustration with Renault has been compounded by the engine failures that have blighted Vettel. In recent races he's had to ration mileage, especially on Fridays.
"Our major problem is on the Friday running with Sebastian, not with Mark. He has two part-used engines left for the remaining races. We have to make a decision whether we take a penalty if we introduce an additional engine, or whether we extend the life of the existing engines to give more mileage. For sure it's a handicap, and it's something that we have to think hard about for Singapore."
After the Monza race a key Brawn man pointed to Vettel's lack of Friday running as one reason why the team didn't get on the pace, although Horner denies that it was a contributing factor.
"Would it have helped? I don't think it would have given us a great deal more information than we had at the end of Friday night."
The point the Brawn guy was making was that RBR had perhaps been a little over cautious. In other words the team should have risked putting more miles on the engine, got the car up to speed, and then put more pressure on its title rivals. Worry about the miles, and any penalty, later.
Horner concedes that there are different ways of looking at the same problem.
"Strategically if you're going to take a penalty, then maybe do it in Singapore, a street race where you're going to have a couple of safety cars. Although [Nelson] Piquet's not there this year, so who knows!
"I think we need to look at all the scenarios, and whether we're doing ourselves more harm than good by trying to limp through on the engines that we have. We'll consider that quite carefully. It's something that we have the flexibility to move on, now that we've introduced our eighth engine."
The other thing the team is considering is what engine to bolt into the back of the RB6 next year. A look at RBR's record suggests that there's been a tendency to believe that the grass is always greener, with switches from Cosworth to Ferrari to Renault. Next stop, if Horner can pull it off, is Mercedes.
"At the moment we don't have anything in place for 2010. We'll wait to see how everything settles before making any decisions. Adrian [Newey] is prepared to wait for the right decision..."
One criticism levelled at RBR lately is that Newey is producing too many new parts, and working the guys a little too hard. The suggestion is that the team may be missing Geoff Willis. The man whose role was to focus on the procedures and organisation of the technical side of the team departed in the summer.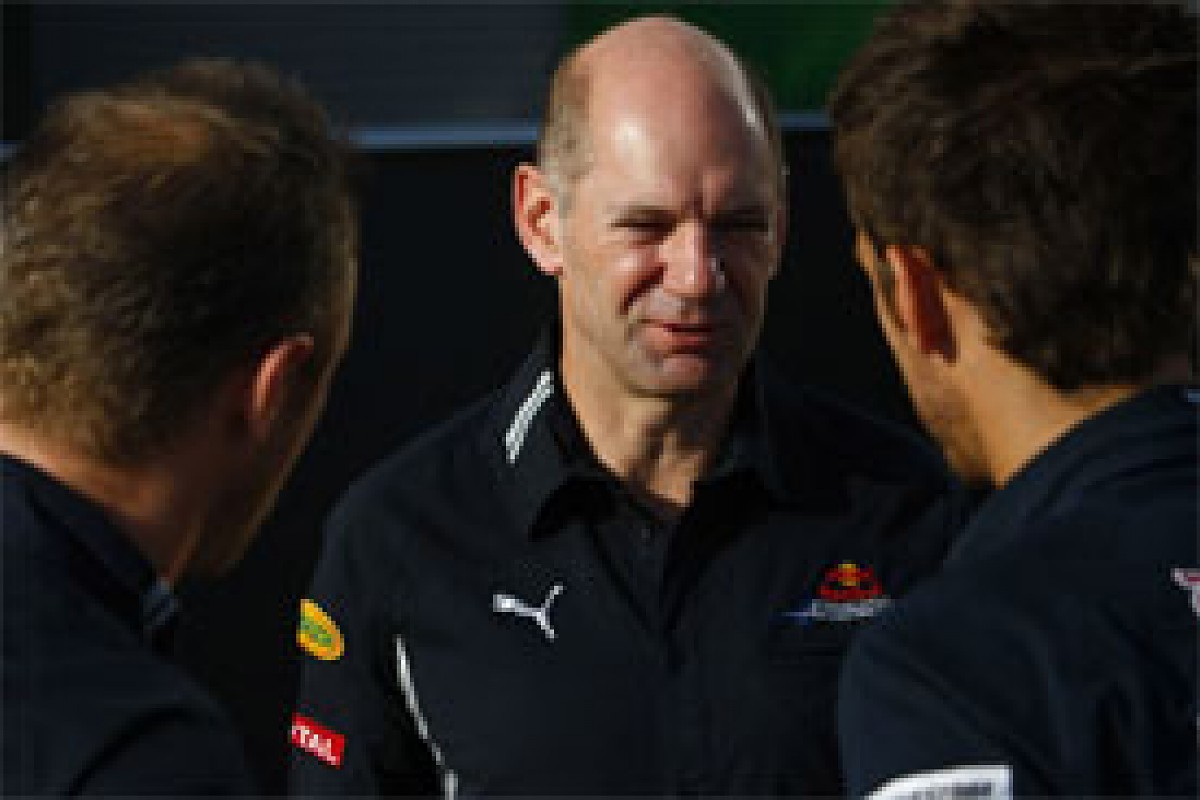 Adrian Newey © LAT
Sometimes the system can get a little overloaded, and in a year of no testing, and new stuff has to go straight onto the car at races. It's a difficult balance to get right.
"It is, but it's the same for everybody," says Horner. "Every component that we've put on the car has tended to add performance. We've got a reasonable upgrade coming for Singapore, so hopefully we'll be able to make a step there. Everything we're doing now has relevance for next year, and we're happy with the development path we've chosen."
It remains to be seen how the rest of the races pan out. Last year Singapore saw major frustration for RBR - bizarrely electrical interference from an underground tram line was deemed to have stopped Webber's car. Horner says that the team has taken steps to prevent that from happening again, adding that even sceptical rivals have done the same.
Ross Brawn readily admits that Suzuka could be tailor made for RBR, especially if it's cold - and wet. And rain is not unknown at Interlagos, so those two races could turn the tide. Abu Dhabi is a step into the unknown for everybody. The question is whether RBR is able to stay in touch until then.
"I think Suzuka should play to the strengths of our car," said Horner. "It's like Silverstone, there are a lot of quick corners there, and it may well be cool and even wet. But I think we can be competitive in Singapore, I'm fairly confident about that. And even in Brazil, you've got the long run up the hill, but the rest of the lap I think we can quite a bit of damage.
"The reality is it's a big challenge. But we've got nothing to lose. So we can really go for it and let the drivers get on with it, and see where we finish up. Kimi [Raikkonen] did it two years ago, and nobody thought that he was in with a shout..."