In a delicious twist of fate, Formula 1 returns to the scene of the crime just days after Renault was found guilty of ordering Nelson Piquet to crash deliberately and create the circumstances for a Fernando Alonso win.
Doubtless the fall-out from what has irritatingly become known as "crashgate" will rumble on early in the weekend, but it won't take long for everyone to remember what it was that made last year's Singapore Grand Prix a roaring success. The drivers could see (a mere four decades after floodlit motor racing first became a relatively common occurrence), rain did not render the track invisible and everyone (Kimi Raikkonen aside) survived the inexplicably harsh kerbs at the chicane. In 2009, we know what to expect - a race that can genuinely lay claim to being one of the great events on the calendar.
One thing that has calmed down heading to Singapore is the championship scrap. Red Bull pairing Mark Webber and Sebastian Vettel are effectively, but not mathematically, out of title contention and the scene is set for a Jenson Button versus Rubens Barrichello intra-team title dust-up. Street circuits agree with the Brawns (it's Brawn 2, everyone else 0 on street tracks in 2009), so the title protagonists will be right at the sharp end.
But just because the fight for the championship has become an all-Brawn affair, it doesn't mean that the race won't continue the recent trend for shocks and surprises. McLaren-Mercedes and Lewis Hamilton should once again be in contention at the front, while after two poor weekends, Williams-Toyota and Nico Rosberg could well be in with a shout of converting the deluge of fourth and fifth places achieved mid-season into a podium appearance.
Talking points
1. Barrichello on the move
Jenson Button's second place at the Italian Grand Prix proved that he is still more than capable of the kind of performances that he showed on his way to winning six out of the first seven races of the season, but his Brazilian team-mate is becoming more of a problem with every race. The gap between the pair, which stood at 26 points at one stage this season, is now down to 14 and Barrichello is on a high after winning two out of the last three races. One big result could as good as win it for Button, but a brush with the wall could make Brazil's first world champion since Ayrton Senna in 1991 a very real possibility.
2. Force India still on the pace
No one really expects Force India to be front row runners at Singapore - its car suited Spa and Monza so well that its performance was significantly boosted - but there's no reason to doubt that the former Jordan/Midland/Spyker team will be a points threat. Its car was quick at F1's last visit to a street track in Valencia in August, and both Adrian Sutil and Tonio Liuzzi were on good form at Monza. It's hard to see the Italian recapturing his Italy form at such a tricky track, but he didn't have the air of someone who had been out of F1 for close to two years and has been back in the McLaren simulator, so there should be two Force Indias flirting with the top eight once again.
3. Fisichella and Ferrari
Ninth place on his first experience with Ferrari at Monza two weeks ago was acceptable, but the veteran will be expected to score points and consolidate the Scuderia's third position in the constructors' championship this weekend. He showed well at Singapore last year, despite qualifying problems, running in the top three under the Piquet-induced safety car last year before fading back to a more appropriate midfield finish, and there's every reason to expect that his 226th grand prix start will result in an addition to his tally of 275 career points.
4. Rain risk
Rain wasn't a problem at Singapore last year, but there is a possibility that some might hit during the track time this weekend. Although drivers were mostly happy with visibility provided by the system designed by Italian company Valerio Maioli, concerns remain that rain and a shiny track surface could create some difficulties for drivers.
5. BMW bouncing back
Word in BMW Sauber circles is that the upgrade package that will be introduced at Singapore represents a big step. Considering the car was pretty strong at both Spa and Monza, that's good news for Robert Kubica and Nick Heidfeld. Don't expect the recently-sold team to be setting the pace, but there's a good chance that both drivers can get through to Q3 and add a healthy total to BMW Sauber's otherwise mediocre points haul for 2009.
Nico Rosberg's key points
Busy track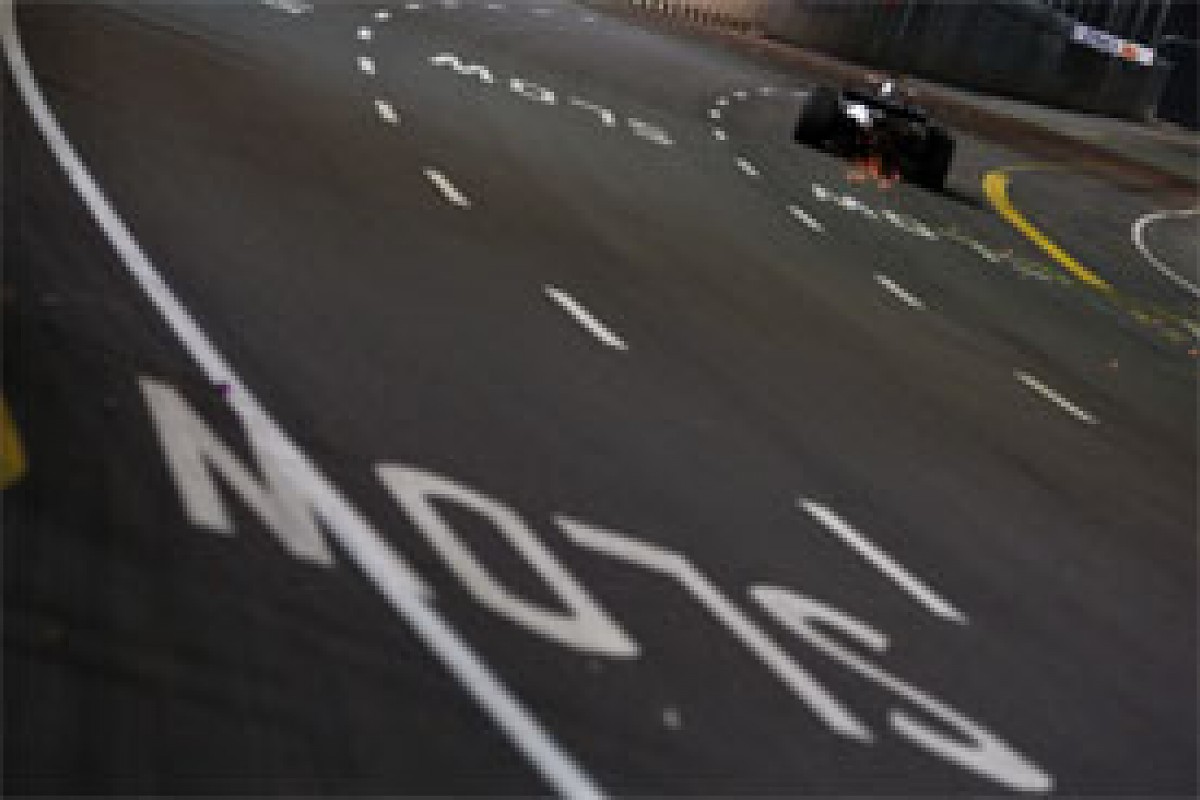 Nico Rosberg makes his way around Singapore © LAT
"The toughest thing about Singapore is the heat and the number of corners. There's never an opportunity to relax."
Seeing in the dark
"It is just a little more difficult because the visibility is generally comprised a little bit as it is darker, but you get used to it quite quickly and there are obviously masses of light. I think it would become really challenging if it rains though."
Predictor
Andrew van de Burgt (AUTOSPORT editor)
1. Lewis Hamilton
2. Nico Rosberg
3. Rubens Barrichello
Glenn Freeman (News Editor)
1. Lewis Hamilton
2. Jenson Button
3. Kimi Raikkonen
Edd Straw (F1 Editor)
1. Jenson Button
2. Lewis Hamilton
3. Nico Rosberg
Mark Glenndening (Deputy F1 Editor)
1. Jenson Button
2. Rubens Barrichello
3. Lewis Hamilton
History
Some regard last year's inaugural Formula 1 night race as the first Singapore Grand Prix, but they are mistaken. The first race to be granted the title was held in 1966 on the now-defunct Thomson Road, but even that wasn't strictly speaking the first grand prix to be held in Singapore. Instead, it was in 1961 that an event called the 'Orient Year Grand Prix' was staged on the track.
The following year, it was renamed the Malaysian Grand Prix as Singapore had yet to gain independence, with Yong Nam Kee - who apparently was known as 'Fatso' - taking victory in an E-Type Jaguar. Hong Kong driver Albert Poon - a Macau Grand Prix winner - triumphed in 1963 and 1965, although the 1964 running of the race was abandoned because of torrential rain. That year's race was also marred by a marshal being killed when a Jaguar flew off the track and hit him.
On August 9 1965, Singapore gained its independence, and on April 11 the following year it hosted its first national grand prix. Home driver Lee Han Seng won in a Lotus 22, followed by compatriot Rodney Seow in a Merlyn in 1967 before the Antipodean invasion began in 1968.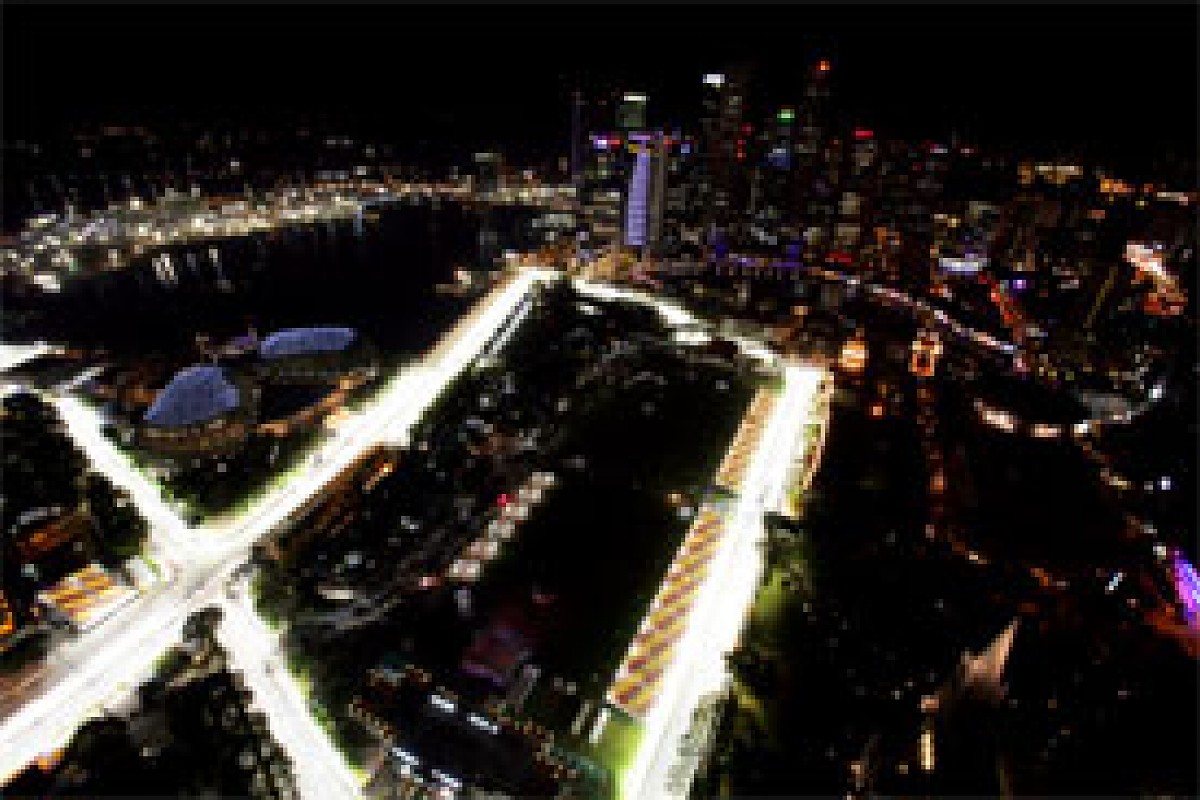 The Marina Bay circuit at Singapore © LAT
Elfin founder Garrie Cooper won that year, but it was New Zealander in Graeme Lawrence who became the most successful driver in the history of the event with three successive wins from 1969-1971, the second of those triumphs coming behind the wheel of a Ferrari 246T. Another Australian, Max Stewart, won in 1972, with Vern Schuppan taking a March Formula 2 car to victory in the final Singapore Grand Prix of that era in 1973. Following a crash in a tin-top race, Swiss driver Joe Huber lost his life, which came one year after Lionel Chan was killed in a an accident believed to be triggered when he shed a wheel, the authorities decided that motor racing was too dangerous an activity and outlawed the race.
Then, last year, it returned after event organisers signed a five-year deal with Bernie Ecclestone to revive the Singapore Grand Prix as a world championship round. The race, won by Fernando Alonso in controversial circumstances after team-mate Nelson Piquet deliberately crashed to bring out the safety car, was widely hailed as a success both in terms of bringing floodlit racing to F1 and establishing the sport in a new market.
From the forum
"Kimi will be in the mix at this circuit. But yes, McLaren will be strong and it seems Brawn has made another push. But I went with Kimi because he's in the zone right now and pulling 100% out of the package."
VicR
"It'll be Hamilton against the Brawns again. But this time the front runners should all be on similar strategies. I really don't expect anything from Red Bull."
Atreiu
"Looking at the track layout, I think KERS will be very beneficial. However, have already seen how strong Brawn are on street circuits. I still fancy a Brawn to win, but think McLaren and a Ferrari (Kimi) will be up there. RBR, Williams and of course Alonso in the Renault should feature in the top eight in some shape."
roadie