'Extraordinary Meeting Of The World Motor Sport Council' read the subject line. The announcement was the verdict of the FIA's supreme sporting body's hearing into the Renault F1 Team's self-stirred version of the Singapore Sling, and extraordinary the (various) outcomes most certainly were.
In handing down effectively no more than a rap across the wrist to Renault, which according to the FIA's own release committed an offence "of unparalleled severity", having already granted immunity to Nelson Piquet - a key perpetrator of what is considered by many to be the most cynical act ever to tarnish motorsport - the governing body risks standing accused of failing to produce a punishment commensurate with the severity of the crime.
Renault F1 President Bernard Rey speaks to the media © LAT
There exist suspicions that the hearing pandered to commercial expediency, for to lose a third manufacturer team (and, equally important, the company's engine supply) in less than 12 months would hit the commercial rights' holder (CRH) where it hurts most, namely in the coffers. For it is no secret that the grandee teams spend the most and ensure an open supply of reliable drive trains at bargain-basement (by F1 standards) prices.
In 1995, Toyota's World Rally Team got caught cheating, admitted to it and humbly apologised while blaming a conspiracy among employees of which top level management had no clue. Yet it was still handed a one-year ban, with the drivers losing all their points despite not having a clue about the breach. Then consider that there was then no CRH for any of the FIA's world championships...
However, Renault is believed to have committed itself to F1 for the duration of the Concorde Agreement (until 2012...) in mitigation, which certainly ticks all the CRH's boxes.
As anyone who perused the dossier after it was leaked prior to the hearing can attest, digesting the full contents was no easy task, particularly given the gravity and complexity of the situation.
However, full transparency has been promised. The said transcript of proceedings may well contain justification for the extraordinary decisions to not, for example, retrospectively disqualify Renault from the 2008 FIA Formula 1 World Championship - with associated loss of points and prize money. Which, incidentally, at around $60m, considerably exceeds the costs of the FIA investigation and hearing, which Renault agreed to reimburse. Had it not, it may have faced a fiscal penalty of 'unparalleled' magnitude, i.e. greater than the $100m imposed on McLaren in 2007 for a breach patently less damaging to the sport than race-fixing.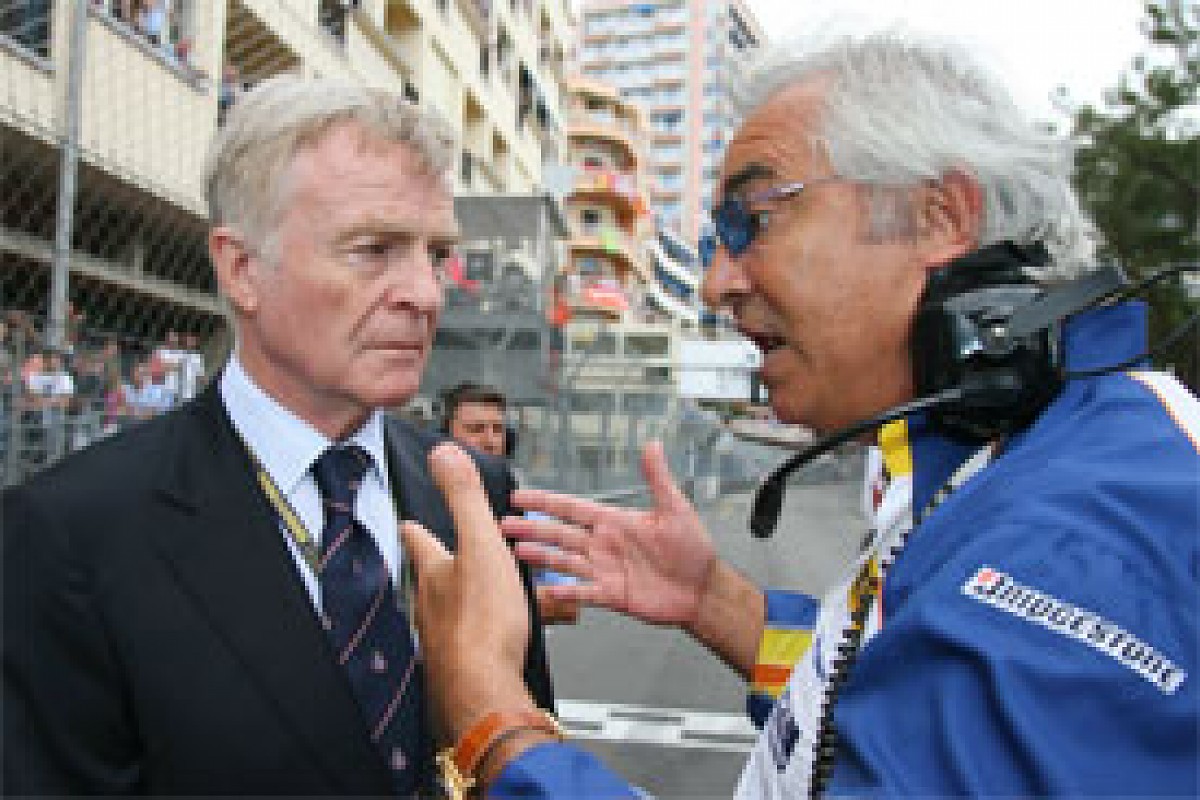 Flavio Briatore and Max Mosley © XPB
The FIA has, of course, imposed a lifetime ban on Flavio Briatore working in any FIA-sanctioned environment, but, again, the severity of this sanction is questioned. Tribüla as he was allegedly nick-named as a youth in Italy (ironically the term translates as 'causer of great trouble') is 59 and recently married a superbra model. He also enjoyed a prickly relationship with Mosley, who in the recent past associated him with 'Loonies'.
Couple this with the fact that Briatore is the owner of a string of businesses including a share in partnership with F1 impresario Bernie Ecclestone of Queens Park Rangers football club and freely confesses to being no piston-head, has regularly hinted at retiring from F1. It is clear that his exit from the sport in the near future was a given.
So, yes, the flamboyant Italian showman to whom F1 was never more than a show, is gone and likely to lose a whack on forfeited driver management business. But he is unlikely to feel the pinch and would in any event have left by his own volition sooner rather than later.
Far more likely to feel the punishment of a five-year ban is Pat Symonds, a petrol-head at heart and a man who devoted his entire working life to motor racing, and, at 56 years of age, had at least a decade left in the sport and company he loved. He spent 26 of the last 27 years working for Renault or the teams which preceded the company's purchase of Benetton in 2000.
The overall ramifications of that race go way beyond the Singapore podium, for forget not that Massa was clear in the lead when the Safety Car unexpectedly came out. And while Ferrari's Pitlane Pantomime during his (rescheduled) stop was and remains unforgiveable, the fact remains that he was running two clear championship points ahead of Hamilton at the time of the 'accident', yet lost the title by a single digit to the Briton...
The absolute tragedy is that due diligence on the part of the sport's administrators could have ensured that Piquet's antics were investigated before the FIA's season review cut-off date of 30 November (as per Art 179b of the International Sporting Code).
Not only were there warning signs on the day in Singapore, but Piquet Sr has alleged he advised FIA Race Director and Safety Delegate Charlie Whiting (his former mechanic during his world title-winning years at the then-Bernie Ecclestone-owned Brabham team) of his son's misdemeanour during the Brazilian Grand Prix weekend - at which Massa was defeated to the title in the last corner of the last lap of the last race of the season - in early November.
Sources in Italy suggest that Ferrari had considered taking action on this point at the time, but rejected it on account of not wishing to reopen old wounds with the FIA.
But, if the threat of one court case has been averted, then two others are looming: the Briatore case against Piquet Per et Fils and Briatore for future loss of earnings based on a hearing in which he had no chance of defending himself or his alleged actions. Seems the world has not heard the last of 'Crashgate'.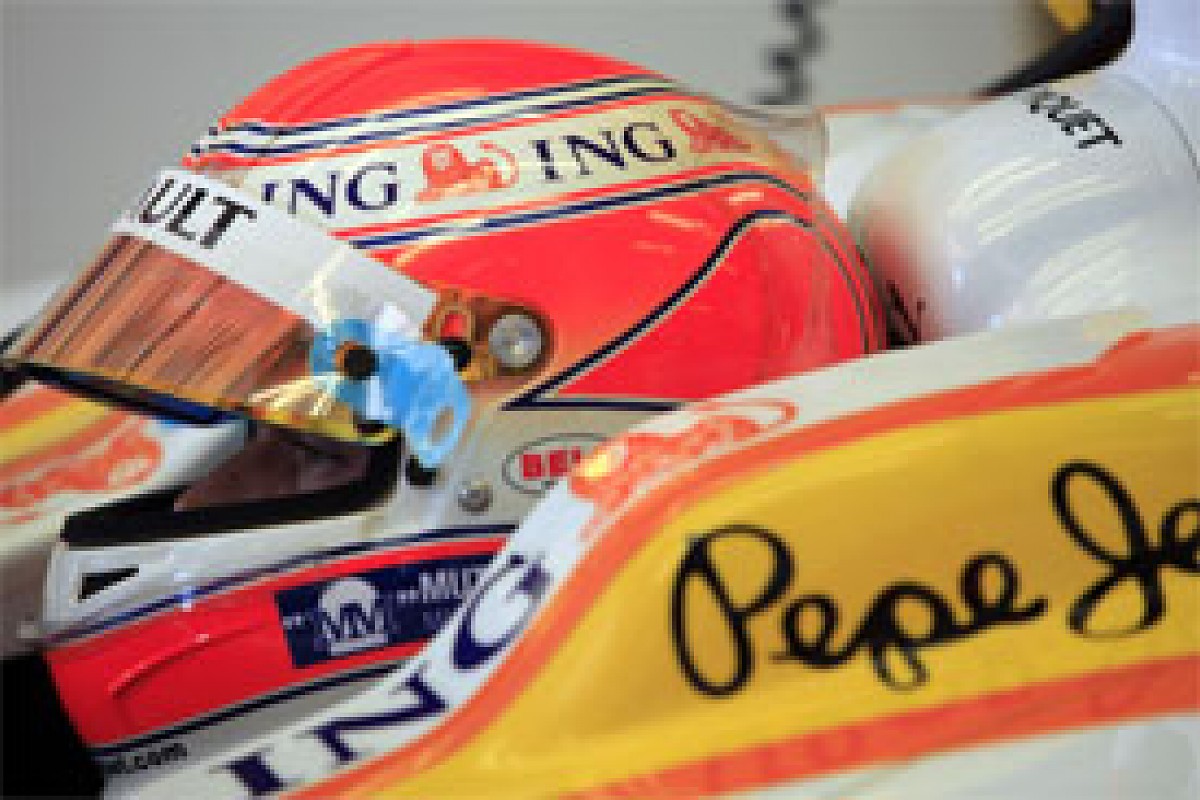 Nelsinho Piquet © LAT
Equally extraordinary is the fact that, no less than 24 hours after the verdict was published, neither of the two presidential candidates - in alphabetical order, Jean Todt and Ari Vatanen - have as much as uttered a word about the outcome of what is surely the biggest scandal to taint the FIA for at least a year, if not a decade.
Then there is, of course, the question of Nelson Piquet, whose propensity for accidents made him the perfect "Crash Test Dummy", and whether his self-serving apology sufficiently tugs at team principals' heart strings to ensure his inclusion on their 2010 shortlists remains to be seen.
There are those who suggest that his deeds have made him radioactive, but that is to overlook that Michael Schumacher variously committed unsavoury actions (think Adelaide 1994, Jerez 1997, Austria 2002 and Monaco 2006 for starters) for which he hardly if at all apologised, yet on the very day Nelson Piquet Sr spilled the beans to FIA president Max Mosley, Ferrari folk were falling over themselves to persuade the retired seven-time champion to slide behind the wheel of the injured Felipe Massa's wheel.
World champions Fernando Alonso and Lewis Hamilton committed equally duplicitous misdemeanours, yet there are no question marks over their futures, for their overall speed goes, like Schumacher's, unquestioned.
Thus, Nelsinho, who has but a single podium place to his name - one gifted under the very rules he later sought to exploit, having since confessed that the idea of a crash-induced Safety Car sprang from his second place in last year's German Grand Prix - may soon discover the morals of F1, namely that apologies don't count for a damn thing in this increasingly corrupt environment but laptimes do, which is precisely where he may be found wanting.
But the most extraordinary aspect of the affair remains the immunity granted to the Brazilian, whose testimony appeared not driven by genuine remorse, but by that most abhorrent of all emotions - revenge - yet has been cleared to race in future. One wonders what the Grand Prix Drivers' Association feels about a member of their profession whose self-confessed mental fragility is such that he crashed to order without due regard to the consequences, for the lap had been predetermined, and who could possibly predict the eventual outcome?
As we head for Singapore, scene of the 'crash' during the sport's first floodlit grand prix, we can but hope that just one of the Marina Bay Circuit's 1,500 white halide projector lights sheds some of its 2,000 watts on this extraordinary affair.
* * *
The same Extraordinary Meeting discussed the thorny question of engine equalisation, and here yet another extraordinary decision was reached, namely that 'should the teams wish to eliminate this (suggested) performance differential, they may be allowed to do so by reducing the performance of the more powerful engines. However, no engine upgrades will be allowed.'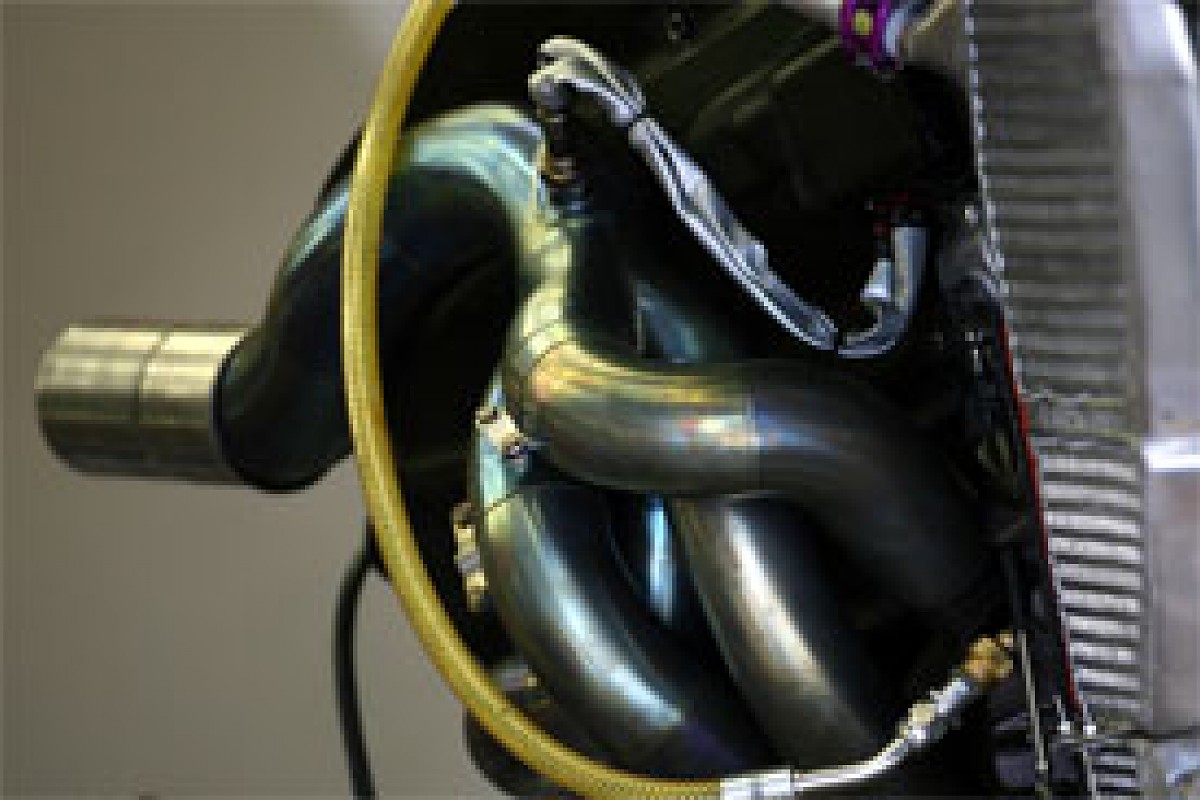 Renault engine © XPB
Given that all current engine suppliers are presently affiliated to the Formula One Teams' Association in one way or other - BMW, Ferrari, Renault and Toyota are full members, while Mercedes enjoys affiliated via its shareholding in McLaren (and highly likely via Brawn in future), it is thus incumbent upon FOTA, and not the governing body, to equalise engine power in this most high performance of all motorsports.
Could this be a sop to returnee Cosworth - whose four-year-old basic design is believed to be well short of the output of the Mercedes, estimated to be the most powerful engine on the grid - and those privateer teams who acceded to the requirement that newcomers commit to Cosworth, whilst simultaneously handing a thorny problem straight to FOTA?
What chance Mercedes and Ferrari voluntarily shedding all or some of their 20 or so horsepower advantage purely to keep the rest sweet? The answer to that seems extraordinarily clear...