So, Flavio is gone. Part of F1 history these past 20 years, he now can't spectate in an area under FIA jurisdiction, let alone run teams or manage drivers.
He was not a team principal in the manner of a Frank Williams or a Ron Dennis, not a purist, a racer, and almost from day one you wondered what the story was.
Briatore, born in 1950, is the son of two elementary school teachers and those who know him of old speak of a yearning to be rich. There were no high-flying educational qualifications but a bearing and a charm that marked him out.
For an Italian born in the mountains there was the almost obligatory spell as a ski instructor. But by the time Briatore attended his first grand prix, at Adelaide in 1988, he was already a wealthy man.
In his twenties, Briatore worked for an Italian businessman, Attilio Dutto, the owner of a paint manufacturer, who was killed by a car bomb. The Sunday Times reported last weekend that the murder was never explained but that the previous owner of the company was a Sicilian financier who laundered drug money for the Gambino family.
After the murder the company failed and Briatore was sentenced to four and a half years for fraudulent bankruptcy. But he went to the Virgin Islands and came back to Italy after being granted an amnesty, starting work on the Milan stock exchange.
A friend of Luciano Benetton, he was was recruited to help establish the clothing company in America and oversaw what has been described as an unorthodox franchising operation. On a cut of each store, Benetton's rapid progression to an 800-store entity ensured that Flavio's desire to be rich was satisfied.
But woolly pullies weren't that glamorous and for that side of things F1 was ideal. Briatore was no fan of the sport before he arrived in it, but that didn't stop him from recognising the potential. The image, the super-models, the gold-embossed 'FB' monograms on everything, the Billionaire brand he started - it was all a perfect fit.
What about the friendship with Bernie Ecclestone? It could be straightforward. Or perhaps, as someone put it at Monza, it might just have been Mr E being canny. Maybe he knew he could control the Franks and Rons all day long, but what about this guy?
There's that old saying about keeping your friends close and your enemies even closer.
It was Bernie's old flat in Cheyne Walk that Flav took up residence in when he moved to the UK and I well remember a group of us being invited round when Briatore was enjoying the height of the Benetton/Schumacher success in the mid nineties. We got a tour of the place, which seemed a little odd.
It was all kind of, "This is the bedroom, and this is the dressing room, etc." I remember joking with the PR girl as if she was an estate agent, "Don't worry love, it's all very nice, but I can't afford it..."
I remember particularly the gold FB embossed pillow cases and the rows and rows of classical leather-bound books that looked as if they'd been ordered by the yard.
Through F1, Flavio became a whole lot richer. To the point where he could pay Shopping Network investor Roy Speer a reported £68.2m for his super yacht, Force Blue. The one they all sat on in Monaco earlier this year pondering how they were going to save money...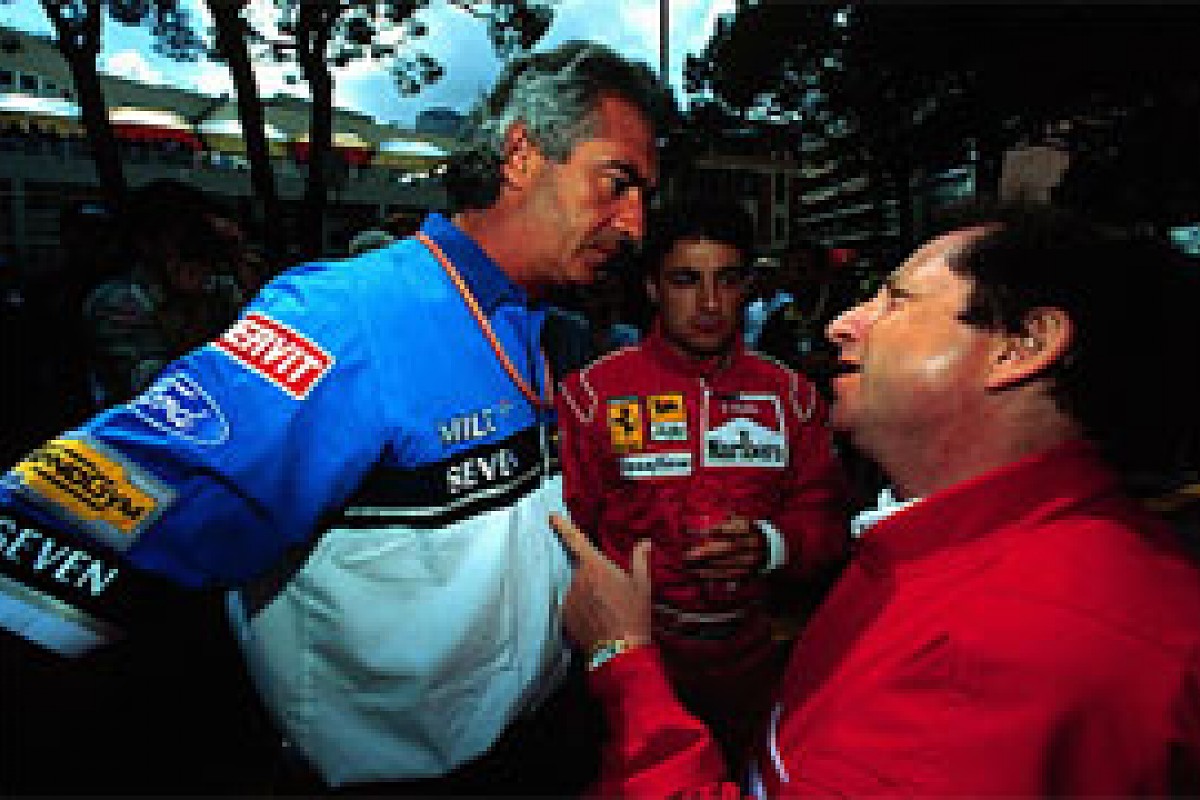 Flavio Briatore and Jean Todt on the grid of the 1994 Monaco Grand Prix © LAT
Flavio was always colourful. Shortly after he moved to something a little more substantial in a Mayfair square, his front door made a Semtex-assisted departure from its frame at some unearthly hour in the morning. Who knows what the neighbours must have thought...
I can't remember all the details but I recall someone telling me that Flavio had taken some money from a young F3000 hopeful, one Giovanni Bonanno, for an F1 test. Students of mafia history will appreciate that this fellow has the same surname as one of the mob's better-known families. Apparently the test hadn't gone well, it had been raining and the lad ended up in the barrier after not very many laps. That was as far as it went. Someone apparently didn't think it was value for money.
Asked about his flyaway front door in the F1 paddock, Briatore shugged. "No idea," he said, "must have been the IRA..."
He displayed the same innocence when amid, the most acrimonious F1 season I can recall in 1994, Benetton was found to have removed the fuel filters that were part of the Intertechnique refuelling apparatus.
In fact, there are some uncanny parallels between that season and this. For background, Max Mosley and the FIA had introduced a number of regulation changes for safety reasons after the deaths of Roland Ratzenberger and Ayrton Senna at Imola. Some were of the opinion that they had not been properly thought through and could actually prove to increase danger.
This was relatively early on in Max's reign, just three years in, and he hadn't yet fully demonstrated his 'determination,' let's call it. But even so, at a time when there were all sorts of rumours about Schumacher and Benetton still using the recently banned traction control, Flavio could have picked a better time to write a letter to the FIA president containing the following paragraph: "Despite these concerns you continue to insist on these ill-conceived measures. It is our opinion that the ability of yourself and your advisors to judge technical and safety issues in Formula One must be questioned."
The Barcelona race followed two days later and, with the track silent when cars should have been practicing and the teams and Max locked in Frank Williams' motorhome, it looked as if F1 was on the brink of anarchy. The race went ahead but there was trouble at mill.
There then followed one of those leaked games of tennis between Max and Bernie. The following Tuesday a letter from Max to Bernie read: "Last Friday, you invited me to a meeting with nine F1 teams... We had what I thought was a friendly and constructive meeting. The fact that the cars of those present were not running was not mentioned. No threats were made and no concessions were sought.
"You can imagine my astonishment when I read next day in the press that 'concessions' had been "wrung" from me, that I had agreed to have no further say in F1 matters, that henceforth all decisions would be taken by the teams, not by the FIA, and so on.
Max Mosley and Bernie Ecclestone © LAT
"Allegedly, these stories come from one of the team managers present. I cannot imagine why any of them should wish to fabricate these rather tiresome falsehoods but I should be grateful if, in your capacity as the official representative of the Formula One Constructors on the World Council, you would let me have written confirmation of what really took place. This would help me explain the true situation to the FIA..."
Classic Max. Bernie wrote back, same day: "I am sorry these reports appeared in the press. They are entirely untrue and if they came from one of the teams, this is most regrettable... I am unable to offer any explanation to the statements which appeared in the press, particularly in Italy... It may be that, with the large number of journalists outside Frank's motorhome, one of the team principals was unable to resist the temptation to seek publicity..."
And so when, at the same time as the FIA was investigating the allegations of launch/traction control usage, Benetton was found to have removed its fuel filter, thereby speeding up the fuel flow rate and shortening its pit stop times, the team and Briatore were facing expulsion from the championship. Worse, the revelation came as a result of an investigation into a Benetton pit fire during a stop by Jos Verstappen in the German Grand Prix, so the charge of compromising safety was levelled at the team then, too.
It's very often difficult to decipher what precisely Briatore is saying, but when he hosted the media in his motorhome at the next race, he came out with one of his more memorable lines. "Hey guys," he shrugged, "You know me. I no know the difference - fuel filter, coffee filter, whatever! Speak to the tech guys..."
When you're deeply in the mire, what do you do? You phone George Carman.
Carman was the most famous legal advocate of his time and the only barrister who was a household name. The book by his son, Dominic, is an interesting read, and in it he recalls that Benetton case. His father was no sports fan and Carman Jr recalls that when Chelsea striker Jimmy Floyd Hasselbaink moved next door, George had no idea who he was.
But, he says, "a telephone message left on a hot summer afternoon came from the office of a small Italian law firm. George was curious. The call came from Benetton Ford and their star driver Michael Schumacher. They wanted help with two matters (The Spa skid block disqualification and the fuel filter issue).
"Flavio Briatore hired George to defend the company and driver. The stakes were high. The hearing was due to take place on Wednesday, 7 September, 1994. The night before George met with the FIA president Max Mosley. Also present was Bernie Ecclestone. They discussed the charges over drinks at the Crillon, next to the FIA HQ in Paris. The interplay between the two key players in Formula One was intriguing.
George was especially impressed by Ecclestone's command and control of events.
"Next morning, Schumacher sat at his lawyer's side as he began to contest the charges. For two and a half hours he fought to get the German's disqualification from the Belgian GP overturned. He failed. But he succeeded in getting the more important charge against Benetton dropped.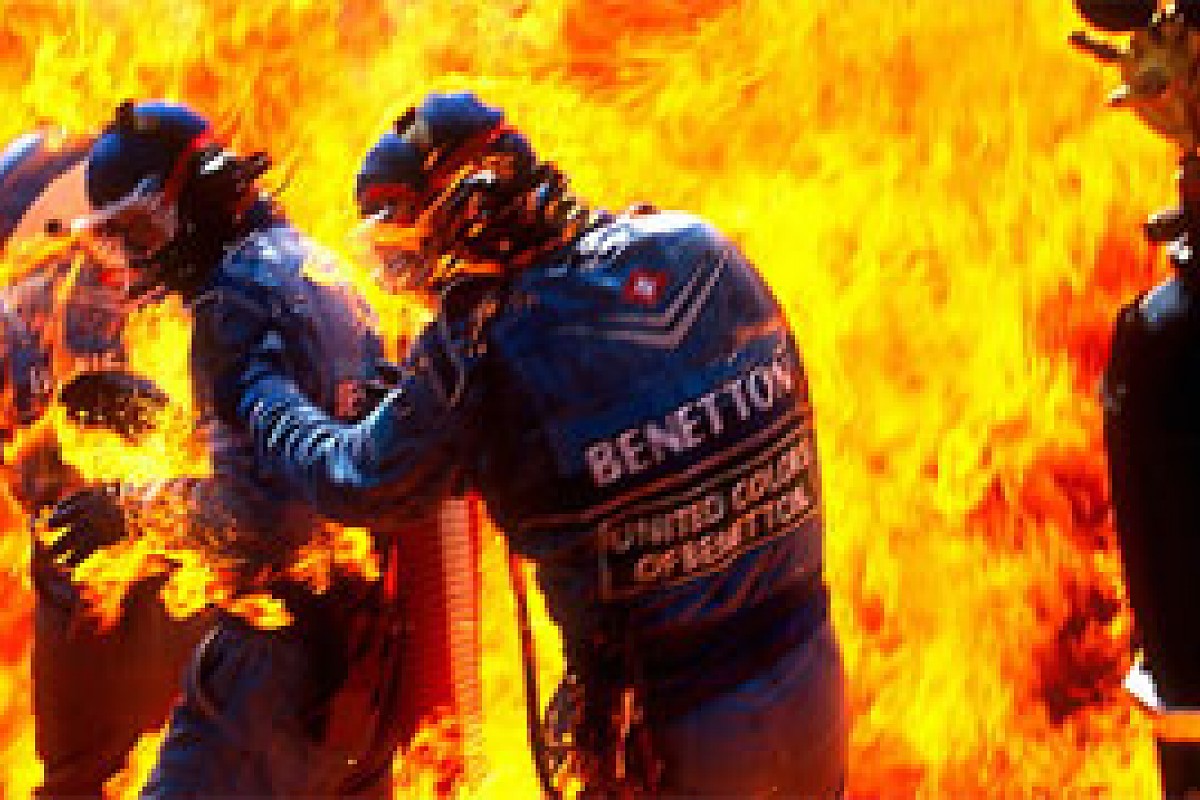 The Benetton pit fire at the 1994 German Grand Prix © LAT
"The FIA accepted the three reasons put forward by George: 1) a junior employee had removed the filter without the knowledge of senior management; 2) The team made no attempt to disguise the removal of the filter; 3) a rival team, Larrousse, had received a document which appeared to give consent for the removal of the filter."
We all gathered at Monza two days later and the general consensus was that Benetton escaping with a hefty fine was a cop-out after the FIA had promised 'draconian' penalties for anyone caught knowingly breaking the rules.
Benetton then, as Renault now, escaped because they did not contest the issue.
Mosley explained to a packed press gathering: "We listened to what they had to say (in mitigation). Their argument was that a filter was necessary only to clear the manufacturing debris within the refuelling pipe, and that once the debris had gone and there was nothing to be found in the filter, it was unnecessary and could be removed. Now this was allegedly said, at a low level, between Intertechnique and Larrousse. And they did produce a drawing from Intertechnique showing how the filter could be removed."
Hmmm. Objection, M'Lud...
Mosley conceded that the FIA could have then investigated the precise nature of the Intertechnique/Larrousse situation and requested the presence of Benetton's Tom Walkinshaw, who would be quietly moved shortly afterwards, but said that adjourning things for six weeks would not have been in the interests of the sport.
"For better or for worse, we felt that the best thing was to get it over and done with. This may have been excessively fair to them, but then the moment that they pleaded guilty, there was nothing our lawyer could then do."
A key issue in '94 was the 'junior employee' part. Briatore escaped because he claimed not to know. At that Monza press conference, Mosley was asked if he thought that mistakes had been made by the FIA. Part of his response was this, "We also need a clear understanding with the teams that the top man is responsible, whether he knows or not. It will be up to him to know..."
And so, 15 years on, Briatore this time, was a goner. Obviously he knew about the crash but even if he hadn't it wouldn't have made a difference. George Carman passed on in 2001 but even he'd have been a no-hoper with this one. Some will say Flavio's had a good innings.