It might ultimately have been but a sideshow to the dramas going on in and around the Renault camp, but the Italian GP turned out to be a fascinating race, and one which really could have put both World Championships beyond the reach of Red Bull Racing and its drivers.
It was also a race where the FIA's decision to publish post-qualifying weights in 2009 really made a difference to our enjoyment. There's a valid argument to the effect that things would be more interesting if we didn't know what people are up to. And of course, the teams themselves are pretty good at assessing exactly what their rivals are doing anyway. But in this particular case it was a real boost to have such a clear idea of who was doing what. It certainly gave one a better appreciation of the importance of where everyone placed themselves by the end of the first lap.
We've seen some strategically chess games at Monza in the past, with those fuelled longest often benefiting, and that proved to be the case this time around. The drivers who made it through to Q3 were faced with the simple choice of qualifying at the front and going for a traditional two stop, or taking on a bit more fuel and stopping just the once. At Monza the latter option is theoretically faster, as Ross Brawn explained when I asked him about his team's choice on Saturday evening.
"It's quicker, it's the one race where one stop is actually quicker. There's a lot where one stop is interesting sort of strategy to take, but this is the one race where a one stop strategy is the quickest strategy. According to our numbers, anyway.
"It's a few seconds. At that second stop, when the two-stopper comes out, the one stop should be in front of it, all things being equal. Although this is not a typical track, if there's a safety car or what have you, it tends to make to more difficult for the two-stopper. So it will be a fascinating race tomorrow. You're going to see those three first cars ease away, and you're going to have to track the gaps to see whether it's enough."
Of course, making your final choice is not that straightforward. As ever there was the matter of tyres to consider, and individual drivers had to take into account what they had left in the way of new tyres, and how best to deploy them. Then there was the matter of judging what everyone else would do. How many rivals would go for two stops and qualify ahead?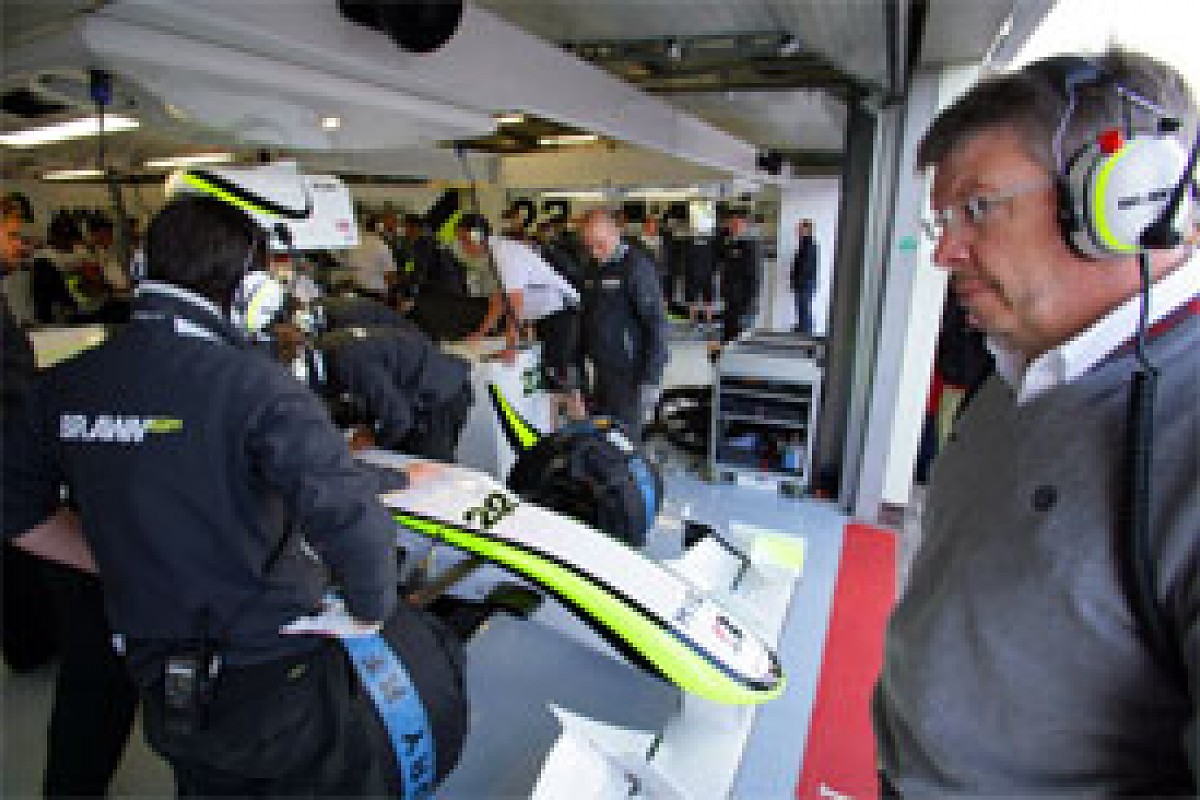 Ross Brawn surveys the garage © LAT
"It has sort of evolved into everyone working on the same principles, but I think you can still do something," said Brawn. "Like today, do you do two stops and put it on the front of the grid, or do you do one stop and fourth, fifth, sixth? That can't be totally modelled. The numbers can be done, but starting fifth and sixth, what's the risk going into the first corner, what other factors do you need to consider? I think there's still enough variables to make it interesting. If you make the wrong call, you'll screw up for sure."
The key issue this year is KERS. Those without a boost button have had to factor it into their calculations on the basis that there's no point in going light and qualifying at the front if the KERS guys behind have a good chance to get past you at the start anyway.
That assumption worked brilliantly for Brawn in Valencia, when Rubens Barrichello started third behind the lighter McLarens, and thanks to his later stops, picked them off one by one. It was the same sort of thinking at Monza, even more so with the long run to the first chicane. When Lewis Hamilton and Kimi Raikkonen made the top three with their two-stop loads, Brawn was more than happy with its decision not to compete for pole with the KERS cars.
"I think that's quite the case," said Nick Fry. "Without KERS on some of the cars probably we'd have just gone from the front. I think most people would have fallen back on a two-stop strategy, including probably the Red Bulls. It simply wasn't worth doing that with cars that can outperform you on the first lap."
The complication was the presence of KERS-equipped Heikki Kovalainen in fourth as the quickest of the one-stoppers after what was a very impressive lap. The likelihood was that he could use KERS to stay ahead on the first lap. If he could open up a little gap, he had the chance to stay ahead of the Brawns after his stop. If he couldn't, they would probably get him anyway.
"Obviously they [McLaren] are quite quick here," said Brawn. "But he's a couple of laps lighter than us, so we just hope that he can keep the pace up. If he can keep the pace strong, against the two-stoppers, then we can still be OK."
The Kovalainen factor aside, Brawn was more than happy with the third row. The only concern was over Barrichello's gearbox, potentially damaged at Spa. Changing it and dropping him down to 10th on the grid was not an attractive possibility, although the team had to consider that.
"There's an element of reliability risk," admitted Brawn. "And it's a question of balancing that against obviously a very good qualifying position with the fuel he's got on board. So we're just contemplating at the moment."
By Sunday morning the decision was taken - let's go for it and think again in Singapore and Suzuka.
The race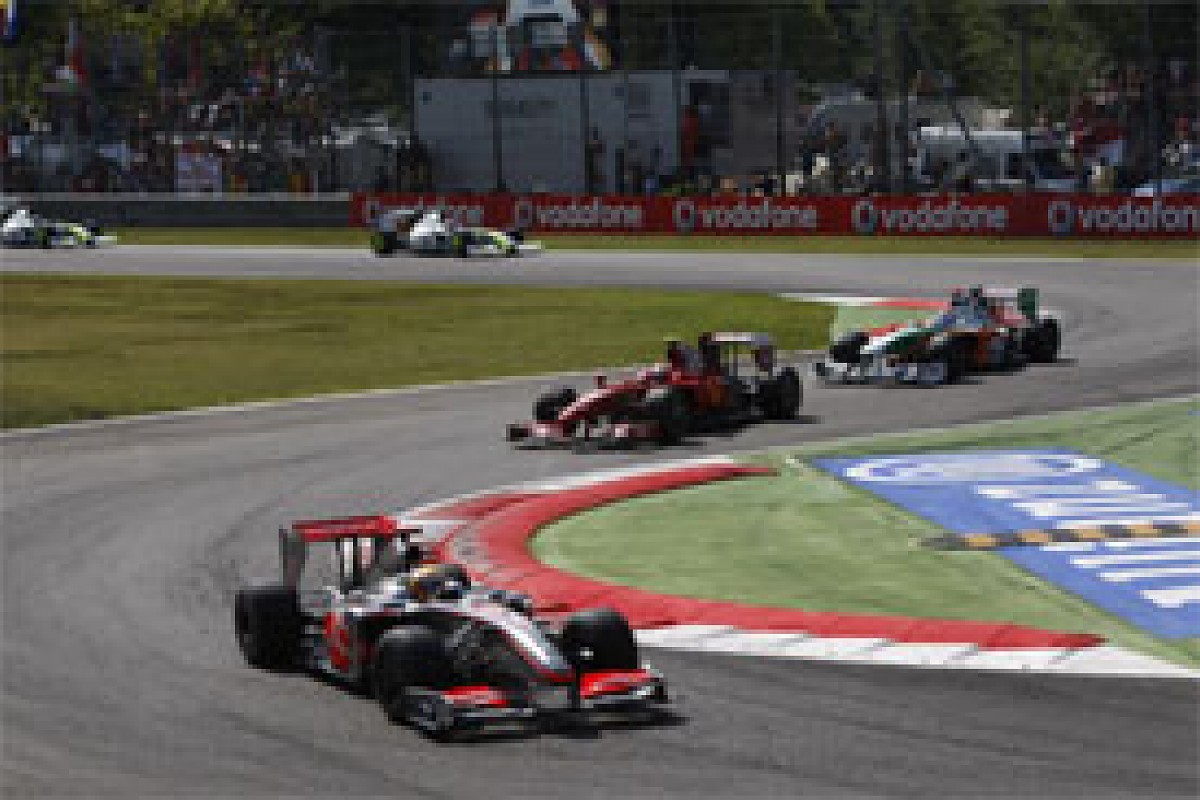 Lewis Hamilton leads Kimi Raikkonen, Adrian Sutil, Rubens Barrichello, and Jenson Button on the opening laps © LAT
With the cars fuelled almost identically (Barrichello was 1.5kg heavier) and sitting alongside each other on the third row, both Brawn drivers went into the race with an equal shot. But there was one difference - Button went to the grid on option tyres, and Barrichello on primes.
That in theory gave the World Championship leader a little advantage, one that he could potentially fully exploit by getting ahead of his team-mate. We've seen several times this year how drivers on primes have struggled when those around them are on options. It happened to Nick Heidfeld in Spa, and significantly, it would happen to Kovalainen in Monza.
After his great qualifying run, Kovalainen knew when he got to the grid that he had a problem and that his primes were not up to optimum temperature. But that was not the case for Barrichello, who was able to really nail it off the line and charge past Kovalainen, left floundering even with his KERS advantage.
"I had to defend myself with him," said Barrichello. "But I was lucky that after the second chicane I was clear of him. I knew I had a good balance just to clear my lap and go for it. It felt good as well because I had a different tyre from Button, and I thought I would struggle the first five laps to compete against him, and it was the first five laps that I actually made the gap, and he started to close down after that. So sort of a mixed feeling, what happened there. But great to see that the car was working on both of the tyres."
It certainly was, and Button was able to use his options to outfox Kovalainen too. In the light of suggestions that Button has been a little too circumspect recently, it's worth noting that he took no prisoners on that first lap, especially when dealing with Kovalainen, who by then was all out of KERS boost. He also stayed safely clear of the KERS-equipped Fernando Alonso, who was a concern before the race.
"I didn't have any new prime tyres left, I used them all in qualy," said Button. "I didn't want to have the same mishap as I had in Spa. So I had no prime tyres left. I started on the option because of Alonso at the start, and I knew the first lap was very, very important to me, if I got stuck behind Alonso I wouldn't have finished on the podium.
"So, an aggressive start. Barrichello got past Kovalainen, then I went down the inside of Kovalainen into the first Lesmo, he ran a bit wide, then I got him into the second Lesmo. It was a nice feeling because I knew that counted for a lot. If I didn't pass Kovalainen I would have been stuck behind him for the whole of the first stint, and I wouldn't have finished on the podium as well. They were all moves which I knew I had to do to get good points today, and they came off, which was great."
The first stint ran to plan for Brawn with the cars more or less in formation. And Barrichello had the comfort zone knowing that, as the driver in front, he would get the second stop. There was nothing Button could do, even with a mega out lap, to get in front. In fact he actually dropped back a little immediately after the stops.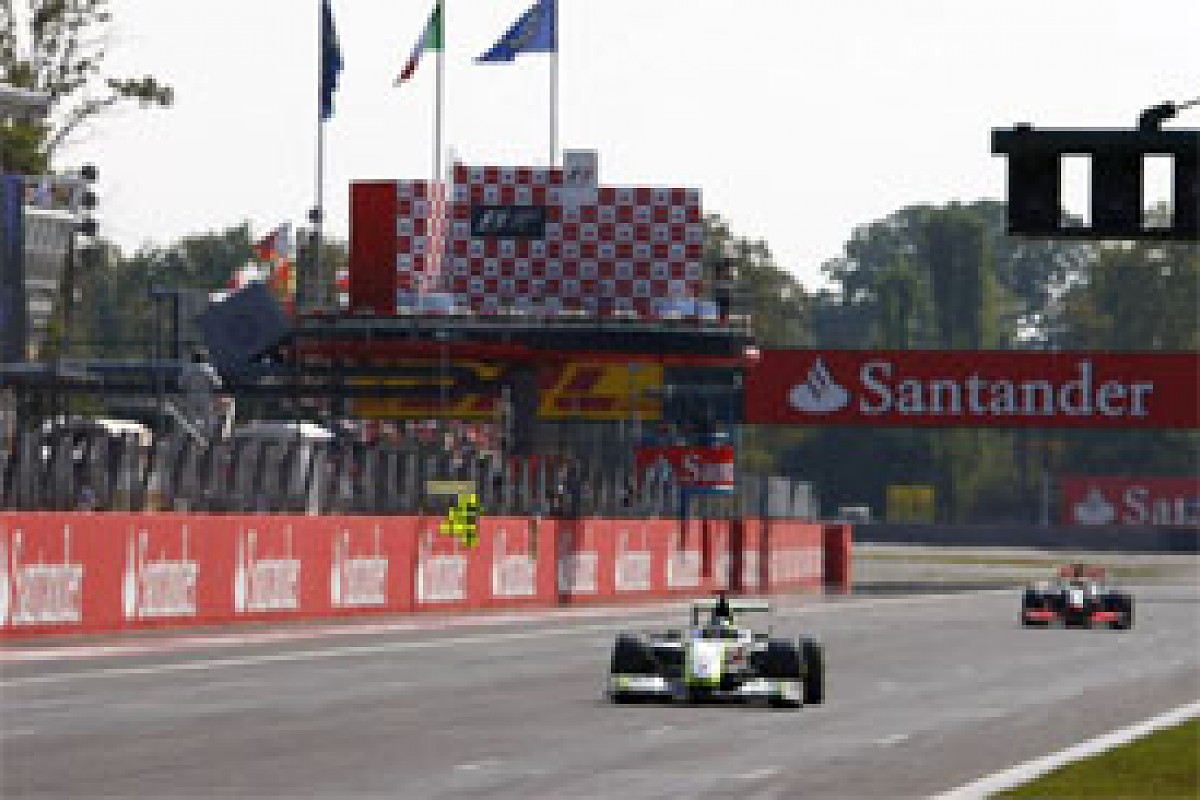 Lewis Hamilton chases Jenson Button for 2nd place © LAT
After that it was demonstration run for the pair as they won their 'virtual' race with two-stopper Hamilton. The only concern for the team was the pace of an inspired Hamilton in the closing laps, as he got ever closer to Button.
"It's quite a tough circuit to push every lap 100% because the braking here is very difficult with such low downforce," said Button. "It's very easy to lock the rear tyres, and as soon as you do that, you lose the rear into the chicanes. And that's twice a lap, you've got two chicanes where you have that issue.
"But we obviously had a good car today and I think the consistency that Barrichello and myself had throughout the race was very good. The last couple of laps with Hamilton behind, I felt I had it covered, because it's very difficult to overtake here. It sounds silly because there's so many straights and he's got KERS, but you can drive accordingly."
The Brawn pit wall was more worried than the man himself: "My engineer was going crazy on the radio, 'You've got to use Mix 2, stay in front of Lewis!'. 'Shov, just chill out. I'm driving here and I know what I'm doing!'I felt pretty comfortable."
So it all unfolded perfectly, and in marked contrast to Barcelona and Nurburgring, Barrichello was more than happy that a smart strategic plane had played out so perfectly.
"I had a tough night last night, because of all the talks about the gearbox and so on. I honestly don't care if for the next race we have to do this or that. But I think the gearbox will hold for the four races, it's doing fantastic and it had no problems in the race.
"There's no actual problem with it. There is the fact that there was an overtorque in Spa, because of the start, after everything that happened there. There was a bit of fire as well. But there's no physical problem, the gearbox is running fine. Obviously they are always aware and it's like my team being my dad, they're telling me you've got to be careful, look after it, but I think you're safe. I just obeyed them and drove safely and the gearbox was fine."
In the end it all came down to qualifying, and the tiniest advantage that Barrichello was able to eke out, even with a slightly heavier load. Ultimately that was worth a four-point swing in his favour. Nevertheless, Button remains confident that he can stay ahead.
"If I finish just behind him in every race, it's not a problem. I obviously want to beat him in certain races. They've been a couple of races where he's been able to beat me because I haven't finished or I've had problems. But I don't look at it like that and there's no reason to. He's very competitive, we have the same car, and it's whoever gets the best out of the car on the day. Fifteen thousandths clinched it for him in qualifying yesterday..."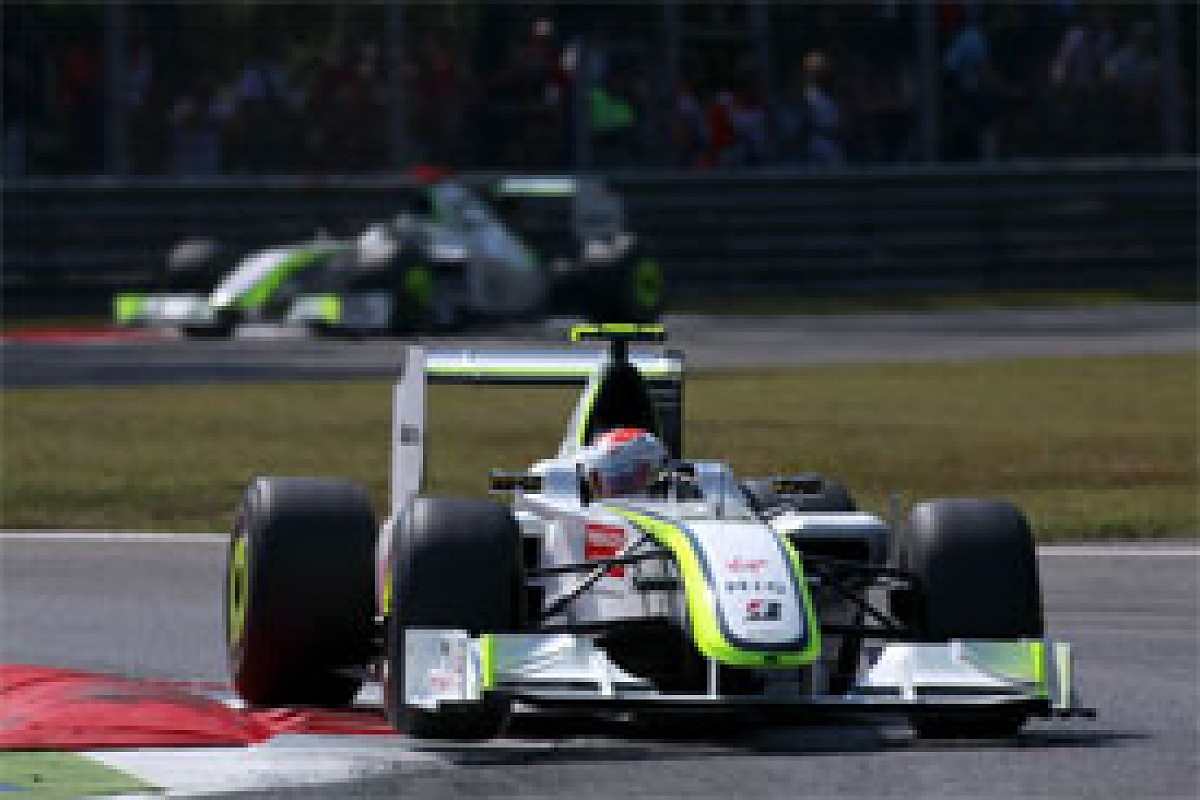 Rubens Barrichello leads a Brawn 1-2 at Monza © LAT
Barrichello's Valencia win aside, Brawn has had a hard time for the past couple of months, and a one-two was the ideal riposte
"It's been perfect in pretty much every respect," said Nick Fry. "The work on the car over the weekend has been fantastic, great co-operation between the engineers, the first lap of the race was exactly according to script. Red Bull nearly failing to score anything is obviously very helpful. It's a pity that Hamilton couldn't get the whole podium for Mercedes, and give Red Bull no points!
"There's always a temptation to want to start from the front. I think the car showed its capability in the second part of qualifying, that it could have been at the front. But it would have been a bit of a Pyrrhic victory doing that. We would have been almost undoubtedly overtaken on the first lap, and then we would have been short of fuel, and probably gone backwards.
"The other important strategic decision was to take the risk on Barrichello' gearbox. We'd have been in the same position as the Red Bull. Red Bull were very exposed to KERS cars, and I think having Barrichello where he was, with the fuel that he had, put him in a very strong position and put him in a weaker position. Strategically all round it worked perfectly. The car is clearly very quick under these conditions, and I think we can look positively towards the last four races."
We've got two street venues and two more traditional tracks coming up, and even Brawn concedes that the latter venues should favour Red Bull - and of course both Suzuka and Interlagos do tend to be wet. Thus RBR clearly still has a chance to pull back some points. The problem is that it could be too little, too late.