This year, the Brawn GP-Mercedes-Benz combination has been in the headlines for all the right sporting and commercial reasons, so (undenied) suggestions that the German company is looking at acquiring either a majority slice or the entire team have enormous merit.
Not only would it increase the triple-pointed-star's footprint on the grid, but the latter option would grant the company a full voice in FOTA, while being linked to one of the most capable technical brains in F1 history in Ross Brawn.
Over the years, Mercedes has experienced success and humiliation in almost equal measures with titles won by Mika Hakkinen (1998-9) and Lewis Hamilton (2008) going some way towards assuaging the disgrace of being associated with the spy scandal of 2007 and Hamilton's modification of the truth in Melbourne earlier this year.
Norbert Haug and Ross Brawn © XPB
In January 2000, Daimler, parent company of Mercedes, purchased a 40 per cent stake in McLaren and the original plan was for the manufacturer to obtain full control in due course. Then, in 2007, Ron Dennis and his partner Mansour Ojjeh sold 30 per cent to the Bahrain Mumtalakat Holding Company, a wholly-owned company of the Kingdom of Bahrain.
Thus, the shareholding is: 40 per cent Daimler, 30 per cent Mumtalakat, and 15 per cent each Dennis and Ojjeh. Here, though, the plot thickens for Dennis and the Saudi businessman are believed to vote in solidarity and to have retained the voting rights over the Bahraini block, meaning that Daimler - despite holding the largest single share block - is effectively the minority partner with little chance of deciding the destiny of its largest external investment.
Equally frustrating for Mercedes is the fact that, despite having brought Schumacher into the sport - the most successful driver in F1 history had no direct links to the brand, and that Sebastian Vettel slipped through its fingers. Thus this great German company has won races and titles with an Argentine, assorted Britons, three Finns and a Colombian, but never one from its own country.
Yes, motor manufacturers are great at trotting out the universal line of "we're a multinational so use the best drivers we can get" and maybe that worked internally while Mercedes was aligned with Chrysler and Mitsubishi, but in go-it-alone DB has reverted to its Germanic roots, so there is no denying that a German driver who ticks all the performance and marketing boxes would be extremely attractive to the company.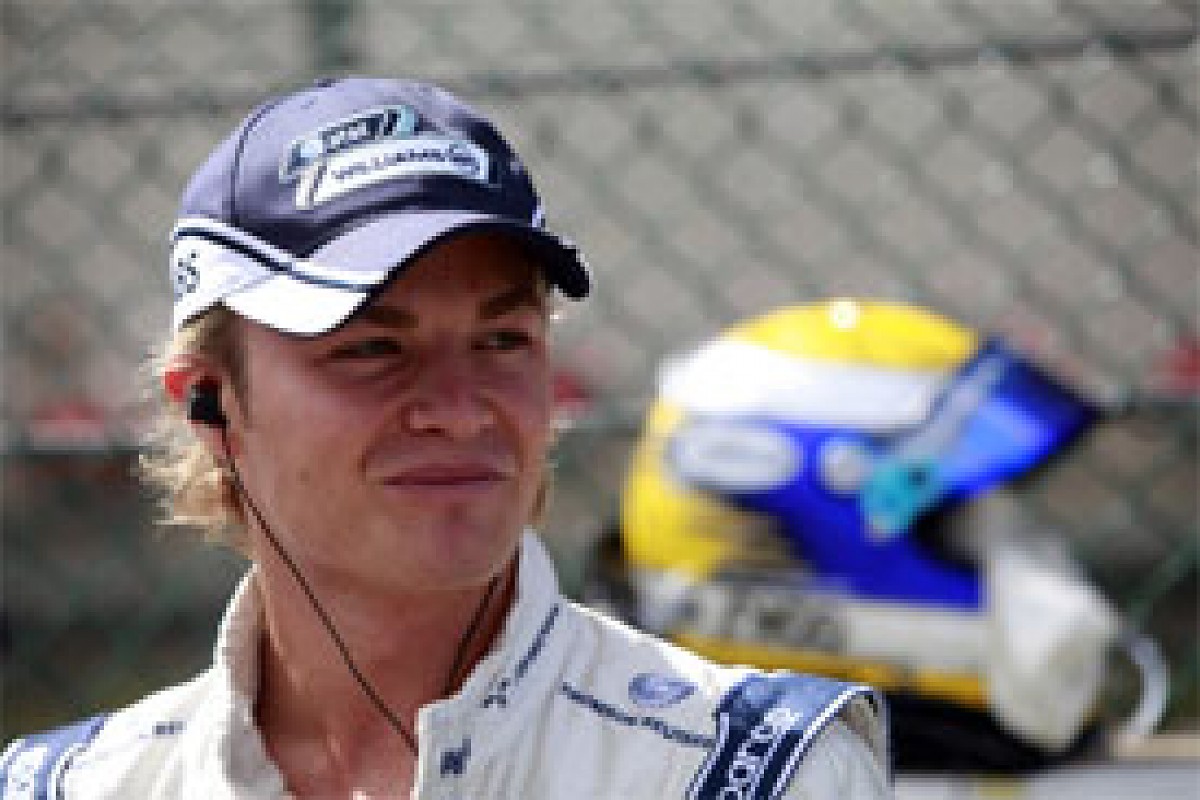 Nico Rosberg © LAT
One solution would, of course, be to shoehorn the highly intelligent Nico Rosberg, fluent in German, English, French, Italian and Spanish, into the second seat at McLaren from 2010, for Heikki Kovalainen's performances could be said to have fallen short, but that would mean the commendably consistent driver going up against Lewis in what is patently a Hamilton-centric team.
Nico's father, Finland's 1982 world champion Keke (mother Sina is German, hence the nationality, which in F1 is defined by passport) is a former McLaren F1 and Mercedes DTM driver and is said to have advised Nico to steer clear of McLaren for that reason. While the elder ceased managing his son last year, the latter still holds his father's opinions in ultra-high regard.
However, the same reservations would not apply at a Mercedes-controlled Brawn while enabling the German company to call upon a German driver who has been knocking on victory's door for over a year now.
According to a well-placed source, the deal will shortly be announced - as soon as Jenson Button has put the drivers' title out of reach of team-mate Rubens Barrichello, where after the driver market will kick into overdrive.
Formula 1 scandals
Consider the skirmishes Max Mosley has had with the likes of Sir Jackie Stewart, Sir Frank Williams, Ron Dennis and Flavio Briatore. Over time said battles have added greatly to the allure of Formula 1, even if they have not served the sport, particularly when Mosley referred to Stewart as a "a certified halfwit", implied that Dennis was not the sharpest knife in the box and, most recently, suggested that Briatore was associated with "loonies".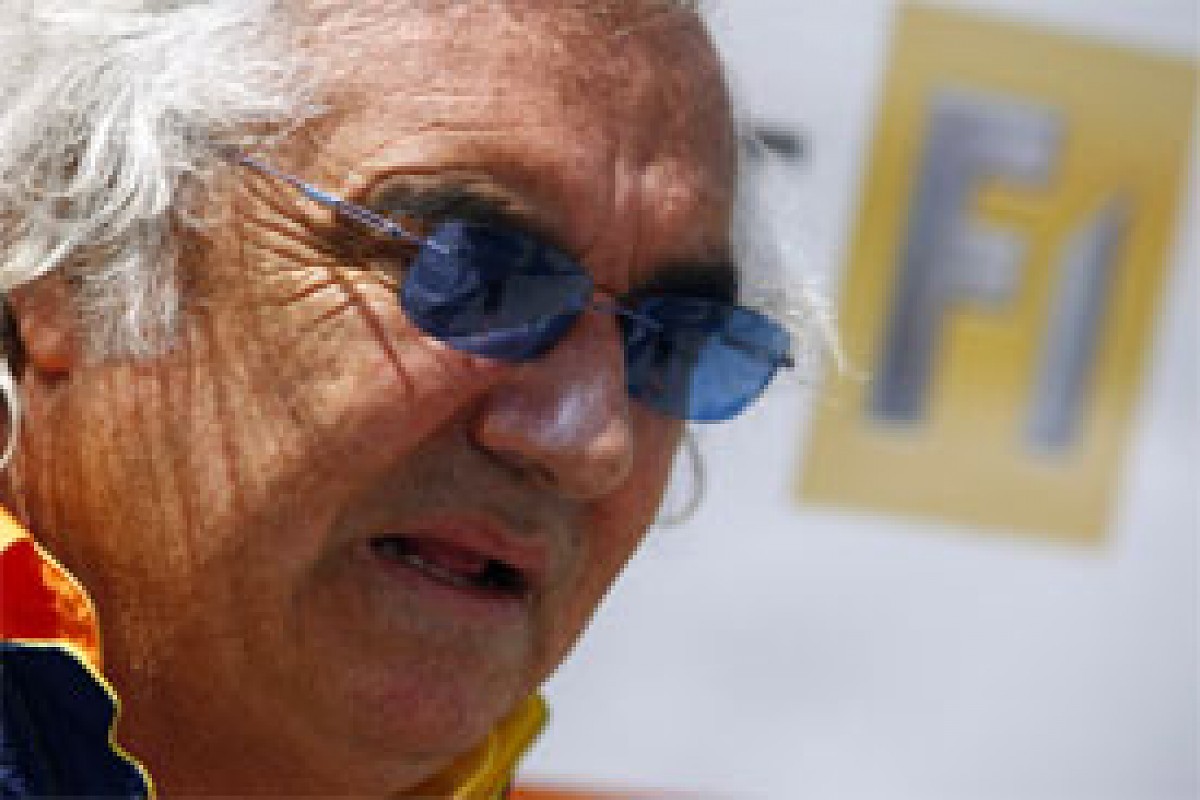 Flavio Briatore © LAT
Still, as the FIA's World Motor Sport Council hearing looms, the only survivor from that era is Williams for, come October 23, Mosley will stand down as FIA president, while Stewart no longer owns a team and has seldom been seen in the paddock this season (despite being roving ambassador to RBS) Dennis was effectively sidelined and now runs McLaren Automotive (despite holding 15 per cent of the company) and Briatore's departure from Renault was confirmed yesterday.
Dennis and Briatore were at the helms of the teams when F1's biggest scandals, namely (with apologies) Spygate, Liegate and Crashgate were committed, the first two by members of McLaren; the latter by Renault management.
That they were committed at all is appalling, for even if F1's stakes are astronomically high, there can be no excuse for spying, lying or crashing deliberately, and the FIA (and by implication, Mosley) has rightly come down like a ton of bricks. The buck has to stop somewhere and in these instances it stopped on the desks of Dennis and Briatore respectively, although others were (deservedly) subjected to both internal and external wrath.
In the Ferrari/McLaren spying saga, it was only when Fernando Alonso, disillusioned by what he saw as prejudicial conduct towards him by the team and Lewis Hamilton, threatened to shop the team to the FIA, did the truth eventually out - almost three months later.
Then there was Hamilton's distortion of the truth, which severely jeopardised Toyota's chances (and those of Jarno Trulli) in Melbourne. Despite the governing body having access to race data and radio transcripts, it was only when a diligent journalist, who briefly interviewed Hamilton immediately after the race, investigated the matter and reported it that the truth eventually came out - almost a week later.
Which brings us to the latest scandal. Notwithstanding the fact that every journal worth its title (and some not) flagging their suspicions throughout the post-race week - and despite Bernie Ecclestone admitting to The Independent (September 12) that he told Nelson Piquet Jr in May this year that: "there is no use you saying you are going to do something (disclose the crash) - either do it or stop talking about it" - there was no action until Nelson Piquet Sr called Mosley himself.
So, with three major scandals and three 'coincidental' outings, one wonders how many more 'gates' are out there, awaiting coincidental disclosure.