Seven out of seven
Patrick Tambay (Ferrari 126C2B) during the 1983 San Marino Grand Prix at Imola © LAT
The last six races have been won by six different drivers: Jenson Button, Sebastian Vettel, Mark Webber, Lewis Hamilton, Rubens Barrichello and Kimi Raikkonen.
There have not been seven different winners in seven races since the 1982-83 seasons. That sequence was begun in the Italian GP by Rene Arnoux, then continued by Michele Alboreto (US Las Vegas), Nelson Piquet (Brazil), John Watson (US West), Alain Prost (France), Patrick Tambay (San Marino) and Keke Rosberg (Monaco).
The record is nine different winners in nine races. This was recorded twice, between the 1961 and 1962 French GPs (Giancarlo Baghetti, Wolfgang von Trips, Stirling Moss, Phil Hill, Innes Ireland, Graham Hill, Bruce McLaren, Jim Clark and Dan Gurney), and between the 1982 Monaco and Swiss GPs (Riccardo Patrese, Watson, Piquet, Didier Pironi, Niki Lauda, Arnoux, Tambay, Elio de Angelis and Rosberg).
Personal scoreboard - Italy
• Lewis Hamilton finished second on his debut at Monza in 2007 but only finished seventh last year. He has never out-qualified his team-mate at the Italian GP.
• Heikki Kovalainen scored his last podium at Monza in 2008, following a seventh place finish on debut in 2007. He also won the GP2 feature race at the track in 2005.
• Giancarlo Fisichella has only once finished on the podium at Monza, in 2005. The best qualifying spot was third in 1997. Last season he took the Force India into Q2 for the first time.
• Kimi Raikkonen has never won the Italian GP. His best result was second in 2006, when he also qualified on pole. Raikkonen also set the fastest lap in 2005, 2006 and 2008.
• Robert Kubica has been out-qualified by team-mate Nick Heidfed in all three of his Italian GPs, but has finished on the podium twice in 2006 - his maiden F1 podium - and 2007.
• Fernando Alonso dominated the 2007 race with victory from pole position and fastest lap.
• Jarno Trulli has only finished in the points three times in 12 races at his home track, most recently in 2006 when he finished seventh.
• Sebastian Vettel scored his maiden F1 pole position and victory at Monza last season for Toro Rosso.
• Jenson Button has only finished on the podium once at the Italian GP, in 2004. He has scored points five times but last year he was just 15th.
• Rubens Barrichello won at Monza in 2002 and 2004 and was also on the podium in 2001 and 2003. His last points finish was in 2006. Barrichello is second only to Michael Schumacher in points scored at Monza. He has 43 and two wins to the German's 79 and five wins.
Teams' performances at Monza
• Ferrari is the most successful team at Monza, ahead of McLaren with 17 wins to nine, 18 poles to nine and 48 podiums to 23. But it hasn't started from pole since 2004 - the longest pole drought at its home track since 1993.
• Renault has not won at Monza since Rene Arnoux's victory in 1982.
• Toro Rosso scored its only pole position and victory in last year's race.
• Toyota only scored points in 2005 and 2006 and has not finished inside the top 10 since.
• Williams' last win at Monza was in 2001, its last podium in 2003 and last points in 2007.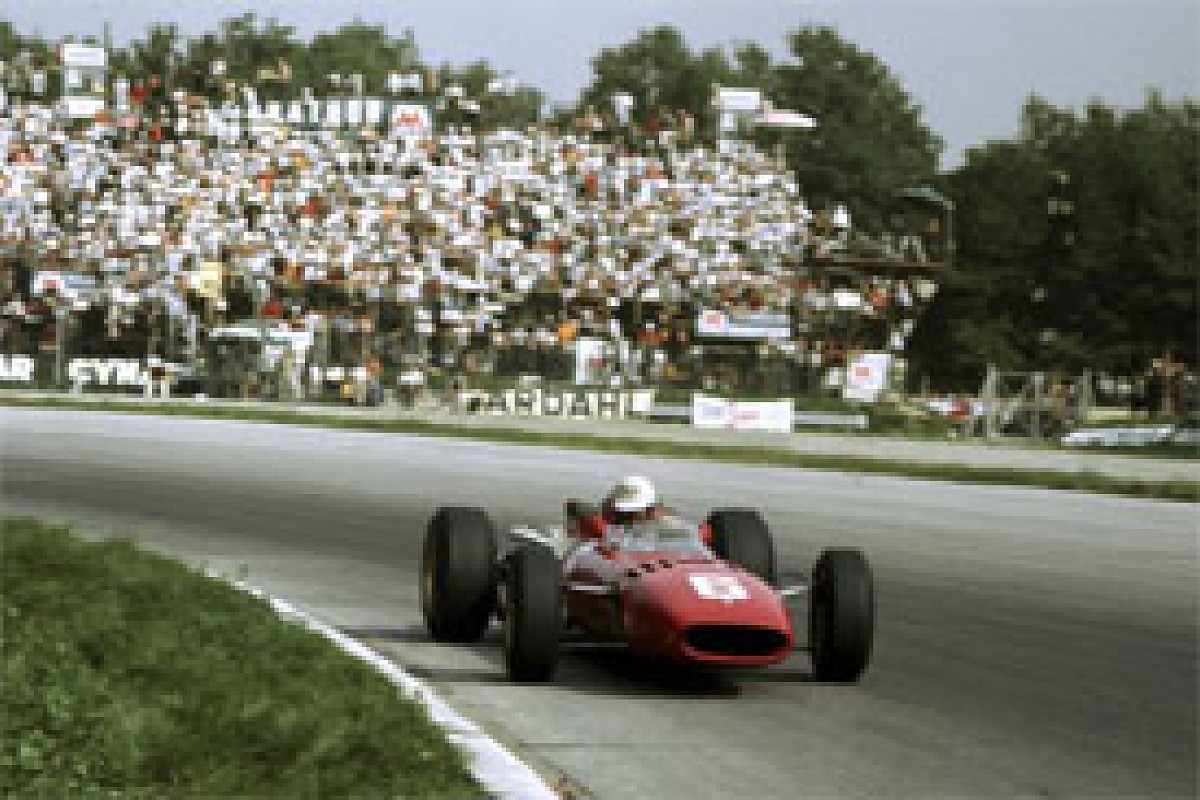 Ludovico Scarfiotto (Ferrari 312) during the 1966 Italian Grand Prix at Monza © LAT
Other points
• In 2008, Sebastian Vettel became Formula 1's youngest pole-sitter and winner. The sport's youngest podium was also recorded that weekend with Heikki Kovalainen and Robert Kubica joining Vettel on the rostrum.
• No Finnish driver has ever won the Italian GP, despite Mika Hakkinen, Kimi Raikkonen and Keke Rosberg leading the race nine times between them.
• An Italian driver has not won at Monza since 1966, when Ludovico Scarfiotti triumphed. The last Italian pole-sitter was Teo Fabi for Benetton in 1986.
The last time...
• ...Jody Scheckter won a grand prix was at Monza in 1979, on his way to the title
Heinz-Harald Frentzen won a race was at Monza in 1999, in the same race as Mika Salo scored his last podium, deputising for Michael Schumacher at Ferrari
• ...an American driver finished on the podium was Michael Andretti at Monza in 1993.
• ...a French driver qualified on pole position was Jean Alesi at Monza in 1997.
• ...Eddie Irvine scored a podium was at Monza in 2002, the second of two podiums he scored for Jaguar (the other being Monaco 2001)
To continue reading this feature, subscribe to Autosport Plus today.
Expert opinion. Technical insight. Unbeatable analysis. Subscribe today for unlimited access to the world's best motorsport journalism.
Get unlimited access now
No more monthly limits. Get complete access to all our news and Autosport Plus features.
Subscribe to Autosport Plus
Completely ad-free environment.
Access Autosport Plus - the best motorsport analysis, insight and opinion.
No monthly news limit.
Explore Forix, the world's most comprehensive motorsport stats database.