Monza is going to be a big weekend for a lot of drivers as they jockey for position in the world championship, stake their claims for a top seat in 2010, or stake their claims for any seat at all.
The withdrawal of BMW, doubts over other manufacturers and the arrival of three new teams has shaken up the market somewhat. If Ferrari confirms Fernando Alonso along with its Santander sponsorship one piece of the puzzle will fall into place, but then we'll have to start asking questions about where Kimi Raikkonen is going.
He's been linked to several teams, including McLaren. He's not the only one, because Nico Rosberg is also a prime candidate for the Woking team.
In either case, the man who will find himself looking elsewhere is Heikki Kovalainen. For some reason things just haven't fallen into place for him at McLaren, where it was always going to be tough to go up against Lewis Hamilton.
It's also worth recalling that Ron Dennis said the team would have to mentally rebuild Kovalainen after his season at Renault. Perhaps only after Nelson Piquet's outburst can we fully appreciate how difficult it must be to drive for Flavio Briatore. And Piquet himself said last winter that he'd not been given as hard a time as Kovalainen.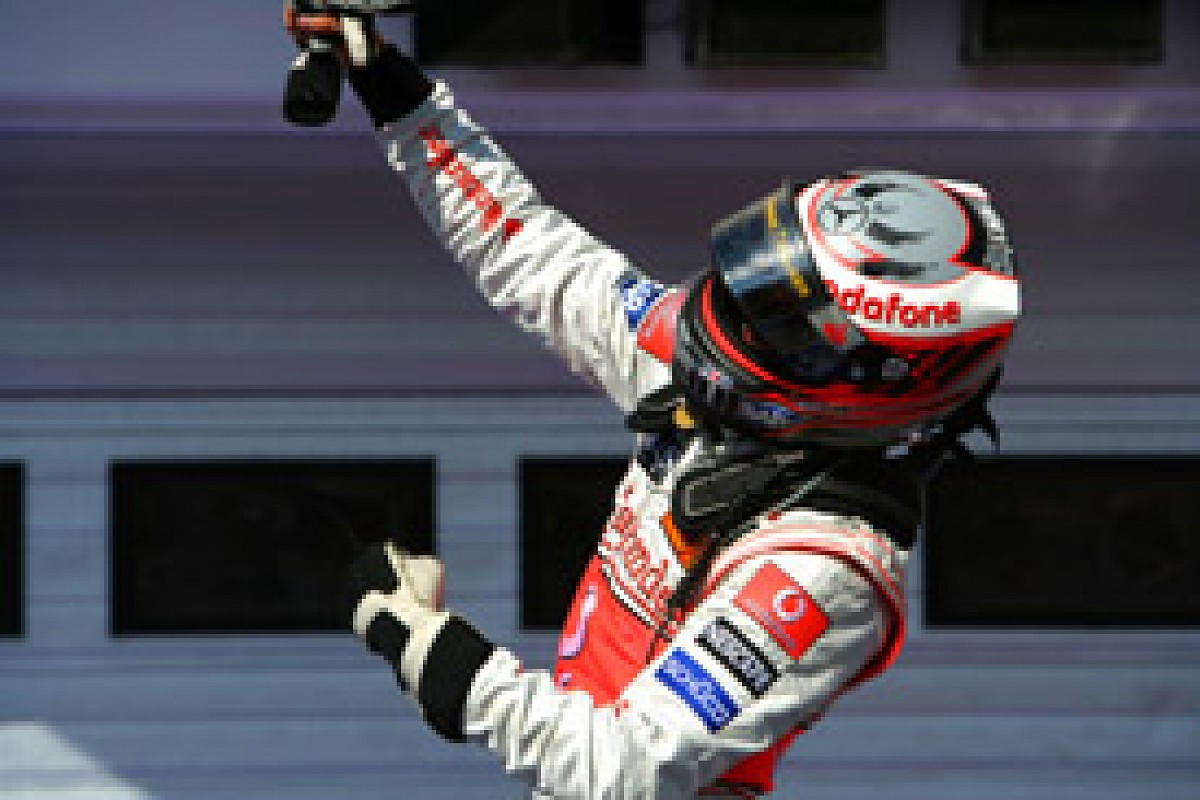 Heikki Kovalainen celebrates victory in the 2008 Hungarian Grand Prix © LAT
Last year Kovalainen took his first pole and win, but inevitably he was in Hamilton's shadow. The Italian GP, where he demonstrated his wet weather skills, was typical. He did a great job in qualifying and the race, finishing second to Sebastian Vettel on a day when it would have been very easy to get it wrong. But even then there were suggestions that a McLaren should not have been beaten by a Toro Rosso.
In terms of results, the car's recent improvement has benefited Hamilton more. While the world champion won and finished second in Hungary and Valencia, Kovalainen took a fifth and a fourth. In the latter he started second, but lost out to Rubens Barrichello and then Raikkonen at the stops.
As expected, the car didn't work too well at Spa and neither driver could haul it into Q3. Both started with heavy fuel loads and the aim of one stopping, but Hamilton didn't make it beyond the first lap.
Kovalainen got his head down and managed to salvage a sixth place. It was a good effort and even Lewis - who came to congratulate him after the race - acknowledged it as such.
"I got some points," said Kovalainen. "But it was always going to be difficult for us today. We knew the performance of the car after was not going to be fantastic, we were struggling in the high-speed corners.
"We decided to go for a one-stop strategy and we were able to run both tyres quite well, so I was able to start with the soft tyres. So that was the advantage today and that saved some points. Of course we still need to work on the performance in medium downforce configuration, we're still trying to find more efficiency."
He benefited from the first-lap chaos and from 15th on the grid he was up to 10th for the restart after the caution period.
"I saw all of it. There was a lot of carbonfibre flying through Turn 1. I saw it was quite tight, people were touching each other and crashing. Then also going to Turn 5 everybody was trying to get it together. I had a little bit of a gap in front of me and I was defending from [Jenson] Button, and was using KERS to make sure he didn't outbrake me. Then I just saw someone hitting the wall and it was just a mess, so straight away there was a safety car.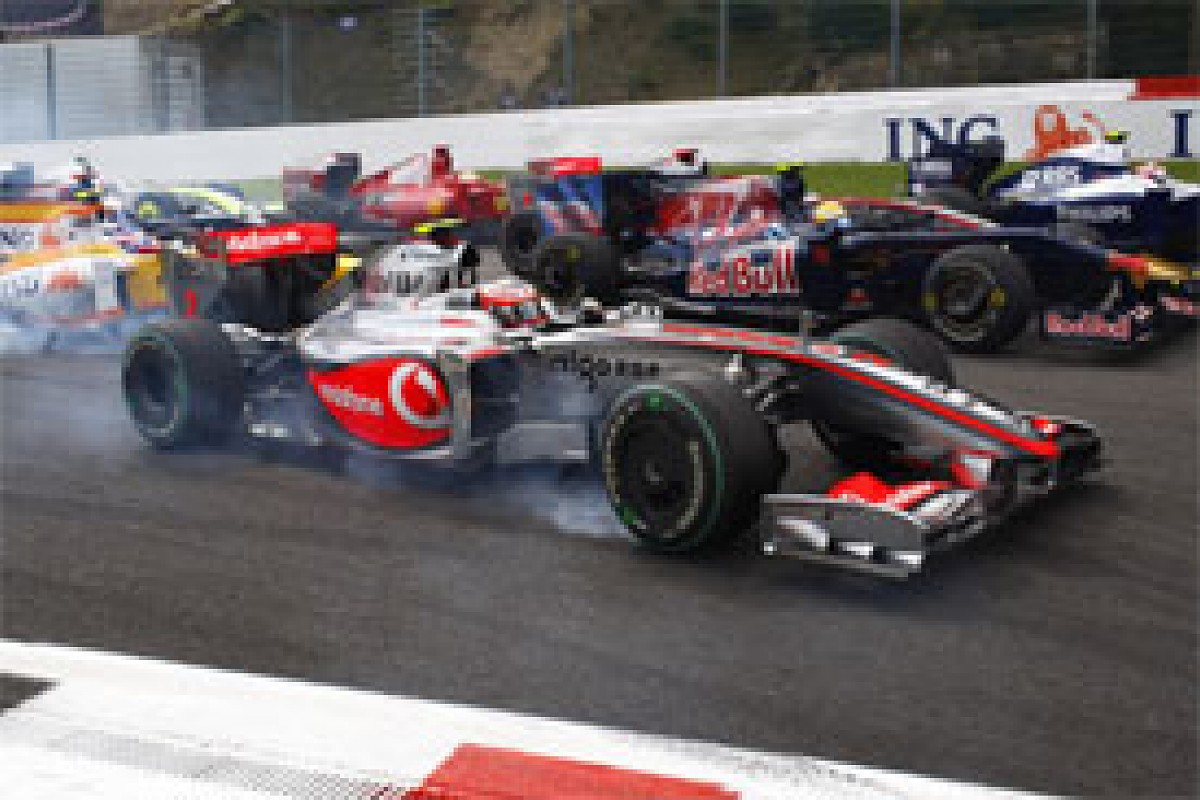 Heikki Kovalainen starts the Belgian Grand Prix from the mid-field © LAT
"I think it's quite tricky with the tyres that don't warm-up quite well, and with the cool conditions. When everybody's going through high-speed corners some are going faster, some are going slower, then somebody has a moment, somebody else outbrakes, so it surprises quite a lot of drivers.
"It was a rather long safety car, so of course it was playing into our hands. Other people weren't able to pull away as much as they would have done."
Spa was a peculiar weekend and the tyre situation contributed to a somewhat mixed-up order.
"I think it's mainly down to how you get the tyres to work - that's how you can make a big difference, you either win or lose quite a lot. Also some people seem to have a better medium downforce package compared to us. Button and Brawn didn't look so strong, but Force India seemed to have a good medium downforce package.
"They're quite quick in a straight line, also they're able to generate some downforce and grip in the slow-speed corners. I think those two, the tyres and efficiency, that's what's moving the balance up and down a bit."
The Spa result might not have got him much attention, but it came at a good time. Kovalainen says he's had other good performances, even if they have not been widely perceived as such.
"Many people probably didn't realise, but I had a great race in Valencia. We fitted the wrong tyres for the last stint - that was a cock-up. Apart from that, I had a good run there. I was not losing much, even on the race pace, and the car was performing well. Without this last stint problem, I think I would have been on the podium there.
"So I feel I'm actually driving quite well. Of course, I would like to finish more races this year but now that finally we have a car that's more competitive, at least in some of the circuits, I'm looking forward to trying to get better results. But I feel at Spa I did the maximum, I drove flat out until the end."
So now we go to Monza. In theory the fast corners may not play to the strengths of the car, but nobody really knows that the status quo will be when everyone takes downforce off.
"I think it's another unknown. We go to a very low downforce level, even lower than Spa. So it could be similar, or it could be that somebody like us could find a bit of performance again. I think it's a bit of an unknown, but I think it's going to be a good race.
"It's good for everybody - different people winning, Fisi being up there, and Kimi. We just need to just work a bit more to make sure that we get there. We've had a tough year but we've made a lot of improvements, we have to carry on doing that. I think the team realises how good an improvement they've made this year and we just need to do a bit more and go a bit further."
What really makes this weekend interesting is that, unlike previous years, nobody has been able to test their Monza package. That could upset things even more.
"Potentially, yeah," agrees Kovalainen. "Friday's going to be quite crucial, trying to decide the downforce levels, brakes and see how the tyres work. It's a short time that we have to figure out a lot of things. It should be good, a good atmosphere like always in Monza. I think we will make improvements and I'll be working even harder to try and find more pace and score some more points."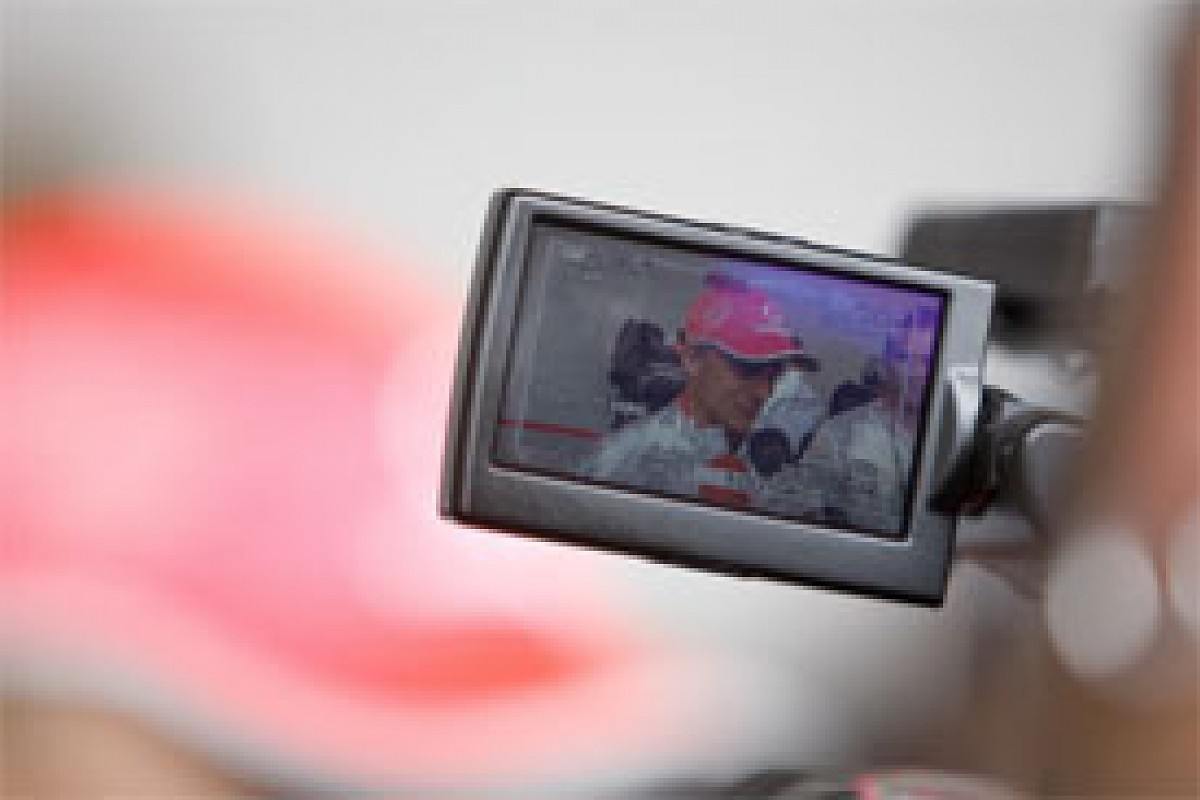 Heikki Kovalainen © LAT
In the meantime he has to deal with the inevitable questions about his future.
"Most of the time during the weekend I'm answering that kind of question, rather than how was the Friday practice? Everyone's asking me, who's going to replace you? Of course it's a little bit frustrating.
"All I can say is I think I've had really good races this year, I think my relative performances have actually been very strong compared to Lewis in qualifying and even in the races.
"I feel that I've made very good progress and I'm in good shape. I'm in better shape than last year. It's just sometimes a shame when you have to answer that kind of question all through the weekend.
"But it's normal, it's part of F1, and it doesn't affect my races or my performances. I just have to keep working and try to score some results and see what we can do for the future."