What a great week to be a conspiracy theorist in Formula 1. Forget the allegations surrounding the Renault hearing in Paris on 21 September - that is likely to be an open or shut case - and focus instead on all the myriad behind-the-scenes developments surrounding next year's entry list, all of which could change the face of the grid.
Of course, to disregard the French equipe totally is to totally downplay the seriousness of the allegations made against the team, but whether or not Renault is at all on the 2010 grid - whether as constructor or engine supplier or both, whether by design or punishment - does little to alter the fact that 2010's line-up will differ substantially from the entry list published here on 24 June by FIA.
Dr Mario Theissen and Peter Sauber at Valencia © LAT
Can it be purely coincidental that, given the earlier urgency to open and close 2010 entries by early June, no similar haste exists to fill the spot created by BMW's exit at season's end? With the car manufacturer's board having failed to sign the 2010 Concorde Agreement by 31 July, the team has no right to future entry, but any prospective buyer of the team as a racing concern would surely demand full participation in proceedings.
Absent that, BMW's task of finding a suitable buyer - one who combines sporting spirit with commercial ability - is immeasurably more complex, and begs the question whether or not the men in Munich will manage to conclude a sale in the near future.
Last week in Spa, BMW Motorsport director Mario Theissen told this column that negotiations were ongoing and that according to the FIA the team was a contender for the 13th grid slot, although the governing body "didn't say we are (a) preferred (entrant), but we are in the running."
Simultaneously, rumours abounded that an Indian consortium was interested in purchasing the operation, leading conspiracy theorists into overdrive for just a fortnight ago the Indian Minister of Sport suggested that F1 was "entertainment, not sport" whilst failing to approve a remittance of $36m (£25m) to the Bernie Ecclestone-headed Formula One Management company as advance on hosting fees for an Indian Grand Prix.
Ironically, said refusal occurred in the run-up to Force India's fine pole position and second place in the Belgian Grand Prix, and if the Indian consortium rumours have legs, the question is whether said gentleman had been sufficiently swayed should he need to approve the remittance of the (substantial) funds required to conclude the transaction.
Of course, Force India owner Vijay Mallya is an FIA stalwart - he is listed as a vice-presidential candidate, presumably for the Jean Todt camp, in the upcoming presidential elections - and could conceivably influence the decision, but whether he would wish for two F1 teams from India at a time when he is expending enormous effort in building support for his own operation, is another consideration.
Then there is the question of Proton (not to be confused with Team Lotus) appointing Ferrari's former Commercial and Branding Senior Vice President (and ex-Red Bull mover and shaker), Dany Bahar, as CEO of its Group Lotus subsidiary (not to be confused with Team Lotus, although both entities have the same Colin Chapman roots).
At Red Bull, the Austro-Turk was Dietrich Mateschitz's right hand man (according to some, he was both hands to the marketing whiz), where he drove the lifestyle drinks company's acquisitions of Jaguar Racing (now Red Bull Racing) and Minardi (Scuderia Toro Rosso), and spearheaded Red Bull's entry into NASCAR via a wholly-owned Toyota Camry team.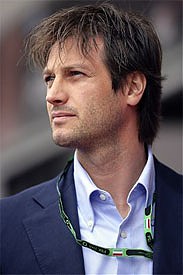 Dany Bahar © LAT
Given that background, any wonder that Group Lotus is being linked with an F1 entry, with the suggestions being given credence by Bahar's connections to FIA presidential hopeful Jean Todt, whose first dealings with Bahar were when they struck a deal for RBR to be powered by (customer) Ferrari units.
Thereafter, the Red Bull man arranged transfer of the engines to STR before being recruited by Todt, by then CEO of Ferrari SpA. What does all this have to do with F1, or more precisely, BMW?
Well, the BMW Sauber F1 team's long-standing sponsor is Petronas, Malaysia's national oil company, which in turn owns a controlling interest in Proton, which in turn owns Lotus. Then, the Frenchman, who headed up Ferrari's Gestione Sportiva when the company supplied engines to Sauber (badged as 'Petronas') and used the team's Sauber Petronas Engineering AG subsidiary for engine, gearbox and lubrication development, has strong ties to Malaysia.
Not only is his film star partner Michelle Yeoh revered in her Malaysian homeland, but Datuk Seri (an honorary Malaysian federal title) Jean Todt was recently named as Tourism Malaysia's international ambassador, and according to one team source you can bet your last coin that his influence features strongly.
In fact, the source went one further, suggesting that a team principal, in the form of Nicolas Todt - son of Jean, manager of Felipe Massa and partner in the GP2 championship-winning ART Grand Prix outfit - had already been decided on.
Meantime, the Litespeed/Team Lotus operation, with whom Mike Gascoyne continues to be linked, is hopeful of taking the 13th slot - with or without the Lotus title, which belongs to David Hunt, younger brother of the late 1976 world champion, James - while Joan Villadelprat's Epsilon-Euskadi outfit is also still said to be optimistic of gaining the open slot.
However, as the first race draws nearer, so their enthusiasm to join F1 in 2010 appears for obvious reasons to be waning, with same applying to Lola and Prodrive, both of whom have seemly put their F1 ambitions on hold after becoming thoroughly disillusioned with the entire selection process.
All this, though, reckons without the separate legal actions brought by prospective entrants N-Technology and Stefan GP against the FIA. In Belgium, Alessandro Alunni Bravi, a lawyer by profession and a director of the first-named operation, exclusively confirmed that judgement in the company's case against the FIA for a review of the selection process was expected to be handed down by Paris's Tribunal de Grande Instance (the French High Court equivalent), after which a statement from the Italian team was expected.
"I am sorry, but I cannot tell you any more before then," Alluni Bravi said in Spa's support race paddock, where he was overseeing the N-Technology-initiated Formula Master championship, "but we will make a statement after judgement on the 15th (of September)."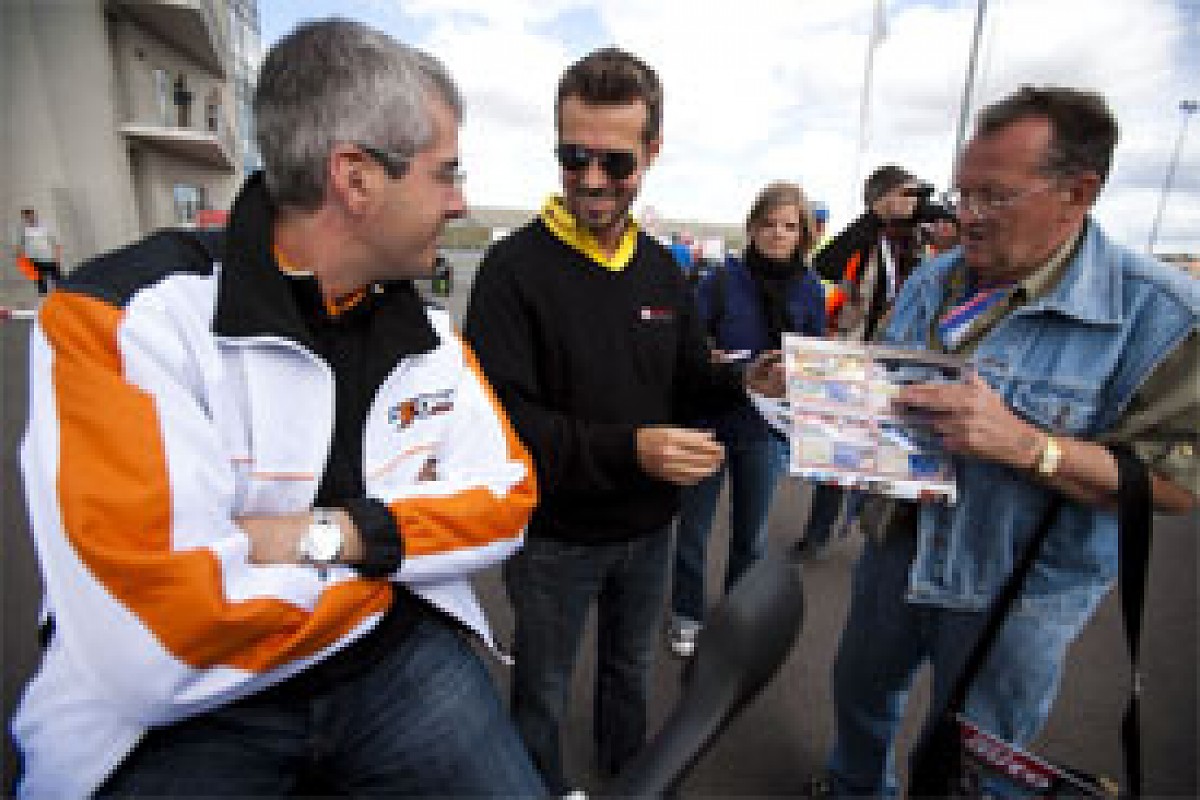 Alessandro Alunni Bravi and Tiago Monteiro at Oschersleben © LAT
Zoran Stefanovic's Belgrade-based Stefan Grand Prix outfit has chosen a different, although no less judicial route, namely a demand that the European Commission annuls the entire process and directs a fresh start. Also a lawyer by qualification, the Serb has alleged various breaches of EU law by the governing body in the selection process, including the (alleged) stipulated use of Cosworth engines and monopolistic practices.
Should judgement go against the FIA, the implications for the sport are too horrific to even contemplate, for it is not inconceivable that the entire selection process could be annulled. Should that be the case, particularly if the EU finds restrictive or monopolistic practice, then the grid could be opened to all comers - much as it was in the late eighties, when up to 43 cars rolled up on Friday morning - or grid slots granted to other than the selected teams. In that case, imagine the writs flying about the paddock...
Thus there are at least five, and possibly as many as seven, teams fighting over a single slot, with two having approached the highest authorities in Europe with demands for judicial reviews. Could said actions be the reason for delays in deciding the slots?
Or could it be the unexpected looming of Lotus? After all, Bahar has some fairly impressive connections, and if the chairman of the FIA stewards can involve himself in Manor GP, then surely a presidential candidate can have some sway, too. Or is that a conspiracy theory too far?